These simple, easy Pumpkin Spice Cookies are the perfect way to wow your friends and family this season! These no bake oatmeal cookies are just as easy as the original cookie, but with a yummy pumpkin spice flavor! Soft and chewy, they taste like autumn in cookie form. YUM!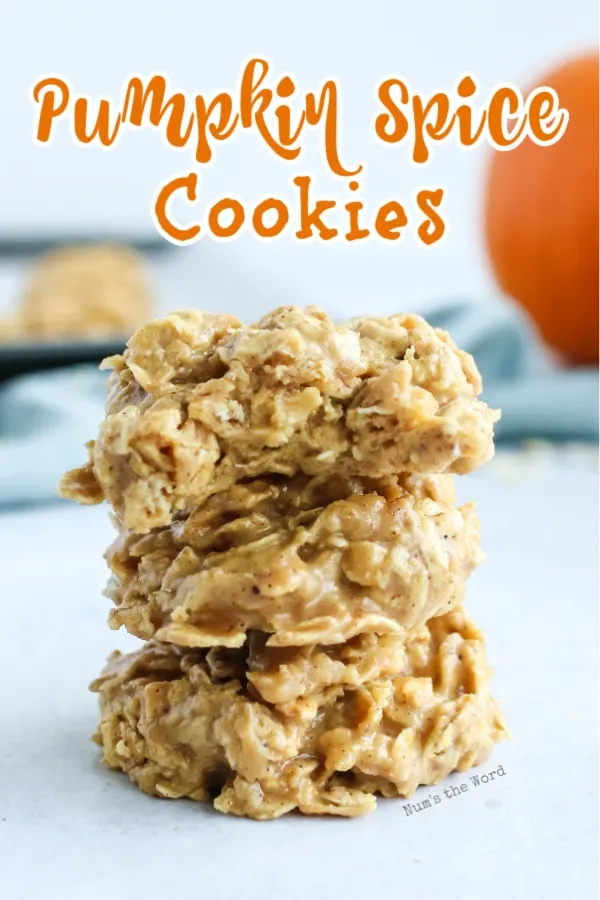 These Pumpkin Spice Cookies are a no bake cookie that comes together quickly. They have the same yummy no bake texture you know and love. And did I mention that I may or may not have eaten them all myself? They are that good.
No bake pumpkin spice cookies can be tossed together in minutes using all pantry ingredients. The oven is totally unnecessary here making it the perfect recipe for your kids to make too. And the flavor of these cookies is sweet and irresistible!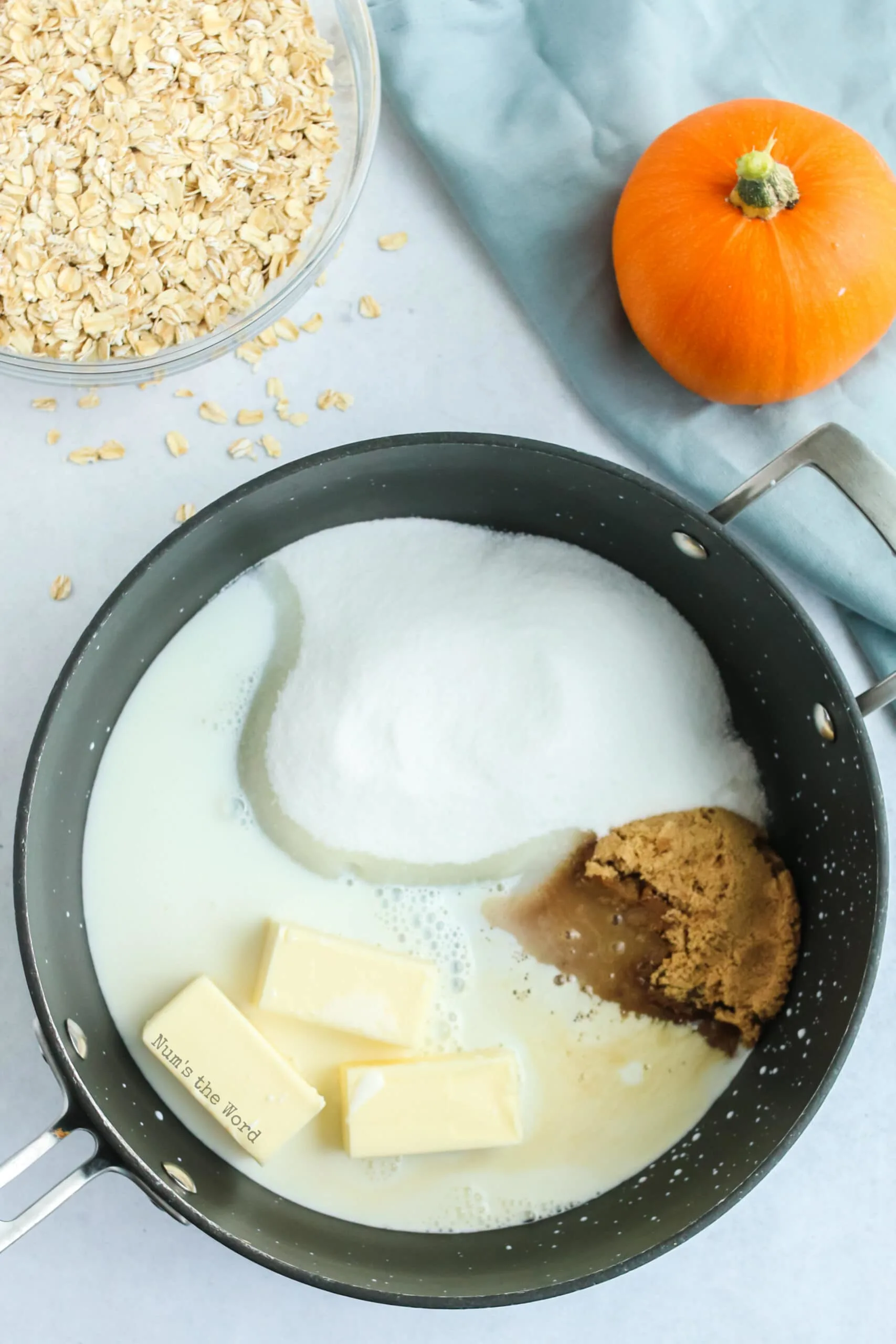 What are No Bake Cookies?
No bake cookies in general typically call for some sort of oats, sweetener, and liquid. They may have additional ingredients or mix ins or they may be very basic. Sometimes they only call for 3 ingredients!
While I love all things pumpkin like Pumpkin Breakfast Casserole, Pumpkin Cupcakes, and Pumpkin Cheesecake Snickerdoodles, sometimes you need something quick that requires no oven, you know?!
That's why I love these Pumpkin Spice Cookies, Pumpkin Spice Rice Krispie Treats, and Pumpkin Fudge. So many pumpkin options!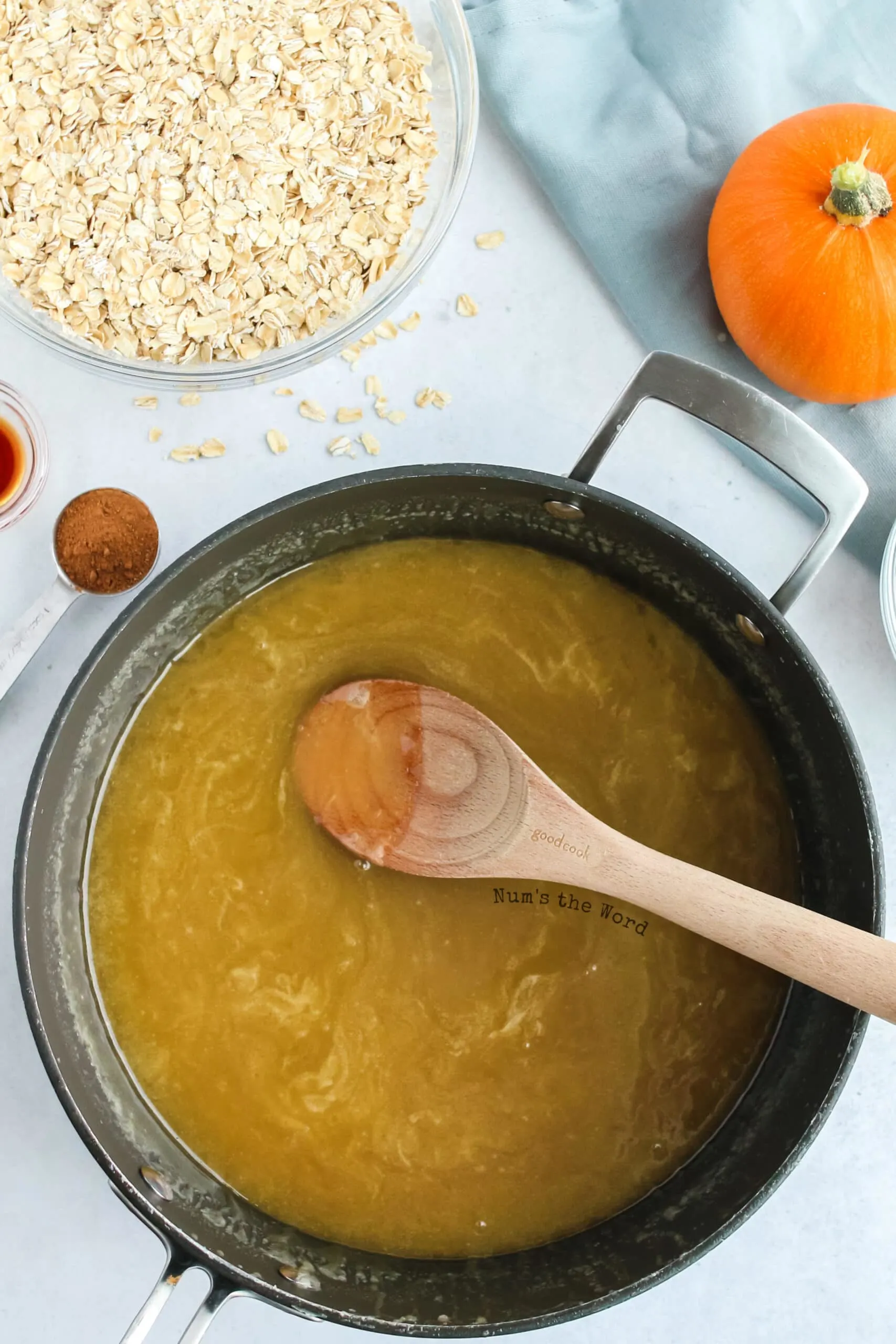 Pumpkin Spice Cookie Ingredients:
White Sugar

: Perfect sweetener!

Brown Sugar

: The great thing about brown sugar is the depth and caramel undertone flavor it adds to recipes.

Butter

: Typically I use salted butter but either one should work here.

Milk

: Feel free to use whatever kind of milk you have and prefer here. Though coconut milk may make these much more coconutty!

Instant Vanilla Pudding

: Secret ingredient? Probably! This is what gives these cookies their soft, chewy, delicious texture.

Pumpkin Pie Spice

: Ok, this is a no brainer! They aren't going to taste like pumpkin without this vital ingredient.

Vanilla

: I recommend pure vanilla if you want the best flavor in your oatmeal cookies, but imitation works just as well.

Quick Rolled Oats

: Gluten free or regular oats work fine. Take your pick.
Pro Tip: Use optional mix ins to make this recipe your own! Try dried fruits, nuts or chocolate. Yum!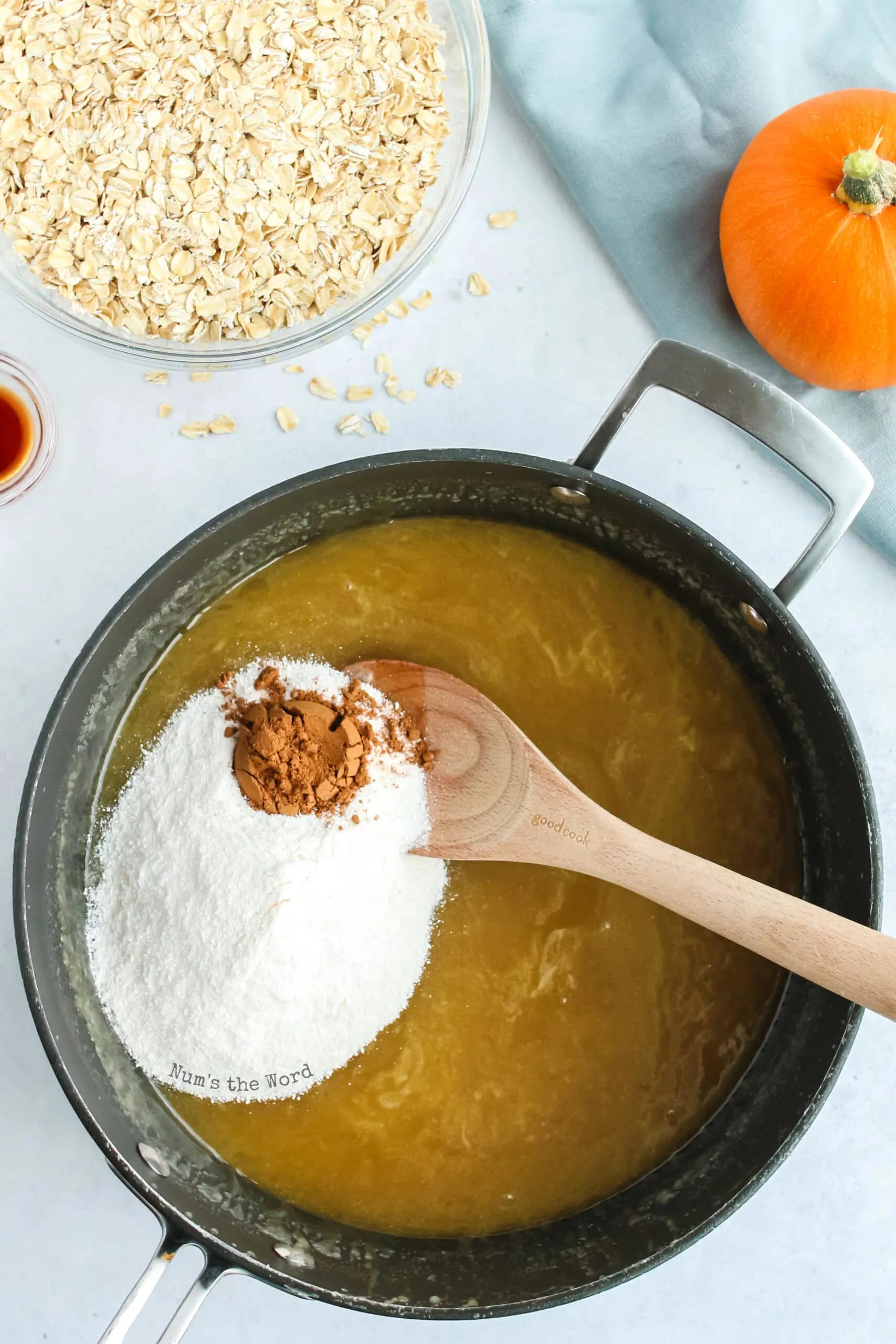 How Do You Make No Bake Pumpkin Spice Cookies?
Yay for not needing to turn on your oven! Simply follow the instructions and then walk away while they cool. So simple! This recipe is simply a dump, cook and cool kind of recipe.
Toss your ingredients into a pan, cook it all together, then scoop out into cookie balls and let cool. Once cool, try not to eat them all! Though no one would blame you if you did!
Pro Tip:
Seriously wait for them to cool! No bake cookies are scrumptious either way but unless you want to eat them with a spoon, give them time.

Since this recipe doesn't require an oven, it is perfect for enjoying pumpkin all year long! Ok, I might make pumpkin everything even in the summer.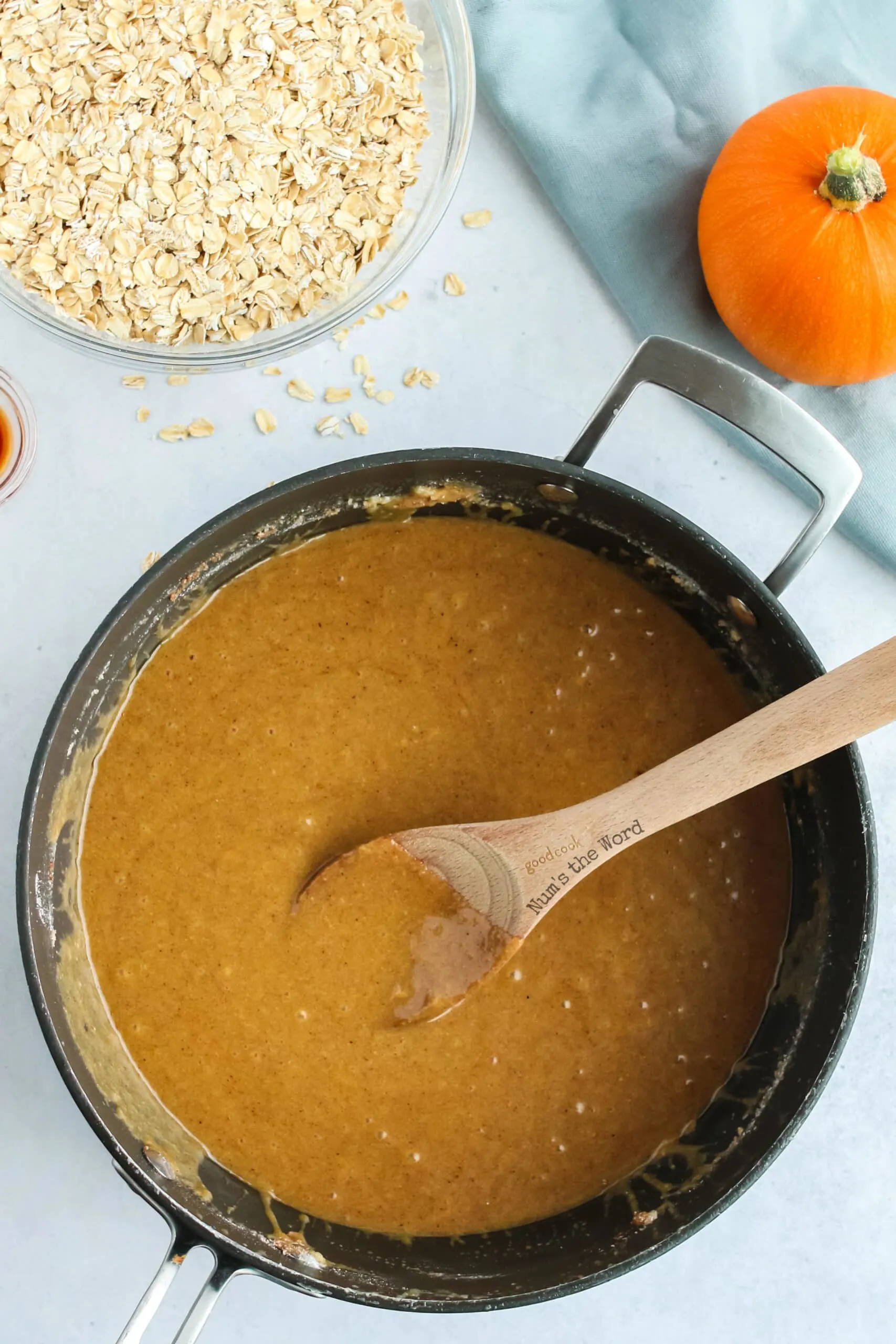 Are No Bake Cookies Gluten Free?
No bake cookies do not call for any flour. That being said, often oats contain gluten. If you want gluten free, opt for oats that say gluten free. With that simple swap you've got a gluten free, party friendly dessert.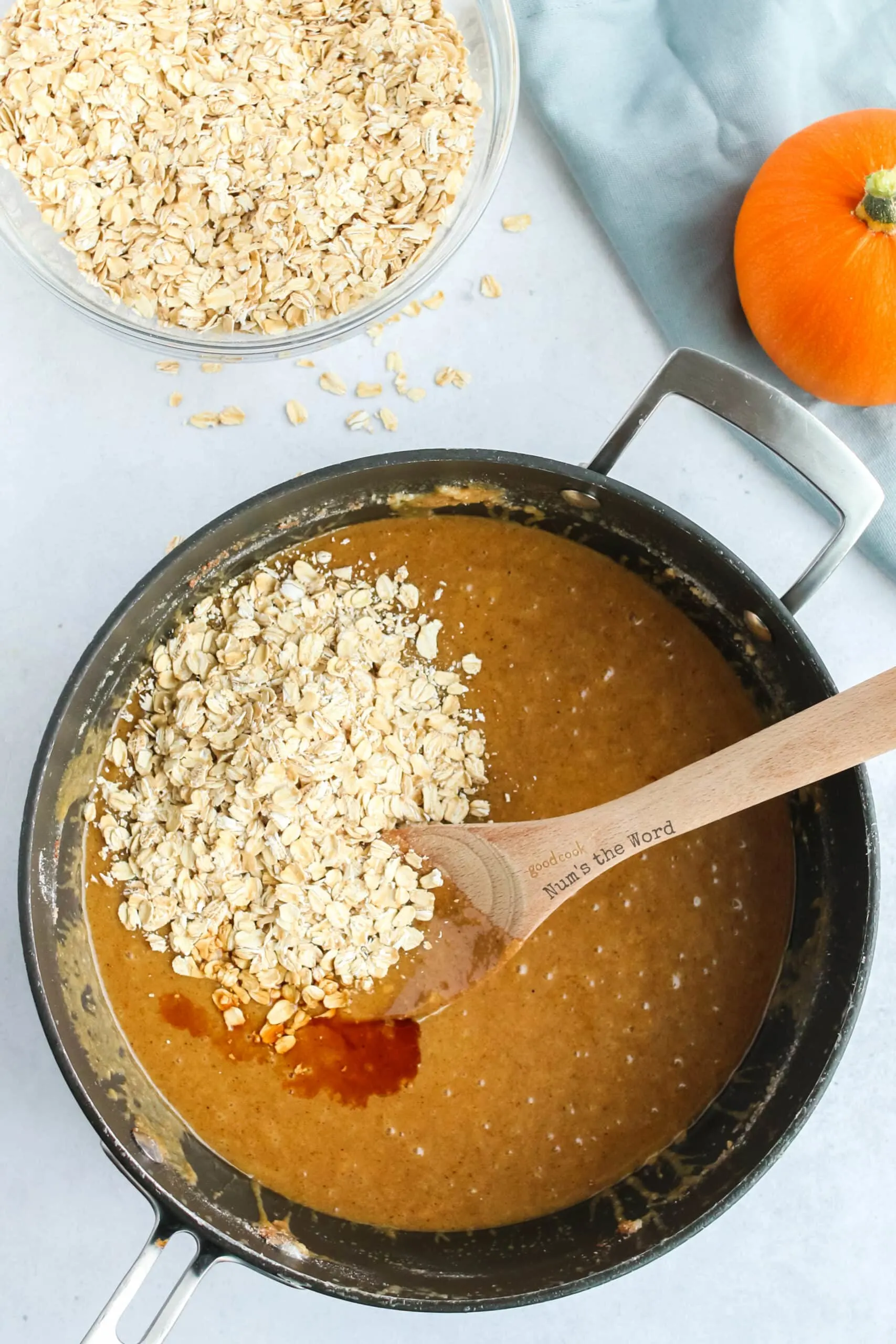 How do You Store No Bake Cookies?
Place your delicious Pumpkin Spice Cookies in an airtight container and store for up to two weeks in the refrigerator.
Pro Tip: Give your cookies time to cool before stacking them together in your container or they'll stick to one another!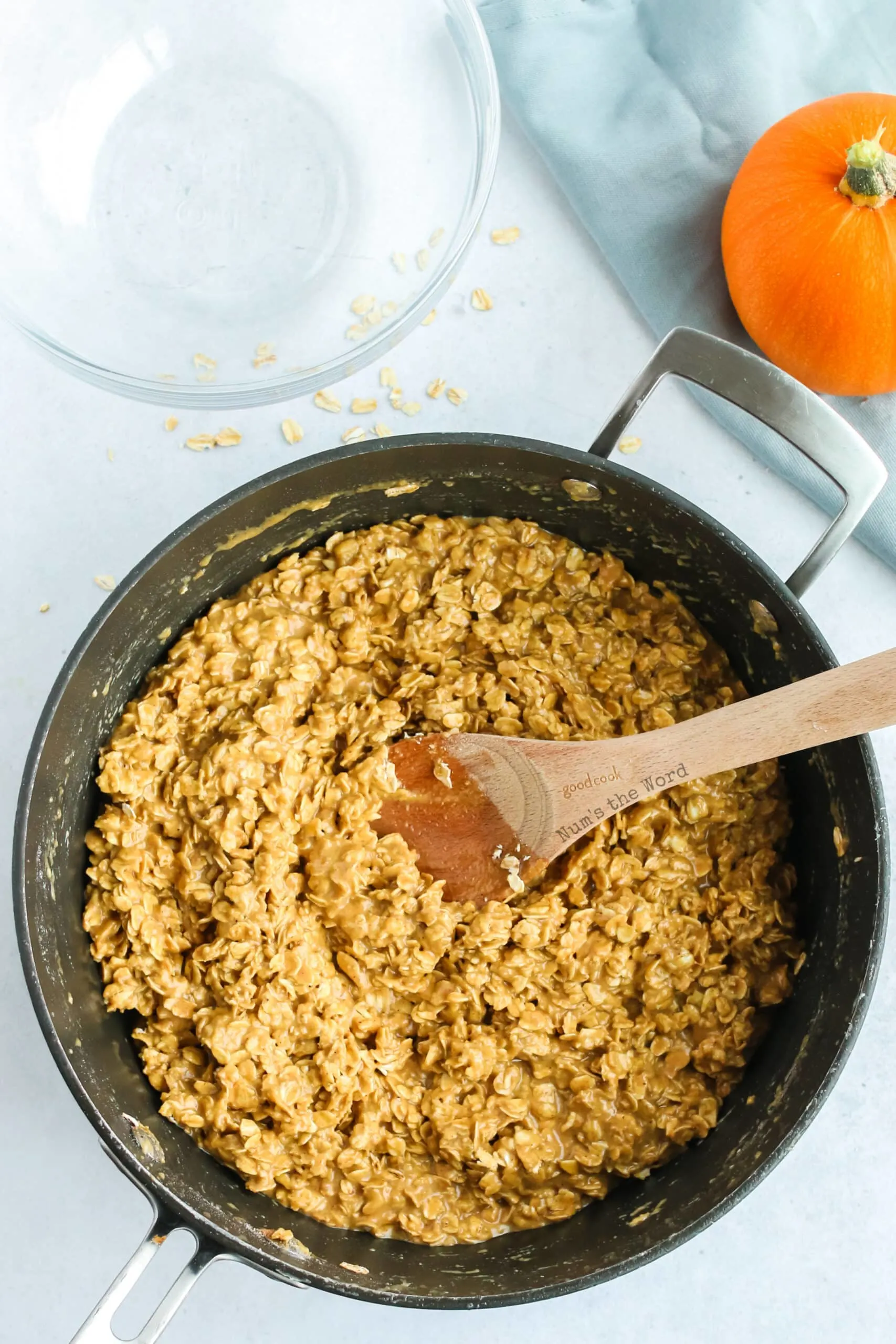 Can You Freeze No Bake Cookies?
You sure can! Keep Pumpkin Spice Cookies in an airtight container in the freezer for up to 2 months. Same as storing in the fridge, make sure you allow them time to cool before you toss them in the freezer or they'll stick together.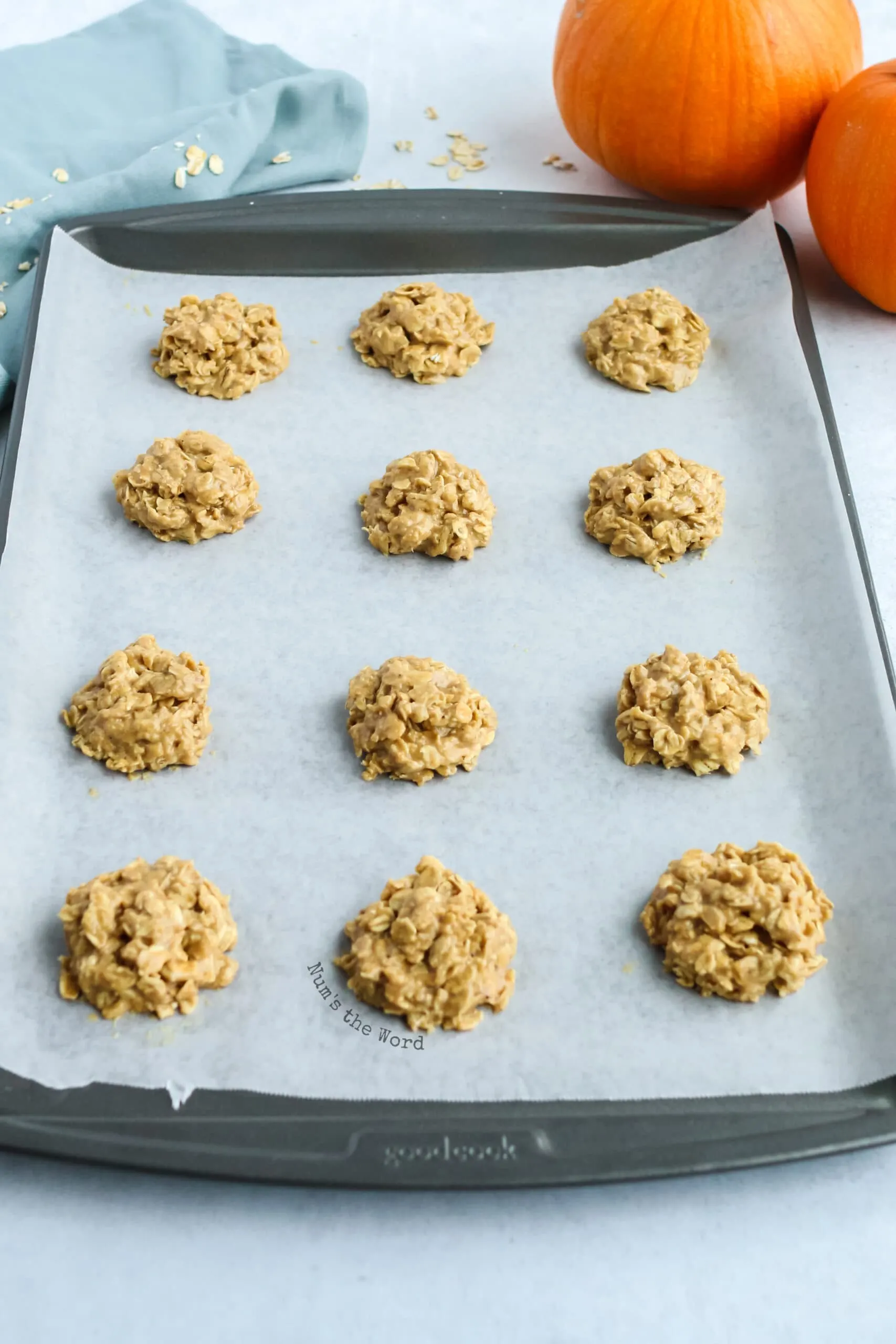 Can Splenda be Used in No Bake Cookies?
Splenda is often used as a substitute for plain white sugar. So while you could use it as a substitute for the white sugar, you're going to lose a lot of flavor in these pumpkin cookies if you try and substitute it for the brown sugar.
I don't use Splenda in my cooking but I've read that Splenda is 600 times sweeter than sugar. Keep that in mind if you try to substitute.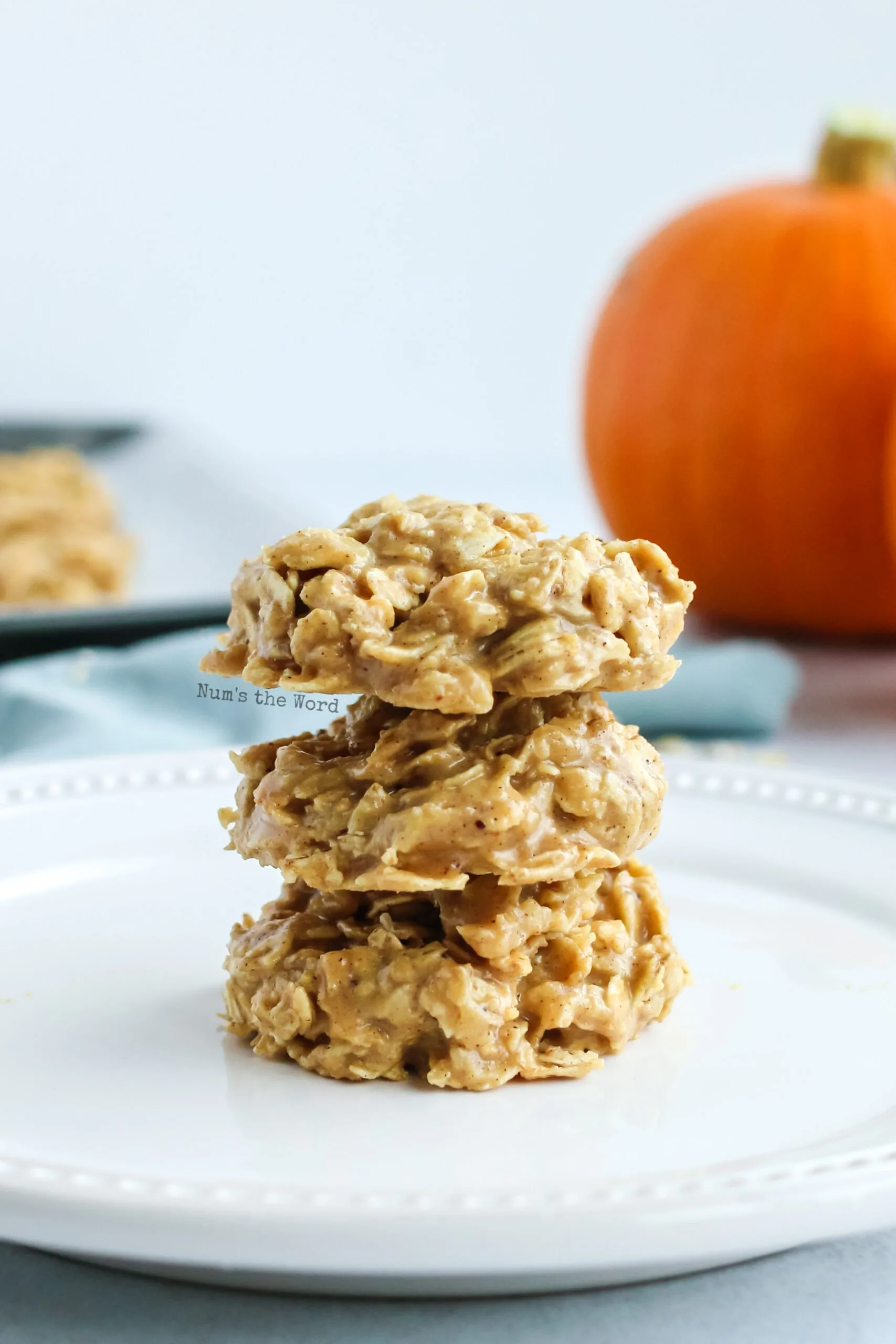 Can I Use Old Fashioned Oats For No Bake Cookies?
You can definitely use old fashioned oats. However, your pumpkin cookies will be firmer/chewier because of them needing longer to cook. You could always pop your oats into a blender and gently blend them into smaller pieces. NOT powder, but one pulse or two. That way they will cook faster.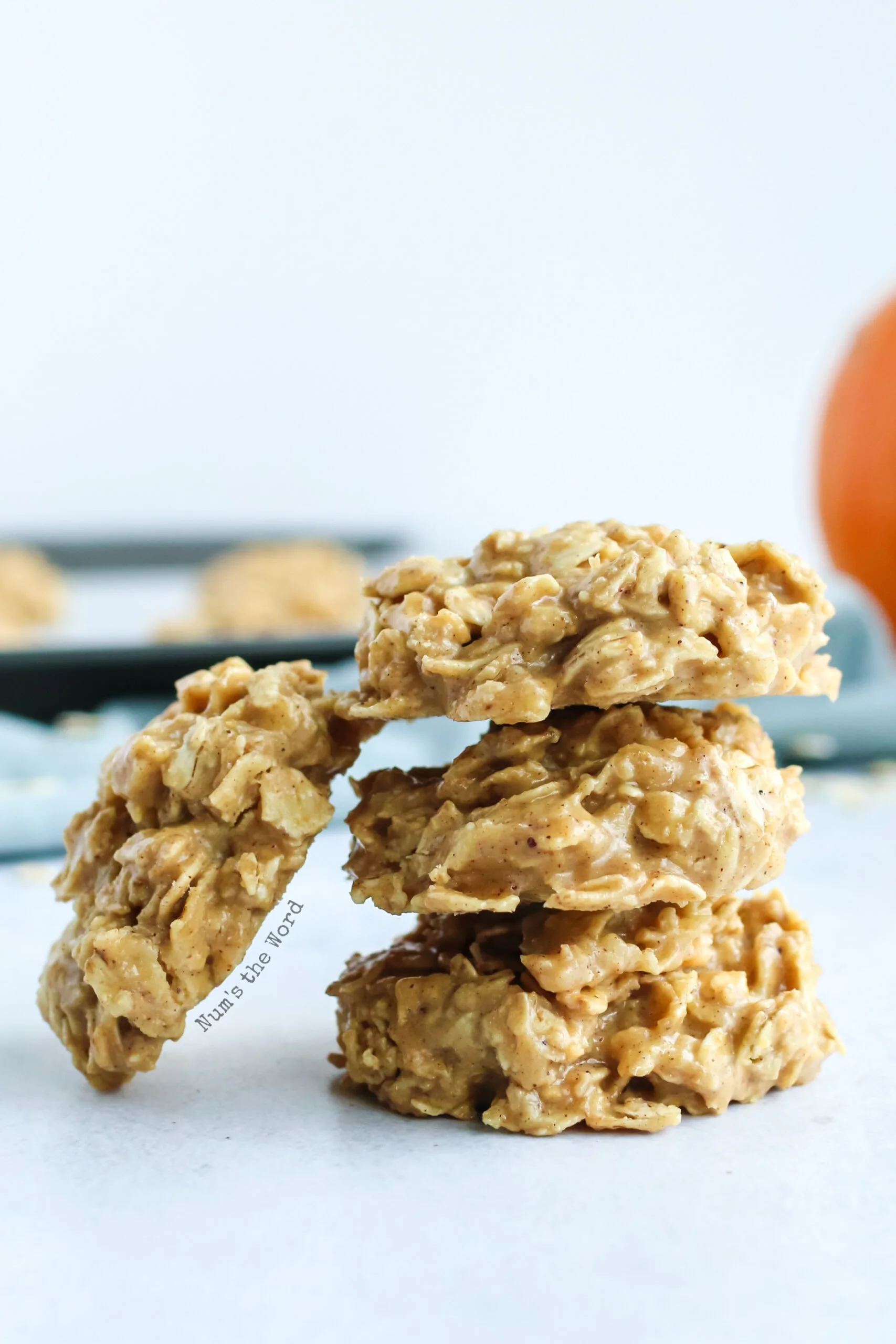 Why are My No Bake Cookies Sticky?
There is a certain trick to making no bake pumpkin cookies. The most important part of cooking them is the time spent boiling the mixture. If the sugar doesn't get hot enough to reach the soft ball stage, the mixture will not hold together.
To combat sticky no bake cookies, bring the mixture to a full boil. Then make sure you allow two full minutes of boiling before you turn off the heat.
Another problem that can cause sticky pumpkin cookies is not using the correct oatmeal. Using rolled oats is going to give you a more chewy texture. See above for a way to fix that. Or if you like the chewy texture, stick with what you love.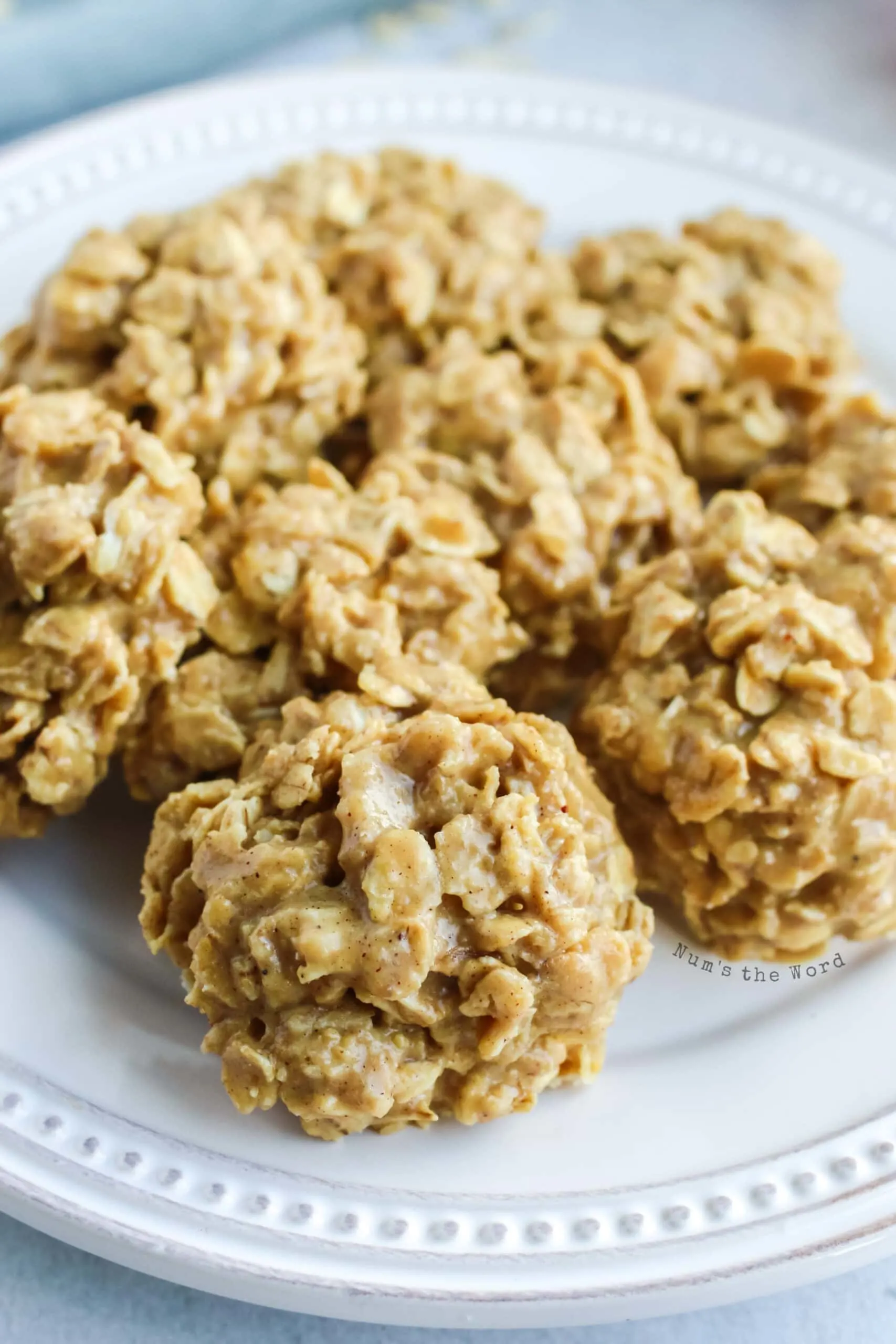 How Do I Fix No Bake Cookies That are Too Dry?
Once again, the boiling of the sugar plays such an important role in no bake pumpkin cookies! If you cook that sugar for too long the cookies are going to turn dry and crumbly.
Plan on two minutes of boiling time. Set a timer. Watch it carefully. This is not a time to be eyeballing the clock and working on something else. You'll be sure to under cook or over cook if you do.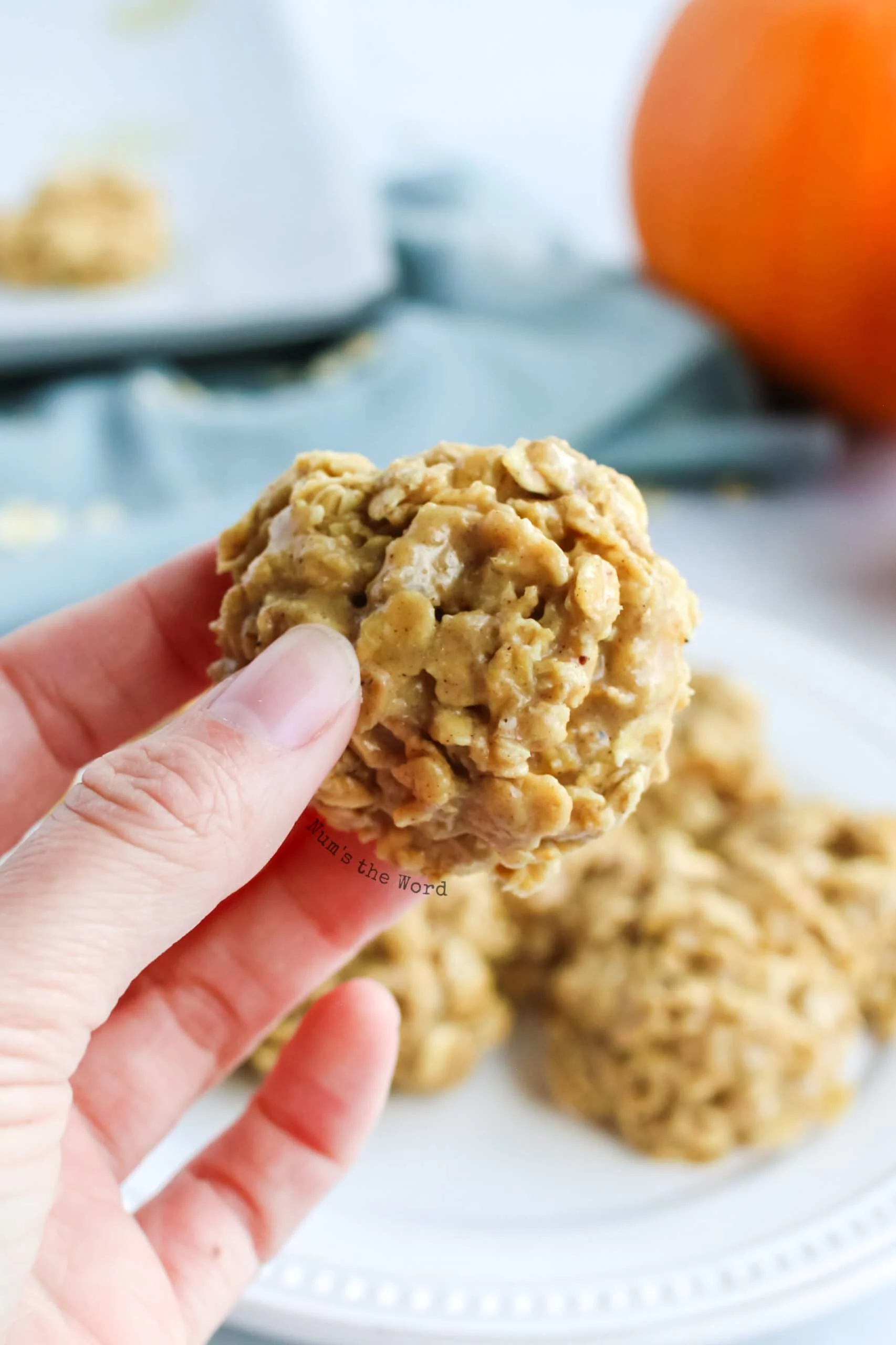 More Nummy Cookies You'll Love:
These No Bake Pumpkin Spice Cookies are delicious and the perfect addition to your holiday season! Enjoy these with some friends and a cup of hot cocoa! Yum!
Yield: 18 cookies
Pumpkin Spice Cookies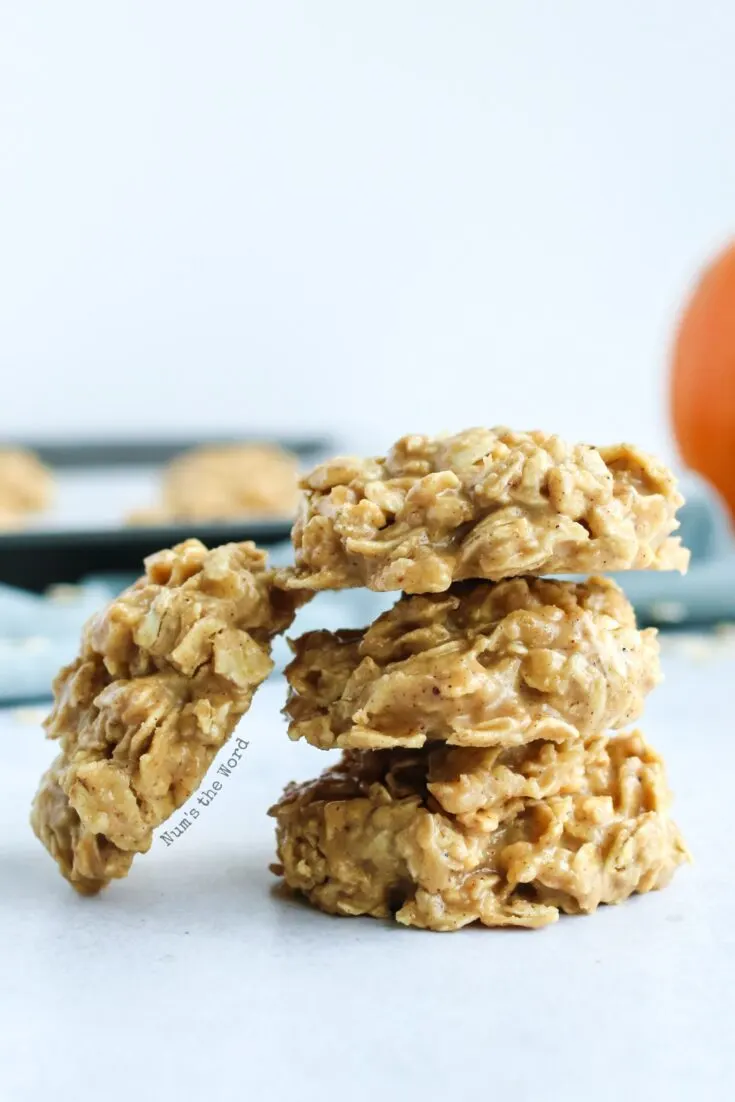 These simple, easy Pumpkin Spice Cookies are the perfect way to wow your friends and family this season! These no bake oatmeal cookies are just as easy as the original cookie, but with a yummy pumpkin spice flavor! Soft and chewy, they taste like autumn in cookie form. YUM!
Ingredients
1 1/2 cups white sugar
1/2 cup brown sugar
3/4 cup butter
2/3 cup milk
1 small box (3 1/2 ounce) instant vanilla pudding
1 teaspoon vanilla
4 cups quick rolled oats
Instructions
In a saucepan combine white sugar, brown sugar, butter & milk.
Turn heat on to medium and bring to a boil.
Boil for 2 minutes then remove pan from heat.
Add dry vanilla pudding powder and pumpkin pie spice and mix well.
Add vanilla and quick oats, half cup at a time until completely mixed in.
Let mixture sit for 5 minutes then using a small cookie scoop or a spoon, spoon out mixture onto wax paper until cool.
Originally Posted: September 16, 2015
Photos & Text Updated: October 6, 2020
Recipe Adapted from Once A Month Meals