These Surprise Snowball Cookies are an upgrade from the classic. A shortbread cookie filled with a Chocolate Kiss, baked and then coated in a yummy powdered sugar! A tasty upgrade from the classic Christmas cookie!
This post contains affiliate links.  If you click on an affiliate link and make a purchase, I will make a small percentage on your purchase. This helps keep this website running! Thank you!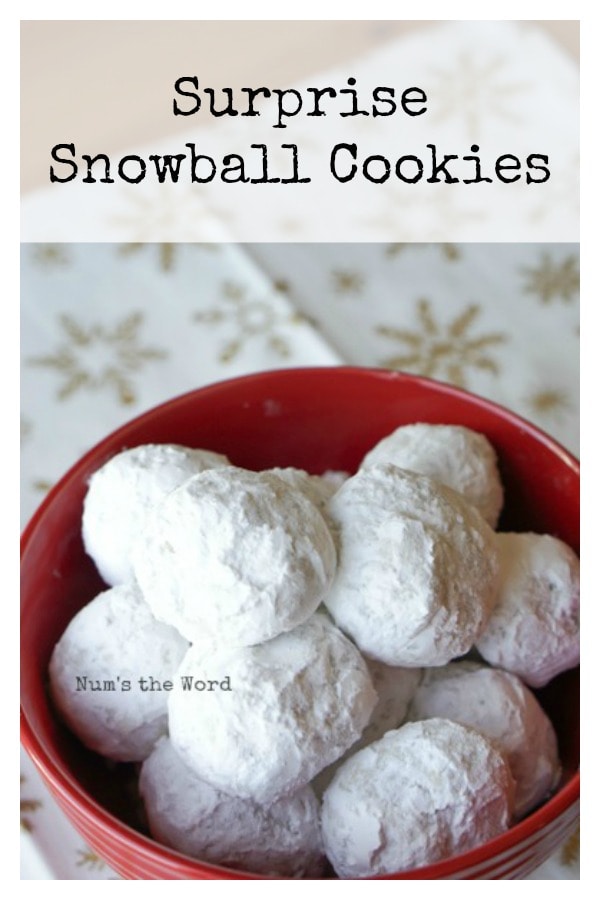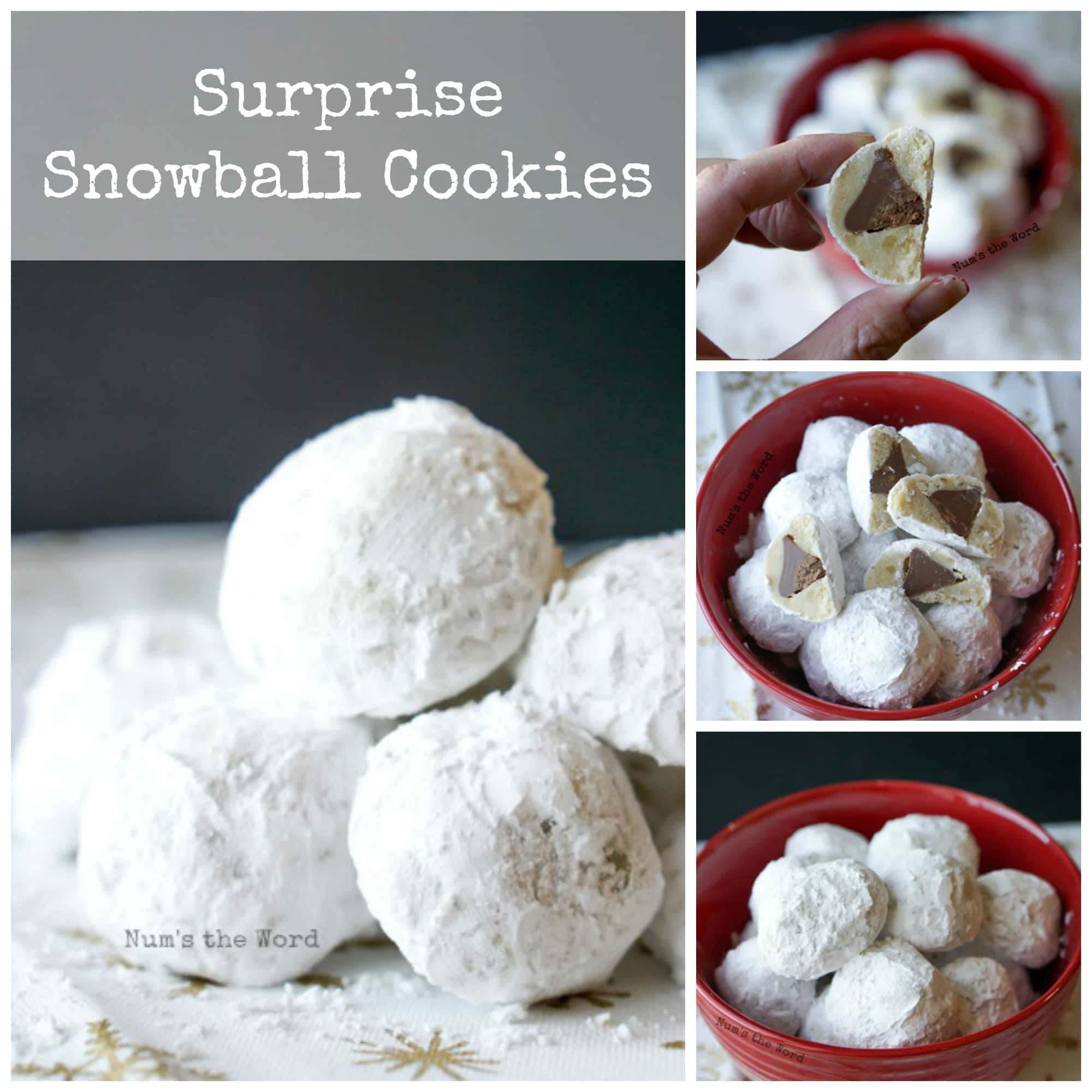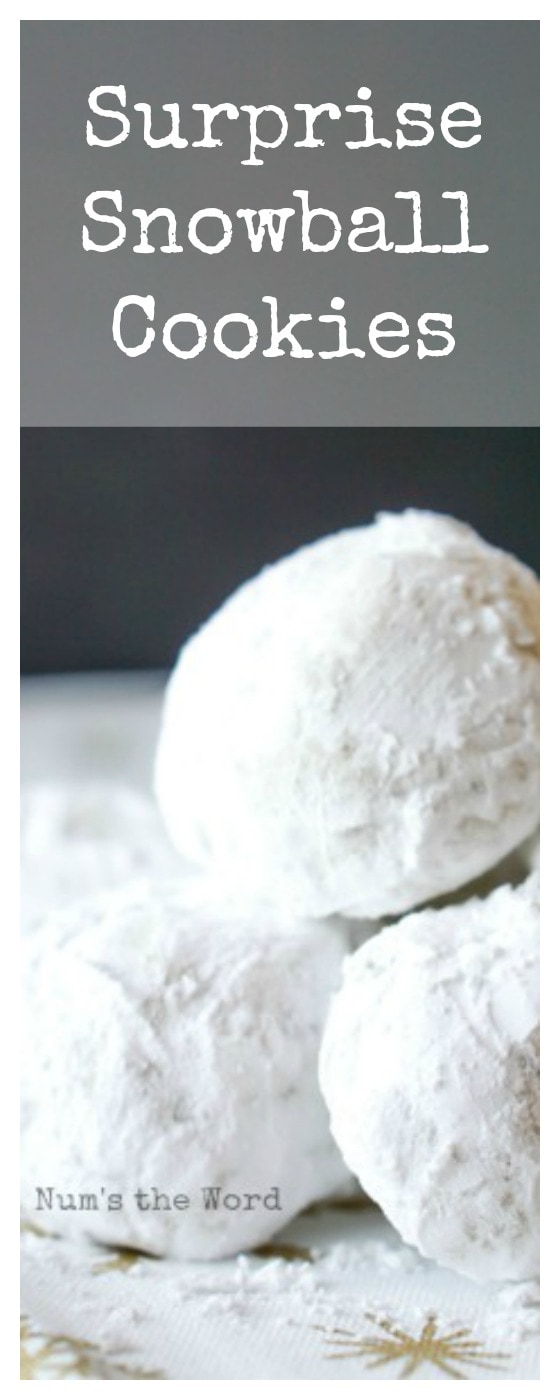 One of my favorite cookies are Snowball Cookies.
I love all the varieties of snowball cookies and they all seem to have their own special name.
Mexican Wedding Cookies, Russian Tea Cakes and of course Snowball Cookies.
Each version is slightly different but the same basic concept.
A shortbread cookie baked, then rolled in powdered sugar.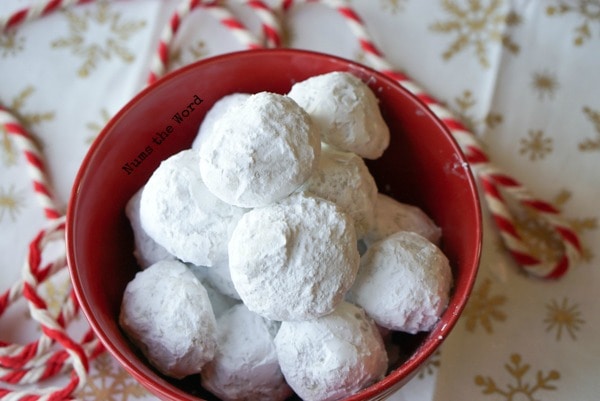 As a kid these were always one of my favorites.
However I learned early on that you really have to be careful how you eat them.
There have been far too many times that I've inhaled as I opened my mouth to take a bite and instead inhaled the powdered sugar.
It is moments like this that you begin to cough and gag and slap your knee in an attempt to breath oxygen again.
There are few things that take you by instant surprise like inhaling powdered sugar when you didn't mean to.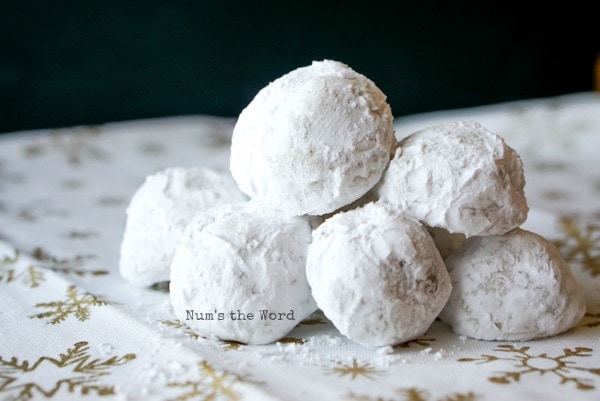 I tend to do this at least once every time I eat these cookies as well as powdered donuts.
And yet, I keep eating them.
It's because they are so tasty!
Generally speaking, Snowball style cookies include nuts.
Walnuts, Pecans and Almonds have all made there way into these cookies.
However for this recipe we dare to do nuts AND chocolate.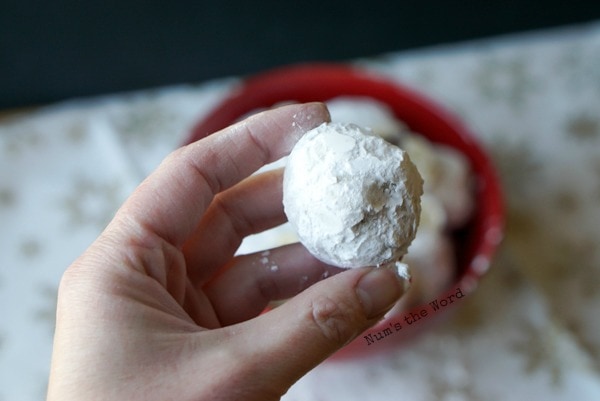 The show stopper and "surprise" aspect of these cookies is the Chocolate Kiss found in the center.
Feel free to use any flavor, but I've found that classic chocolate kisses and truffle chocolate kisses seem to work the best in terms of flavor.
However, that is just me.
As I'm sure you've guessed, the surprise is that there is the kiss in the center.
Looking at these Surprise Snowball Cookies, you'd never know what was waiting for you inside.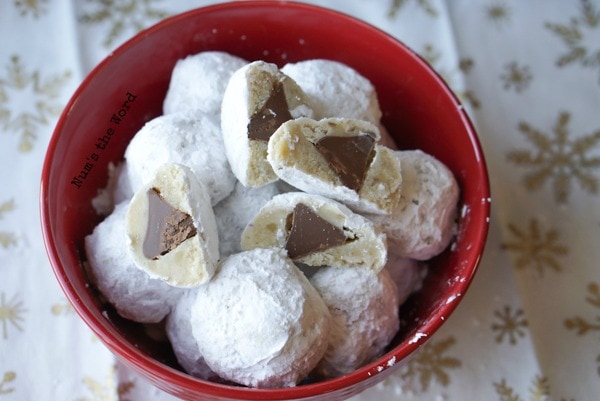 You'd assume they were the general nut filled cookie.
However finding the kiss inside is a fun surprise that everyone loves.
I've tested these cookies out on many unsuspecting guests and every time they comment on how surprised they were with the kiss and how much they enjoyed it!
This is one of those simple ways of taking an ordinary cookie and making it extraordinary!
If Snowball Cookies are a favorite of yours, hide a kiss in yours and discover how yummy they can be with the added chocolate!
Yield: 2 Dozen
Surprise Snowball Cookies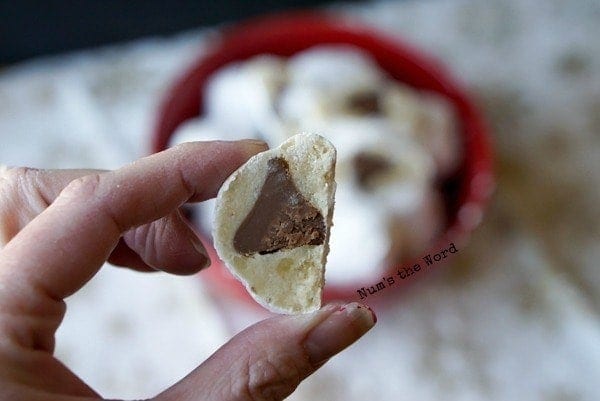 Ingredients
1 cup butter
1 cup + 1 cup powdered sugar
1 egg
1 cup diced pecans
1 teaspoon vanilla
1/4 teaspoon salt
2 1/2 cups all-purpose flour
24 chocolate Kisses, unwrapped
Instructions
Preheat oven to 350*F
In a bowl, cream together butter and 1 cup powdered sugar.
Add egg and mix well, scraping sides of bowl.
Add vanilla and salt and mix well.
Add pecans and blend again.
Finally add flour 1/2 cup at a time blending after each addition until all flour has been added.
Scoop out a tablespoon of dough and flatten in your hand.
Place a chocolate kiss in the center of flat dough and wrap dough around kiss.
Once wrapped, gently roll in your hands to create a ball.
Place on a greased cookie sheet.
Bake for 10 - 12 minutes or until a hint of golden.
Allow to cool completely.
Once cooled, toss in a large plastic bag with 1 cup powdered sugar. Seal bag and shake well until all cookies are covered in powdered sugar. This may require multiple batches.
Will keep in a sealed container for up to a week.
Other Cookies You'll Love...