These Leftover Pulled Pork Grilled Cheese Sandwiches are quick, easy and the perfect solution for leftover pulled pork! Use any flavor of pulled pork and dip them in your favorite sauce! A great lunch or dinner idea!
This post contains affiliate links.  If you click on an affiliate link and make a purchase, I will make a small percentage on your purchase. This helps keep this website running! Thank you!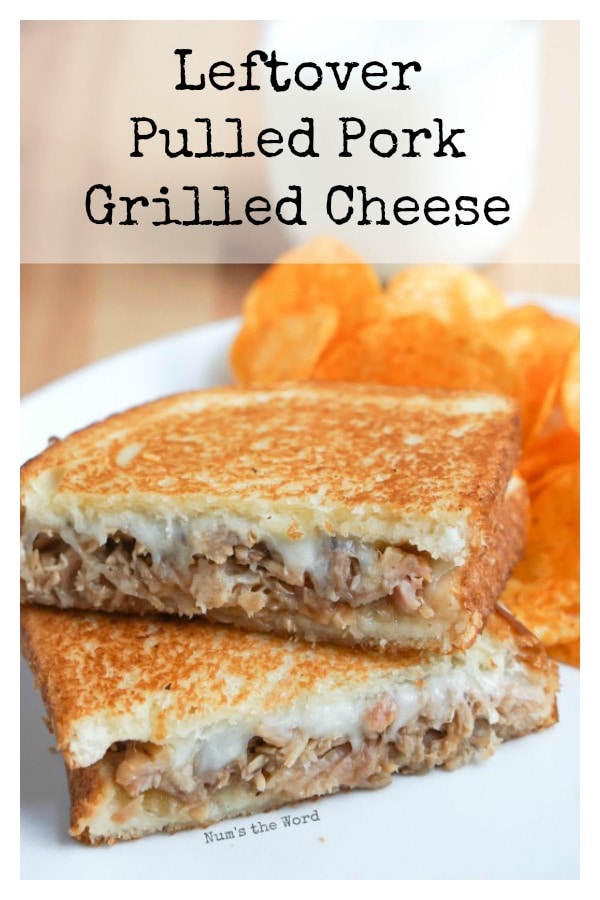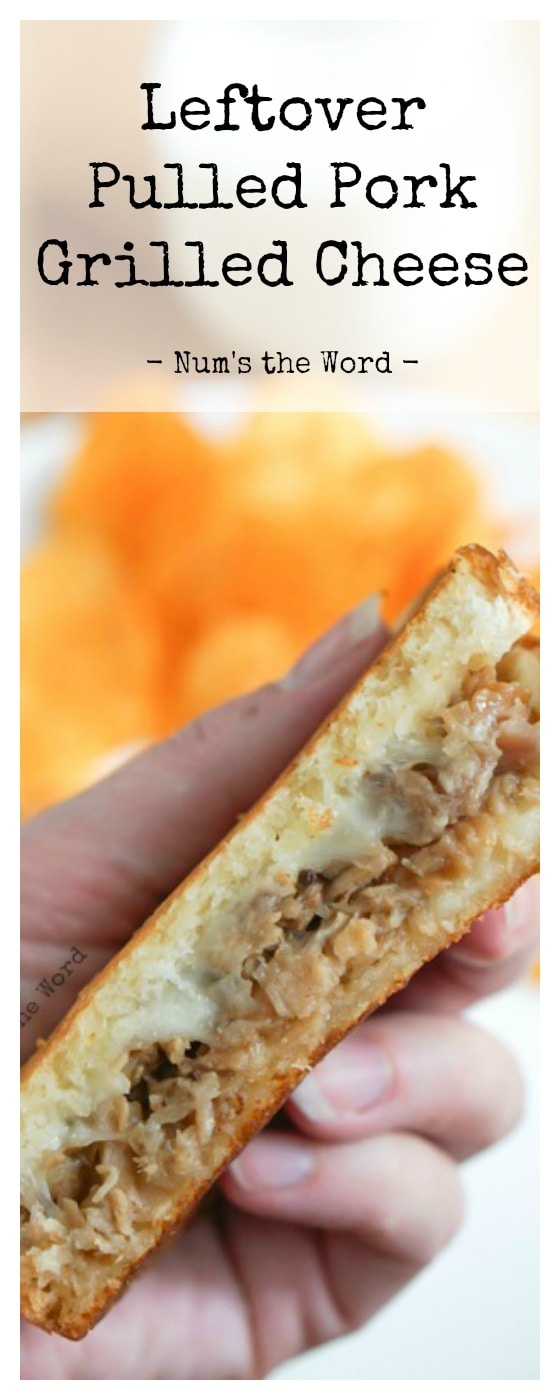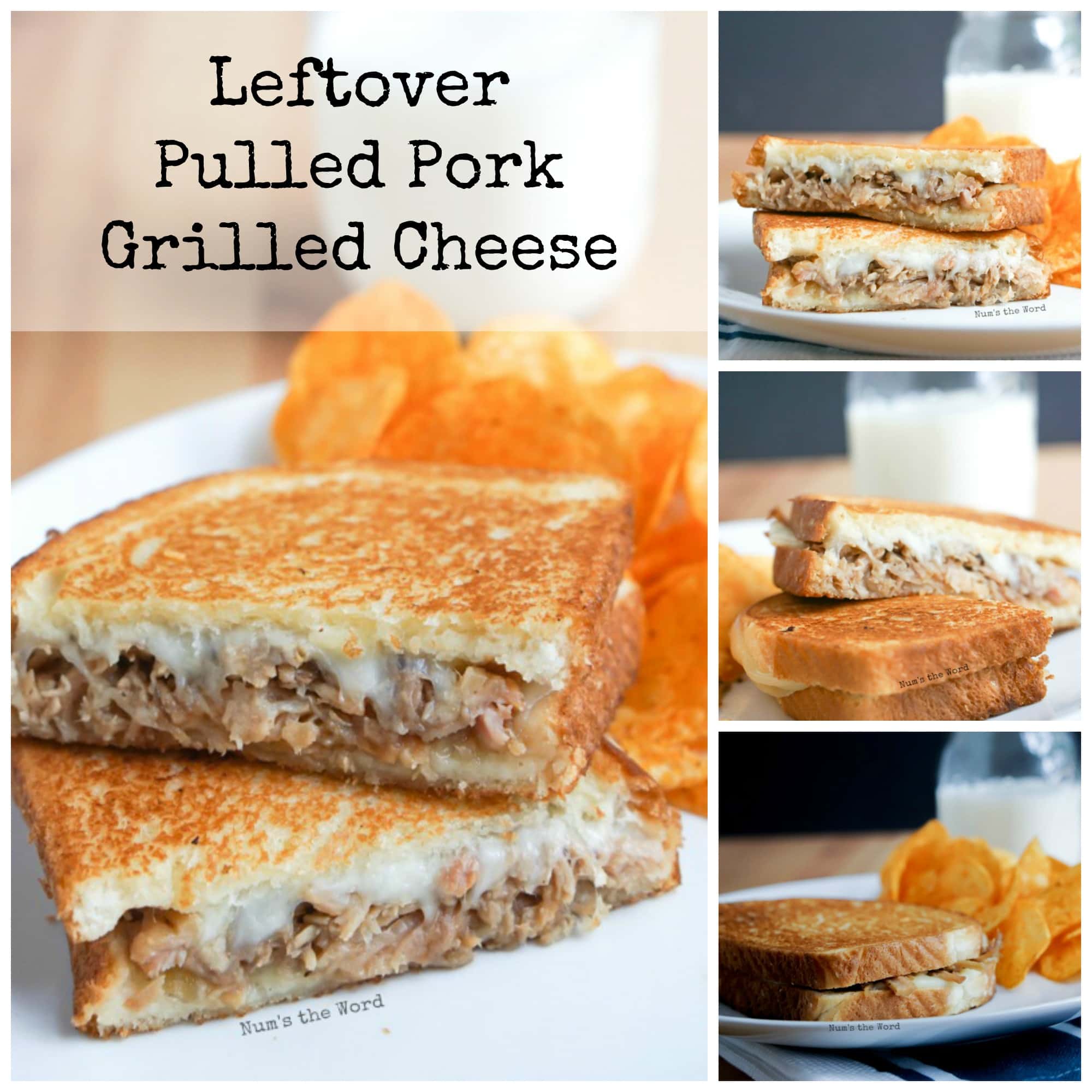 This recipe is one that I have to give my husband credit for.
As simple as it is, it's one of our new favorite ways to use up leftover pulled pork.
If you've been on our email newsletter list for a while now, you'll realize that we love grilled cheese sandwiches.
Last month we introduced leftover Pot Roast Grilled Cheese, and now Leftover Pulled Pork Grilled Cheese!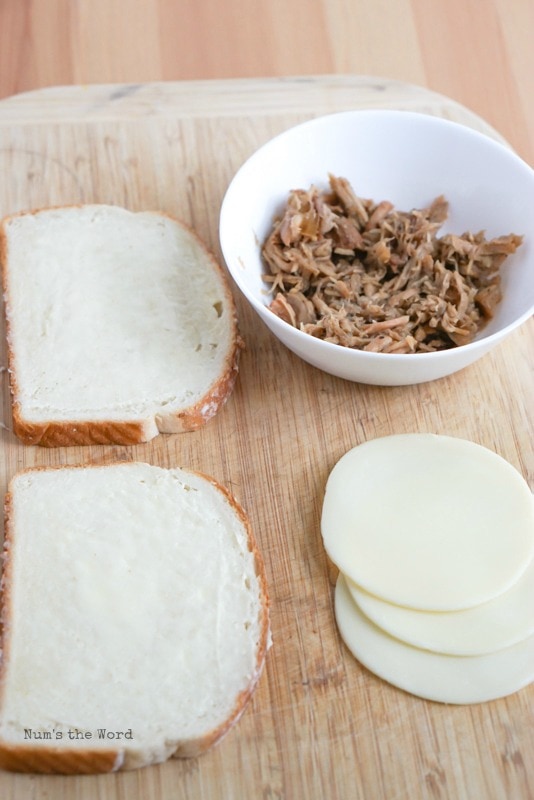 They are a go-to staple in our family and we are quickly learning that we can take just about anything and turn it into a grilled cheese.
As I was looking at the last bit of pulled pork we still had in the fridge, my husband suggested Pulled Pork Grilled Cheese for lunch one day.
I thought it was a splendid idea.
He opted for Pepper Jack Cheese, while I opted for the classic Provolone cheese.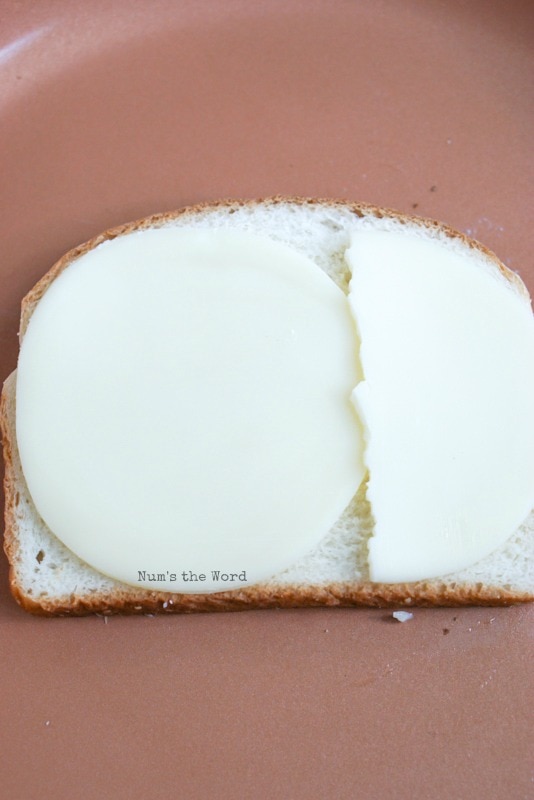 When it came down to it, Provolone won the taste and cheese pull test!
Leftover Pulled Pork is one of our favorite all time meals.
We can use it in so many different ways that we always make twice as much as we can eat, just for the leftovers.
I should also mention that every time we make it we also try new ways of enjoying those leftovers.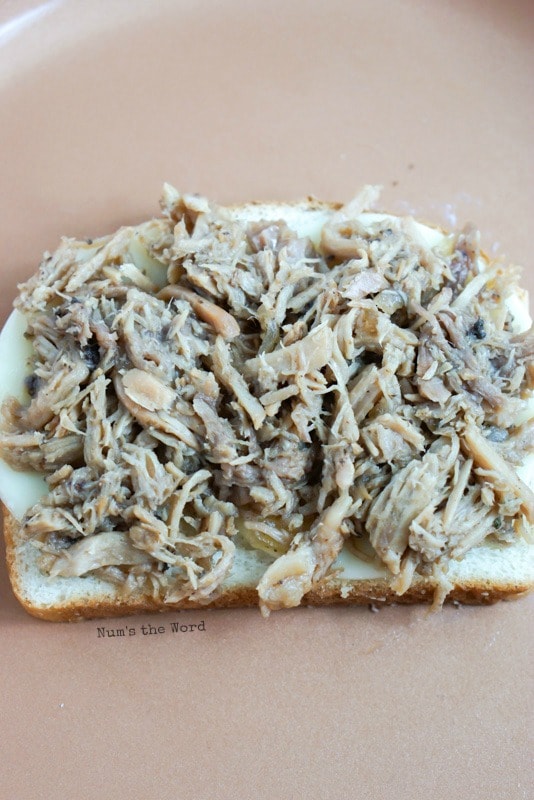 These Leftover Pulled Pork Grilled Cheese Sandwiches are a simple, yet brilliant way to enjoy leftovers!
The catch though, is that you really need to heat up your pulled pork so it's nice and hot BEFORE You place it on the bread.
Or else it will be cold pork.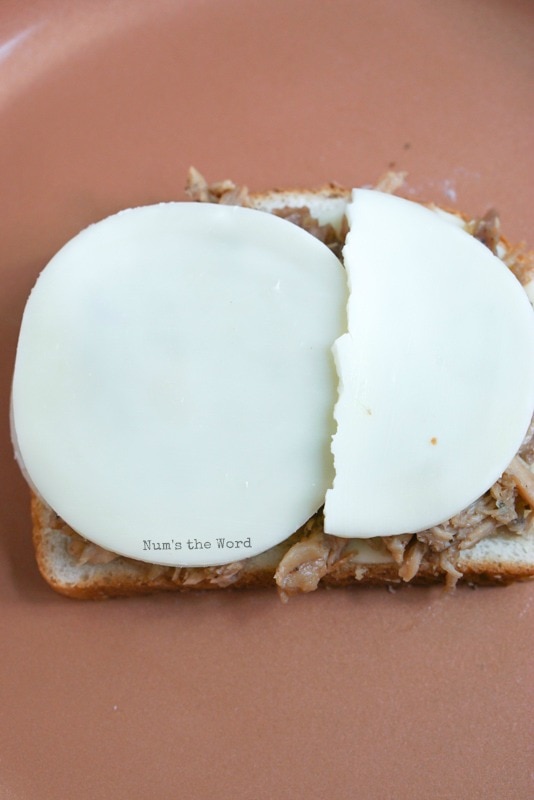 Between the bread and cheese and pork, it doesn't cook long enough for the heat to really warm up the meat inside.
However once you place hot pulled pork into the sandwich it will stay nice and warm for cooking.
I should also mention that it really doesn't matter what flavor your pulled pork is or even if it's homemade.
I've come home before with a to-go box of leftovers from eating out at a barbecue restaurant and this is an easy go-to recipe for using up those leftovers.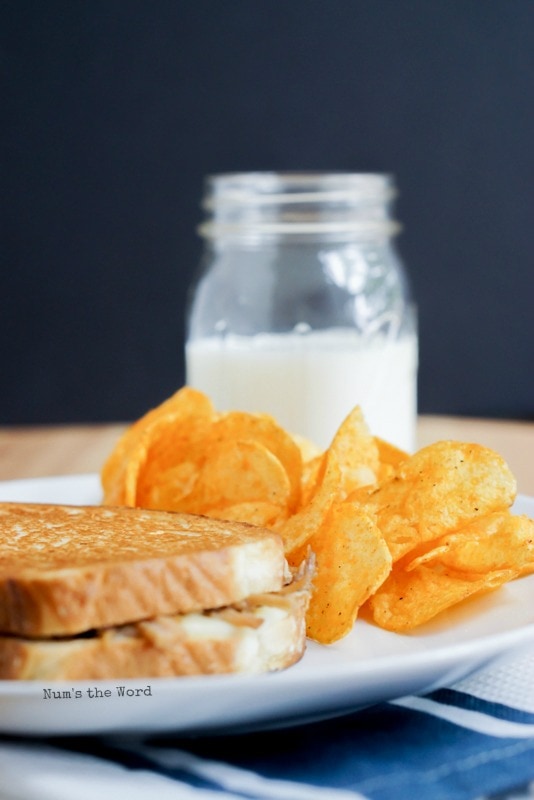 My husband and I both love gussied up grilled cheese sandwiches.
My kids on the other hand do not.
They are determined to never try something as crazy as a Pulled Pork Grilled Cheese Sandwich.
However if they would just try ONE bite they'd fall in love with it.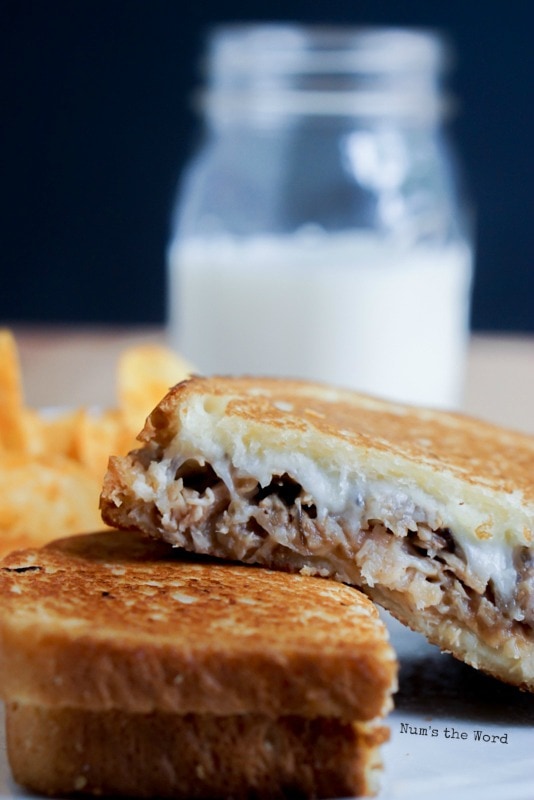 Alas, it's that first bite though that causes endless amounts of dinnertime arguments.
And at this stage, this is not one of the many battles worth fighting most days.
That's why my husband and I tend to eat these for lunch and make the kids classic grilled cheese sandwiches.
This way everyone wins.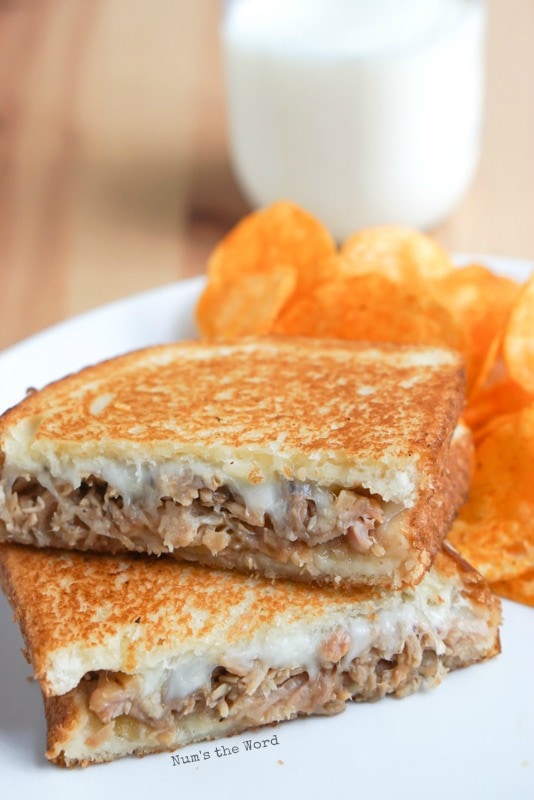 As a bonus, that means more pulled pork for us, and less for them!
A win-win in my book!
If you have leftover pulled pork and are tired of eating it as is, then whip up this Leftover Pulled Pork Grilled Cheese!
Yield: 1 Sandwich
Leftover Pulled Pork Grilled Cheese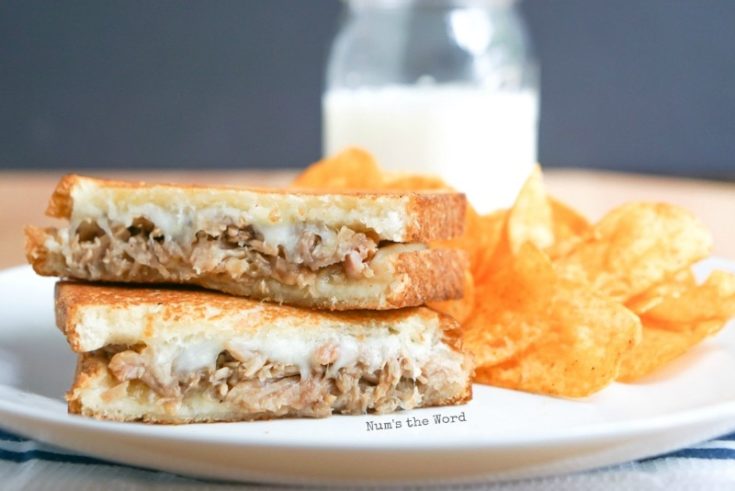 Ingredients
2 slices bread
2 Tablespoons butter
3 slices of Provolone Cheese
3/4 cup pulled pork
Instructions
Butter one side of each slice of bread.
Warm pulled pork in microwave until hot - 30 seconds - 1 minute.
Drain pork and set aside.
Preheat skillet to medium low heat.
Place one of the slices, butter side down in a skillet.
Place 1 1/2 slices of Provolone cheese on top of bread.
Spread out pulled pork on top of cheese.
Place other 1 1/2 slices of Provolone cheese on pulled pork.
Top with second slice of bread butter side up.
Turn heat up to medium and cook until golden on the bottom.
Flip and cook until second side is golden and cheese is melted. If heat is too high, turn down so it doesn't burn.
Remove from skillet, slice and enjoy with your favorite sauce. Barbecue or our [Cilantro Lime Dressing|https://numstheword.com/cilantro-lime-dressing/ are always favorites of ours!
Other Ways to Use Leftover Pulled Pork...