This old fashioned honeycomb candy is a classic recipe that will remind you of grandma. Easy to make and oh so tasty covered in chocolate!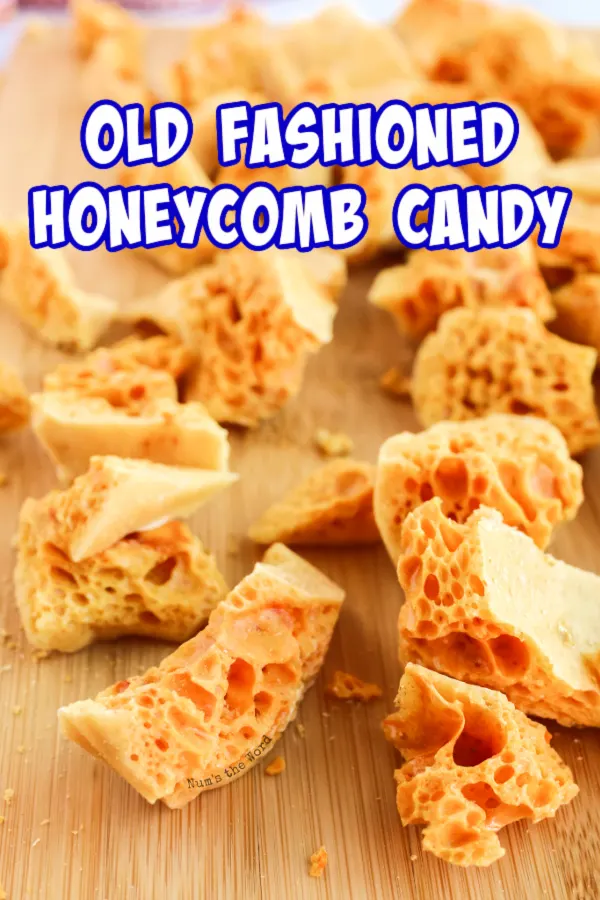 As a child I'd never heard of honeycomb candy. It wasn't until I was an adult and flipping through one of my grandmothers cookbooks that I found a recipe for honeycomb candy. I was so curious, that I whipped up a batch and was hooked!
It's now a holiday staple for us and one we include in every cookie tray we give out. It also now reminds me of my grandmother every time I make it.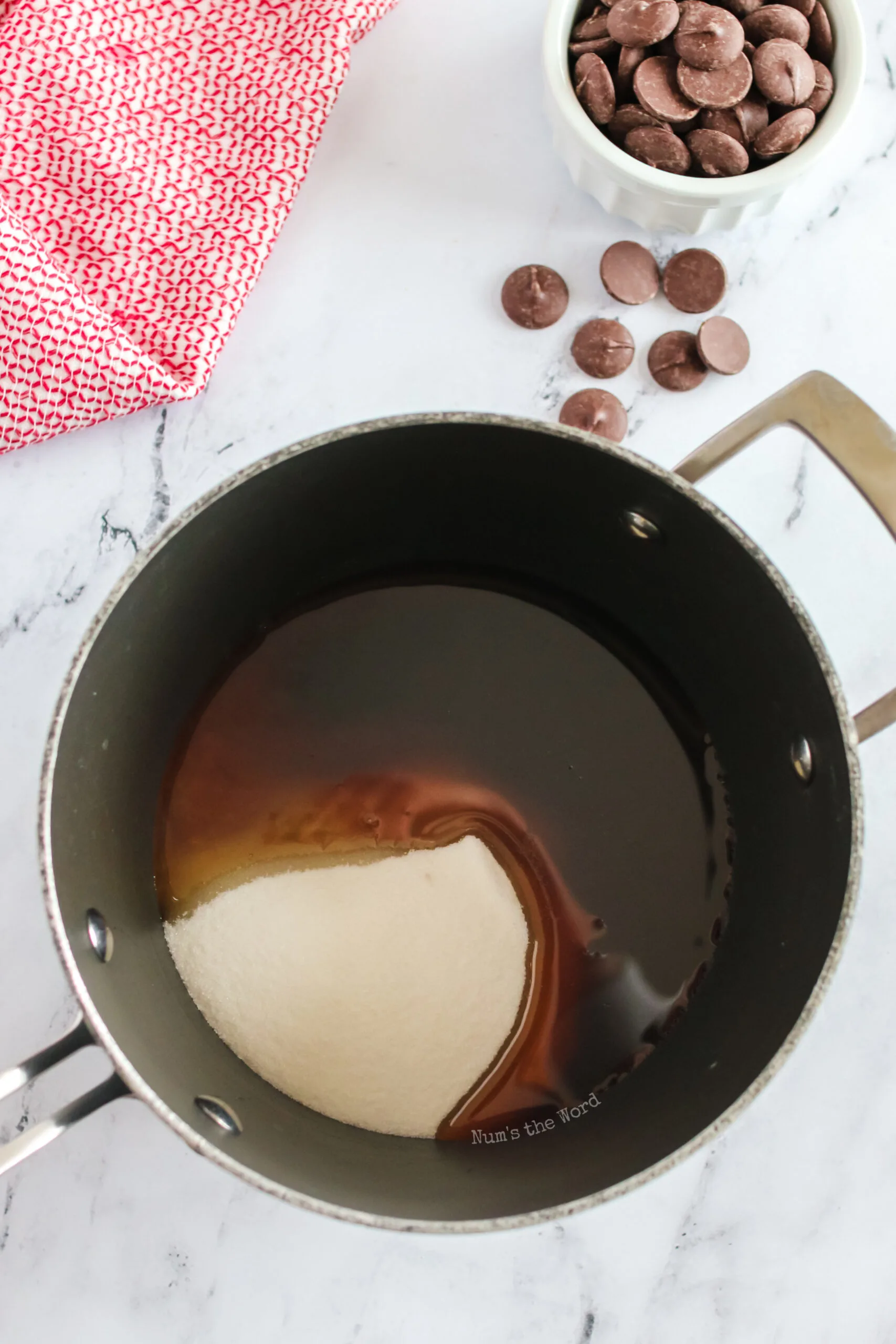 What is Honeycomb candy?
Honeycomb candy is a crunchy old fashioned toffee with many different regional names. You may have heard it called honeycomb toffee, cinder toffee, fairy food or angel food candy, hokey pokey, old fashioned puff, sea foam, puff candy, sponge candy, dalgona, or gulali.
It's typically dipped in chocolate. It's unique texture and rich, toffee flavor have made it a classic and fan-favorite treat!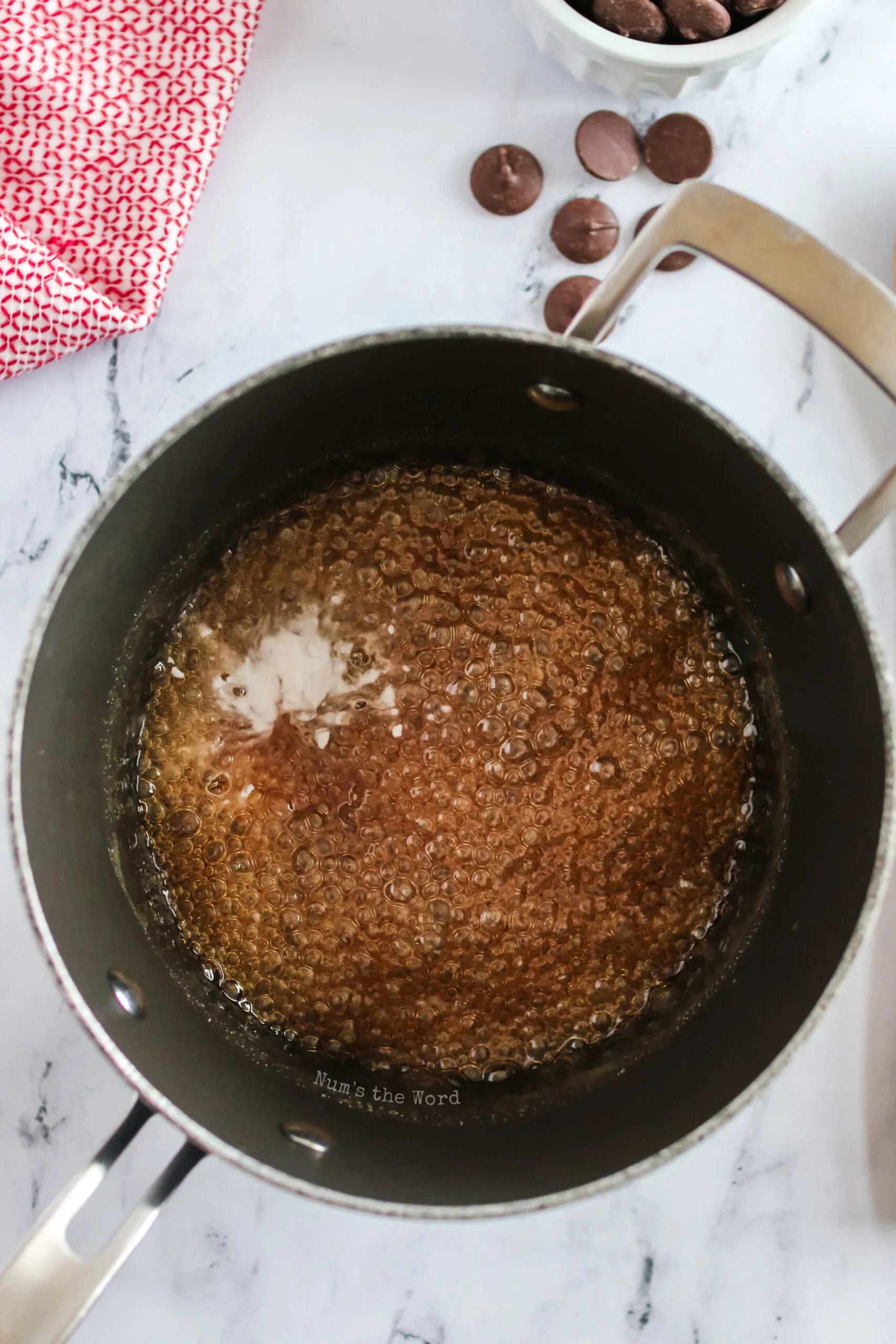 Where was Honeycomb Candy invented?
Honeycomb candy has been around since the 1940's though no one is quite sure where or even an exact date. It's one of those old fashioned candies that grandma used to always make and now you can too!
Are Honeycomb Candy & Sponge Candy the same thing?
No they are not. They are similar though. The both have pockets of air trapped inside and are similar cooking and ingredients.
Sponge candy has smaller air holes and is a lighter softer candy. Honeycomb on the other hand has larger air holes, and is crunchier like toffee.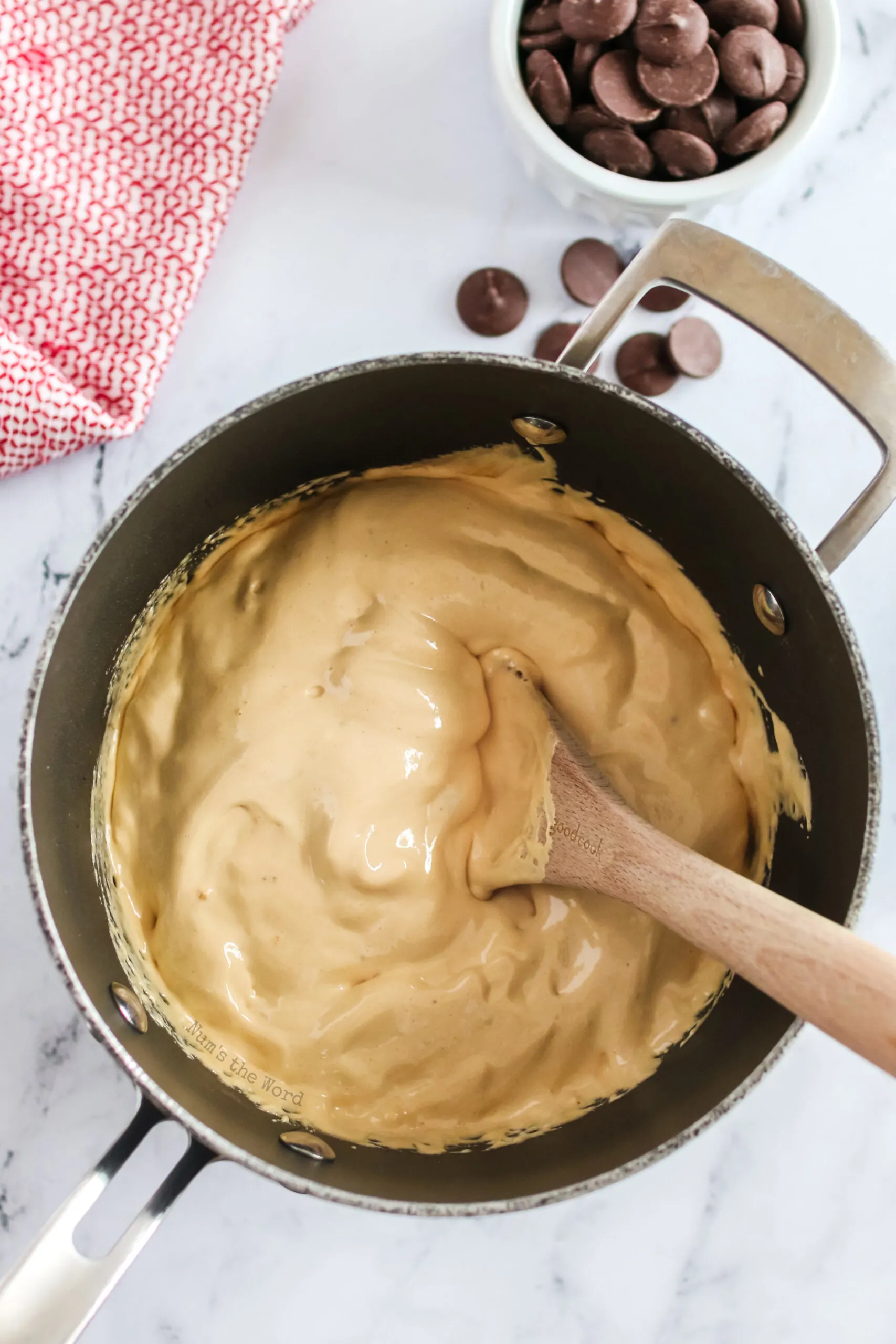 What is Honeycomb candy made of?
This candy recipe contains relatively few ingredients and is not too difficult to make at home! To make this recipe, you'll need the following:
White sugar

– toffee is typically made by caramelizing sugar, and this recipe is no exception!

White vinegar

– one of the things that makes this candy unique is the light and airy texture of the toffee. We have the vinegar, in part, to thank for that! Vinegar reacts with the baking soda in the recipe to form little bubbles of carbon dioxide that give the honeycomb candy its airy, crisp texture.

Dark corn syrup

– dark corn syrup contributes to the rich flavor and texture of your candy. Corn syrup keeps sugar crystals from forming and ruining the texture.

Baking soda

– baking soda reacts with the vinegar to form carbon dioxide bubbles that give this candy its trademark texture!

Chocolate melting wafers

– Ghiradelli dark chocolate is my favorite. I love the combination of dark, earthy chocolate and light, crisp candy!

Digital candy thermometer

– you NEED a candy thermometer to make this recipe, as candy making is finicky and having precise temperature measurements will make or break your recipe!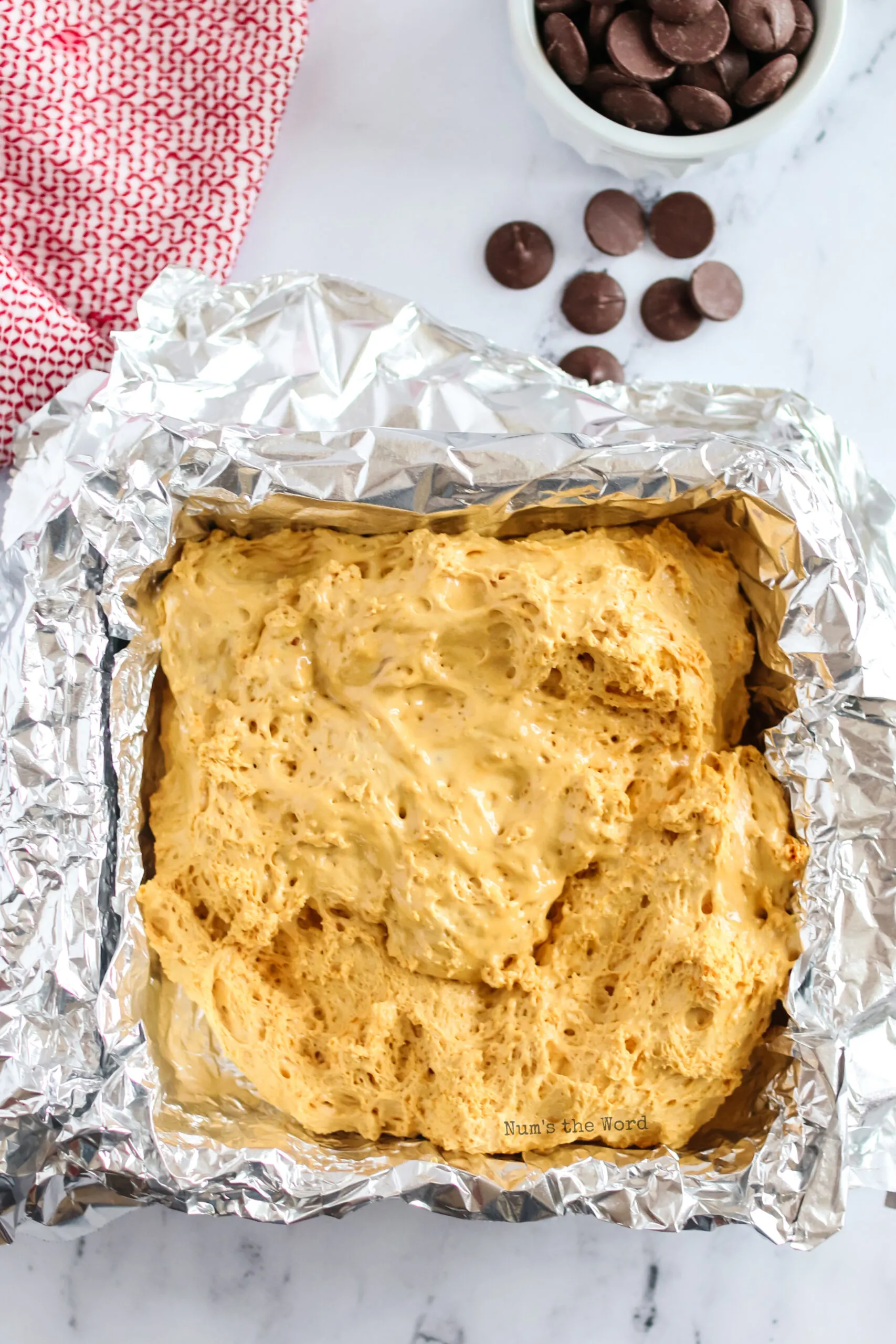 How to make Honeycomb candy?
Line your pan. I suggest using non-stick foil. It's GREAT for candy making!
Cook your candy. Use a digital thermometer so you know exactly how long to cook it!
Pour in your pan and let it cool.
Chop and dip! Chop it up into bite sized pieces and dip in dark chocolate. It's delicious with or without the chocolate.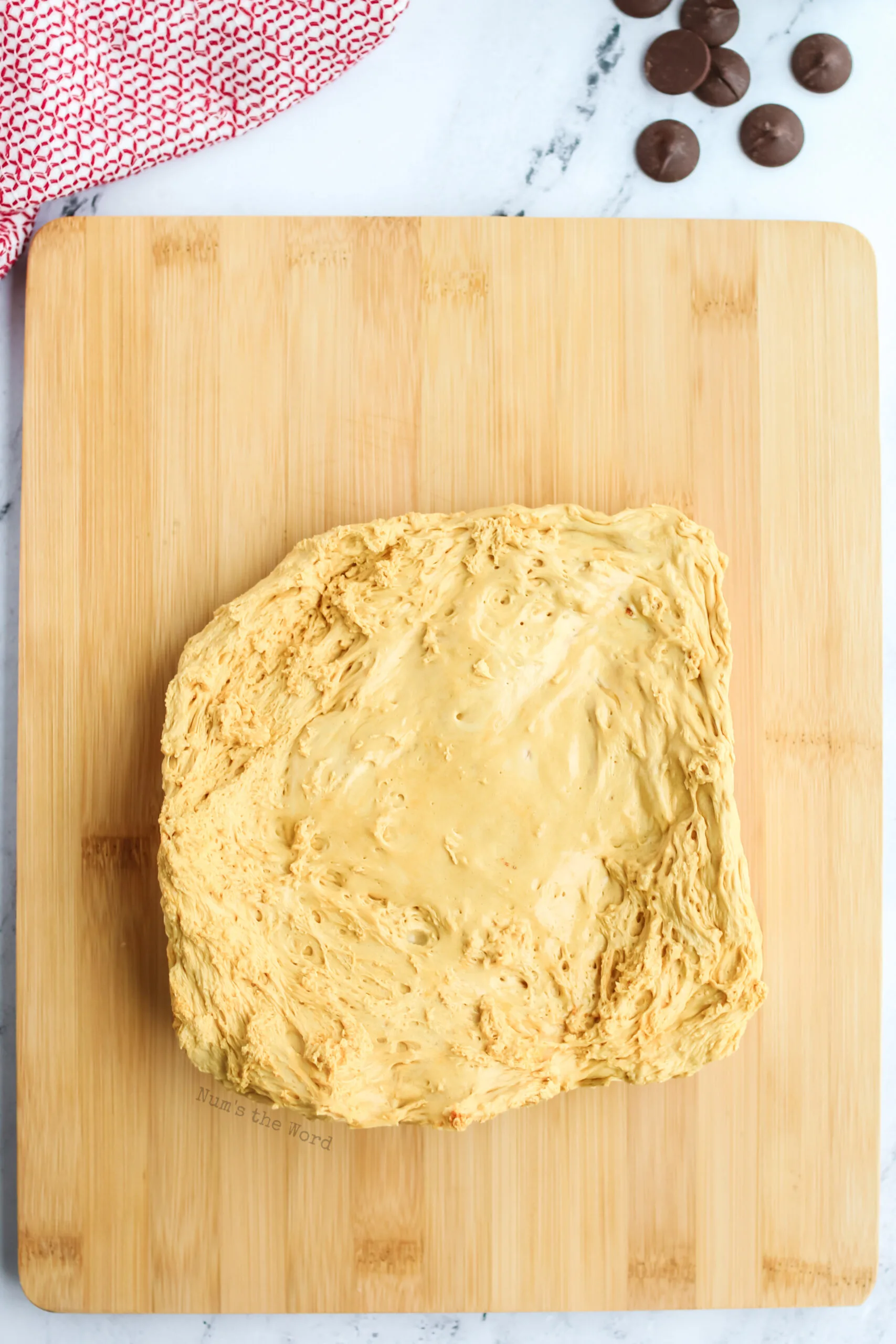 How to store Honeycomb candy?
Because this candy is super susceptible to humidity, do not store it in the refrigerator. Your chocolate honeycomb candy will hold up a little better because the coating protects the spongy interior from becoming sticky with humidity as quickly.
Don't put off coating your candy in chocolate so you can avoid as much exposure to humidity as possible. Store your candy in a cool, dry place in an airtight container.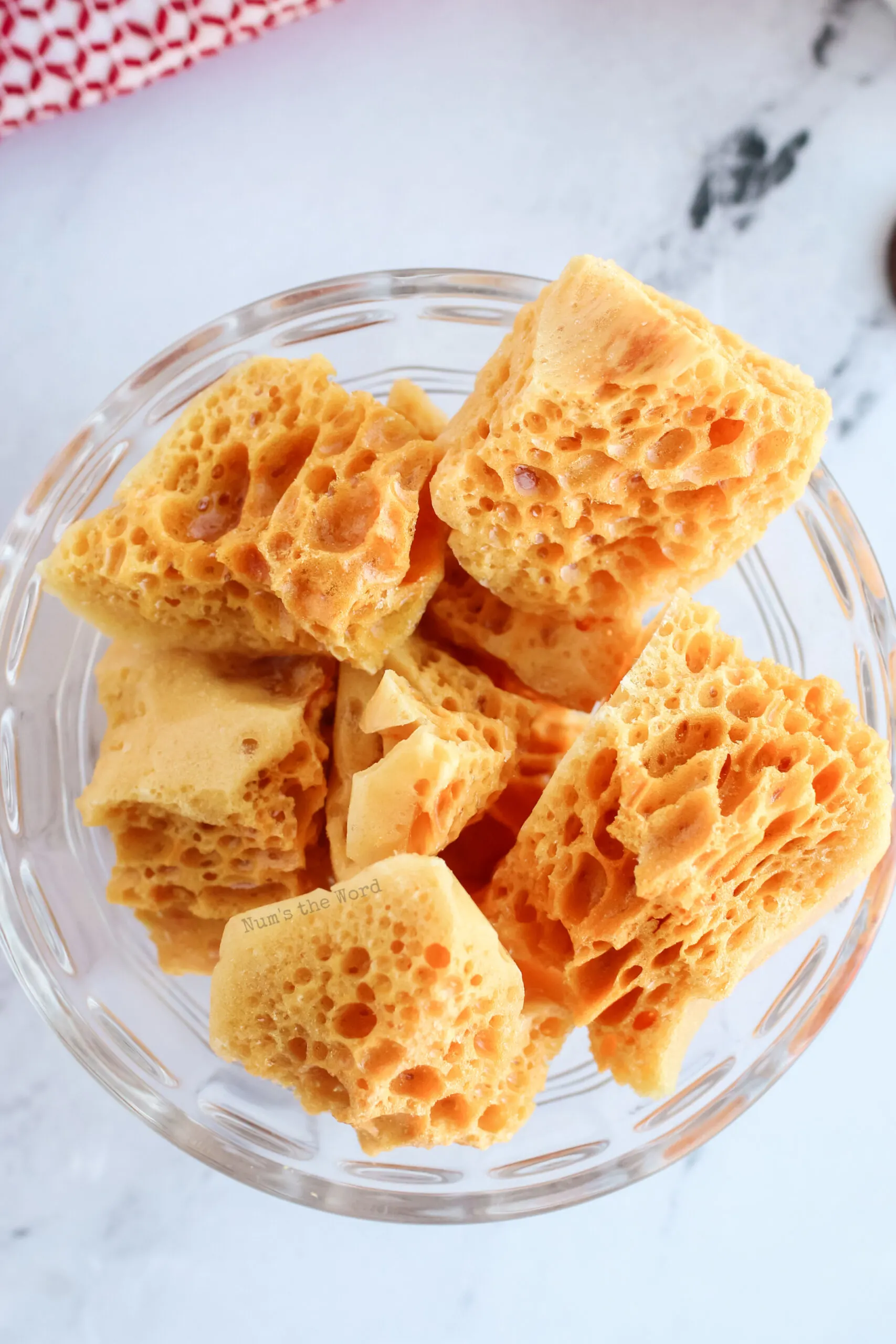 Can you freeze honeycomb candy?
Yes, you can freeze it, though you really don't need to if you store it properly. If you do choose to freeze it, be sure to thaw it in a dry place and NOT in the fridge.
Refrigerators are very humid and will cause your candy to get gummy. Freezing your candy will most likely affect it's texture. I've not frozen it, so I make no guarantees.
How long does honeycomb candy last?
It really depends on how it's stored and the humidity levels where you live, but stored properly your candy can last from 2 weeks to a month or so (though I don't know how it wouldn't get eaten by then!). Be sure to coat it in chocolate as soon as it's cooled and store it in a cool, dry place and in an airtight container.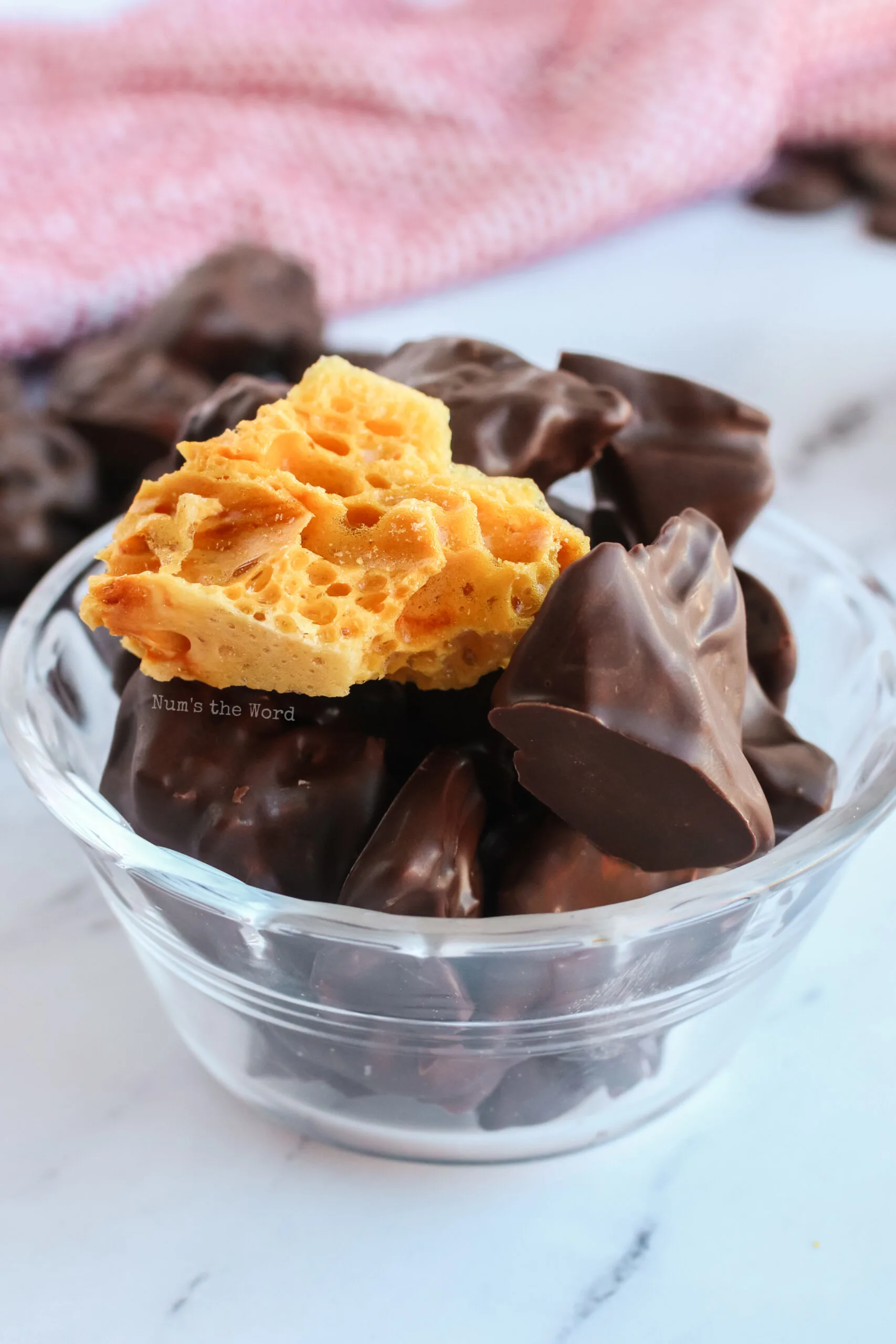 Is Honeycomb candy gluten free?
Yes it is gluten free! Be sure to check you melting chocolate to be sure it is gluten free as well.
Is Honeycomb candy vegan?
Sadly, this candy is made with white sugar, which is technically not vegan as it gets its color using bone char. You can purchase non-dairy melting chocolates that aid in veganizing this recipe.
Why did my Honeycomb candy flatten while cooling?
Having lived all over the country, I've found that humid areas affect honeycomb candy and make it deflate more than drier parts of the country. Don't panic though. It's delicious both ways and should definitely be a candy you try!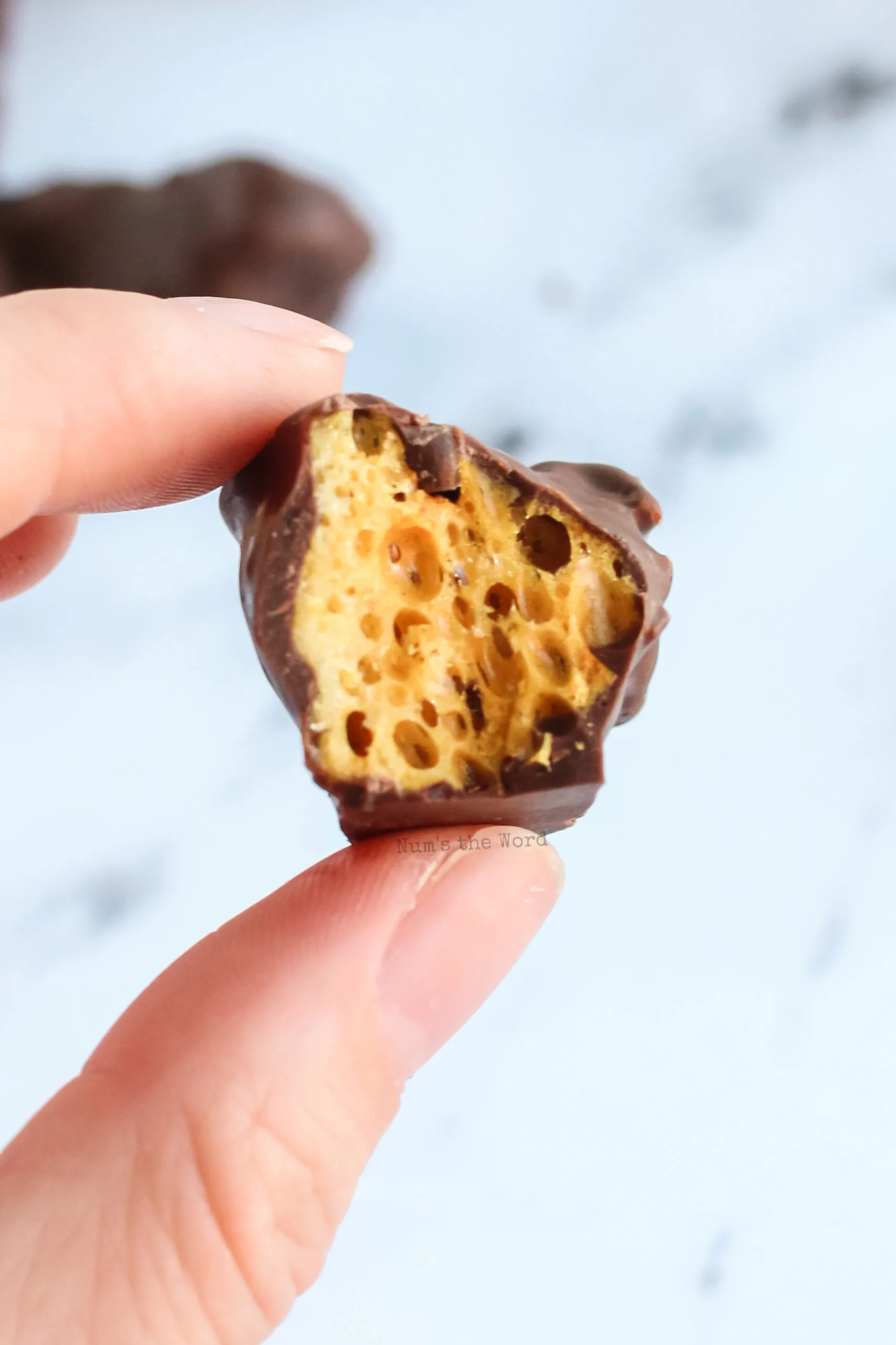 This is the best honeycomb candy recipe, and I hope you love it as much as we do! I hope that as you give this recipe a try as it might just become a new favorite for you!
Yield: 36 Servings
Honeycomb Candy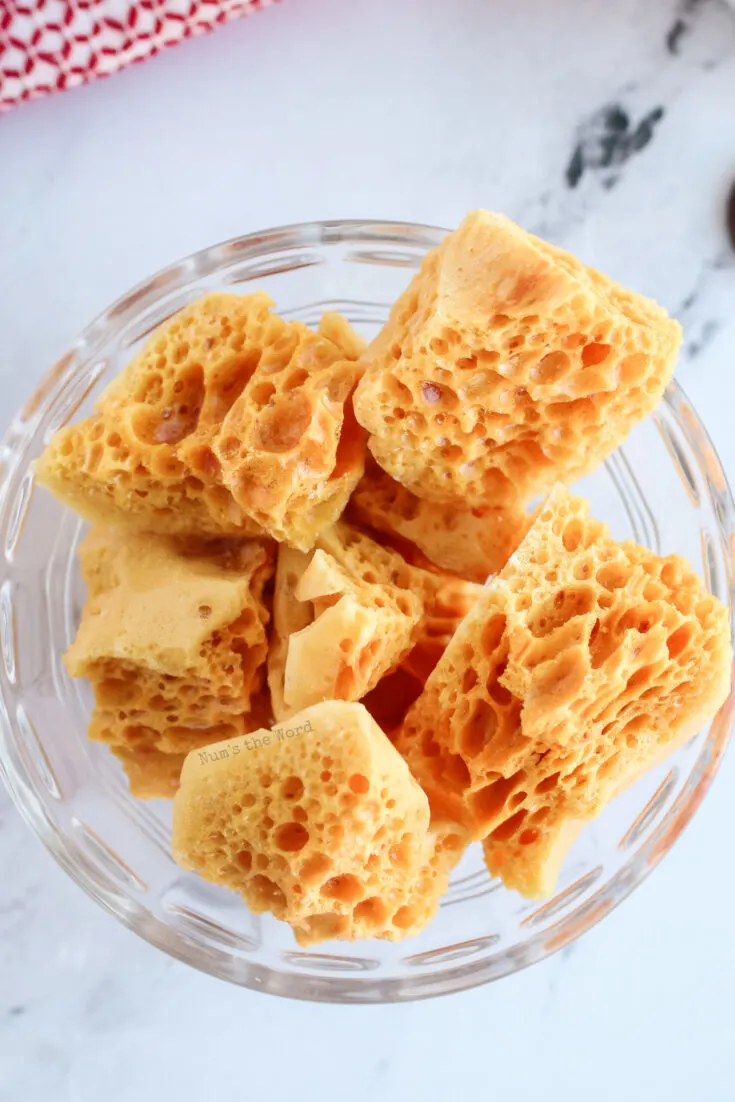 This old fashioned honeycomb candy is a classic recipe that will remind you of grandma. Easy to make and oh so tasty covered in chocolate!
Total Time
2 hours
20 minutes
Ingredients
1 cup white sugar
1 Tablespoon white vinegar
1 cup dark corn syrup
1 Tablespoon baking soda
1 (10 ounce) package of chocolate melting wafers
Instructions
Line an 8x8 square casserole dish with non stick foil and set aside.
In a heavy bottom saucepan, combine sugar, vinegar and corn syrup.
Cook over medium heat stirring until the sugar dissolves.
Continue cooking without stirring until digital candy thermometer reads 300*F (hard crack stage)
Remove from heat.
QUICKLY stir in baking soda - mixture will foam and double in size.
Pour mixture into prepared casserole dish. DO NOT SCRAPE MIXTURE OUT. Just pour it.
DO NOT BUMP, SHAKE, STIR, or MOVE pan. You want it to keep all those air bubbles in the mixture undisturbed as it cools.
After 2 hours, once mixture has naturally cooled to room temperature, pull hard candy slab out of pan.
Place slab on a cutting board and with a sharp knife, carefully start to crack the candy into chunks. Generally chunks should be around 1" pieces.
Eat candy, storing extras or dip in chocolate.
To dip candy, melt chocolate according to package directions.
Place a chunk of candy into chocolate, submerge and lift with a fork. Tap excess chocolate off candy and place on wax paper to dry.
Once cooled, enjoy.
Nutrition Information:
Yield:
36
Serving Size:
1
Amount Per Serving:
Calories:

53
Total Fat:

0g
Saturated Fat:

0g
Trans Fat:

0g
Unsaturated Fat:

0g
Cholesterol:

0mg
Sodium:

123mg
Carbohydrates:

13g
Fiber:

0g
Sugar:

13g
Protein:

0g