Homemade Maple Caramels require 6 ingredients and are so easy to create! Top them with sea salt and these chewy caramels make great teachers gifts, neighbor gifts or tasty treats to munch on all year round!
This post contains affiliate links.  If you click on an affiliate link and make a purchase, I will make a small percentage on your purchase. This helps keep this website running! Thank you!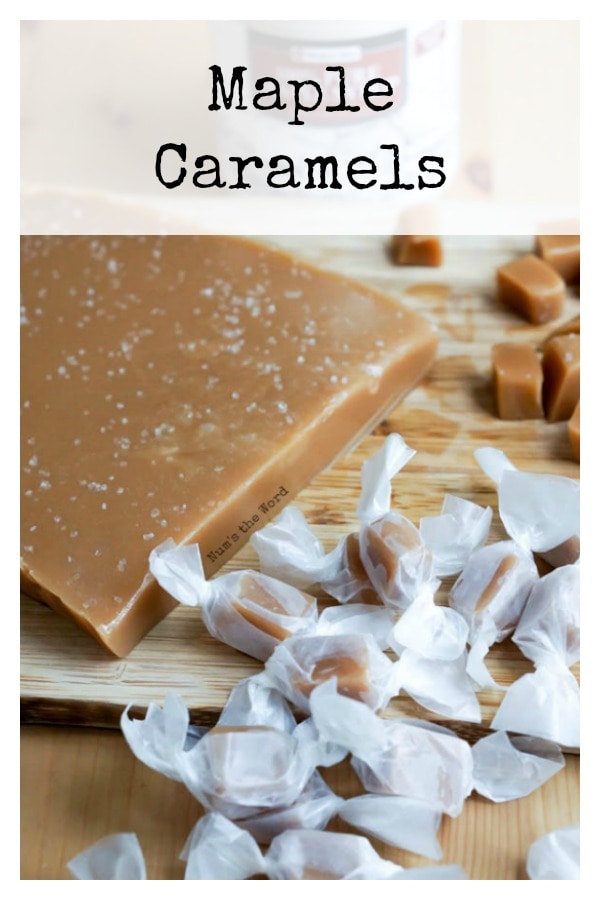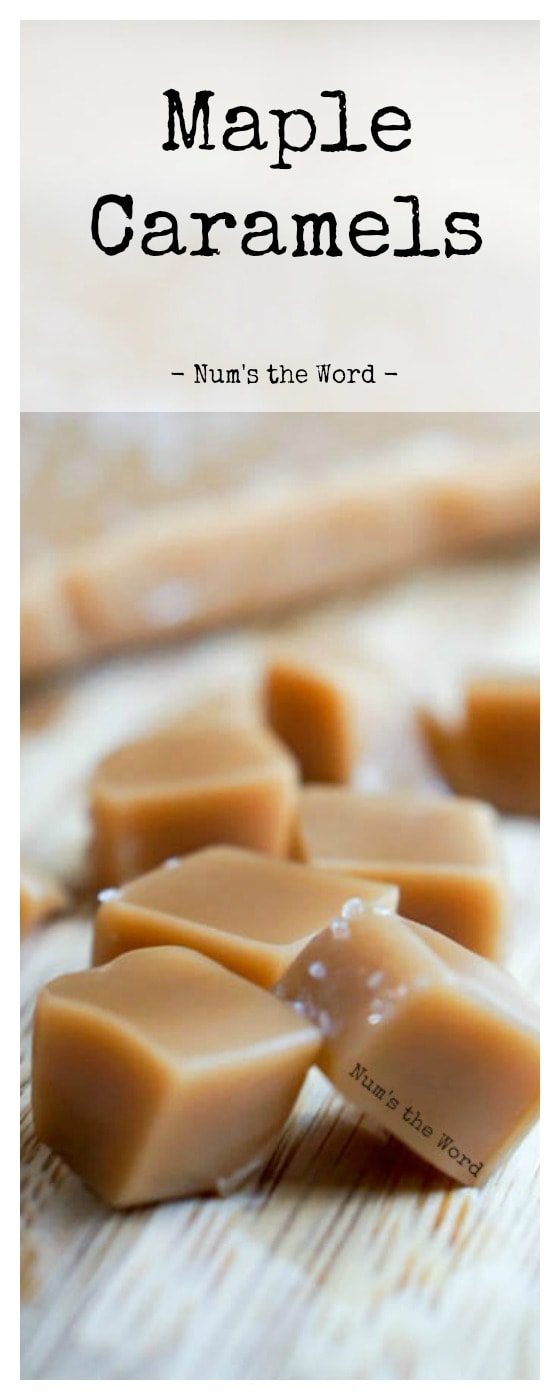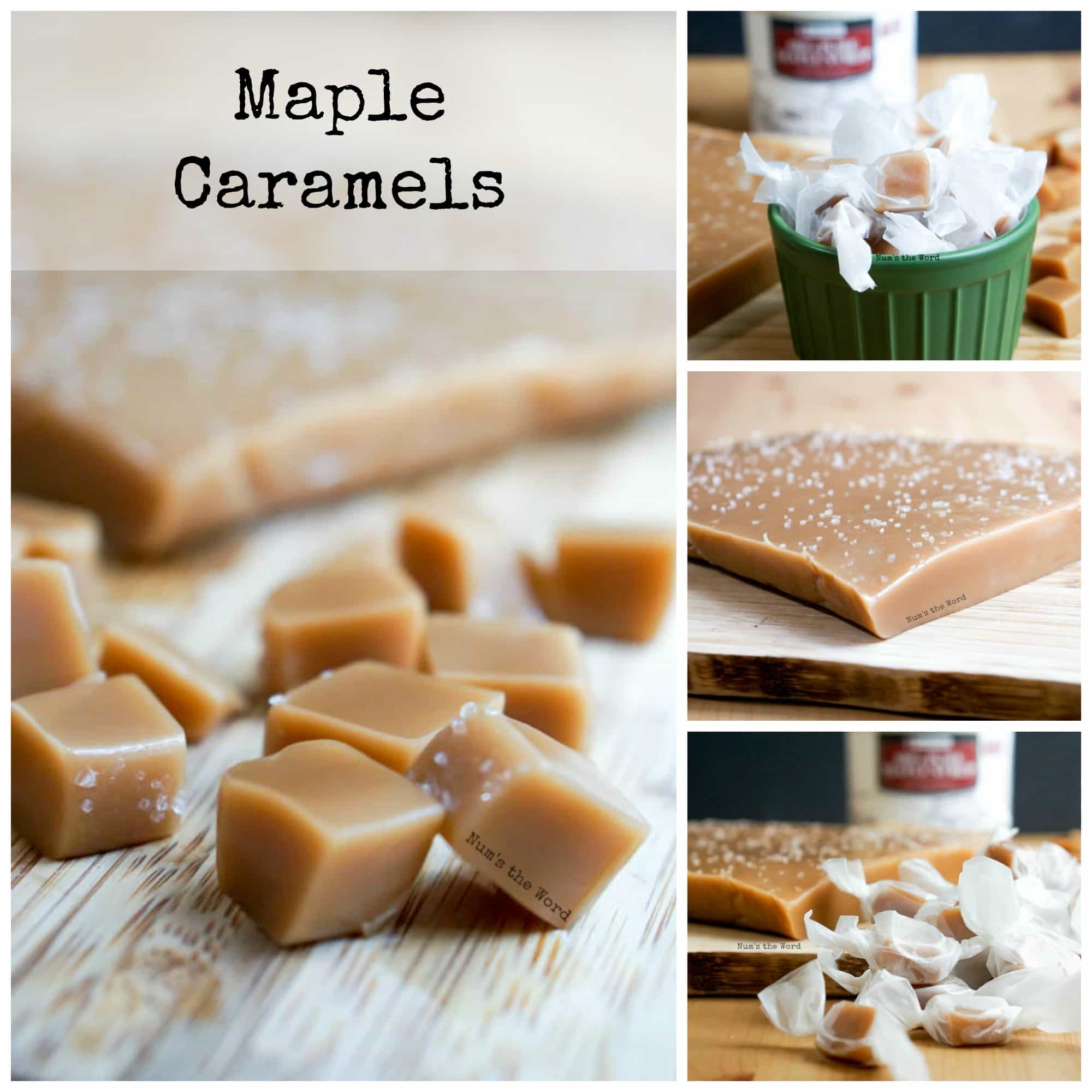 Have you ever wondered 'at what point in history did someone create Caramels'?
And more importantly, how did they come up with the worlds greatest candy?
I certainly have.
After digging into the topic a bit, I've come to find out a few things that I never knew.
The inventor of Caramels is unknown.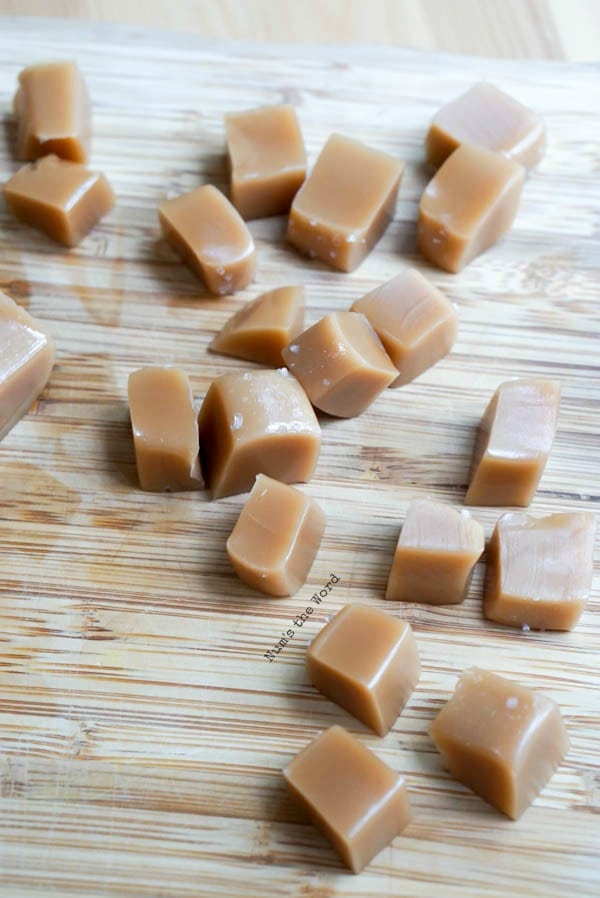 No one really knows who or when caramels made their debut.
Clearly the person who did create them didn't instantly turn their amazing treat into a billion dollar business.
But instead, must have passed along the recipe to a friend, neighbor or relative, just as I'm doing now.
What we do know is that hard candies were created in American homes over the fire starting around 1650.
Then, over the next 200+ years the greatest inventor of all time created Caramels.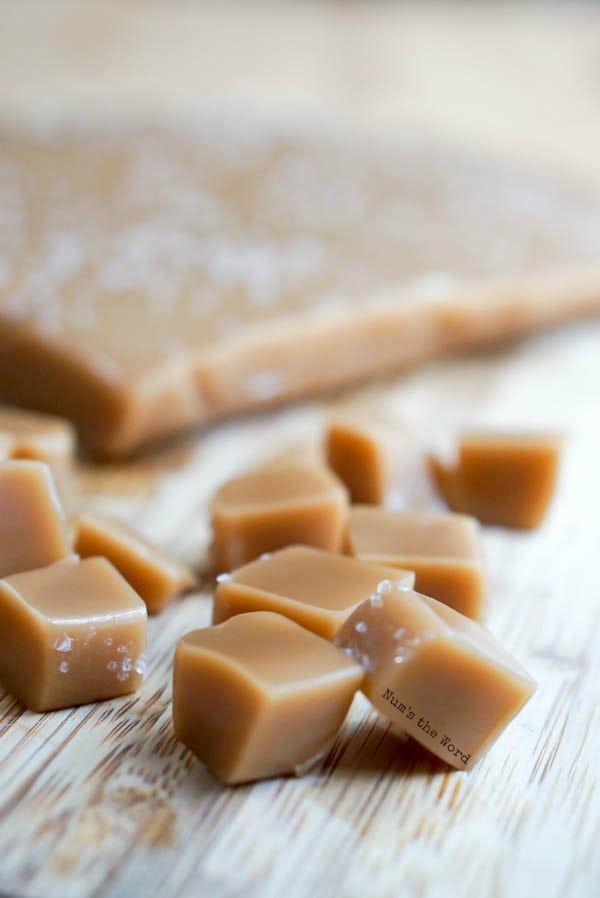 When, where and what that exact recipe was, will forever be a mystery.
Homemade caramels were invented somewhere between 1650 and 1880.
Talk about a large mystery gap in history!
It was in the mid 1880's that caramels began to show up in candy shops along side the classic hard candies.
However what surprised me most in my research, was that Hershey's Candy Company actually started out as Lancaster Caramel Company.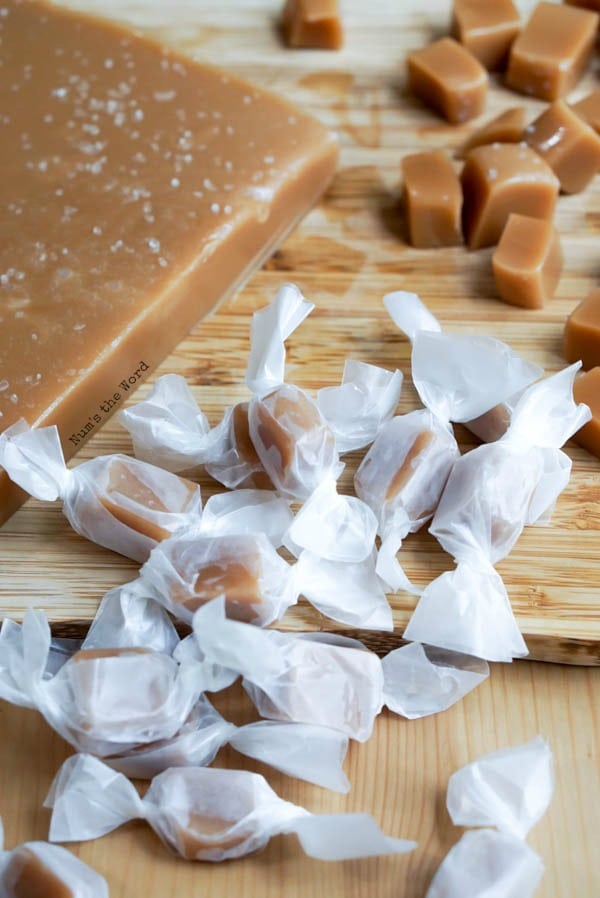 Milton Hershey didn't discover chocolate until he was searching for a coating for his caramels.
Fast forward in history, Milton sold Lancaster Caramel Company and started up Hershey's as we know today.
Call me crazy but to think that caramels and chocolate have only been around for 100 years or so is crazy to me.
And then when I try to wrap my head around how people lived 100 years ago, versus today, it's mind blowing.
I can't even begin to understand or imagine what the world will look like 100 years from now and how they will one day look back on us and our backward ways.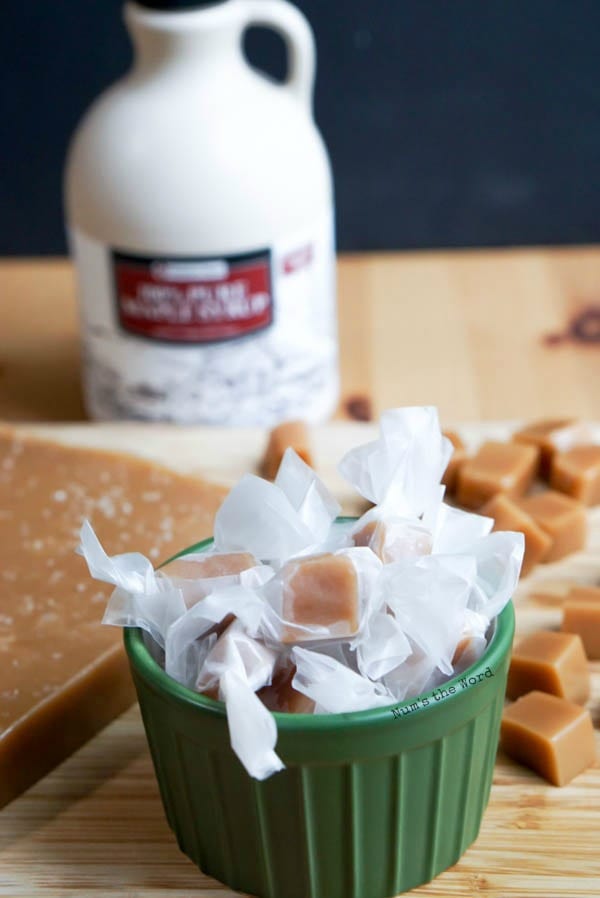 I for one am glad to be alive today.
And one of those reasons is because of the ability to enjoy a bounteous supply of baked goods, candy and especially homemade caramels!
Over the last year I've been on a caramel journey.
I've started to lose count how how many batches of caramels I've attempted to make.
Most have been edible, and yet some (like today's attempt) were utter failures.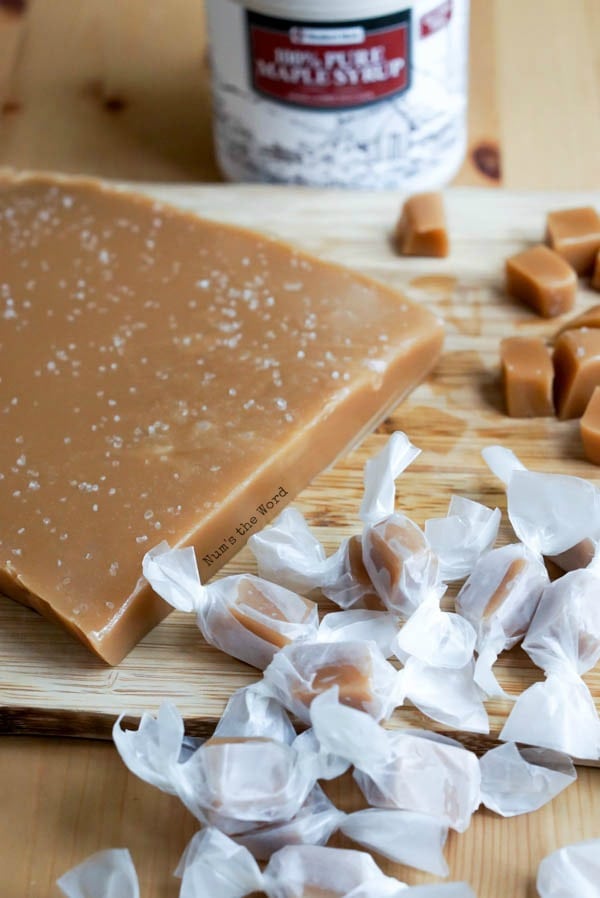 These Maple Caramels though are one of my tasty success stories.
I made a few batches attempting a few different methods, and finally settled on sticking with my classic caramel recipe with the addition of maple extract.
I attempted adding real maple syrup to the mixture but the flavor was nonexistent.
Then on a whim, I decided to see what would happen if I made these maple caramels with artificial breakfast maple syrup instead of corn syrup.
In theory, it was a good idea.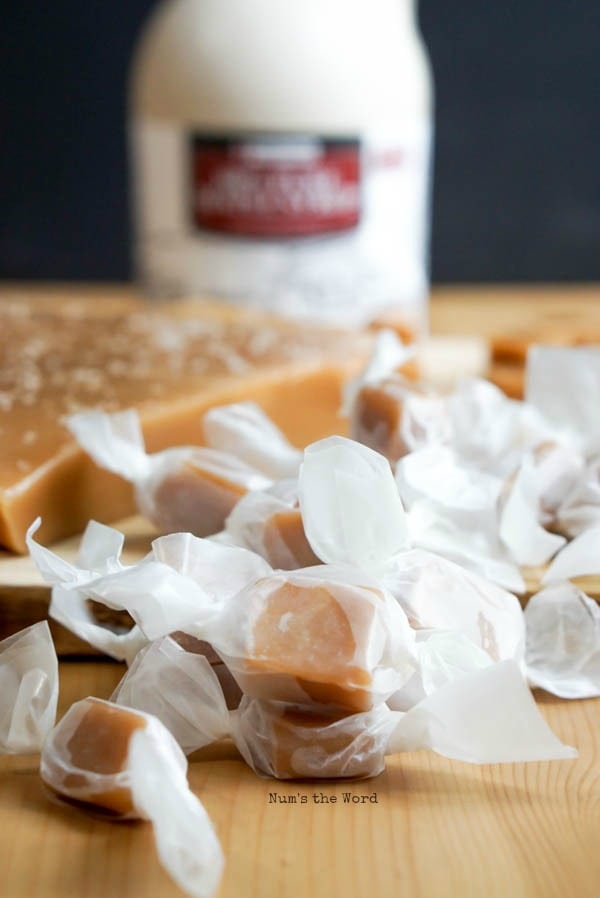 However the results were mystifying.
Breakfast Maple Syrup (not the real stuff but the fake stuff) is predominantly flavored corn syrup.
Since maple flavoring and corn syrup are needed to make these, I decided to see what would happen if I made them with the breakfast kind of syrup.
Let's just say that they turned out more like jellied caramels than chewy caramels.
A very odd texture in my mouth and even odder to the touch.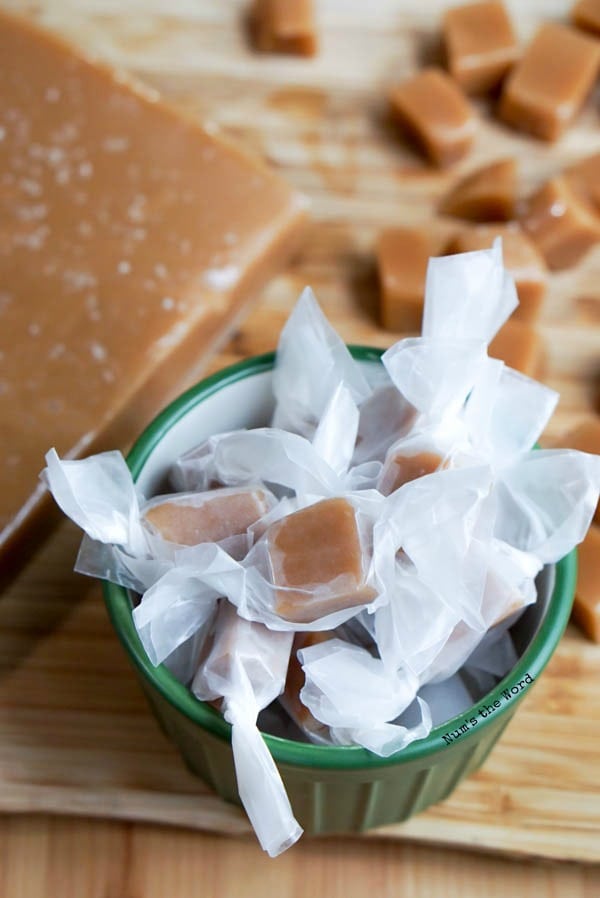 And so my dear friends, I come to you with this delicious version of Maple Caramels that are easy to make and oh so tasty!
We are huge caramel lovers in our home and after wrapping hundreds, if not thousands of caramels this year, we've got a pretty good idea of what a good caramel tastes like versus a bad one.
These Maple Caramels are a favorite among our family and friends.
Plus they make your kitchen smell amazing.
If you have always been curious about candy making, I suggest you quit reading and get cooking!
Yield: 70+ Caramels
Maple Caramels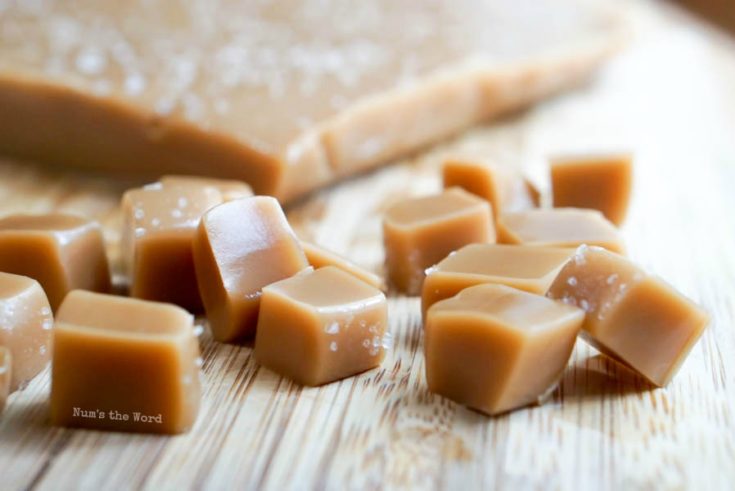 Homemade Maple Caramels require 6 ingredients and are so easy to create! Top them with sea salt and these chewy caramels make great teachers gifts, neighbor gifts or tasty treats to munch on all year round!
Total Time
1 hour
45 minutes
Ingredients
Instructions
Line a 9x13 casserole dish with parchment paper that you spray with cooking spray or nonstick foil. Make sure liner comes up over the edges of the pan on all sides.
In a LARGE pot mix sugar, salt, corn syrup and whipping cream.
Clip a candy thermometer onto the pan if your pan allows. If not, you'll have to check the temperature regularly with your thermometer then rinse it off after each time.
Cook caramel mixture over medium heat (I like to cook mine at a 7.5 level on my stove) until caramel reaches 243*F. Caramel should cook at a heavy simmer / boil and will double, if not triple, in volume from the bubbles.
Stir caramel mixture every few minutes to prevent from scorching the bottom of the caramel.
The mixture will come to 218*F pretty quickly, so don't panic. Between 218*F - 243*F will take a little while.
As you cook and stir, the caramel will start off white, then a light caramel then eventually a rich caramel color.
Once caramel reaches 243*F, remove from stove.
Stir in 2 Tablespoons of Maple Extract.
Pour mixture into prepared pan and allow to cool for 1 hour or more, until caramel has set.
If caramel is still sticky when cutting, it's still slightly warm in the center. Caramel should cut without sticking to knife.
This mixture can also be refrigerated to cool faster but it's best if you let it cool naturally.
Notes
Do NOT double the recipe. When the mixture comes to a boil it will double, if not triple in size and even a large pan is not big enough to contain a double batch boiling. Stick to a single batch.
Nutritional information is estimated.
Recommended Products
As an Amazon Associate and member of other affiliate programs, I earn from qualifying purchases.
Nutrition Information:
Yield:
70
Serving Size:
1
Amount Per Serving:
Calories:

49
Total Fat:

1.9g
Saturated Fat:

1.2g
Cholesterol:

7mg
Sodium:

15mg
Carbohydrates:

8.2g
Fiber:

0g
Sugar:

6.5g
Protein:

0.1g
Other Caramel Recipes You'll Love...