Salted Peanut Caramels – My favorite old fashioned caramels with the addition of salted peanuts make the best homemade candies! Perfect for Christmas, teacher gifts or just to have around for snacking! An all time favorite treat in our home!
This post contains affiliate links.  If you click on an affiliate link and make a purchase, I will make a small percentage on your purchase. This helps keep this website running! Thank you!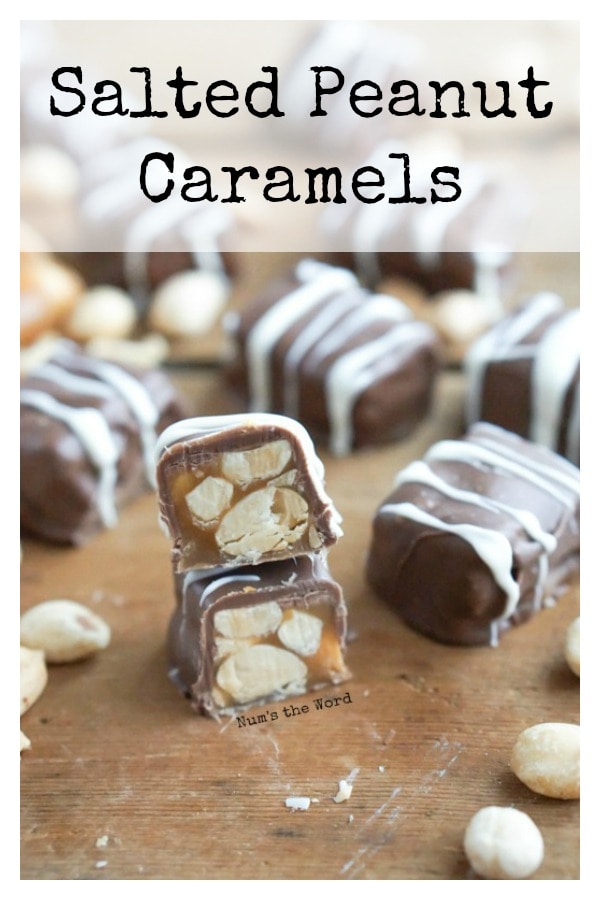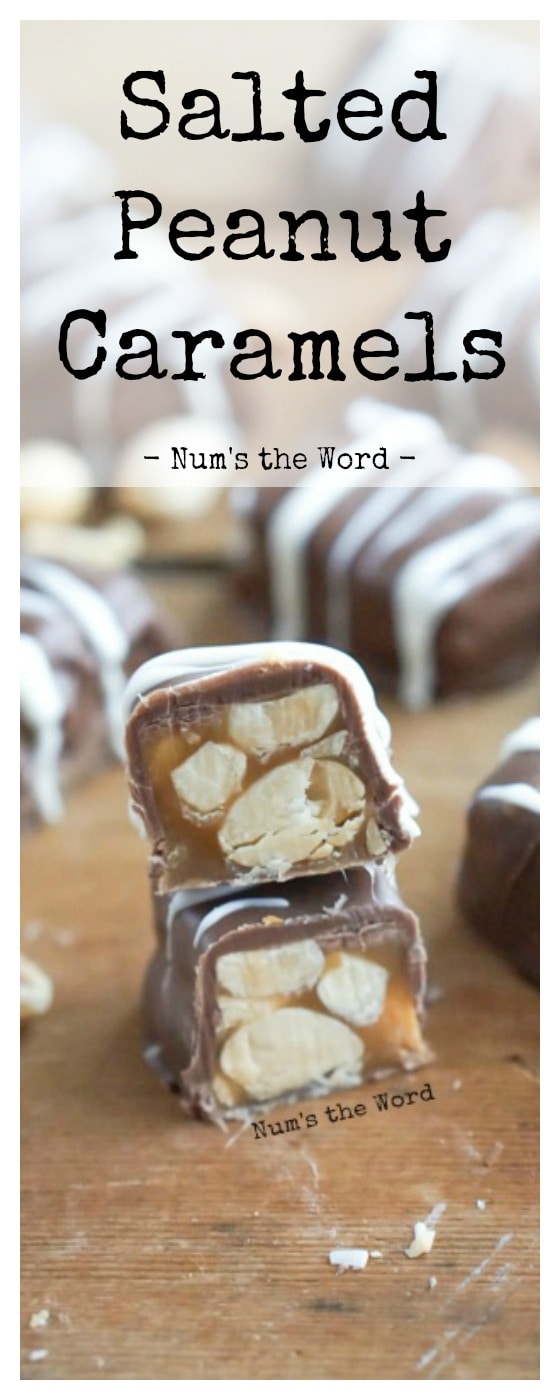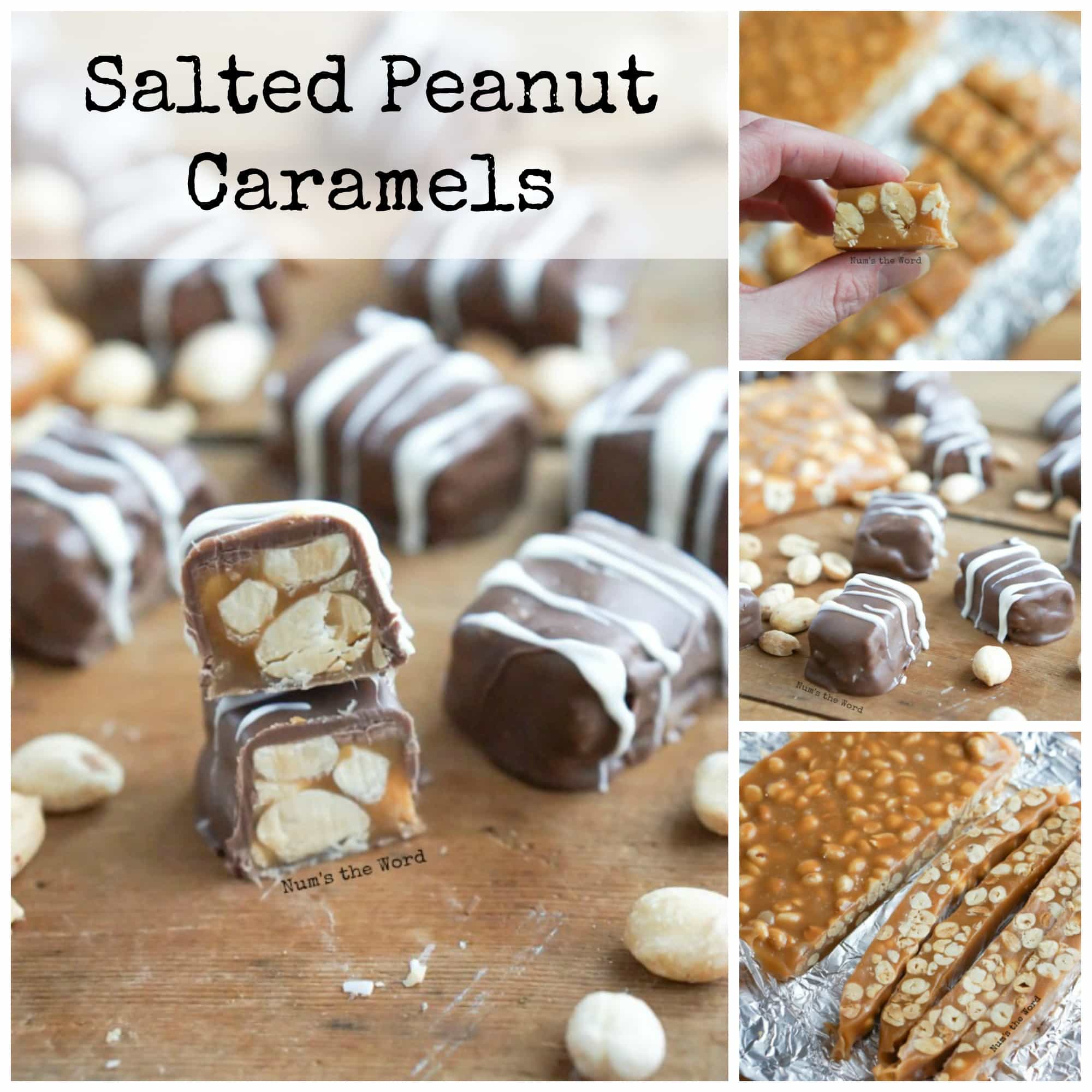 Have you ever found yourself suddenly obsessed with something?
For me it was homemade caramels.
I became obsessed with the idea of creating the PERFECT caramel recipe.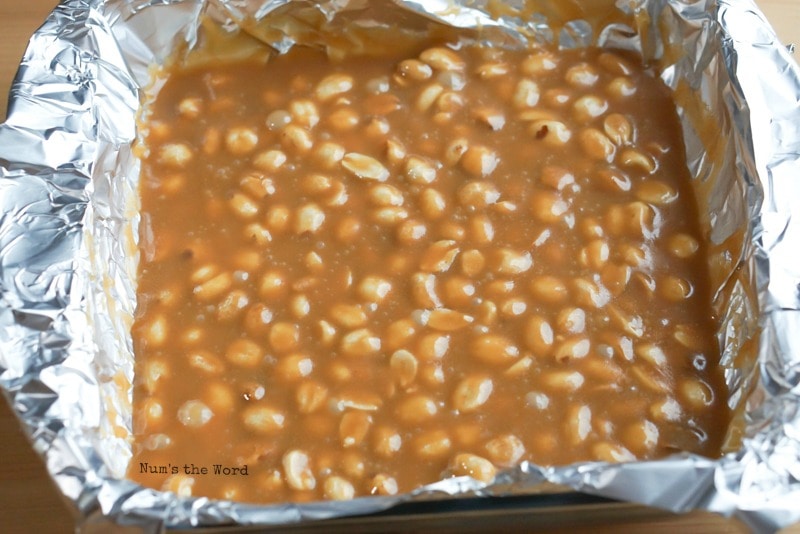 Not the quick cheaters Microwave Caramels (which are delicious) but the old fashioned stove top caramels that your grandmother used to make.
I had a friend ask me to teach them how to make homemade candies.
I have done very little candy making in my life that I felt completely unqualified.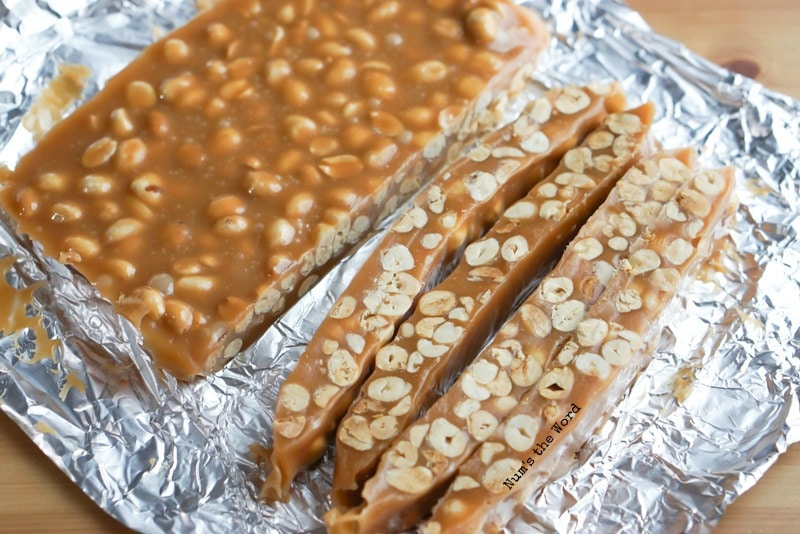 However they were happy to explore the world of candy making with me and we jumped in one day head first.
We made 5 recipes that day and I'm pretty sure we used every single pot and pan in my house.
My house was a mess by the time we were finished.
However we had fun, tried a few new things and really learned how to do a few things we'd never tried before.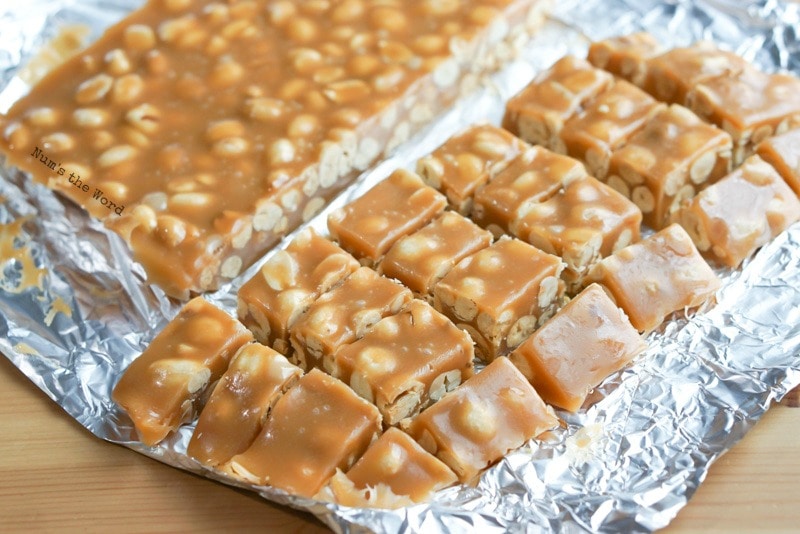 We made two different variations of old fashioned caramels that day.
However I wasn't in love with the final results.
The caramels were delicious but one was too hard and the other too soft.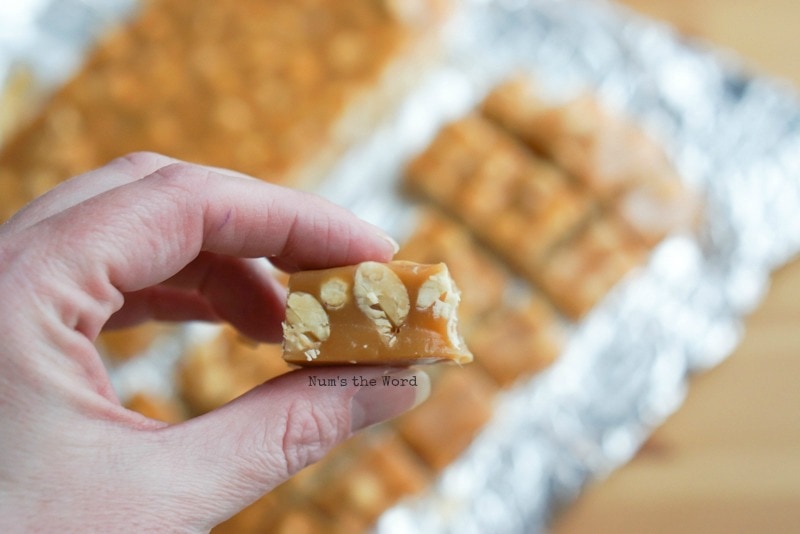 The idea of being close to finding the perfect recipe was within reach and I suddenly became obsessed with figuring out the perfect recipe.
At first my family was excited to have homemade caramels in the house!
But then after 9 batches of caramels, they quickly realized that my obsession was getting out of control.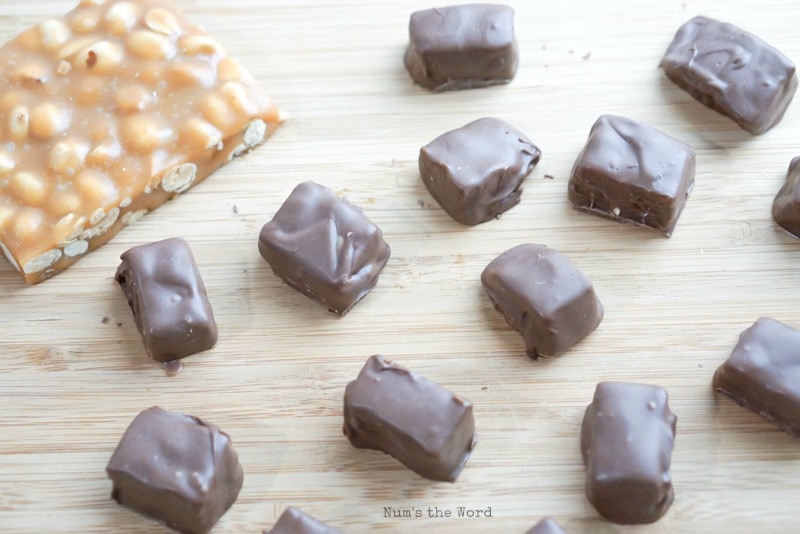 However, by making 9 batches of caramels, I not only discovered the PERFECT recipe for caramels.
This included the perfect temperature to cook the caramels to AND a lot of fun variations for my caramels.
These Salted Peanut Caramels were a HUGE hit with everyone who tried them!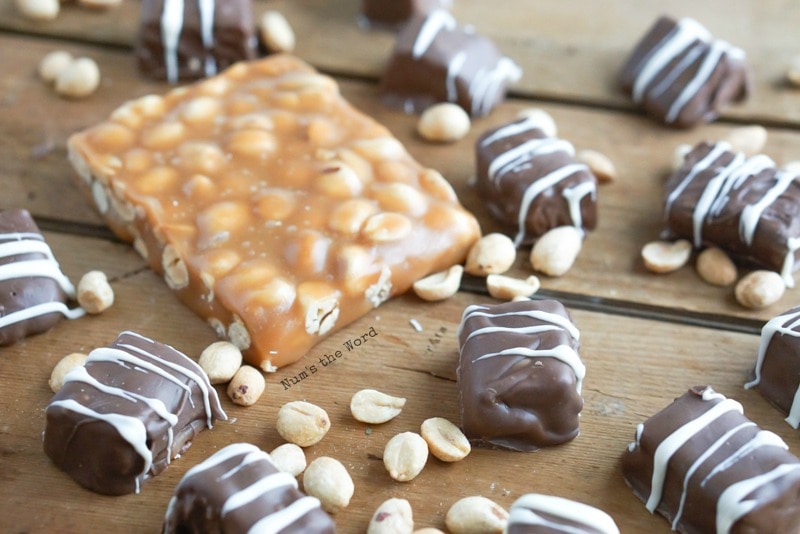 We love salted caramels, so instead of using sea salt I salted my caramel with these tasty salted peanuts!
These were SOOOO good.
So good that I HAD to get them out of the house because we couldn't stop eating them.
My trusty teacher friends came to the rescue and helped taste test these.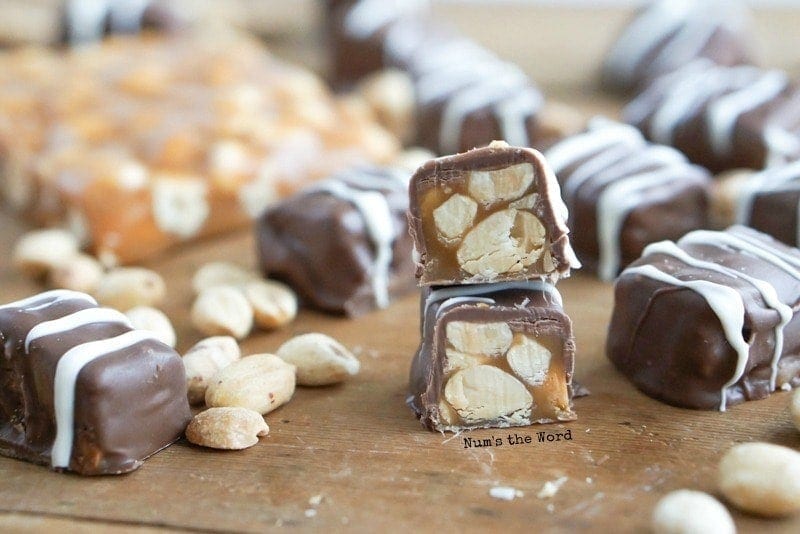 They agreed that this was a PERFECT treat and one that is dangerous to have around!
These are now a must have Christmas treat for us and one that we love to give away to friends and family for special occasions!
However, you can of course make these for snacking around the house too!
No one here will judge you, promise!
I should make note that you do NOT have to dip these in chocolate.
Theses Salted Peanut Caramels are perfect just as they are.
However dipping them in chocolate is a way to make these gourmet!
Yield: 60 Pieces
Salted Peanut Caramels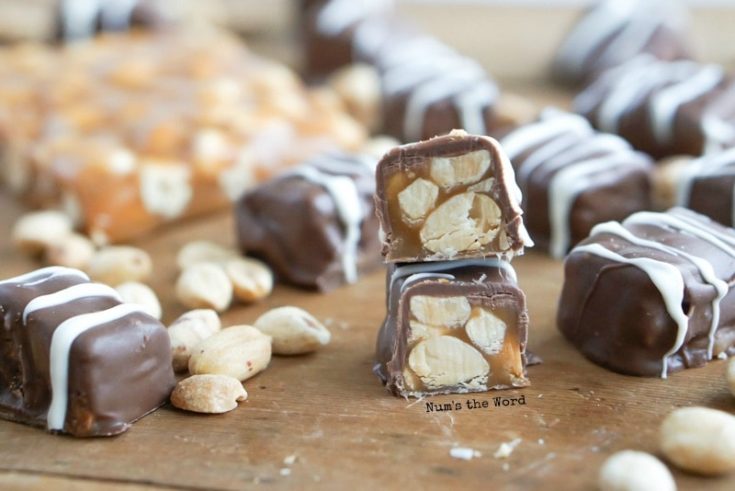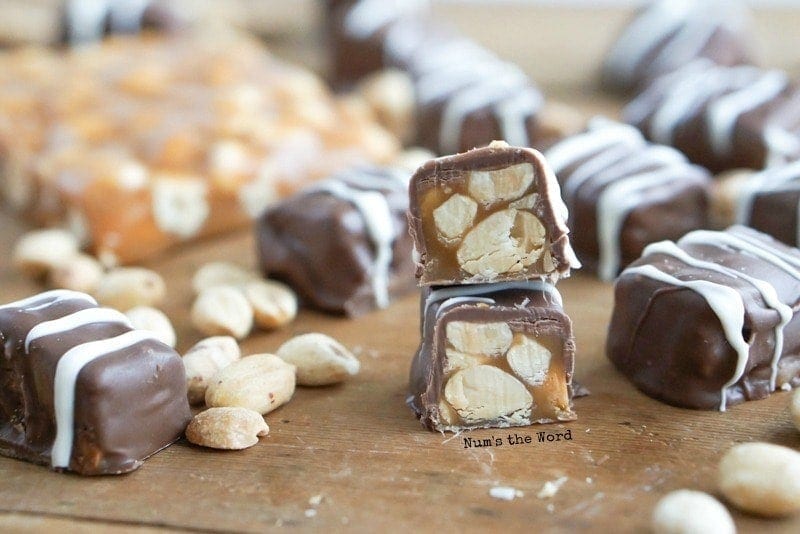 Cook Time
1 hour
30 minutes
Total Time
2 hours
30 minutes
Ingredients
2 cups white sugar
1/8 teaspoon salt
1 cup white Karo syrup
3 cups heavy whipping cream
2 cups salted peanuts, shelled & skinned
1 (12 ounce) bag of dark chocolate candy melts
1 (12 ounce bag of white chocolate candy melts
Nonstick foil
Wax paper
Candy thermometer or digital thermometer. I prefer a digital meat thermometer.
Instructions
Line a 9x13 casserole dish with parchment paper that you spray with cooking spray or nonstick foil. Make sure liner comes up over the edges of the pan on all sides.
In a LARGE pot mix sugar, salt, corn syrup and whipping cream.
Clip a candy thermometer onto the pan if your pan allows. If not, you'll have to check the temperature regularly with your thermometer then rinse it off after each time.
Cook caramel mixture over medium heat (I like to cook mine at a 7.5 level on my stove) until caramel reaches 243*F. Caramel should cook at a heavy simmer / boil and will double, if not triple, in volume from the bubbles.
Stir caramel mixture every few minutes to prevent from scorching the bottom of the caramel.
The mixture will come to 218*F pretty quickly, so don't panic. Between 218*F - 243*F will take a little while.
As you cook and stir, the caramel will start off white, then a light caramel then eventually a rich caramel color.
Once caramel reaches 243*F, remove from stove.
Add peanuts and mix well.
Pour mixture into prepared pan.
Allow to cool for 1 hour or more, until caramel has set.
Remove caramel slab from pan to into bite sized rectangles. If caramel is still sticky when cutting, it's still slightly warm in the center. Caramel should cut without sticking to knife.
Dip in chocolate and then drizzle in different color of chocolate.
Other Recipes with Caramels You'll Love...