Caramel Cashew Clusters make the perfect gift for any cashew lover! Chewy homemade caramel, salted cashews and white chocolate create a gourmet treat that you can make at home!
This post contains affiliate links. If you click on an affiliate link and make a purchase, I will make a small percentage on your purchase. This helps keep this website running! Thank you!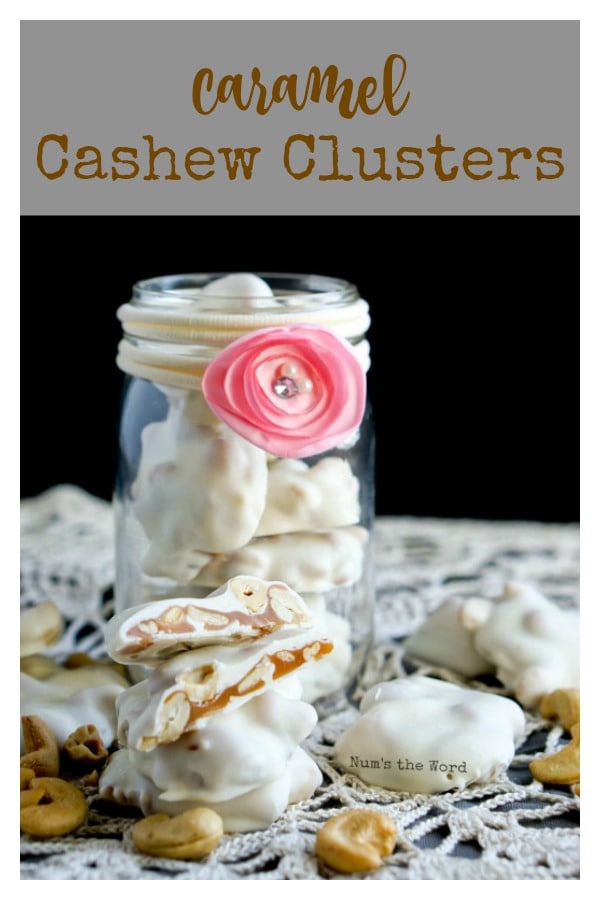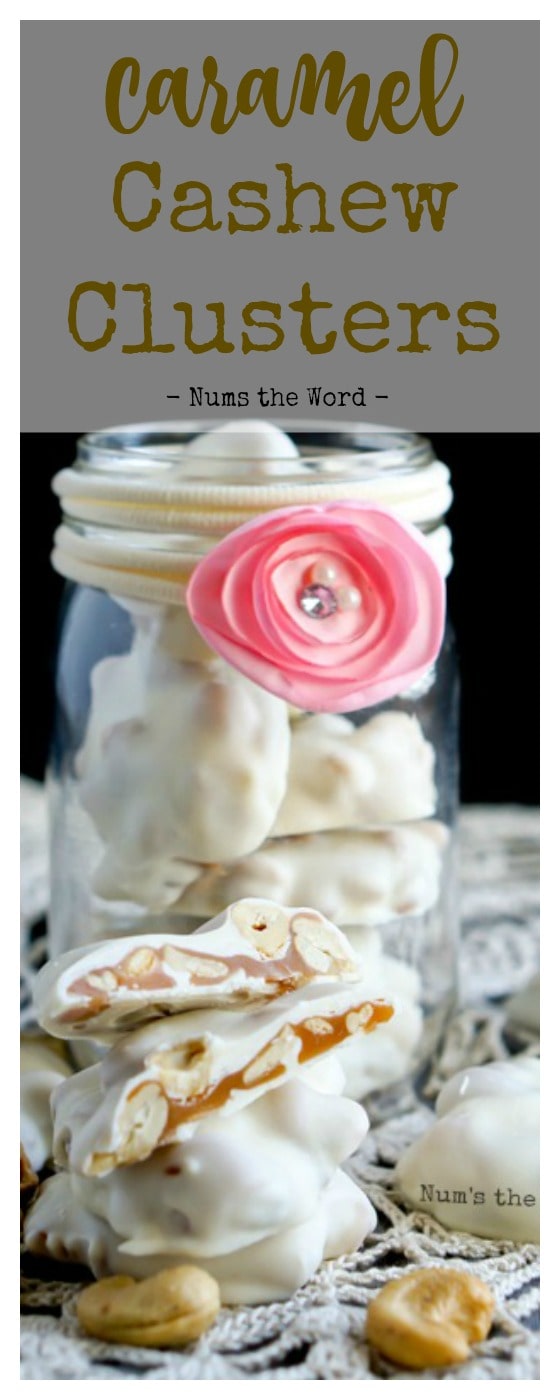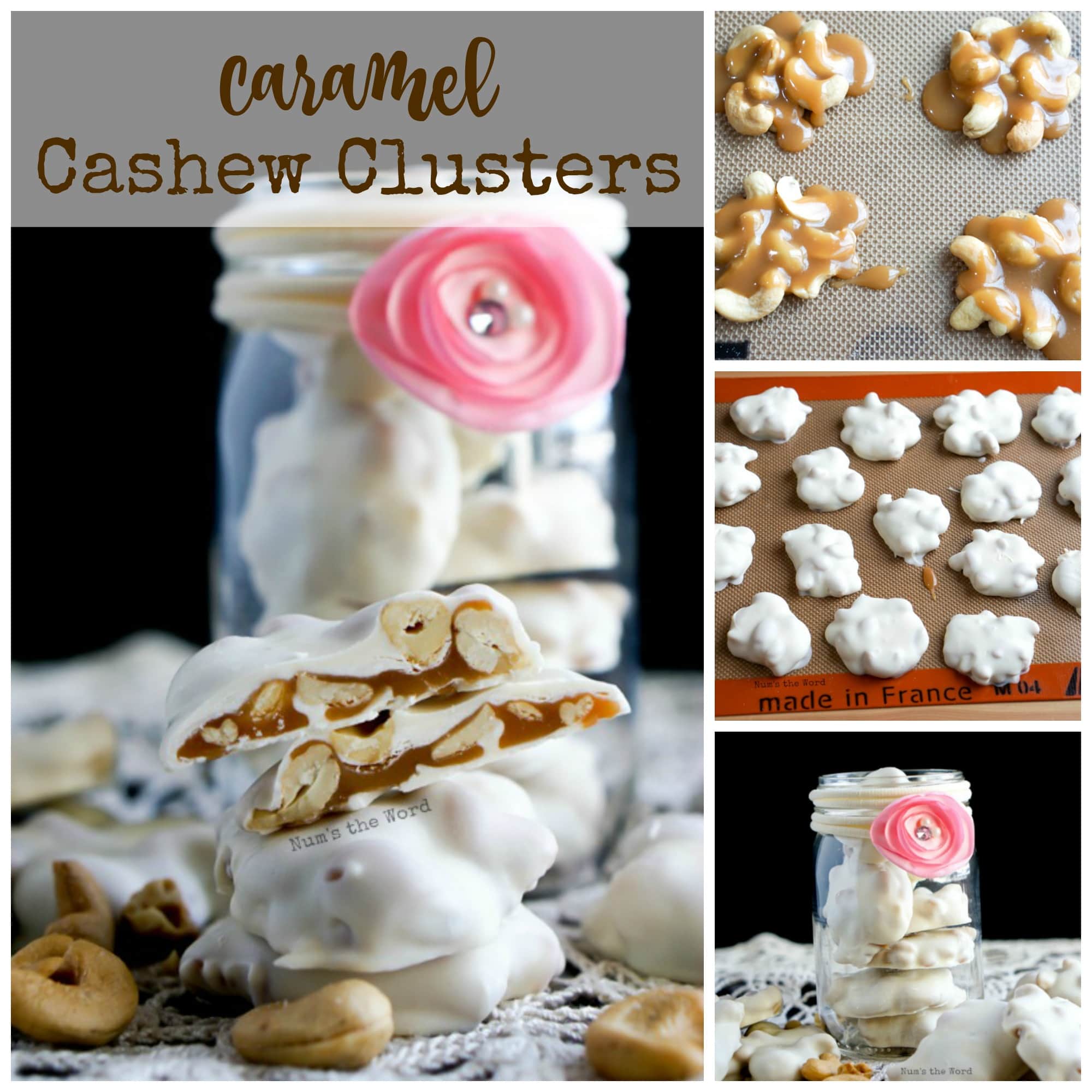 If you haven't grown weary of all my caramel posts, I've got another one for you!
This time it's for Caramel Cashew Clusters.
My caramel kick was in FULL swing last year, thanks Nate, and I literally went nuts.
I came up with 11 different candy recipes all using my homemade caramel base.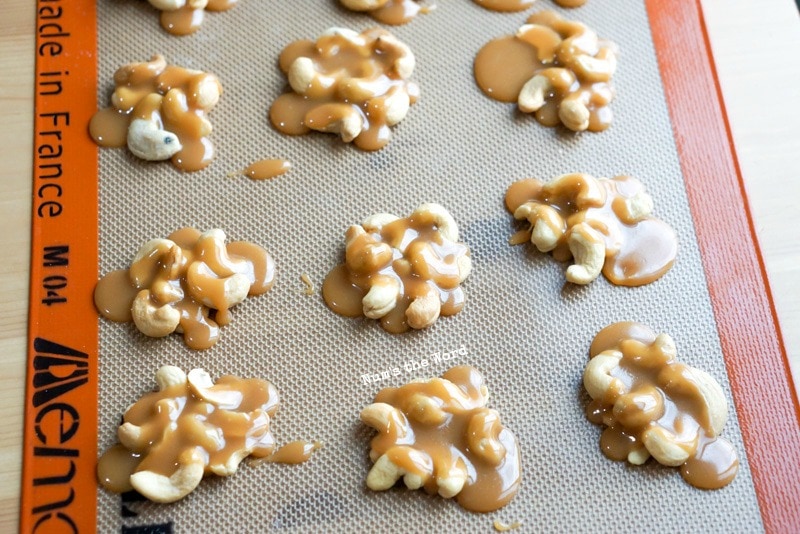 This recipe for Caramel Cashew Clusters is number 6 on the list of favorite caramel candy recipes.
My Mother-in-Law, Liz can attest that when a jar of mixed nuts in placed in front of me, I always go for the cashews.
She goes for the pecans, I go for the cashews and we make everyone else eat the leftovers.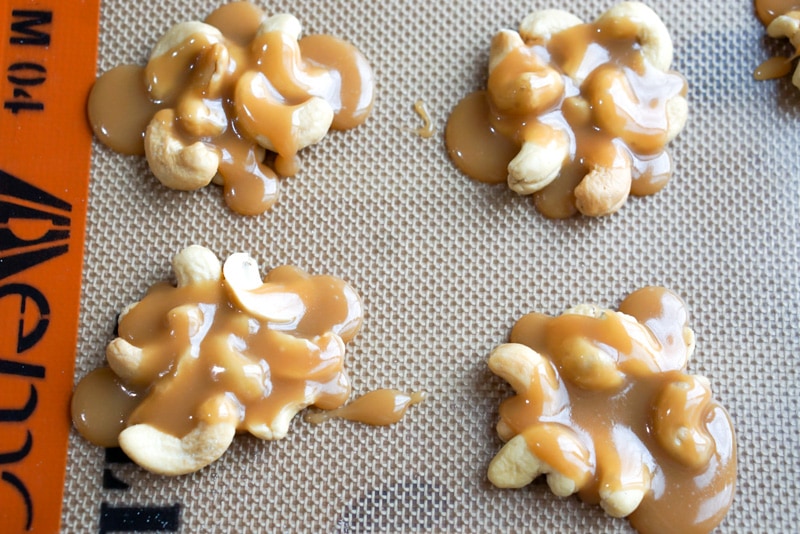 Ok, so we eat them too, but we always eat the cashews and pecans first.
I'm a huge fan of cashews and generally have a large jar of them in my office to snack on between meals.
Case-in-point, there is a large jar next to me now.
Yum, yum! Or should I say Num, Num?!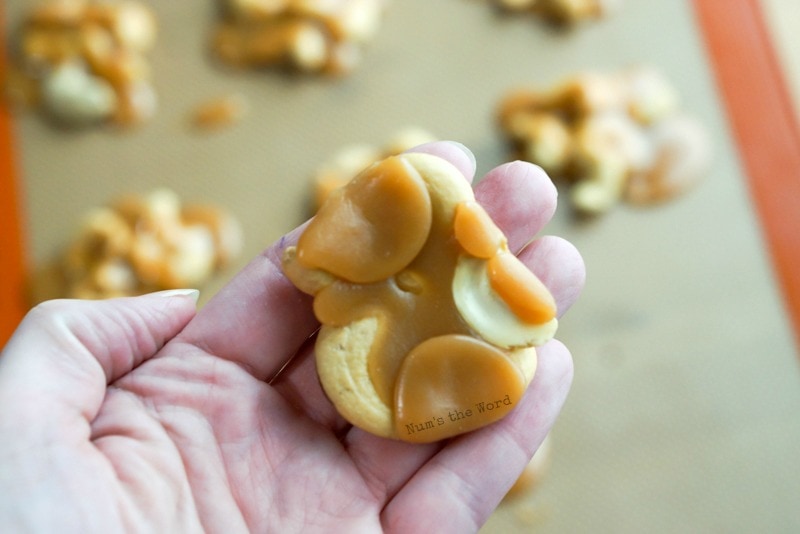 With Christmas only 2 months away, I will be pushing a lot of caramel candy recipes on you over the next two months.
If I don't get them out now, they have to wait at least until June before I can post the recipes.
Trust me, no one wants to make or eat Caramels in January.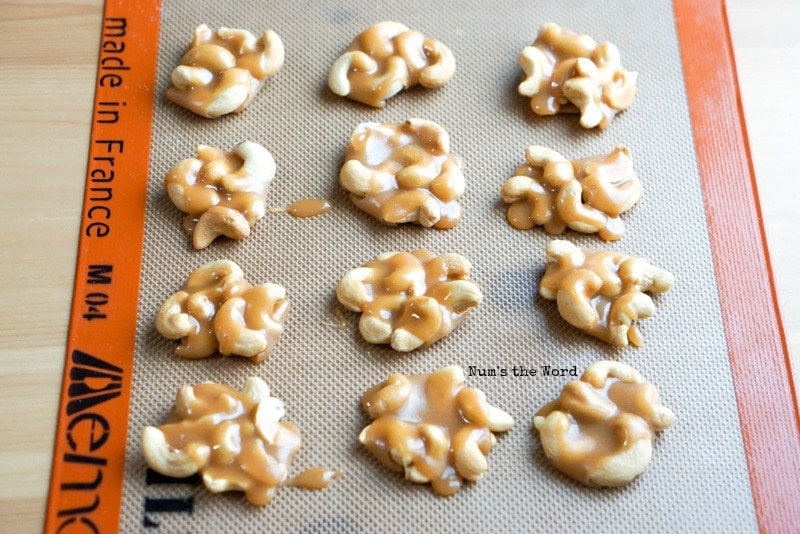 That's the month of gym memberships, healthy eating and skinny thoughts.
Not chewy, hip loving caramels in all their sticky goodness.
So where did my favorite nut come from and how did it become so popular?
Through some research I found that the cashew is the only nut sold in stores already shelled.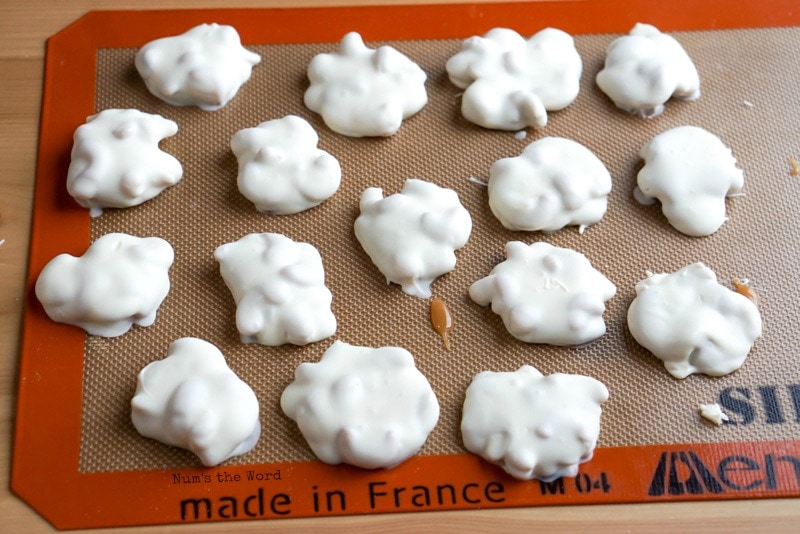 I've got to say that it never dawned on me that I've never seen a cashew sold in it's shell.
But not the cashew.
Why is that?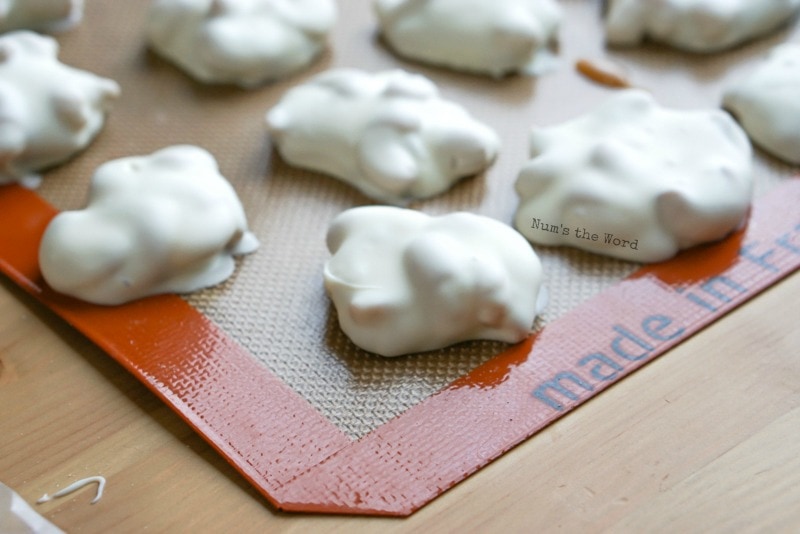 Well apparently it's because the outer shell has a toxin in it that irritates skin, similar to Poison Ivy.
You can certainly touch the outer shell, however once you crack it open, the insides of the shell is where the poison is hiding.
Interestingly, the exposed "seed," the "cashew nut," is then roasted before consumed.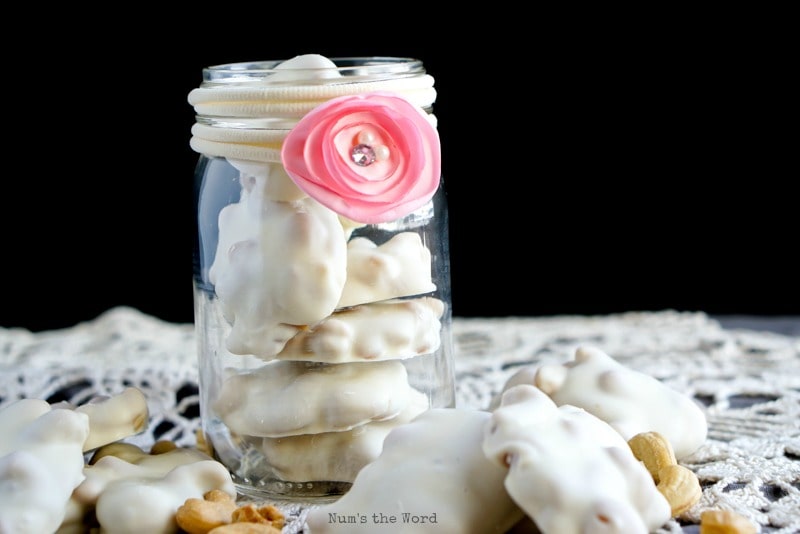 Who knew!
Another interesting thing is that cashews do not grow like other nuts. They instead grow out of the end of a cashew apple.
Because you only get 1 nut for every cashew apple and because of the labor to remove them from their shells, this then explains why they tend to be a more expensive nut.
The cashew apples can then be eaten, juiced, turned into liquor or made into a chutney.
A variety of uses, so there is no waste.
Cashews prominently grow in India and South America and are exported to the United States.
I love learning about my favorite nut and you wont catch me complaining about their price any time soon.
These Caramel Cashew Clusters are easy to make and taste fantastic.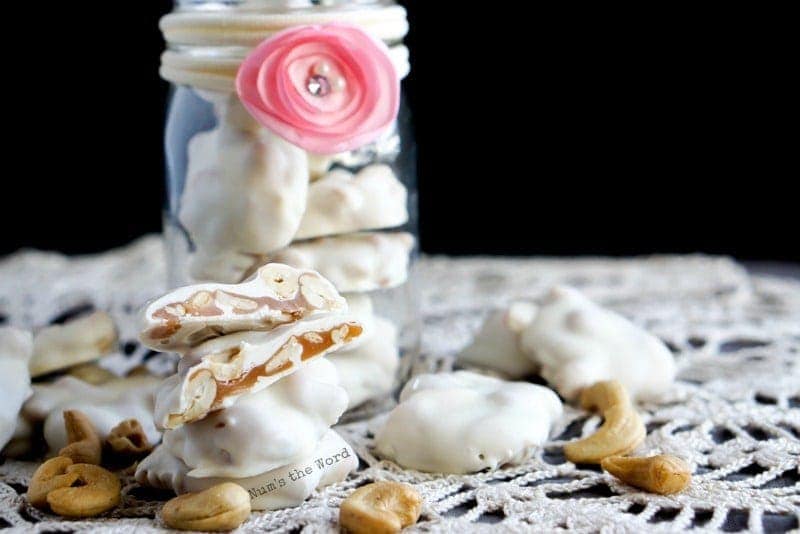 They also make great gifts for cookie exchanges, stocking suffers, white elephant gifts or goodies to keep around the house!
Making homemade caramels may sound complicated, but they really are easy to make and taste better than anything you could buy!
If you love cashews and caramels, try these Caramel Cashew Clusters today!
Yield: 40
Caramel Cashew Clusters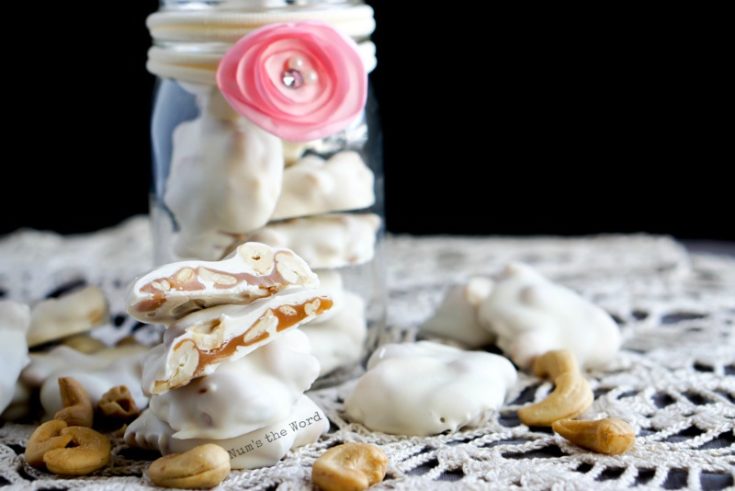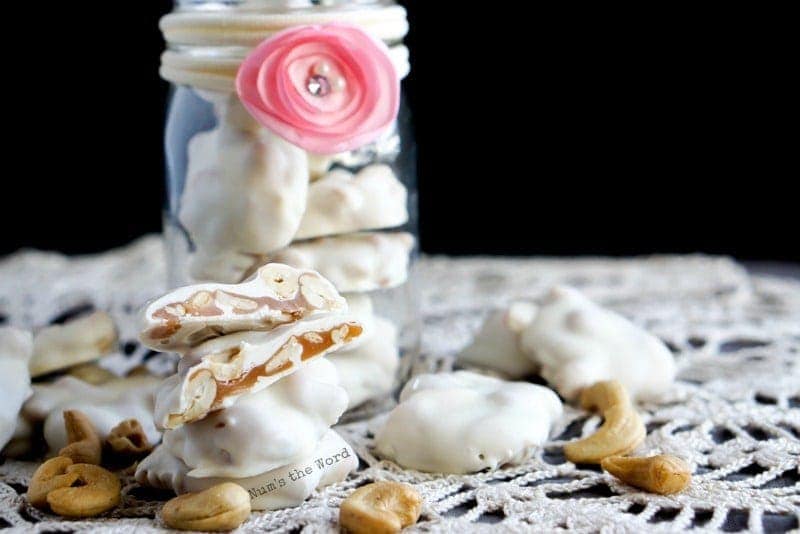 Caramel Cashew Clusters make the perfect gift for any cashew lover! Chewy homemade caramel, salted cashews and white chocolate create a gourmet treat that you can make at home!
Additional Time
45 minutes
Total Time
1 hour
30 minutes
Ingredients
Instructions
This recipe works best with a silicone baking mat, silpat or non-stick foil. DO NOT USE WAX PAPER.
Line a table or counter with baking mats or non-stick foil (non-stick side up).
Place approximately 40 clusters of cashes all over baking mat or foil in round mounds. I had 6 cashews per mound, close together.
In a LARGE pot mix sugar, salt, corn syrup and whipping cream.
Clip a candy thermometer onto the pan if your pan allows. If not, you'll have to check the temperature regularly with your thermometer then rinse it off after each time.
Cook caramel mixture over medium heat (I like to cook mine at a 7.5 level on my stove) until caramel reaches 243*F. Caramel should cook at a heavy simmer / boil and will double, if not triple, in volume from the bubbles.
Stir caramel mixture every few minutes to prevent from scorching the bottom of the caramel.
The mixture will come to 218*F pretty quickly, so don't panic. Between 218*F - 243*F will take a little while.
As you cook and stir, the caramel will start off white, then a light caramel then eventually a rich caramel color.
Once caramel reaches 243*F, remove from stove.
Using a cookie scoop, scoop out 1-2 Tablespoons of caramel and pour over each pile of cashews.
Allow to cool completely. Gently pick up one cashew mound and fold caramel edges under cluster.
Melt white chocolate according to package directions an dip clusters into chocolate then replace on baking mat or non-stick foil to dry.
Place in cute jars or bags and give away to friends and family (or eat them all yourself!)
Notes
If you do not want to have 40 Caramel Cashew Clusters, you can do a half batch and use the other half to create Sea Salt Caramels, or even Salted Peanut Caramels.
Nutritional Information is estimated, not exact.
Recommended Products
As an Amazon Associate and member of other affiliate programs, I earn from qualifying purchases.
Nutrition Information:
Yield:
40
Amount Per Serving:
Calories:

281
Total Fat:

18.1g
Saturated Fat:

6.7g
Cholesterol:

12mg
Sodium:

114mg
Carbohydrates:

28g
Fiber:

0.8g
Sugar:

19.3g
Protein:

5g
Other Caramel Recipes You'll Love...