Ham Bone & Vegetable Soup is a great way to use up leftover Ham! This soup is packed with flavor and tastes great the next day! Eat half now and freeze the rest for later, this soup is a must make!
This post contains affiliate links. If you click on an affiliate link and make a purchase, I will make a small percentage on your purchase. This helps keep this website running! Thank you!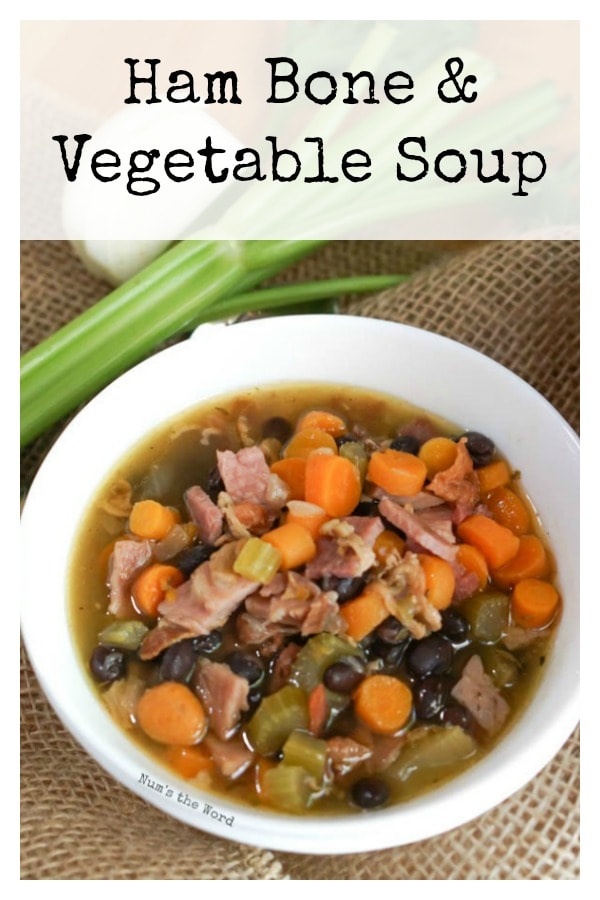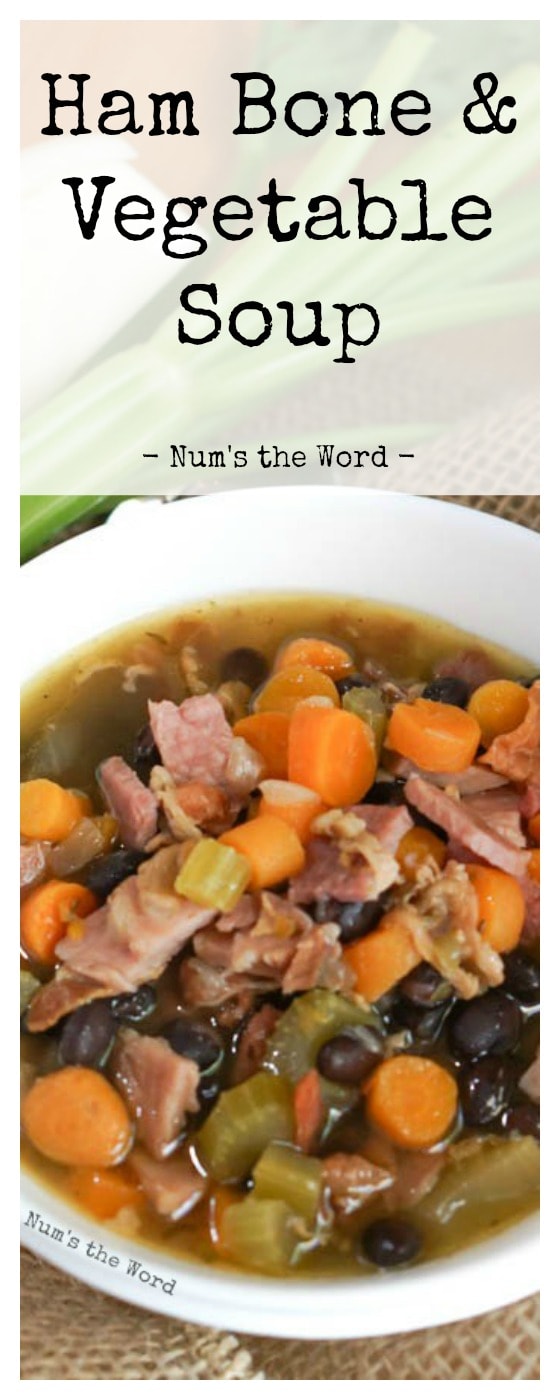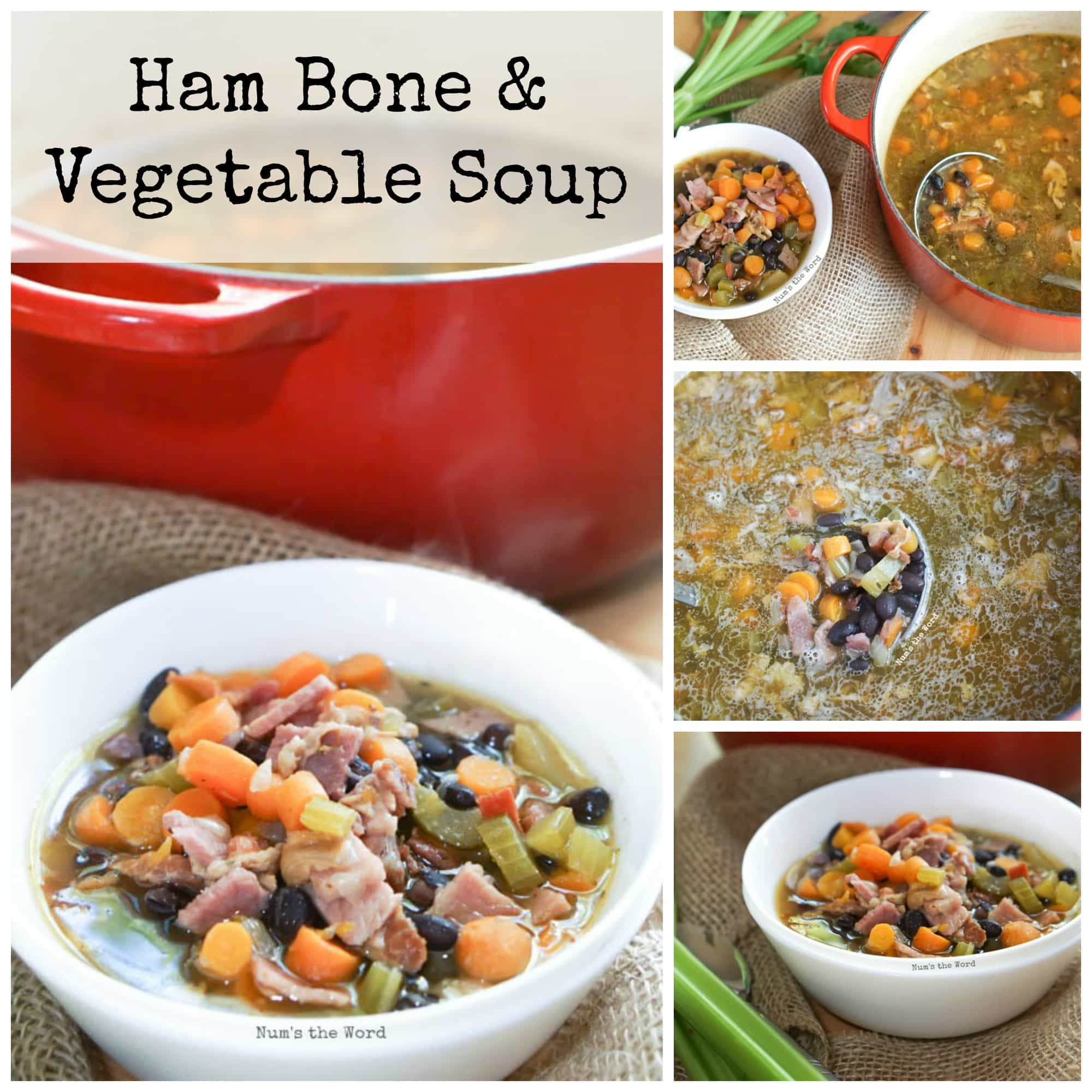 A few years ago I made the most incredible Honey Baked Ham.
We were in the kitchen nibbling on it the moment it came out of the oven and could not get enough of it.
My children even declared that it was THE BEST HAM they'd ever eaten.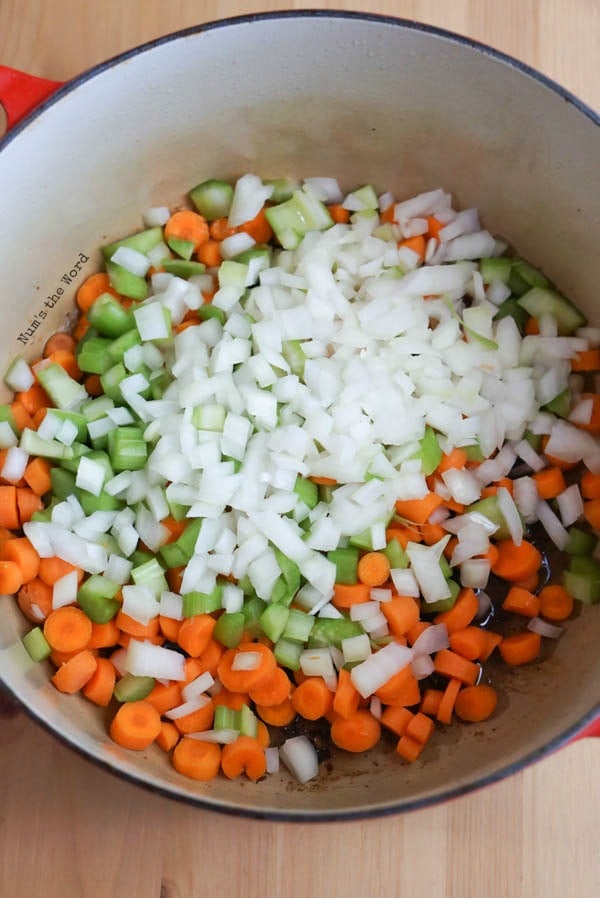 Ever since then I've started to cook a whole bone in ham 2 – 3 times per year.
However, it wasn't until this year that I decided to try to do something with the ham bone.
Everyone would talk about how tasty ham bone soup was.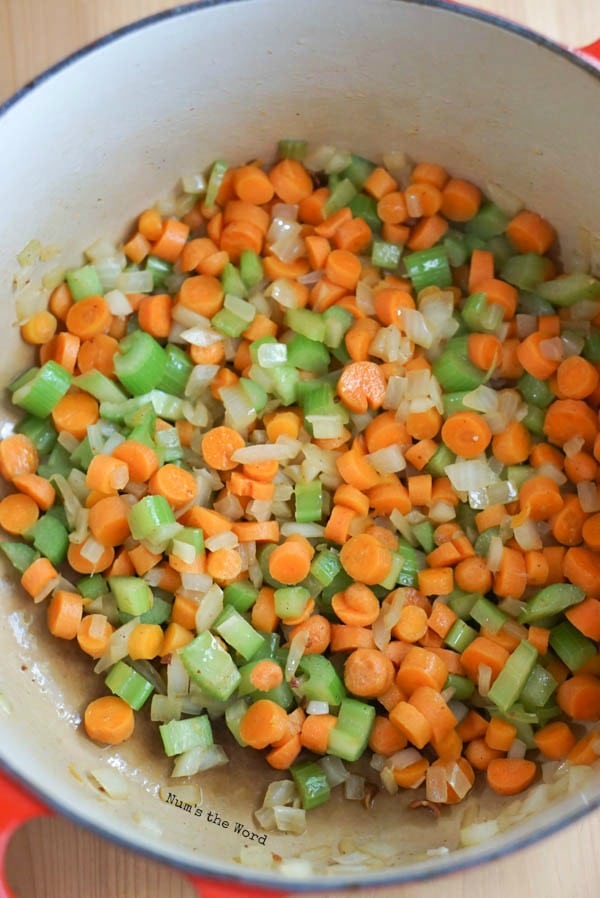 However I had never had it and so I couldn't say one way or the other how it tasted.
This year all that changed.
With my last ham, I decided to save the bone and attempt Ham Bone Soup.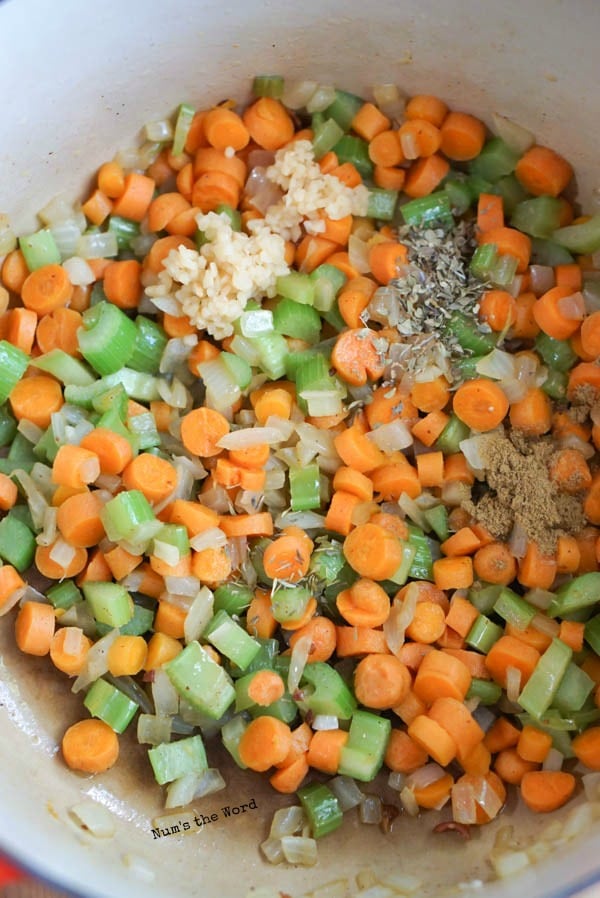 There are so many versions that I finally settled on one in an old church cookbook from my youth.
That recipe made a very large batch and so I adjusted it down to a normal family serving size.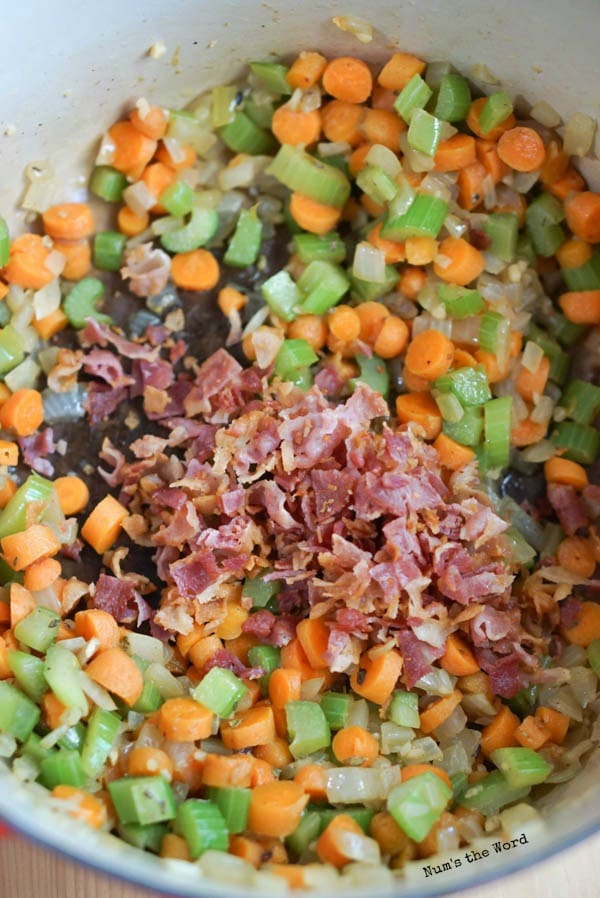 After tweaking the recipe slightly, I have to say the Ham Bone & Vegetable Soup was delicious.
I was most surprised by the taste.
I already knew that the vegetable soup aspect would be delicious.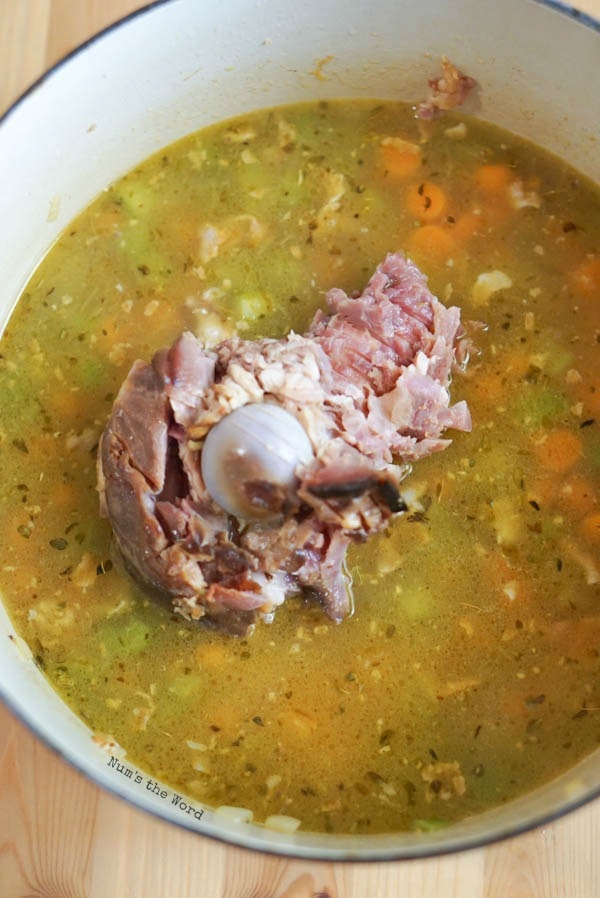 Carrots, celery, onion and spices I know would all compliment each other.
However I wasn't sure how the ham would play into the flavors.
What surprised me most, and it really shouldn't, was that the soup tasted SO MUCH like the original ham glaze.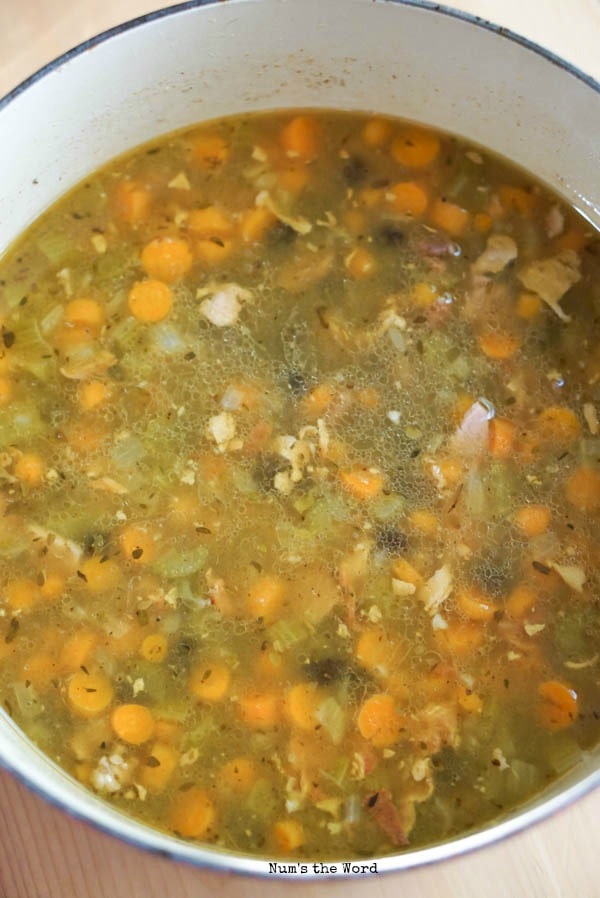 By cooking the ham bone for 2 hours with the remaining ham attached to the bone, the flavors of the original ham seeped into the soup.
This made the soup SO SO SO good!!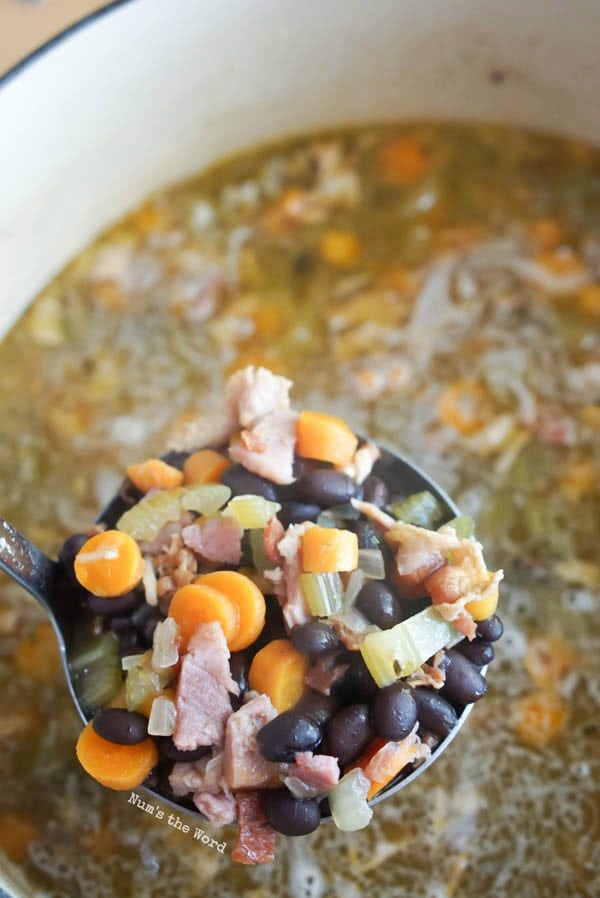 As fair warning, allow your soup to cool, just a bit before scarfing down a bowl.
I made the mistake of eating it immediately and my tongue and taste buds took a few days to recover from the piping hot liquid poured over them.
Now if you DO want to eat it right away, you can always add a dollop of sour cream or pop your bowl into the freezer for a few seconds first.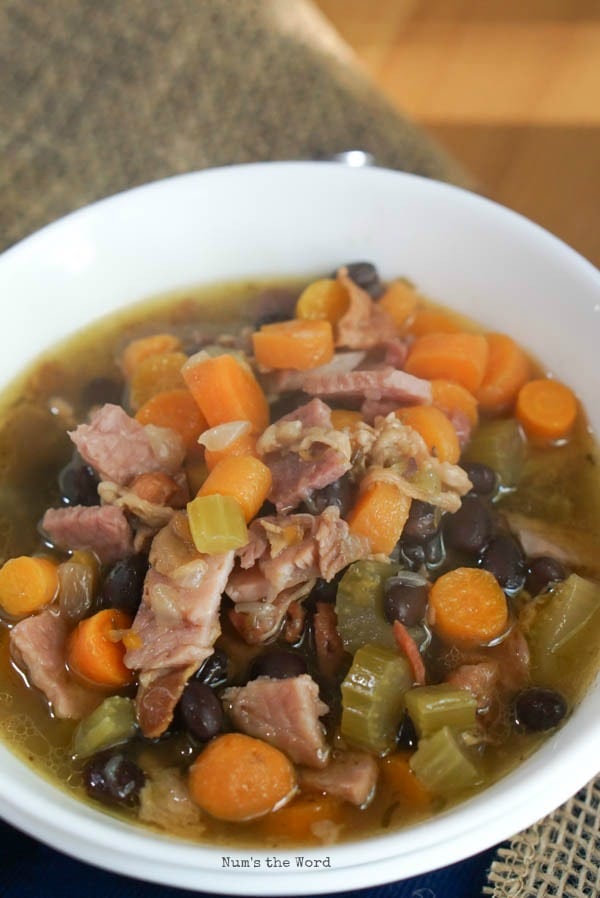 Either way, don't ruin your taste buds.
You'll need them when you want to enjoy bowl 2 or 3!
This soup cooked up well the next day as leftovers and my husband even liked it.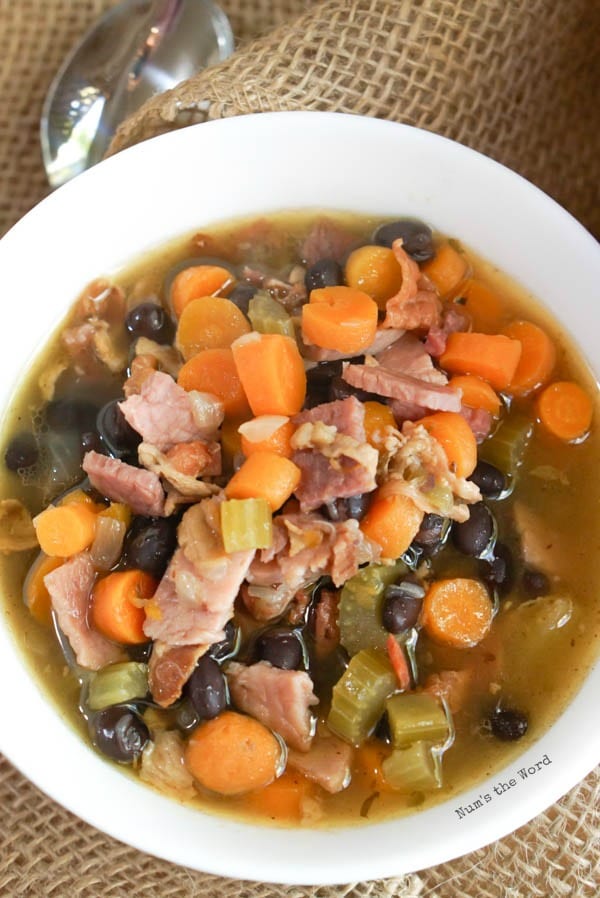 You could even freeze individual portions of this soup for later use!
Having leftover ham is guaranteed when you make a large spiral cut ham.
However, what you do with the leftover ham and ham bone is up to you!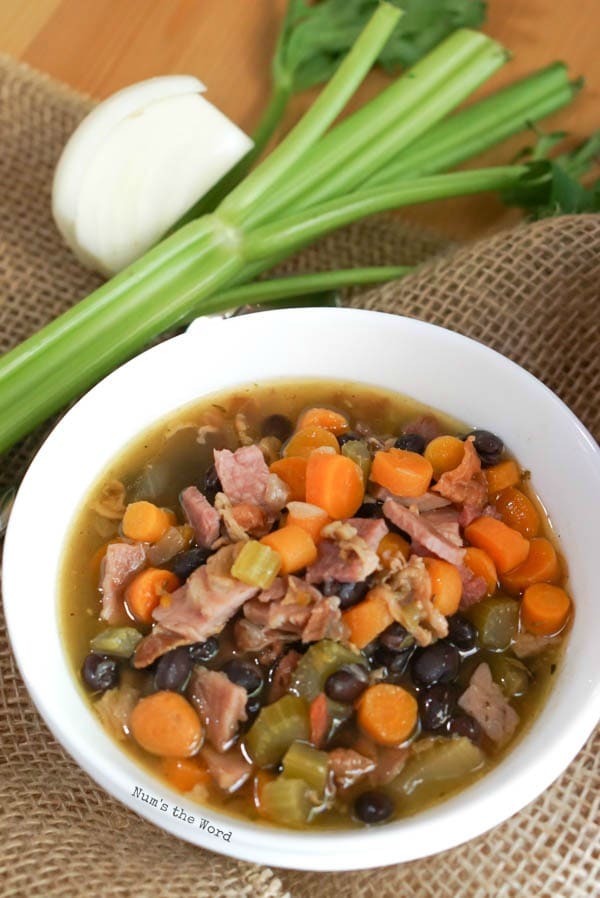 Here on Num's the Word we have quite a few recipes that use up leftover Ham and hope you'll whip this Ham Bone & Vegetable Soup up along with a few others!
Simple, flavorful and oh so tasty, this Ham Bone & Vegetable Soup is the perfect way to use up leftover ham!
Yield: 8 Servings
Ham Bone & Vegetable Soup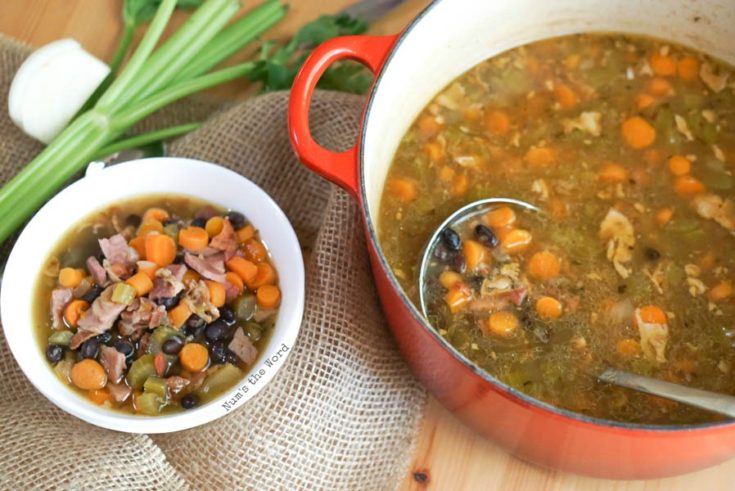 Cook Time
2 hours
30 minutes
Instructions
In a large pot or dutch oven cook bacon until done but not crispy. Remove from pot and set aside. Leave bacon grease in pot.
Add onion, celery and carrots to bacon grease. Saute for 5 minutes.
Add garlic, thyme, cumin and oregano to onion mixture. Cook for additional 5 minutes.
Add bacon and mix well.
Add chicken broth, rinsed black beans and ham bone. Cook for 2 hours over medium heat.
Remove ham bone and cut off any meat still on it.
Place ham in soup. Add cayenne pepper and lime juice and cook for 30 minutes longer.
Serve immediately.
Notes
Nutritional Information is estimated, not exact.
Recommended Products
As an Amazon Associate and member of other affiliate programs, I earn from qualifying purchases.
Nutrition Information:
Yield:
8
Amount Per Serving:
Calories:

202
Total Fat:

8.8g
Saturated Fat:

2.9g
Cholesterol:

22mg
Sodium:

1138mg
Carbohydrates:

14.2g
Fiber:

4.5g
Sugar:

2.3g
Protein:

15.2g
Other Soup Recipes You'll Love...