These Andes Mint Cookies are quick, easy and oh so tasty! With only 4 ingredients, they are practically impossible to mess up!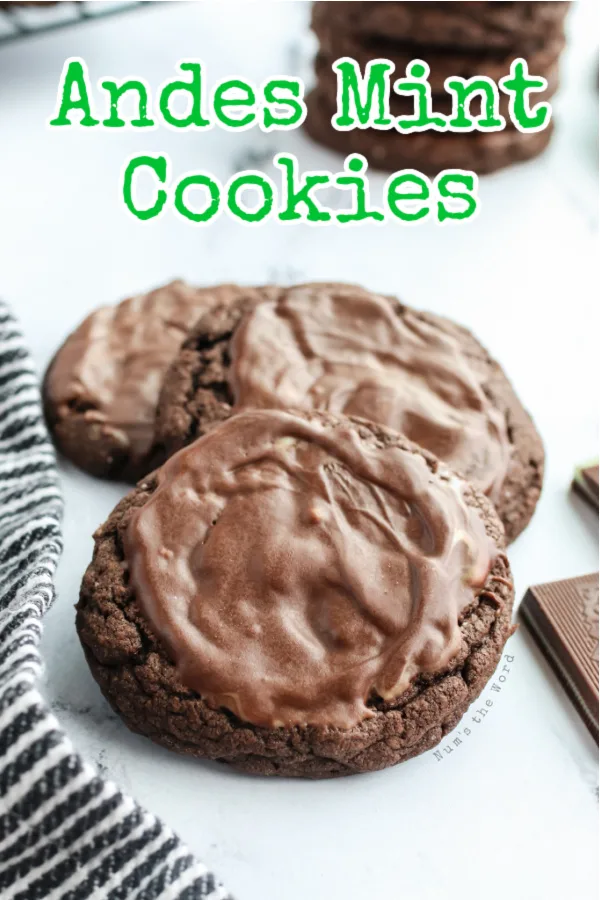 These Andes Mint Cookies are a family favorite among our household and extended family, and are one of our go-to holiday cookies.
Holiday baking can be overwhelming at times, especially if you're trying to make several different cookies and treats to deliver to friends and family.
One of our favorite Christmas traditions is delivering a plate of goodies along with a dose of exuberant caroling. I say "exuberant" because what we lack in talent, we compensate for in enthusiasm.
Caroling aside, holiday baking can sometimes feel like a chore instead of a merry family gathering in the kitchen; enter this cake mix cookie recipes.
Cake mix cookies are a breeze to prepare! Rather than gathering and measuring and sifting several different ingredients, these easy Andes Mint Cookies are made from a cake mix and take a fraction of the time and effort to prepare!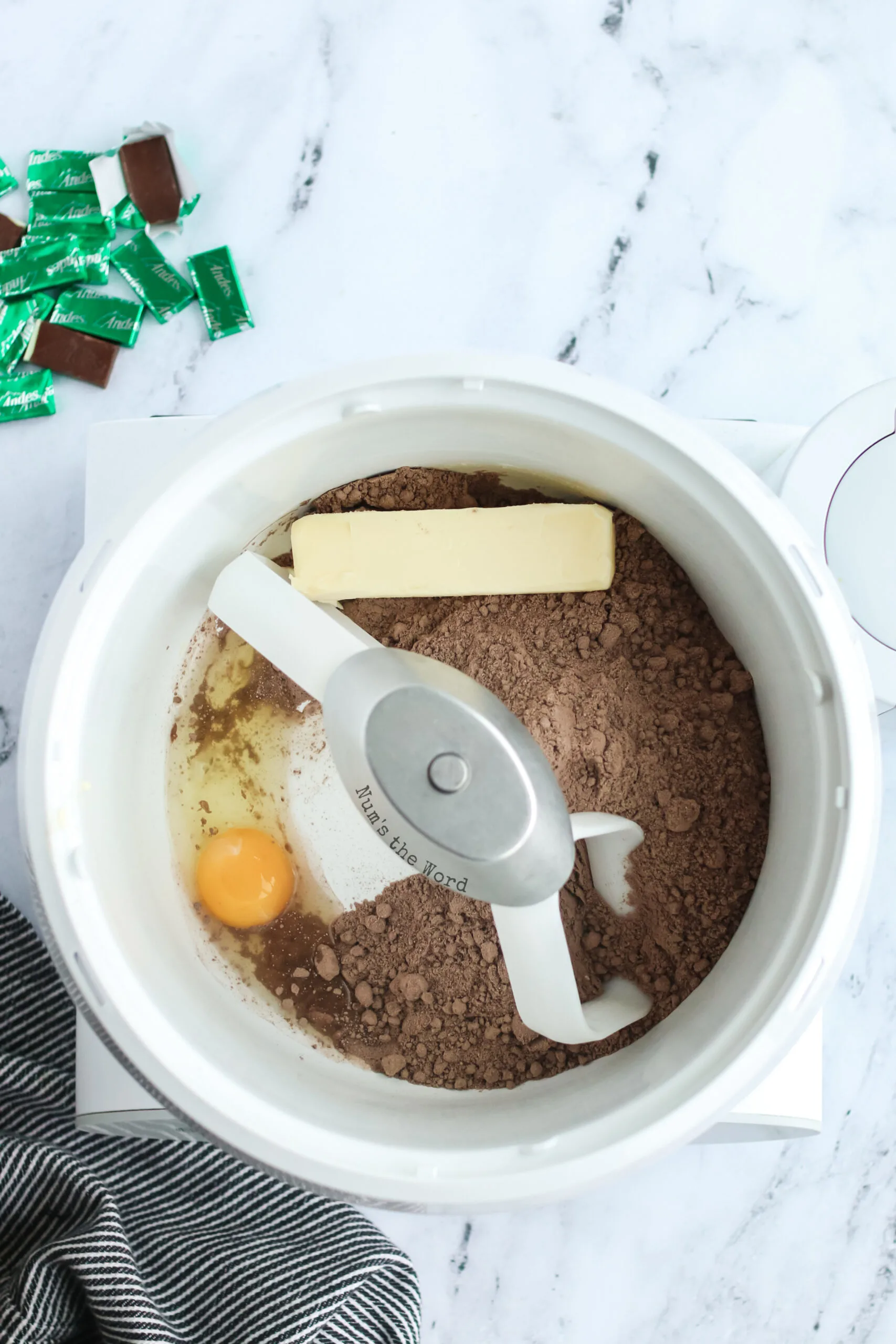 How to make cookies from cake mix:
Making cookies from a cake mix is one of the easiest ways to bake! Any cake mix can become cookie dough with just 3 ingredients!
What do I need for this Andes Mint Cookies recipe?
These Chocolate Andes Mint Cookies are about as simple as it gets! You'll need:
Dark chocolate cake mix

– If you don't have dark chocolate, triple chocolate will work just as well.

Butter

– using butter instead of oil creates a chewier cookie.

Eggs

– The glue that holds the cookie together.

Andes Mints

– one box of Andes Mint Chocolates (about 24) will work great! The chocolates will become a fantastic "frosting" for the cookie.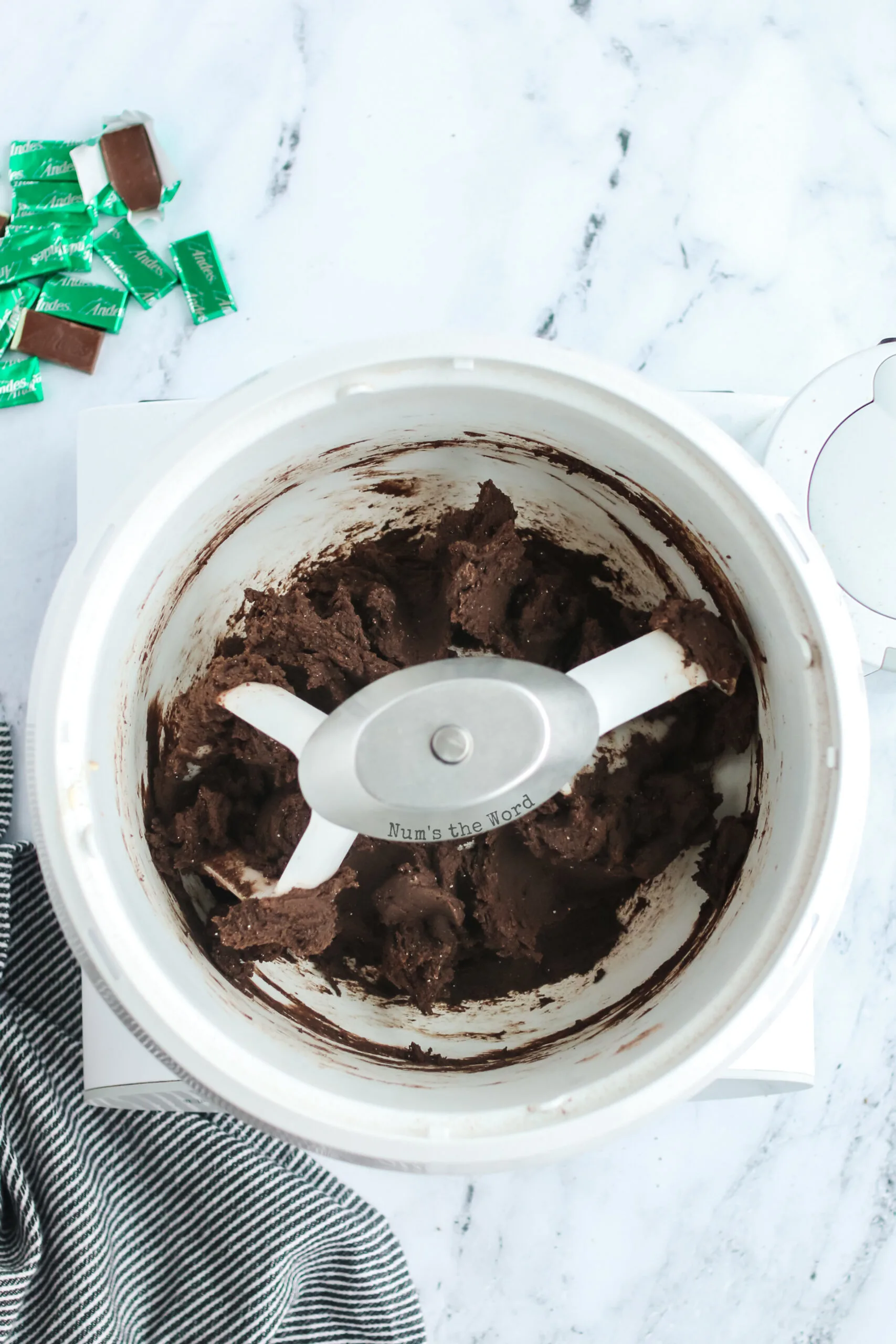 How to make Andes Mint Cookies with cake mix:
With so few ingredients, you can be assured the prep process for these Easy Andes Mint Cookies will be just as simple!
Combine all your ingredients together. Truly a dump and mix kind of recipe!
Scoop your cookies. I love using a cookie scoop but if you don't have one, just roll 1 Tablespoon of dough into a ball and place on cookie sheet.
Bake. Because of these being a chocolate cookie, you wont be able to tell when the edges darken. So simply cook as directed. If centers look goopy then bake an extra minute or two.
Frost. Place an unwrapped Andes Mint Chocolate on top of each cookie as soon as they come out of the oven and let sit for 1 minute. Then with the back of a spoon, spread melted chocolate over the top of your cookie.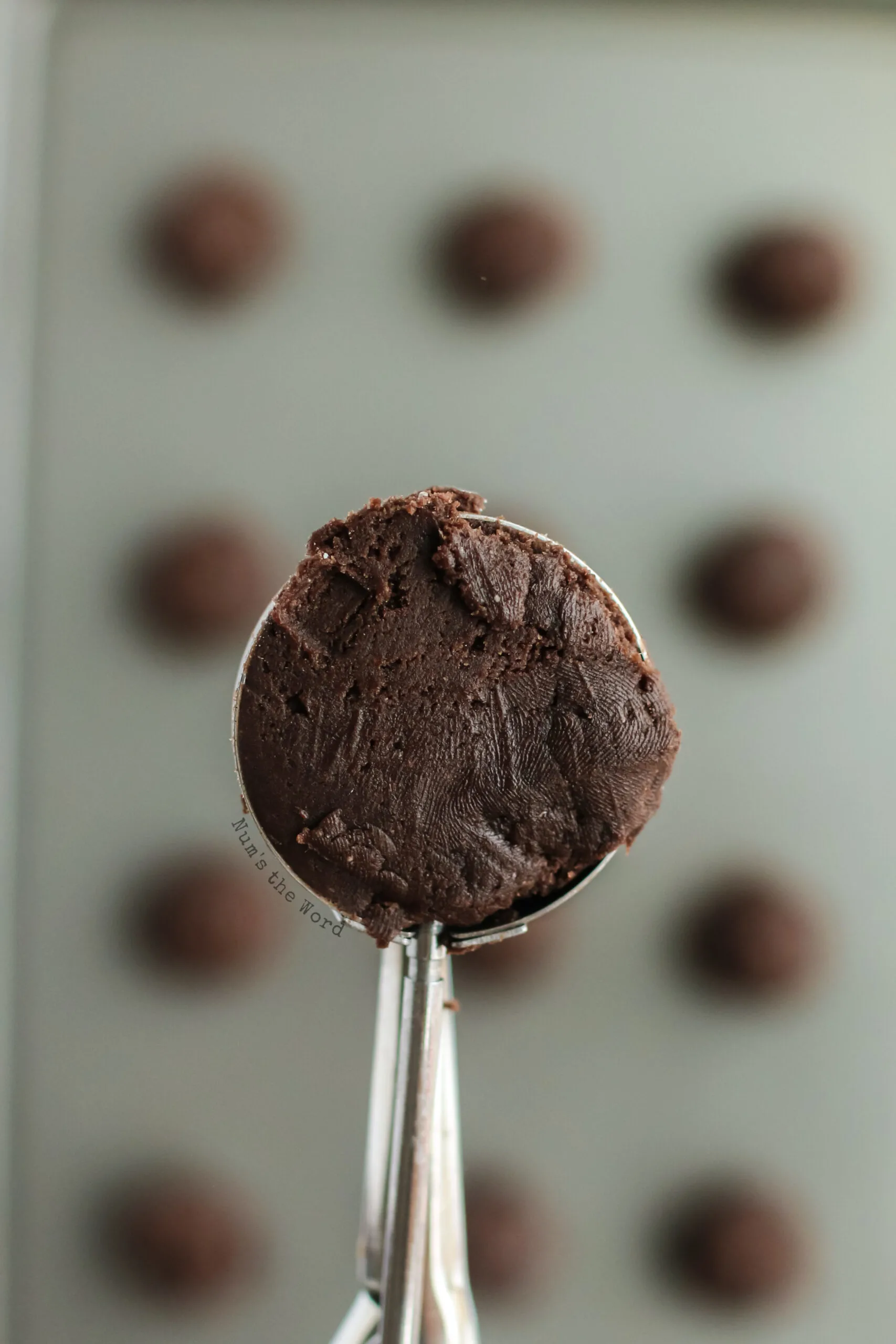 Can you freeze Andes Mint Cookies?
Yes! You can freeze these Andes Mint Cookies! To freeze the dough, place dough balls on a parchment or wax paper lined cookie sheet and "pre-freeze" for a couple hours.
Once dough has hardened, place balls in a freezer zipper bag. I like to write the cooking instructions right on the bag with the date.
To prepare from frozen dough, place frozen dough balls on a cookie sheet and allow it to sit at room temperature for 15-20 minutes before baking as usual.
Cookie dough will last frozen for up to 3 months.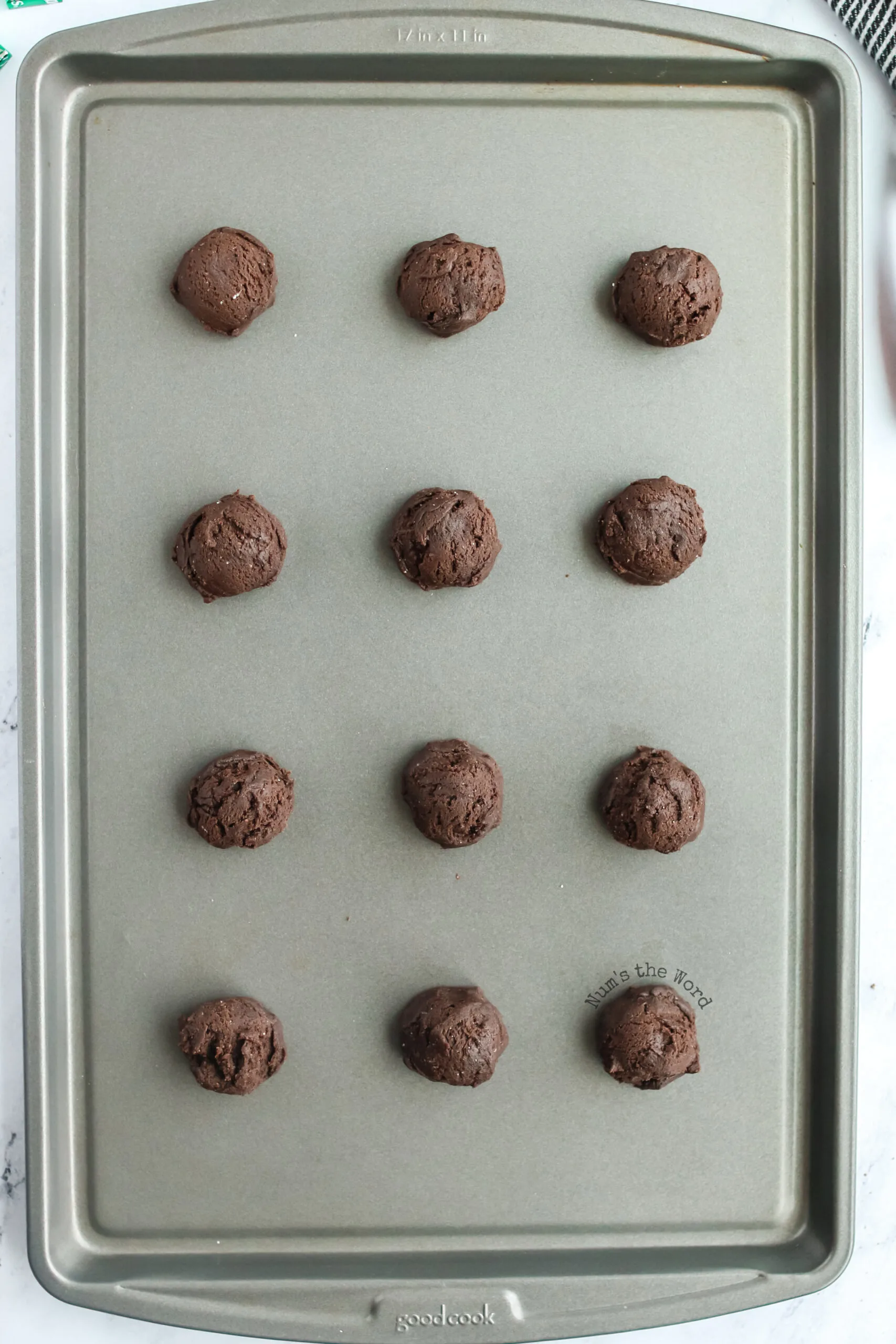 Pro Tip: This is a great option for holiday cookie exchanges! Instead of having mounds of prepared cookies you'll never eat while they're still fresh enough to be worth the calories, you can exchange dough balls and keep in the freezer throughout the holiday season!
Did you bake all the cookies and want to save some for later? No problem! You can also freeze the prepared cookies in an airtight container or zipper bag for up to a month.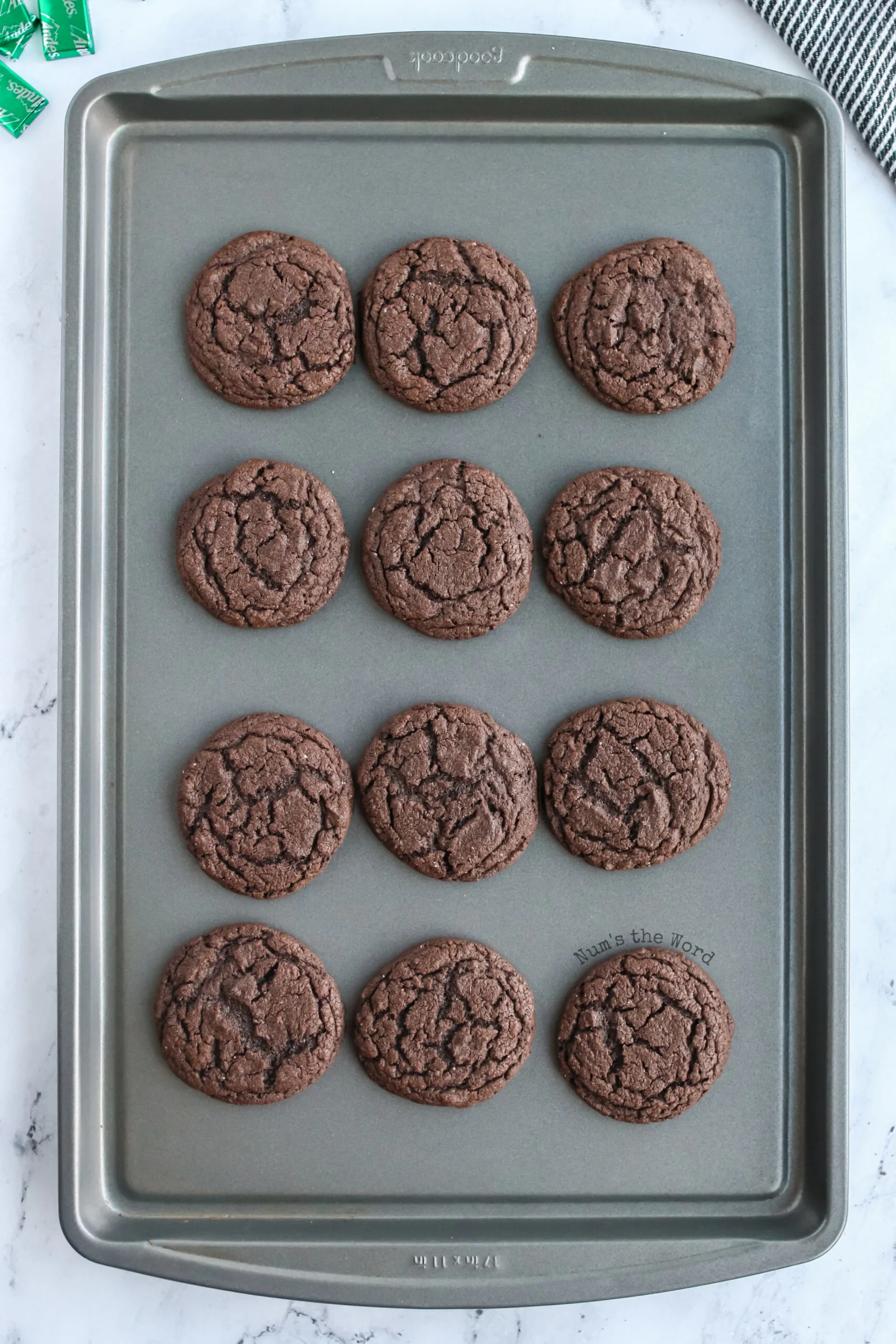 More cake mix cookie recipes:
If you're looking for more chocolate cake mix cookie recipes, or other out-of-the-box cake mix cookie ideas, check out some of the links below: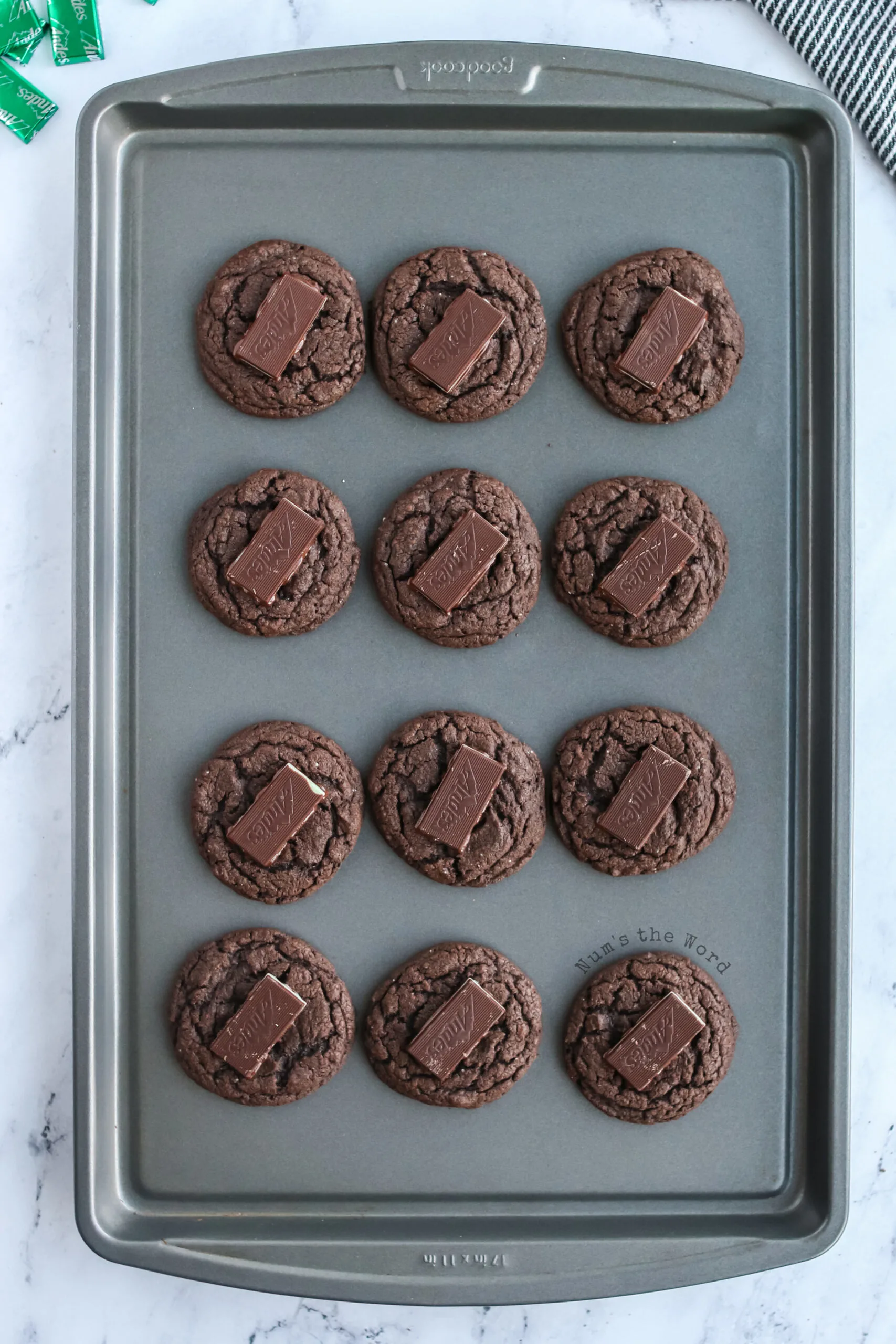 Are Andes Mints dark chocolate?
Dark chocolate is defined as having no added milk, so because Andes Mint Chocolates contain milk ingredients, it's technically categorized as a semisweet or milk chocolate. I consider it semisweet.
How are Andes Mints made?
Massive amounts of cocoa powder, milk powder, and sugar are combined and refined and then mixed with oils to form a chocolate. Fun fact: the green layer between the chocolate layers is NOT the only minty part! In fact, the chocolate is also infused with mint flavoring as well — more than the green layer!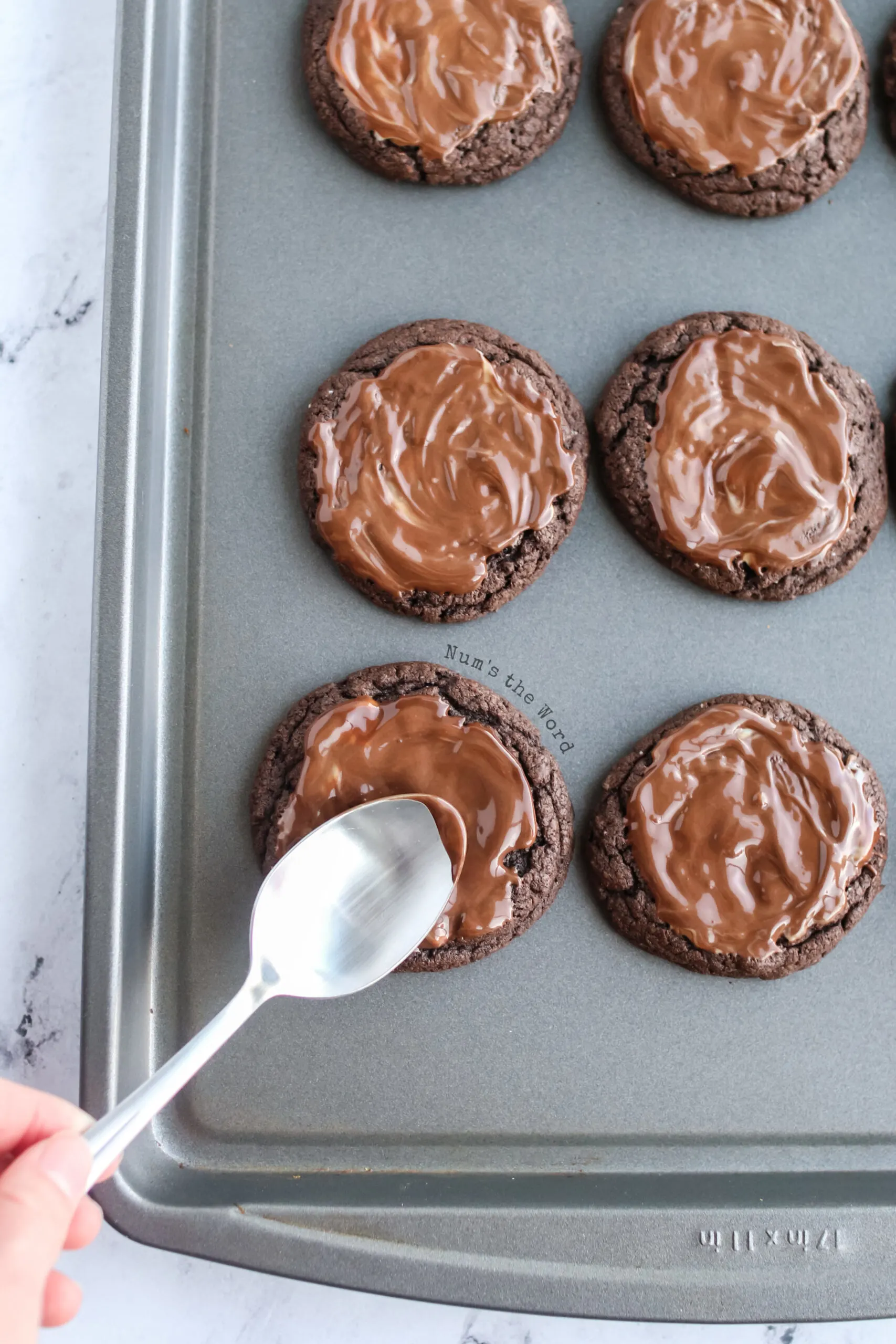 Are Andes Mints gluten free?
Yes, Andes Mint Chocolates are gluten free! They are also tree nut and peanut free. However, the cookie recipe we use here is NOT gluten free. If you would like to make a gluten free version of this recipe, substitute your favorite gluten free chocolate cake mix.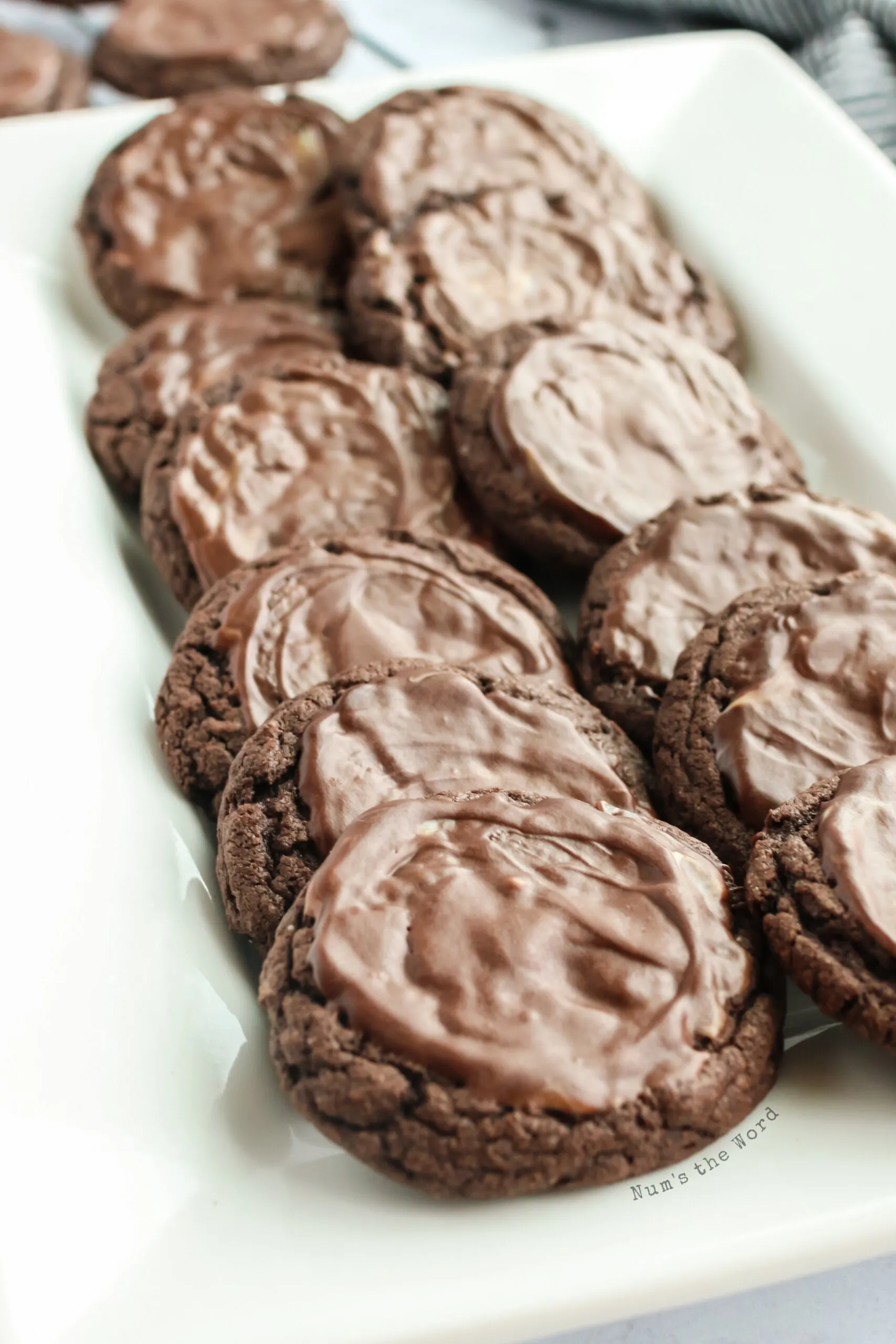 Are Andes Mints vegan?
Andes Mint Chocolates are NOT vegan. They are, however, vegetarian! The only animal derived ingredients they contain are milk-based.
These cookies are seriously SO GOOD! I have very little self control when it comes to these delectable little morsels of mint-chocolatey goodness. So I would definitely recommend a double batch if you intend to share with … well … anyone. Ha!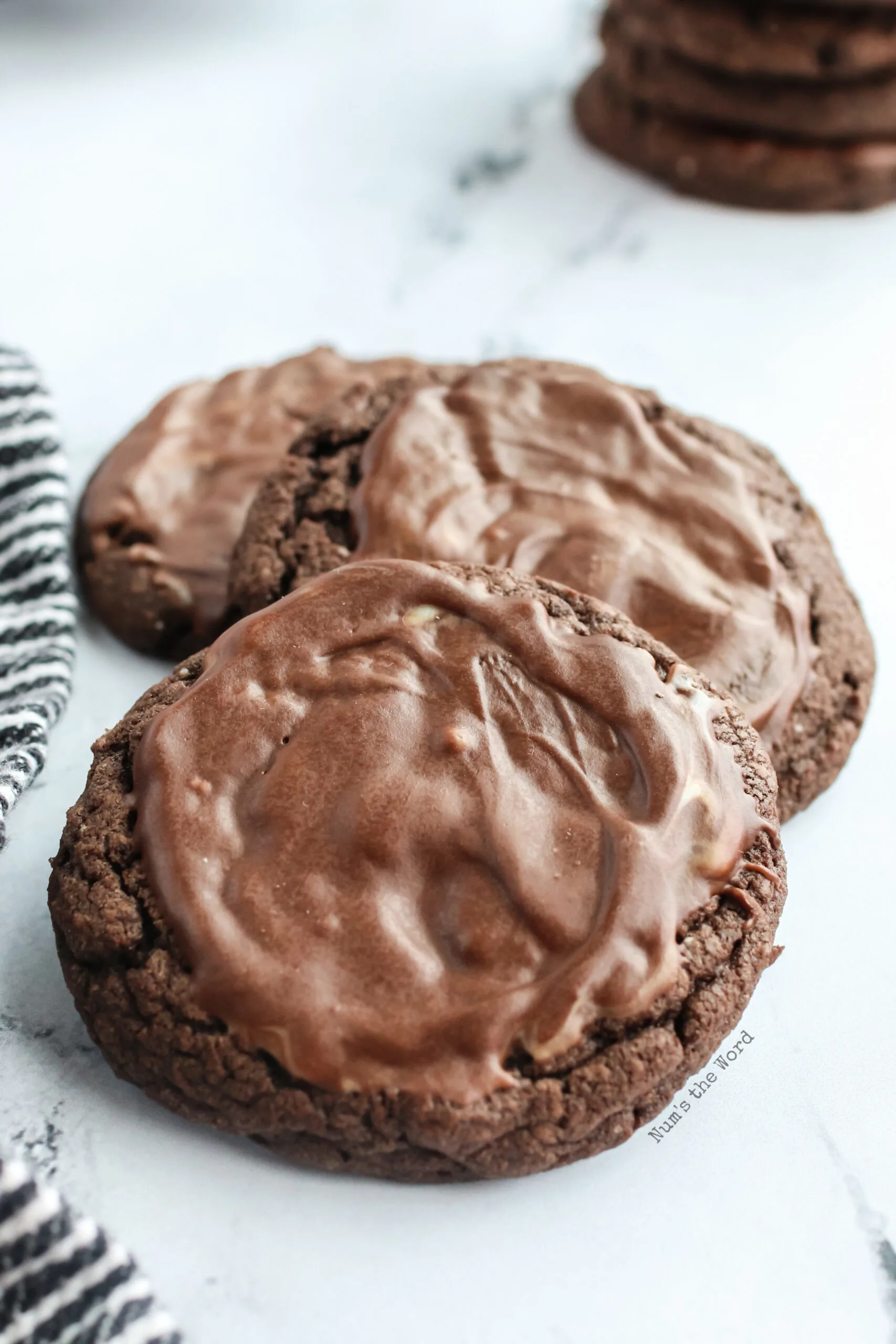 More Cookies You'll Love: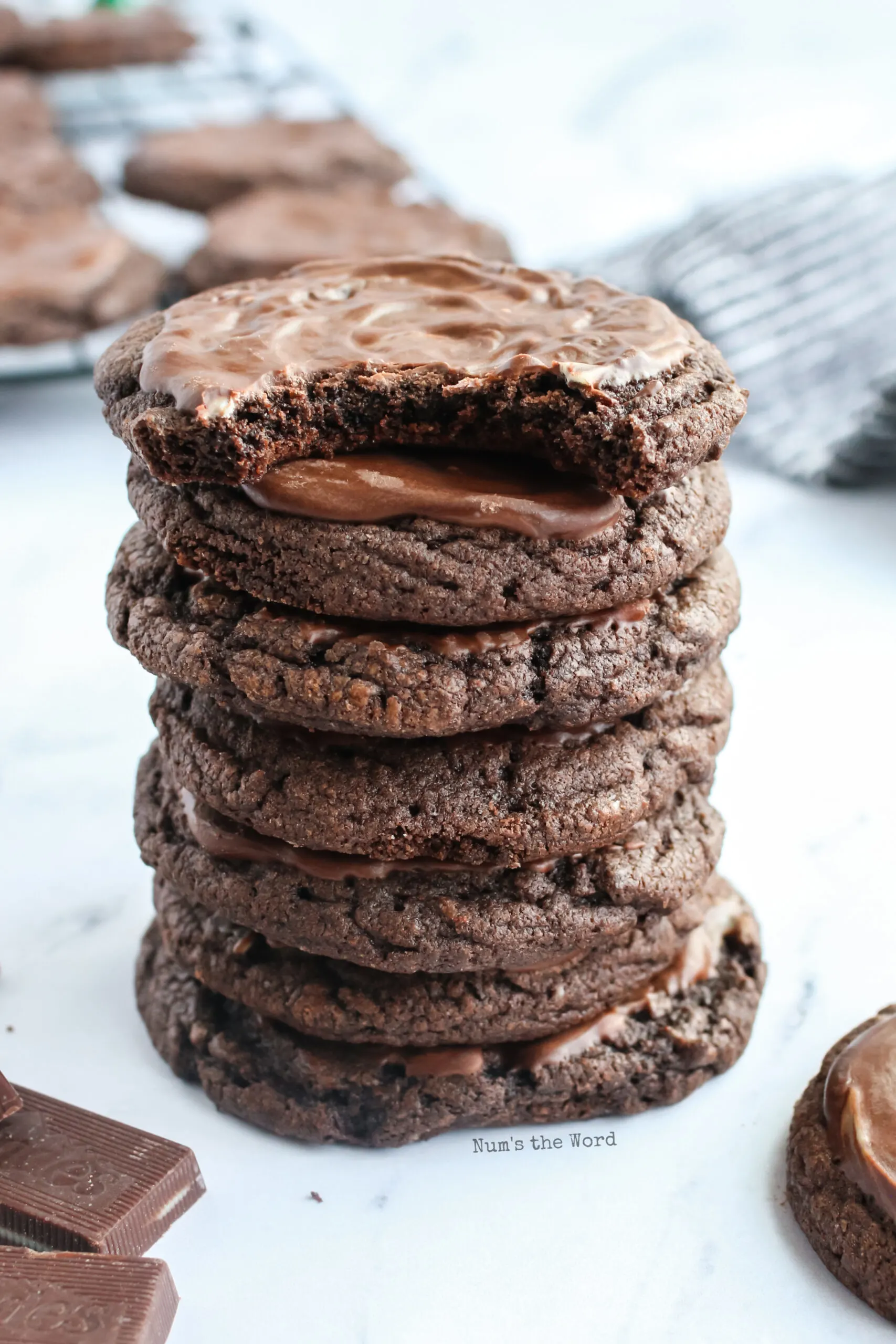 In all seriousness, you cannot beat the simplicity of ingredients and preparation in this recipe; and the results are incredible. You would never guess these cookies were so simple to make, judging by the great flavor and texture you get!
Your family will devour these Andes Mint Cookies, your friends will beg for the recipe, and you'll wonder why you didn't gobble them all up while you had the chance!
Yield: 2 Dozen Cookies
Andes Mint Cookies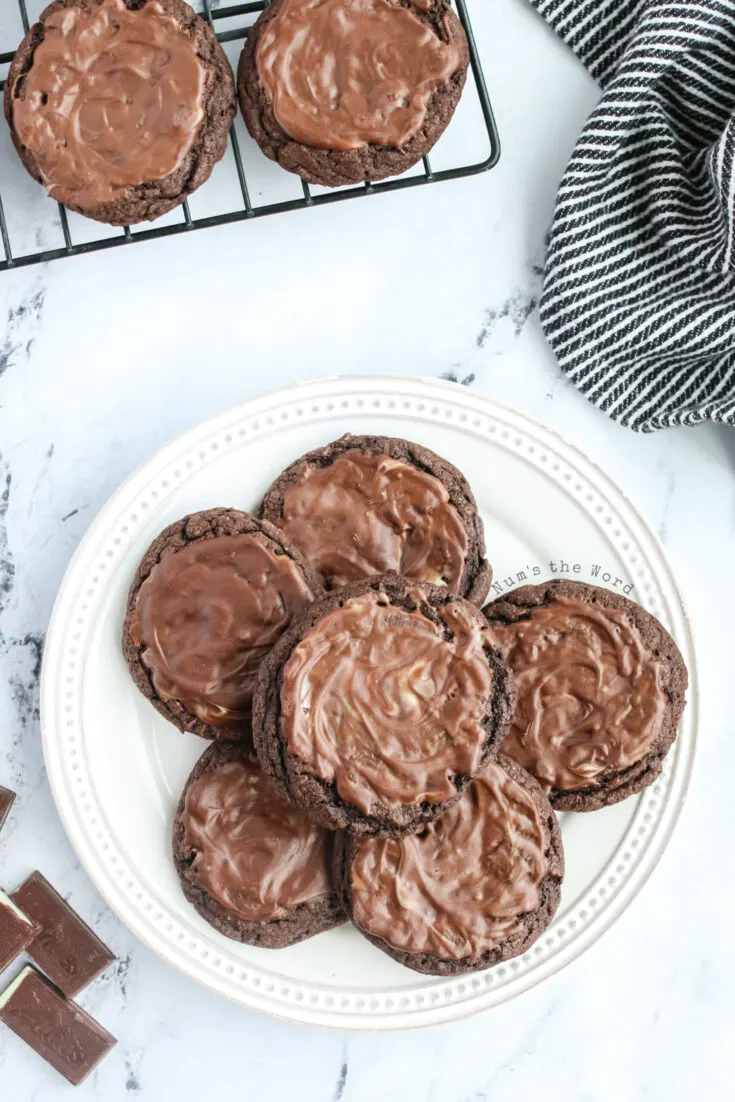 These Andes Mint Cookies are quick, easy and oh so tasty! With only 4 ingredients, they are practically impossible to mess up!
Ingredients
1 Chocolate Chocolate Cake Mix
1 egg
1/2 cup butter, room temperature
1 box Andes Mint Chocolates
Instructions
Preheat oven to 350*F
In a medium bowl combine cake mix, egg and butter - mixture will be very thick.
Scoop out 1 Tablespoon round balls and place them on a cookie sheet
Bake for 10 - 13 minutes then remove from the oven.
While cookies are hot, unwrap Andes Mints and place one on top of each cookie.
Let the hot cookie melt the chocolate then with the back of a spoon swirl and spread the chocolate over the top of the cookie, acting like a frosting.
Once cool and frosting is dried, eat.
Nutrition Information:
Yield:
24
Serving Size:
1
Amount Per Serving:
Calories:

44
Total Fat:

4g
Saturated Fat:

3g
Trans Fat:

0g
Unsaturated Fat:

1g
Cholesterol:

18mg
Sodium:

43mg
Carbohydrates:

1g
Fiber:

0g
Sugar:

1g
Protein:

0g