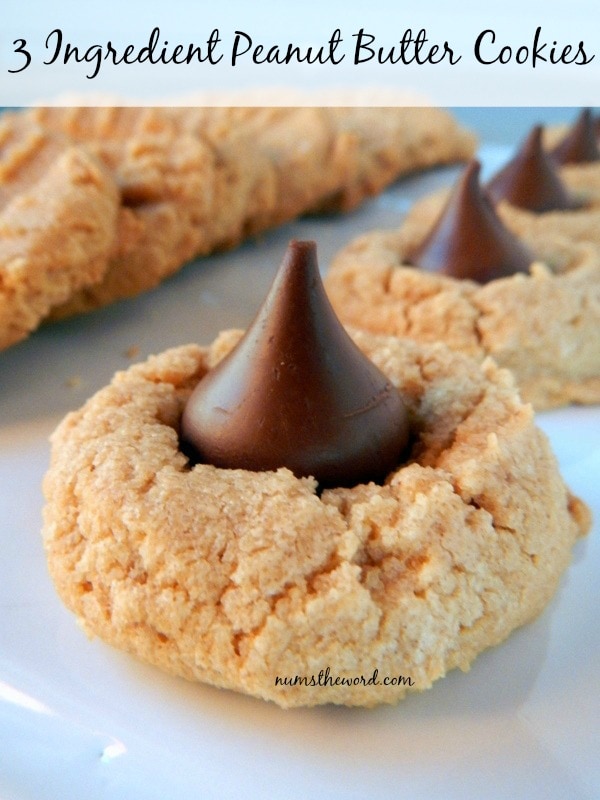 If you've ever made peanut butter cookies, you'll know the the recipe for them can vary widely.
Some include flour and baking soda and perhaps a few other ingredients.
I'm not here to knock those recipes. In fact we have a recipe for Peanut Butter Pecan Cluster Cookies right here on Num's the Word!
However I suspect that long ago…before the internet and before most of modern technology that 3 ingredient peanut butter cookies were the main recipe most used.
And for a good reason. These are SOO easy. And if you are like me, you ALWAYS have these 3 ingredients on hand. Which means that if you have 13 minutes, you've got fresh hot out of the oven cookies.
These 3 ingredient peanut butter cookies though basic, certainly do not taste basic. They are soft and yummy and taste amazing.
Certainly a recipe any peanut butter lover should try. And especially any novice in the kitchen should try. The only way to mess up these cookies is to forget about them and let them burn.
If 2 dozen cookies is a bit much for you to swallow, then crumble them up and top your ice cream with them or scoop a ball of ice cream between them for an ice cream sandwich.
We love this version and hope you do too! A classic recipe that will never go out of style!
This post contains Amazon affiliate links as a free service to you!

3 Ingredient Peanut Butter Cookies
Ingredients
1 Cup Peanut Butter
1 Cup Sugar
1 Egg
Instructions
Preheat oven to 350*F
In a bowl, mix peanut butter, sugar and egg.
If doing the Kiss method, roll dough into 1 tablespoon sized balls and place on a prepared cookie sheet.
If doing traditional peanut butter cookie method, roll dough ball in sugar and place on prepared cookie sheet. Take a fork and press criss-cross pattern into cookie.
Bake for 6 - 8 minutes.
If doing the kiss method, place kiss on top of cookies as soon as you remove from oven.
Let cool for 5 minutes then remove to a cooling rack.
https://numstheword.com/3-ingredient-peanut-butter-cookies/
Items recommended for this recipe include…
Another Recipe We Think You'll Love…