Do you love Marshmallow treats? These ones use Lucky Charms Cereal and are extra gooey, making them the perfect treat!
This post contains affiliate links.  If you click on an affiliate link and make a purchase, I will make a small percentage on your purchase. This helps keep this website running! Thank you!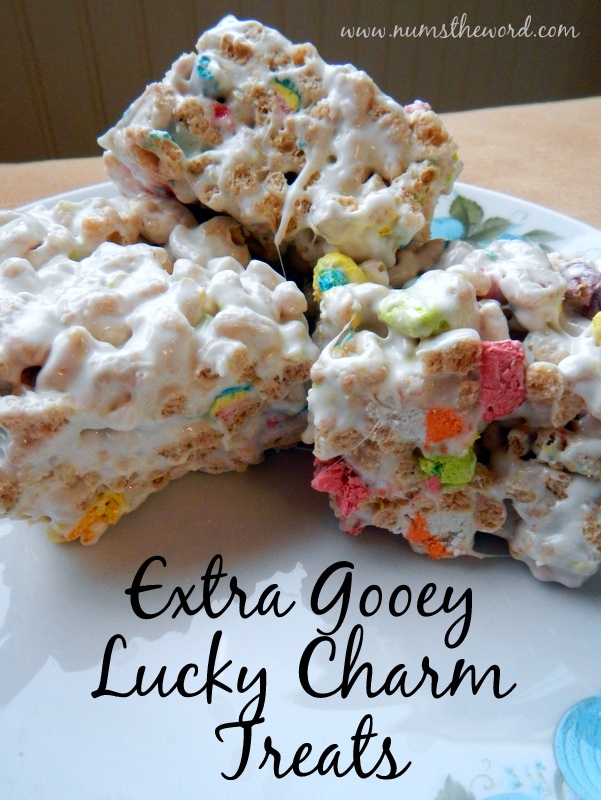 In our home, our greatest weakness is marshmallow treats.
Anytime I whip up a batch, they never quite make it to the "set" stage.
We begin eating them right out of the bowl as soon as they are cool enough to touch.
We love marshmallow treats, and especially love extra gooey ones.
There is nothing worse than biting into a marshmallow treat and having it be dry and crunchy.
Blah!
We want marshmallow treats that are gooey and chewy and delicious!
One of the many things you should know about me is that I really want to be the mom who makes being a kid fun.
I want to be the mom who makes holidays magical and memorable.
However, just because I want to be that mom, doesn't always make it so.
I generally do a lot of last minute prepping and planning because my life is so hectic that I find I do not have enough time to do everything I want to get done.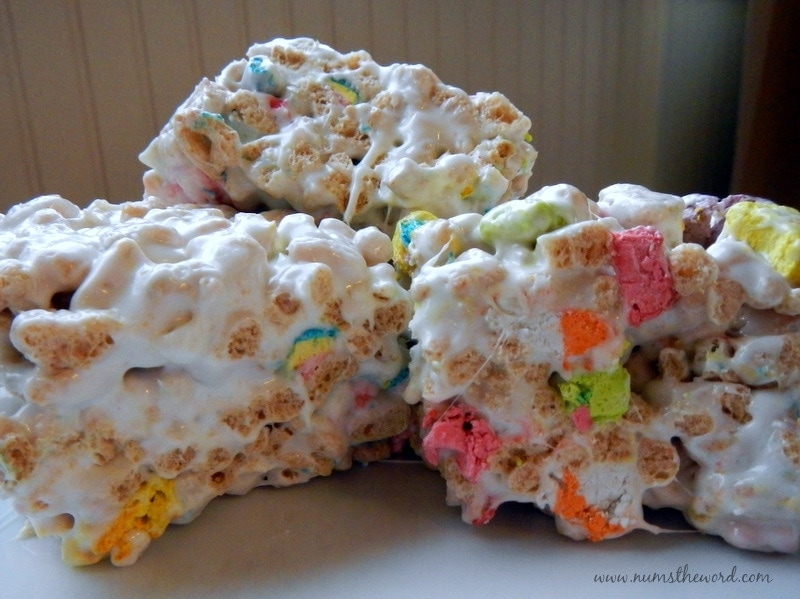 Luckily, St. Patrick's Day and the month of March are something that I have managed, thus far, to successfully do well for my kids.
Starting on March 1st, we have a naughty leprechaun that visits our home every day until St. Patrick's Day.
He likes to play naughty tricks on us and we never know what time of the day he'll stop in or what trick he will play.
My kids LOVE this and every day contemplate and watch for what naughty trick he'll play on us.
In past years (as well as this year) he's colored our milk green, peed (green food coloring) in the toilet, and switched everyone's bed covers to trick us.
The naughty leprechaun has also played tricks on us by hiding treats under bowls and telling us it's a spider, when in fact it's a treat; and one time he even tossed all the cushions off of our couch and left gold Rolos scattered all over.
He's stolen our chocolate gold coins and hung up our favorite stuffed animals from the ceiling.
You just never know what he'll do.
What we do know is that he will visit us every day from March 1 – March 17 and we love it.
In addition to the fun tradition of a naughty leprechaun visiting us, we also love to make lots of tasty treats to celebrate this fun holiday!
These Extra Gooey Lucky Charm Treats are a favorite of ours.
My kids always request them the week before St. Patrick's Day as we try to make the most out of this simple holiday.
Having fun and going the extra mile for your kids or spouse can be quite easy and these treats are just one way to do it.
Yes they are a bit more sugary than your usual marshmallow treats due to the added cereal marshmallows.
And yes they are sticky.
However they make such a fun and easy treat that everyone falls in love with them at first bite!
If you are obsessed with marshmallow treats as we are, then give this fun spin a try!
We find that they bring good luck and a smile to everyone who tries them!
Extra Gooey Lucky Charm Treats
Ingredients
4 Tablespoons butter
1 (10 ounce) bag of marshmallows
6 cups of Lucky Charms Cereal
Instructions
Butter a 9x13 inch pan (or spray with pam)
In a microwave safe bowl, combine butter and marshmallows and heat on high for 2 - 3 minutes.
Remove from microwave and stir to combine.
Add 6 cups of Lucky Charms Cereal
Mix thoroughly with a buttered spatula to ensure all cereal is evenly covered.
Butter your hands and press into pan and allow to cool.
Notes
If you don't like them quite so gooey, then add 2 - 3 cups of extra Lucky Charms.
https://numstheword.com/extra-gooey-lucky-charm-treats/
Originally Posted: March 12, 2014