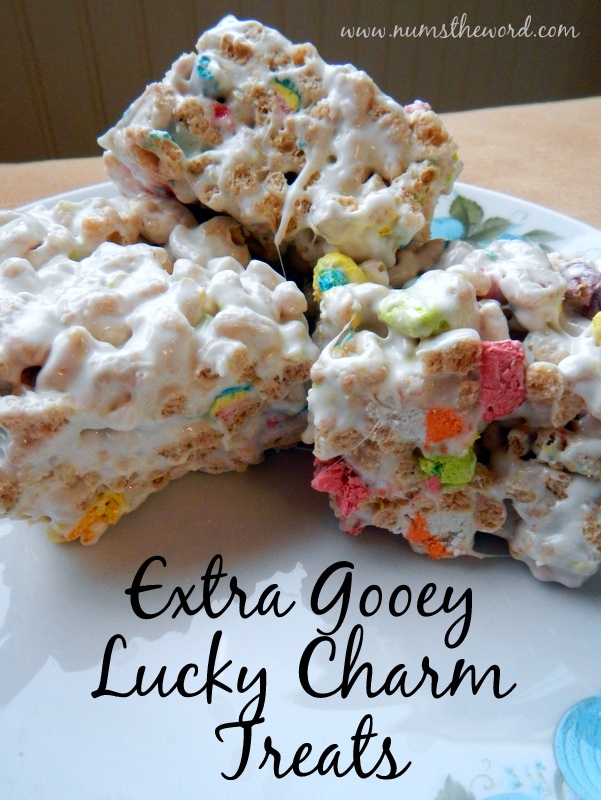 In our home, our greatest weakness is marshmallow treats.
Anytime I whip up a batch, they never quite make it to the "set" stage. We begin eating them right out of the bowl. Then after I press them into the pan, we nab a little more. And by the time they are "set" they are gone.
I kid you not, we have ZERO self control when they are around. ZERO. This includes my husband who is not a sweets fan. ZERO control.
Dry treats are the worst, we prefer them extra gooey and the best part of marshmallow treats is that you can make them with ANY cereal.
In honor of St. Patrick's Day, we made Extra Gooey Lucky Charm Treats and they were delicious! So delicious that I now want some more.
Whip up a batch for your family to celebrate St. Patrick's Day! They are super easy and extra nummy!
Extra Gooey Lucky Charm Treats
Ingredients
4 Tablespoons butter
1 (10 ounce) bag of marshmallows
6 cups of Lucky Charms Cereal
Instructions
Butter a 9x13 inch pan (or spray with pam)
In a microwave safe bowl, combine butter and marshmallows and heat on high for 2 - 3 minutes.
Remove from microwave and stir to combine.
Add 6 cups of Lucky Charms Cereal
Mix thoroughly with a buttered spatula to ensure all cereal is evenly covered.
Butter your hands and press into pan and allow to cool.
Notes
If you don't like them quite so gooey, then add 2 - 3 cups of extra Lucky Charms.
https://numstheword.com/extra-gooey-lucky-charm-treats/