Get ready for a dessert that's sweet, tangy, and downright addictive! These Strawberry Crumb Bars are perfect for any occasion and will leave you wanting more.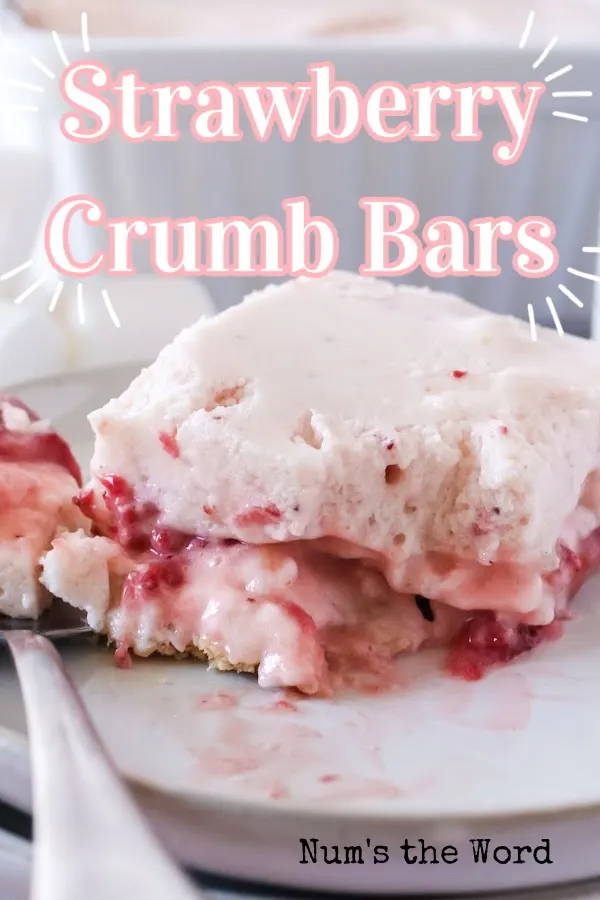 Imagine a buttery graham cracker crust, topped with a layer of sweet marshmallows, juicy sliced strawberries, and whipped cream.
This is a dessert that's easy to make and absolutely delicious.
This strawberry marshmallow dessert is a great way to use fresh strawberries when they're in season.
The combination of marshmallows and whipped cream makes for a light and airy texture.
The graham cracker crust adds a lovely crunch to every bite.
It's a dessert that looks impressive but is actually very easy to make.
You can easily customize this strawberry crumb bars recipe by adding different fruits or toppings.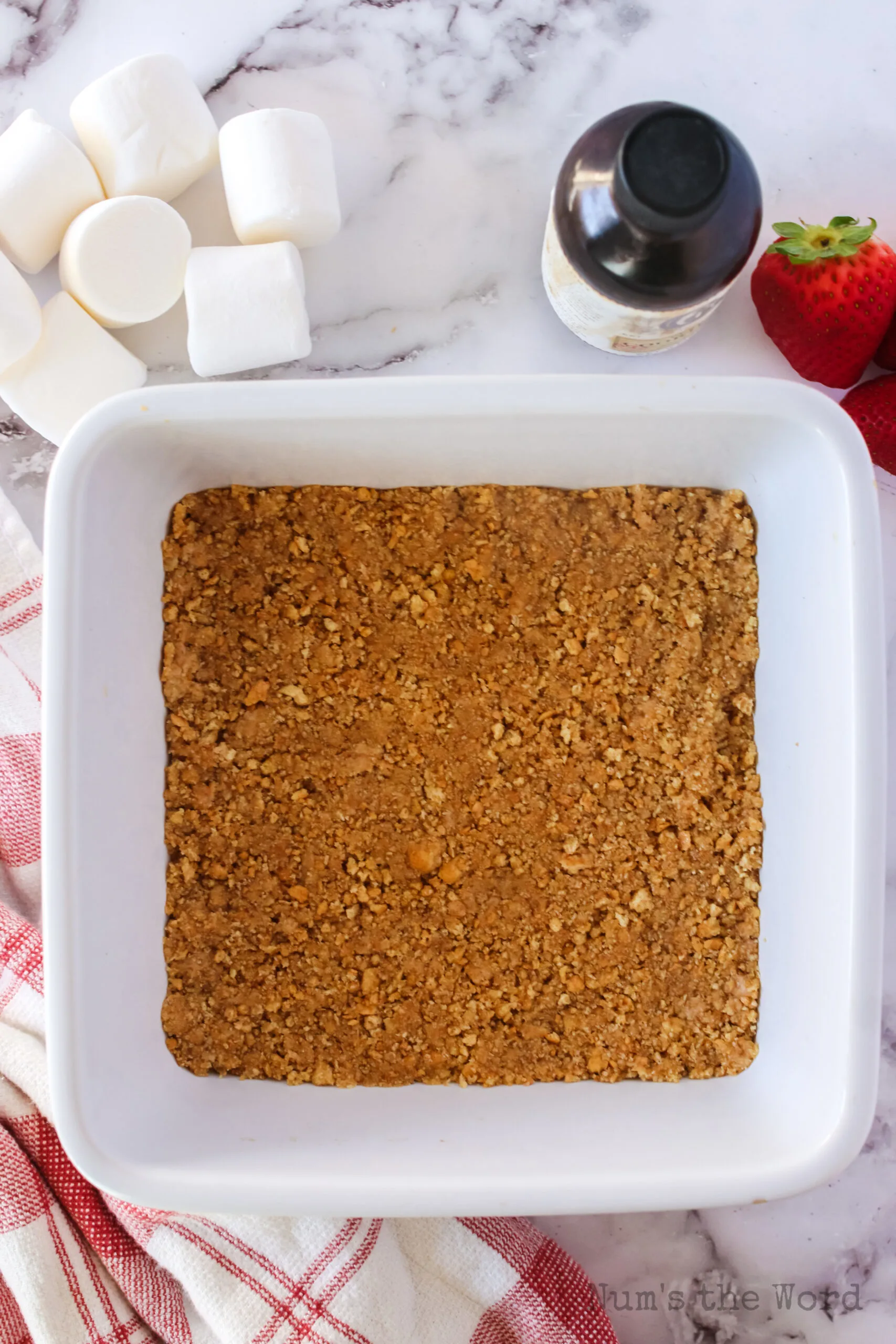 What are Strawberry Crumb Bars?
Strawberry Crumb Bars are a delicious dessert made with a buttery crust, a layer of marshmallows and sliced strawberries, and whipped cream.
They are most popular during strawberry season, obviously, though they can be enjoyed any time of year!
Sometimes they have a crumble topping or other seasonal berries, so there's actually a lot of variety in how they are prepared.
They can go by other names such as strawberry bars, strawberry shortcake, or marshmallow bars though whatever you call them, they're delicious.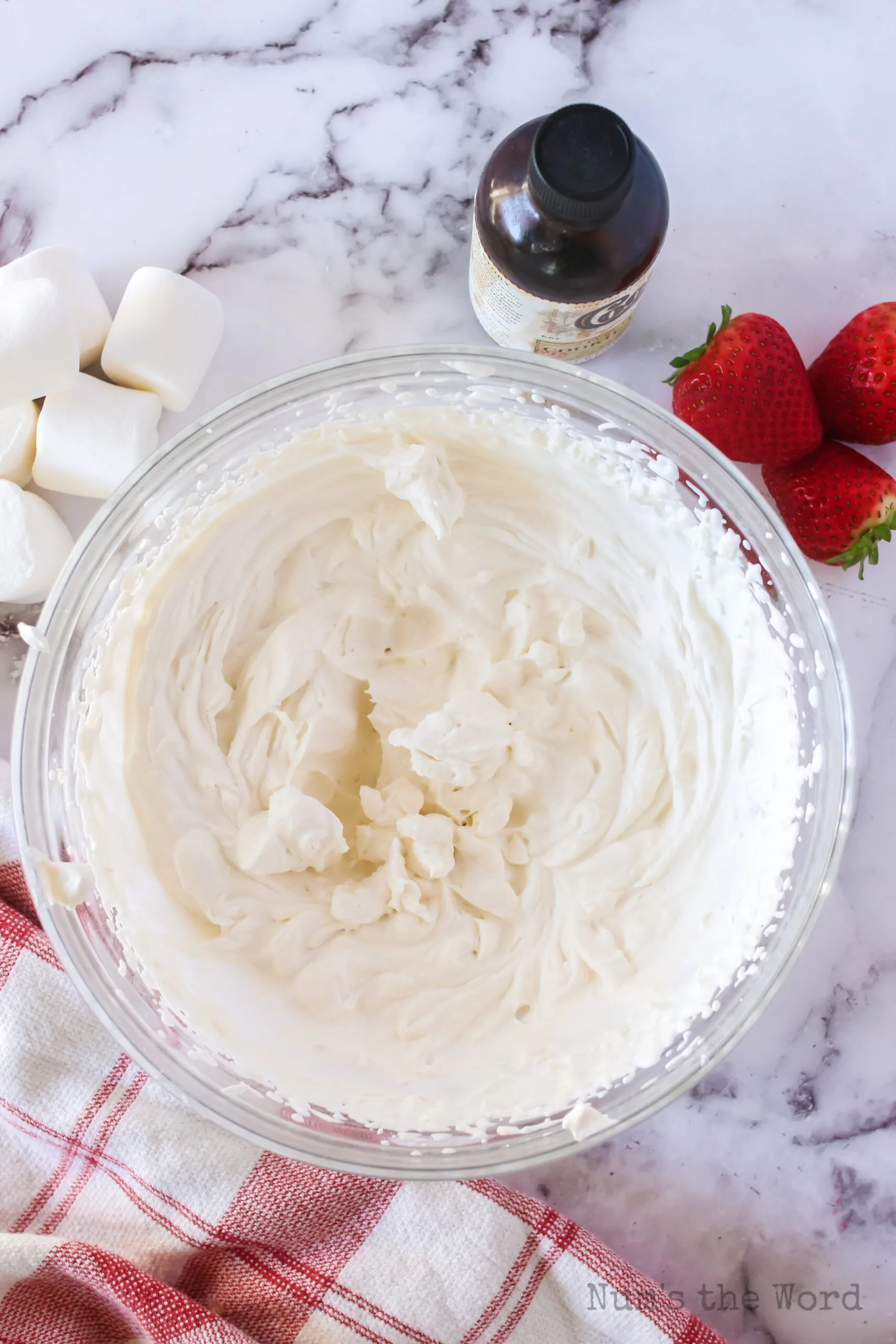 What Ingredients are in Strawberry Crumb Bars?
These delicious strawberry crumble bars are a quick recipe with a juicy strawberry filling and a yummy buttery crumble crust.
Here's the basic ingredients you need along with a few minutes of prep:
Large marshmallows: Don't use the giant ones, just large.
Milk: Any percentage of milk will work, though I used 2%
Fresh strawberries: Sliced thinly.
Graham crackers: Crush the graham crackers for use in the crust.
Heavy whipping cream: You will not need any extra sugar in your whipping cream so don't add it!
Vanilla: Use pure vanilla extract whenever possible for best results.
Butter: Use the vanilla to help you make the graham cracker crust.
Pro tips:
Use fresh strawberries for the best flavor and texture.
Be sure to crush the graham crackers finely so that the crust holds together well.
The marshmallows are full of sugar so even a little sugar added can be way too much.
Swap blueberries for the strawberries and easily get blueberry crumb bars.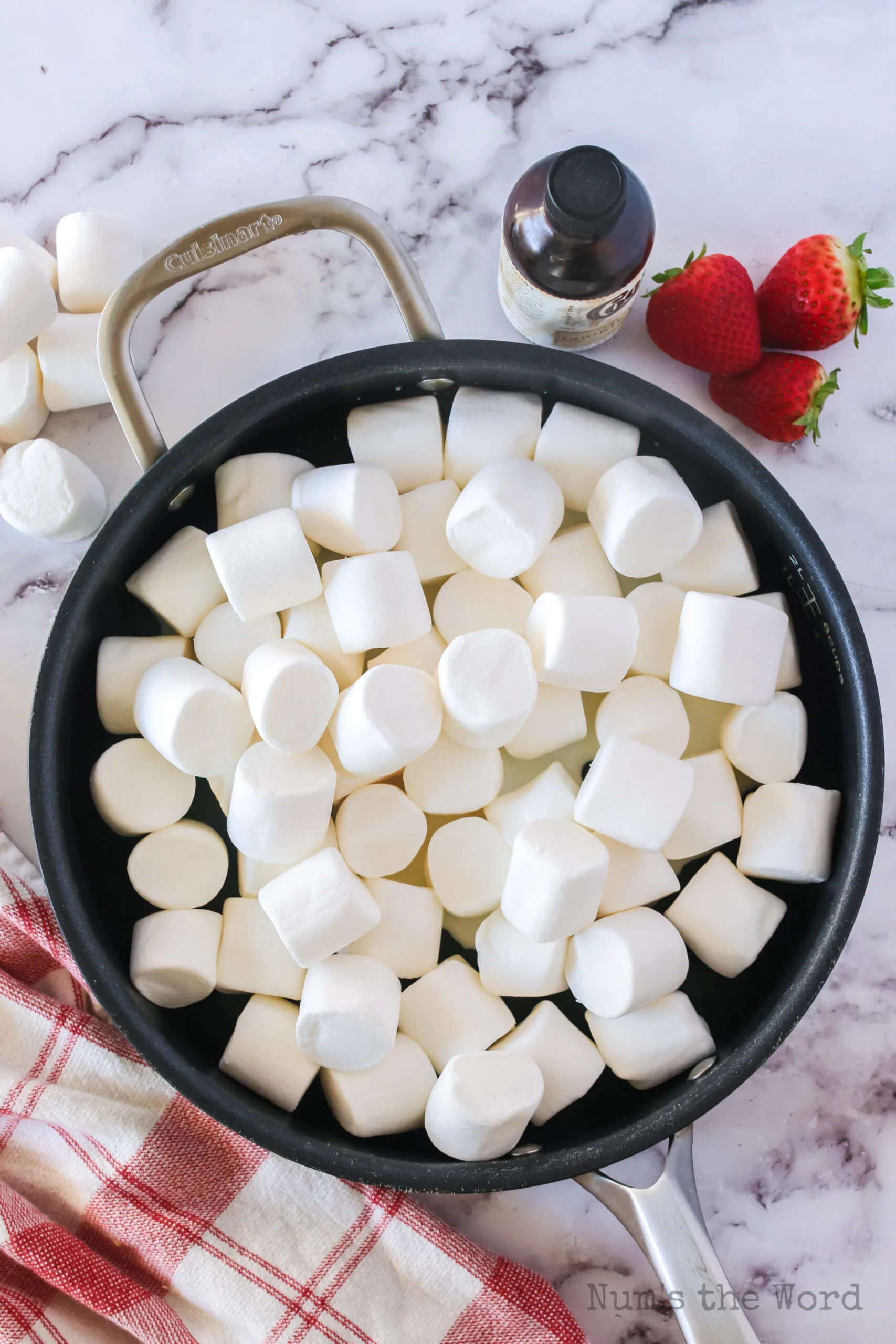 How to Make Strawberry Crumb Bars
Delicious strawberry crumb bars are the perfect way to use up seasonal strawberries from your local strawberry farm!
Enjoy with a fresh glass of strawberry lemonade or a scoop of ice cream.
Follow these simple steps for the perfect Strawberry Crumb Bars and get the full recipe below:
Crust: Make the graham cracker crust and press into the bottom of the pan.
Mix: Whip the heavy cream and vanilla until stiff peaks form.
Cook: Melt the marshmallows and milk in a saucepan.
Combine: Fold in the sliced strawberries and whipped cream.
Chill: Pour the mixture into the crust layer and refrigerate until set.
Pro tips:
Make sure to fold in the whipped cream gently to keep the mixture light and airy.
Let the bars chill for at least 2 hours for the best texture.
Don't use a food processor for any of the steps except maybe for the crumble mixture if desired.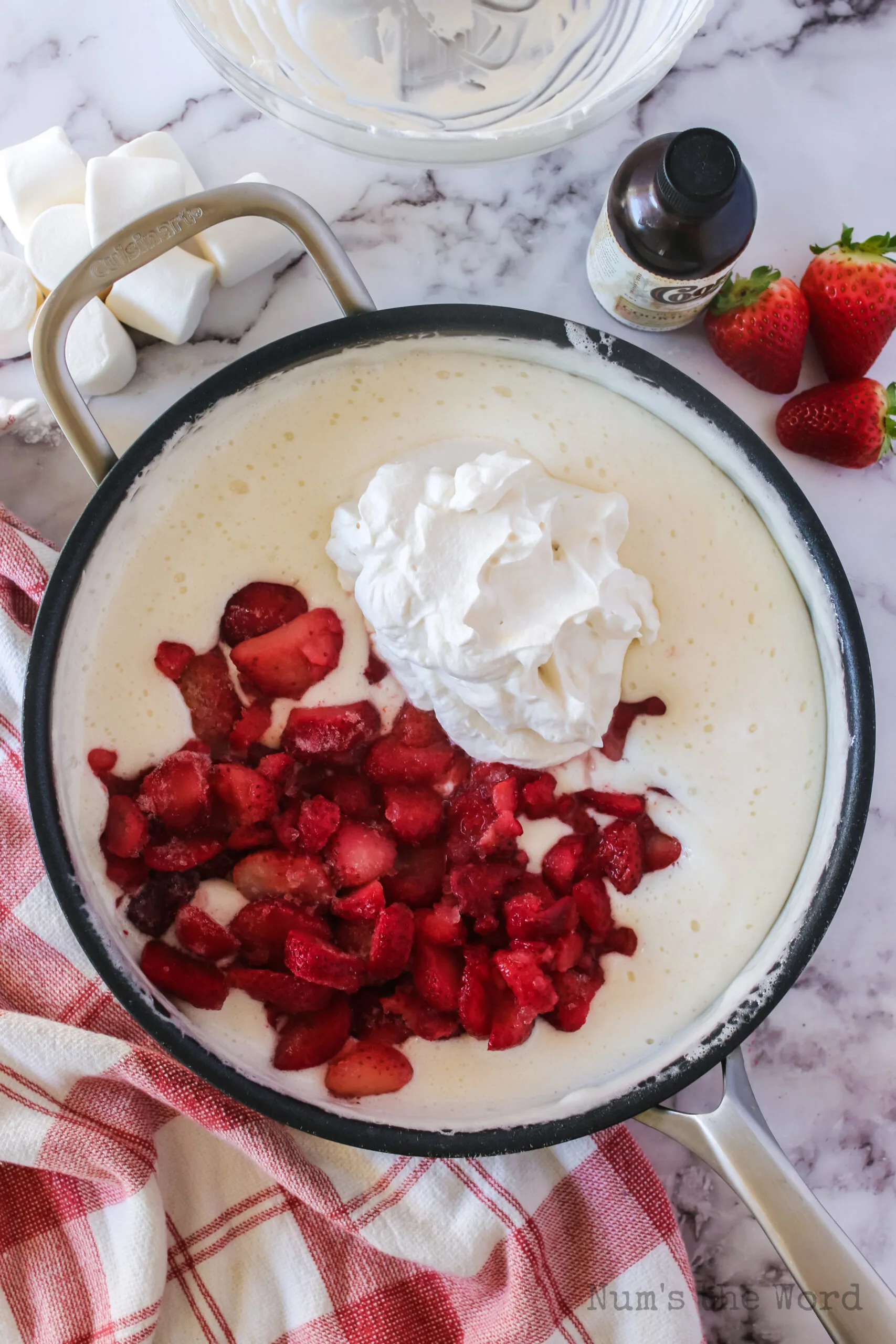 Are Strawberry Crumb Bars Healthy?
While they're not exactly healthy food, these bars are a fun and indulgent treat that's perfect for special occasions or as a sweet snack.
Though this easy summer dessert is also full of juicy strawberries, which are healthy and can help you meet your daily values goals.
So moderation in all things, but go ahead and enjoy!
And if you feel you need a little extra health, go strawberry picking and toss some extra strawberries on top!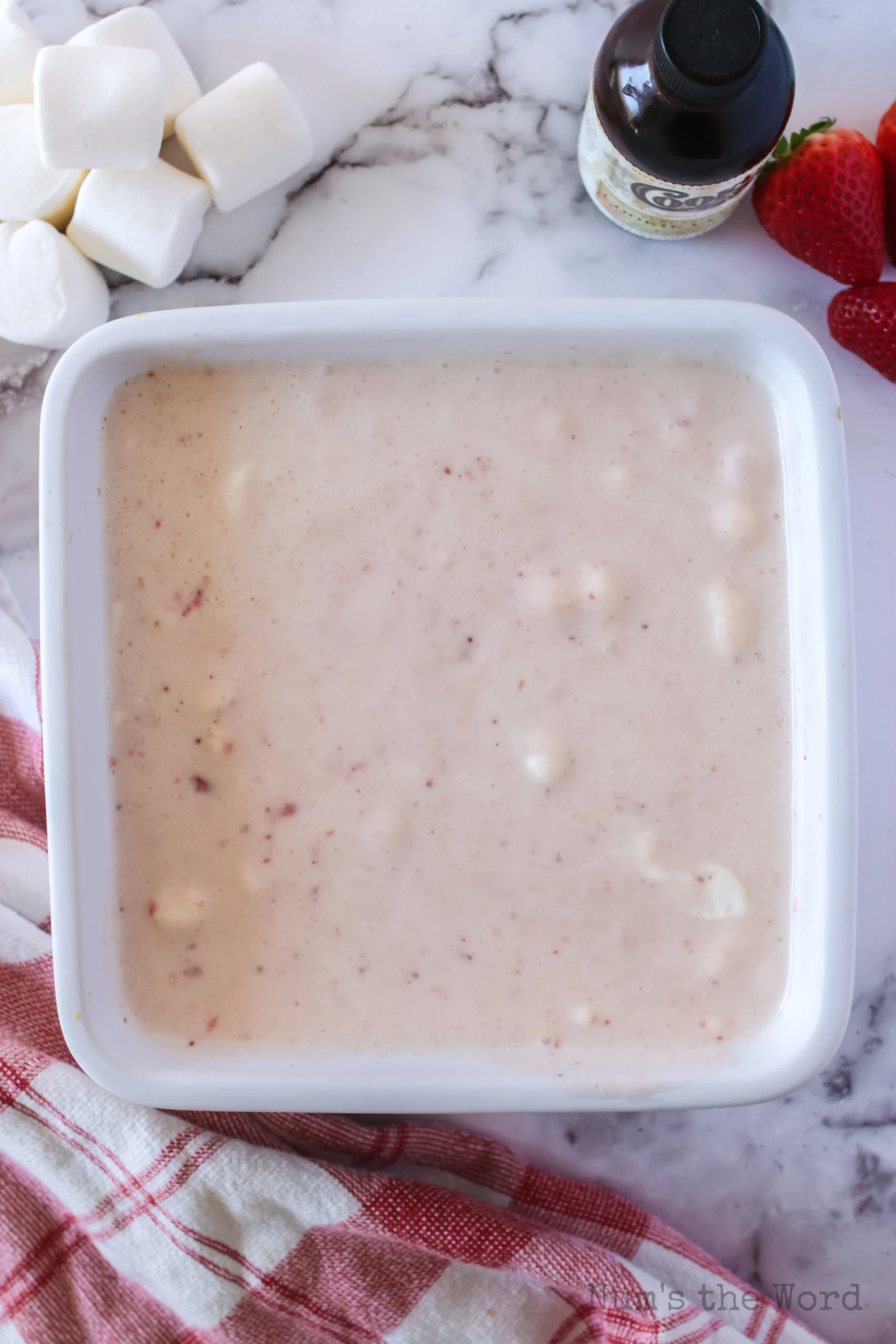 How to Store Strawberry Crumb Bars
Store the bars in an airtight container in the refrigerator for up to 3 days.
I recommend not letting the tasty bars come to room temperature. This will actually help them last longer in the fridge.
Can you Freeze Strawberry Crumb Bars
Yes, you can freeze these bars for up to 2 months. Always be sure to store in a freezer-safe container.
Let them thaw in the refrigerator before serving and slice with a sharp knife for the best end result.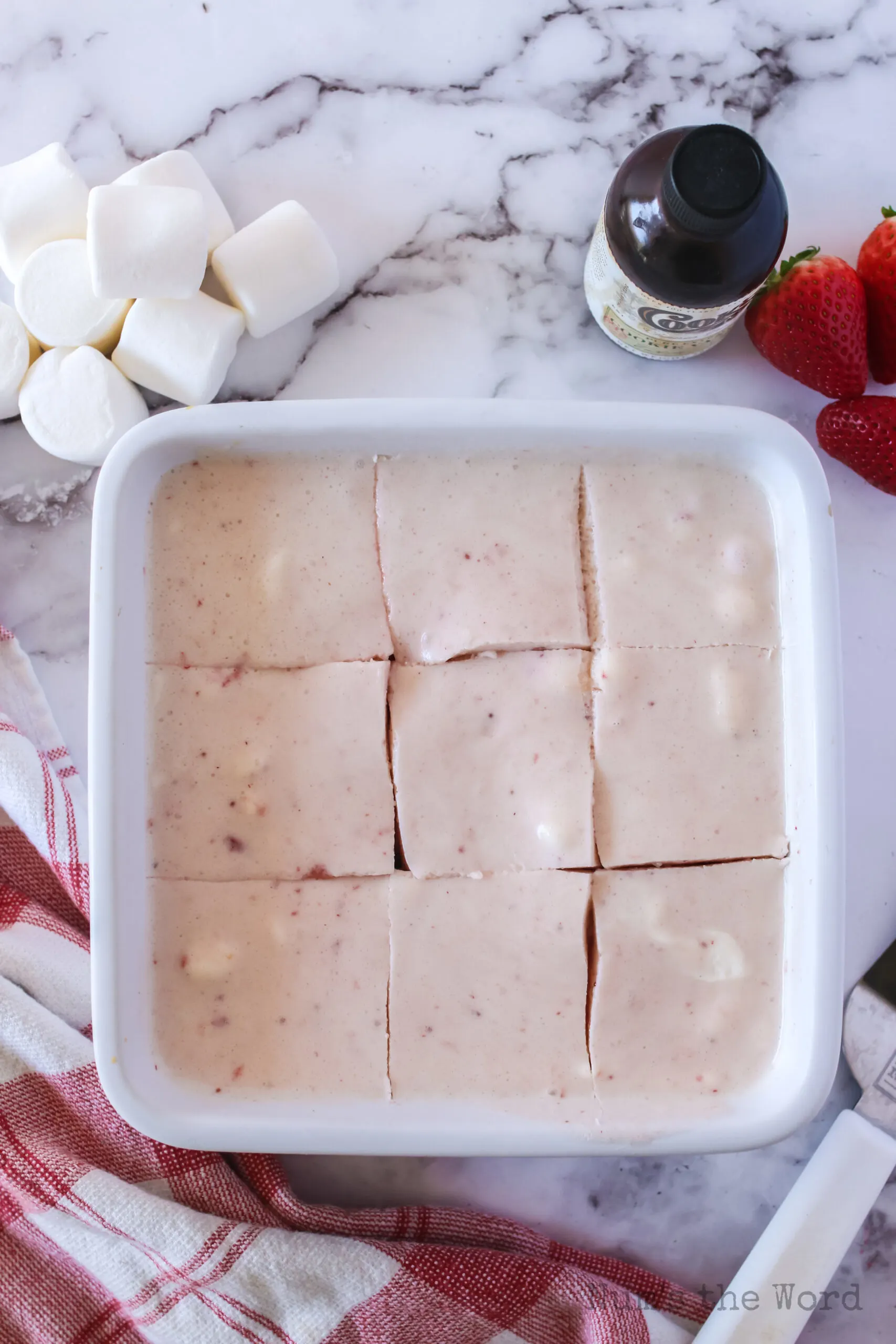 Who invented Strawberry Crumb Bars
The origin of Strawberry Crumb Bars is unclear, but they've become a popular dessert in recent years, and for good reason!
The simple ingredients, fresh strawberry, and buttery crumb crust are hard to resist.
My guess is some farmer was overloaded with ripe berries one year and decided, why don't I just use this yummy strawberry flavor to make some delicious bars?
OK, I really have no idea. But however they were created, you can be sure I'd give that person a 5 star rating and a very grateful hug!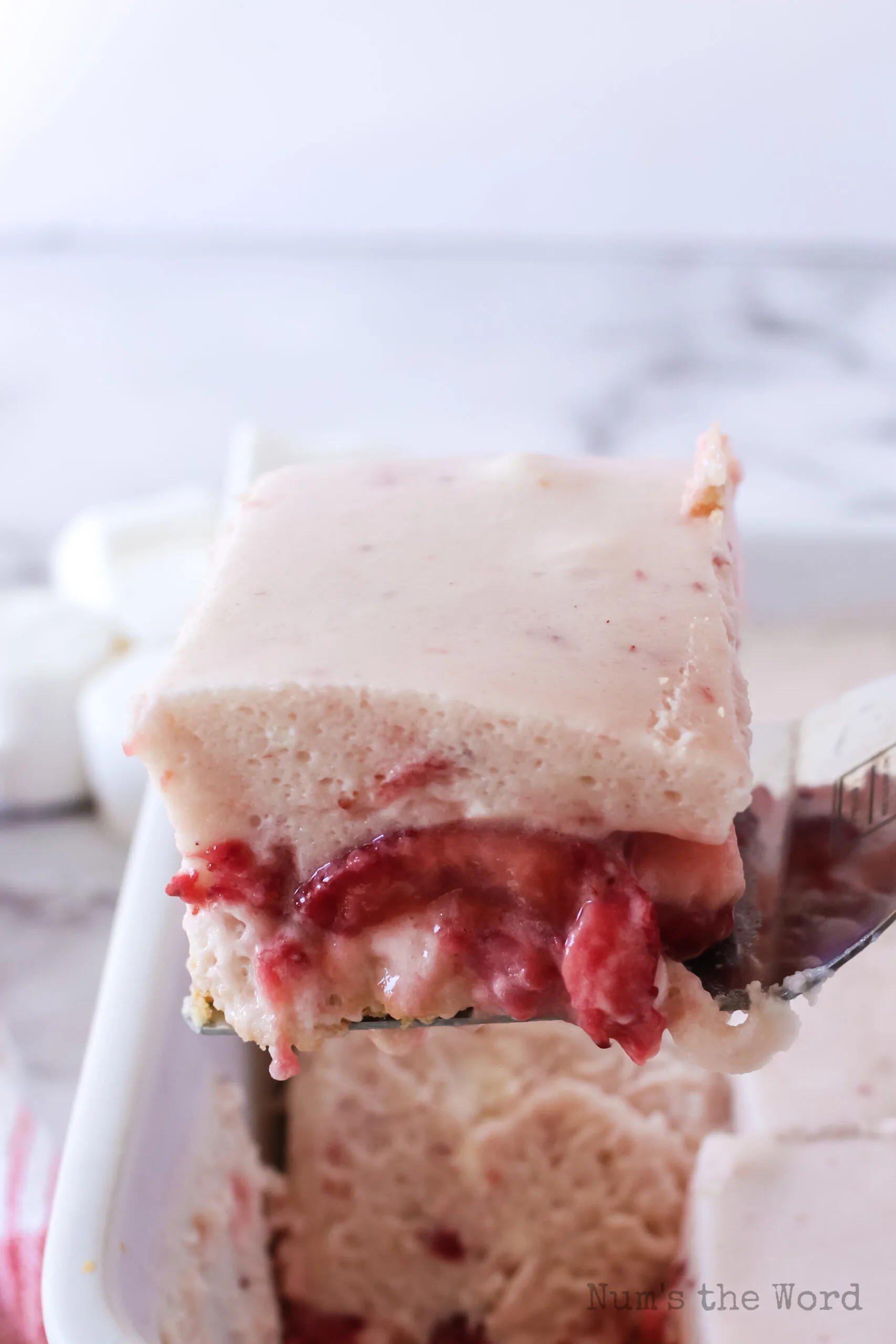 Can dogs eat Strawberry Crumb Bars
No, dogs should not eat these bars as they contain ingredients that are not safe for them, such as chocolate and sugar.
In fact, chocolate can actually be toxic for dogs and cause them much more than just stomach upset, so be sure to keep them away.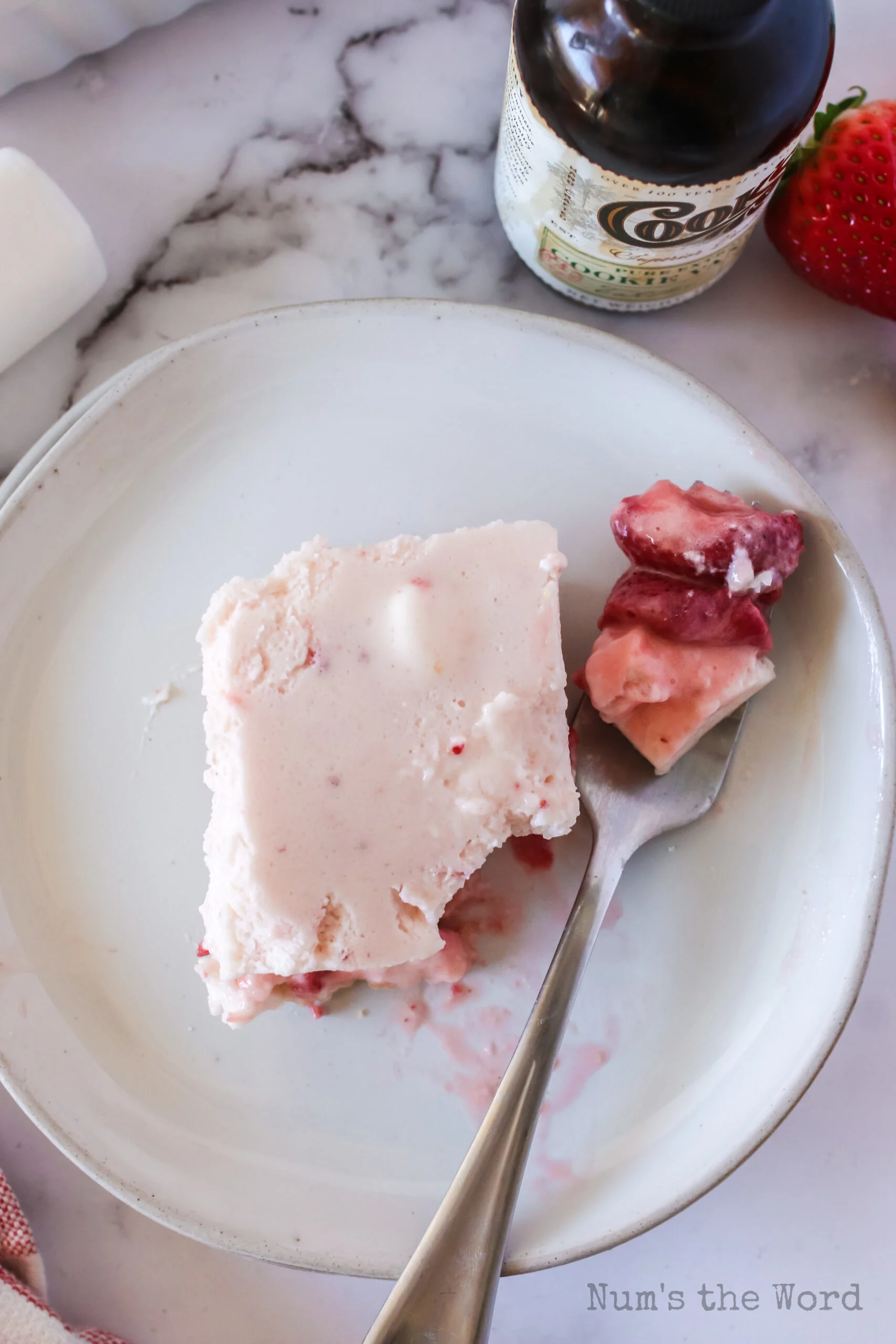 I know that you're going to love these Strawberry Crumb Bars just as much as we do! A mouth watering family favorite! Enjoy!
Yield: 9 servings
Strawberry Crumb Bars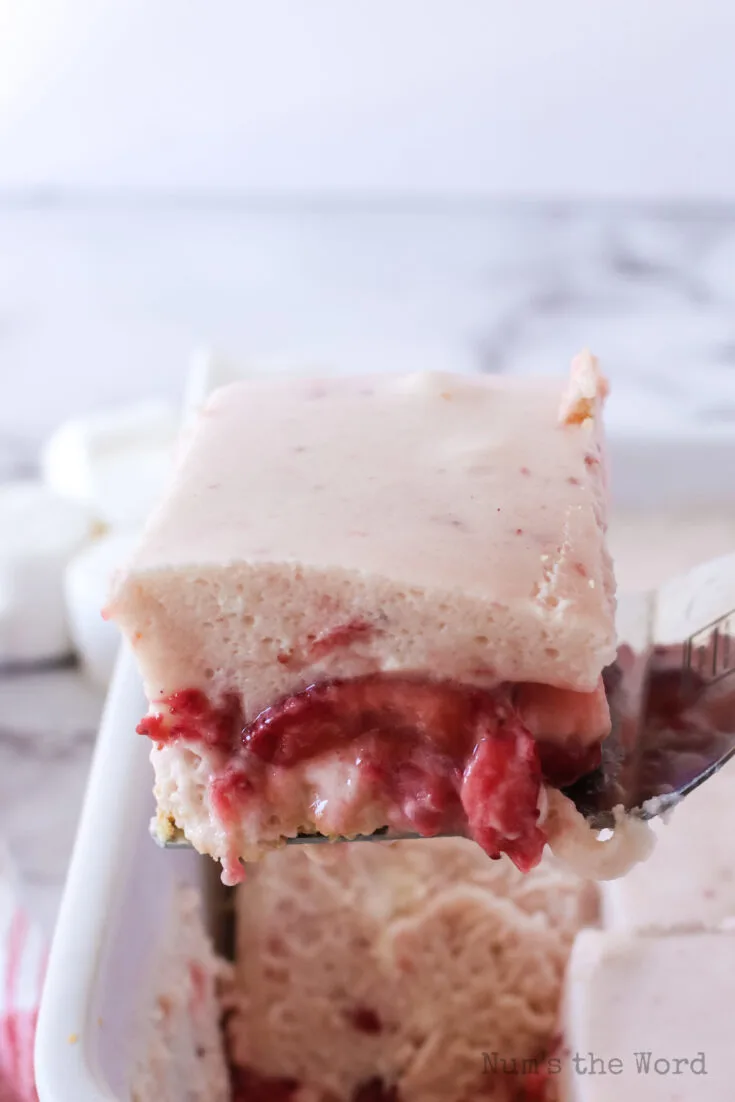 Get ready for a dessert that's sweet, tangy, and downright addictive! These Strawberry Crumb Bars are perfect for any occasion and will leave you wanting more.
Total Time
2 hours
40 minutes
Instructions
Line a 9 inch square baking dish with parchment or non-stick foil. Set aside
In a small bowl, combine graham crackers and butter. Mixture does not need to be super buttery, crumbly is fine.
Press mixture into bottom of prepared casserole dish.
Whip up whipping cream with vanilla until stiff peaks, set aside. DO NOT ADD EXTRA SUGAR.
In a large non-stick sauce pan, add marshmallows and milk and melt down until smooth stirring regularly.
Once marshmallows are melted and smooth, remove from heat let cool for 5 minutes.
Fold in sliced strawberries and whipped cream.
Pour marshmallow mixture into graham cracker crust.
Refrigerate for 2 hours or until set.
Slice and serve.
Nutrition Information:
Yield:
9
Serving Size:
1
Amount Per Serving:
Calories:

286
Total Fat:

18g
Saturated Fat:

11g
Trans Fat:

1g
Unsaturated Fat:

6g
Cholesterol:

51mg
Sodium:

134mg
Carbohydrates:

30g
Fiber:

1g
Sugar:

19g
Protein:

2g
Originally Posted: May 13, 2014
Photos & Text Updated: May 13, 2023