Festive and vibrant, with fantastic sweet and savory flavor, this Red White and Blue Fruit Salsa is the perfect addition to your Fourth of July party. Easy to make in a matter of minutes, there is no reason for you to show up empty handed at an event!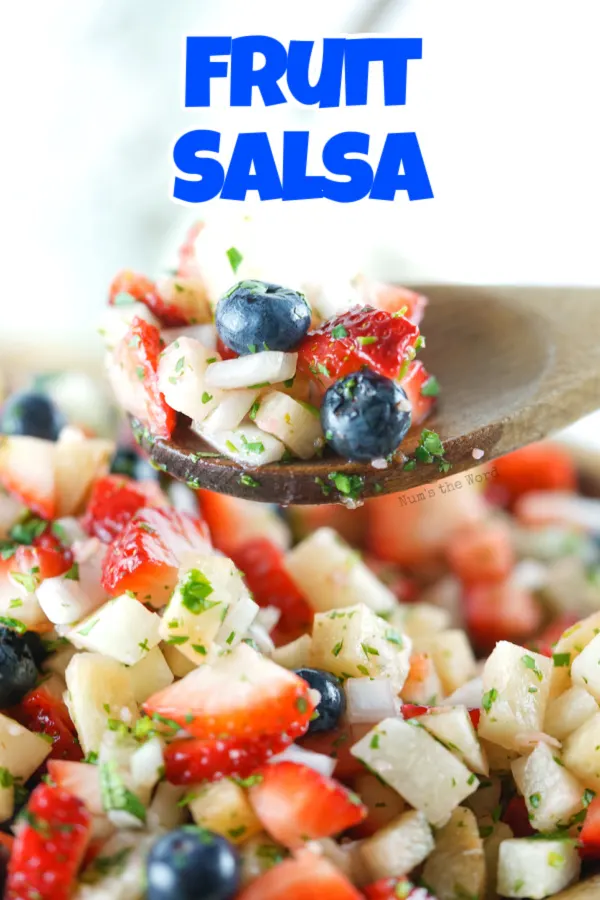 This patriotic fruit salsa is delicious on grilled meats or fish, with tortilla chips as a side, or even with cinnamon chips! The sweet, juicy berries and the subtle crisp of the apple are a tasty, textured combination.
I think my favorite thing about this fruit salad recipe is how easily it can be customized to your preferences. While this recipe is a mild one and does not include spicy peppers, it's easy to amp up the spice factor if you want to! Simply add some finely chopped jalapenos or serranos to give it a little more kick.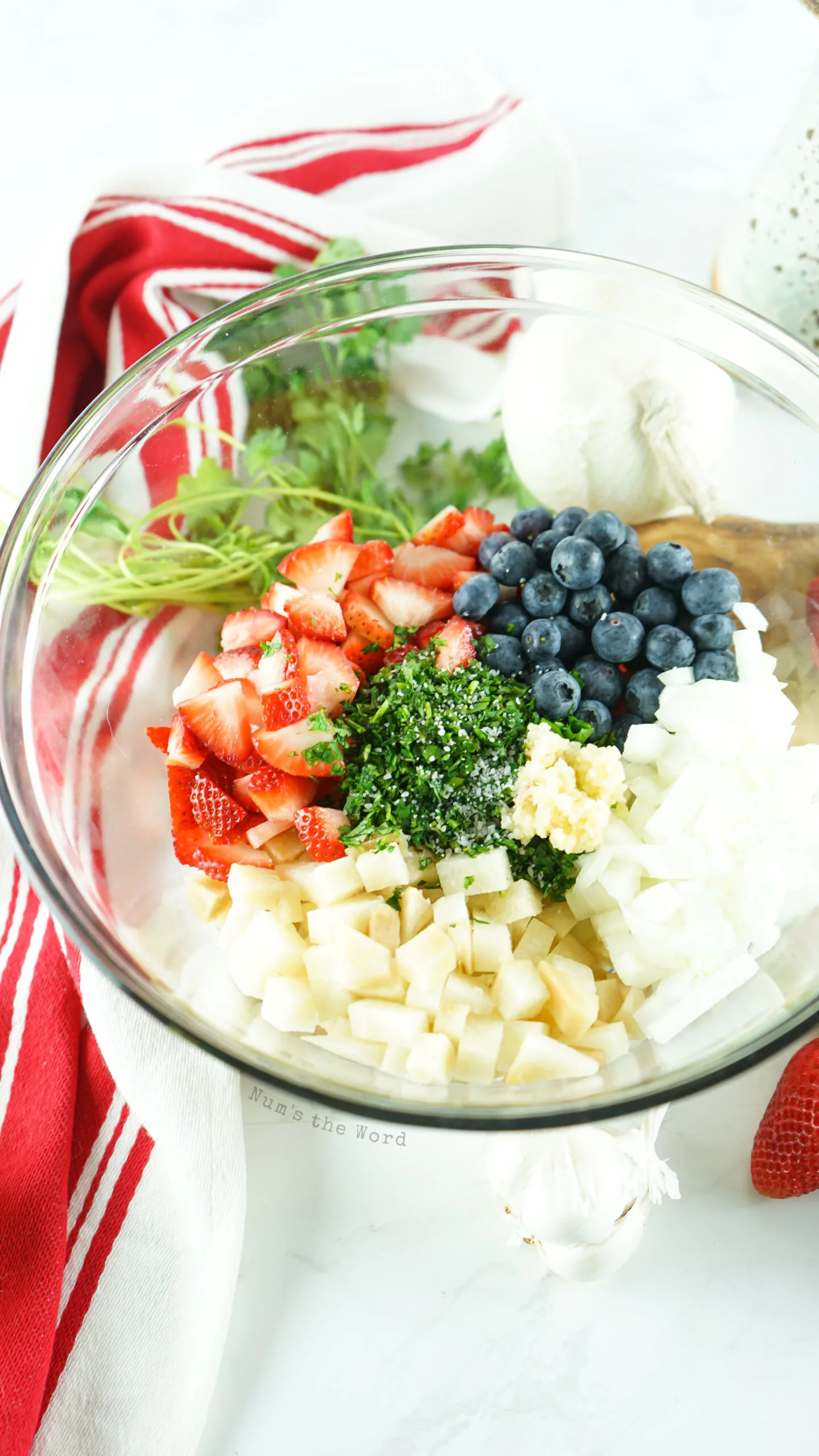 How to make fruit salsa?
With just a little cutting board time, you can have this beautiful 4th of July fruit salsa ready in no time! Here's what you'll need to get started:
Blueberries

– the "blue" of this red white and blue salsa. Blueberries provide a sweet burst of flavor and color.

Strawberries

– strawberries are sweet and juicy and vibrant; they're one of my favorite ingredients!

Apple

– crisp and tart, chopped apples will add a nice crunch to the salsa.

White Onion

– we've talked about the sweet, now it's time for the savory! Onion contributes a lot of the savory flavor in this recipe.

Cilantro

– with it's citrusy undertones and bright, fresh flavor, cilantro is a wonderful addition to this salsa.

Lime Juice

– fresh squeezed is the way to go with this fresh fruit recipe! It compliments the fruity flavors perfectly. You can also sub with lemon if you prefer.

Garlic

– a little goes a long way with this additional savory ingredient.

Coarse Sea Salt

– salt is the ultimate and age-old flavor enhancer. It will help the sweet and savory notes of this recipe to really shine in their own light!
Now that you've got the ingredients situated, all we have left to do is prepare the salsa! If you have a produce chopper, this would be a great time to use it; otherwise, a few minutes at the cutting board is all you need.

Dice

and mince the strawberries, onion, cilantro, and peeled apple.

Combine

all the ingredients in a large bowl.

Mix

gently.

Enjoy

!!
Beautiful, patriotic flavor and color, ready to eat in minutes with this easy fruit salsa recipe!
How long will fruit salsa keep?
Fruit salsa will last about 2-3 days in the fridge; after that, the fruit becomes mushy and starts breaking down into juice. I recommend eating as much as you can the day of!
Can you make fruit salsa the night before?
You can make this strawberry fruit salsa the night before, but keep in mind that once the produce in this recipe is cut (especially the strawberries), it begins to break down more rapidly.
This salsa is really only good for 2-3 days after preparation when stored in the fridge, so you'll want to consume it all on the earlier end. The good news is, it's so delicious you likely won't have leftovers!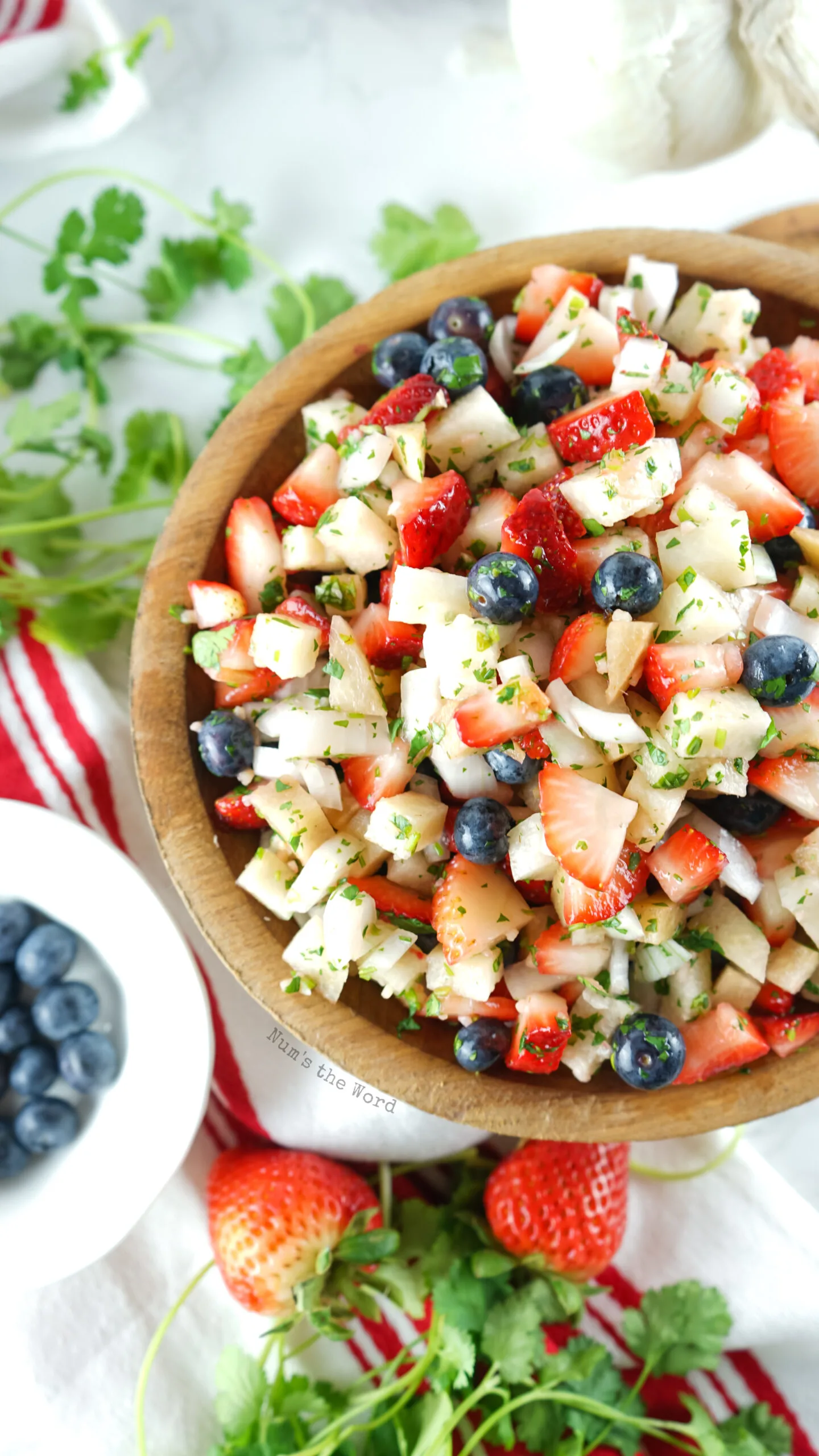 Can you freeze fruit salsa?
No, this salsa does not freeze well. It's made with all fresh produce that, once frozen, will not thaw at the same quality it was when it was fresh. You'll end up with a soupy, mushy mess!
What to serve with fruit salsa?
Fruit salsa is the perfect addition to grilled meats and makes a delicious side when served with chips as a dip! Looking for more of that sweet and savory combo? Consider our Cinnamon Chips for the perfect complementary flavor for your fruit salsa!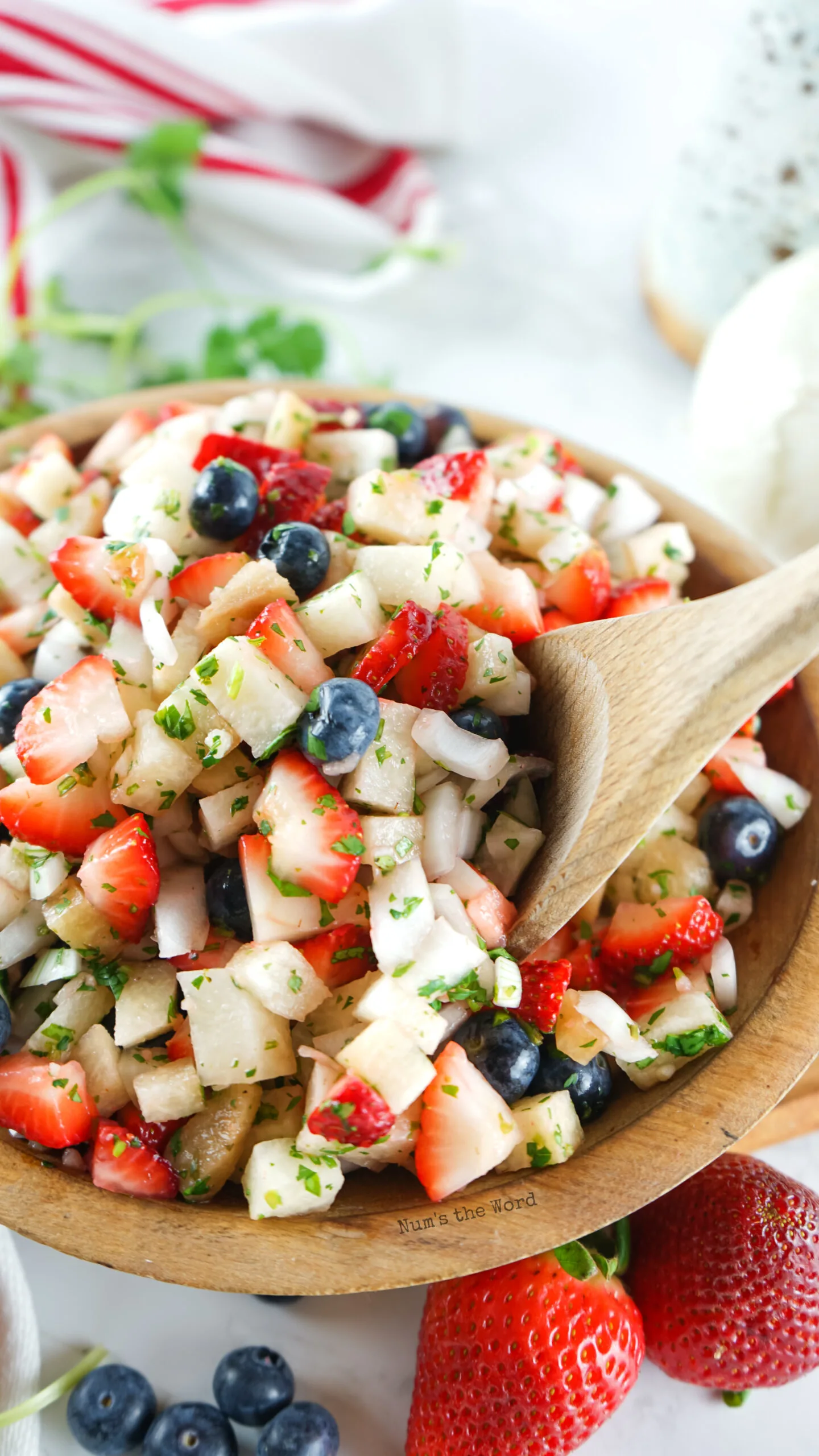 What do you use fruit salsa for?
I especially love this fruit salsa on grilled chicken or salmon over spinach! It's the perfect combination of sweet and savory to complement your grilled or smoked meats. It would also go nicely on top of our Grilled Stuffed Flank Steaks recipe.
Fruit salsa also makes a wonderful side dish or appetizer when served with chips. Tortilla chips, cinnamon chips, pita chips, bagel chips, or even pretzel crisps would all be fantastic dipping implements for this tasty salsa!
You could also use this recipe as a topping for bruschetta! Add a layer of cream cheese to a toasted baguette slice, then top with this fruit salsa and voila! A deliciously patriotic appetizer!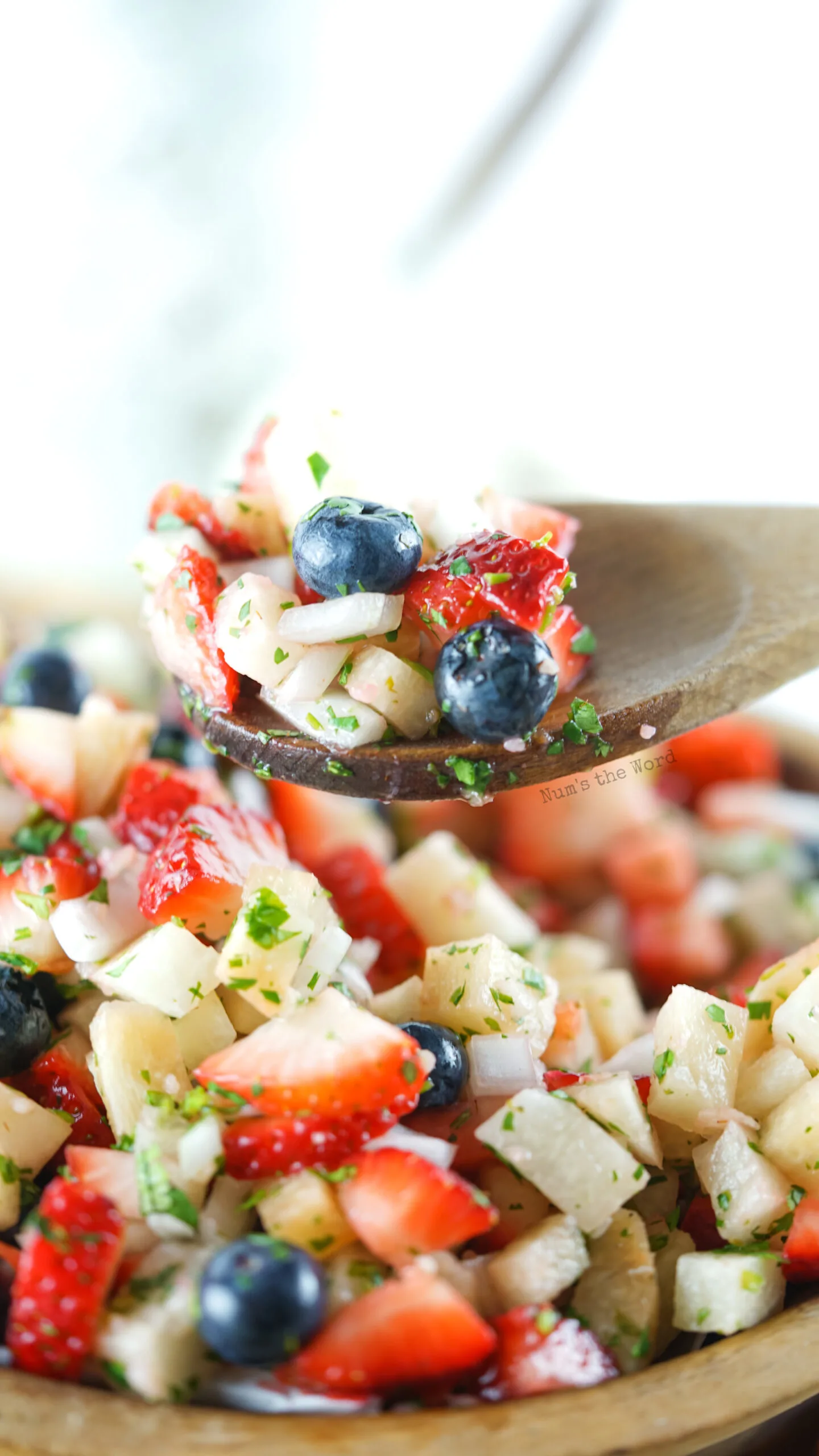 Is salsa a fruit salad?
This question can take you down a reddit black hole of thought if you let it! Though typically this question is associated with traditional salsas and the "tomatoes are technically a fruit" debate.
In the case of this particular fruit salsa, however, I think it's pretty safe to say that technically fruit salsa is a type of fruit salad. Though a traditional fruit salad does not typically involve vegetables or bulbs (such as the onion and garlic included in this recipe), the vast majority of the ingredients here are fruit!
In my opinion, this recipe qualifies for both salsa and fruit salad status. What do you think?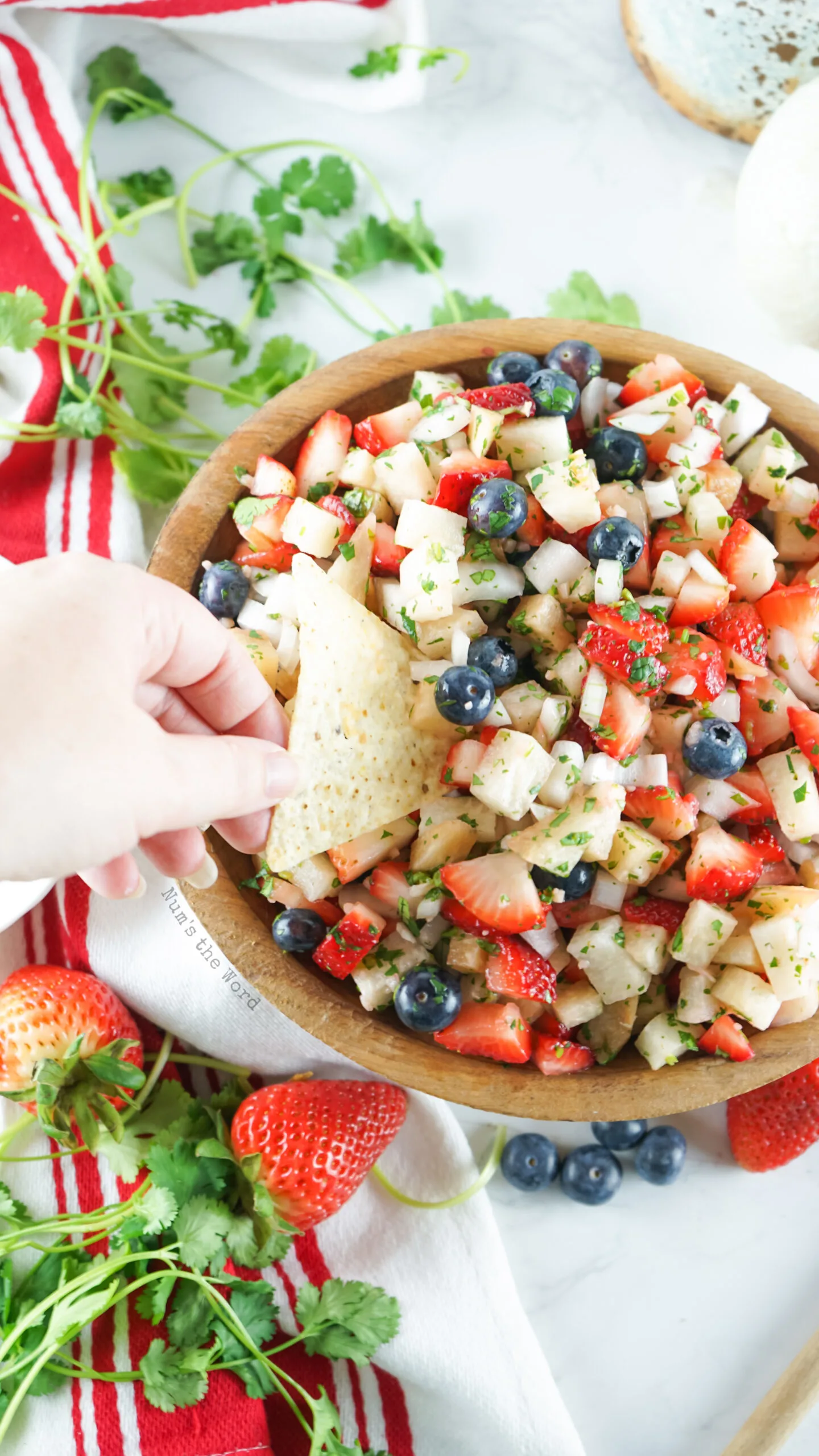 Whether you're serving this Red White and Blue fruit salsa as a topping for your favorite grilled meats or as a fun and festive side dish, it's sure to be a hit among your friends and family. The blend of sweet and savory flavor, bright and vibrant colors, and refreshing fruit makes this the perfect summer salsa!
Yield: 6 Servings
Fruit Salsa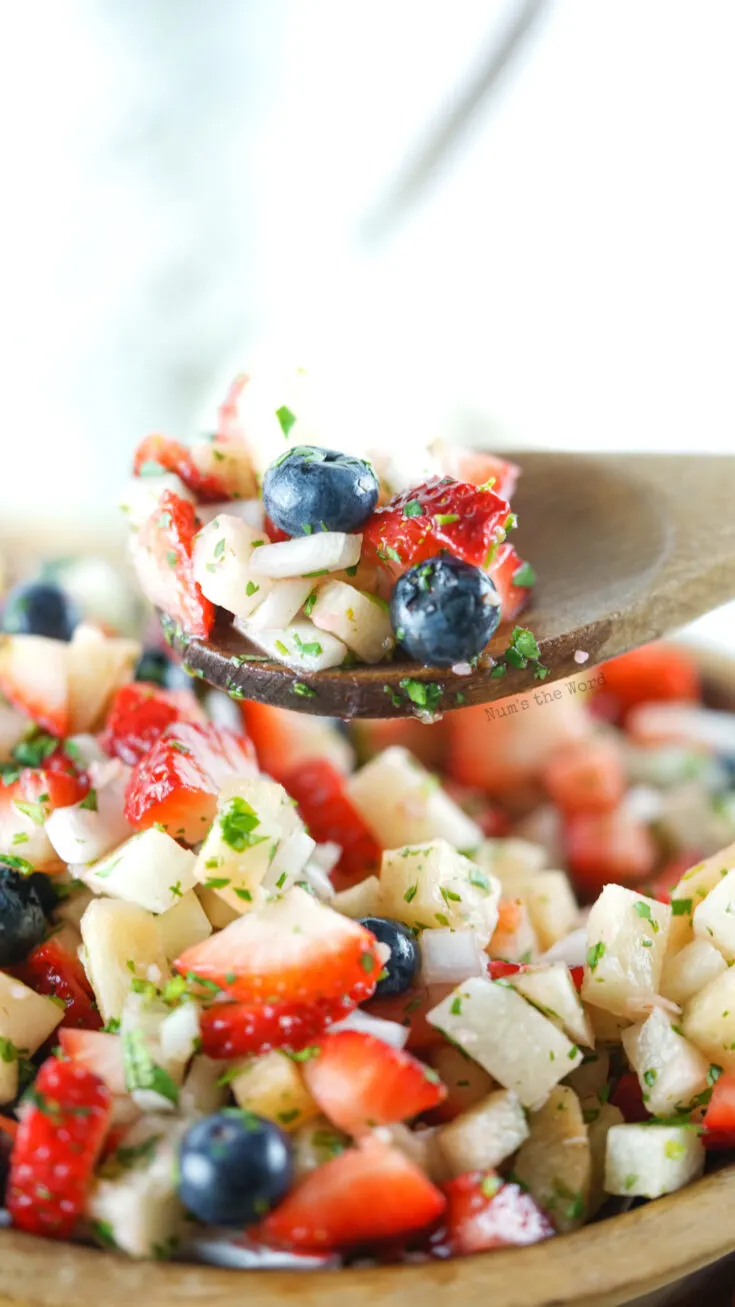 Festive and vibrant, with fantastic sweet and savory flavor, this Red White and Blue Fruit Salsa is the perfect addition to your Fourth of July party. Easy to make in a matter of minutes, there is no reason for you to show up empty handed at an event!
Ingredients
1 apple, peeled and chopped into small pieces
2 Tablespoons lime juice
1 pint blueberries
12 strawberries
1/2 white onion
1/4 cilantro
1/2 Tablespoon garlic, minced
2 teaspoons coarse sea salt
Instructions
Cut apple, then sprinkle lime juice over apples to prevent them from browning. Set aside.
Remove the stems from the strawberries and dice them into small cubes. Add to serving bowl.
Mince the cilantro and dice the onion and add to strawberries
Add apples and lime juice to the strawberries.
Add cilantro and sea salt to strawberries.
Gently toss to mix and coat fruit.
Eat immediately or for stronger flavor, chill covered for 30 minutes - 1 hour.
Notes
If you're looking for a Mexican boost of flavor, add some Tajin seasoning.
You can use lemon juice in place of lime juice, if desired.
Use all fresh ingredients when it comes to the produce, for the best results.
Place in an airtight container, in the fridge, for up to 4 days. Do not freeze.
Nutrition Information:
Yield:
8
Serving Size:
1
Amount Per Serving:
Calories:

46
Total Fat:

0g
Saturated Fat:

0g
Trans Fat:

0g
Unsaturated Fat:

0g
Cholesterol:

0mg
Sodium:

530mg
Carbohydrates:

12g
Fiber:

2g
Sugar:

8g
Protein:

1g