This Strawberry Rhubarb Lemon Upside Down cake may sound like a mouthful but it will be one of the most flavorful rhubarb dishes you'll enjoy!  Easy to make and perfect for garden fresh rhubarb!
This post contains affiliate links.  If you click on an affiliate link and make a purchase, I will make a small percentage on your purchase, which helps keep this website running! Thank you!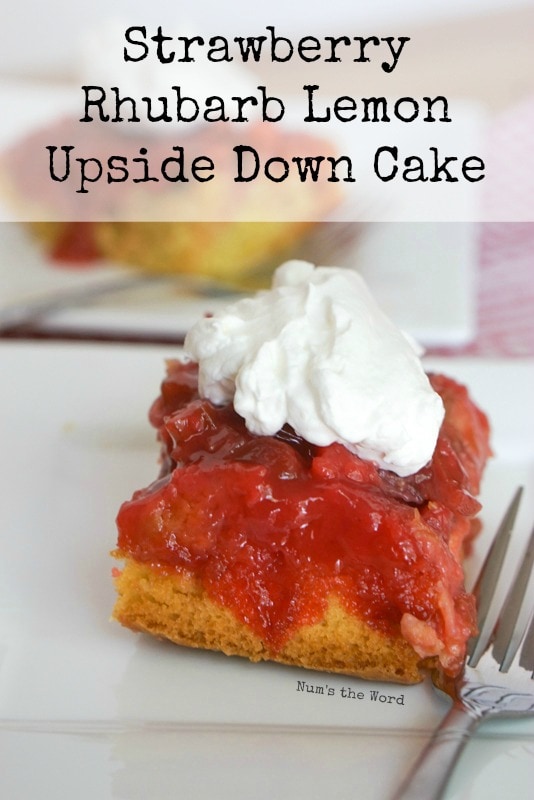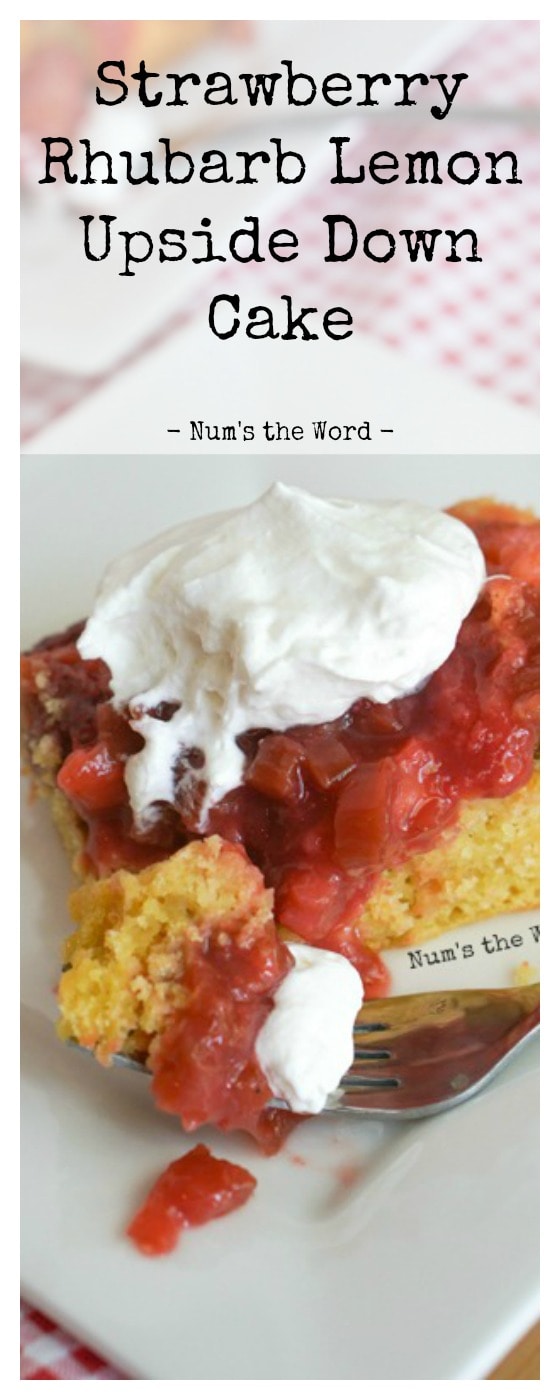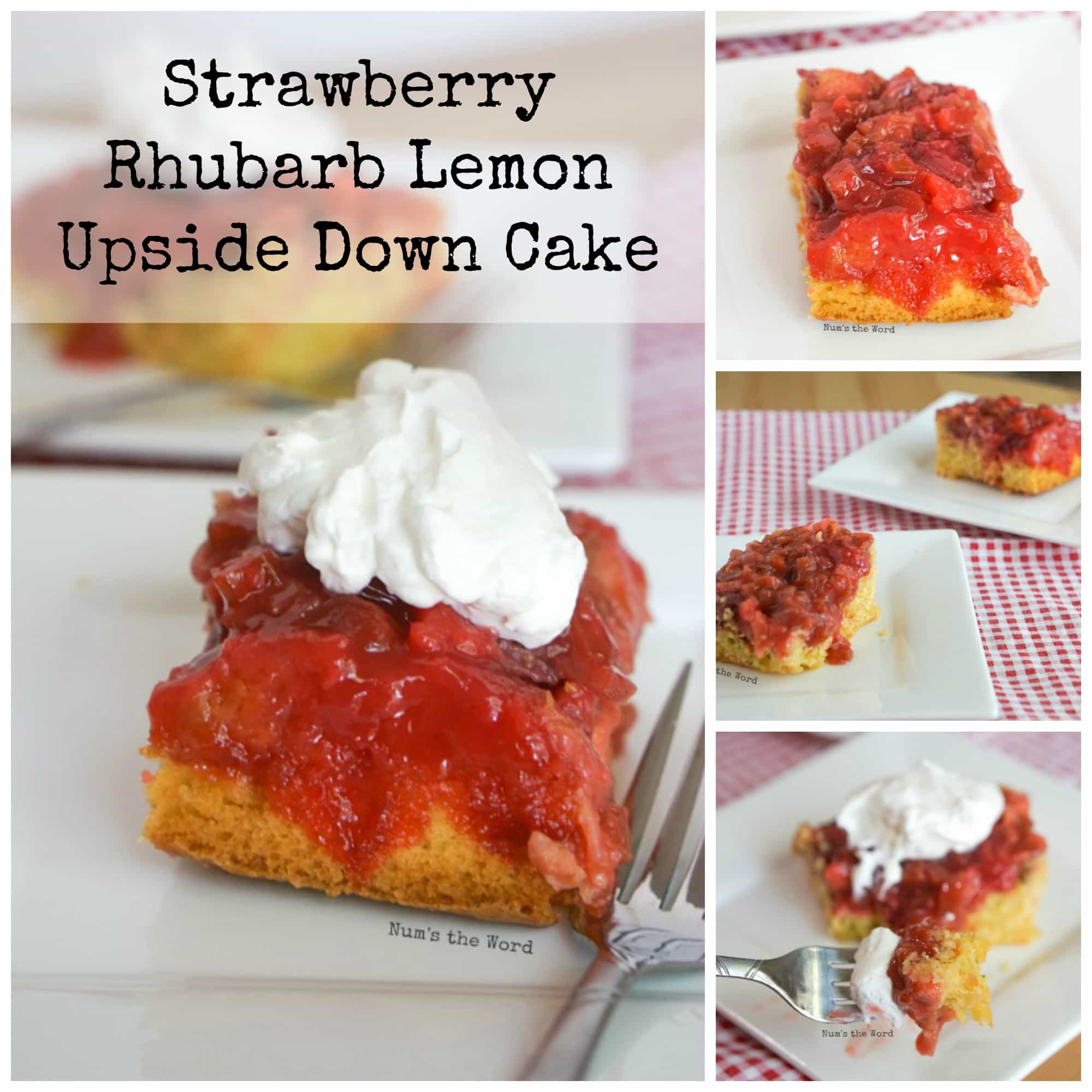 3 years ago when we bought our home, we were pleasantly surprised to find rhubarb growing in our VERY SHADY back yard.
At the time I couldn't recall a time I'd ever actually eaten rhubarb and to be quite honest the plant scared me.
Anything that looks like celery and has the consistency of celery should not be used in baking or desserts.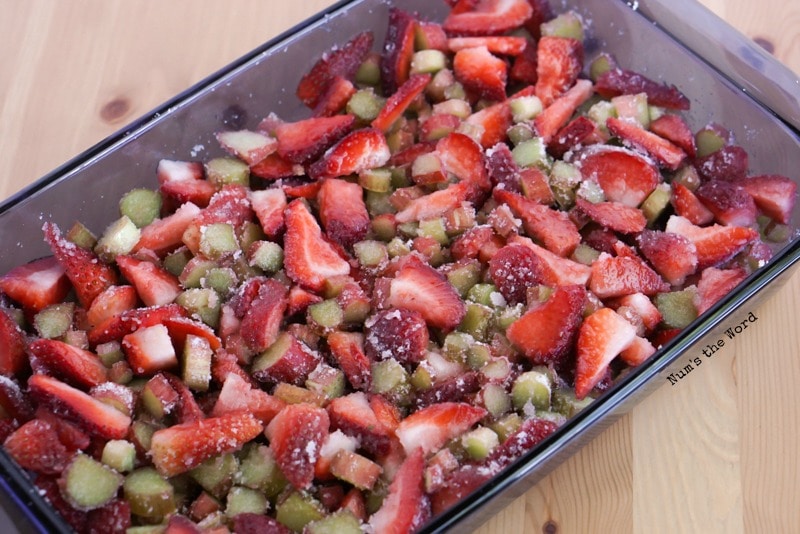 However after a lot of nudging from friends and family I gave in an attempted baking with it.
And you know what, I loved it.
Now my goal is to provide this little website of mine with at least 1 rhubarb recipe a year.  Though this year I may do 2!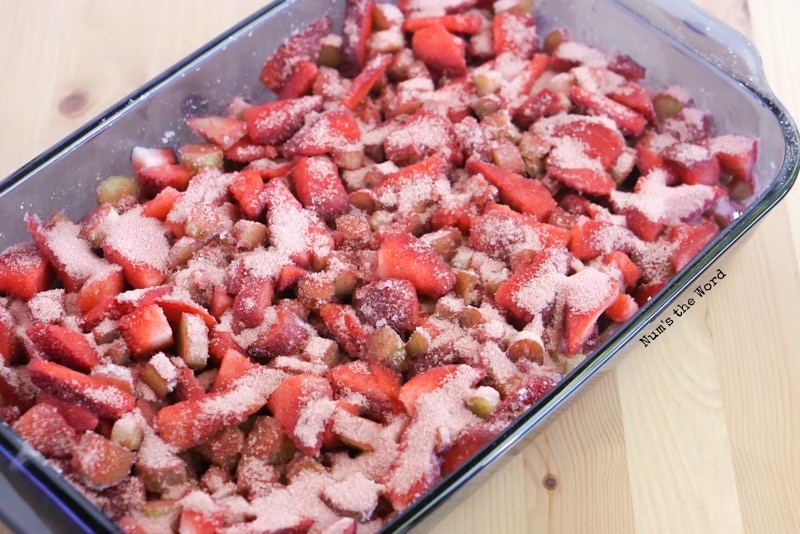 Well last week I decided it was time to start attacking my Rhubarb plant.  And with that tasty rhubarb I whipped up this Strawberry Rhubarb Lemon Upside Down Cake.
Say that 10 times fast!  It's a bit of a mouthful.
However I just don't know what else to call it.  It IS an upside down cake.  It is a Strawberry Rhubarb upside down cake and the cake itself is LEMON.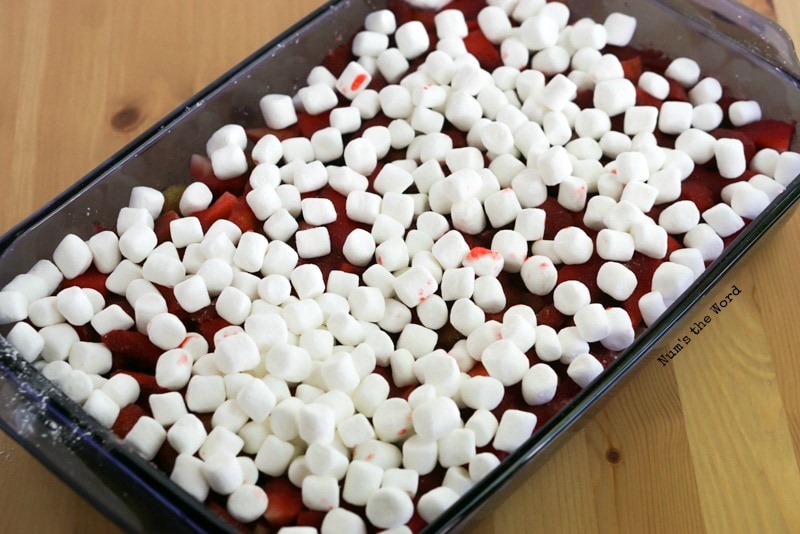 I went with this combination because strawberry rhubarb is a popular combination.  And Strawberry Lemon is also popular so toss it all together and you've got this Strawberry Rhubarb Lemon Upside Down Cake.
However, I was nervous how the final product would turn out!
Would it be a sloppy mess or would it actually be something of value?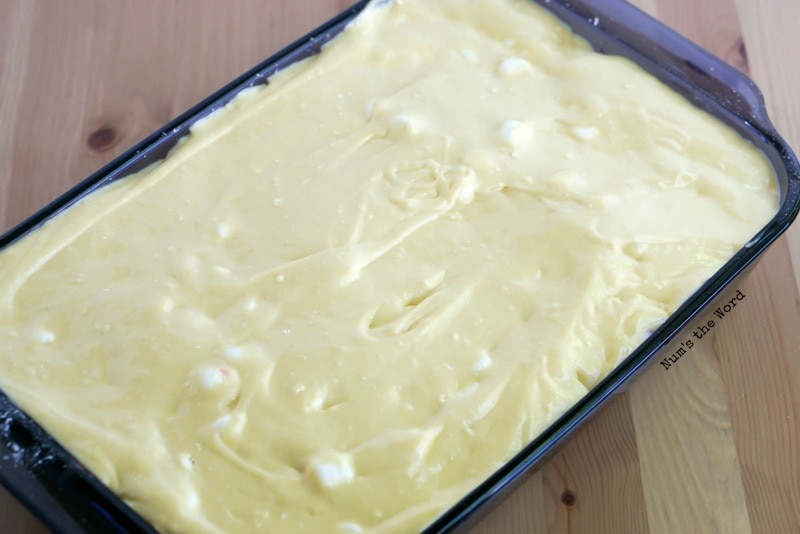 Oh how happy I was when that was NOT the case.  When the Strawberry Rhubarb stayed on the top (after flipping) and how absolutely delicious all the flavors melded together.
It was sweet with a hint of tang so I topped mine with a lightly sweetened whipped cream which was the perfect balance to this cake!
However what on earth was I going to do with a 9×13 cake?  I can't eat that much!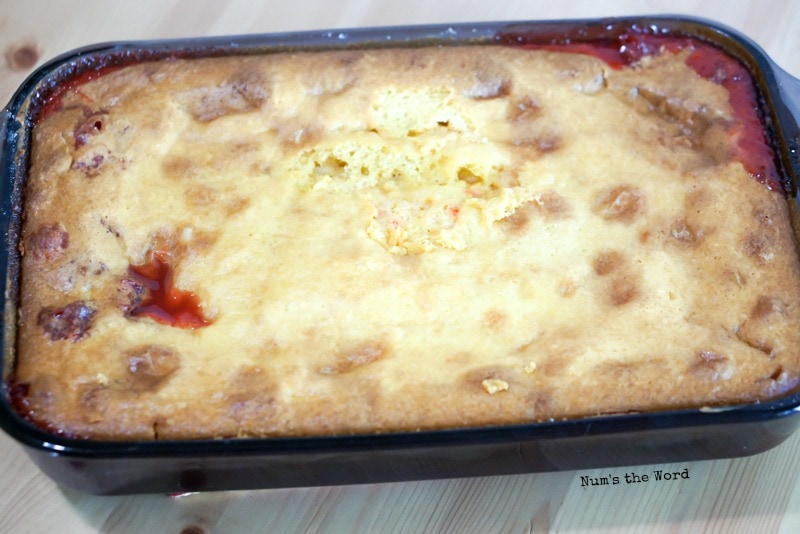 And so I sent a large plate size piece home with some friends, my family downed a few slices and the rest we gave away to friends at a play date!
As a future note, you should become really good friends with anyone who works with food every day.  Especially me, who has no idea how to cook for a small family and always makes large portions of EVERYTHING!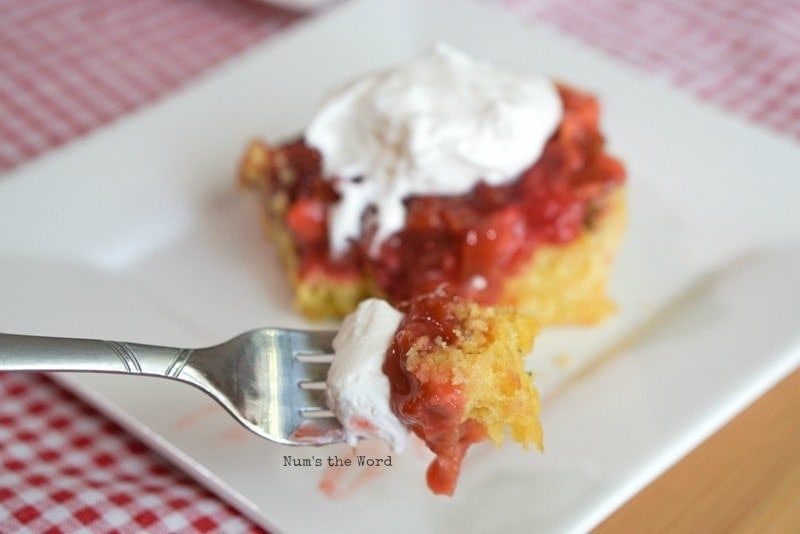 This cake recipe is a great first introduction to rhubarb for anyone who has not had it before.  Mainly because it's an easy recipe AND it's really REALLY good.
If you are a huge Rhubarb fan, then you REALLY should whip this up this summer. It makes for a great potluck or barbecue dessert!
Strawberry Rhubarb Lemon Upside Down Cake
Ingredients
4 cups rhubarb, chopped
2 cups strawberries, chopped
1 cup sugar
1 (3 ounce) box strawberry jello
2 cups mini marshmallows
1 box lemon cake mix
Ice cream (optional)
Whipped cream (optional)
Instructions
Preheat oven to 350*F
Spray a 9x13 Casserole Dish
In bottom of casserole dish combine rhubarb, strawberries and sugar. Mix well.
Sprinkle jello evenly over rhubarb mixture.
Sprinkle marshmallows over jello.
In a separate bowl make cake mix according to package directions.
Pour cake mix over marshmallows.
Bake for 45 minutes. Watch after 30 to see if you need to tent cake with foil.
Allow to cool for 5 minutes then flip cake upside down onto a large platter or cookie sheet. Slice and serve with ice cream or whipped cream.
https://numstheword.com/strawberry-rhubarb-lemon-upside-down-cake/
Other Cake Recipes You'll Love…