This Pulled Pork Quesadilla is the best way to use up leftover pulled pork.  Quick, easy and ready in 10 minutes, it makes for a tasty lunch or dinner!
This post contains affiliate links.  If you click on an affiliate link and make a purchase, I will make a small percentage on your purchase, which helps keep this website running! Thank you!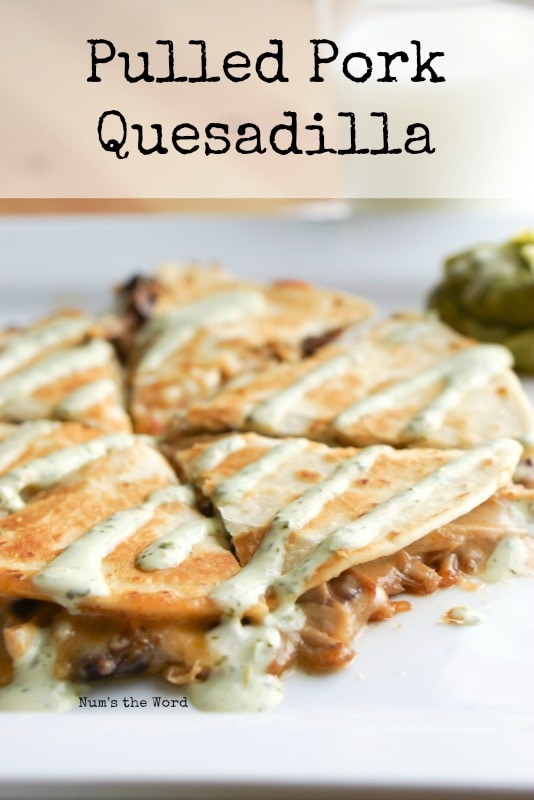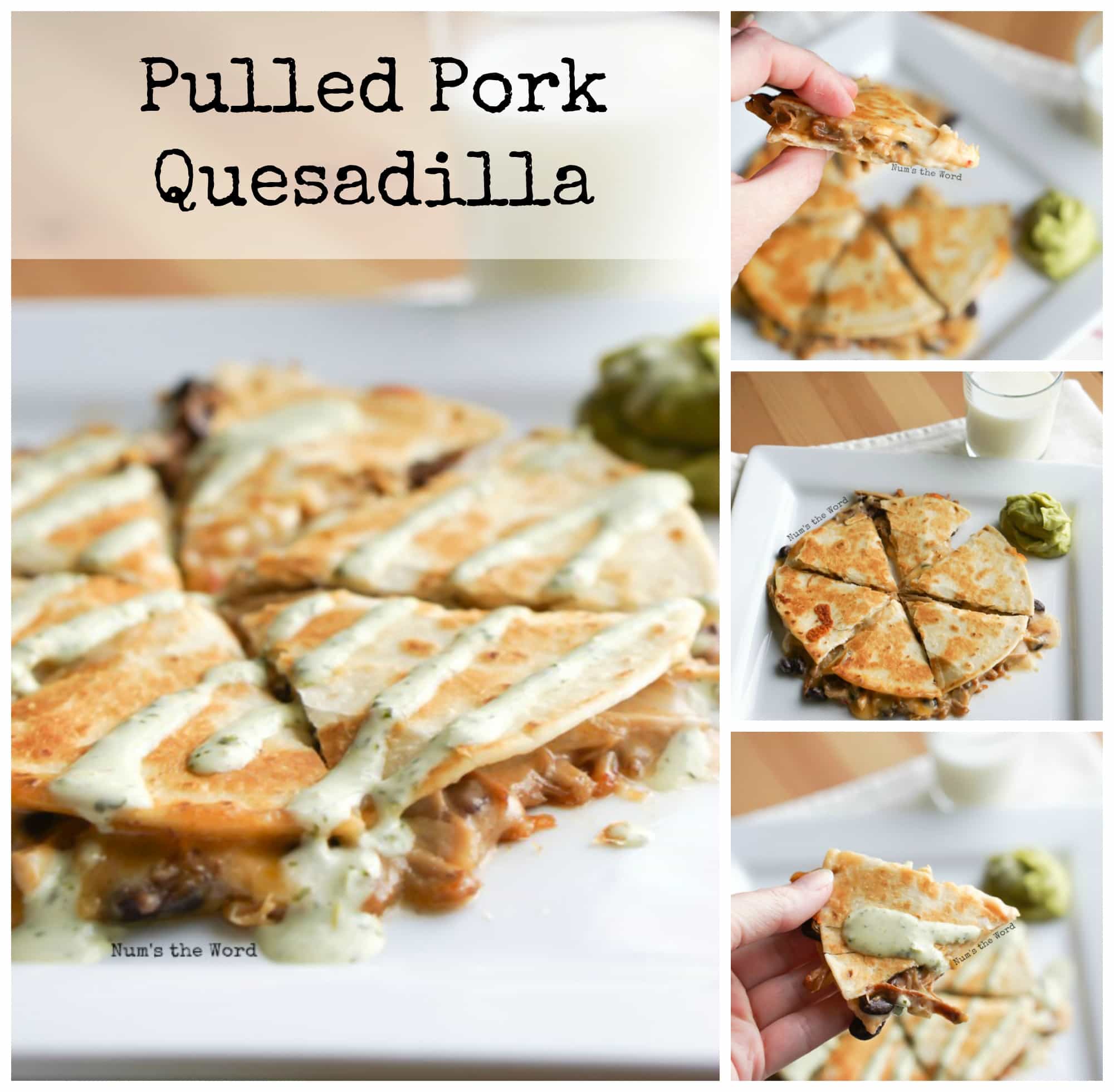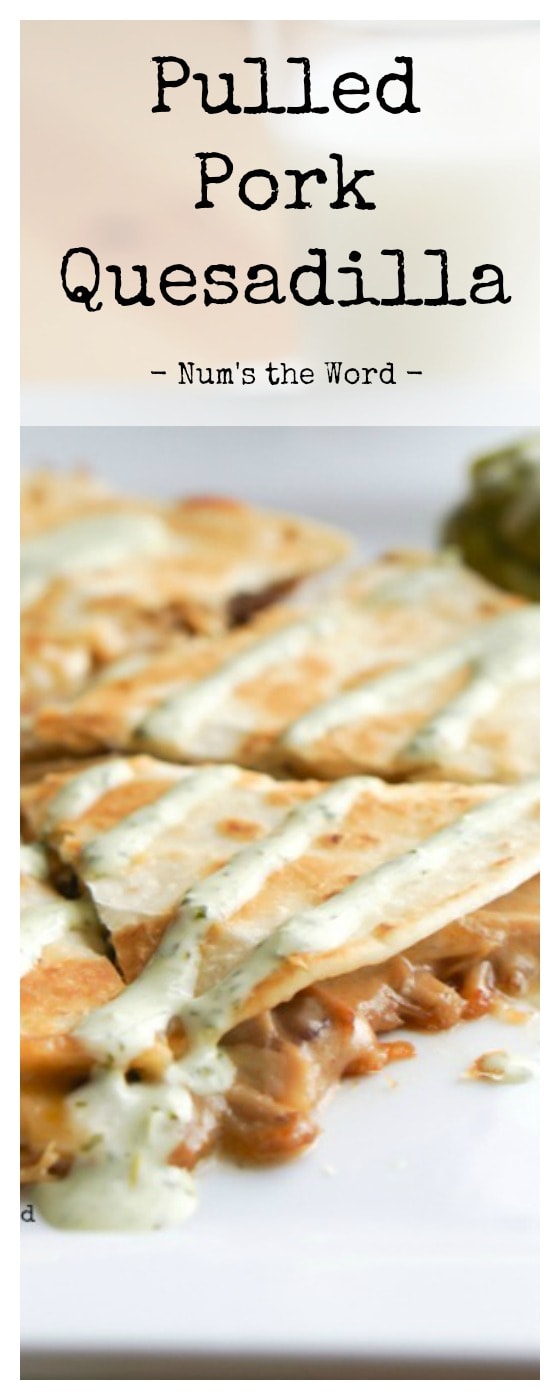 In our house we love pulled pork.  Especially my Sweet Pork.
It's VERY easy to recreate and we just can't get enough of it.
When we have company over for dinner, it's my #1 requested meal.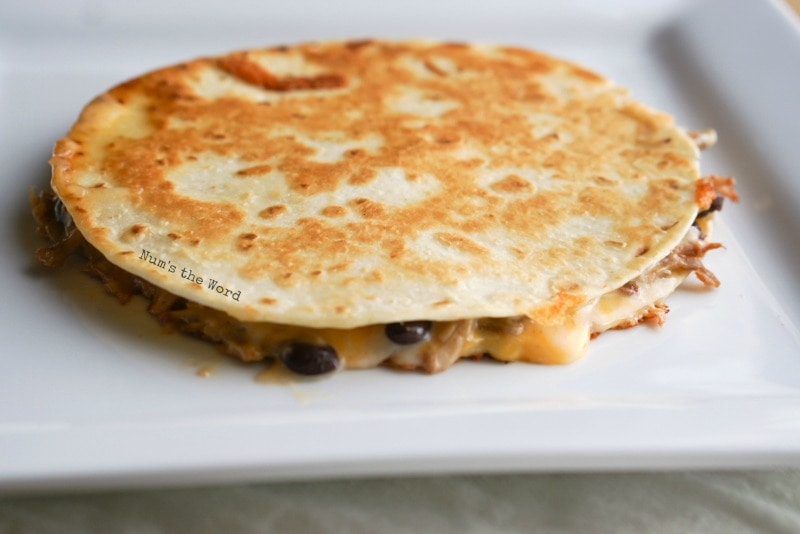 We also love that there are always leftovers.  We tend to eat it for days in fun and different ways.
This Pulled pork Quesadilla is an easy and tasty way to use up leftovers and to create a scrumptious lunch or quick dinner that the entire family will enjoy!
I have to admit though.  It was my husband's idea.  He just started to whip it up for lunch one day and asked if I wanted one too.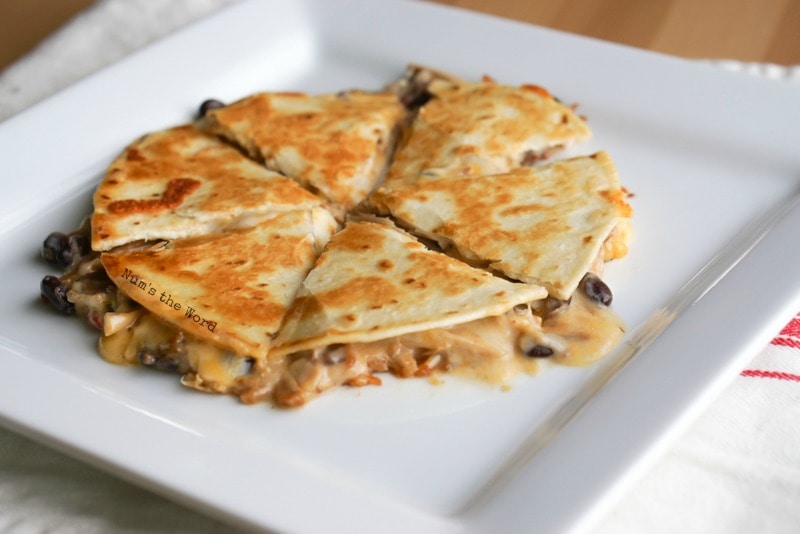 Um…YES PLEASE!  Except I wanted to make my own as I wanted black beans on mine.
What I love about these Pulled Pork Quesadillas is that they are SUPER easy to customize.
I like mine with pulled pork and black beans.  Though I wouldn't say no to a little cilantro lime rice in the mix too.
Some people may want some tomatoes or green onions diced up in theirs, which sound delicious!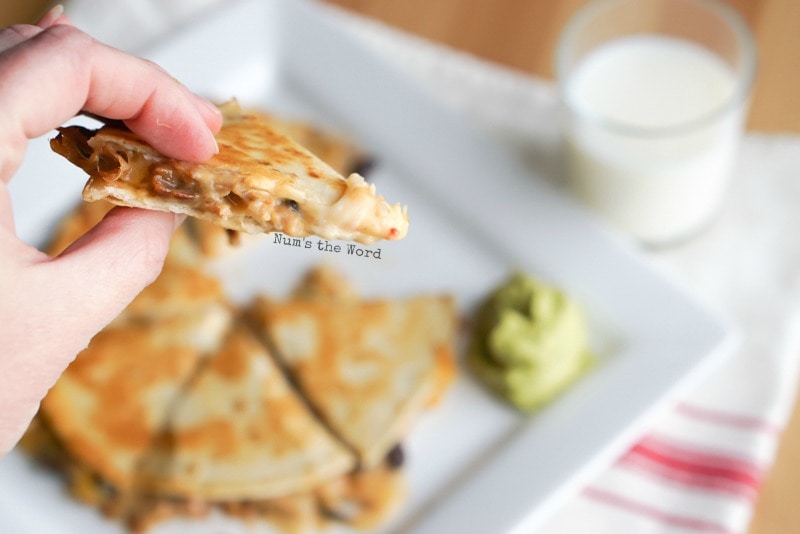 Quesadillas are one of those foods that we binge on for a bit and then completely forget about.  We'll go months without even thinking of making a quesadilla and then suddenly it's back!
Did you know that this is my 6th version of a quesadilla that has landed itself on Num's the Word?
I love them because they are EASY, QUICK and you can toss anything between two tortillas!  What isn't there to love?
The only thing that I don't understand, is why my kids don't like quesadillas.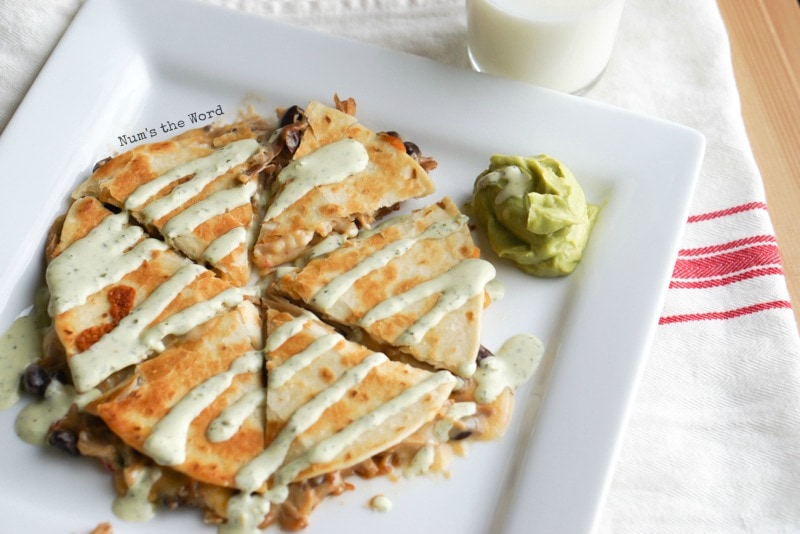 They don't like gourmet quesadillas or even the classic cheese quesadilla.
This boggles my mind beyond all else.
ALL kids love quesadillas.  They are quick and easy and tasty.  Except mine.
My super picky kids refuse to eat them and always have.  I think it's one of those things that one day they'll realize how tasty they are, but until then we are out of luck.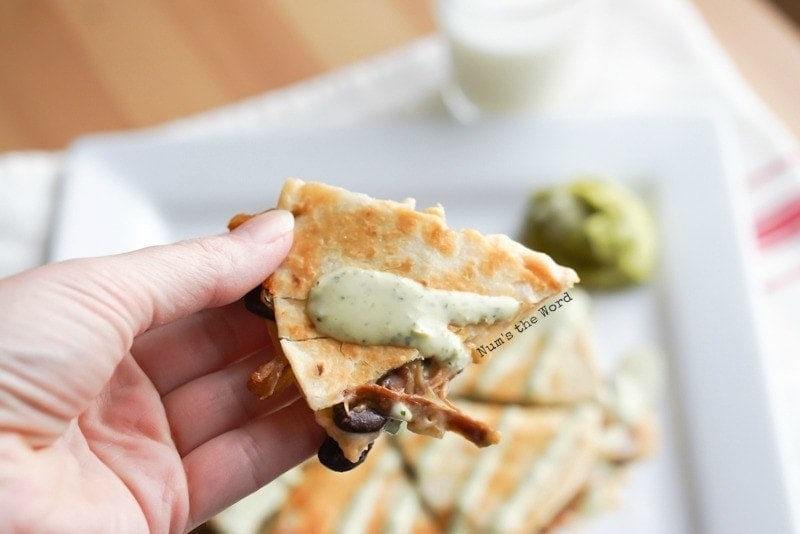 My kids DO like grilled cheese though and this also boggles my mind.  AND they love plain tortillas.
Being a parent to children who have opinions is a difficult and stressful job when it comes to food, so on days like this, I just give them a PBJ and whip myself up a gourmet Pulled Pork Quesadilla.
I consider it their loss and my win!
Do you love quesadillas?  If so, what is your favorite combination?
Ingredients
2 tortillas - flour or corn, your choice
2 Tablespoons butter
1/2 cup shredded cheese
1/4 cup pulled pork - leftover pulled pork works great!
1/8 cup black beans
Cilantro Lime Dressing
Sour Cream
Guacamole
Instructions
Heat skillet or griddle to medium low heat.
Spread butter on one side of each tortilla.
Place one tortilla butter side down on griddle.
Place 1/4 cup shredded cheese on top of quesadilla.
Top with pulled pork and black beans.
Place remaining cheese.on top then place second tortilla over mixture with butter side up.
Grill for approximately 3 minutes or until bottom is golden.
Gently flip and cook second side 3 more minutes.
Remove from griddle.
Cut with pizza cutter and put on plate.
Drizzle quesadilla with cilantro lime dressing or place it on side for dipping along with any other condiments you'd enjoy.
Devour!
https://numstheword.com/pulled-pork-quesadilla/
Other Pulled Pork Recipes You'll Love…