Strawberry Rhubarb Crisp is an easy fresh seasonal treat that everyone should enjoy over the summer! Simple ingredients, packed with flavor this has become one of our all time favorite desserts!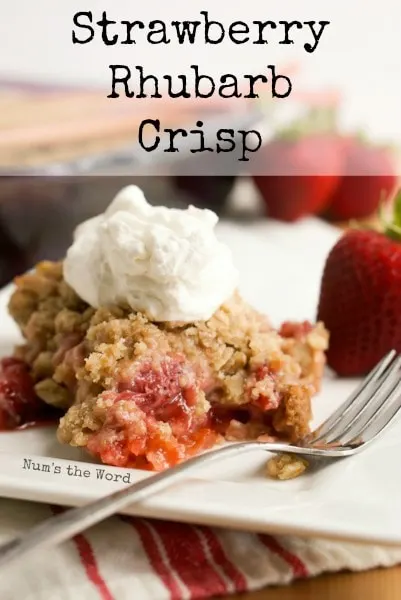 If there is one thing you can say about me this summer, it's that I am getting my fill of Rhubarb.
Between endless glasses full of Rhubarb Splash, my new favorite drink, plus all the other rhubarb treats I've already go on my site, I've also been recipe experimenting with more!
Lucky for me, I have, I mean had, a good bit of rhubarb in my garden. After attacking that, I then began to attack my Mother in Laws GIANT rhubarb plants. Her's make mine seem pathetic.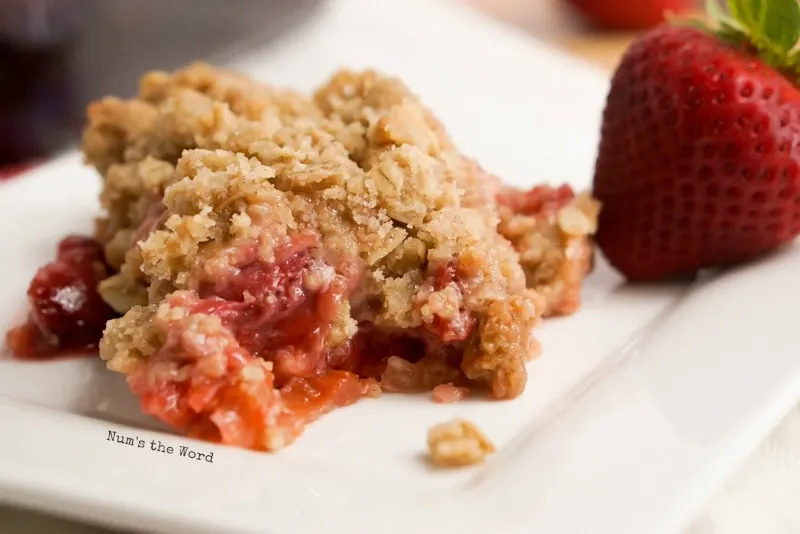 Despite the size, I'm very lucky to have what seems an endless amount of rhubarb at my finger tips to do what I'd like with. So this year I've been doing some serious recipe experimenting!
And this my dear friends is how we come to this Strawberry Rhubarb Crisp.
Now I'll admit it certainly didn't take me long to whip this up.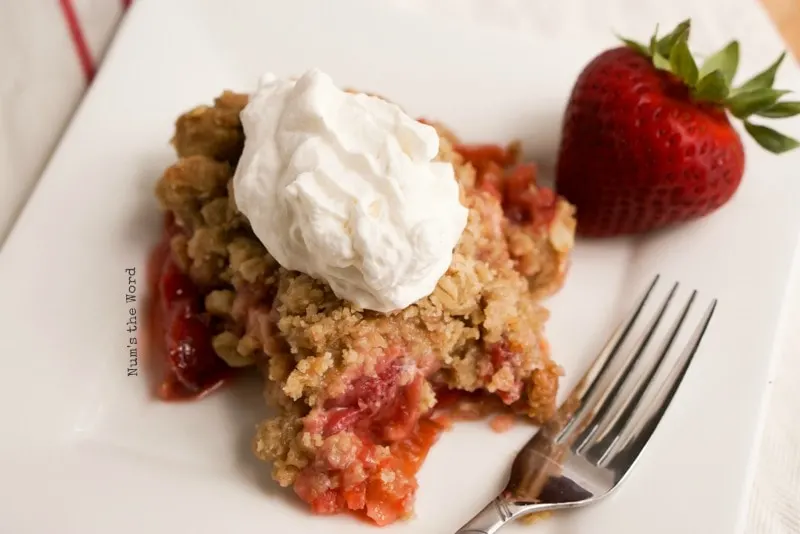 I just stole my Strawberry Crisp recipe, added rhubarb and doubled it (because let's be honest, you should ALWAYS double a crisp recipe) and voila, here we are with the most amazing treat on earth!
Now if you've followed me at all or know me personally you know that there is NO SUCH THING as a dessert staying in my house. I share with everyone. EVERYONE. Mainly because my husband is not a sweets person and I am.
So I HAVE to give it away. OK, I could freeze it or I could eat it, but I bake so often that I'd never get around to pulling it out and eating it again nor do I want to gain the weight. So I give it away!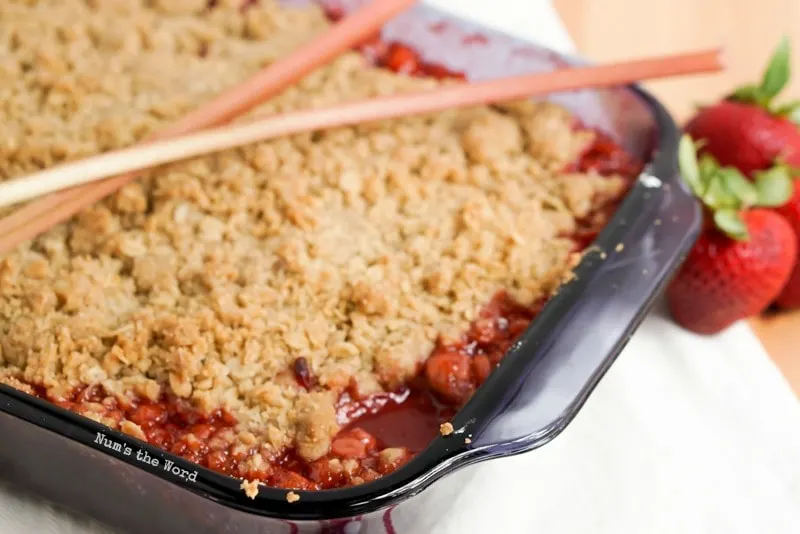 This beauty went to my neighbors, my family, and 3 friends. Lucky them!
Now of course you can always use frozen strawberries but i'd add an extra scoop of corn starch to absorb all that extra moisture.
Overall I was THRILLED with this recipe. It was simple to make, SUPER delicious and used fresh ingredients I had on hand.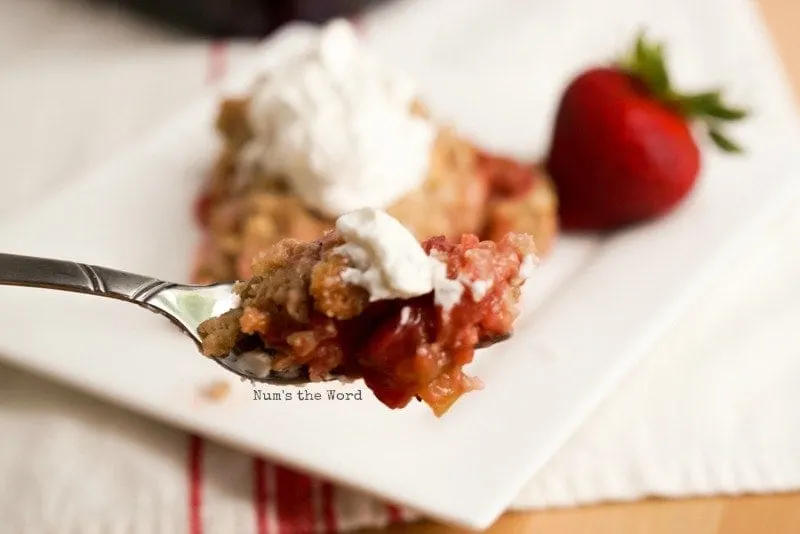 I will say that my kids, my very very picky kids, wouldn't touch it. I still can't get them to try any kind of a crisp. They just refuse to try it. One day I'll convert them to my all time favorite dessert (crisps) but for now, I'll just enjoy eating their portion!
Rhubarb is a seasonal item, so you might as well enjoy it while you can. Just attack your garden, your neighbors garden or pick some rhubarb up at your store and whip up this supper yummy Strawberry Rhubarb Crisp.
You, your family, friends and even neighbors will all thank you!
Yield: 12 Servings
Strawberry Rhubarb Crisp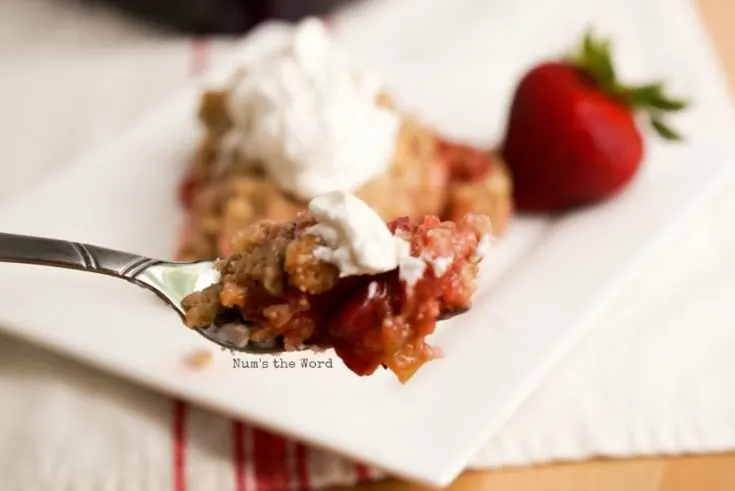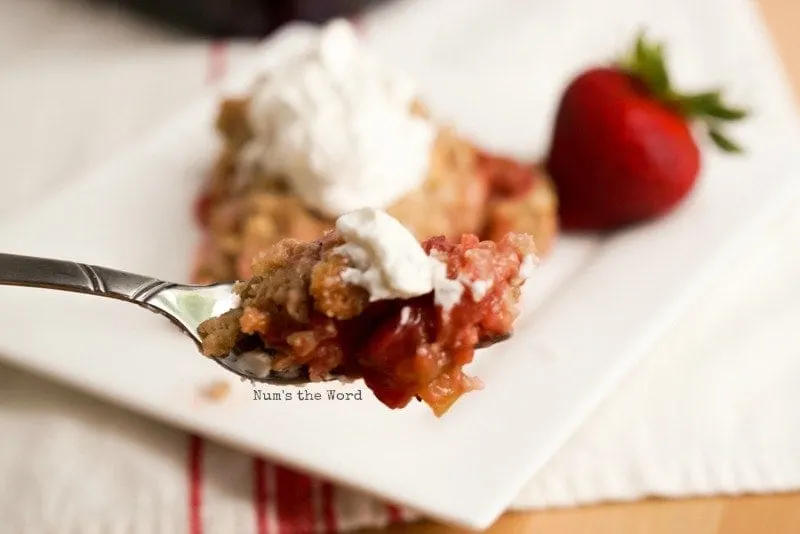 Ingredients
4 cups strawberries, sliced
4 cups rhubarb, cut in 1/2 in pieces
1 cup cup white sugar
6 Tablespoons cornstarch
1 cup all-purpose flour
1 cup old fashioned rolled oats
2/3 cup white sugar
2/3 cup brown sugar
1 teaspoon cinnamon
1/2 teaspoon salt
1/2 cup butter, melted
vanilla ice cream, optional
whipped cream, optional
Instructions
Preheat oven to 350*F
Spray a 9 x 13 casserole dish with non stick spray.
In casserole dish mix together strawberries, rhubarb, 1 cup of sugar and corn starch. Mix well.
In a separate bowl combine flour, rolled oats, sugar, brown sugar, cinnamon, salt and butter. Mixture should be crumbly.
Sprinkle oat mixture on top of strawberry mixture.
Bake for 35 minutes. Mixture should be golden on top and bubbly.
Allow to cool for 5 minutes then serve with either vanilla ice cream or whipped cream.