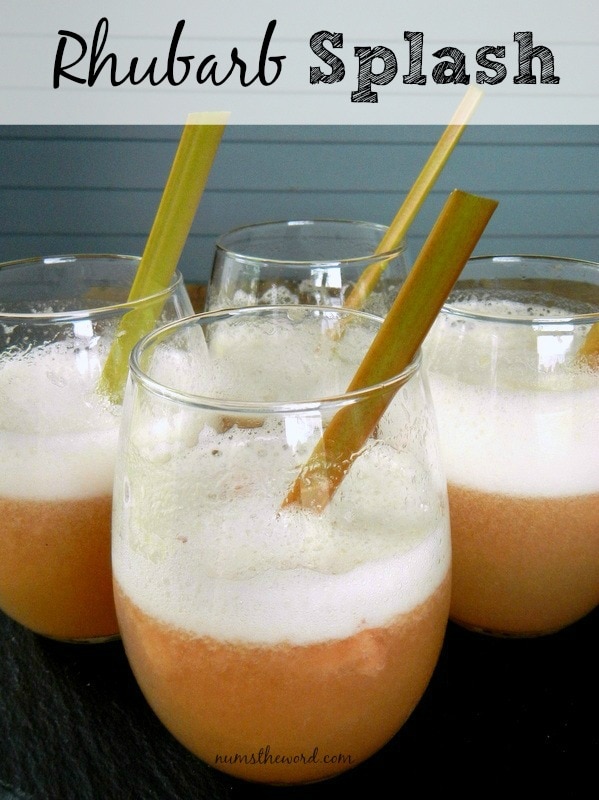 Last year I was converted over the world of Rhubarb. And I think it's only fitting if each year I bring you at least one tasty Rhubarb recipe like this Rhubarb Splash!
Last year I brought you Rhubarb Muffins.
Sweet, and easy to make, Rhubarb Muffins make a great breakfast, snack or even a dessert.
A must try for any Rhubarb lover.
This year though, I bring you a unique rhubarb treat. Rhubarb Splash.
I was sure that I would regret making this the first time I whipped it up.
I was sure it was going to be tart or weird tasting and stringy.
I was sure it was going to be a complete failure but the idea of rhubarb in a drink intrigued me.
I was quite surprised that not only was this drink not stringy but that the rhubarb literally dissolved when I cooked it and then blended it. No straining was even needed.
I was then surprised at how well all the flavors mixed together so perfectly and then overwhelmed at how absolutely incredible tasting this was.
I'm not even sure how to describe how tasty this drink is.
It's sweet and fruity and the carbonation from the lemon lime soda bring it all together.
I loved it and decided at a hot dog roast at my in-laws that I had to get them to try it.
Both were hooked instantly.
I then drank the rest of my stash and made a double batch.
This double batch was then shared over the course of several days to various people we had over to dinner and we are all convinced that this is hands down incredible.
So tasty that I'm fairly certain we all had at least two helpings.
If you have rhubarb growing in your yard, despite any feelings you have towards rhubarb, good or bad, you really MUST try this drink. It really is one of the best I've had and a must make!
Other Beverages You'll Love…
This post contains Amazon affiliate links as a free service to you!

Ingredients
3 cups fresh or frozen rhubarb, chopped
1 cup water
1/3 cup sugar
1 cup apple juice
1/2 (12 ounce) can of frozen pink lemonade concentrate
1 (2 liter) bottle lemon lime soda
Instructions
In a sauce pan combine rhubarb, water & sugar. Bring to a boil and cook for 5 minutes or until rhubarb is soft and limp. Allow to cool for 20 minutes.
Pour cooled rhubarb mixture into a blender and blend until smooth.
Add apple juice & pink lemonade and blend again.
Pour contents into a freezable container.
Freeze for several hours or until slush like consistency.
Fill a cup 1/3 full of rhubarb mixture.
Pour lemon lime soda over rhubarb. Stir well and enjoy!
https://numstheword.com/rhubarb-splash/