These Cheerio Cereal Bars are super easy to make and the perfect homemade snack for families on the go! Made with Cheerio cereal and packed with dried fruit and protein-filled peanut butter, these toasted oat bars will leave you satisfied for hours.
I love to pack these Cheerio bars when we have morning sports games or road trips or even just a playdate at the park! They're easy to make ahead of time and keep on hand for those times when I want a quick and easy snack or lunch.
Another great thing about this Cheerios bars recipe is that you can get plain Cheerios very inexpensively at your local grocer or bulk store and there are only FIVE INGREDIENTS! When you make these tasty bars, you know exactly what goes in them and what you're eating!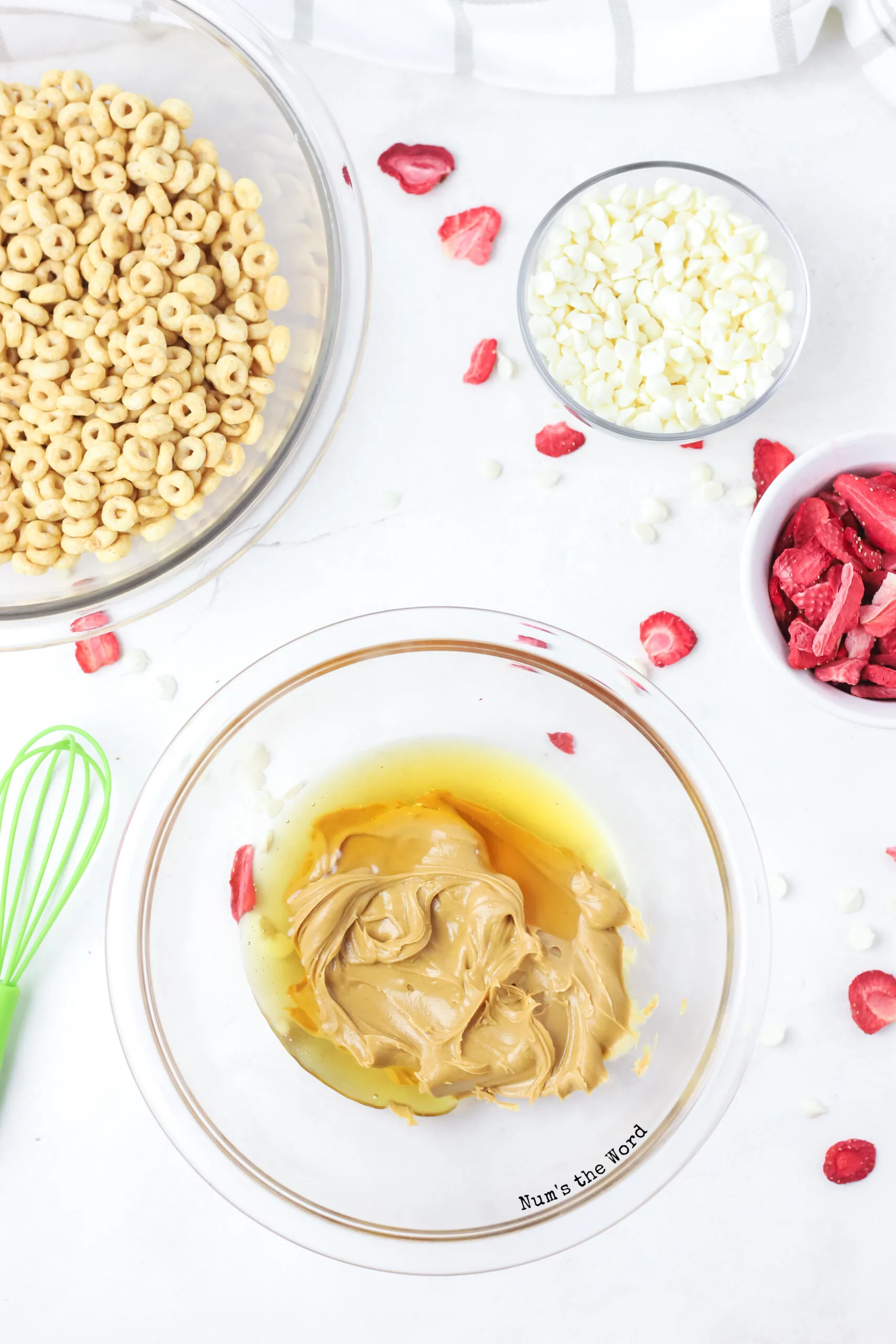 How to make Cheerio cereal bars?
You won't believe how simple it is to make these 5 ingredients Cheerio bars. That's right — only 5 ingredients! And there's no stovetop or oven needed to put these tasty treats together. Let's get started with the 5 ingredients you'll need:
Peanut butter

– peanut butter adds protein and helps keep the Cheerios peanut butter cereal bars together. You can substitute other nut or seed butters if you prefer, but I have found that peanut butter does the best at holding the bars together!

Honey

– did you know honey contains some nutrients and is rich in antioxidants? Honey is a great, natural sweetener and it's sticky texture will also work to help keep your bars together.

Cheerios

– plain Cheerios are easy to find at your local grocer or bulk store. While they're fairly simple as far as cereals go, I guarantee your kids will love them when transformed into these peanut butter Cheerio bars!

Freeze dried strawberries

– to me, this is one of the tastiest parts of the recipe! I love the flavor and tart-sweetness of freeze dried strawberries. They add a bit of color, a lot of flavor, and are the perfect addition to these Cheerio bars with strawberries. It's almost like a PBJ bar!

White chocolate chips

– who doesn't love a snack drizzled in white chocolate? I love how the white chocolate inside and on top of these cereal bars is reminiscent of a bowl of cereal and milk in bar form.
Now let's put it all together:
Heat

peanut butter and honey

Stir

in remaining ingredients

Transfer

mixture to baking dish

Drizzle

with melted white chocolate

Chill

before serving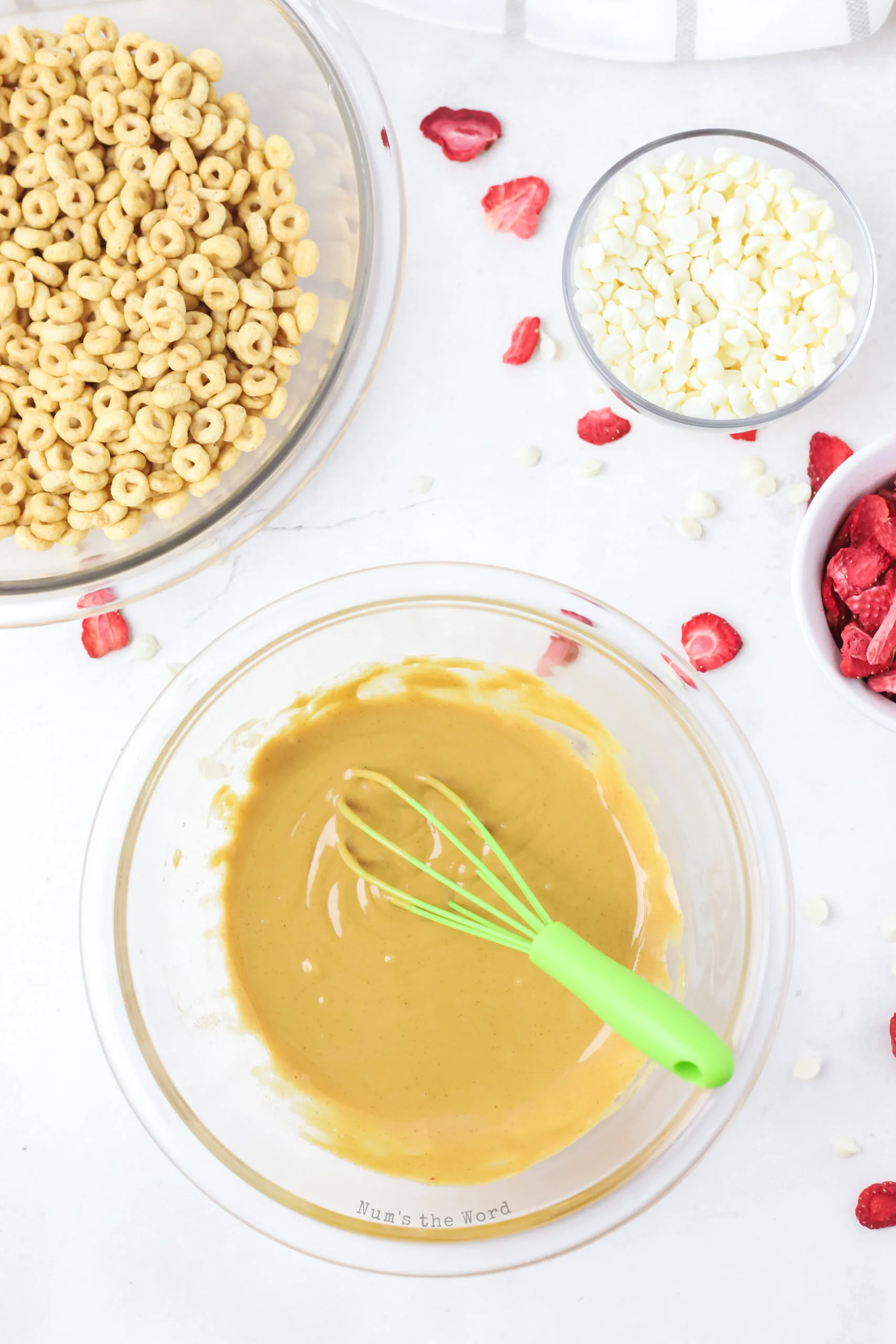 Do Cheerio bars need refrigeration?
You'll definitely want to refrigerate these cereal bars for at least an hour before cutting them — they are much easier to cut and portion when chilled.
After you've cut them, I recommend that you continue to store the cut strawberry Cheerio bars in an airtight container in the refrigerator so that they better maintain their shape.
Eat them at home as a great snack or breakfast option, or place them in a transportable container and serve them at your destination!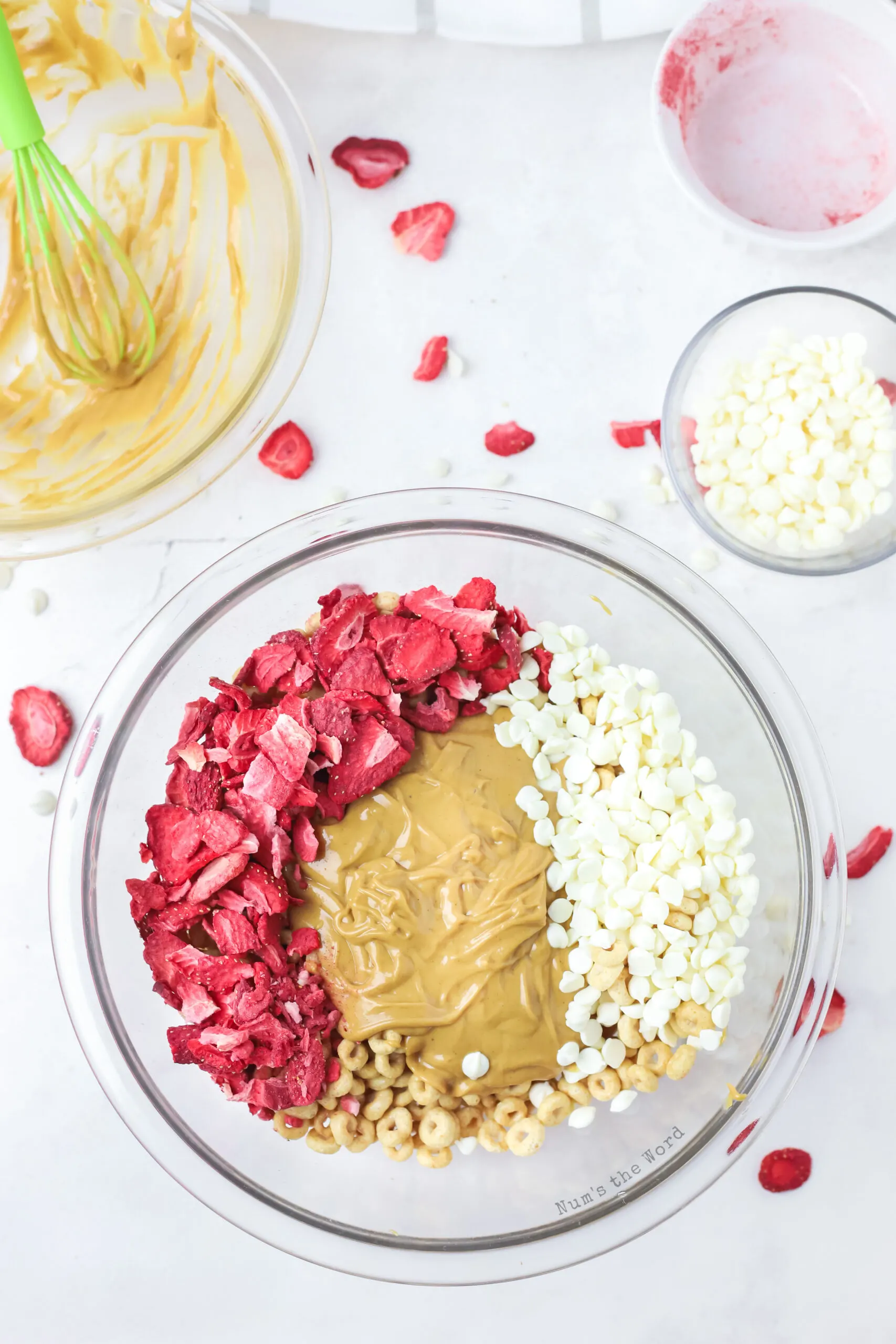 How long do Cheerio cereal bars last?
This Cheerio bars recipe will keep for at least a week when stored properly — in an airtight container in the fridge. Some similar recipes have mentioned that they've kept the cereal bars in an airtight container at room temperature for up to a week with good results as well.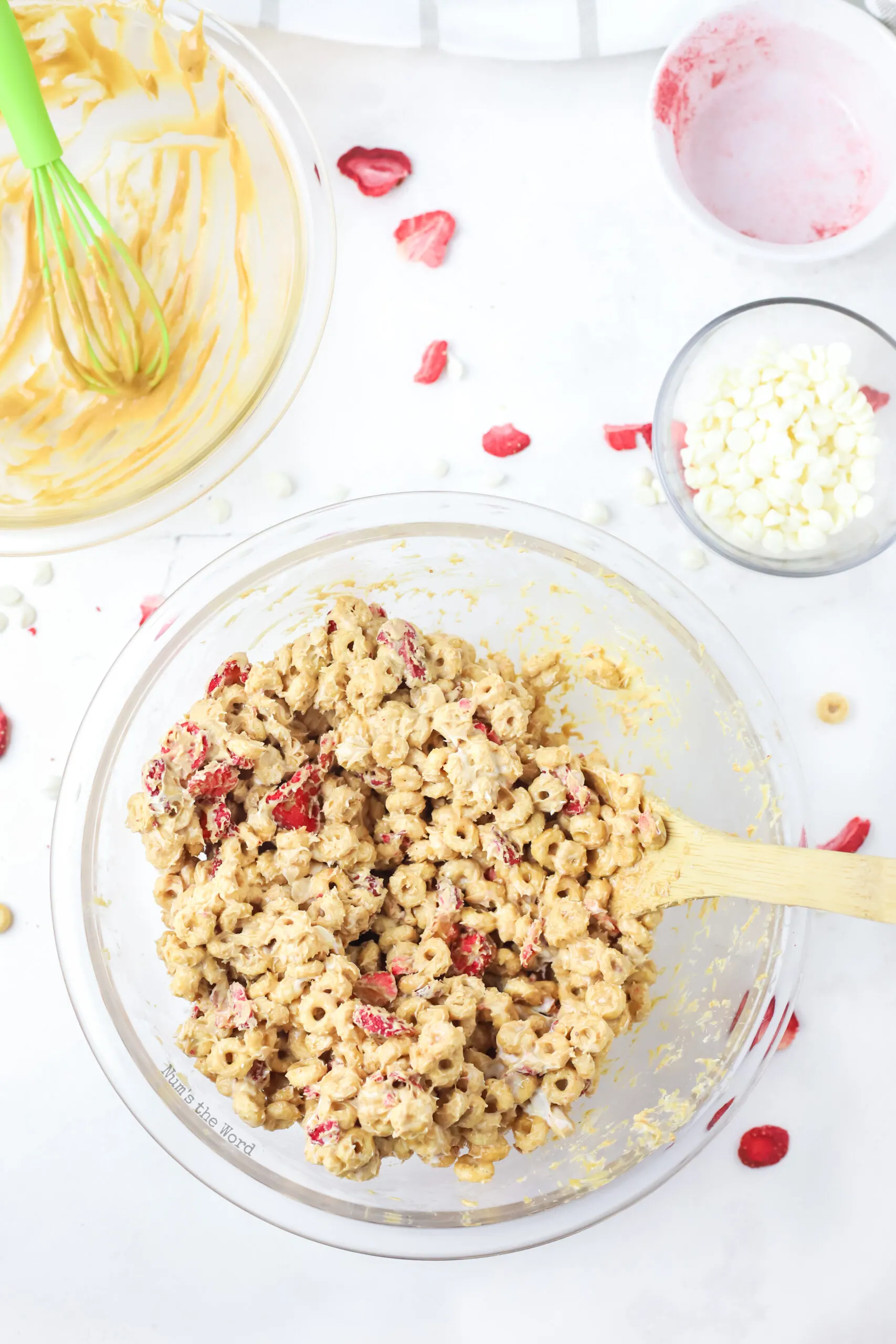 Can I use fresh strawberries in these Cheerio cereal bars?
I would not recommend using fresh strawberries to make these strawberry Cheerios cereal bars because they contain much more moisture and will make the bars soggy and mushy and messy. I don't think you'd be able to get them to hold their shape at all with fresh strawberries.
You can, however, substitute another dried or freeze-dried fruit if that is your preference!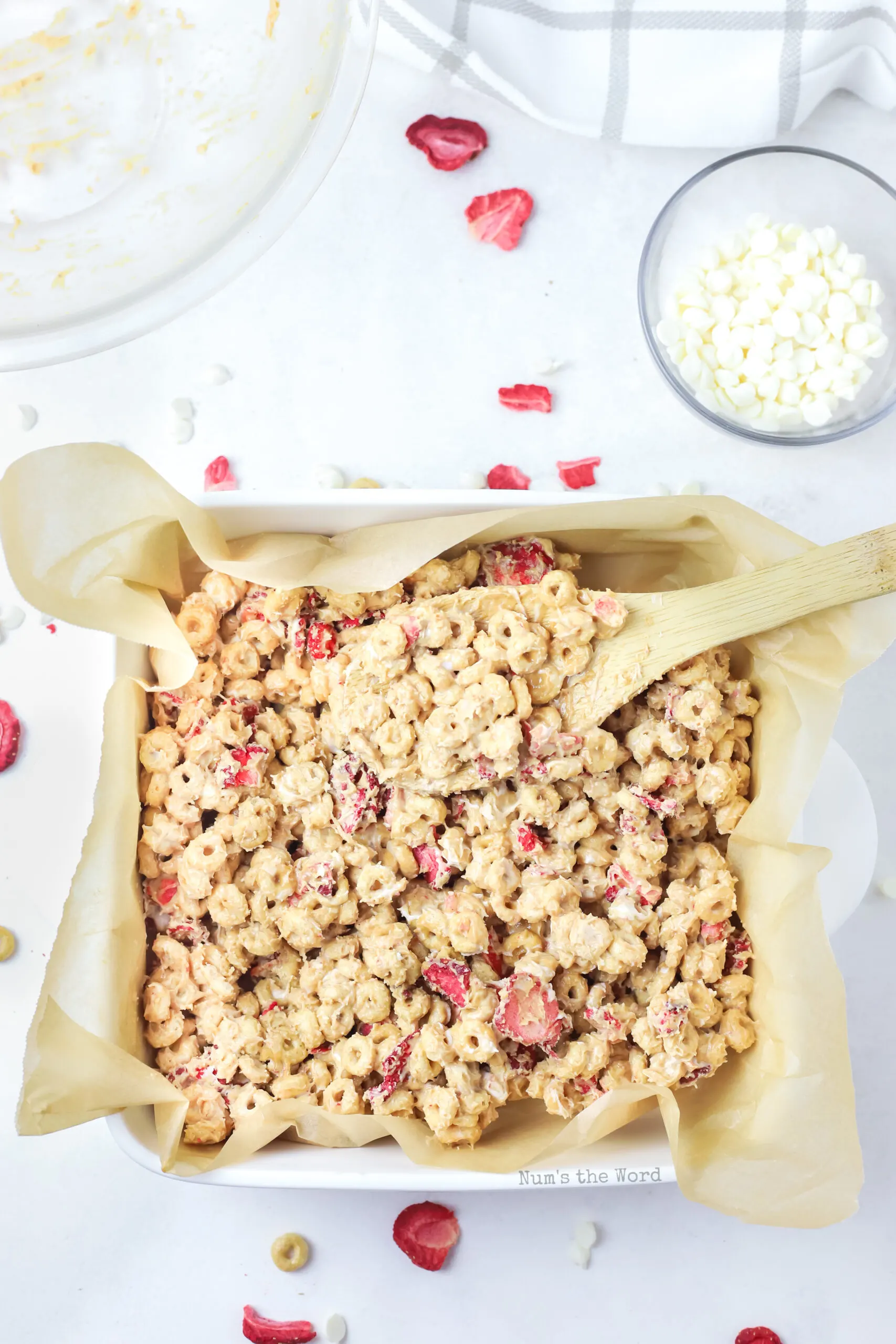 Are Cheerio cereal bars nut free?
This Cheerios cereal bars recipe is NOT nut free. It calls for peanut butter to work as a gut-filling protein and binding agent for the bars. You can substitute the peanut butter for other nut or seed butters, though! I've had the best results with peanut butter, however.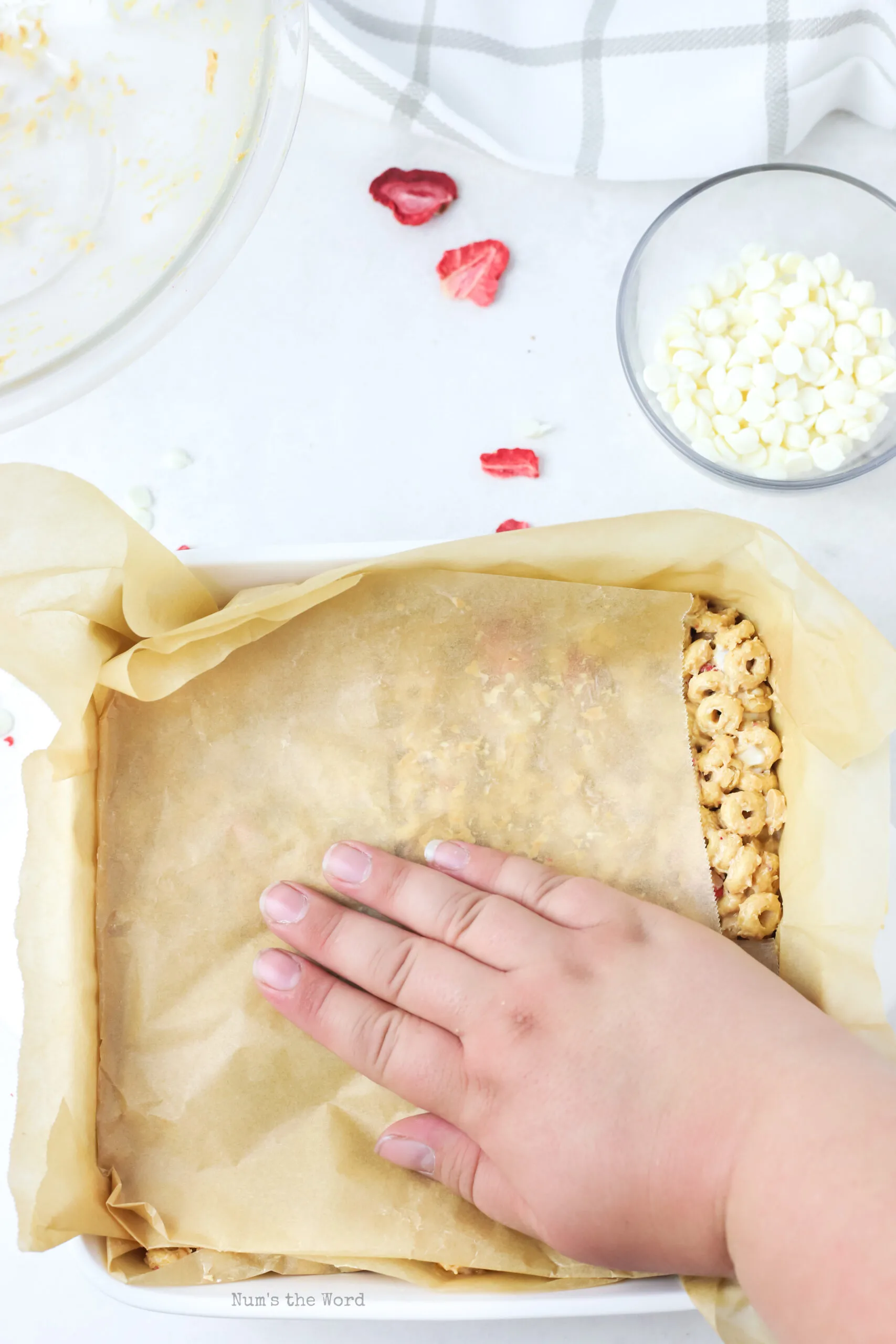 Are Cheerio bars gluten free?
Cheerios are made of oats and are advertised as Gluten Free. The other ingredients in this recipe are also typically gluten free! Therefore, this healthy Cheerios cereal bar recipe should be GLUTEN FREE.
As always, I recommend you check your labels to confirm before making and eating.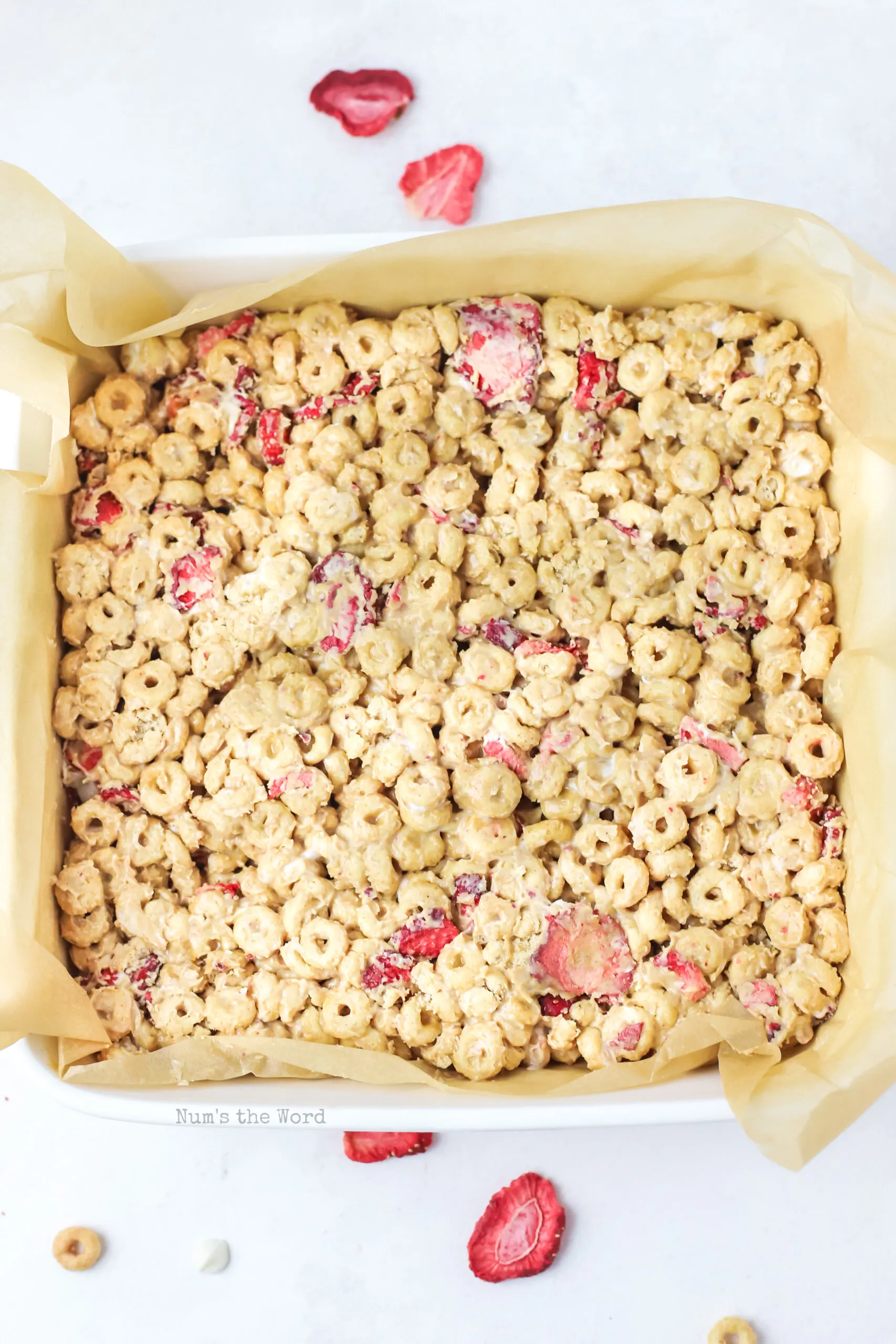 Can dogs eat Cheerio cereal bars?
This is always one of my favorite questions — it comes up more often than you'd think it would! And for this tasty recipe, it makes sense: dogs generally love peanut butter, and this is a yummy snack that maybe your pup would like on the go just as much as you.
While Cheerios are not dangerous for your furry friend and can be a great treat or training tool, I wouldn't recommend feeding these cereal bars to your dog. While the cereal, peanut butter, and honey are relatively safe for your pooch, the white chocolate is not.
Though white chocolate is not as inherently dangerous as regular chocolate, it is high in fat and can cause similar side effects as chocolate, including diarrhea and vomiting, and is also high in sugar.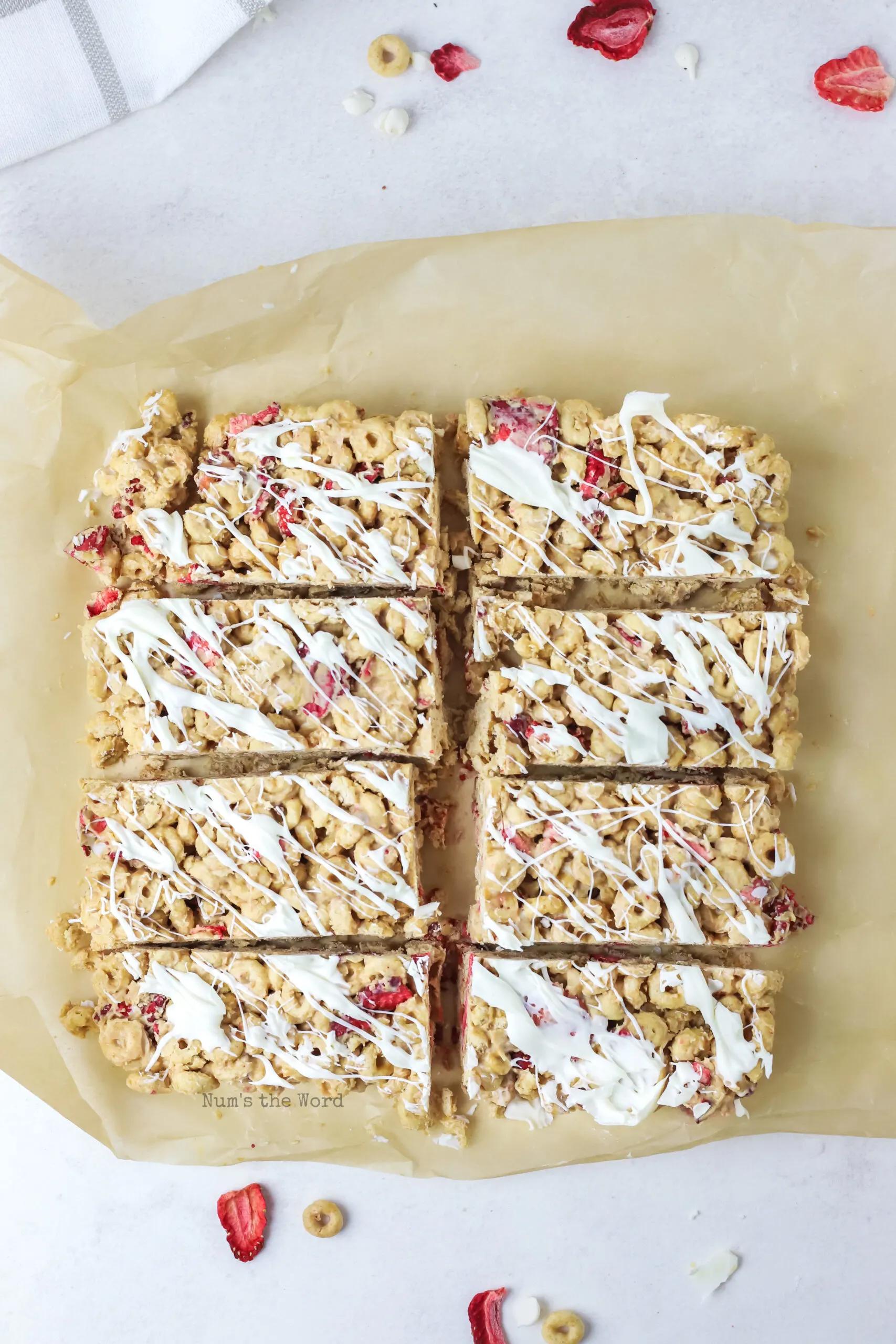 Whether you're a busy family that's always on the go or you're looking for a fun, new variation to the daily snack grind (I get it, my kids ask for a snack at least 10,000 times a day!), then this is the recipe for you! Your whole family will love the tasty blend of flavors and you'll especially love how easy these are to make — with only five ingredients!
Yield: 8 Bars
Cheerios Cereal Bars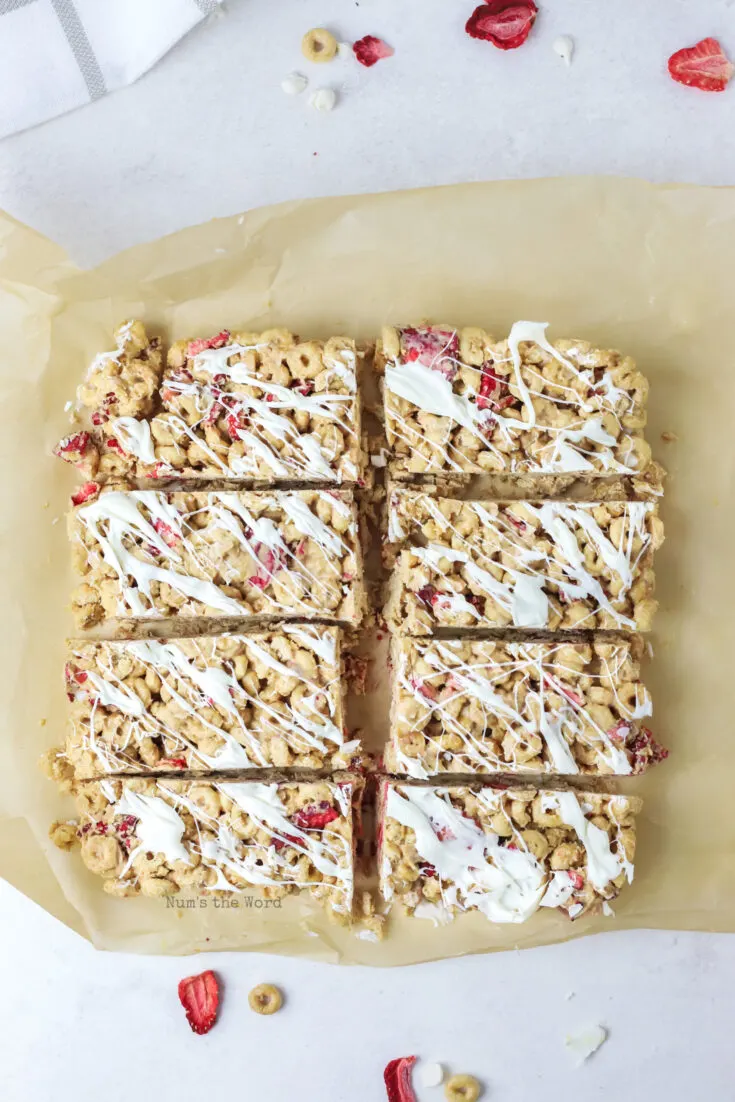 These Cheerio Cereal Bars are super easy to make and the perfect homemade snack for families on the go! Made with Cheerio cereal and packed with dried fruit and protein-filled peanut butter, these toasted oat bars will leave you satisfied for hours.
Total Time
1 hour
11 minutes
Ingredients
3/4 cup peanut butter
1/4 cup honey
3 cups Cheerios
1 cup freeze dried strawberries
3/4 cup white chocolate chips
Instructions
Set aside 1/4 cup of white chocolate chips
Place 3 cups Cheerios in a large mixing bowl.
Add peanut butter and honey to a medium sized mixing bowl.
Microwave peanut butter/honey mixture in 20 second intervals until melted, stirring between each session.
Add strawberries, remaining white chocolate chips and melted peanut butter/honey mixture to bowl with Cheerios. Mix thoroughly.
Place mixture in a lined 8x8 baking dish.
Firmly press mixture into the dish u sing a piece of parchment paper to keep your hands clean.
Melt 1/4 cup of white chocolate chips in microwave in 20 second intervals, stirring between each session.
Drizzle melted white chocolate over cereal bars using a spoon.
Chill for at least 1 hour in fridge before cutting and serving.
Notes
1. You can substitute any kind of nut butter (almond, sunflower etc.) for the peanut butter, however I have found the peanut butter holds the bars together the best.
2. You can substitute the white chocolate chips in the recipe for yogurt chips for a healthier version. These are harder to find, but can usually be found at a healthier store.
3. Refrigerating the bars for a full hour allows them to become firm.
4. Use a sharp knife for cutting
5. Store in an airtight container in the fridge to help them keep their shape.

Nutrition Information:
Yield:
8
Serving Size:
1
Amount Per Serving:
Calories:

306
Total Fat:

18g
Saturated Fat:

6g
Trans Fat:

0g
Unsaturated Fat:

10g
Cholesterol:

3mg
Sodium:

182mg
Carbohydrates:

33g
Fiber:

3g
Sugar:

21g
Protein:

8g