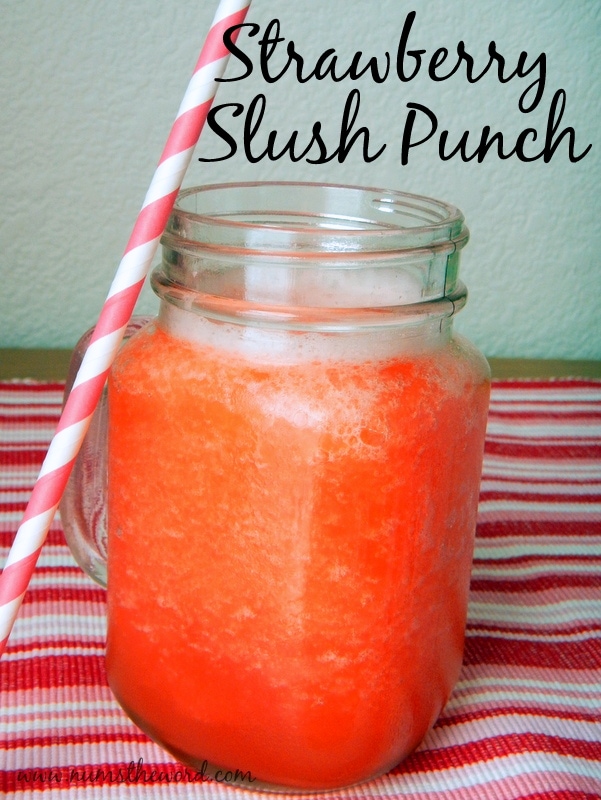 I decided to make this punch on a whim.
It sounded tasty and I had most of the ingredients already, so I said why not.
I whipped it all up, tossed it in a few Tupperware containers and put it in the freezer.
What I expected and what I ultimately tasted, were not the same.
What I ultimately tasted was WAAAY better than what I expected.
A fruity, tasty and very refreshing drink.
I LOVE drinks that are icy and slushy and summery – especially on non-summery days.
This was perfect and something that I am pretty convinced that I need to have in my freezer at all times.
I found it tasty to consume so many different ways.
I ate it with a spoon just as itself. I added ginger ale & sprite to it creating a slushy drink and even found myself adding it to my smoothies.
It was amazing in all these forms and something you should really try because I am certainly making this again!
Ingredients
1 1/4 cups white sugar
3 cups water
1 (3 ounce) package strawberry jello
1/2 (46 ounce) can pineapple juice
1/3 cup lemon juice
2 cups orange juice
1 bottle lemon lime soda or ginger ale
Instructions
Bring the sugar, water and jello to a boil in a large sauce pan. Boil for 3 minutes.
Stir in the pineapple juice, lemon juice & orange juice.
Divide mixture into separate containers and freeze.
- NOTE: I recommend freezing in ice cube trays or small Tupperware tubs and not LARGE ones so you can use them in small portions.
Once frozen, combine contents with a bottle of lemon lime soda and ginger ale.
Stir until slushy and enjoy!
https://numstheword.com/strawberry-slush-punch/
Recipe adapted from All Recipes