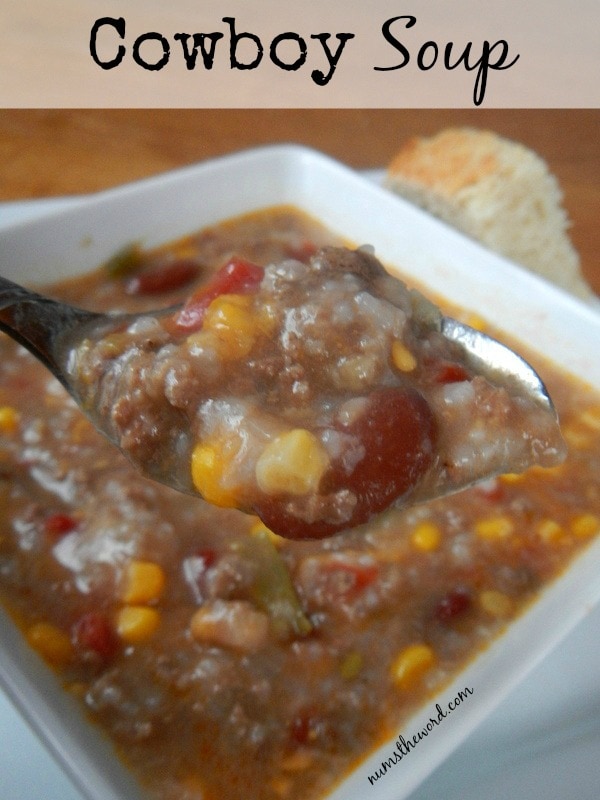 You know what I love about soups? They are generally very forgiving. Mix and match your favorite ingredients and in general you can't go wrong.
Take this Cowboy Soup. It's really a vegetable soup with hamburger and you can easily swap out the veggies I used for the veggies you like.
Like mushrooms? Add them! Like tomatoes, add those! Don't like Kidney Beans but love black beans – ok, swap those. Or leave out the beans completely! Like potatoes and carrots in your soup? Add those too. Wait a minute…don't. If you do all these changes you'll change the soup completely and wont even have a chance to try the ACTUAL soup in this recipe!
You really don't need to change this soup. I don't make the suggestions because this soup is lacking in any way. In fact it's quite good as it is.
My only point is that what I like, and what you like may be different..and that's ok with this soup.
This Cowboy Soup is easy, delicious and freezes well.
I love when a good soup freezes well. It make my life easier when it comes to meal planning. Eat half the soup now, and half the soup in a month. Less cooking, less clean up and a home cooked meal that still tastes great.
If you work outside the home, freeze is small portions and take it to work. Pop it in the microwave and cook it up when you need it and you've got a homemade meal ready to go at work! See…Easy!
Initially when I made this soup my husband said that it looked a bit too easy and like it was going to taste bland. Bland? Nope, after one bite he realized that the flavors all worked quite well together and that it really didn't need any extra seasoning.
If you like ground beef and you like vegetables, then I highly recommend giving this hearty, delicious soup a try! And don't forget to freeze the leftovers!
This post contains Amazon affiliate links as a free service to you!

Ingredients
1 pound ground beef
1/2 cup yellow onion, diced
4 cloves of garlic or 3 teaspoons garlic paste
4 teaspoons tomato paste (if using vegetable broth)
1 (15.25 ounce) can of corn, with liquid
1 (14.5 ounce) can of green beans, with liquid
1 (10 ounce) can Ro*Tel tomatoes with green chilies, with liquid
2/3 cup rice, uncooked
1 can vegetable broth OR 1 can of stewed tomatoes, with liquid, chopped
1 (14.75 ounce) can of cream-style corn
1 (16 ounce) can of kidney beans, drained & rinsed
Instructions
In a large pot, add ground beef and onion. Cook until ground beef is cooked through and onions are translucent.
Add garlic and tomato paste (if using vegetable broth) and cook for 1 - 2 minutes or until garlic is fragrant and mixture is well combined.
Add corn, green beans, Ro*Tel, rice, vegetable broth (or stewed tomatoes), cream style corn & kidney beans. Mix well and bring to a boil.
Reduce heat to low, cover and let simmer for 30 minutes or until rice is cooked through.
Serve immediately.
https://numstheword.com/cowboy-soup/
Items recommended for this recipe include…
Another Recipe We Think You'll Love…