This 8 Can Taco Soup is an easy weeknight meal that also makes for a great freezer meal!  Quick to toss together and kid friendly!
This post contains affiliate links.  If you click on an affiliate link and make a purchase, I will make a small percentage on your purchase. This helps keep this website running! Thank you!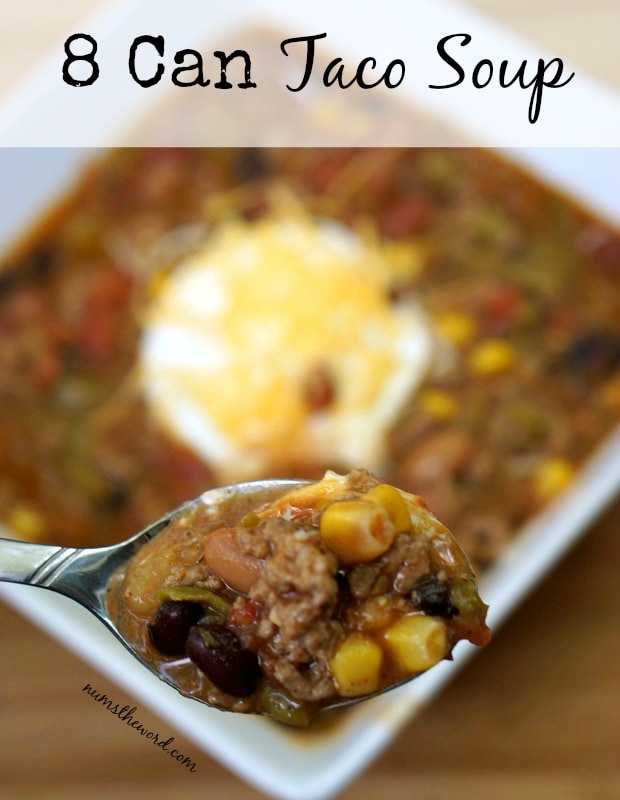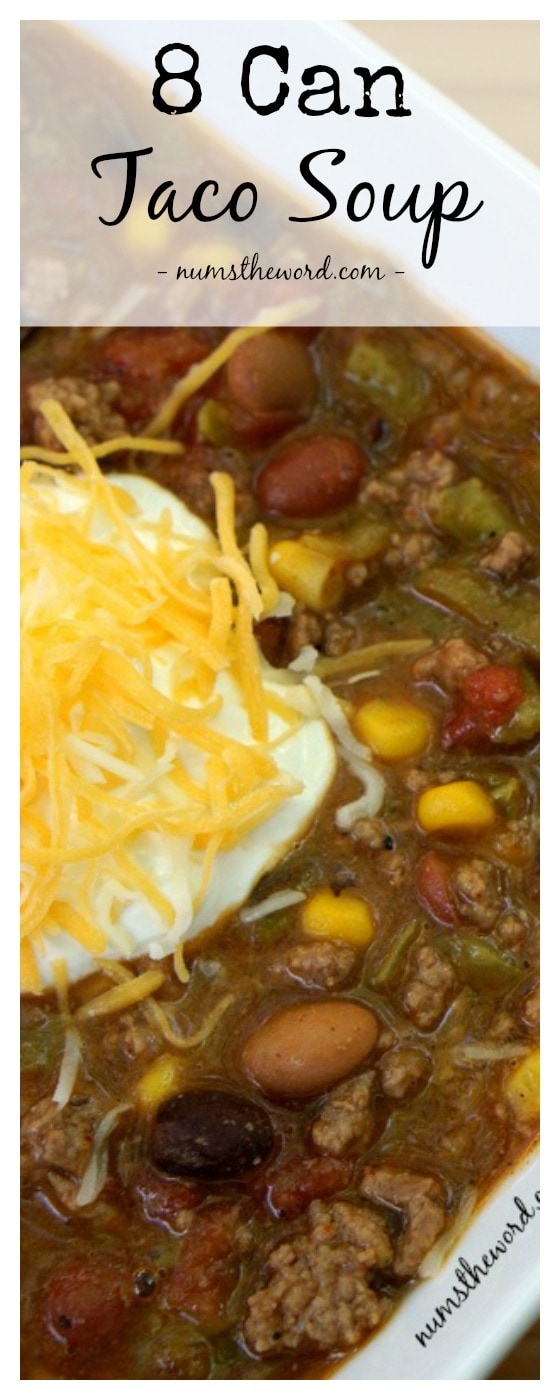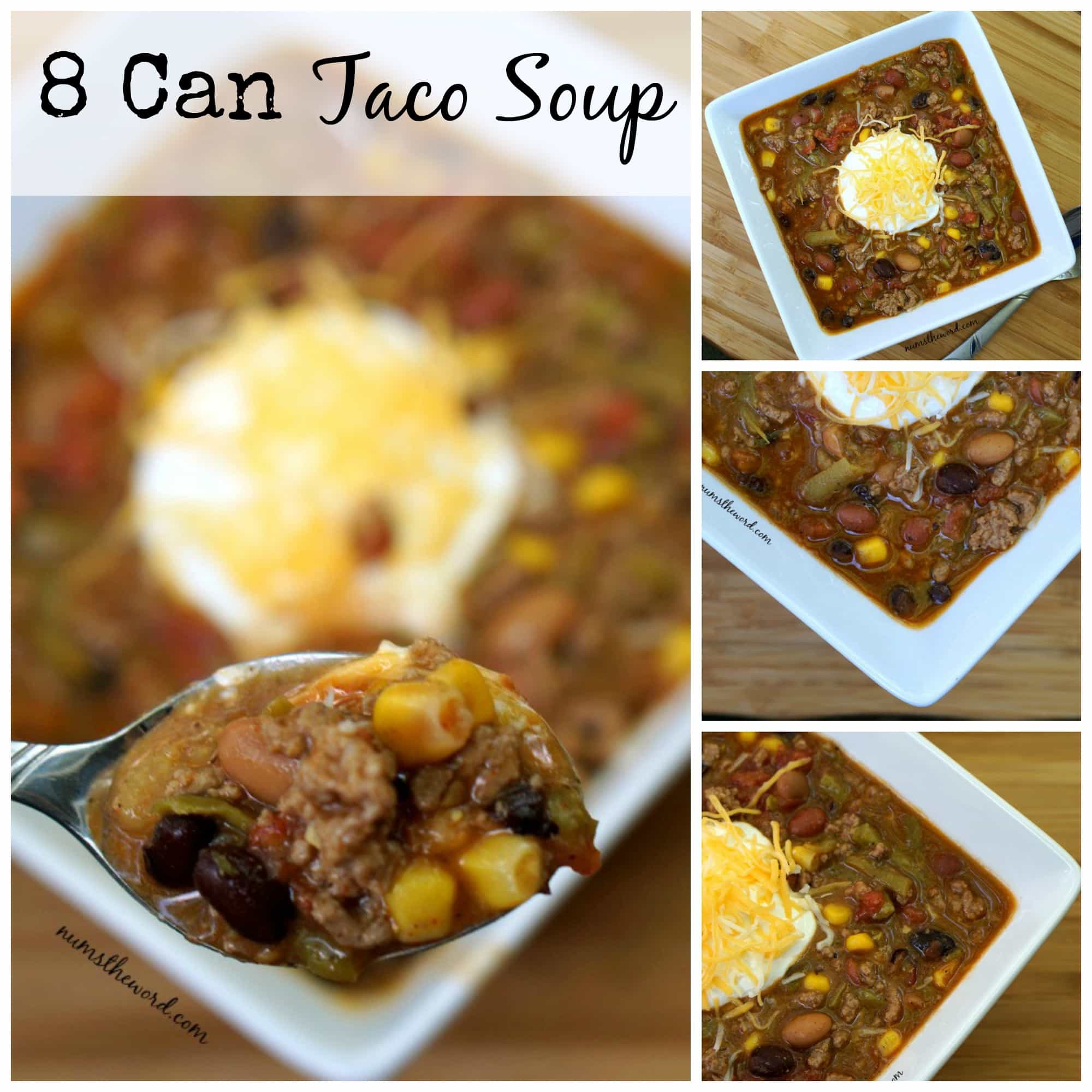 I am BEYOND excited that Autumn is here….wait scratch that.
I just remembered I live in Minnesota.
We'll say that I am mildly excited that Autumn is here.
Let me explain.
Generally I am BEYOND excited when Autumn arrives.
It means hot apple cider and hot chocolate.
Scarves and crunching leaves under my toes.
It mean that people are in general a bit more friendly, open, warm and inviting.
Autumn means I can eat caramel corn and cookies and have an excuse to bake even more than I do.
However, in Minnesota, Autumn lasts for only what seems a few weeks until the dreaded (and I mean dreaded) 6 months of winter comes.
It also means that those crunching leaves under my feet are the ones that I have to rake up.
Autumn isn't all bad here.
It's the season when I get to pick fresh apples off of apple trees and eat soup as often as I like and everyone around me has to eat it too.
It also means that I get to try NEW soups like this 8 Can Taco Soup.
I very much enjoy a good bowl of soup with a homemade roll.
I like it even more when the soup is easy to toss together and freezes well too!
This 8 Can Taco Soup was so good I made a second batch to freeze.
That way I could have tasty soup on a lazy winter day.
It also reheats well for work the next day, something I highly recommend.
Now if you consider yourself a novice in the kitchen, this 8 Can Taco Soup is really a great starter soup.
You literally cook up your ground beef then DUMP everything else into your pot as well and cook.
It's IMPOSSIBLE to mess up or fail at.
Plus once it's all made, you can add your favorite toppings.
We love sour cream, cheese and Fritos.
But really you go with what your taste buds like.
Oh and before you comment below on how some, if not most of these ingredients, aren't actually found in a taco…yea, I get it.
I've learned that Taco soup, also known as Hamburger soup, has ingredients that are rarely found in a taco.
Crazy right?  Who comes up with these names?!
I say just go with it.
It's an odd American name for soup of which tastes great but absolutely nothing like a taco.
Ingredients
1 lb ground beef
1 (15 ounce) can pinto beans + liquid
1 (15 ounce) can corn + liquid
1 (15 ounce) can black beans + liquid
1 (14.5 ounce) can French style green beans + liquid
1 (15 ounce) can chili beans + liquid
1 (14 ounce) can stewed tomatoes + liquid
1 (10 ounce) can mild Rotel tomatoes + liquid
1 (4 ounce) can green chilies + liquid
1 (1 ounce) packet taco seasoning mix
1 (1 ounce) packet ranch dressing mix
2 cups water
Sour Cream (optional)
Cheese (optional)
Fritos (optional)
Instructions
In a large dutch oven or pot, brown ground beef until cooked through.
Add pinto beans, corn, black beans, green beans, stewed tomatoes, Rotel tomatoes, green chiles, taco seasoning & ranch dressing. Mix well.
Add 2 cups of water.
Bring to a boil then lower heat and simmer for 30 minutes.
Serve immediately with your favorite toppings!
https://numstheword.com/8-can-taco-soup/
Other Ground Beef Recipes You'll Love...