Warm, filling, easy, and delicious, this Ham and Potato Soup is the PERFECT way to use leftover ham!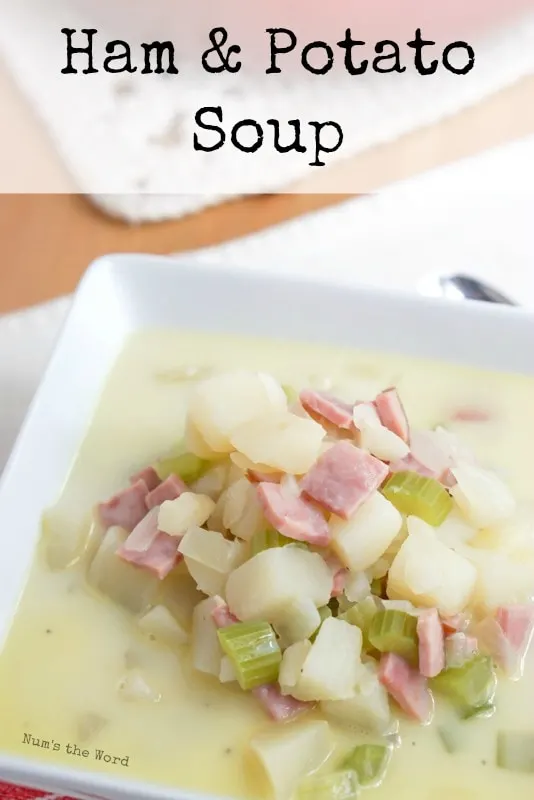 This creamy ham and potato soup is a family favorite in our home, and one of the few meals ALL the kids will happily eat.
Did I mention this is a recipe for EASY ham and potato soup?! Seriously, it doesn't get much easier than this.
I like to dice up leftover ham into pieces and freeze them in quart-size bags specifically for this recipe. It's a quick and simple dinner that no one complains about — which is pretty much a miracle in my house.
You can throw this soup together in under an hour. Serve it with some bread or rolls and you've got the perfect cool-weather meal.
This soup is totally customizable as well — you can easily substitute ingredients to match your preferences and personal tastes.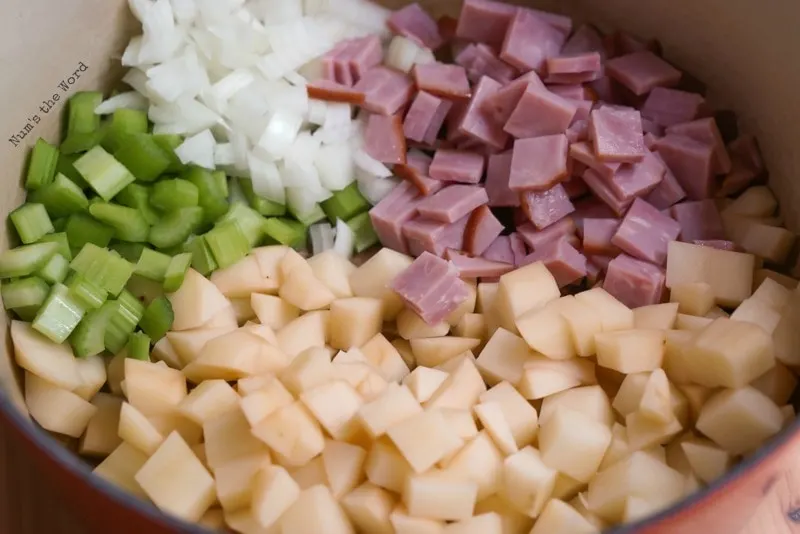 How to make ham and potato soup?
To make this ham and potato soup, you'll need the following simple ingredients:
Potatoes

– obviously you'll need some potatoes for a ham and potato soup. I've used a variety of different potatoes with great results!

Celery

– I love the flavor celery lends to this recipe, but my mom is not a fan. She uses green bell pepper instead (and that tastes great too).

Onion

– onion is a great seasoning vegetable that adds lots of flavor to any dish. Check out our page All About Onions, for more information about onions!

Diced ham – this homemade ham and potato soup recipe is perfect for those small leftover pieces! I love to use this Leftover Picnic Ham.
Chicken broth

– chicken broth is a great complement to the ham and other flavors of this soup.

Salt and pepper

– add to your preferences and taste! Some hams and chicken broths are saltier than others.

Butter

– to thicken this soup and give it the delicious, creamy texture, you'll make a roux using butter and flour and milk.

Flour

– when combined with melted butter over heat, the flour will form a paste that will thicken the soup.

Milk

– part of what I love about this recipe is that you can make it with leftover ham and ingredients you likely already have in your pantry or fridge! No fancy creamy ingredients are needed to make this delicious ham and potato soup.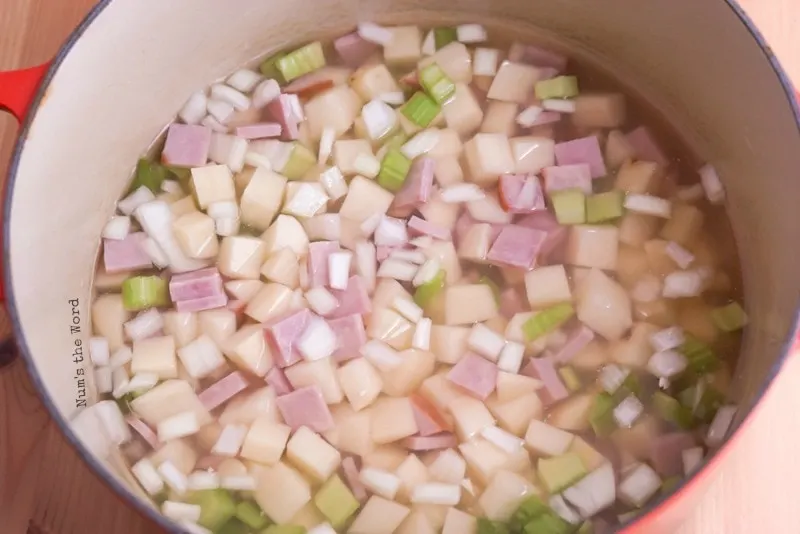 How do you make ham and potato soup?
Like I've mentioned before, this recipe is super simple AND delicious! We'll go over the easy steps for making this soup below:
Combine

potatoes, celery, onion, ham, and broth in a pot

Boil

until ingredients are tender.

Create a

roux and add to the soup.

Enjoy

!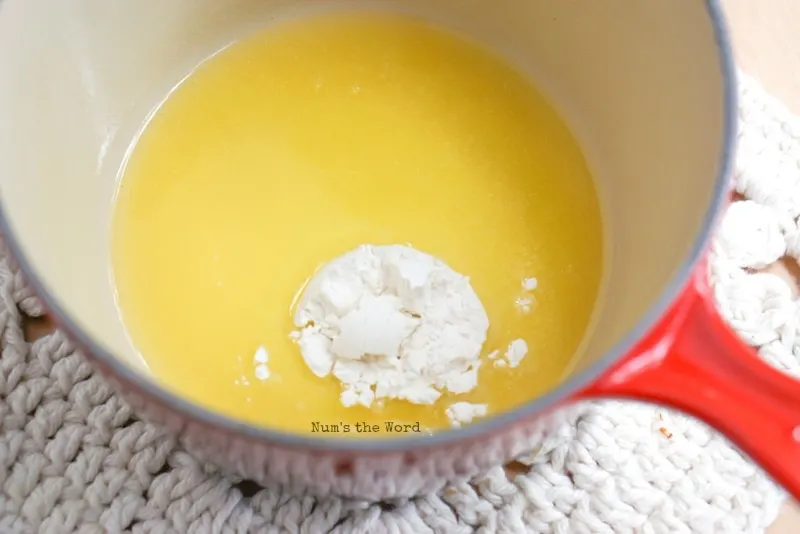 What can I add to potato soup to thicken it?
This soup is thickened using a roux — a combination of flour and melted butter that becomes a paste and thickens the soup.
If you find that your soup hasn't thickened as much as you'd like, you can try the following troubleshooting options:
Simmer the soup a little longer:

the soup will continue to thicken as it simmers.

Remove soup from heat source

: it sounds like a contradiction to the first suggestion. That's because it kind of is! If the soup is ALMOST as thick as you want it, but just shy, it's worth noting that the soup will continue to thicken as it cools.

Add a little cornstarch

: scoop out a little bit of soup broth and mix it with some cornstarch. Stir the mixture into the soup, then bring to a simmer to thicken.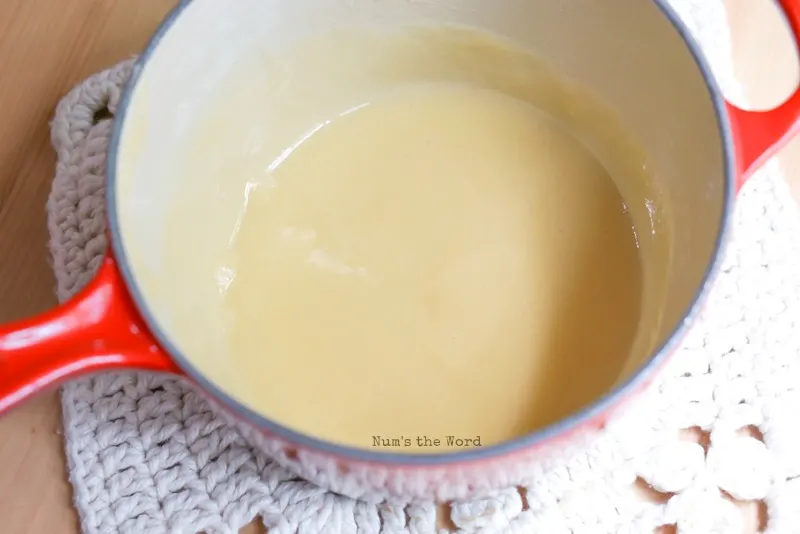 Can I add a ham bone to this soup?
One of the things that makes this the best ham and potato soup is its versatility. You can seriously change up just about anything and still have yummy soup!
That includes adding a ham bone.
Ham bones are great because they add tons and tons of flavor and richness to any soup.
That being said, ham bones need a little more time to cook to fully get the meat off the bone and let the flavor soak in.
If you want to use a ham bone, I recommend putting it in the slow cooker or simmering it ahead of the other ingredients.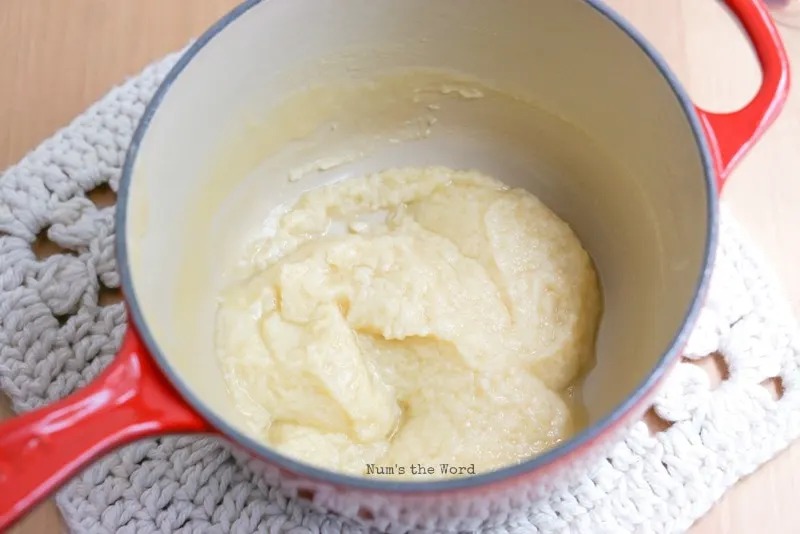 Can you freeze ham and potato soup?
I can't recommend freezing this soup. Potatoes really don't do well with freezing. They will fall apart and become completely mushy when thawed.
This is fine in blended soups, but not so great in this one (in my opinion).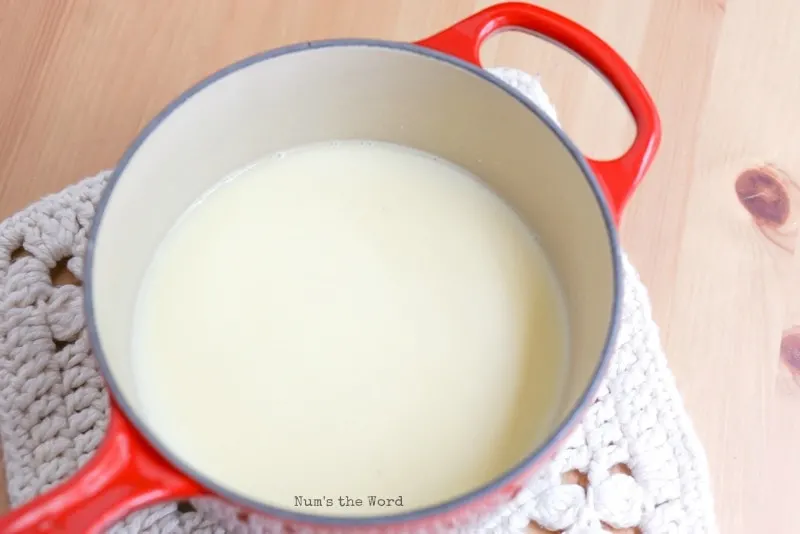 Can dogs eat ham and potato soup?
While this recipe is absolutely delicious for humans, it's not recommended for your pups.
Ham is high in sodium and preservatives, both of which aren't great for your dogs. It also contains onions, which are toxic to dogs.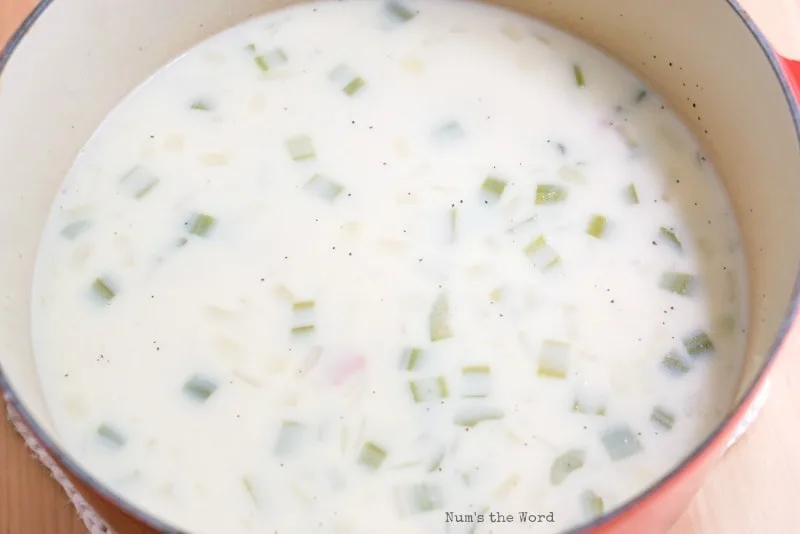 What to eat with ham and potato soup?
My favorite sides for this ham and potato soup recipe are a fresh loaf of crusty bread and a salad — which we have recipes for!
Here are those recipes and some additional ideas for you from Num's the Word.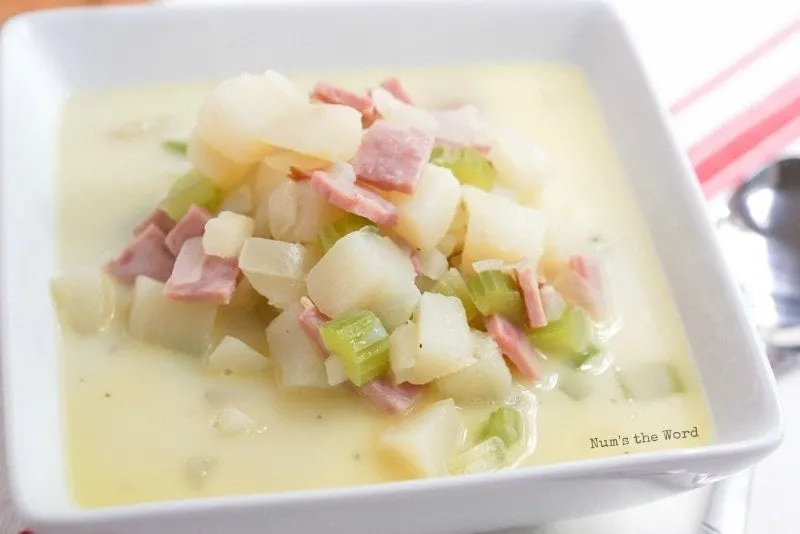 Whether you're looking for a way to use up that leftover ham in your freezer or want a delicious twist on the leftover ham in your fridge, this recipe is sure to be a hit in your family!
My family loves ham dinners, and part of that love is because they look forward to this soup with the leftovers! I'm sure you'll enjoy it as well.
Yield: 6 Servings
Delicious Ham & Potato Soup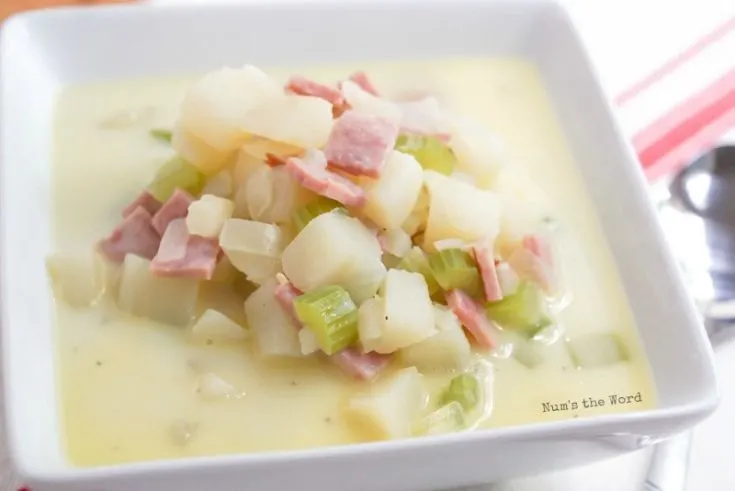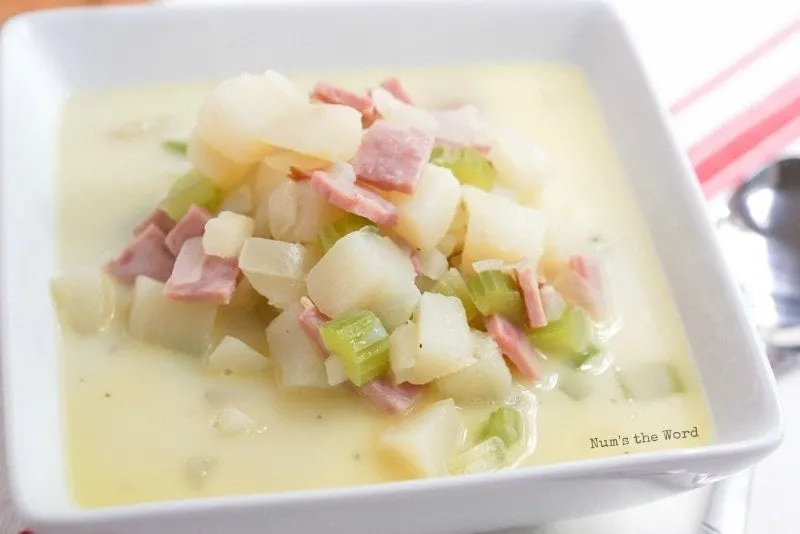 Ingredients
3 1/2 cups peeled and diced potatoes or 3 cans of diced potatoes
1/3 cup diced celery
1/3 cup finely chopped yellow onion
3/4 cup diced cooked ham - perfect for those small leftover pieces!
28 ounces chicken broth
1/2 teaspoon salt
1 teaspoon pepper
5 Tablespoons butter
5 Tablespoons all-purpose flour
2 cups milk
Instructions
Combine the raw potatoes, celery, onion, ham and water in stockpot.
Bring to a boil, then cook over medium heat until potatoes are tender, about 10 - 15 minutes.
If using canned potatoes, then toss celery, onion, ham and water in stock pot and bring to a boil. After 10 minutes add potatoes and cook for 5 minutes.
Stir in chicken bouillon, salt and pepper. Stirring until bouillon is dissolved.
In a separate saucepan, melt butter over medium-low heat.
Whisk in flour one tablespoon at a time over low heat. Mixture will become VERY thick and paste like.
Slowly add in milk 1/4 cup at a time, thoroughly mixing each time until all milk is incorporated. (Don't panic if at first it thickens up you are making a basic roux. Just trust me!)
Continue to stir flour mixture continuously over medium heat until it thickens, 4-5 minutes.
Slowly whisk the flour/milk mixture into the soup mixture and heat through.
Serve immediately.
Nutrition Information:
Yield:
6
Serving Size:
1
Amount Per Serving:
Calories:

337
Total Fat:

13g
Saturated Fat:

7g
Trans Fat:

0g
Unsaturated Fat:

4g
Cholesterol:

46mg
Sodium:

1095mg
Carbohydrates:

45g
Fiber:

4g
Sugar:

3g
Protein:

13g
Originally Posted: April 11, 2014
Photos & Text Updated: September 20, 2017
Text Updated: August 31, 2021