Ham & Potato Soup is the perfect way to use up leftover ham from your Holiday dinner. It's easy to make and delicious, and freezes well!  Don't toss your leftovers, use them up in this tasty recipe!
This post contains affiliate links.  If you click on an affiliate link and make a purchase, I will make a small percentage on your purchase, which helps keep this website running! Thank you!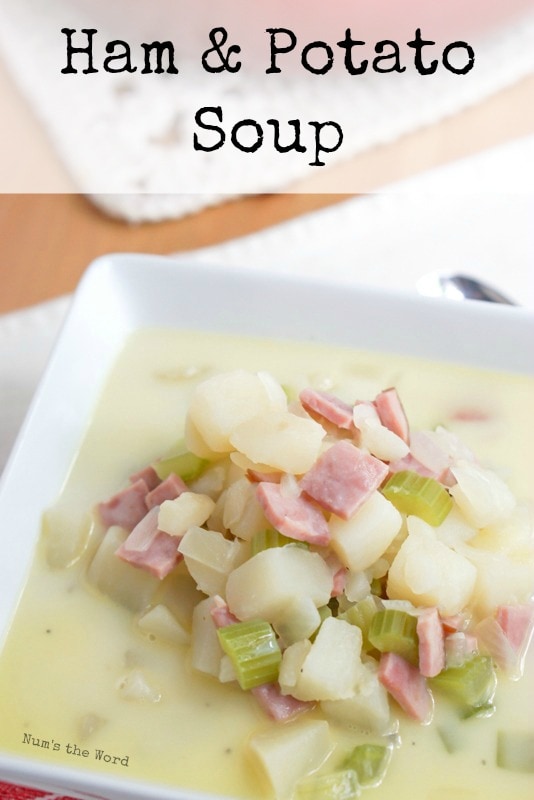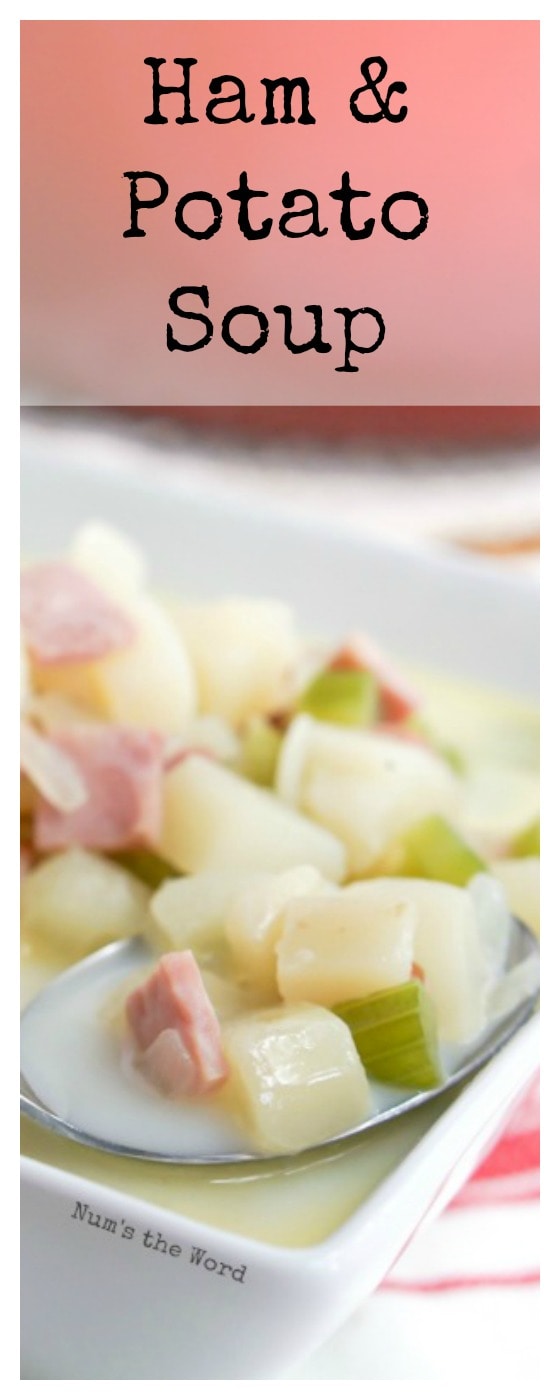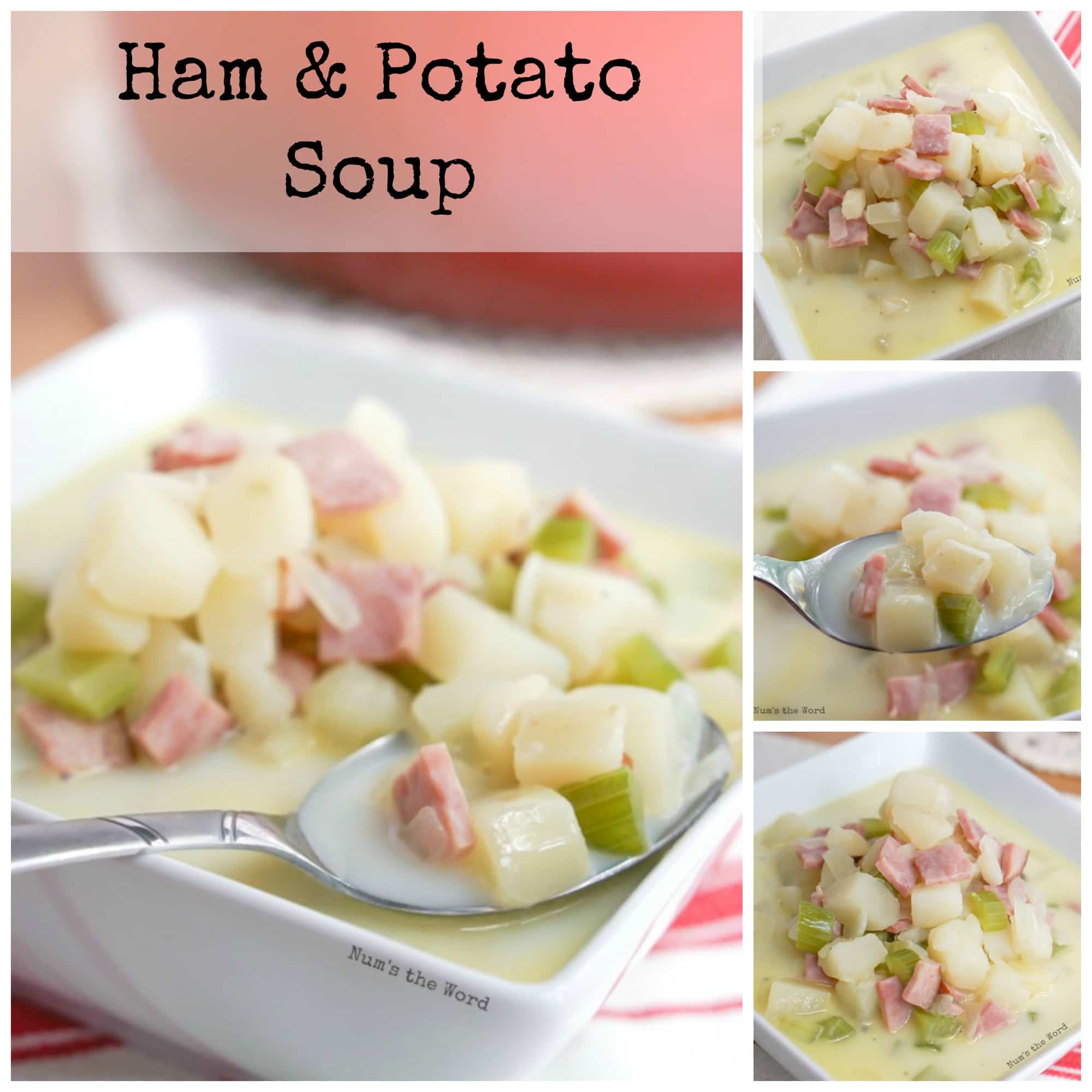 Are you a soup person?
I am and my daughter is too.
She will eat anything in soup form.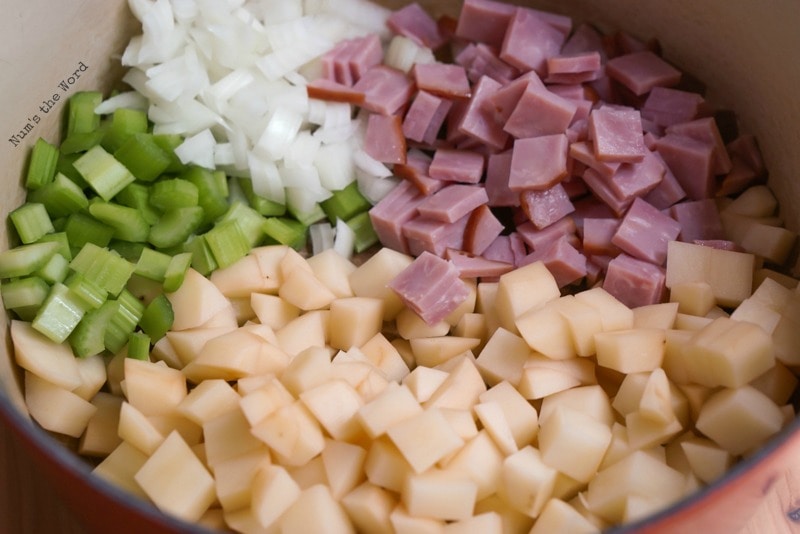 Broccoli, potatoes, peas, carrots, celery – anything. Try to get her to eat those veggies by themselves? NO WAY.
Our home turns into World War 3 when the topic of vegetables come up.
And that my dear friends is when I start to make soup.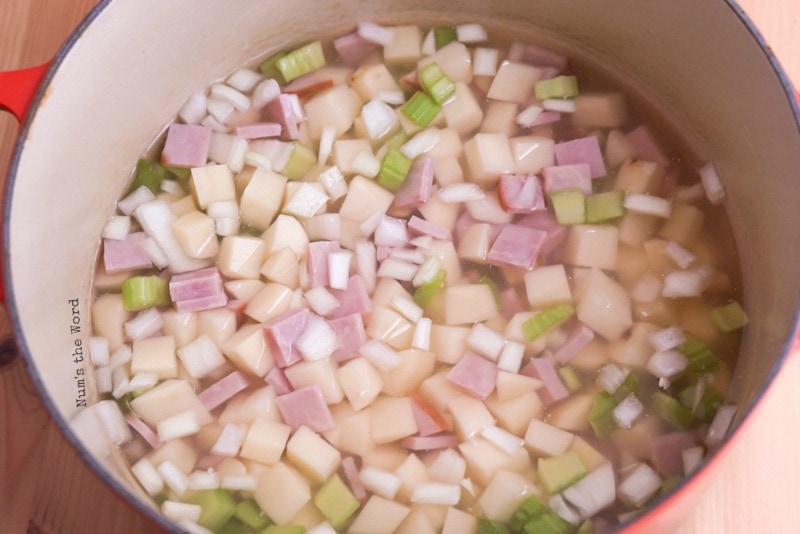 This Ham & Potato Soup is easy to make and SUPER tasty.
Plus you can manipulate it to be any kind you want.
Not into ham?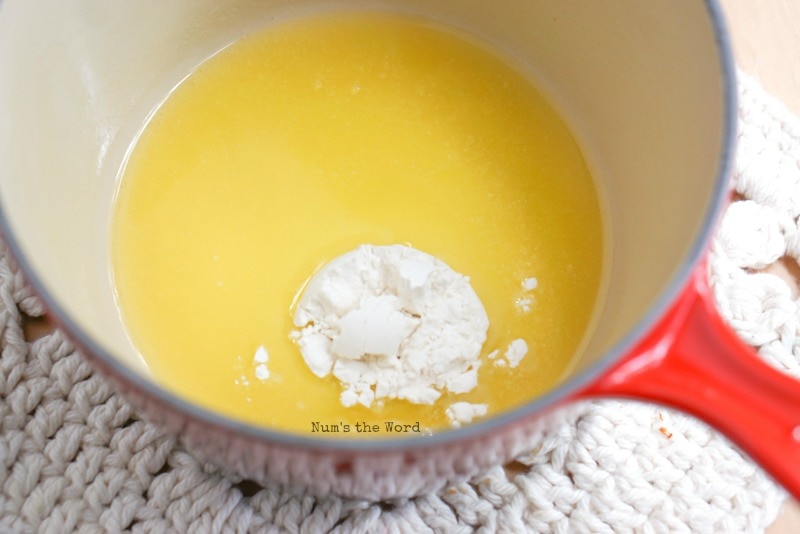 Use chicken.
If you don't like celery, substitute corn and carrots.
Seriously, this is the most versatile soup on the planet.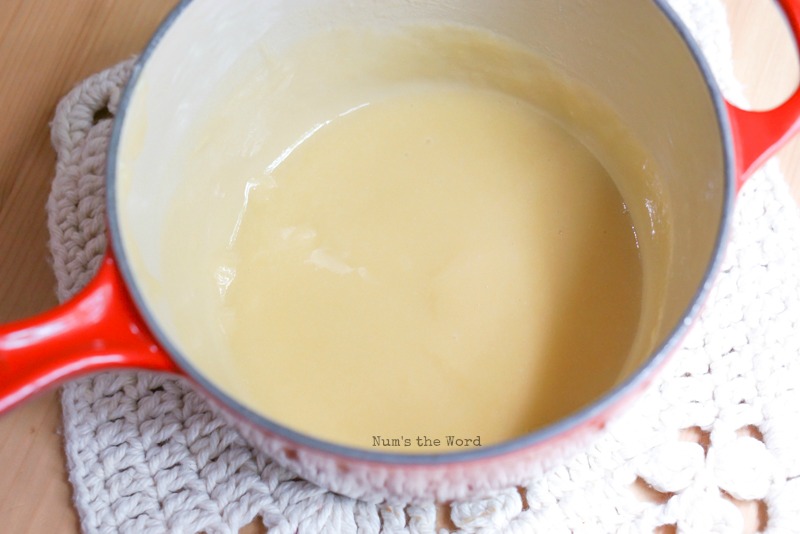 It's delicious, easy and wonderful.
Plus my 3 year old (who claims she hates celery and potatoes) loved it.
Ok, so now it's 3 1/2 years later, my 3 year old daughter is now 7 and things have changed in our house.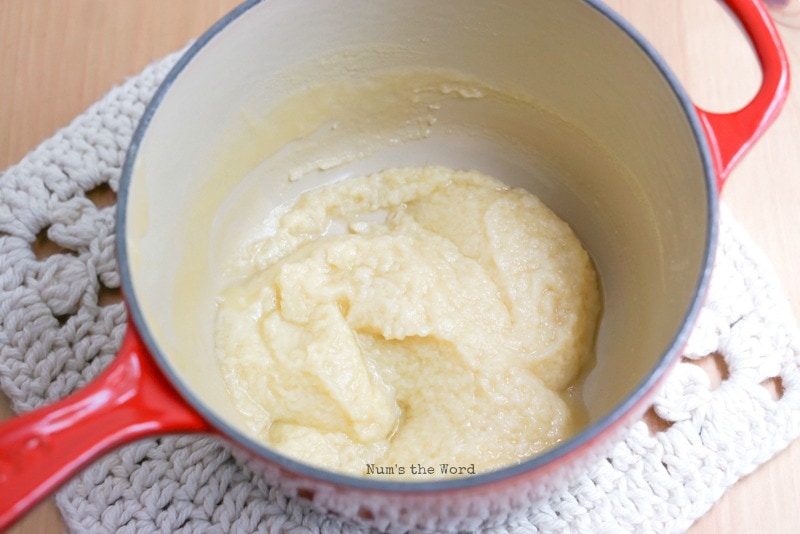 Soup is now a sketchy food.
Sometimes she'll eat it but most of the time it's a battle.
In our house we have the one bite rule.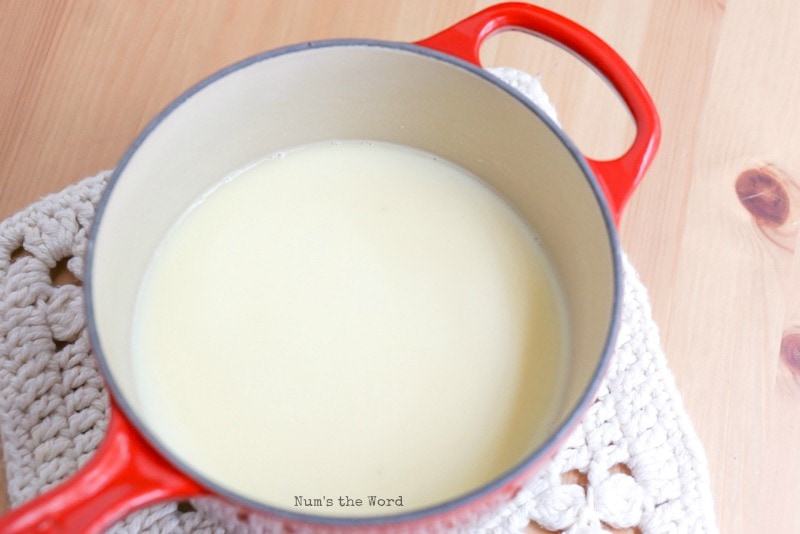 You must try one bite of dinner.  Just one.
There is usually fussing, complaining and even the naughty word "gross" used a time or two.
But eventually she'll eat it because she know's that's the rule.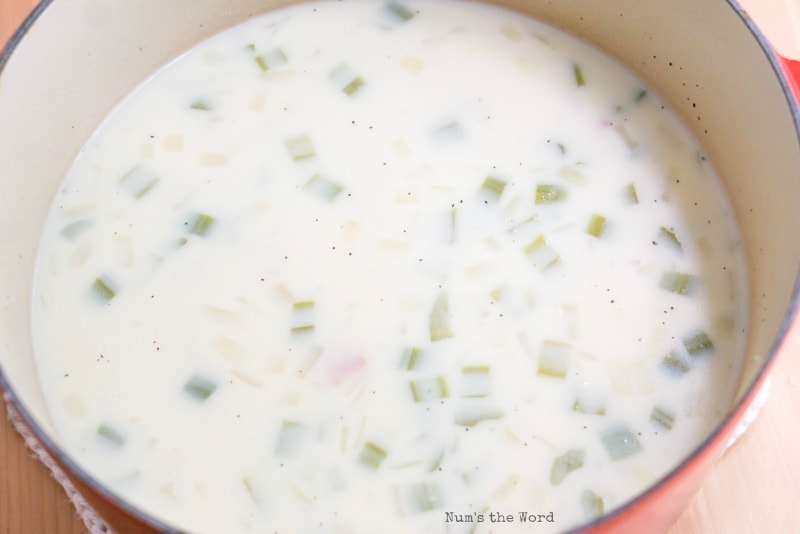 Now I'm sure you'll be shocked when I tell you that when she does take a bite, 90% of the time she likes what is in front of her and scarfs it down.
Oh such is the life of a parent.
Who knew dinner time and color of cups would bring so much stress to a parent.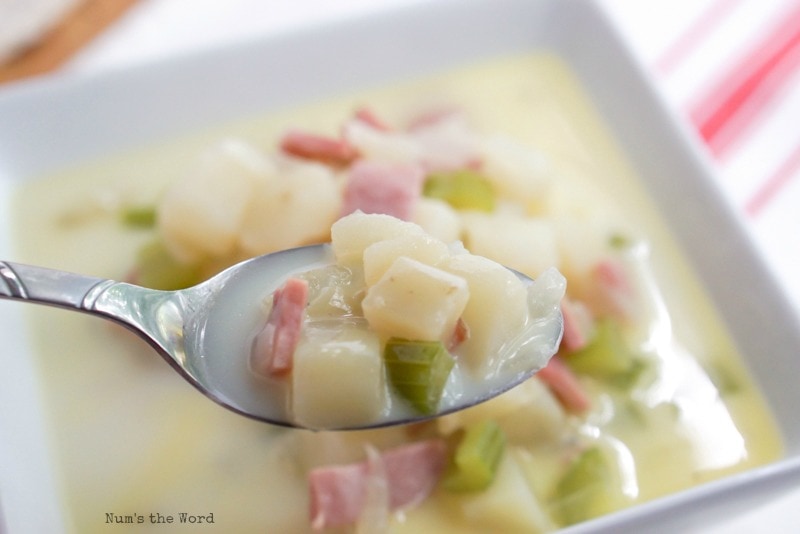 However, the older she gets the better at communicating she gets and the happier everyone is!
Or, at least that's our take on life.
My 4 year old son is now my soup lover and likes veggies too.  He's my easy eater and I hope he'll stay that way forever.
If you love a good bowl of comfort food on a cool Autumn day, then give this Ham & Potato Soup a try!
Yield: 6 Servings
Delicious Ham & Potato Soup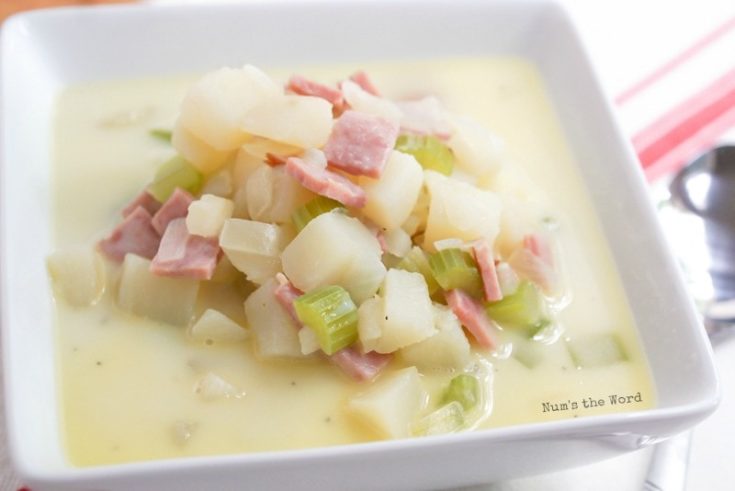 Ingredients
3 1/2 cups peeled and diced potatoes or 3 cans of diced potatoes
1/3 cup diced celery
1/3 cup finely chopped onion
3/4 cup diced cooked ham - perfect for those small leftover pieces!
3 1/4 cups water
2 Tablespoons Chicken Bullion (or 2 cubes)
1/2 teaspoon salt
1 teaspoon pepper
5 Tablespoons butter
5 Tablespoons all-purpose flour
2 cups milk
Instructions
Combine the raw potatoes, celery, onion, ham and water in stockpot. Bring to a boil, then cook over medium heat until potatoes are tender, about 10 - 15 minutes. If using canned potatoes, then toss celery, onion, ham and water in stock pot and bring to a boil. After 10 minutes add potatoes and cook for 5 minutes.
Stir in chicken bouillon, salt and pepper. Stirring until bouillon is dissolved.
In a separate saucepan, melt butter over medium-low heat.
Whisk in flour one tablespoon at a time over low heat. Mixture will become VERY thick and paste like.
Slowly add in milk 1/4 cup at a time, thoroughly mixing each time until all milk is incorporated. (Don't panic if at first it thickens up you are making a basic roux. Just trust me!)
Continue to stir flour mixture continuously over medium heat until it thickens, 4-5 minutes.
Slowly whisk the flour/milk mixture into the soup mixture and heat through.
Serve immediately.
Other Soup Recipes You'll Love…
Originally Posted: April 11, 2014
Photos & Text Updated: September 14, 2017