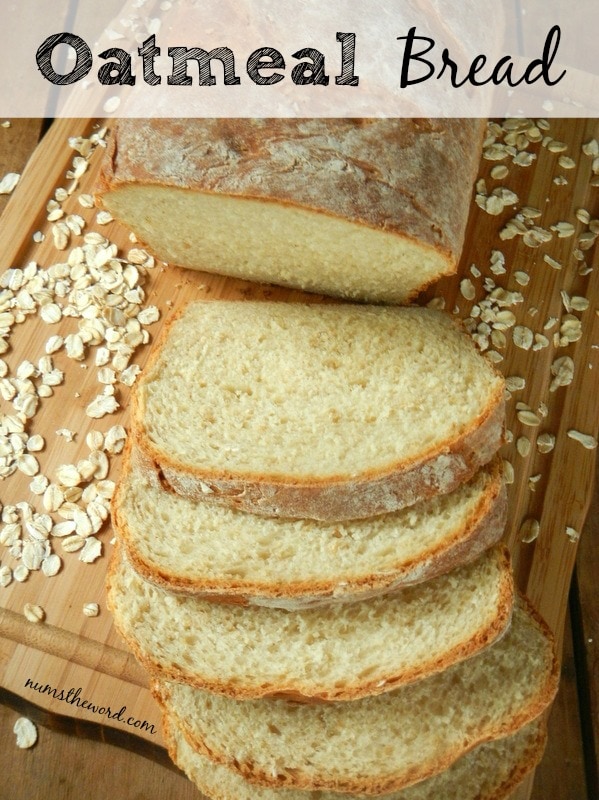 I love love love homemade bread and this Oatmeal Bread is certainly worth tooting a horn over!
Homemade bread is one of my all time favorite things on the planet.
There are two questions people always seem to get asked repeatedly over the course of their life for some odd reason.
What food can you NOT live without?
What is the greatest invention of all time?
I am always at a blank when someone asks what is the one food I cannot live without. Um…everything?
Where do I even begin?
And then after being asked this question countless times it hits me…bread.
All forms of bread. I am obsessed with them. But I am most obsessed with hot fresh from the oven bread.
Still warm with an obscene amount of butter slathered on it, melted and oh so yummy in my tummy.
I love how homemade bread makes my house smell amazing.
I love how homemade bread tastes amazing. I love how homemade bread is really quite easy, though time consuming.
And, as crazy as this sounds, I find making bread from scratch with no magic machines to be therapeutic and relaxing.
One of my all time favorite breads is Oatmeal Molasses. Everyone loves it. It's sweet and tasty and flavorful.
However, I also love Oatmeal Bread. Simple, oatmeal bread that I can write off in my mind as healthy.
This oatmeal bread is fantastic by itself, toasted with jam, made into a sandwich and along side any number of dishes.
This oatmeal bread can also be considered a breakfast, lunch, snack or side dish item.
As I said, bread is the one food I cannot live without. I can't go a day without consuming a bread product at least twice.
As far as the greatest invention of all time, that one is pretty easy. Indoor plumbing.
Now if you love homemade bread, give this Oatmeal bread a try! It's tasty and goes great with just about everything!
Other Bread Recipes You'll Love…
This post contains Amazon affiliate links as a free service to you!

Yield: 2 Loaves
Oatmeal Bread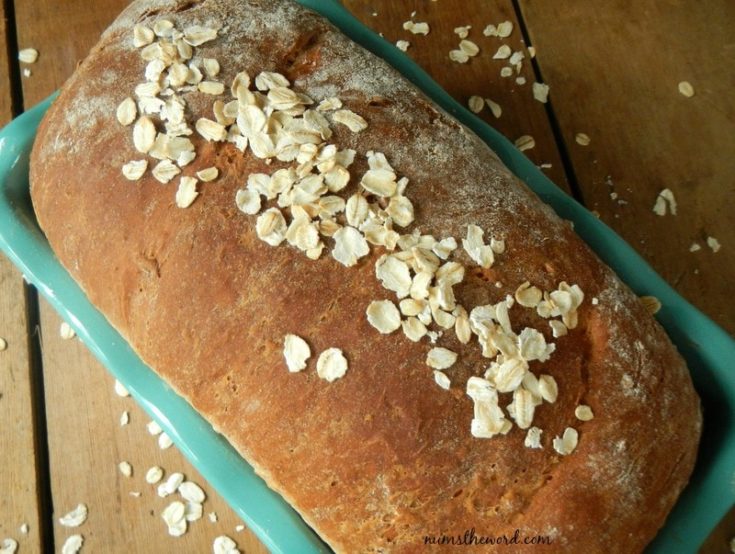 Total Time
2 hours
45 minutes
Ingredients
2 packets of yeast or 4 1/2 teaspoons yeast
1/2 cup warm water
1/3 cup butter
1/3 cup honey
2 1/2 teaspoon salt
2 1/4 cup milk, scalding hot
6 1/2 cups all-purpose flour
2 cups rolled oats
Instructions
Spray a large bowl with cooking spray and set aside.
In a small bowl combine water and yeast - set aside.
In a mixing bowl add butter, honey & salt. Pour hot milk on top and let it sit until butter is melted and mixture is luke-warm.
Add 1 cup of flour and mix well.
Add 2 cups of oats and mix.
Pour yeast mixture into oat mixture and mix well.
Add remaining flour one cup at a time until mixture comes away from the sides of the bowl.
Once all flour is mixed in, continue mixing for 5 minutes to knead dough or knead by hand.
Place dough into prepared mixing bowl, cover with saran wrap and set in a draft free place for 1 hour or until double in size.
Punch dough down and let rest for 10 minutes.
Divide dough into two pieces and shape them into loaves.
Place loaves into bread pans sprayed well with cooking spray.
Brush the top of each loaf with butter and sprinkle oatmeal on top.
Cover loaves and allow to rise for 45 minutes.
Bake at 375*F for 45 minutes.
Allow loaves to cool for 10 minutes in pans then flip them onto a cooling rack.
Devour immediately.