These Simply Delicious Crescent Rolls are my family's favorite rolls. Perfect for Christmas, Thanksgiving, Easter or any family gathering, they will not disappoint. Easy to make and perfect for any new baker!
This post contains affiliate links.  If you click on an affiliate link and make a purchase, I will make a small percentage on your purchase. This helps keep this website running! Thank you!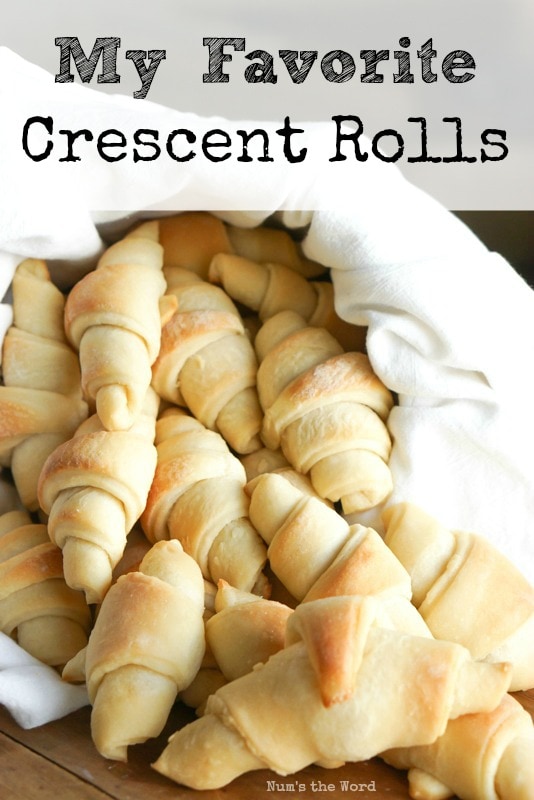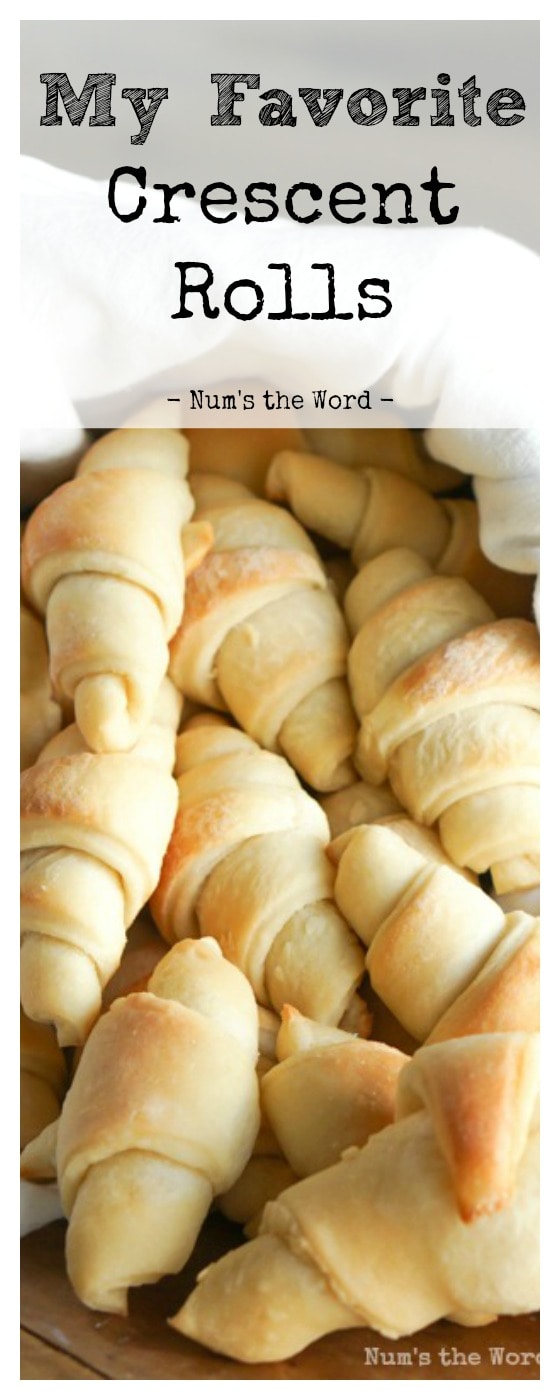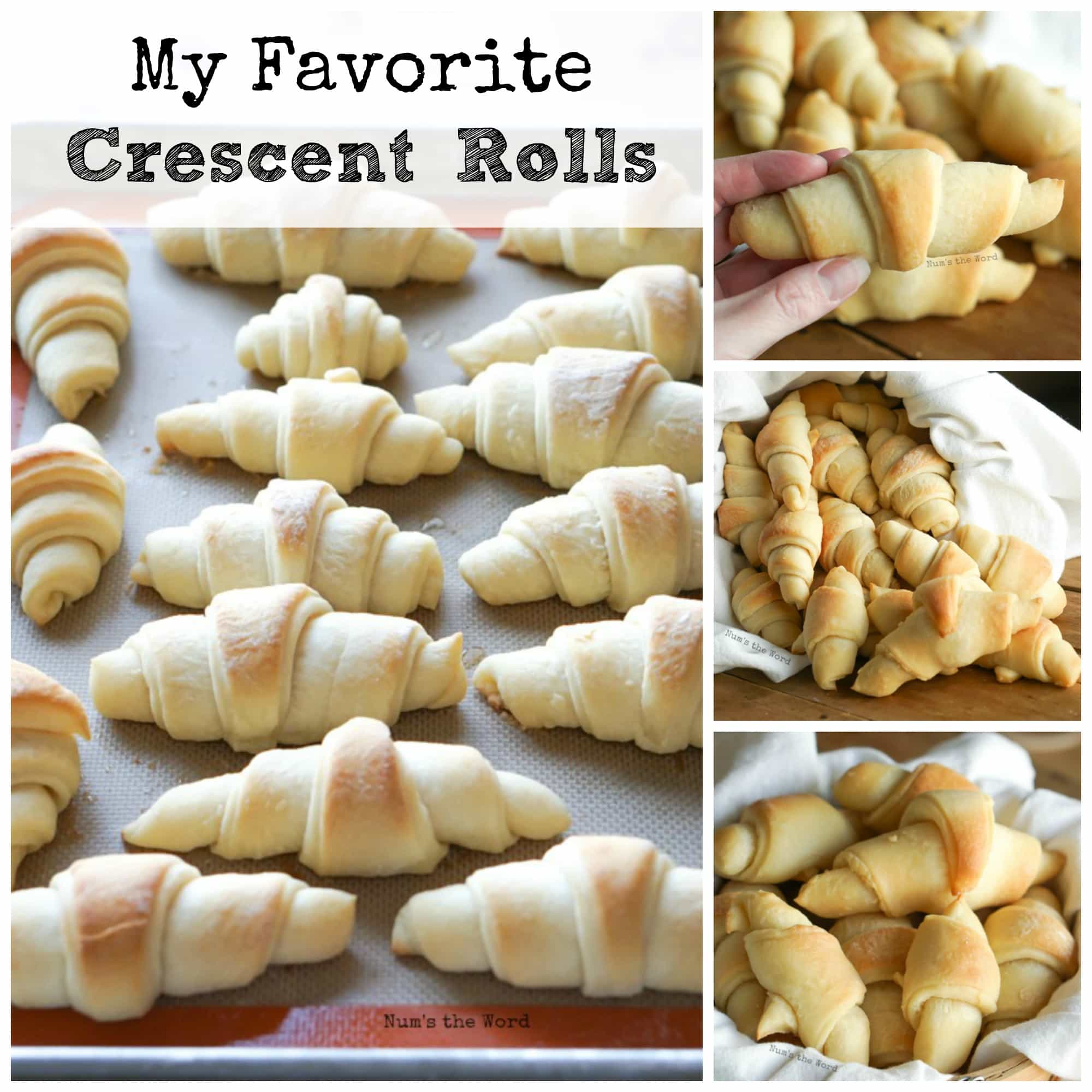 There is only one recipe of my mothers that I brought with me when I moved out of the house.
And it was this one.
These Simply Delicious Crescent Rolls were my absolute favorite thing my mother made.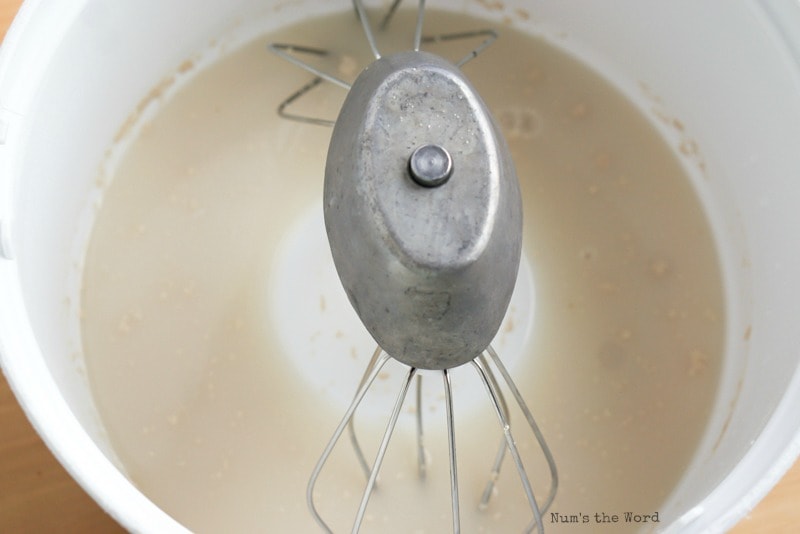 I loved nabbing them hot out of the oven & slathering them up with butter.
In general, my mom was an average cook.
She wasn't terrible but nothing stood out as an amazing recipe from my childhood.
Generally speaking, we had the same handful of recipes over and over.
Occasionally she'd branch out and try something a friend recommended, but in the end always came back to the old standbys.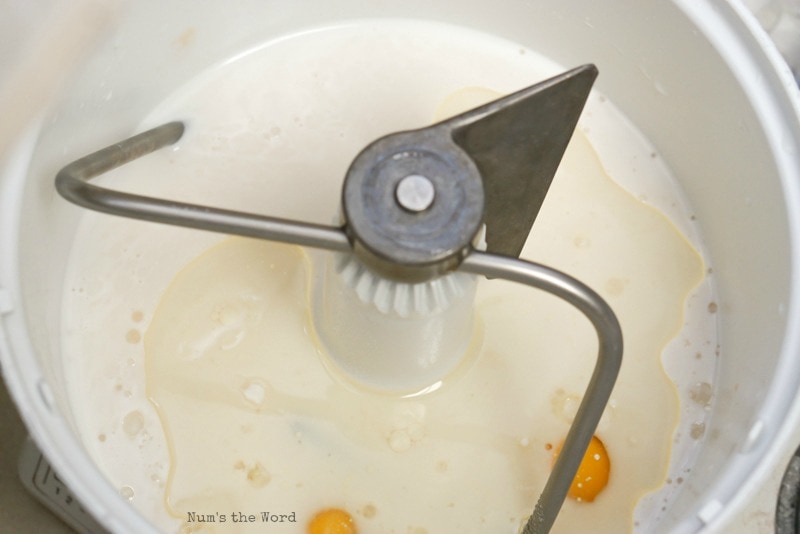 What my mother was good at was baking.
She made great breads and treats and you rarely got the same one twice.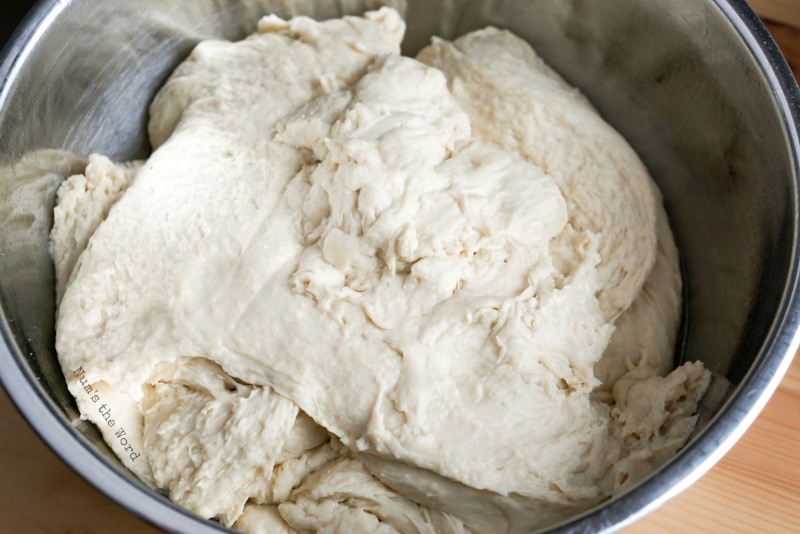 Every time she baked it was some new recipe she was trying out with only a handful that made regular appearances.
Even with all those goodies, these Simply Delicious Crescent Rolls were always my favorite.
The recipe started out as Eva's Rolls.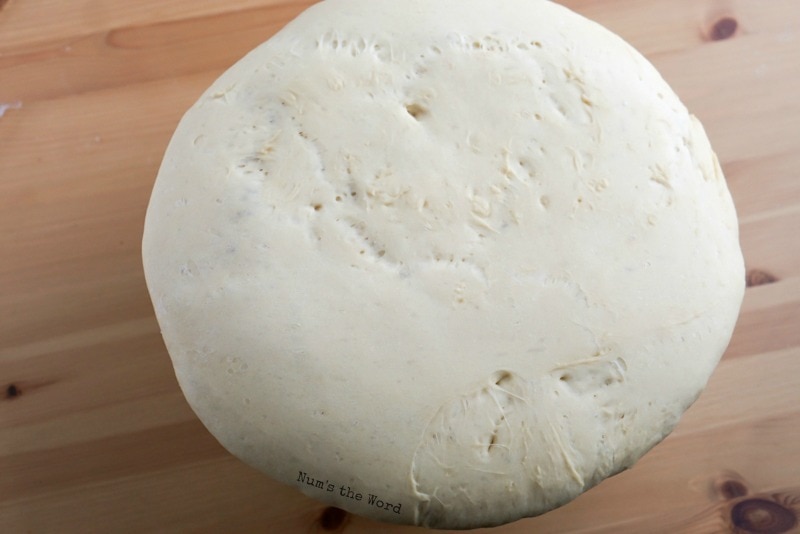 There was a lady at church to gave this recipe to my mother and so we just called them Eva's rolls.
Eva's name was eventually dropped and we called them Simply Delicious Rolls.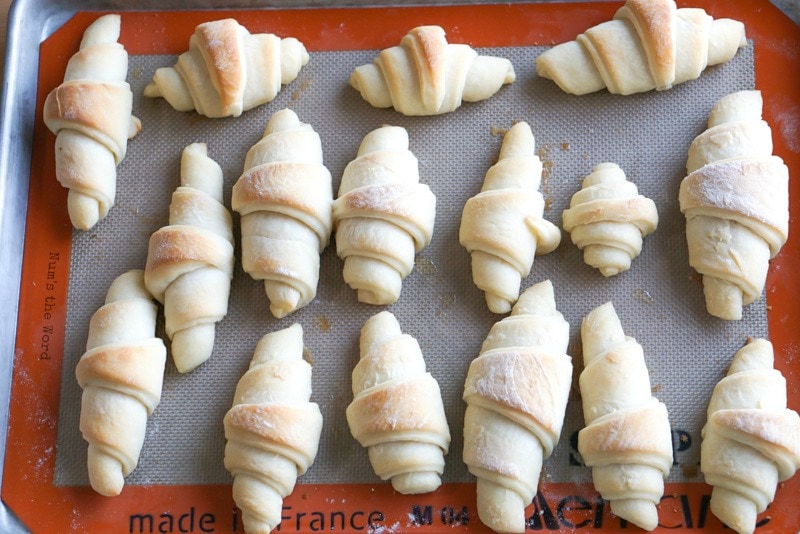 And then once again, the name changed, mainly for the ability to easily search these on Google to Crescent Rolls.
The reality is that you can shape these into any shape you want.
My favorite has always been crescent shape.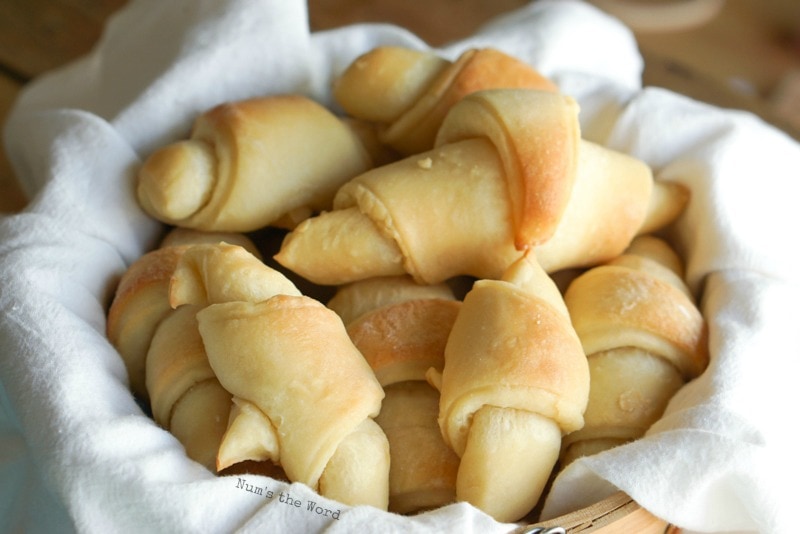 These Crescent Rolls bake up so nicely as a crescent roll shape and I love slowly unraveling it as I eat it.
Tease me for being a kid about that, but it's true!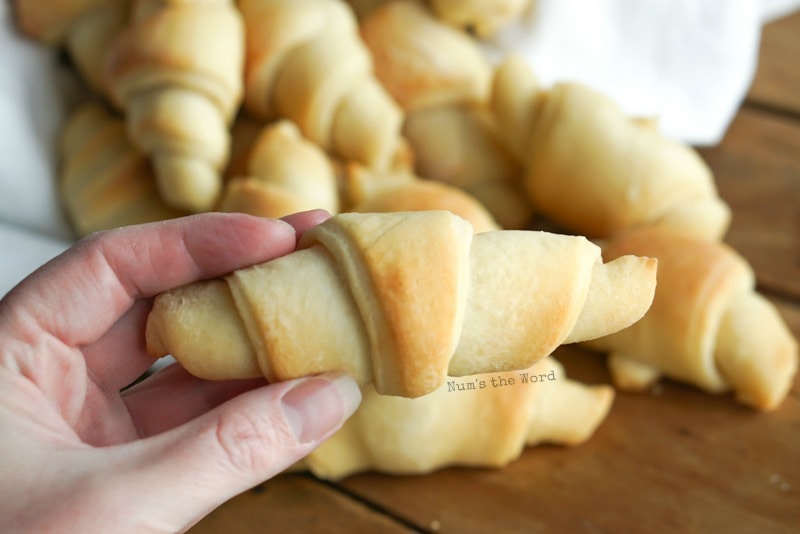 My family and friends all go nuts for these rolls!
If you love homemade yeast rolls, I hope you'll give these Simply Delicious Crescent Rolls a try!
Yield: 60 Rolls
Simply Delicious Rolls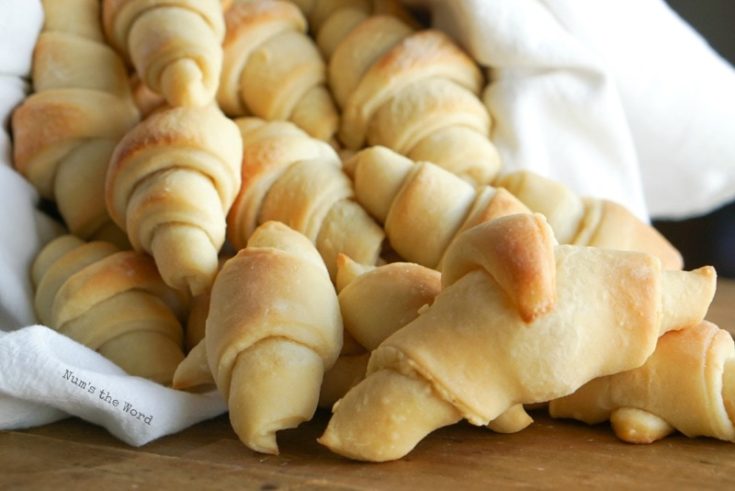 Inactive Time
1 hour
20 minutes
Ingredients
2 packages rapid rise yeast (or 4 1/2 teaspoons)
2 cups warm water
2 Tablespoons + 1/2 cup sugar, divided
2 cups warm milk
1/2 cup vegetable oil
2 eggs
1 Tablespoon salt
10 cups all-purpose flour (or more)
1 cup room temperature butter
1 stick cold butter
Cooking spray
Instructions
Mix yeast with warm water and 2 Tablespoons of sugar.
Cover with towel and allow yeast to poof for 5 minutes
Heat milk until medium warm (not hot as it will kill your yeast).
Add milk, eggs, sugar, salt and oil to poofed yeast mixture.
Mix until incorporated.
Mix in flour one cup at a time until dough pulls away from sides of bowl. (Dough should be slightly sticky.)
Spray large bowl with cooking spray.
Put dough into bowl and cover with kitchen towel.
Set bowl in a warm dry place and allow dough to sit for 1 hour until dough has doubled in size.
Once dough has doubled in size, beat dough down into bowl.
Preheat oven to 350*F
Taking a large handful of dough, lay it out on a floured work surface and roll in a circle as you would pizza dough.
Butter entire dough circle with room temperature butter.
Slice as you would a pizza into medium slices.
Beginning with wide side of each slice, roll towards center (narrow side) until you get a beautiful crescent roll.
Place roll onto a lined or sprayed baking sheet.
Bake for 15 minutes or until rolls are golden in color.
Once rolls are done, immediately butter tops with cold stick of butter.
Serve immediately.
Originally Posted: November 23, 2013
Recipe & Photos Updated: February 10, 2018
Other Yeast Breads You'll Love...