Garden Fresh Green Tomato Quick Bread tastes nothing like tomatoes! Often confused for Banana or Zucchini bread, this Green Tomato Quick Bread gets two thumbs up by everyone. Tomato haters will never suspect there are tomatoes in the bread!
This post contains affiliate links.  If you click on an affiliate link and make a purchase, I will make a small percentage on your purchase. This helps keep this website running! Thank you!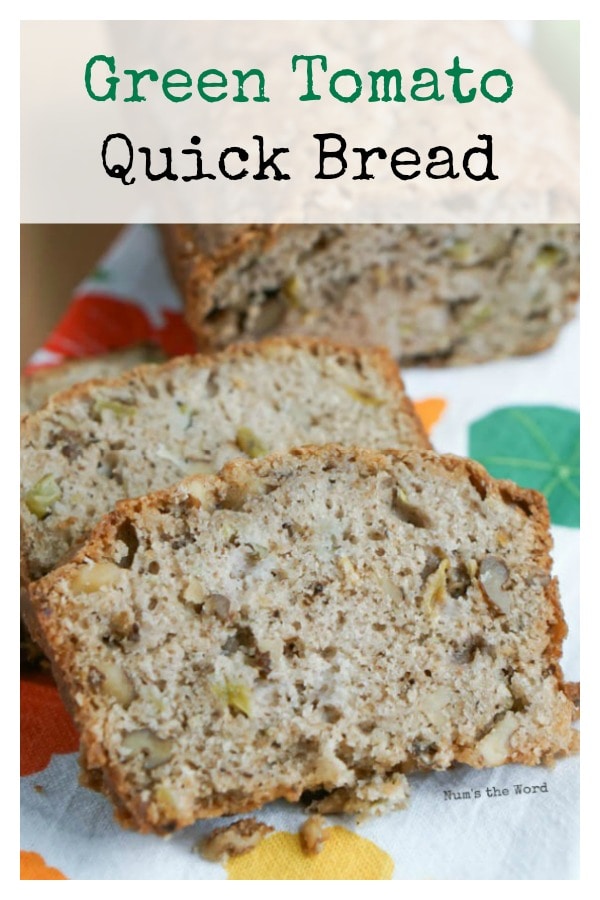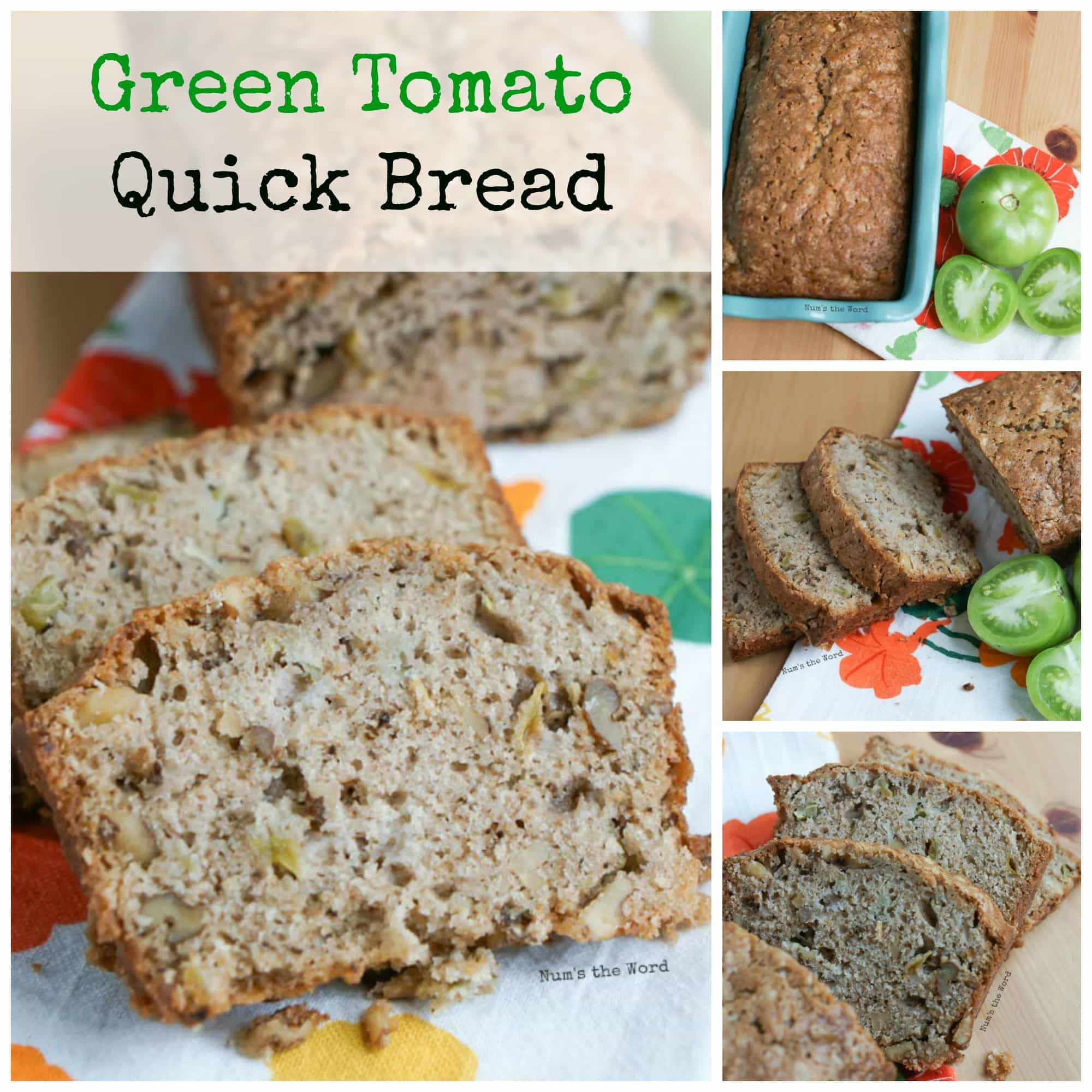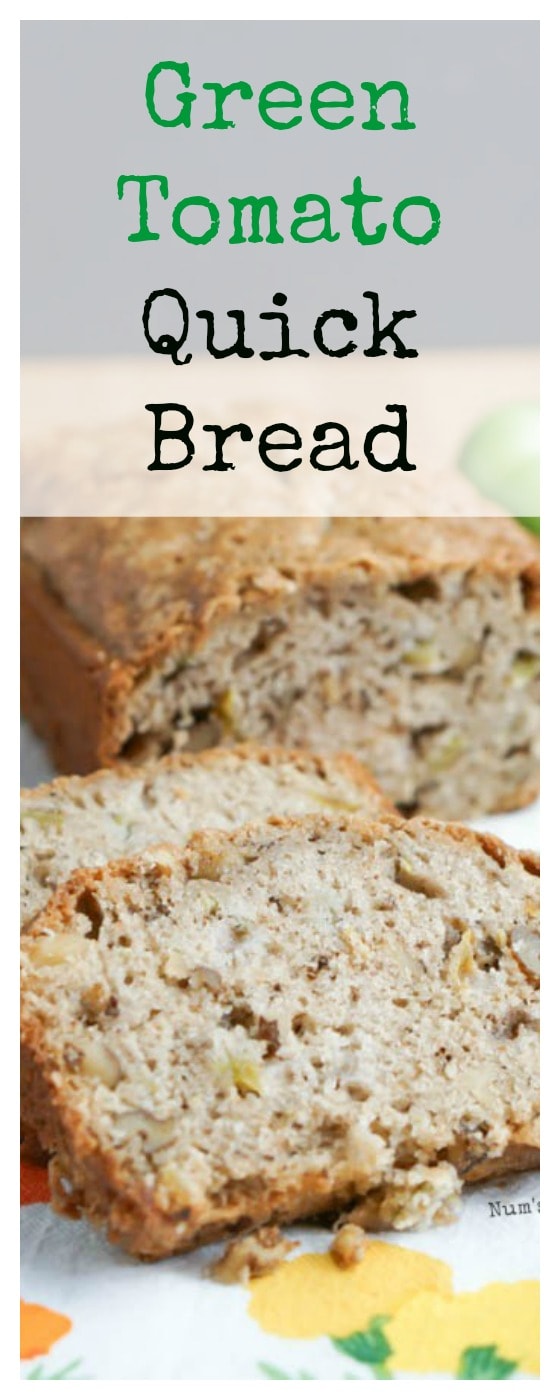 You may find it shocking, but I am actually a pretty picky eater.
I tend to eat the same types of foods and stick to my "safe list" of comfort foods.
One of the many items I do not like to eat are tomatoes.
It doesn't matter whether you put salt or sugar on it, I do not like fresh tomatoes.
My mother with her green thumb grew a variety of tomatoes and I didn't like any of them.
Now days, we do a garden with my in-laws.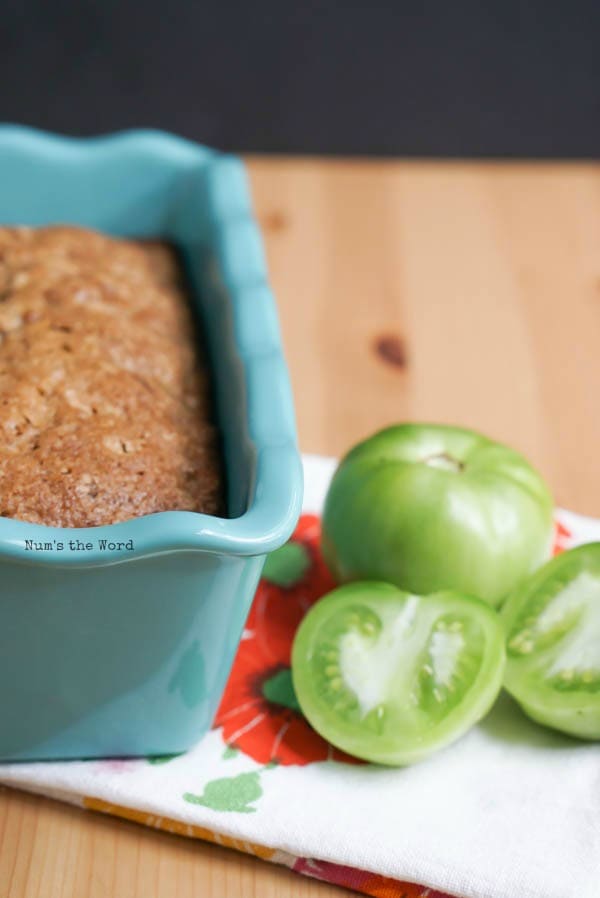 Ok, let's be real.
Each year we convince my in-laws to grow a garden so we can enjoy the bounty.
We have all intentions of doing all the planting and maintenance of the garden each year but since it's at their home, they always get a jump start on it before we can.
So we call it "our" garden but really it's theirs and we just get to snag all the free good we want.
My Mother-in-Law Liz always grows Green Beans and tomatoes.
She LOVES tomatoes and her neighbors all love her!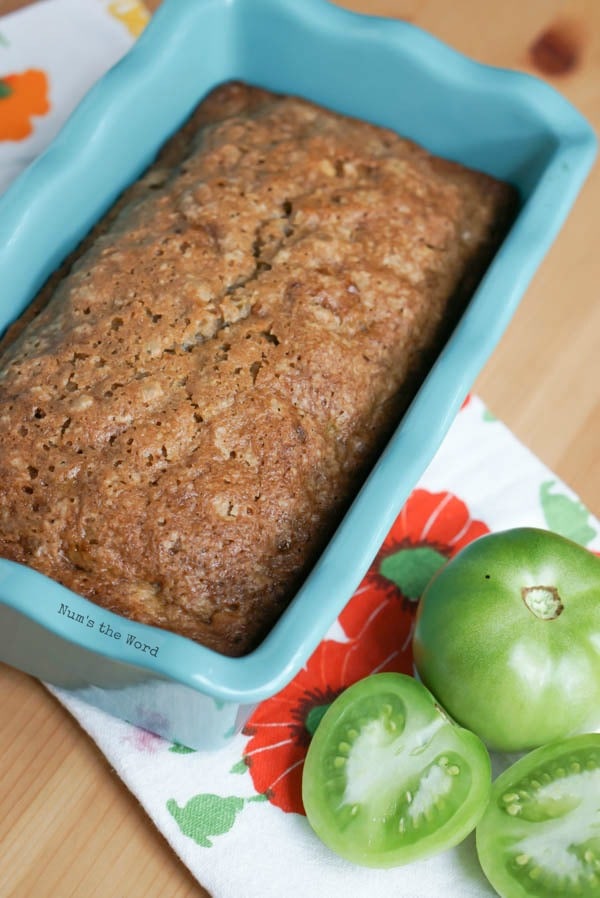 Who doesn't love a neighbor that has a garden and gives away their endless bounty?
Right?!
Generally we don't touch the tomatoes at all.
None of us like them and so we don't even bother with them.
However this year, I was determined to do something with them.
MOST people enjoy tomatoes and are looking for recipes on how to use them.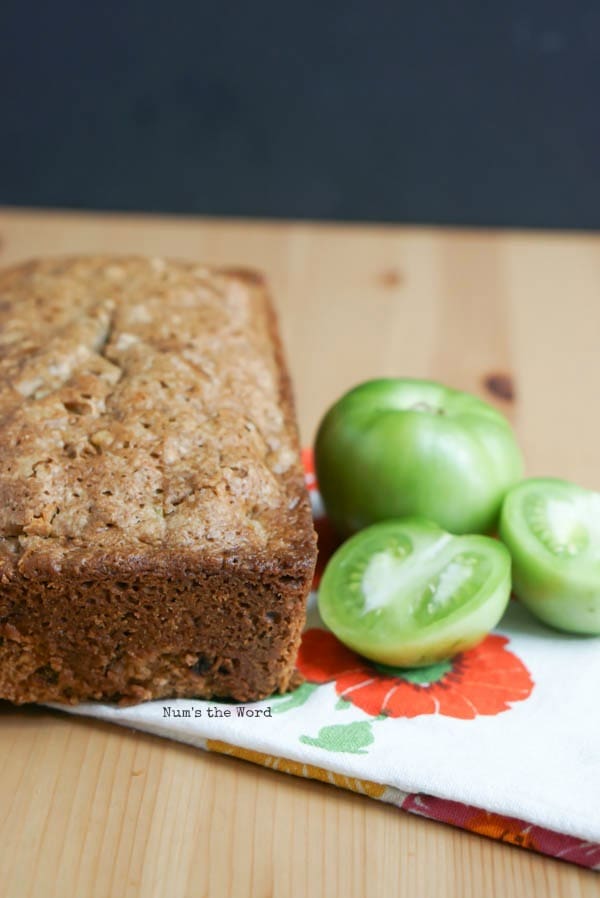 Unique recipes on how to use tomatoes is something that I'm always interested in.
Cue this Green Tomato Quick Bread.
I was doing a specific search for tomato bread on All Recipes when I stumbled across this recipe for Green Tomato Quick Bread.
My curiosity was piqued.
Especially when I saw it called for green tomatoes – which are pretty tangy and cinnamon.
I was almost certain I would not like this bread but that perhaps Liz would.
So I whipped it up, and fearfully took my first bite.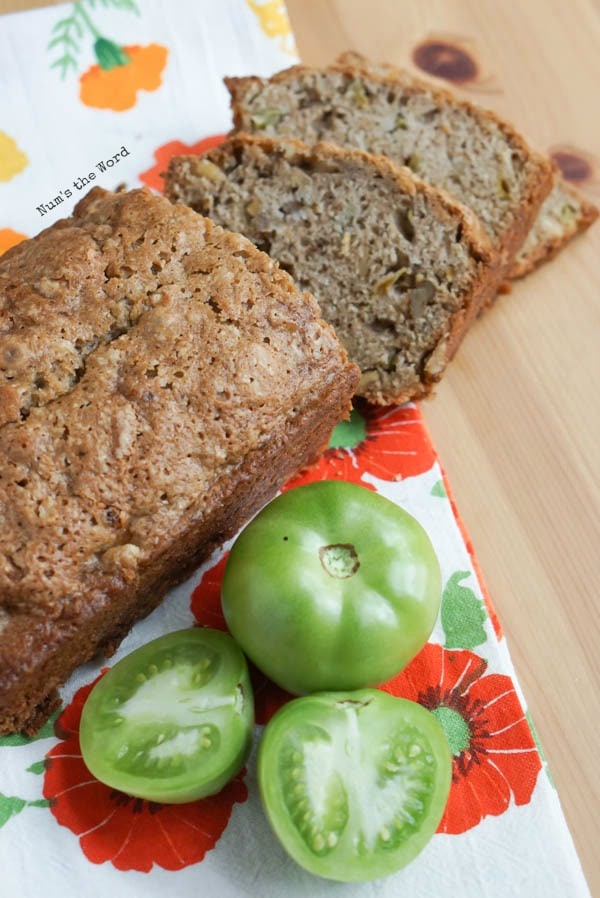 I've got to say, if you didn't know there were tomatoes in it, you'd never know.
You really can't taste them at all.
This tastes a lot like banana bread but not quite as sweet.
Generally speaking, I avoid nuts in all my breads, however I had a freezer full of walnuts and this sounded like the perfect way to use some up.
And I've got to say I actually liked the nuts.
I took this bread to school with me today for the teachers and no one could guess the secret ingredient.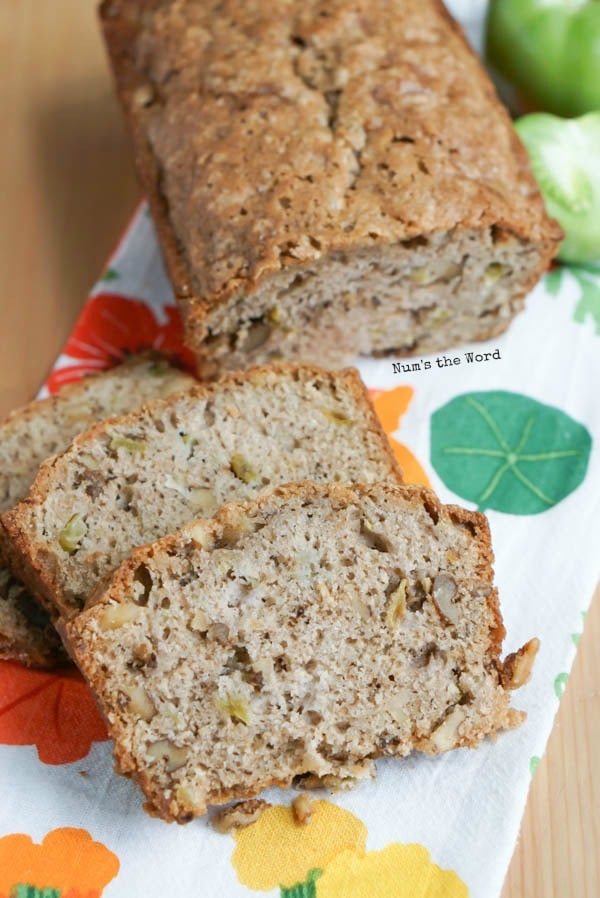 NO ONE.
Which is exactly what I wanted.
The green tomatoes add moisture to this quick bread but do not in any way make it taste like tomato bread.
I did have one person ask if they could use red tomatoes and I suppose you could but I'd use only 1 cup and a little less sugar.
Red tomatoes are very juicy whereas green are not.
So red tomatoes will add a lot more moisture to the bread, thus not needing as many.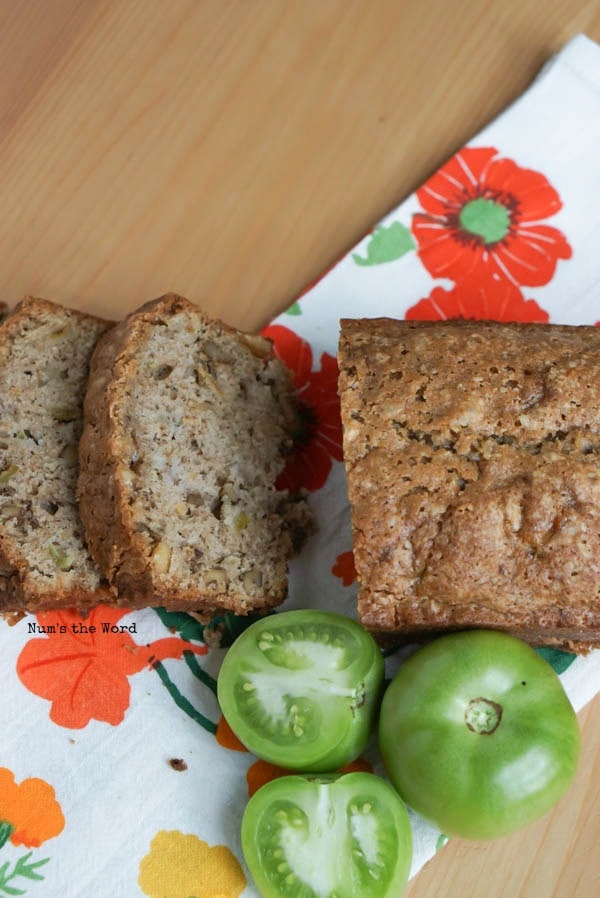 And since red tomatoes are sweeter, I suspect you wont need as much sugar too.
However these are all theories at this point.
So if you do try it with red tomatoes, please leave a comment below.
I love how easy this bread was to make and was so surprised at how tasty it was.
This recipe for Green Tomato Quick Bread was certainly not my own idea.
However, the person who came up with this is brilliant!
What a great way to use up leftover green tomatoes!
Yield: 2 Loaves of Bread
Green Tomato Quick Bread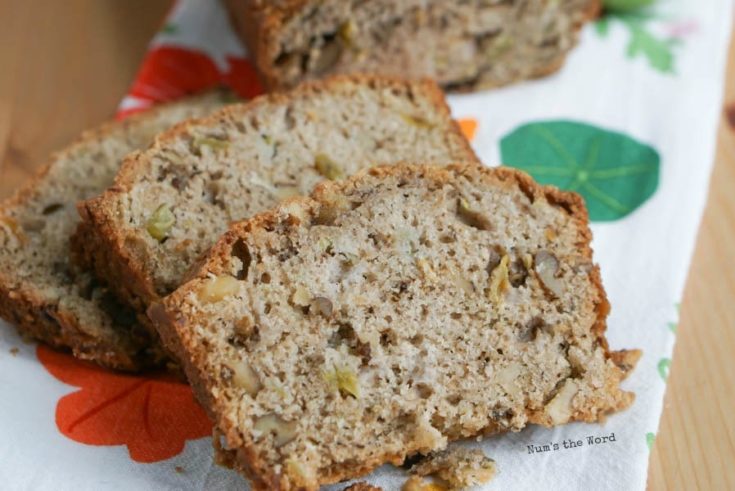 Total Time
1 hour
20 minutes
Ingredients
2 cups white sugar
1 cup vegetable oil
2 eggs
1 Tablespoon vanilla extract
1 teaspoon salt
1 Tablespoon cinnamon
1 teaspoon baking soda
1/4 teaspoon baking powder
3 cups all-purpose flour
2 cups green tomatoes, diced
1 1/2 cup walnuts, chopped (optional)
Instructions
Preheat oven to 350*F.
Grease two 9x5 bread pans and set aside. Tip: You may want to put a piece of parchment paper on the bottom or nonstick foil. Mine tend to stick a little to the pan when only using cooking spray.
In a mixing bowl combine sugar and oil. Mix well.
Add eggs, vanilla and salt. Mix well again, scraping sides of bowl as needed.
Add cinnamon, baking soda, and baking powder.
Slowly add flour until completely combined. Mixture will be thick.
Add in diced tomatoes and stir well. Mixture will thin out from moisture tomatoes bring.
If adding walnuts, add now. (Photos are with walnuts)
Pour half of batter in each pan.
Bake for 1 hour or until a toothpick comes out clean from center of bread.
Cool for 5 minutes in pan and then remove from pan and cool on a rack.
Other Bread Recipes You'll Love...