Sandwich Rolls are a baker's secret! Surprisingly easy to make, and good enough to serve all on their own, everyone will want your recipe!
Soft, large, golden, and cooked to perfection, sandwich rolls are definitely what you need at your next cookout.
A sandwich roll recipe doesn't have to be complicated. While it takes time rising, the recipe itself is actually pretty easy.
I love that these homemade rolls are super soft. Dry buns? Yuck. No thanks! Plus these are made with no wacky ingredients. Straightforward, what's already in your home.
I've served these homemade buns dozens of times and really perfected the recipe.
So whip up your own batch today and you'll be glad you did!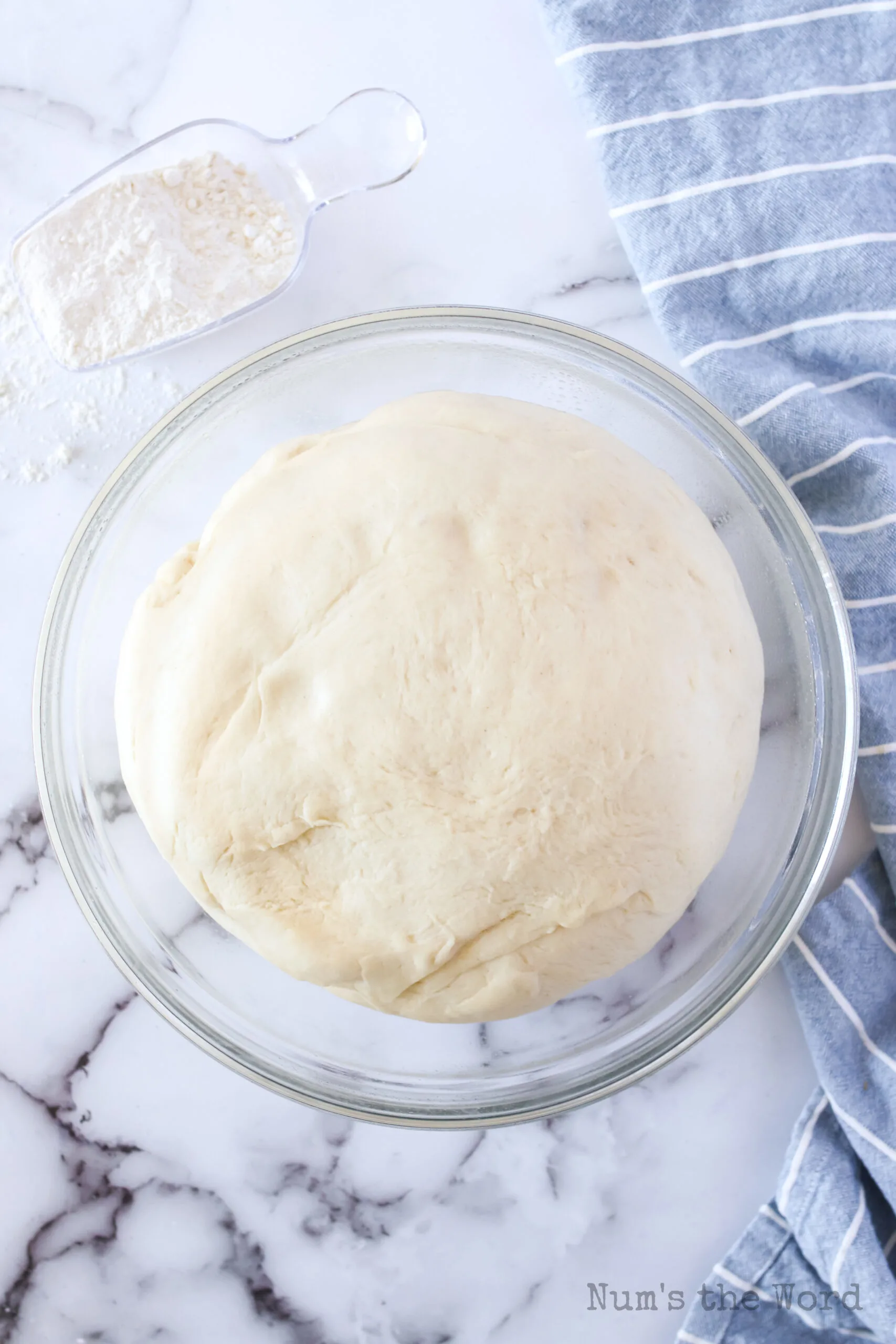 What are Sandwich Rolls Made Of?
For a simple and delicious sandwich roll, here's what you're going to need.
Milk:

Any dairy milk you have in your home will work. I haven't tried this with non-dairy milks.

Butter:

Don't substitute butter with other fats. The butter adds so much flavor.

Sugar:

Sugar helps to activate the yeast.

Salt:

The salt is your flavoring. It's necessary in almost all recipes.

Yeast:

Activated yeast is what causes your homemade buns to rise and puff.

Water:

The water needs to be warm to activate the yeast. Between 105-110 degrees.

Flour:

I've only used all purpose flours. Other flours would change the texture and taste of the buns.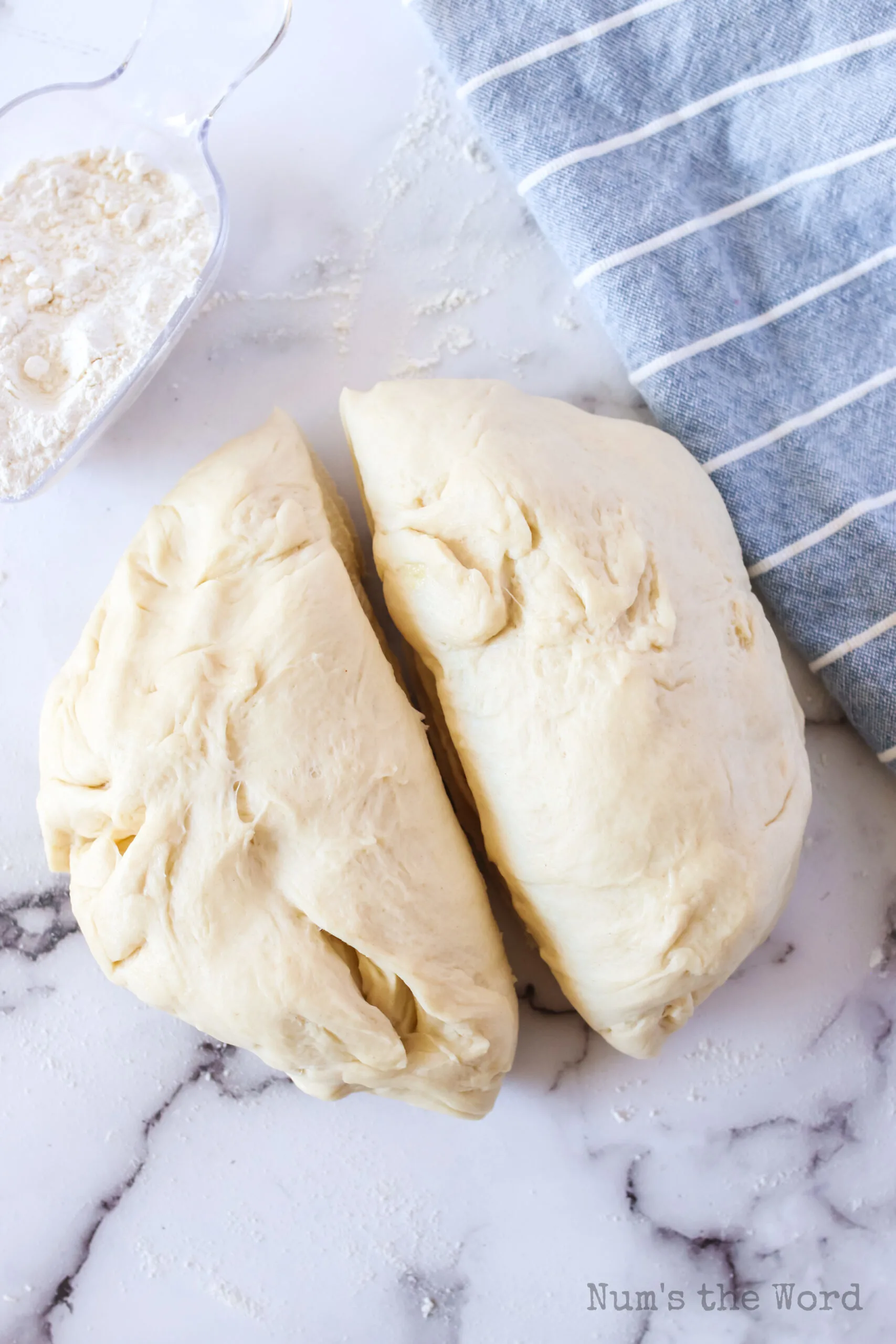 How to Make Sandwich Rolls?
Making Sandwich Rolls is simple but it does require some time!
Scald the Milk:

Scalding the milk is important before adding it to the butter, sugar, and salt.

Activate the Yeast:

Good yeast will become bubbly within 5 minutes of being added to warm water and sugar.

Mix:

I recommend using a mixer and a dough hook to save your arm the workout.

Rise:

It'll take about an hour for the dough to double in size. Go take a nap!

Knead and Shape:

Be extra careful not to add too much flour while you're kneading or the buns will be dense, not light and fluffy.

Rise:

Once again the dough will need to double in size. Time to prepare the rest of dinner.

Bake:

The rolls are done when they are golden brown and sound hollow when tapped on.
Pro Tips:
Warm spaces help the dough to rise more quickly than cold ones.

The dough will be sticky, don't give in to the temptation to add more flour.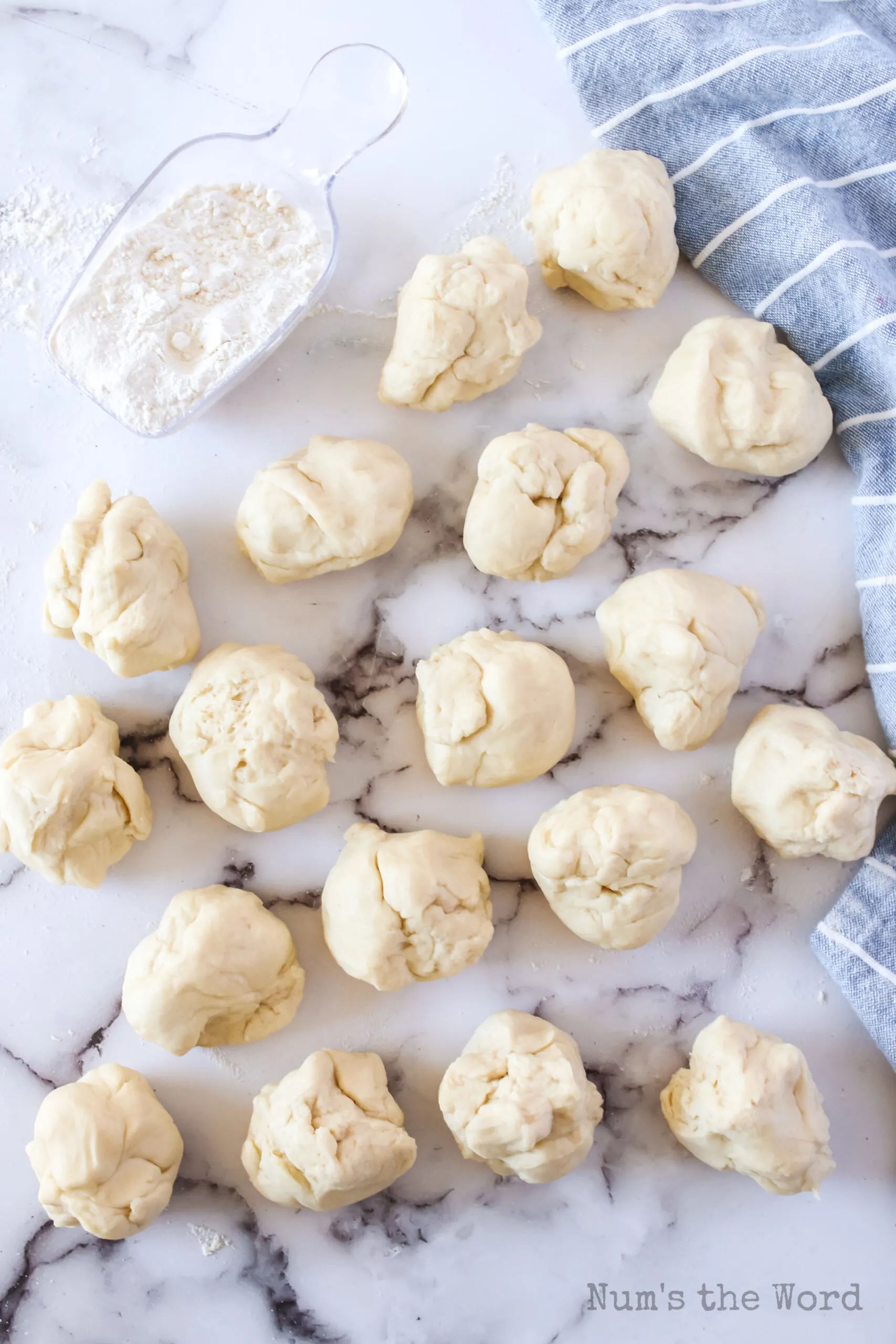 Can You Use Sandwich Rolls for Other Purposes?
Definitely! We have used these buns in all sorts of ways.
Here's a few of our ideas but feel free to be creative too!
Hamburgers

As a roll side dish.

Breakfast sandwiches with eggs and bacon and cheese.

As a sandwich bun complete with meats and cheese and condiments.

As a bread to dip in soup.

In any sort of slider.

Bread bowl – if made large enough.
My favorite though is as part of a Sandwich Charcuterie Board
The sky's the limit when it comes to using homemade sandwich rolls!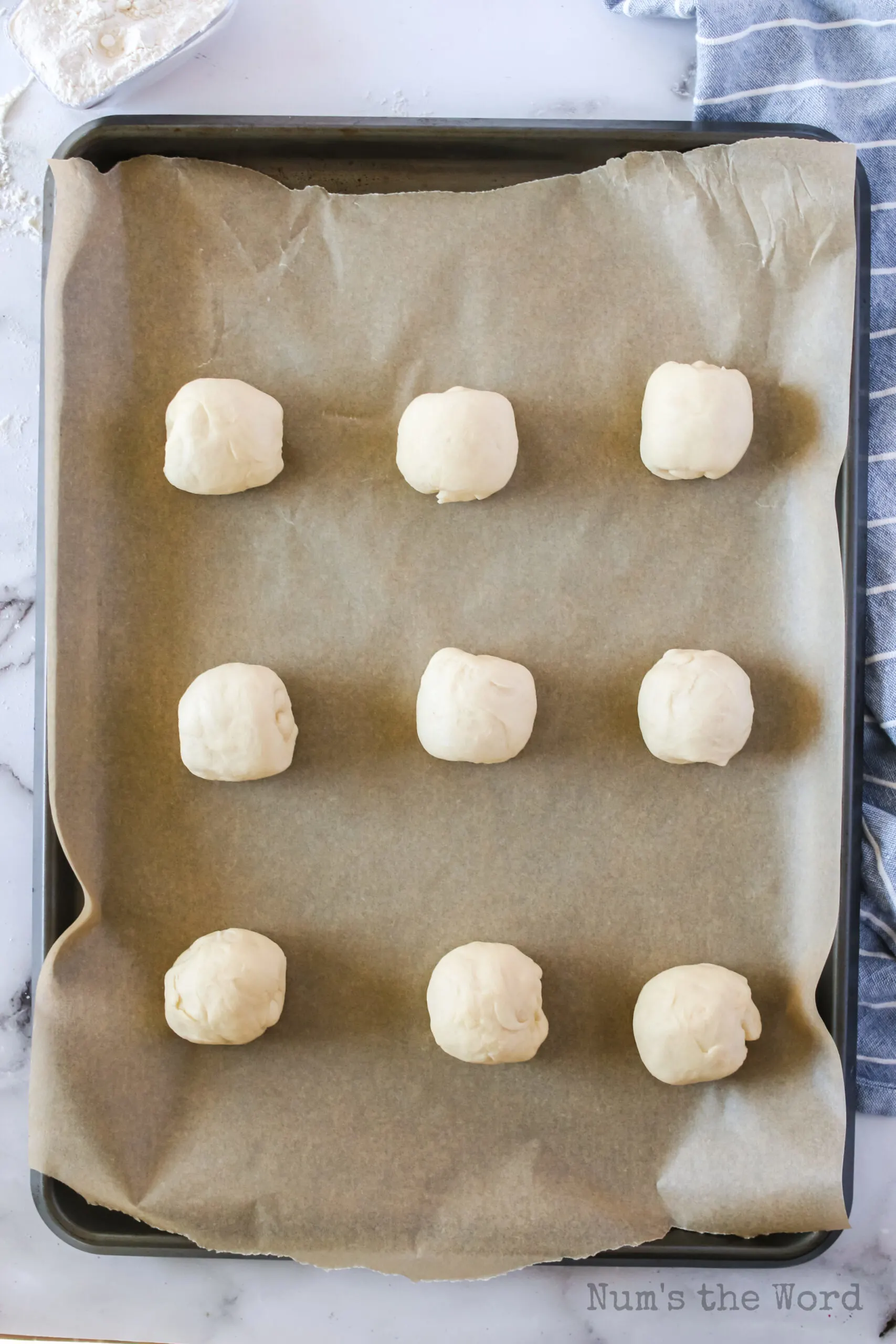 What is The Difference Between a Bap and a Bun?
Have you ever heard of a bap?
Chances are if you live in or visited Scotland, Ireland, or the U.K., you probably have. Baps are much more common in that region of the world than they are in the United States.
You may even find that baps is just a different way of saying buns, up there.
Traditionally however, baps contain lard while buns contain butter. The difference is quite subtle in their ingredient line up, and also in their use. Baps and buns are often both used for the same things.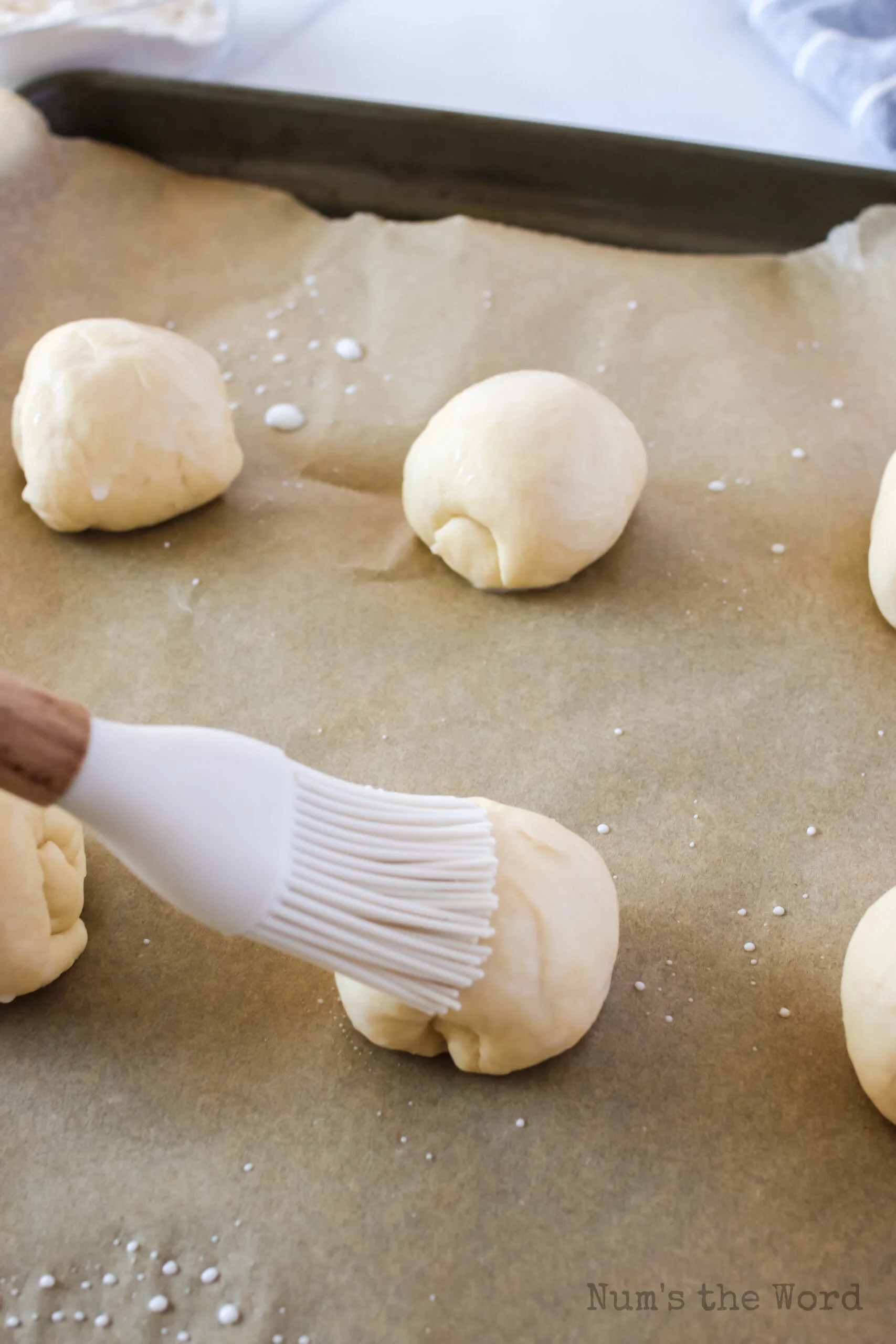 How to toast Sandwich Rolls?
Sandwich Rolls or hamburger buns fresh from the oven often do not need to be toasted.
But you may find them too soft for your liking. If that's the case, here's a simple way to harden them up.
Slice the buns in half and then place the halves back into the oven at 350 degrees for about 5 minutes. You'll want to be careful not to cook the rolls too long and burn them.
Be sure if you are not eating them right away to place them in a bowl with a towel wrapped around them until ready to serve.
To store for later, once cool, place in an air tight container.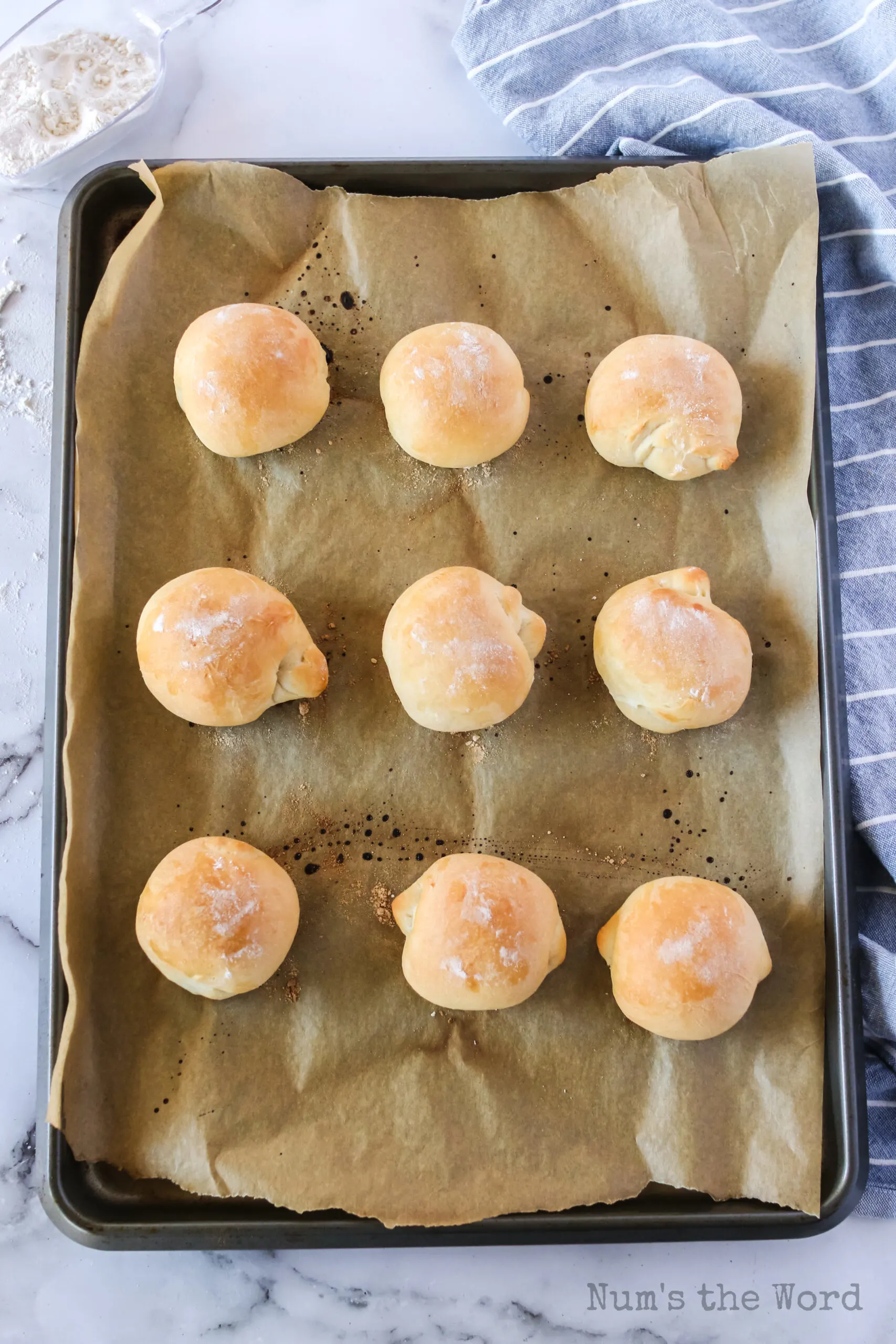 Can You Freeze This Sandwich Roll Recipe?
Yes! If you find you can't eat up all of the buns quickly enough or are just a food prepper, you can freeze them!
First, be sure the buns have cooled completely. Then toss them in a freezer safe bag and seal it tightly. Then place them in the freezer.
These Sandwich Rolls can be frozen for up to 3 months.
Pro Tip: Write "sandwich rolls" and the date on the bag to know when you need to use them up by.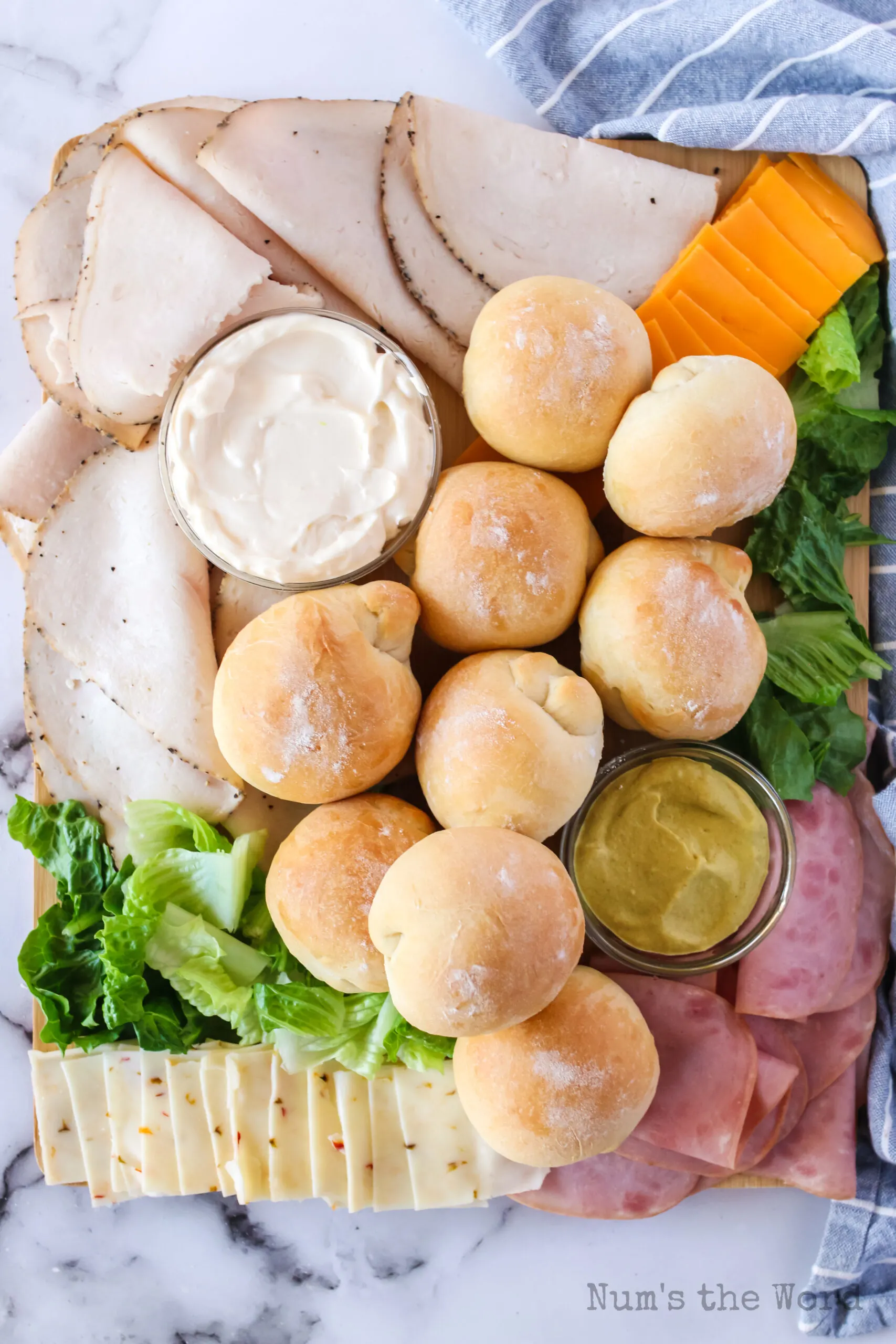 How to Thaw Frozen Sandwich Buns
Ready to eat your frozen buns? Simply take them out of the freezer and place on a cookie sheet, spaced out. Allow to thaw for approximately 20 minutes.
If you'd like to serve warm, pop them in the oven at 350*F for 10 minutes then serve.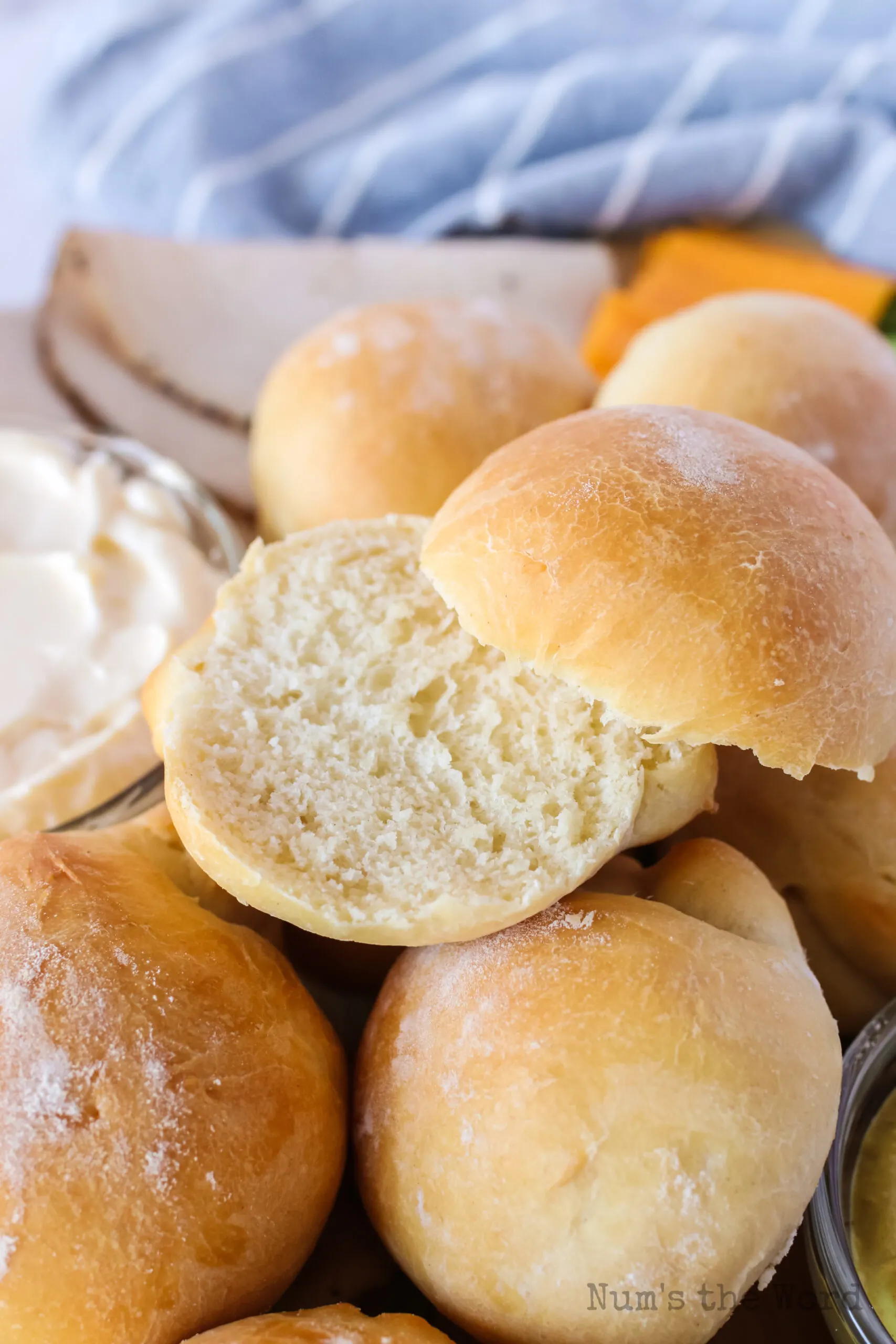 How Long Do Sandwich Rolls Last?
These rolls will stay good for up to 5 days kept at room temperature and in an air tight container or bag.
Be sure to keep them sealed tightly at all times to help them last.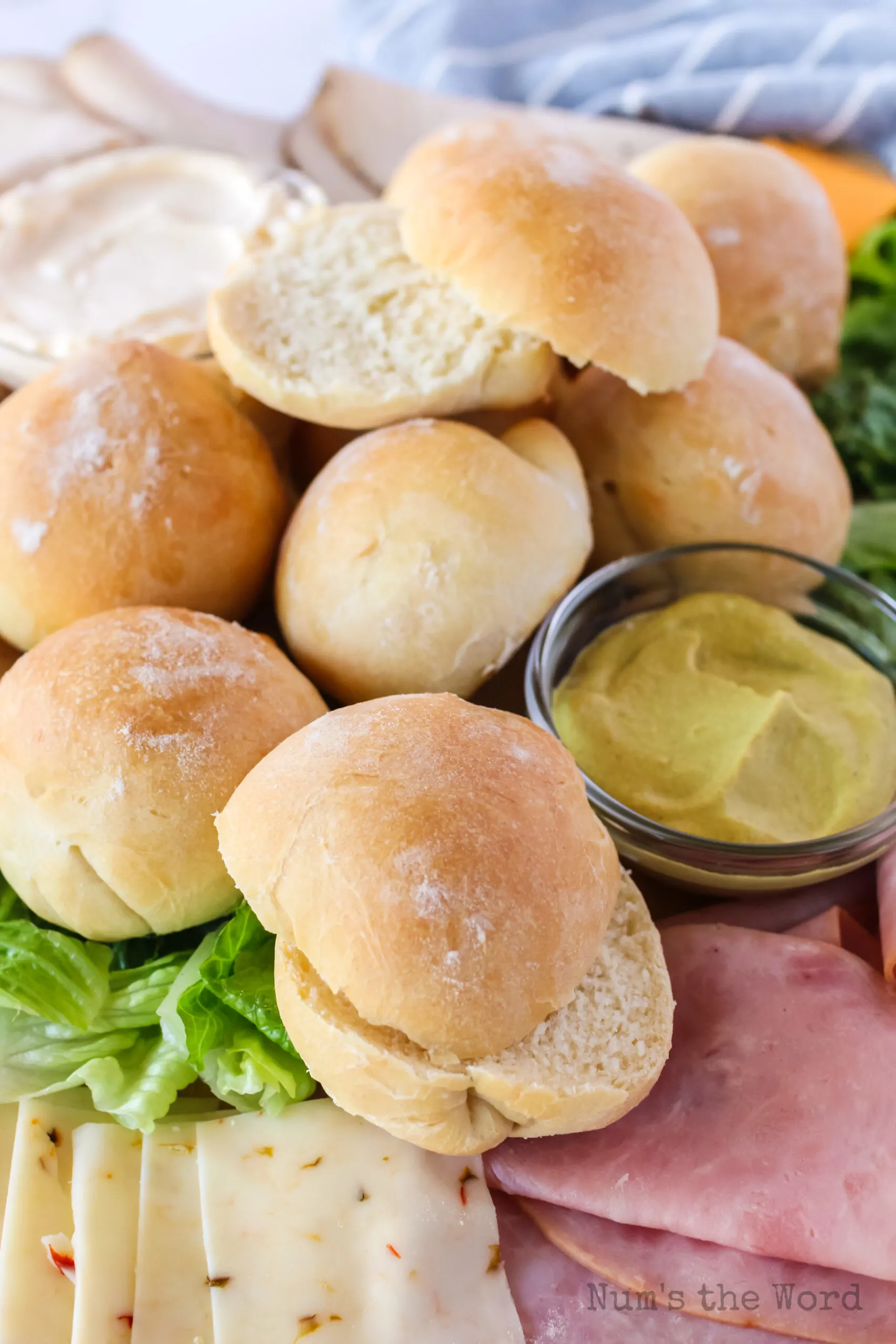 What To Do With Leftover Sandwich Rolls
We all know that feeling when you need to use up something before it goes bad.
Here's some ideas: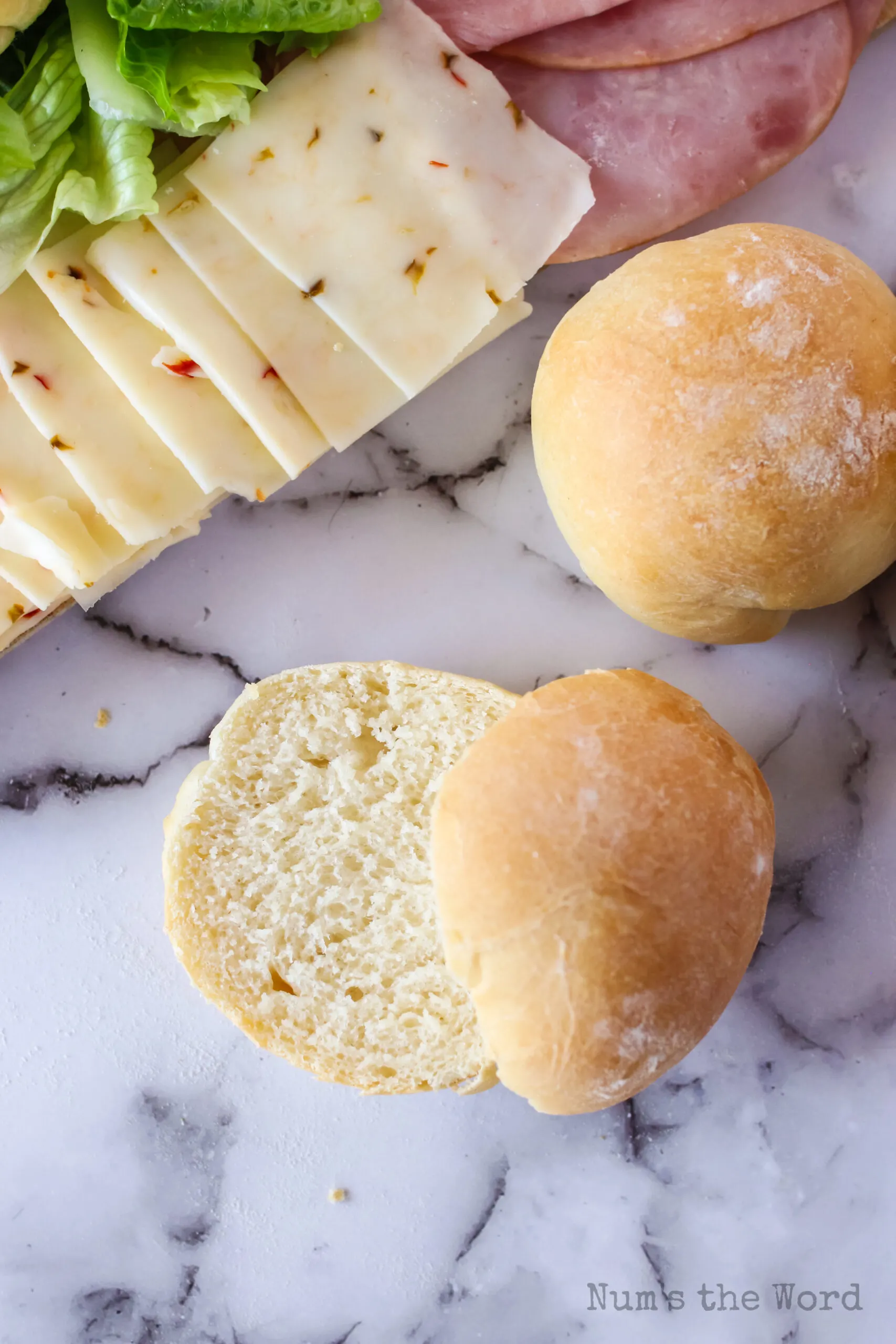 Sandwich Rolls are a baker's dream! Easy to make, yet totally impressive when on the table, don't be intimidated! These come out light, fluffy, and perfect in whatever meal you're serving up.
Yield: 18 Sandwich Rolls
Sandwich Rolls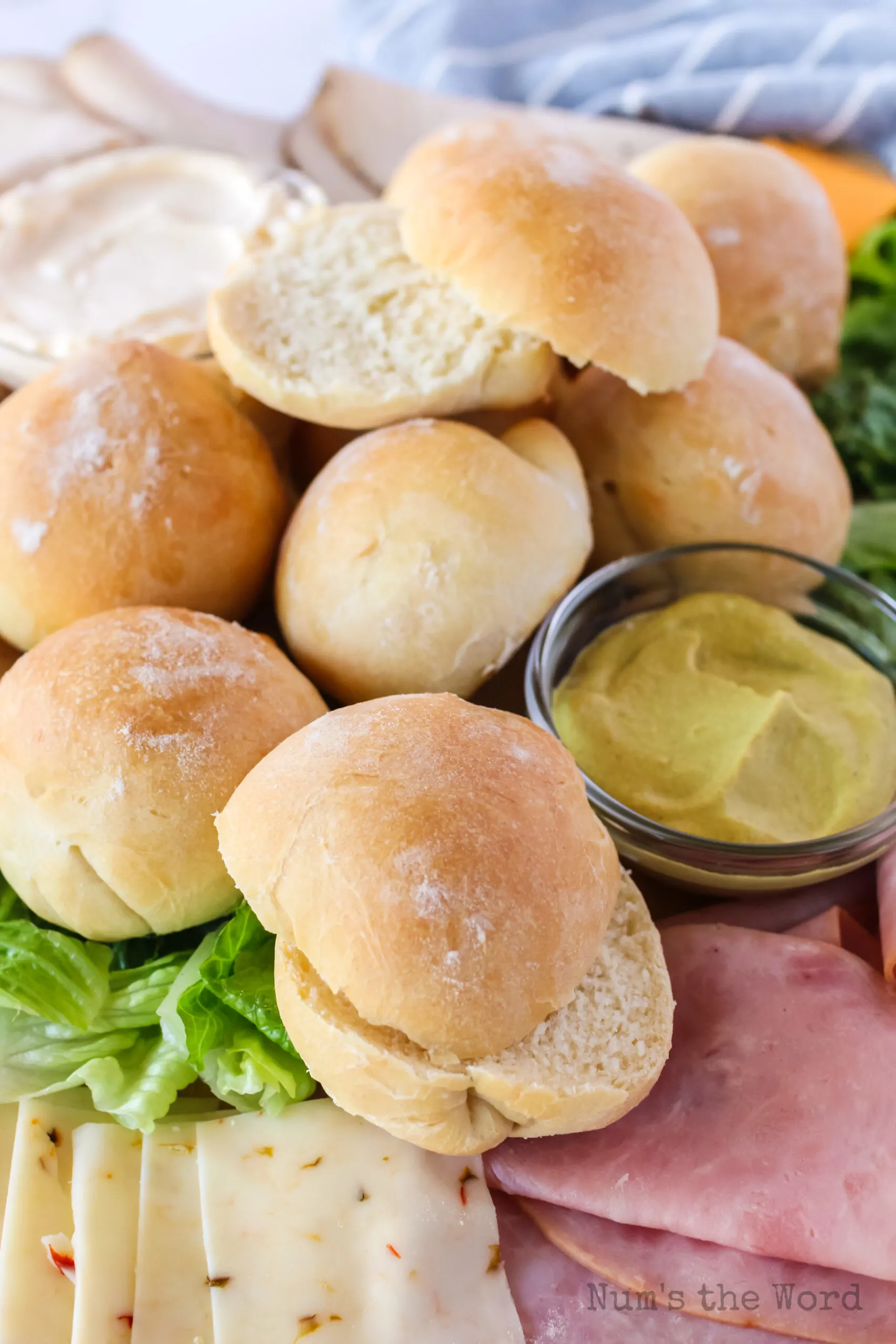 Sandwich Rolls are a baker's secret! Surprisingly easy to make, and good enough to serve all on their own, everyone will want your recipe!
Ingredients
1 cup milk
1/4 cup butter, room temperature
1 teaspoon white sugar
1 teaspoon salt
1 package active dry yeast or 2 1/4 teaspoons
1/4 cup warm water
3 1/2 cups all purpose flour
Instructions
Heat 1 cup milk until hot, but not boiling, and pour over butter, sugar and salt in a mixing bowl fitted with a dough hook.
In a small bowl add warm water and yeast. Let stand for 5 minutes to activate yeast.
Pour yeast water into the milk mixture, mix well.
Add flour, 1 cup at a time, mixing well after each addition. Dough will be sticky.
Mix on low for 5 minutes, to allow dough to become smooth and elastic. Dough will still be sticky.
Transfer dough to a large bowl sprayed with cooking spray.
Spritz the top of the dough with cooking spray and cover with plastic wrap.
Let the dough rise till doubled (about 1 hour).
After the dough has risen, punch dough down and gently knead on a lightly floured surface. Do not add too much flour, we want these light, not dense.
Divide dough in half and each half into 9 pieces - total 18 pieces of dough.
Gently take a chunk of dough, and roll it up into a nice circle and place on a lined cookie sheet. Each cookie sheet should hold between 9 and 12 rolls.
Make sure to space them out as these will double or more in size.
Brush the tops of each bun with a light coating of milk and dust with flour.
Cover and allow to rise until doubled (40 minutes - 1 hour).
Preheat oven to 425*F.
Once doubled in size, bake for 12-15 minutes, until the tops are golden and buns sound hollow when tapped on.
Remove from the oven and let cool on the rack. Serve as sandwich buns with meats and cheeses.
Nutrition Information:
Yield:
18
Serving Size:
1
Amount Per Serving:
Calories:

119
Total Fat:

3g
Saturated Fat:

2g
Trans Fat:

0g
Unsaturated Fat:

1g
Cholesterol:

8mg
Sodium:

145mg
Carbohydrates:

20g
Fiber:

1g
Sugar:

1g
Protein:

3g