There is nothing easier than this Beef Barbacoa Quesadilla! It's bursting with flavor and super kid friendly but the adults will all love it too!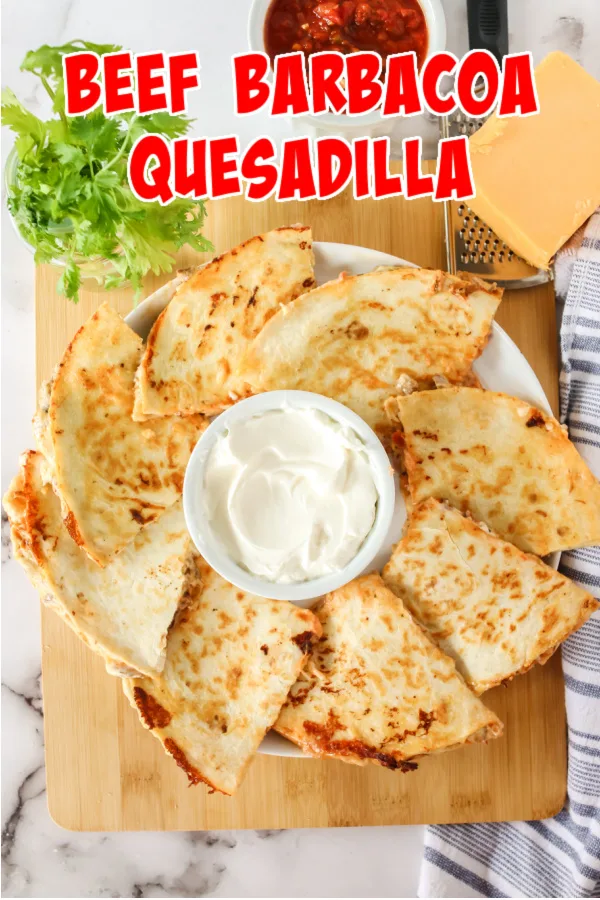 Get ready for a bite of melty cheese, crisp tortillas, and savory barbacoa beef. Your own personal journey of delicious heaven awaits.
Honestly, quesadillas are one of the easiest foods to make. Using leftover beef barbacoa makes an easy food… that much easier!
Beef barbacoa quesadillas also only require a few ingredients and are completely customizable!
That means you can make yours one way and your kids can make theirs however they want too!
Enjoy this simple beef barbacoa recipe!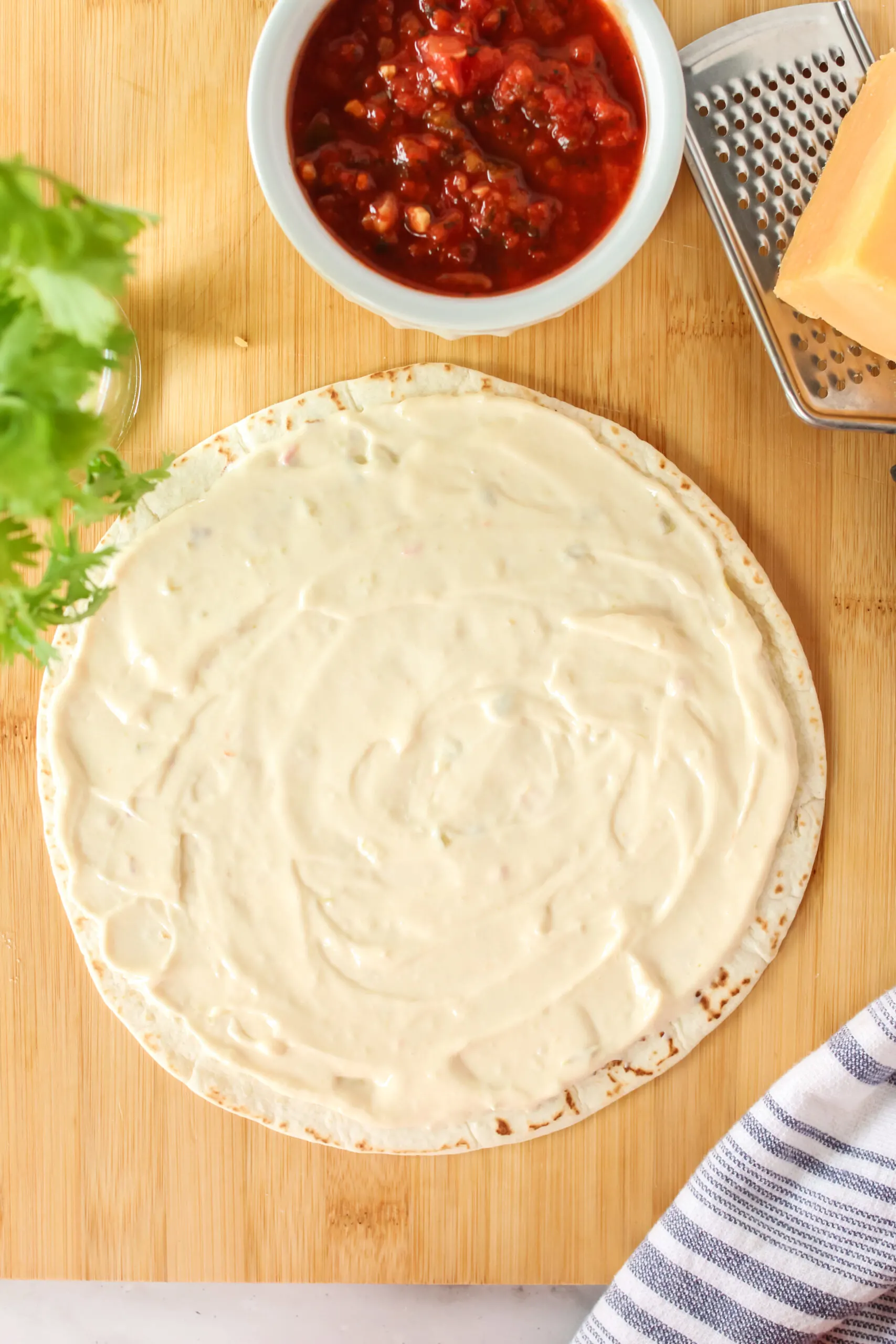 What is Barbacoa Beef?
Barbacoa is typically a slow roasted cut of beef that is flavored with barbeque or other similar flavors.
Beef barbacoa is made from beef while other barbacoa can also be made from pork, lamb, or goat.
Slow roasting allows what may be a tough cut of meat to become tender and practically fall right off your fork.
However, there is another way to cook barbacoa beef and not have it take all day!
An instant pot will get you the meat you desire while still being fork tender and delicious.
Instant Pot Barbacoa Beef is one of my favorites since it's so quick and yummy too.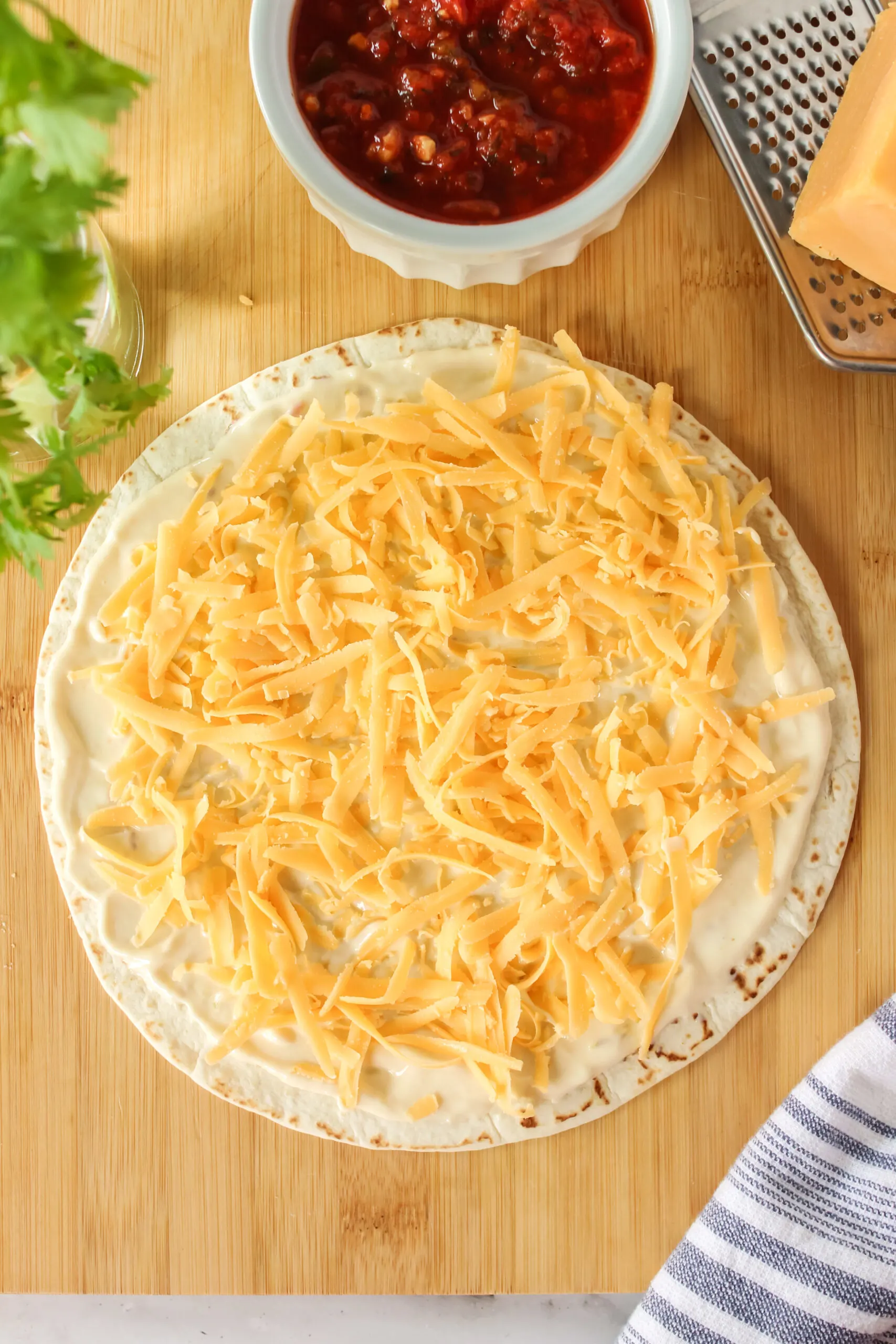 Ingredients in Barbacoa Beef Quesadillas
You'll only need a few ingredients to create these awesome barbacoa beef quesadillas.
Tortillas:

You'll need two tortillas per quesadilla.

Butter:

Use butter to keep the tortillas from sticking and create a crispy butter flavor on the tortillas.

Queso:

Choose white queso that is available in most grocery stores.

Cheese:

Sharp cheddar cheese will give a nice contrast to the queso.

Barbacoa Beef:

You can buy pre cooked barbacoa beef or make your own.

Salsa:

Spicy or not, you've got complete control over the flavor of your salsa so pick your favorite.

Sour Cream:

This is optional for dipping. Though my kids would say it's mandatory.
Pro Tip: Since this meal cooks really quickly, be sure you've got everything ready to go right away.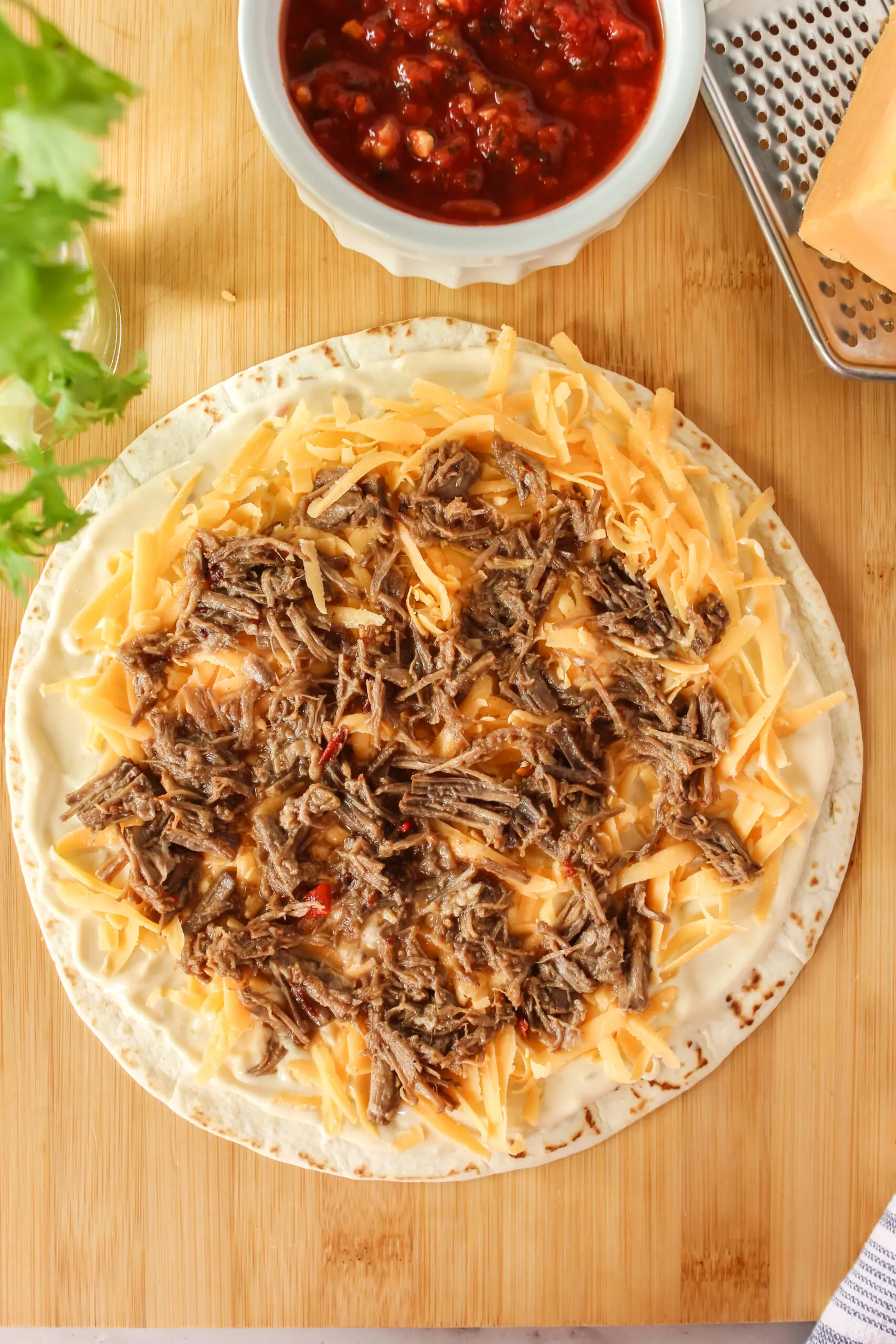 What Cut of Beef is Used for Barbacoa?
Traditionally, barbacoa beef is a cut of cheek.
Beef cheek is normally used because the cheek is cheap but also pretty flavorful.
We however use beef stew meat in our Beef Barbacoa recipe.
Beef stew meat is typically taken from the shoulder or rump.
Both areas produce tender, moist meat when cooked correctly.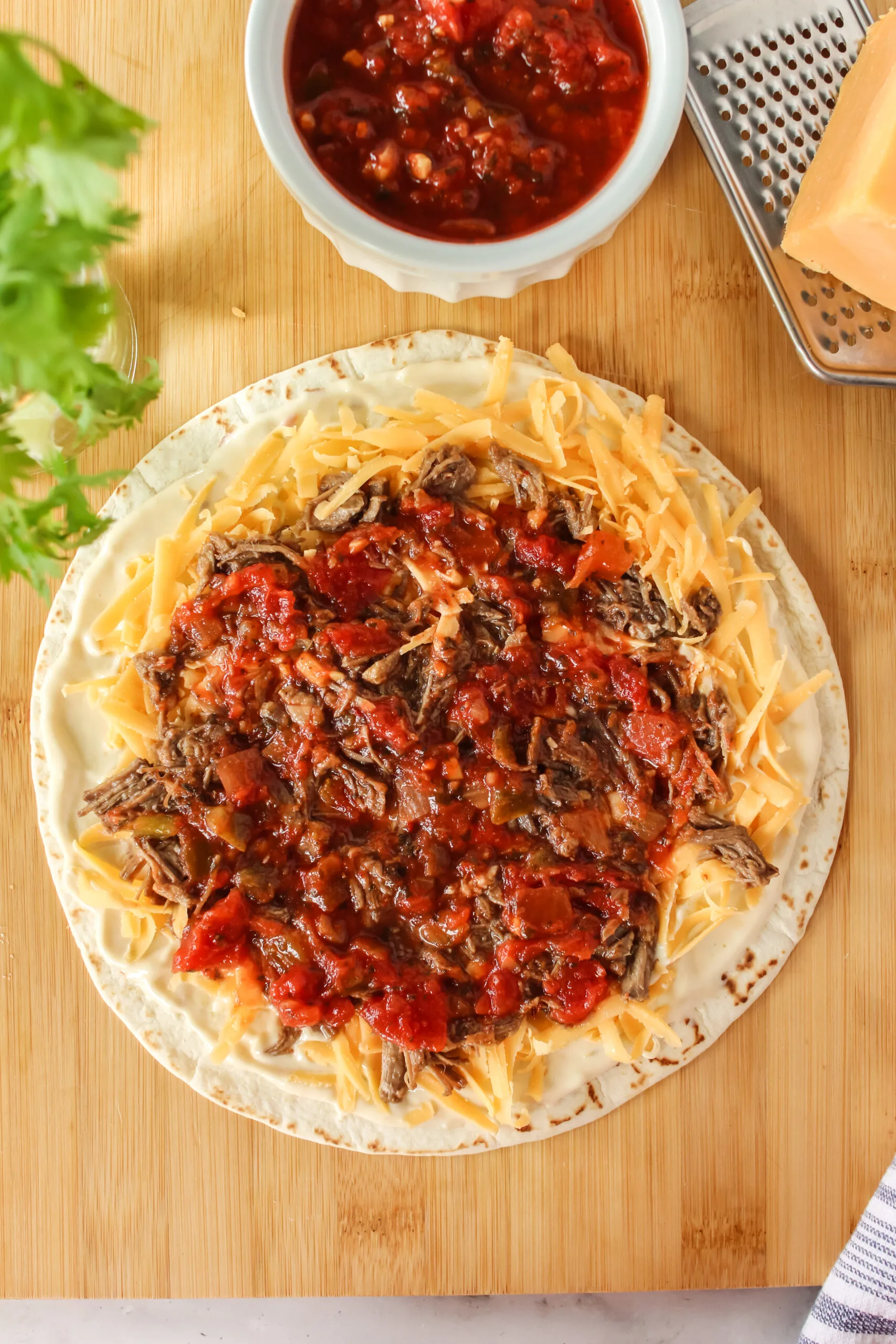 Is Barbacoa Beef Spicy?
If you make your barbacoa beef at home, you control how spicy it is.
Our Instant Pot Beef Barbacoa is not too spicy.
The adobo sauce is the thing that creates any sort of spice in the beef barbacoa recipe.
Of course the adobo sauce also gives you ALLLL the flavor, so I don't recommend leaving it out.
Here's the thing about adobo, it's made from chipotle peppers.
And while chipotle peppers can be spicy, adobo sauce isn't going to melt your face off.
If you want it more spicy you can add more spice.
Things like red pepper flakes will quickly increase the spice but let your flavor shine through.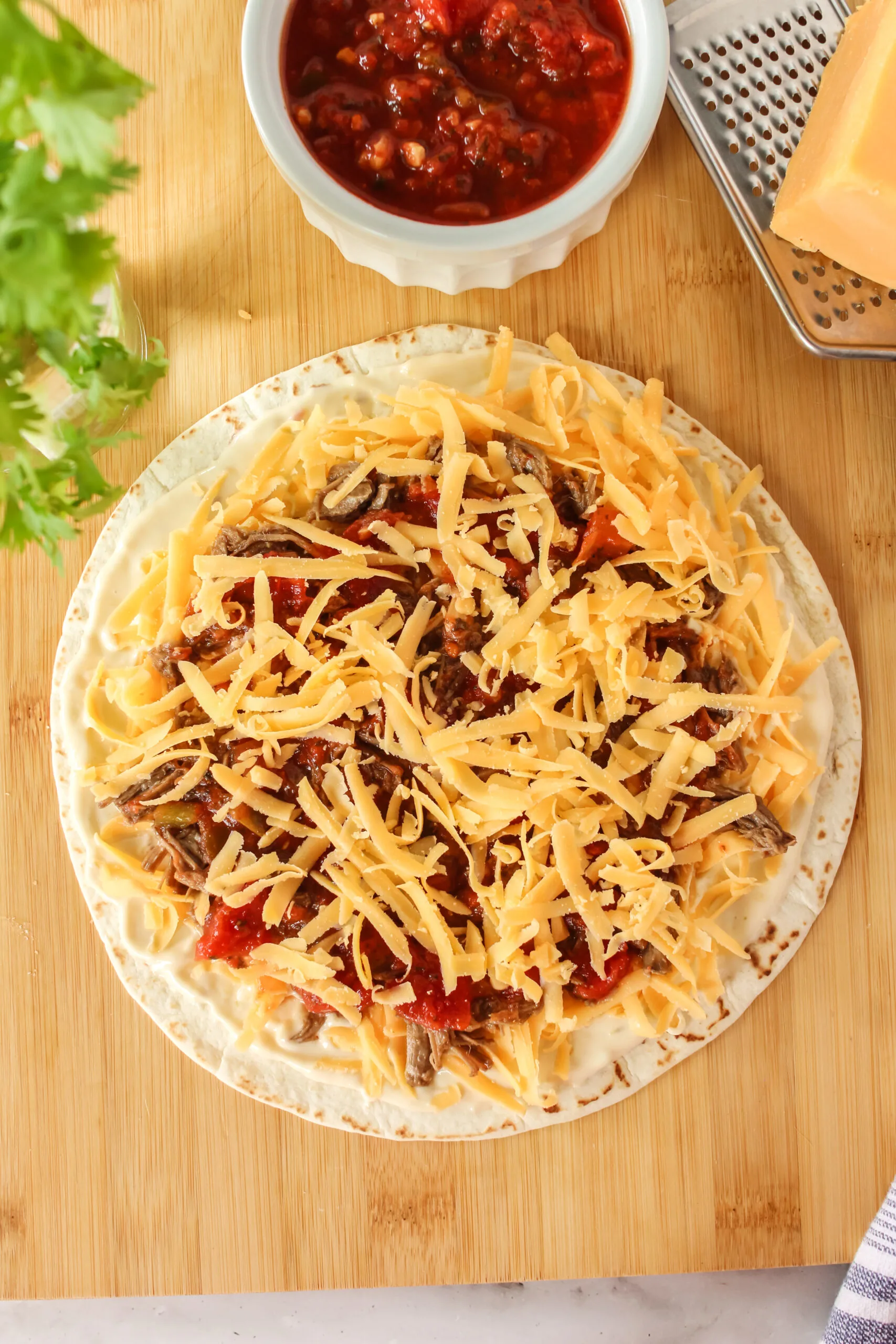 How to Make Barbacoa Beef Quesadillas
Layer! Imagine making a casserole but in a tortilla.
Layer:

Sandwiched between your tortillas will be the queso, cheddar cheese, barbacoa beef, and salsa.

Cook:

All you need is a few minutes per side to allow the tortilla to crisp.

Dip:

We dip in sour cream. You could also dip in salsa, beans, or more queso!
Pro Tips:
Don't forget the butter on the bottom of the pan! That butter flavor is irresistible on your quesadilla.

Slice each quesadilla like a pizza for easy holding and dipping.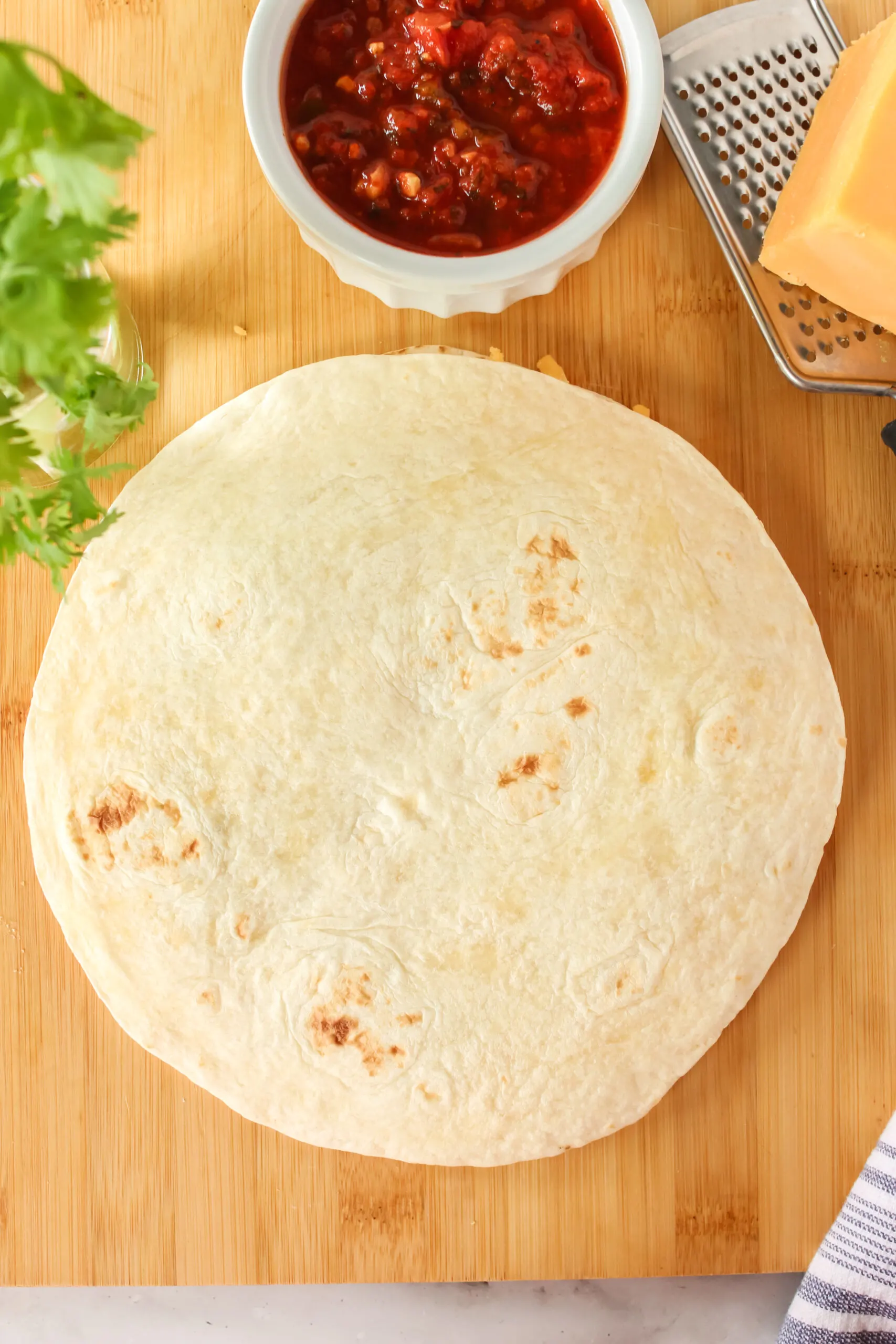 What to Serve with Barbacoa Beef
Here's some delicious things you can serve with your barbacoa beef:
Mexican Corn Salad

Sour Cream Rice

Authentic Mexican Rice

Easy Guacamole

Mexican Street Corn Soup

Green Chile Corn Chowder

Black Bean and Corn Salsa

Grilled Corn Salad
Barbacoa beef is also delicious served in Quesadillas (OBVIOUSLY!), tacos, or nachos!
Just shred up that beef and throw it into any Mexican themed dinners and you're sure to have a hit!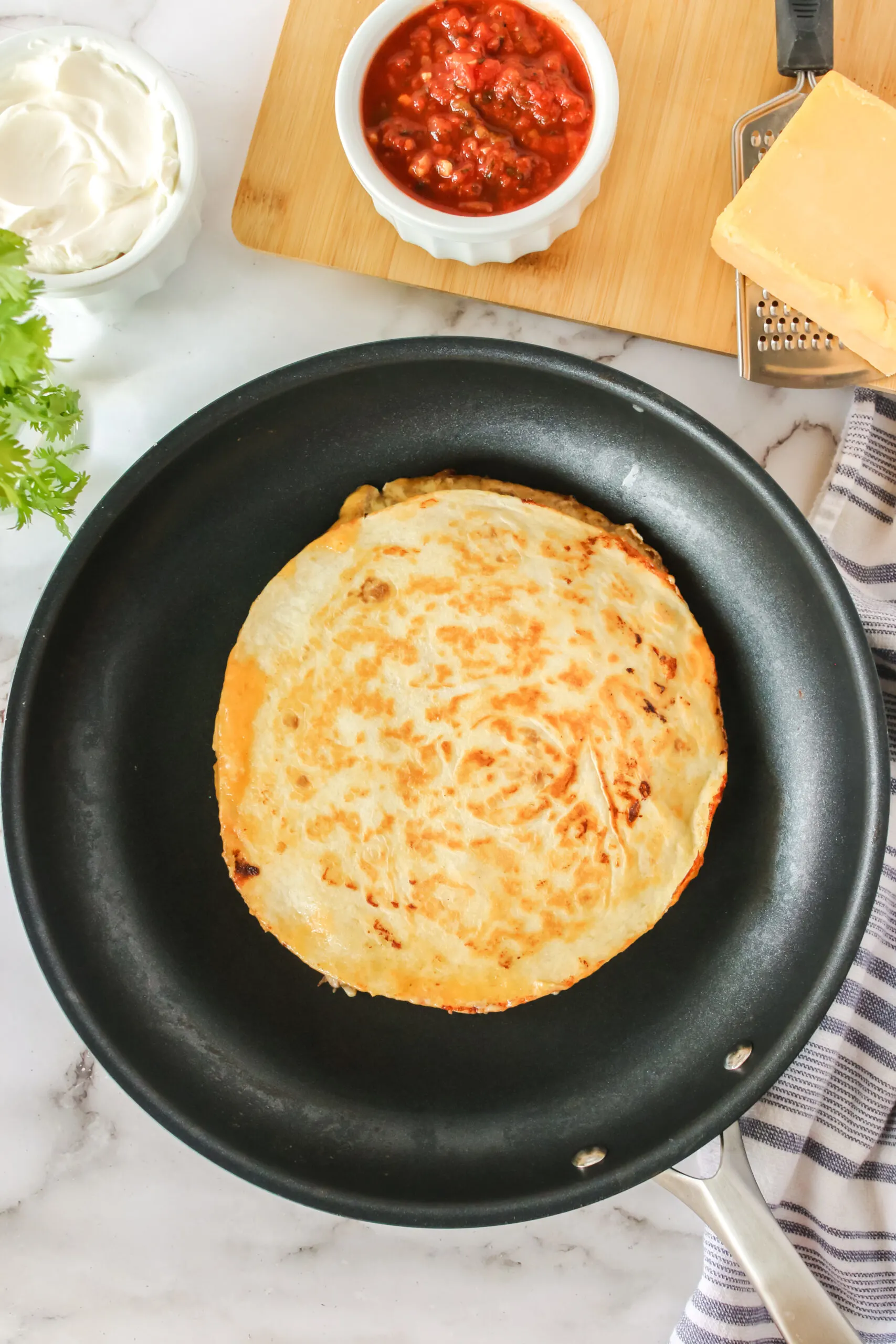 What Goes with Barbacoa Beef Quesadillas?
If you're looking for side dishes, look no further than the list above.
Any rice, corn, beans, or guacamole is sure to create an instant favorite meal.
You'll also want to be sure to have something to dip your quesadillas in.
We love dipping in sour cream. Any spiciness is off set by the cool creamy sour cream so it's perfect for kids.
But queso dip is also a fun one, as are warmed refried beans.
I've even used salsa or guacamole on occasion.
Quesadillas served with any of these things become an instant meal that is hearty and filling.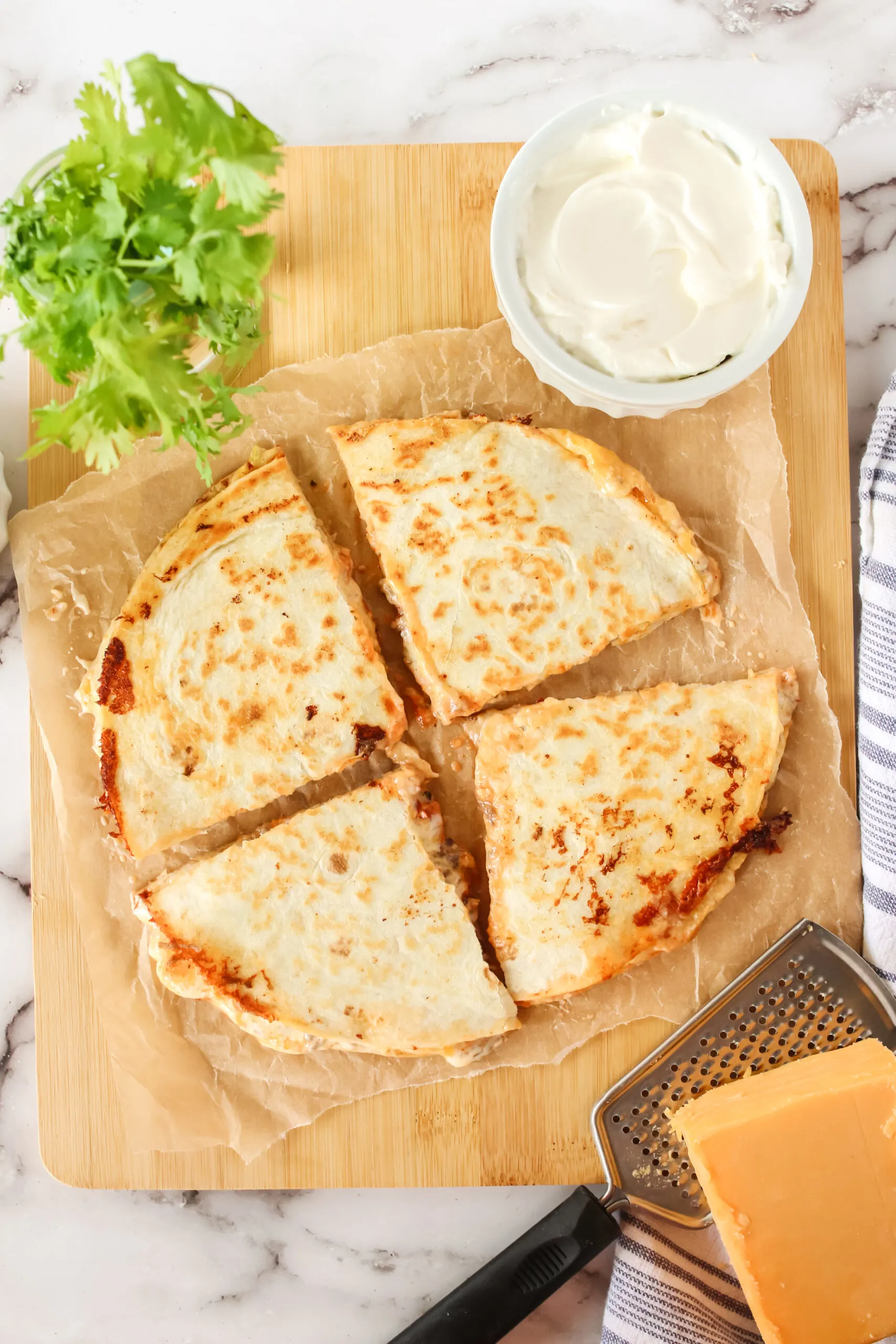 Can You Freeze Barbacoa Beef Quesadillas?
Freezing barbacoa beef quesadillas is an easy way to extend their shelf life.
You can freeze quesadillas for easy meal prep. Just take them out and warm them up in the microwave or stove.
I prefer to warm them on the stove as I like to keep the tortilla crisp and find the microwave softens them.
You'll want to wrap each quesadilla tightly twice before placing it in the freezer to prevent freezer burn.
Barbacoa beef quesadillas will stay good in the freezer for up to 2 months. After that the flavor and texture will begin to decline.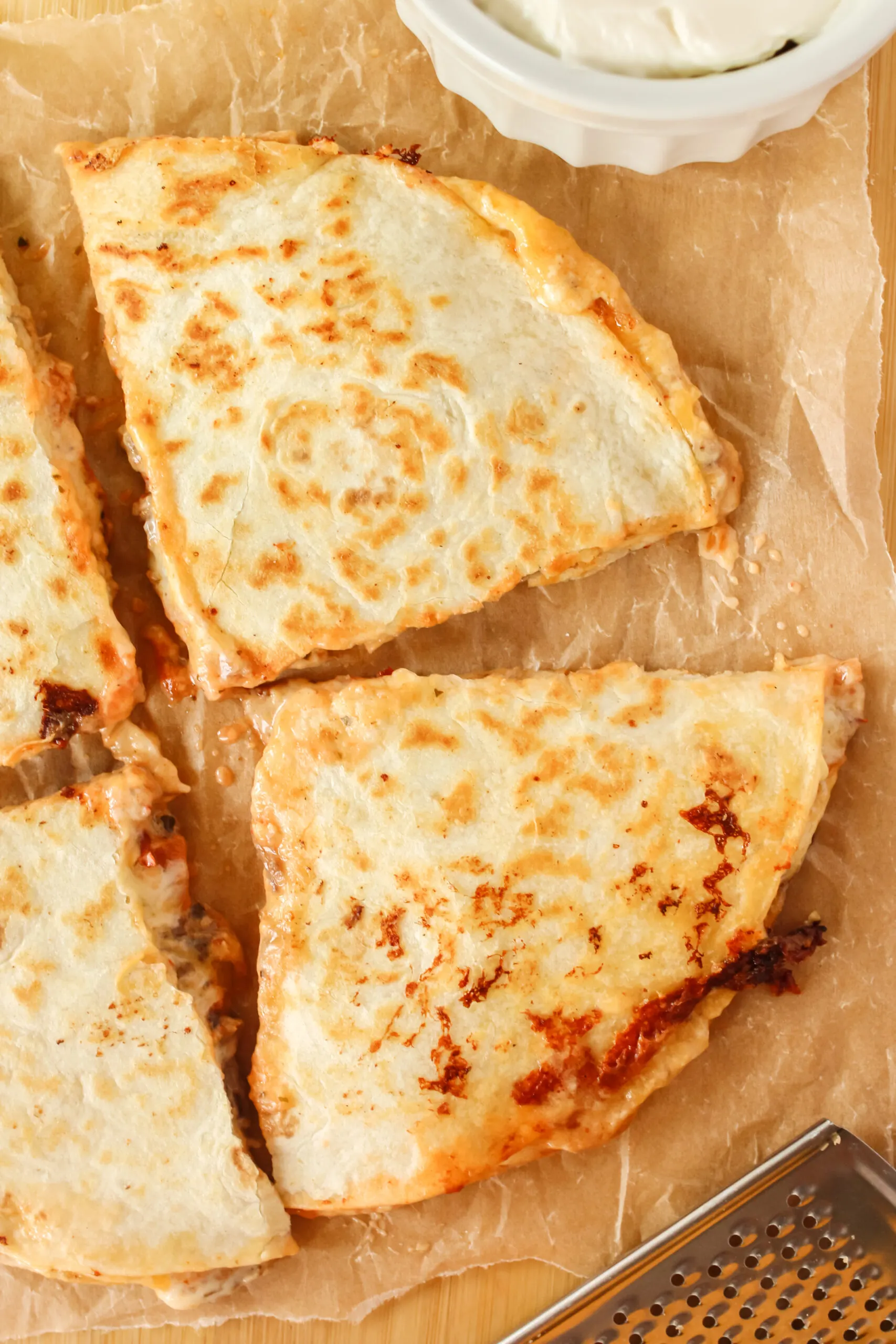 How to Customize Barbacoa Beef Quesadillas
Here's some ways to mix up your quesadillas!
Queso:

Queso comes mild, moderate, and spicy. Test to see which is your favorite.

Salsa:

So many flavors of salsa, so many options for how to make a quesadilla!

Cheese:

Try a more mild cheese or whatever you have in your fridge!

Tortillas:

You can make quesadillas using either corn or flour tortillas.

Beef:

Homemade or store bought. The flavors are endless.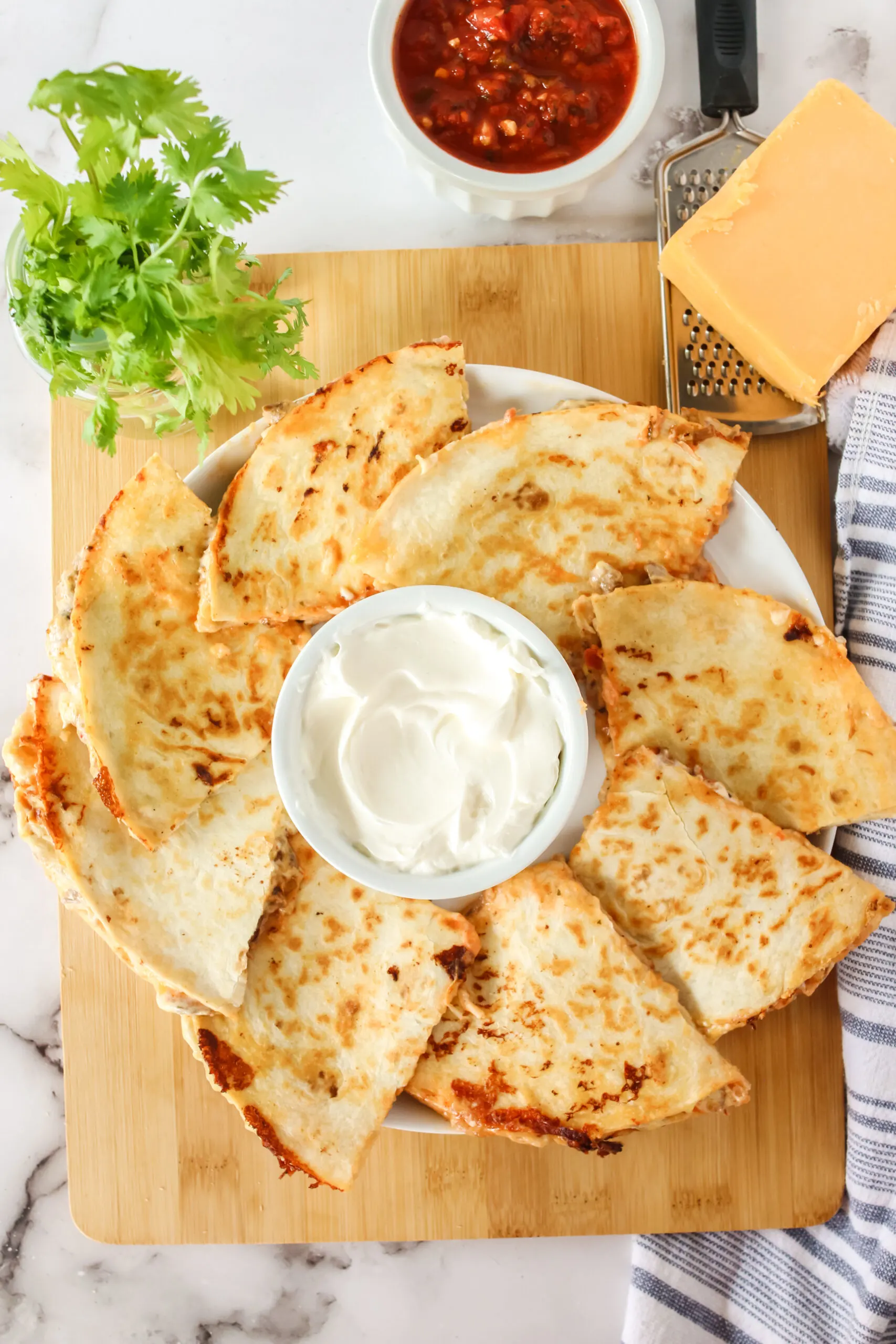 Barbacoa Beef Quesadillas are a great way to use leftover barbacoa beef that tastes delicious and is filling. They are easy to make and I can't wait to hear what you think!
Yield: 1 Servings
Beef Barbacoa Quesadillas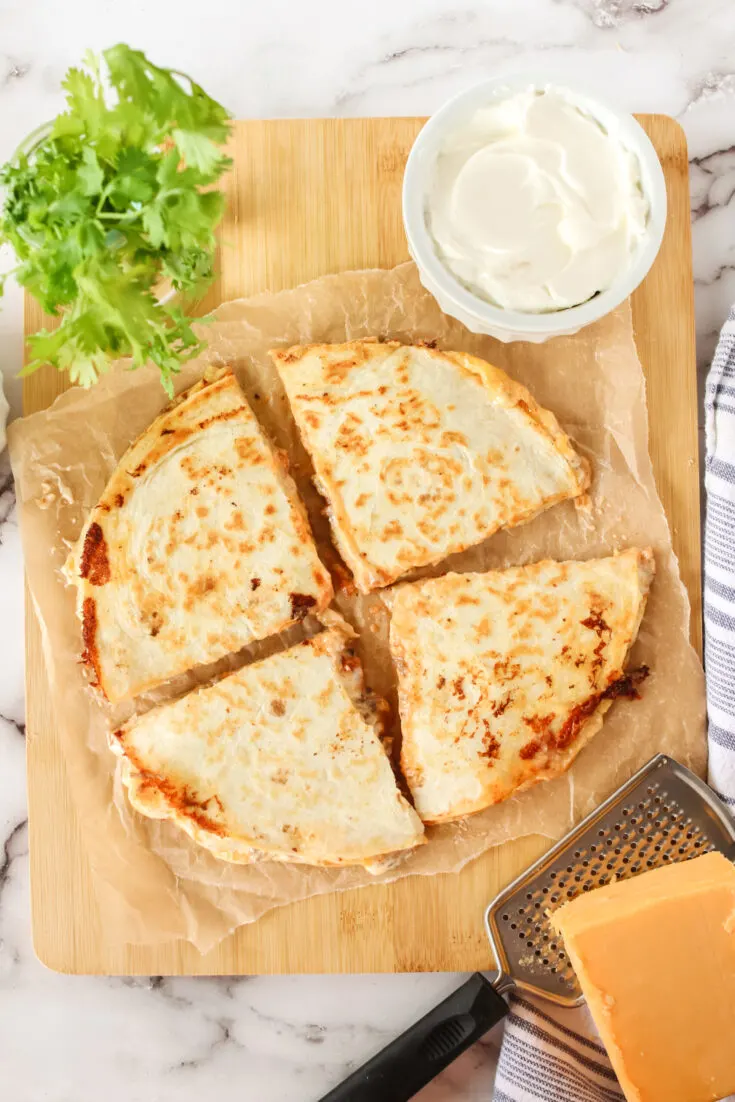 There is nothing easier than this Beef Barbacoa Quesadilla! It's bursting with flavor and super kid friendly but the adults will all love it too!
Ingredients
2 (8 inch) flour tortillas
1 Tablespoon butter
1/4 cup white queso
1/2 cup sharp cheddar cheese
2 Tablespoons salsa
Instructions
Lay 1 tortilla flat on a cutting board.
Spread queso on top of tortilla leaving ¼ inch around edges.
Sprinkle cheese on top of queso.
Gently place shredded barbacoa beef on top of cheese.
Top beef with salsa and with more shredded cheese.
Top with a second tortilla.
Gently transfer the quesadilla to the skillet and cook for 2 minutes or until the bottom is nice and crisp.
Lift up the quesadilla and spread remaining butter around the skillet.
Flip the quesadilla and cook the second side until nice and crisp, about 2 minutes.
Remove from the pan. Let cool for 2 minutes before slicing like a pizza.
Enjoy with sour cream.
Repeat steps for as many quesadillas as you wish.
Nutrition Information:
Yield:
1
Serving Size:
1
Amount Per Serving:
Calories:

932
Total Fat:

65g
Saturated Fat:

37g
Trans Fat:

2g
Unsaturated Fat:

18g
Cholesterol:

206mg
Sodium:

2107mg
Carbohydrates:

38g
Fiber:

2g
Sugar:

5g
Protein:

49g