These Beef Tips are "melt in your mouth" delicious! Easy to make and full of flavor, it's a meal no one can resist!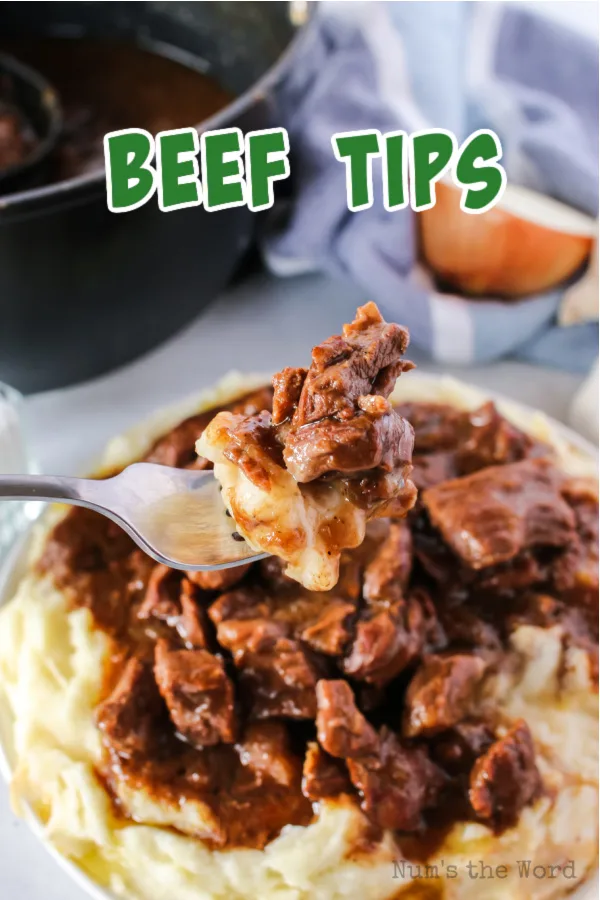 Made with onions, gravy, and garlic, beef tips are tender bits of meat that you need to try tonight!
I love how easy this recipe is to make! Because most of the cooking is letting the dish simmer, you don't need to spend all day in the kitchen!
And though I love to make Beef Tips in the Slow Cooker, sometimes I just want to make it on the stove.
Beef tips and gravy are super filling too! Which is good because I've got quite the hungry crew!
Plus this is an inexpensive meal that makes my wallet happy! Healthy, delicious, filling, fast, and easy! Every night I serve this dish is a win in our house!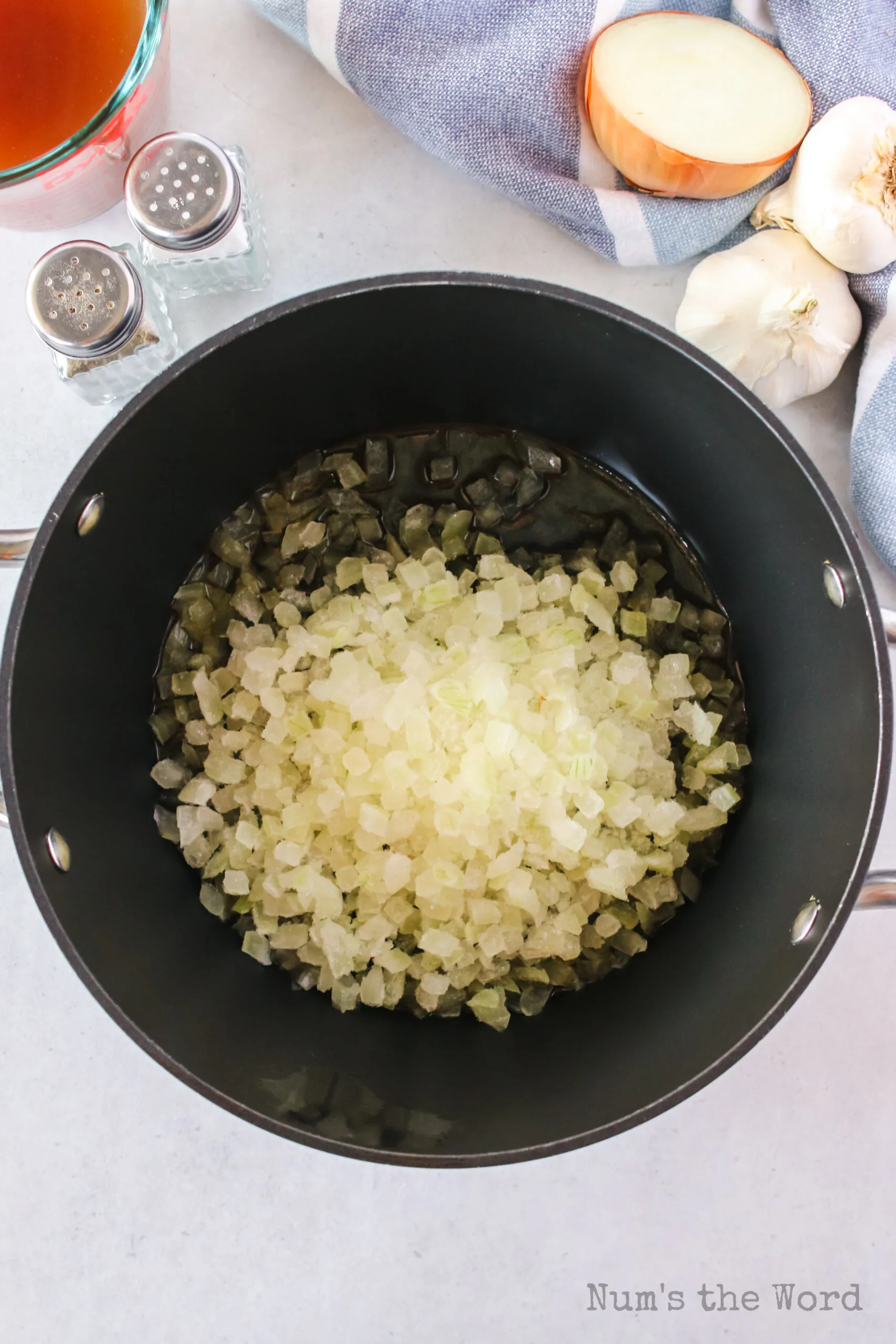 What Are Beef Tips?
Beef tips are the tender cuts of meat that are small and delicious. If you can't find then you can use sirloin tips or cut up a sirloin steak. If in a real pinch you can use stew meat but know that it will take significantly longer to cook as stew meat is a tougher cut.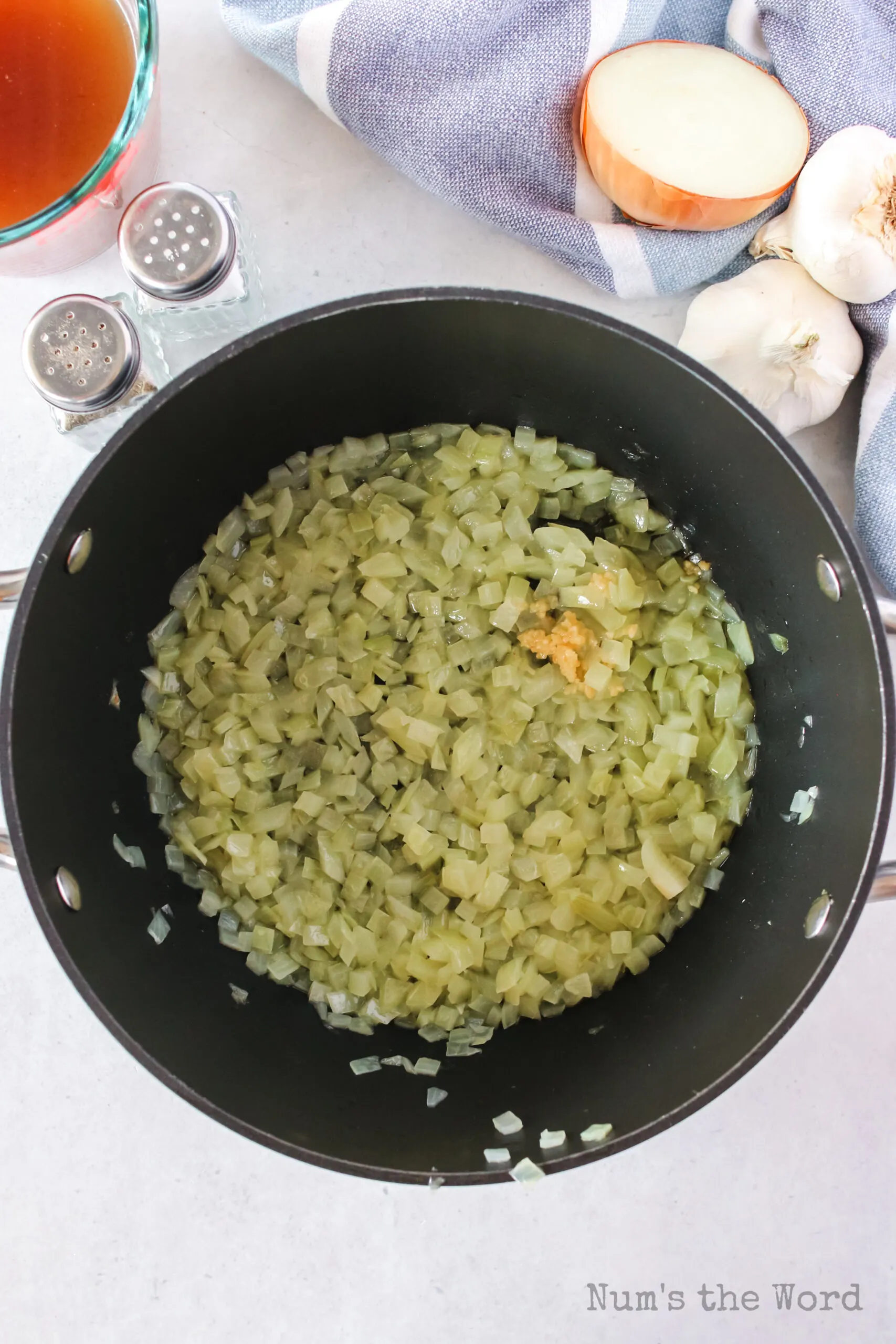 What Cut of Meat are Beef Tips
Tender Cuts of Meat: Tenderloin, Sirloin, Ribeye, Flank
Tough Cuts of Meat: Brisket, Chuck Roast, Rump Roast
You'll notice that the tough cuts of meat are ones you would cook in a crockpot or slow cooker.
That's because tough meat breaks down the longer it cooks and becomes tender.
Cuts of meat that are already tender can cook quickly and don't need to be broken down.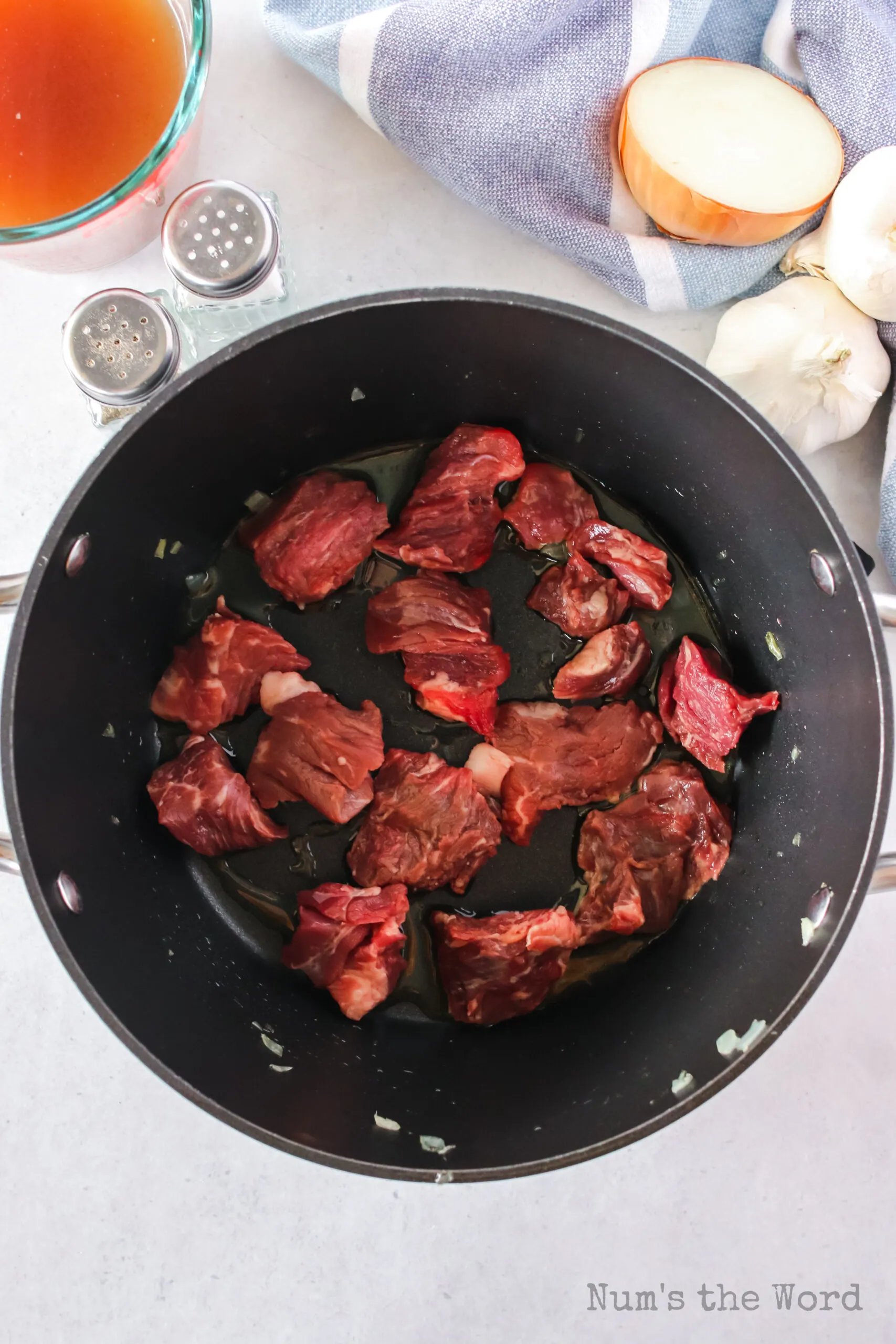 Is Stew Meat the Same as Beef Tips?
Stew meat and beef tips are not the same. Beef Tips generally come from a more expensive cut of meat.
However in a pinch you can use stew meat. Just know it will take about an hour longer to cook.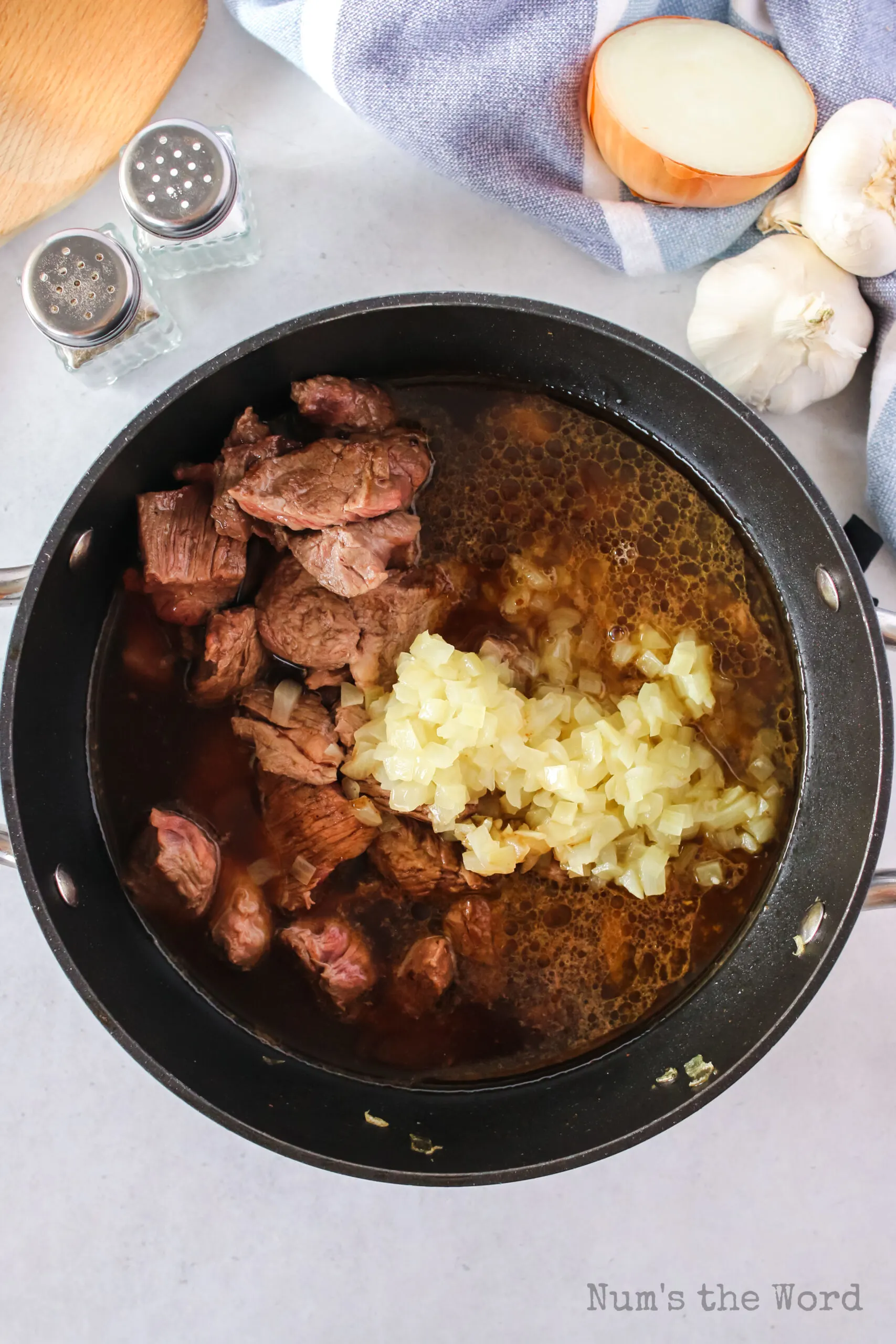 Ingredients for Beef Tips
Oil:

I use vegetable oil but you could substitute with avocado oil or olive oil.

Onion:

A yellow or white onion will give you great flavor but pick any you have on hand.

Beef Tips: If you can't find beef tips, use a sirloin steak cut up into 1 inch cubes.
Beef Broth:

You could also use vegetable broth.

Soy Sauce:

The recipe is already salty enough, use low sodium.

Worcestershire Sauce:

You can't taste this at all once cooked but enhances the flavor!

Garlic:

Cut it up yourself or use it precut up. Either way works.

Black Pepper:

No salt but the black pepper will add to the flavor!

Brown Gravy:

A brown gravy mix makes this gravy super yummy and really easy!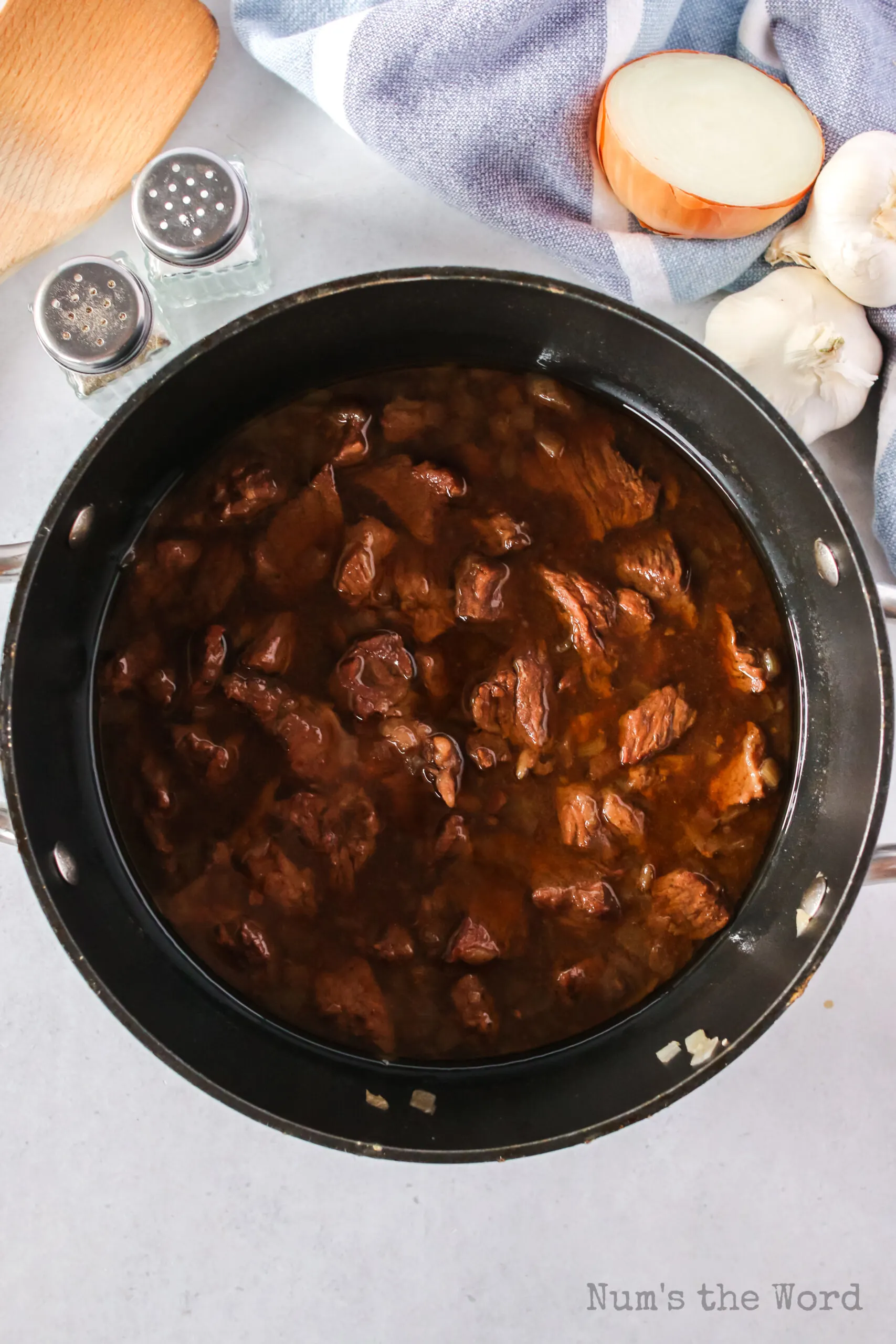 How to Make Beef Tips
Saute:

The onions and garlic become more flavorful when cooked first on their own.

Sear:

Be careful not to cook the meat through. Thirty seconds to a minute is all you need.

Simmer:

The best part! It'll cook itself here. You'll know it's done when the beef is tender.

Sauce:

Mixing in the brown gravy mix will thicken the gravy.

Serve:

Enjoy!
Pro Tips:
Sear the meat in batches to make sure they all cook quickly on each side.

If the gravy isn't thick enough in the beginning, just wait, it'll thicken over time.
What to Serve with Beef Tips
Don't forget some these easy side dishes to accompany your beef tips with gravy!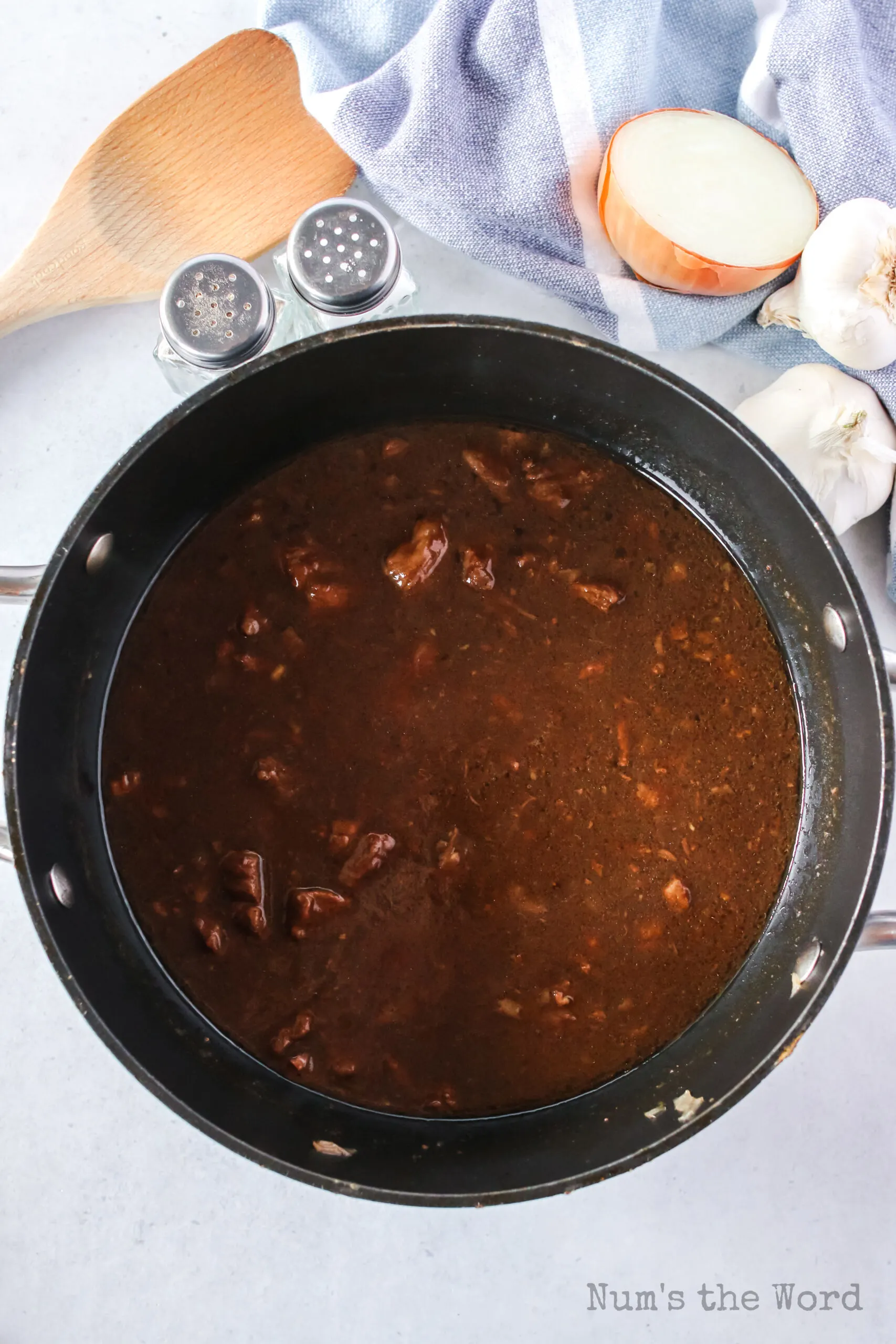 How Do You Get Beef Tips Tender?
There are two ways to get tender tips.
Choose a tender cut of meat. That is pretty obvious!

Cook the beef longer. The longer it cooks, the more tender it will become if using a tougher cut of meat.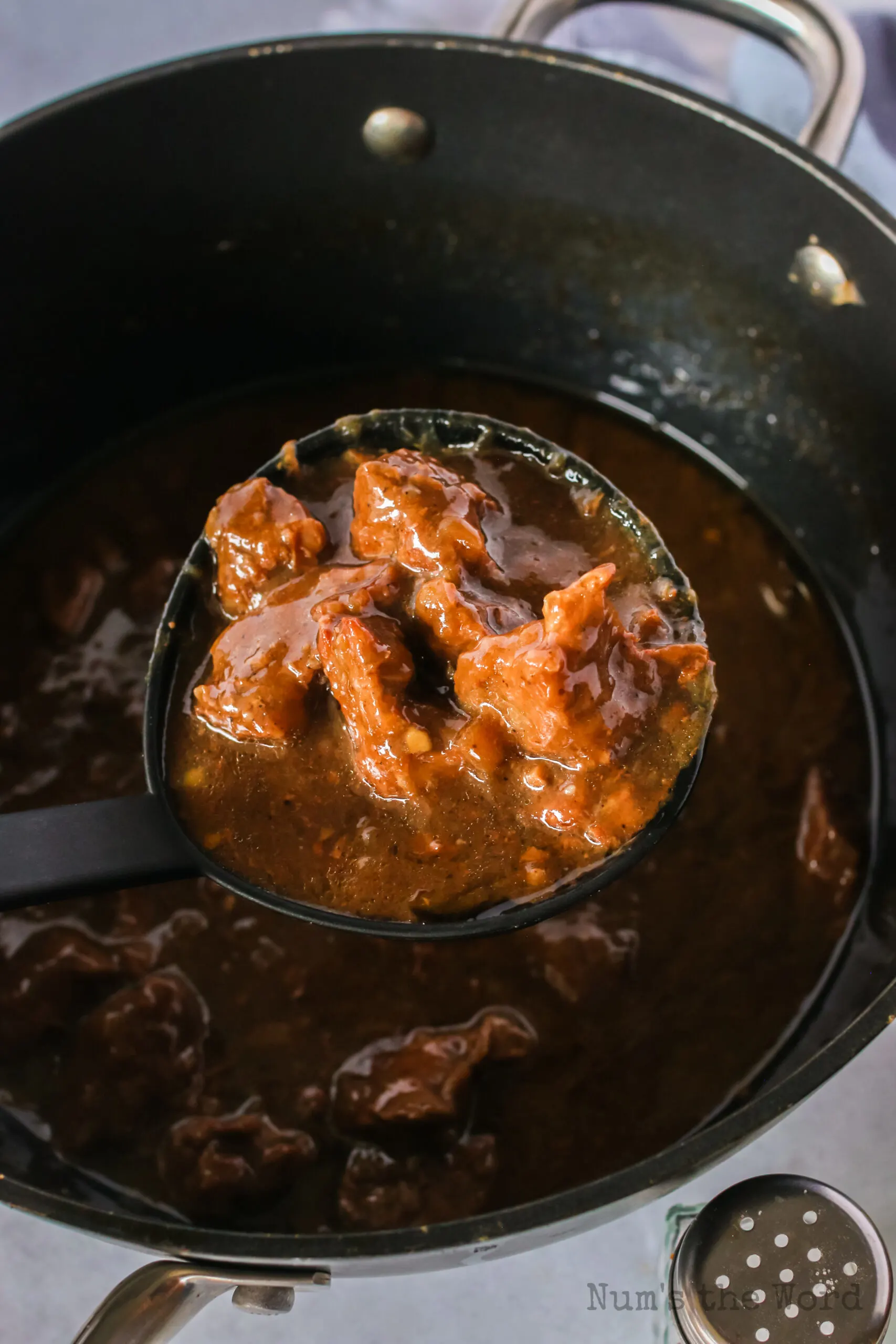 How to Season Beef Tips
This recipe is easily seasoned with these few easy tips!
Onions and Garlic: Those are obvious ways to get delicious flavor!

Sauce: Worcestershire or soy sauce have a lot of flavor to give. Combine them and it'll be perfect!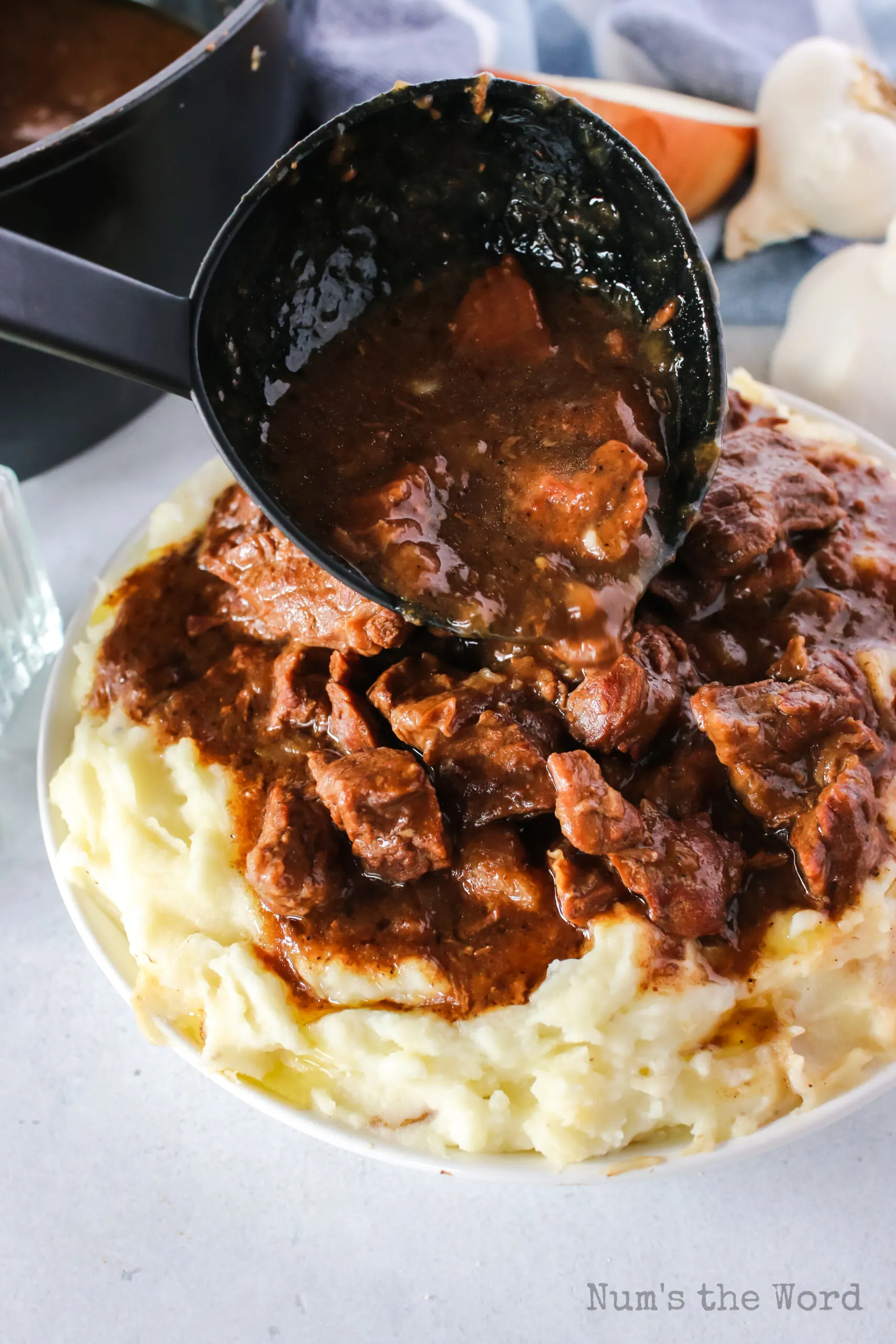 What Else Can I Make With Stew Meat

?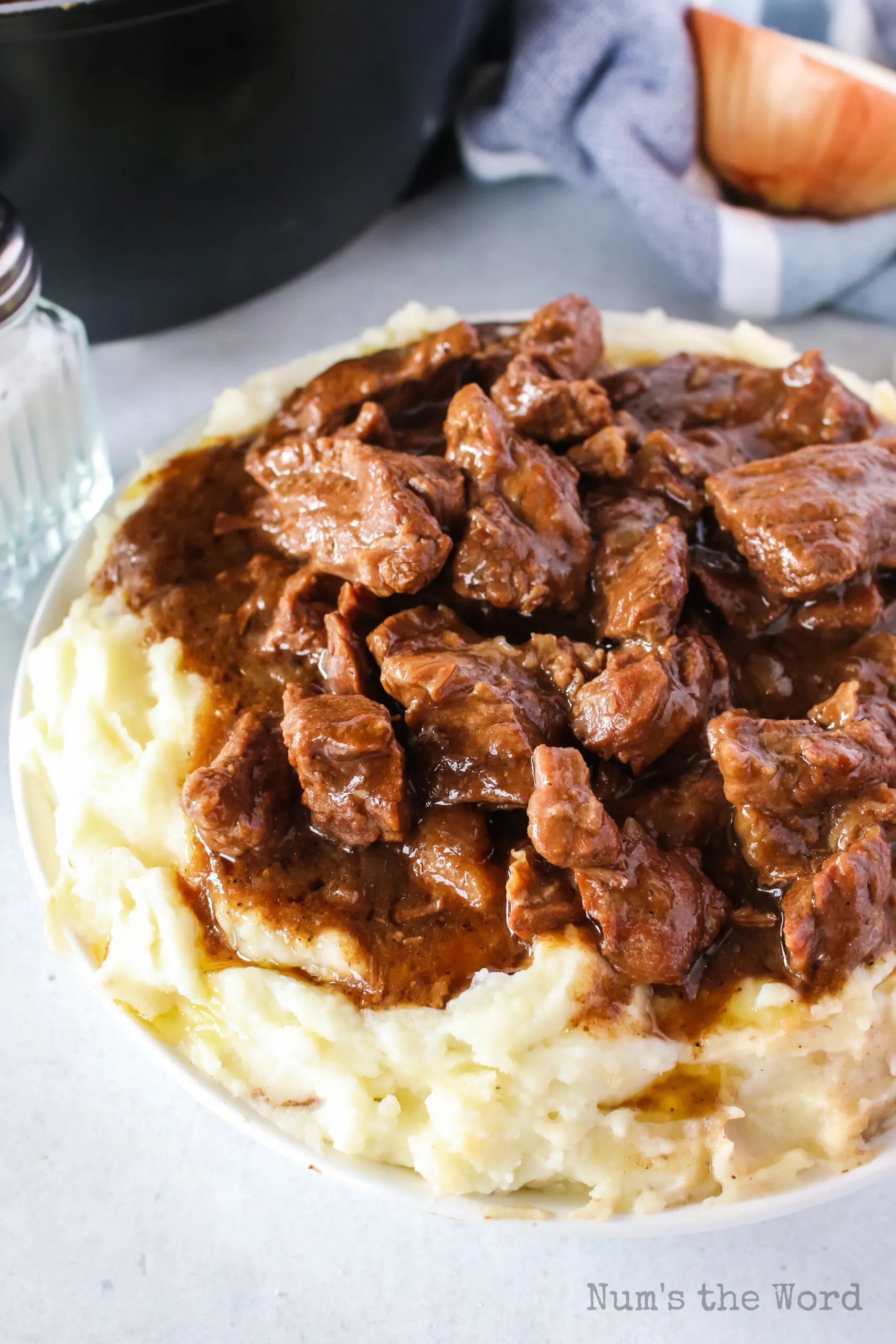 How to Store Beef Tips
Beef Tips make wonderful leftovers! They taste as great heated up later as they did on the day they were first cooked.
Before moving into an airtight container, make sure they are completely cool. Store the in the fridge for up to 5 days. They can easily be reheated in a microwave or on the stove.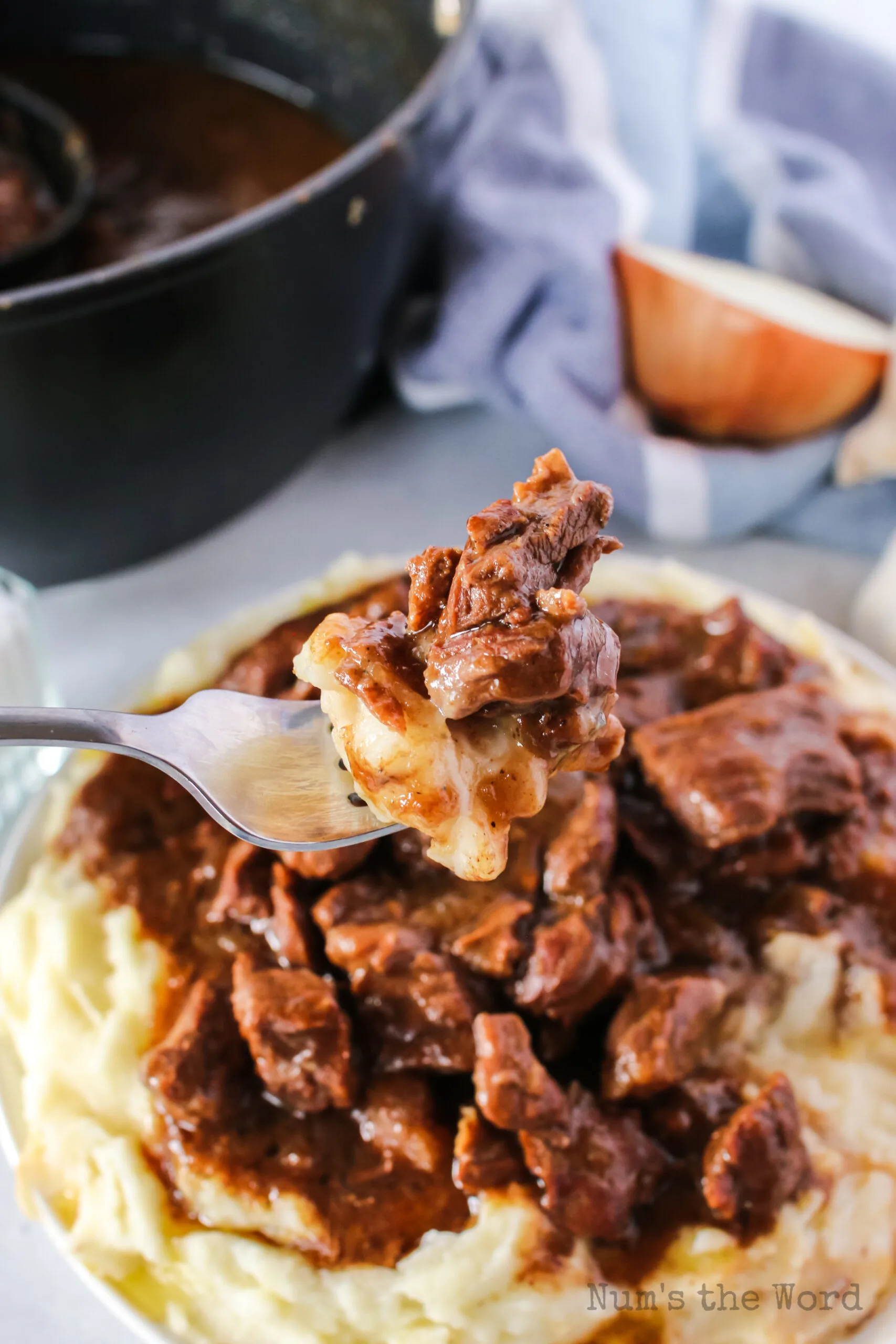 Beef Tips are easy to make, quick, tender, and bursting with flavor. Slathered in gravy and served over warm mashed potatoes, everyone will go to bed with a full and happy belly!
Leave me a comment to let me know what you think!
Yield: 6 Servings
Beef Tips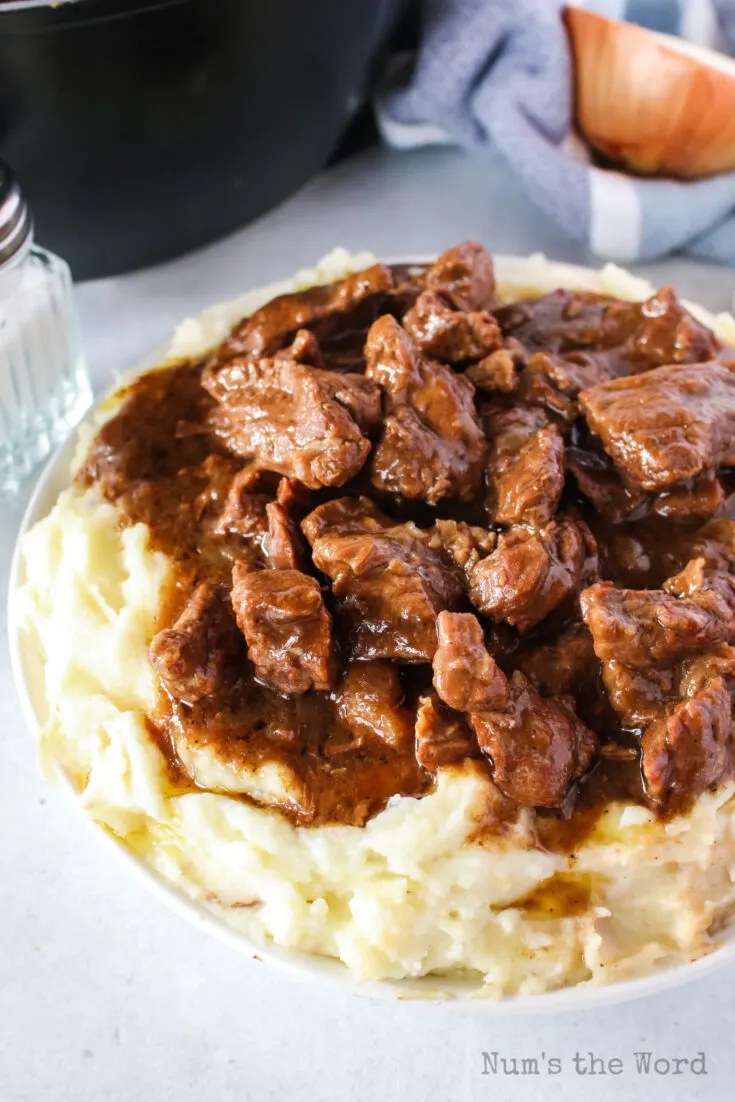 These Beef Tips are "melt in your mouth" delicious! Easy to make and full of flavor, it's a meal no one can resist!
Ingredients
5 Tablespoons of olive oil, divided
1 small yellow onion, diced
2 pounds beef tips
2 cups beef broth
1/4 cup low sodium soy sauce
1/4 cup Worcestershire sauce
1 teaspoon garlic
1 teaspoon black pepper
1 (0.75 ounce) packet dry brown gravy mix
Instructions
In a large pot or Dutch oven, add 3 Tablespoons oil and onion.
Cook until onion is cooked through and translucent.
Add garlic and cook for 1 more minute.
Remove onion & garlic from pan and set aside.
Turn heat up to medium high heat and add 2 Tablespoons of oil.
Sear beef for 30 seconds - 1 minute on each side. Do not cook though. This may need to be done in batches.
Add all beef and onions back to the pan.
Add beef broth, soy sauce, Worcestershire sauce, salt and pepper into the skillet.
Bring to a rolling boil and then turn down to low.
Place lid on pot and let stew beef simmer for 25 minutes until beef is tender. Thicker chunks of beef will take longer, thinner cuts will take less time.
Once beef is tender, remove ½ cup of stew beef broth and place in a bowl.
Add gravy packet and mix well.
Pour back into beef mixture and bring to a boil, stirring regularly. Mixture will thicken.
Serve over mashed potatoes

Notes
If using Stew Beef - follow directions above, but simmer for 1 1/2 hours to 2 hours until tender.
Nutrition Information:
Yield:
6
Serving Size:
1
Amount Per Serving:
Calories:

430
Total Fat:

22g
Saturated Fat:

6g
Trans Fat:

1g
Unsaturated Fat:

16g
Cholesterol:

150mg
Sodium:

1093mg
Carbohydrates:

7g
Fiber:

0g
Sugar:

2g
Protein:

52g