Crock Pot Polynesian Beef starts with stew meat and ends with the most flavorful and easy slow cooker meal you've ever had!  Kid approved and perfect for a weeknight or Sunday dinner!
This post contains affiliate links.  If you click on an affiliate link and make a purchase, I will make a small percentage on your purchase. This helps keep this website running! Thank you!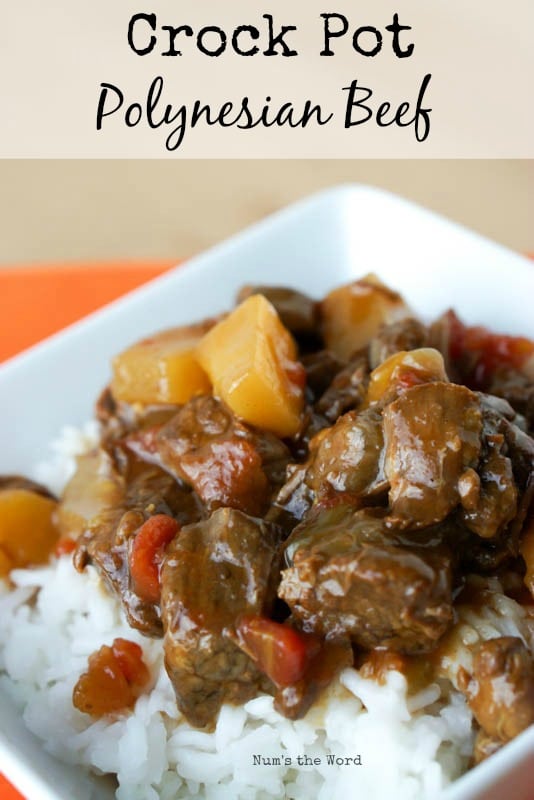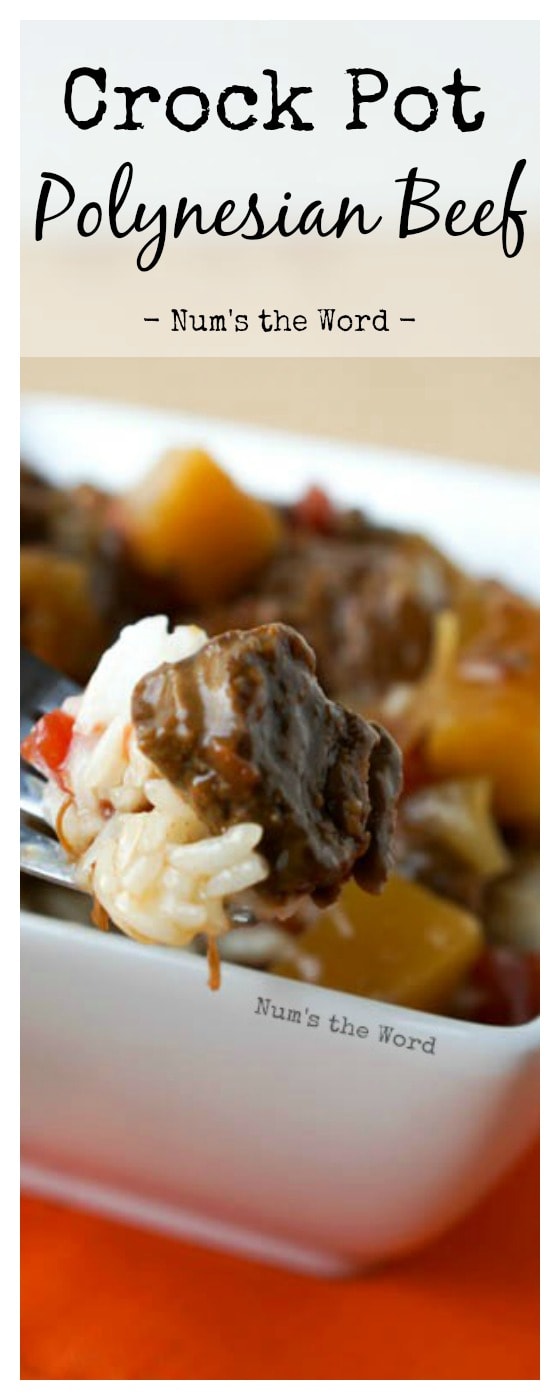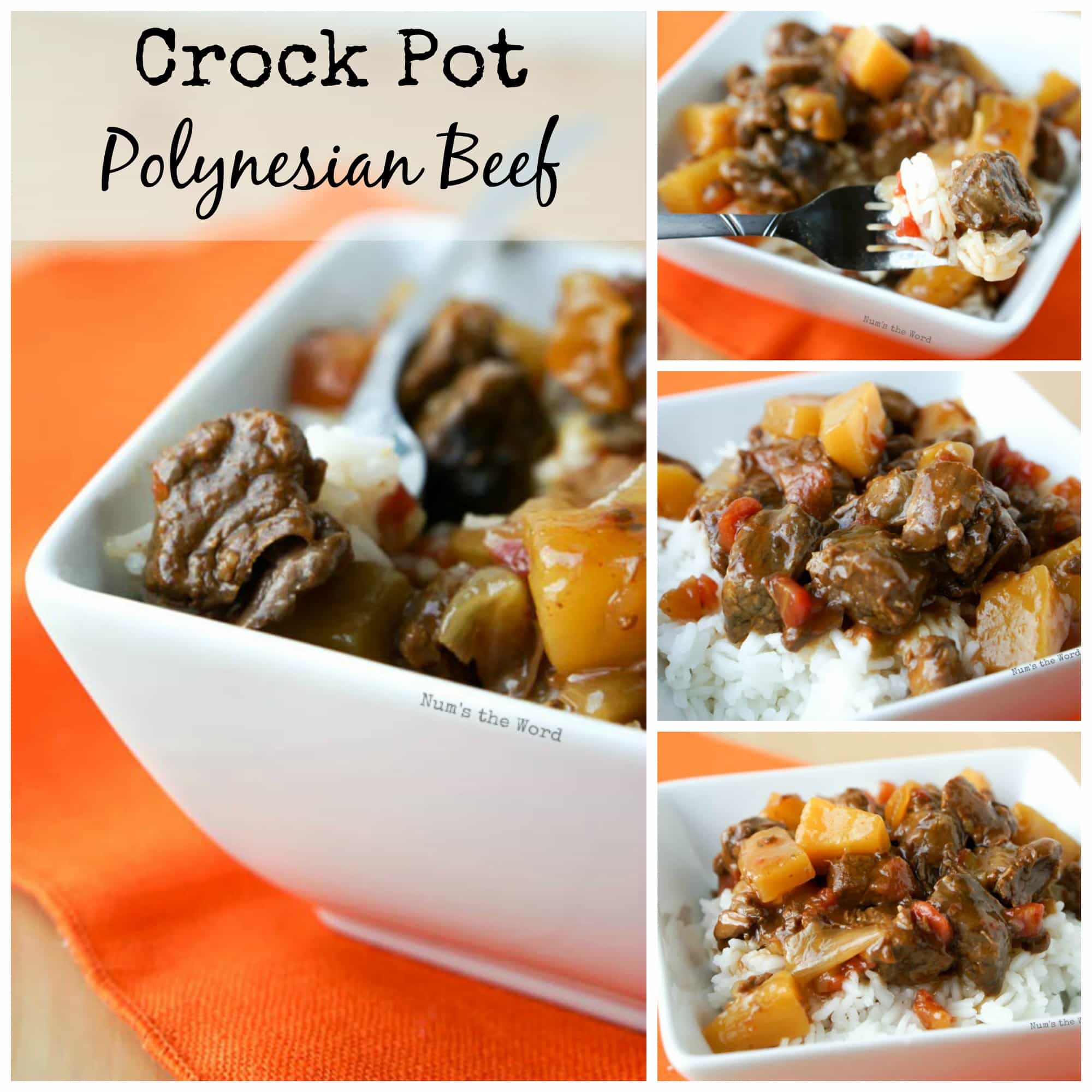 When everyone at the dinner table agree that this Crock Pot Polynesian Beef recipe is a keeper then you know it's good.
In our house, everyone except my Father-in-Law gives their honest, unfluffed view of new recipes.
We critique them, and make suggestions on what would help the flavors pop.
It is a little bubble in which no one is allowed to take offense or be hurt by criticism.
However it's done in an atmosphere where we all truly want to help each other become better and develop the best meals possible.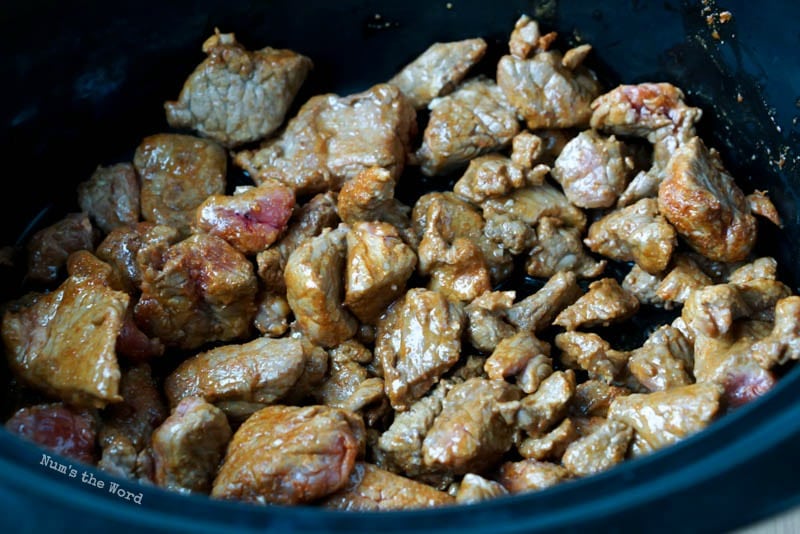 So when we all sat down to try this Crock Pot Polynesian Beef recipe, there wasn't a single thing that anyone wanted me to change about it.
That's when I knew I had a winning recipe on my hands.
It's a VERY rare day when no one has something to add.
And before someone leaves me a comment about why my Father-in-Law isn't a part of the honesty conversation, well, he's always just too kind.
He usually keeps to himself in terms of critiquing dinner.  
When he does comment, it's usually a fluff comment (in a kind tone) to the effect of everything Janelle makes is great.
Which we all know isn't true.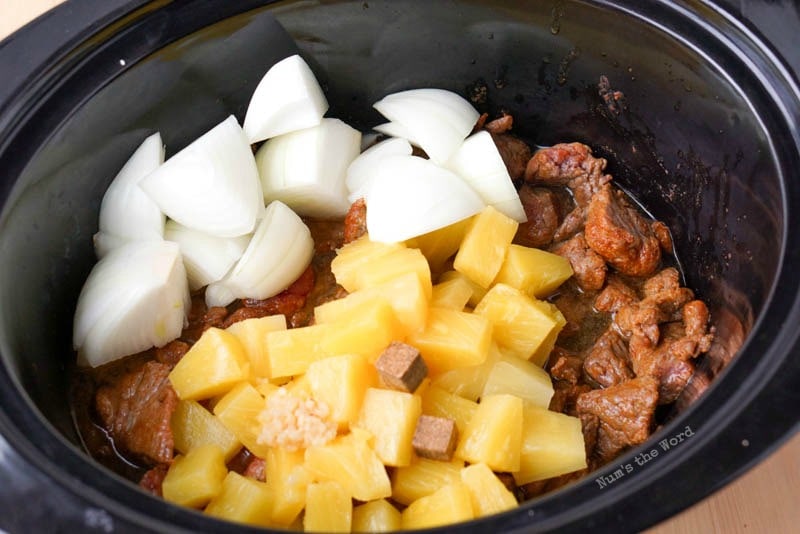 This Crock Pot Polynesian Beef is sweet and tangy and the beef comes out so flavorful and tender that it just melts in your mouth.
This makes for a great while you're at church or running errands meal and is one that is family friendly!
Although I've not tried it myself (but believe me I will) I think this would even work great as a freezer meal!
Toss everything in a freezer bag and go.
For the freezer meal, you can opt to sear or not sear the meat.
Both work fine, though searing the meat will provide more flavor.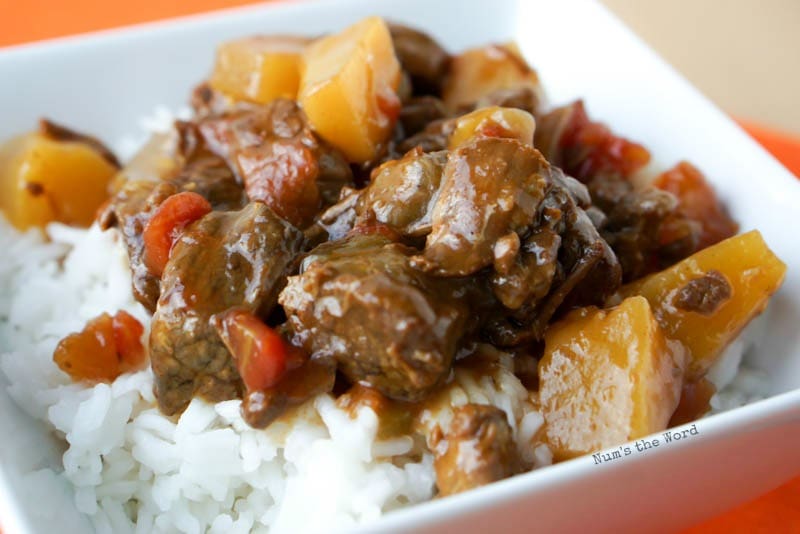 This step isn't crucial to the recipe turning out good.
It DOES add flavor, but the meal will turn out just fine if you just toss it all in the pot and call it good.
Or if you want bonus points, sear your beef and let it cool before freezing.
Everyone agreed that this recipe for Crock Pot Polynesian Beef is a keeper.
It's a tasty meal that is even kid approved!
And that is saying something!
Make your life easier and dust off that old crock pot and put it to work!
Your family will surly reward you with a gold star for this meal!
Crock Pot Polynesian Beef
Ingredients
1 1/2 teaspoon seasoning salt
1 teaspoon paprika
1 teaspoon ground ginger
1 1/2 lbs stew meat
3 Tablespoons olive oil
2 cloves of garlic
1 (20 ounce) can of pineapple chunks with juice
2 beef bouillon cubes
1/4 cup white vinegar
2 medium onions, chopped
1 (10 ounce) can mild Rotel tomatoes
3 Tablespoons brown sugar
2 Tablespoons cornstarch
1/4 cup water
2 Tablespoons soy sauce
Instructions
In a gallon size ziploc bag, add season salt, paprika, and ground ginger. Shake bag to mix.
Add stew meat to seasoning, close bag and shake until all pieces are lightly covered.
In a large skillet, add olive oil. Heat pan over medium heat. Once pan is hot, add stew meat. This may require a few batches (it took me 3 batches to do all of the meat).
Sear the beef on each side. DO NOT FULLY COOK. Just get a nice sear on it to seal in the flavor.
Once meat has a nice color, transfer to crock pot. Repeat with remaining batches.
Add to crock pot, garlic, pineapple with juice, bouillon cubes, vinegar, onions and Rotel..
Cook on low for 4 - 6 hours (depending on your crock pot), until beef is cooked through and tender.
In a small bowl combine brown sugar, cornstarch, water and soy sauce.
Pour this over the beef, stir and cook on high for 30 minutes - 1 hour, or until mixture thickens.
Serve over rice or mashed potatoes.
https://numstheword.com/crock-pot-polynesian-beef/
Other Recipes that use Stew Meat...