This Instant Pot Beef Paprikash is a quick and easy recipe that is packed with flavor, is oh-so-filling, and is certain to be a hit with your entire family! Few things simplify recipes as much as the Instant Pot, and this tasty dish is no exception.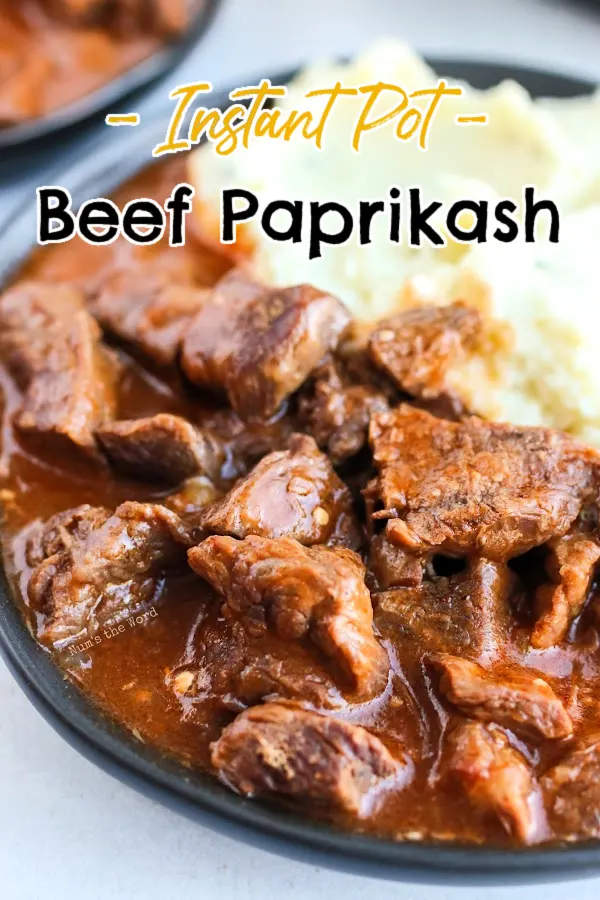 Also known as "beef paprika," this dish gets much of its lovely russet hue and flavor from paprika. It's beefy and saucy and full of tasty flavor. We love to eat it over mashed potatoes, like a full roast dinner!
If you've never had beef paprika before, you're certainly missing out. This dish has all the fixings of a warm, comforting stew meets a Sunday afternoon roast. So give it a try today and fill the bellies in your house with this delicious, gut-filling meal!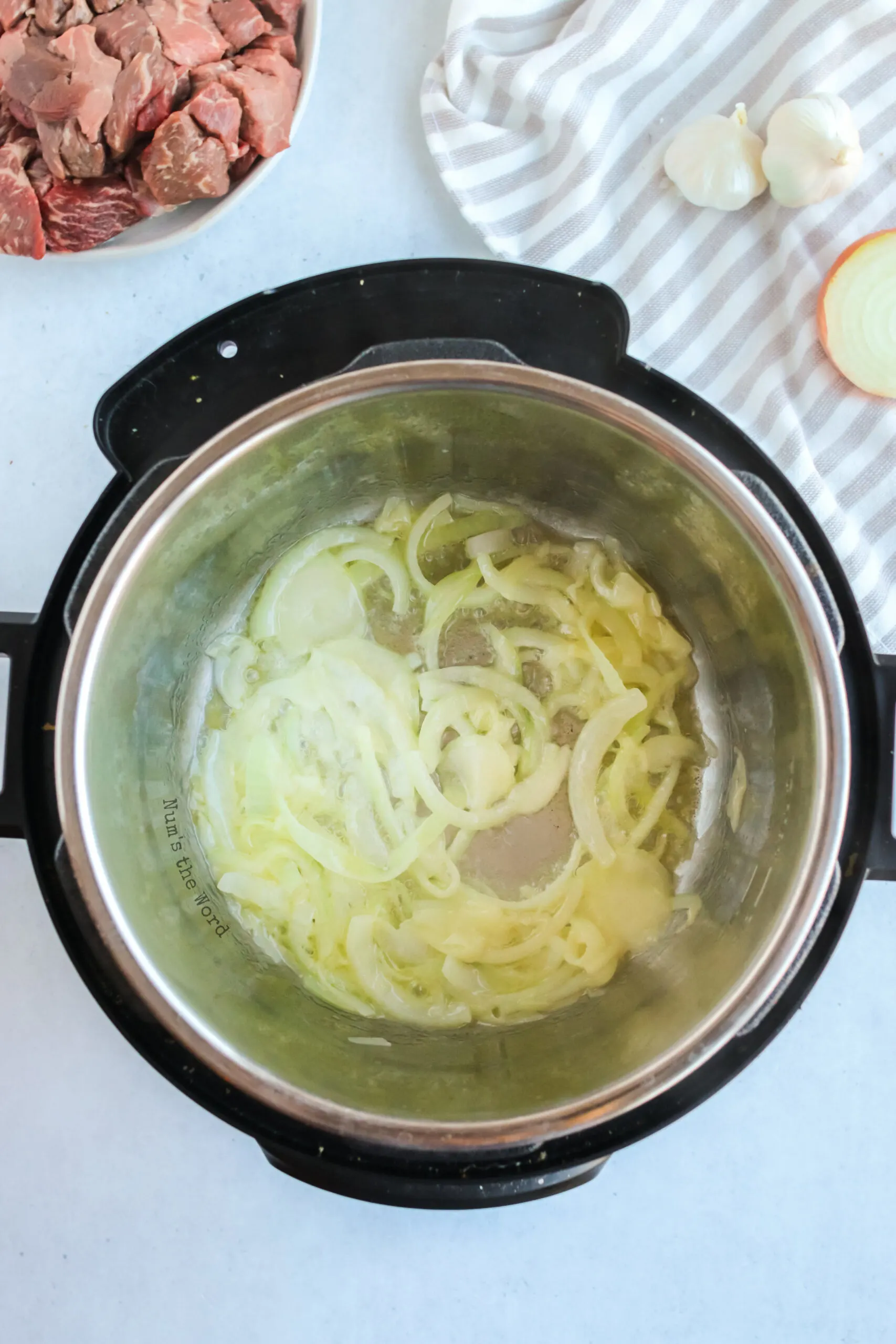 What is Hungarian Beef Goulash?
The definition of "goulash" is a Hungarian meat and vegetable soup or stew, predominantly flavored with paprika. Therefore, Hungarian beef goulash is a beef and vegetable stew, highly seasoned, predominantly with paprika; sometimes simply called, "beef paprika or beef paprikash".
Goulash comes from Hungary and is served throughout Central Europe, as well as other regions. With origins clear back in the 9th century, the earliest goulash recipes did not contain paprika, as that spice was not introduced to the region until the 16th century.
Since its introduction in the 16th century, paprika has become a staple seasoning in Hungary and is often associated with Hungarian cuisine. Paprika is also one of the main seasonings in this beef paprikash Instant Pot recipe, if you can imagine!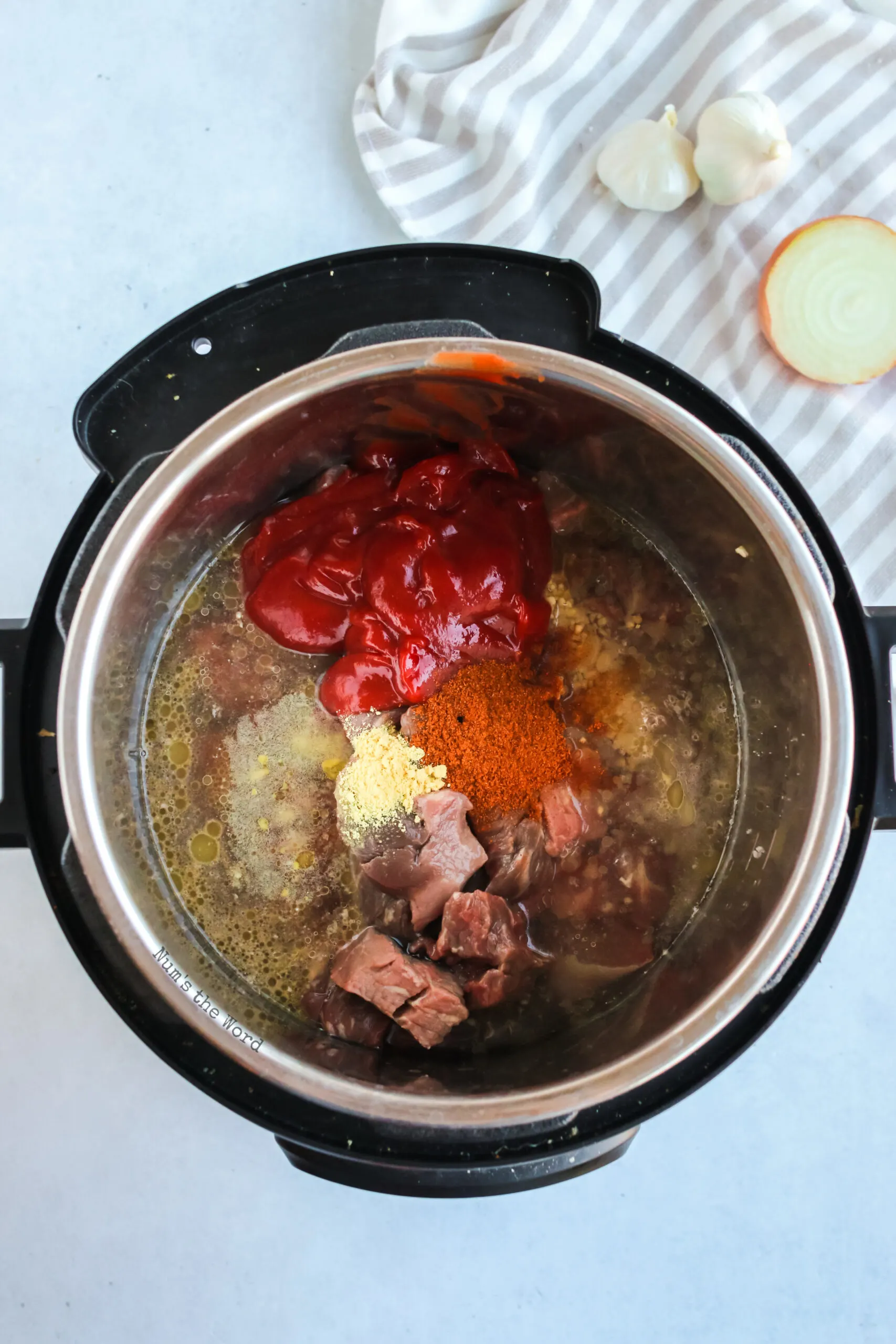 Does paprika go with beef?
Perhaps you've heard of Chicken Paprika, a well known and much beloved Hungarian cuisine staple, and you're wondering … beef and paprika … are they a match?
The answer is: YES! A resounding, sing-it-from-the-rooftops, yes!
Paprika has long been a popular seasoning for a variety of meats and dishes. It provides seasoning ranging from sweet to hot and also provides a lot of color and flavor. There are many different types of paprika, and paprika from different regions have different flavors.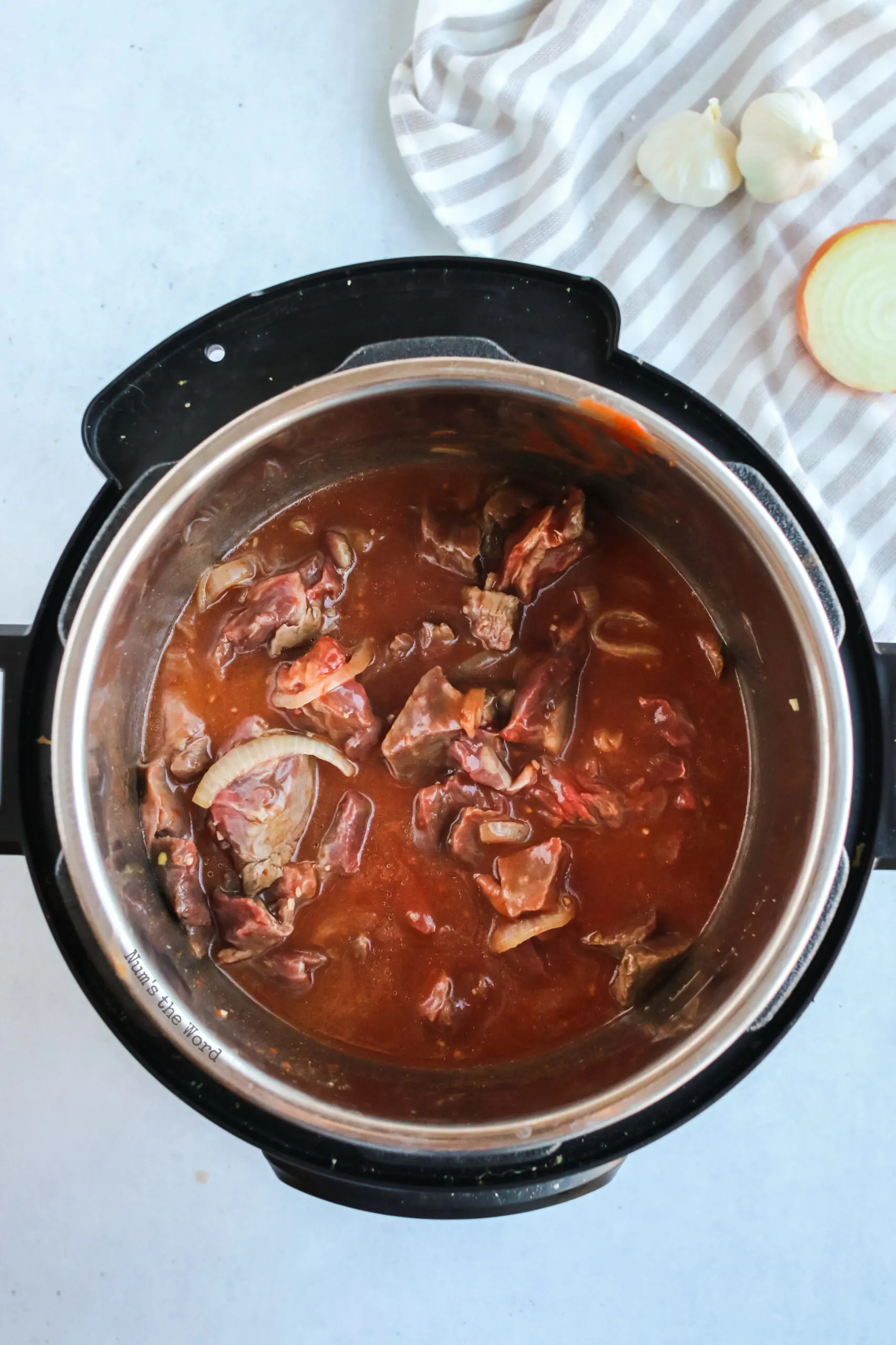 Can you do smoked paprika with beef?
Yes, you can! Though smoked paprika adds an additional layer of Smokey flavor beyond what is in regular paprika, it has a pleasant taste that compliments meats nicely. It does have a slightly different flavor, however, so it's up to personal preference. I use smoked paprika in just about everything that calls for paprika!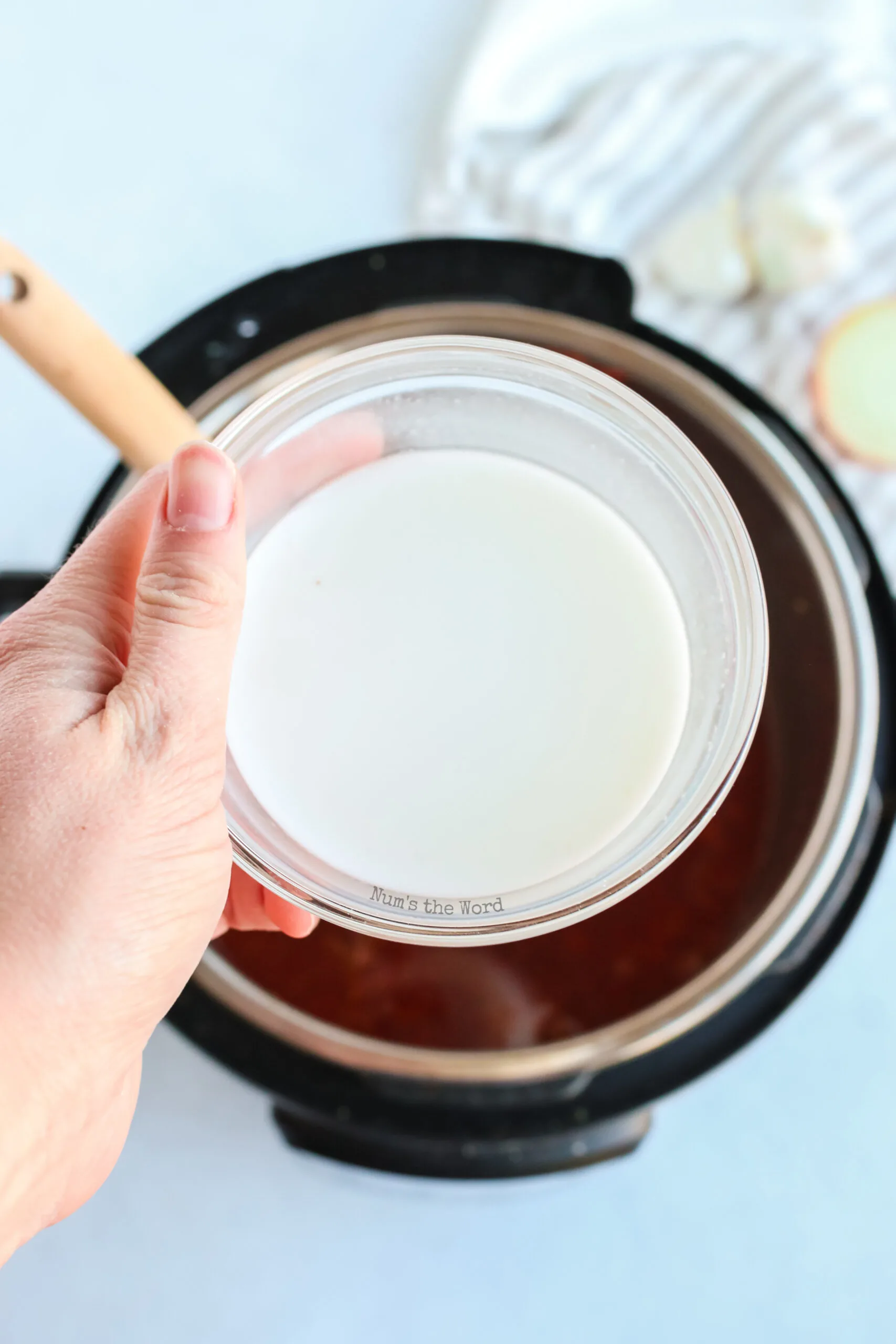 What Ingredients are in Instant Pot Beef Paprikash?
To make this delicious Instant Pot Beef Paprikash, you will need the following ingredients:
Butter

– butter will be the fat you'll use to sauté your onions and garlic.

Onions

– sliced onions add flavor and texture to the dish.

Garlic

–

minced garlic packs a ton of flavor and is always a great addition to soups and stews.

Beef stew meat

– stew meat makes this dish easy and delicious!

Ketchup

– ketchup provides sweetness and tomato flavor to your stew. It also contributes to the lovely russet color.

Worcestershire sauce

– though historically beef stews did not contain Worcestershire sauce, especially since it wasn't invented until the 19th century and beef stews have been around significantly longer than that, it's frequently added to stews today! It adds a lot of flavor, especially that savory

umami

element.

Brown sugar

– along with the ketchup, a bit of brown sugar sweetens the sauce and enhances the other flavors of the dish.

Salt

– is a flavor enhancer and helps the individual seasonings and flavors of the dish stand out.

Beef broth

– is the liquid base of the stew and also the liquid you'll use to cook the meat in the pressure cooker.

Paprika

– a key ingredient in a recipe with the name paprika in it.

Dry mustard

– dry mustard is the ground spice that is used to make prepared mustard. It doesn't have the vinegar that gives prepared mustard it's very distinctly sour flavor.

Cornstarch

– cornstarch is a quick and easy way to help thicken sauces, stews, and soups.

Mashed potatoes

– this Hungarian stew beef is best served over a heaping pile of mashed potatoes.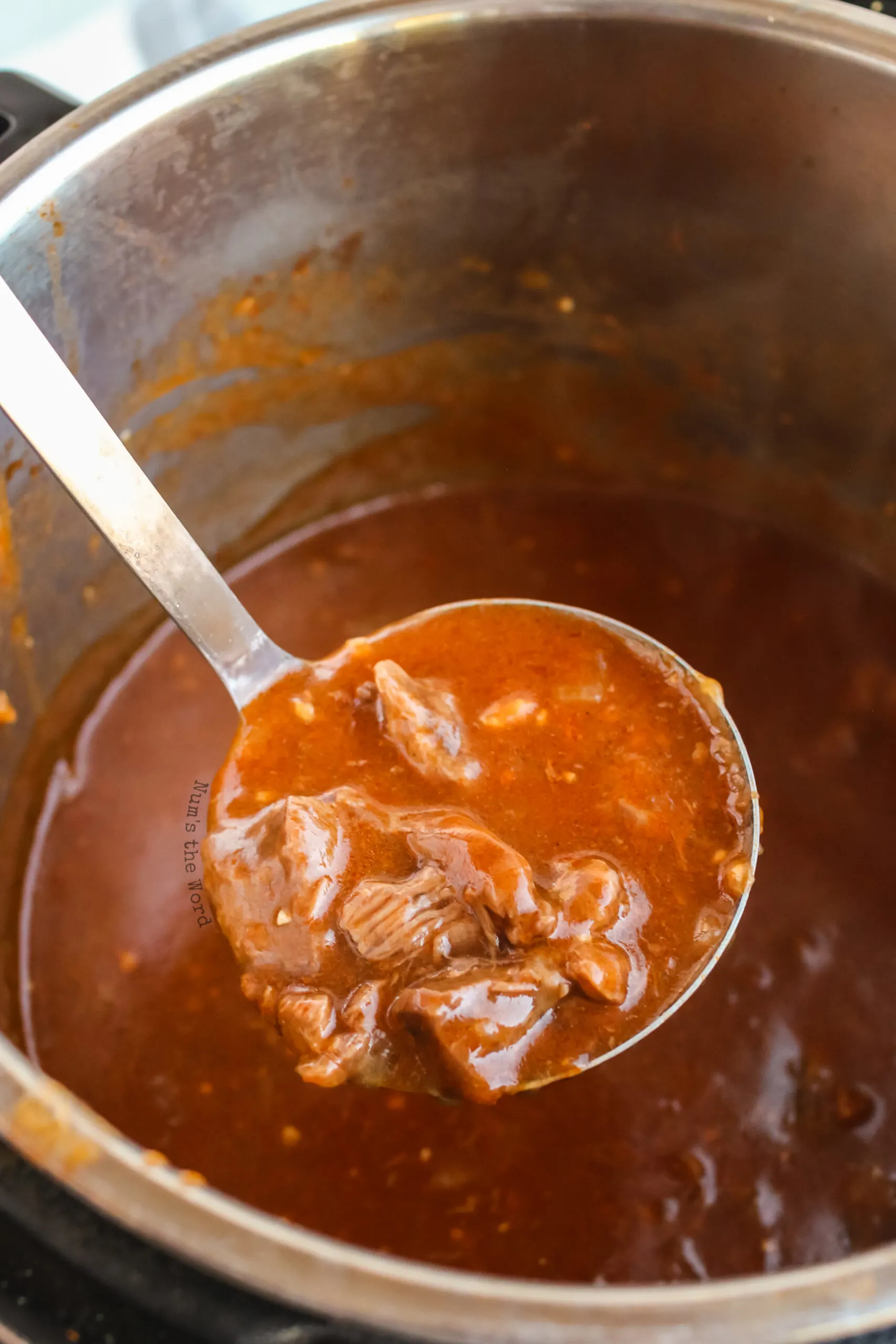 How to cook Beef Paprikash?
Preparing this Beef Paprikash Instant Pot recipe is a cinch thanks to the Instant Pot! You can sauté your garlic and onions in the same pot you'll cook the beef in, maintaining flavor and reducing dishes!

Sauté onions and garlic in the Instant Pot – I love this function! It makes it so easy to do all the cooking in one pot!
Combine

all the ingredients except the cornstarch.

Seal

the Instant Pot and cook!

Natural

pressure release.

Thicken

sauce with cornstarch.

Serve

over mashed potatoes!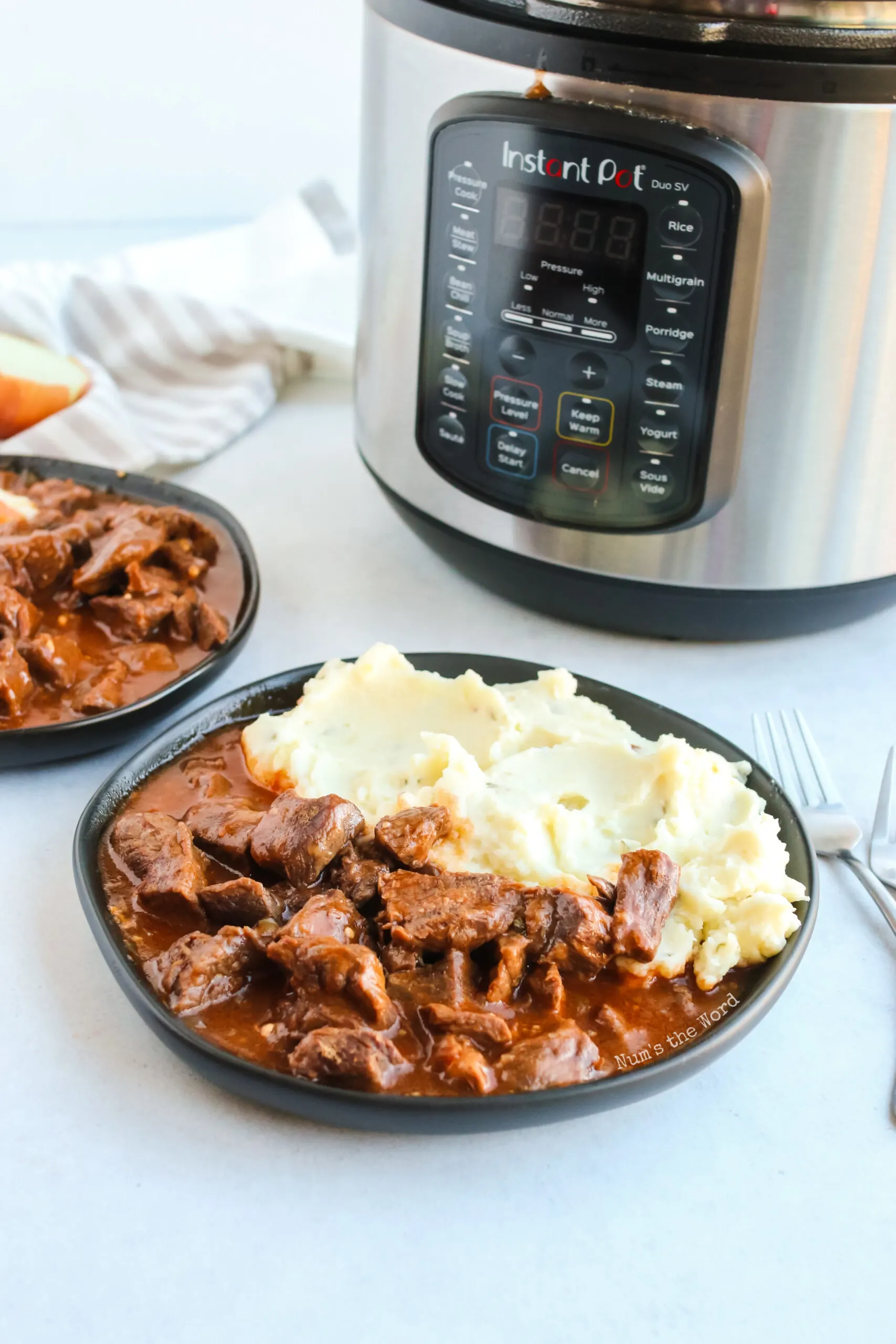 What to serve with Hungarian Beef Paprikash?
Wondering what to serve with beef paprika? There are many sides! First and foremost, I recommend you serve this savory dish over mashed potatoes. Not a potato fan? Feel free to serve over noodles or rice!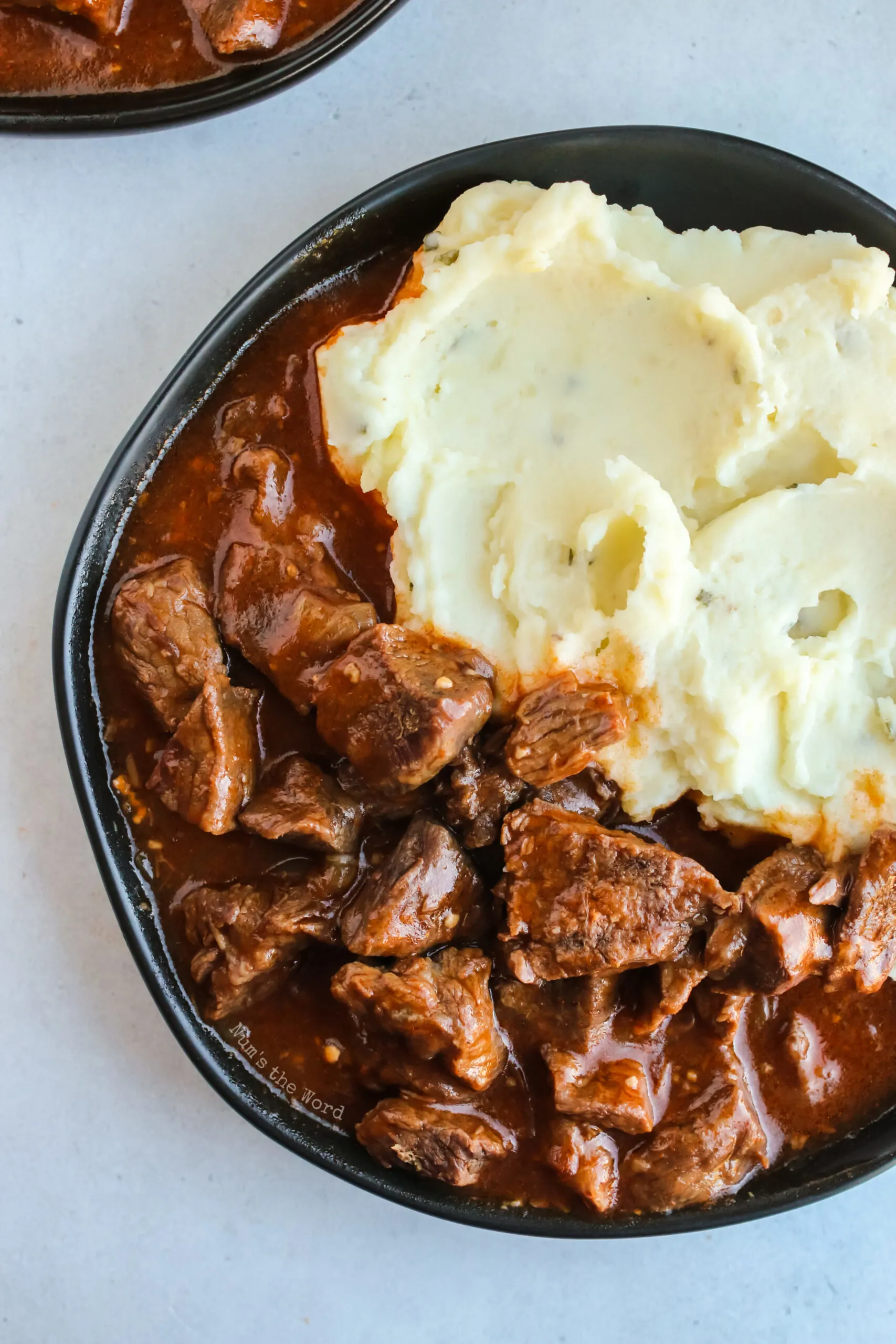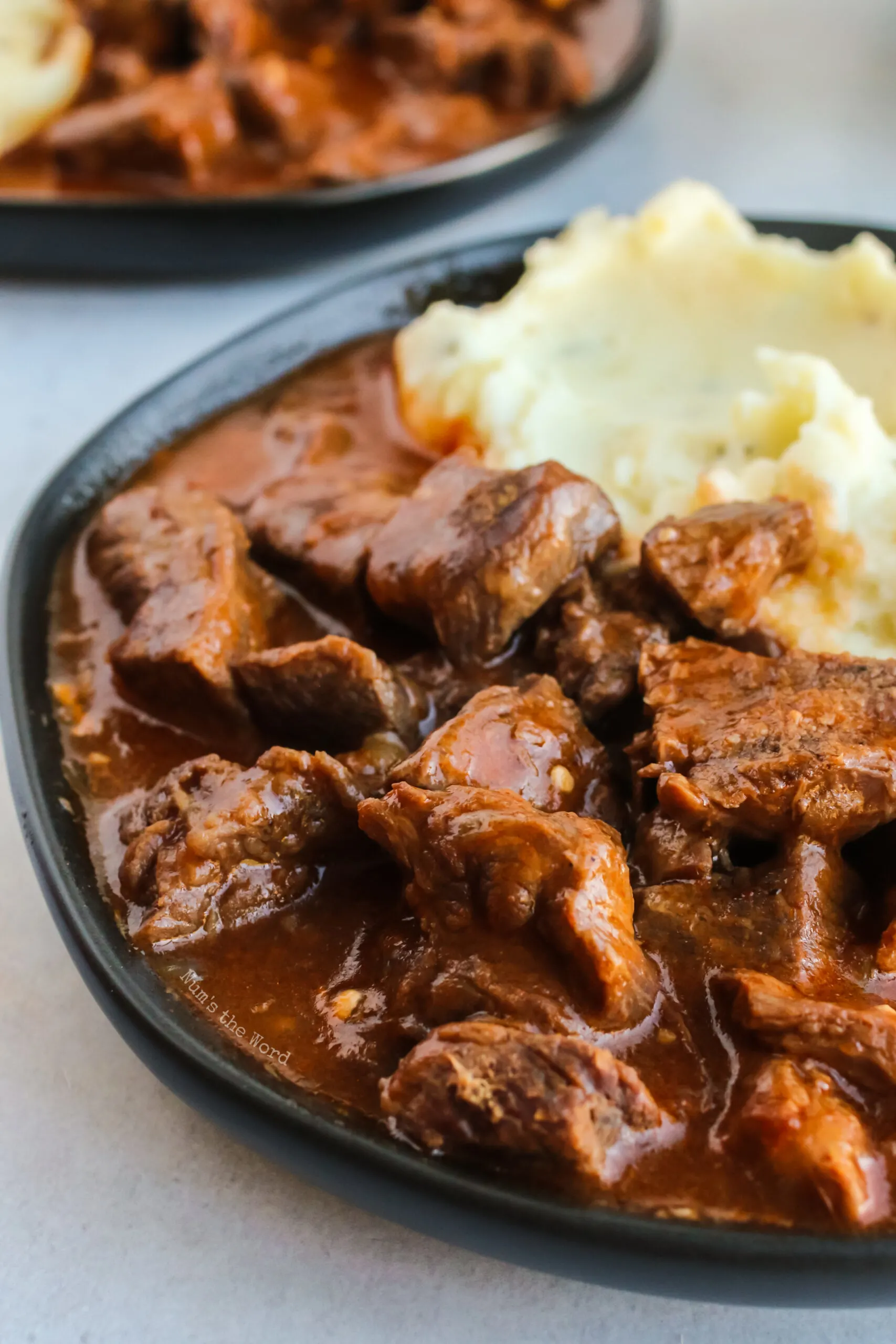 Can dogs eat beef stew with paprika in it?
Paprika is not toxic to dogs, however, it can cause gastrointestinal discomfort and it is probably best to avoid giving it to your furry friend. Most beef stew recipes for dogs do not have additional seasonings.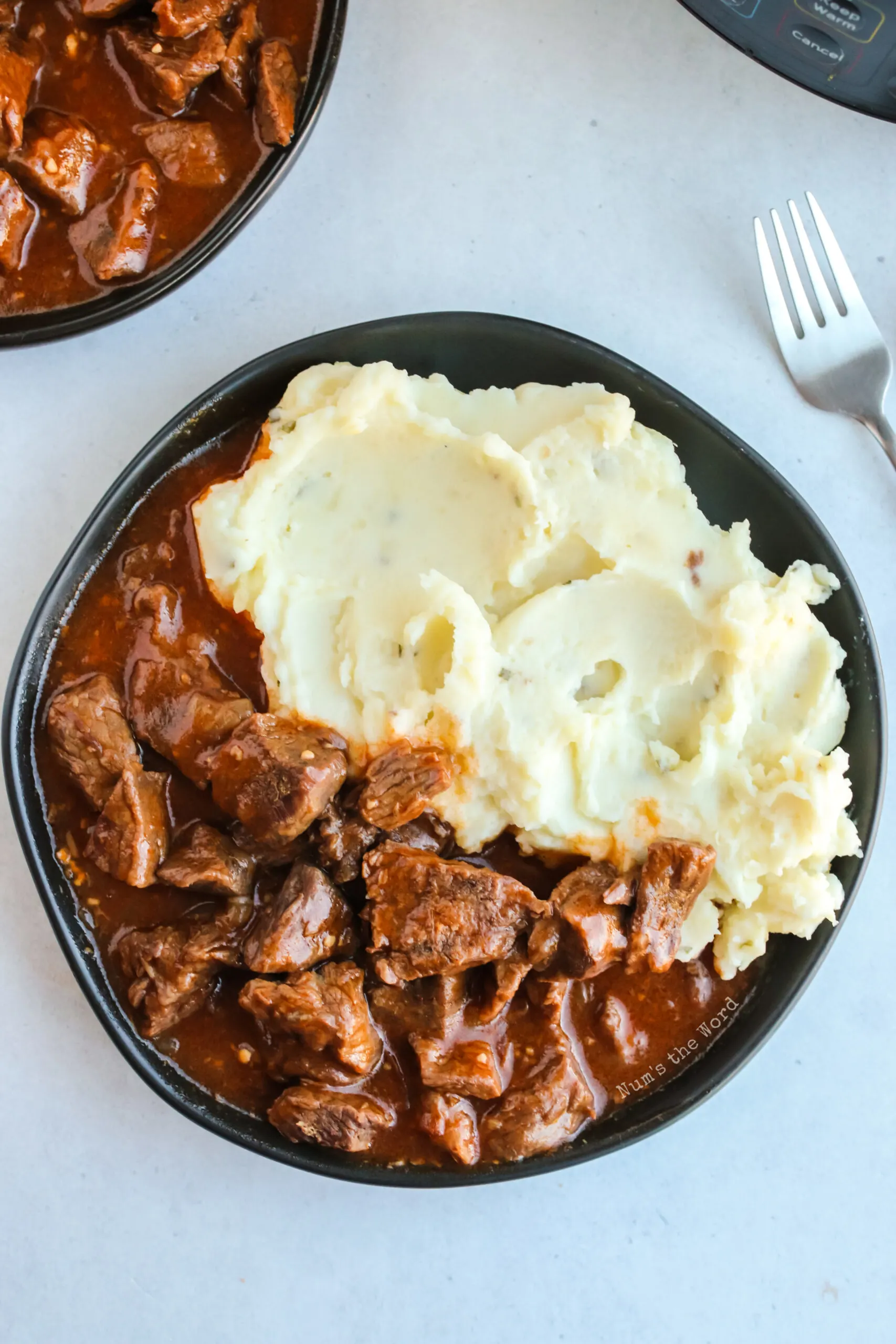 Simple Desserts to Serve with Instant Pot Beef Goulash
My family devoured this Instant Pot Beef Paprikash recipe and was clambering to dibs the leftovers. It's basic enough to please even the pickiest of eaters, yet flavorful enough to impress. And you can make it in the Instant Pot! That sounds like a whole lotta "win" for one recipe.
Yield: 6 Servings
Instant Pot Beef Paprikash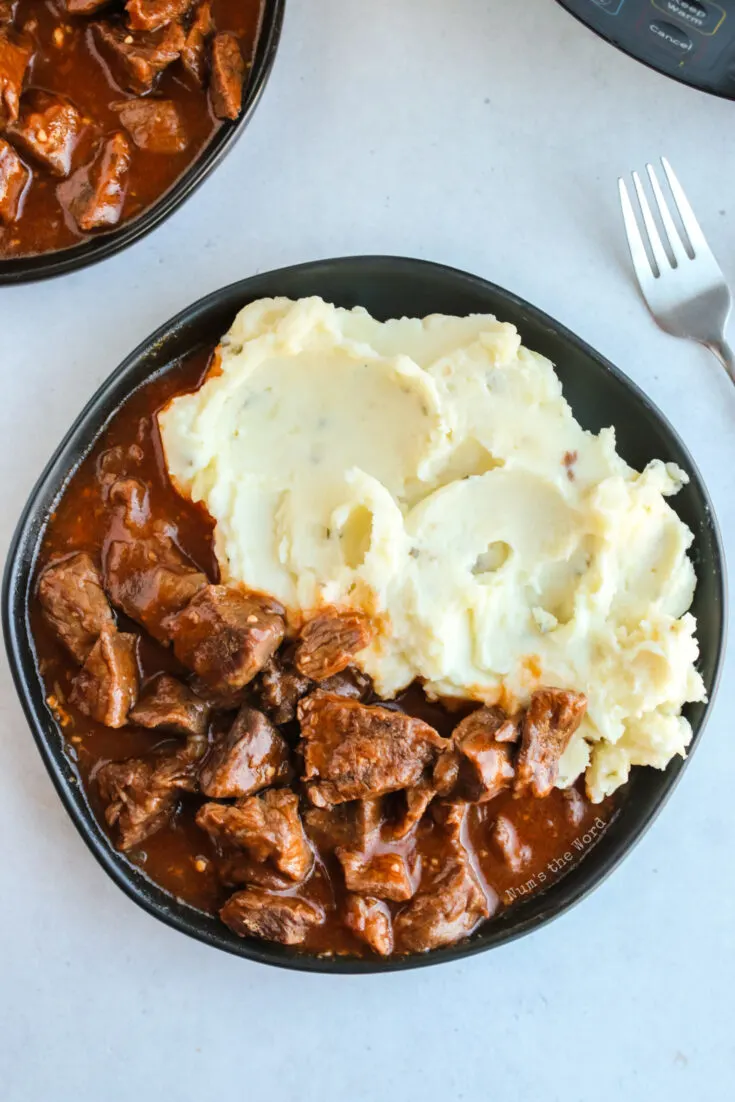 This Instant Pot Beef Paprikash is a quick and easy recipe that is packed with flavor, is oh-so-filling, and is certain to be a hit with your entire family!
Ingredients
1/4 cup butter
1 cup sliced yellow onions
2 cloves garlic, minced
2 pounds beef stew meat
3/4 cup ketchup
2 Tablespoons Worcestershire sauce
1 Tablespoon brown sugar
2 teaspoons salt
1 1/2 cups beef broth
2 teaspoons paprika
1/2 teaspoon dry mustard
2 Tablespoons flour
1/4 cup water
3 cups mashed potatoes
Instructions
Turn Instant Pot to sauté.
Add butter and onions. Cook for 4 minutes then press cancel button.
Add stew beef, garlic, ketchup, Worcestershire sauce, brown sugar, salt, beef broth, paprika and dry mustard to onion mixture.
Place lid on pot and turn steam valve to closed.
Press Manual and set Instant Pot to 20 minutes.
Once cooked and timer goes off, allow Instant Pot to naturally depressurize for 10 minutes. Do NOT flip the switch.
After 10 minutes, flip the steam valve to steam and open lid. Stir.
In a small bowl combine corn starch and water. Mix well and pour into beef mixture.
Turn Instant Pot to Sautee and cook for approximately 5 minutes or until sauce thickens.
Serve over mashed potatoes.