Baked potatoes have never been quicker or easier, thanks to the Instant Pot! Baked potatoes in the Instant Pot take a fraction of the time, don't need foil, and are light, fluffy and delicious! Sounds like a triple win, am I right?!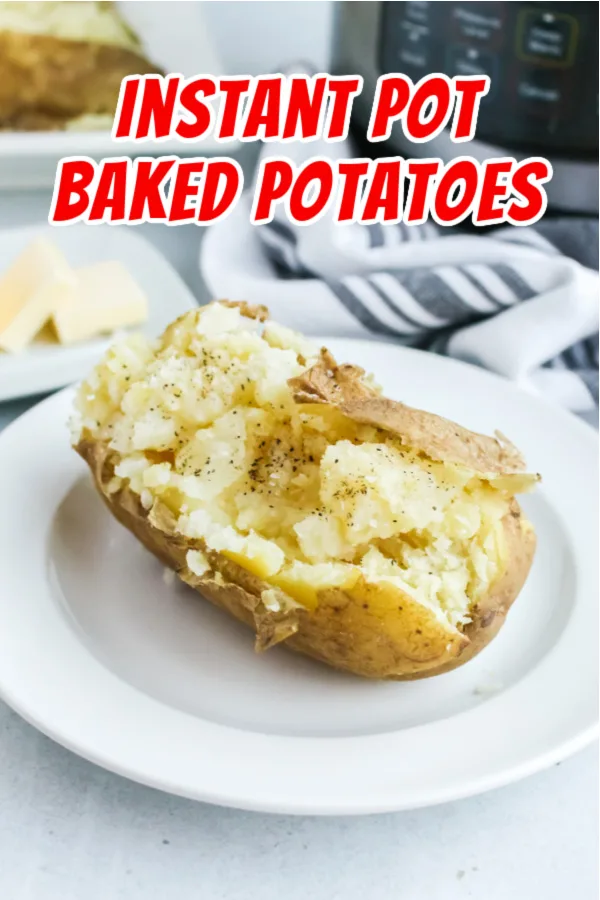 I love a good baked potato on the side of a hearty plate of steak or salmon. But what makes baked potatoes even more standout is they're a great catch-all for leftovers as well! You can serve just about anything on top of a baked potato.
Got leftover pot roast? Chili? Cheese dip? Ham? Pulled pork? Extend and create a whole new dinner by serving it over baked potatoes! And now you can do it quickly and easily with these Instant Pot baked potatoes.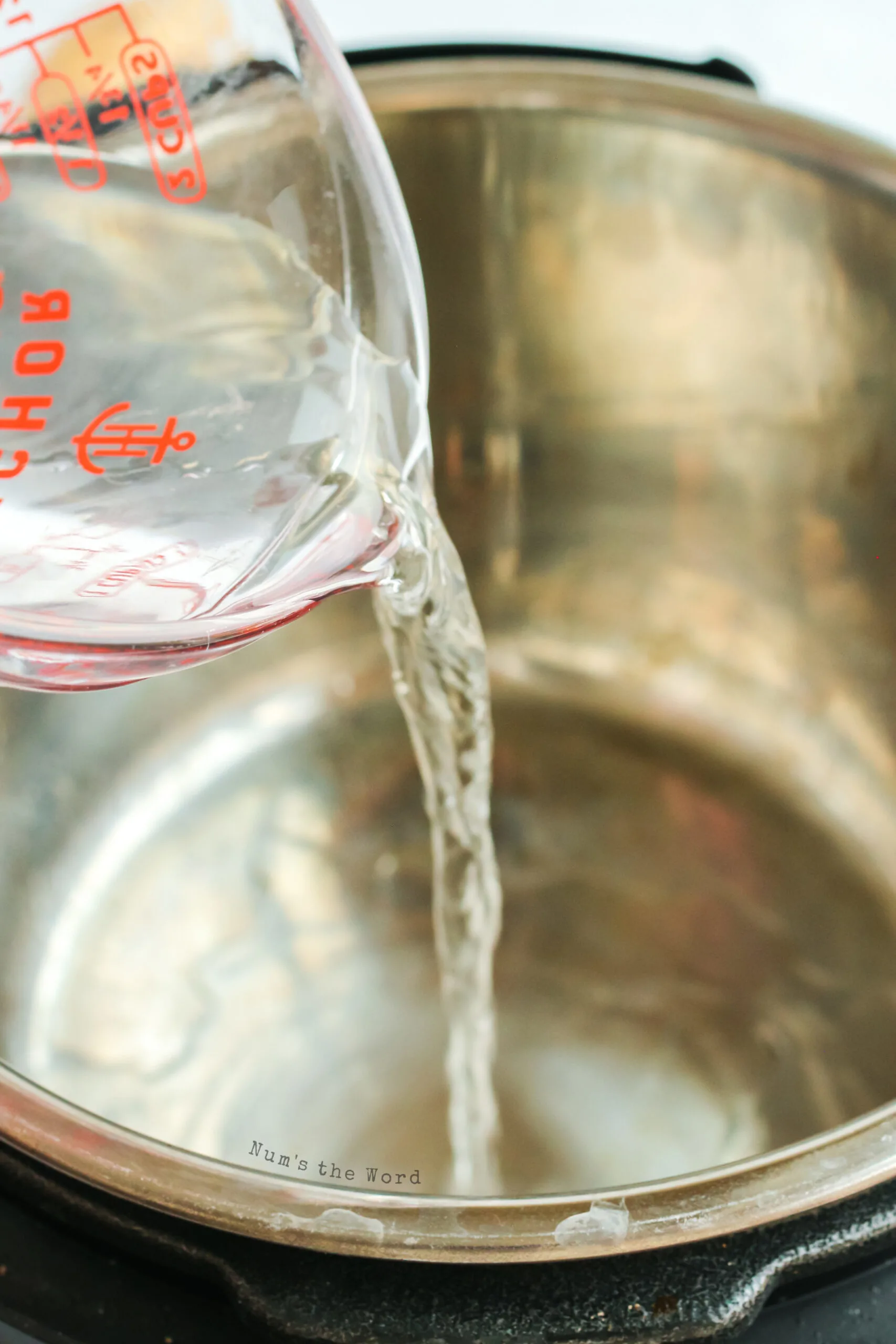 How to bake potatoes in an instant pot?
Baked potatoes in an Instant Pot are so simple! All you need to get started are some potatoes, an Instant Pot or other electric pressure cooker, and a trivet or steaming rack.
Begin by placing one cup of water in the bottom of the inner pot of your pressure cooker.
Thoroughly wash each potato and pierce each potato 5 times with a fork.
Place a trivet at the bottom of the Instant Pot and place washed and pierced potatoes on top of the trivet.
Pro tip #1: Do not allow the potatoes to touch the water! This will cause them to become mushy wherever they touch the water instead of nice and fluffy inside the skin.
Pro tip #2: If you don't have a trivet, you can use a stainless steel steamer basket.
Close the pressure valve and set the Instant Pot to pressure cook for 14 minutes on high pressure, or use the following table to determine cook times for different sized potatoes (you'll want to use uniformly sized potatoes):
| | |
| --- | --- |
| Potato size | Cook time |
| 2" wide potatoes | 10 minutes |
| 3" wide potatoes | 16 minutes |
| 4" wide potatoes | 20 minutes |
| 5" wide potatoes | 24 minutes |
Allow for 5 minutes of natural pressure release, then quick release the rest of the pressure.
That's it! You've got fresh, baked potatoes in a fraction of the time and using a fraction of the effort.
Pro tip #3: If you find yourself desperately missing crispy potato skins, there's a fix for that too! Place the cooked Instant Pot baked potatoes on a baking sheet, give them a quick spritz of olive or canola oil, and broil in the oven for 3-5 minutes, or until you've reached your desired skin-crispiness.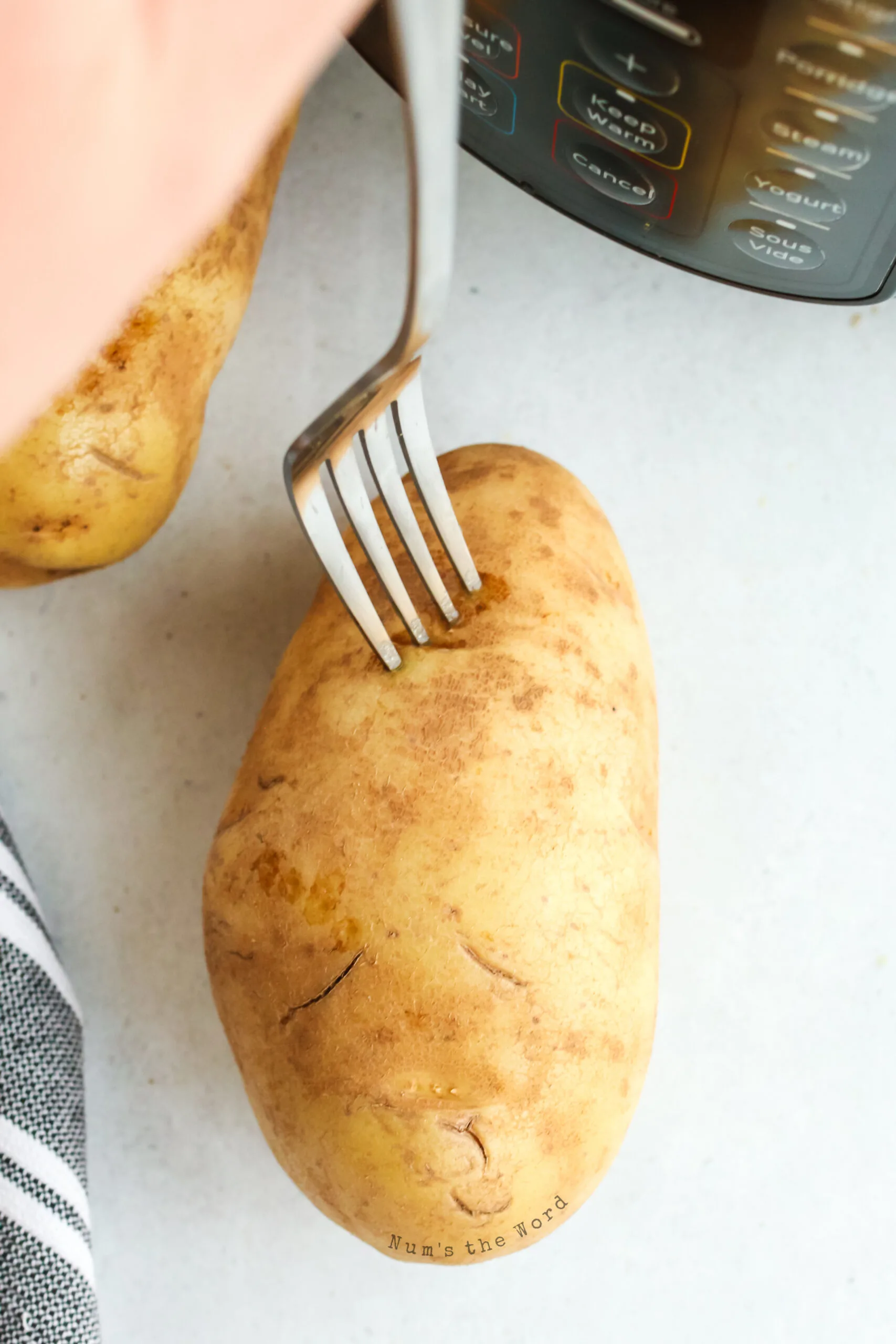 What to put on top of baked potatoes?
There are so many things you can put on a baked potato! And this Instant Pot baked potato recipe makes it quicker and easier to incorporate potatoes into any dinner recipe! Really, the possibilities are endless. You can reimagine and utilize leftover meats and sauces, or you can do an entire potato bar from scratch! Here are some ideas:
Crock Pot Chili Cheese Dip

The BEST Cheese Dip

Cheesy Bacon Spinach Dip

Twice Baked Potatoes

Cranberry Chili Meatballs

Hearty Chicken Chili

White Lightning Chicken Chili

Crock Pot Cranberry Pot Roast

Overnight Roast Beef

Crock Pot Barbecue Sirloin Beef

The Best Sausage Gravy Recipe
You can also top baked potatoes with the traditional butter, cheese, sour cream, bacon, and chives. Don't forget some salt and pepper!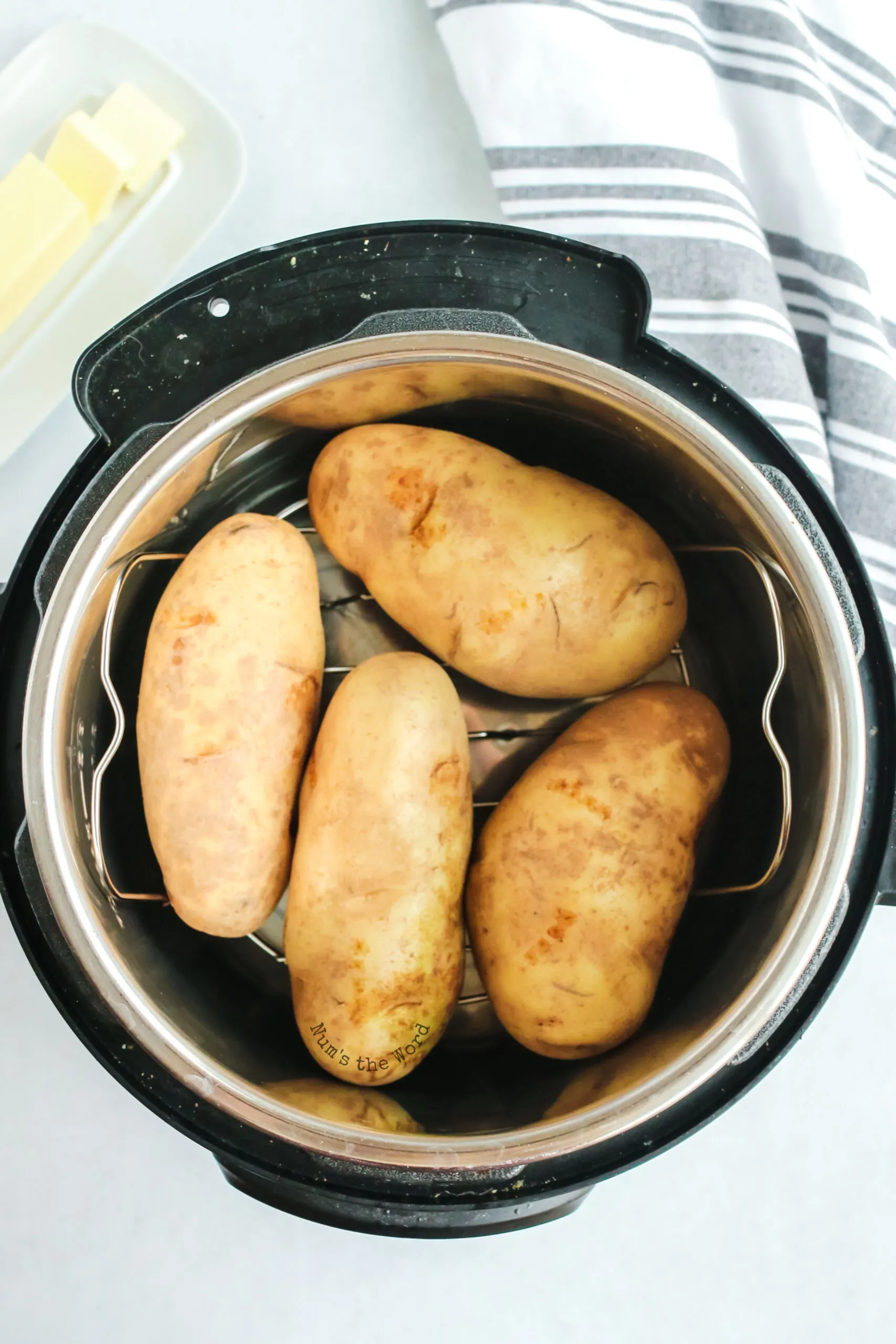 What to serve with baked potatoes?
Besides working great as the main starch of a main dish, baked potatoes also shine bright as a side dish. Serve them alongside any cooked meats or fish. Steak and potatoes is a steakhouse staple! Or serve them alongside a fresh green salad or hearty soup. Or top with roasted vegetables and melty cheese!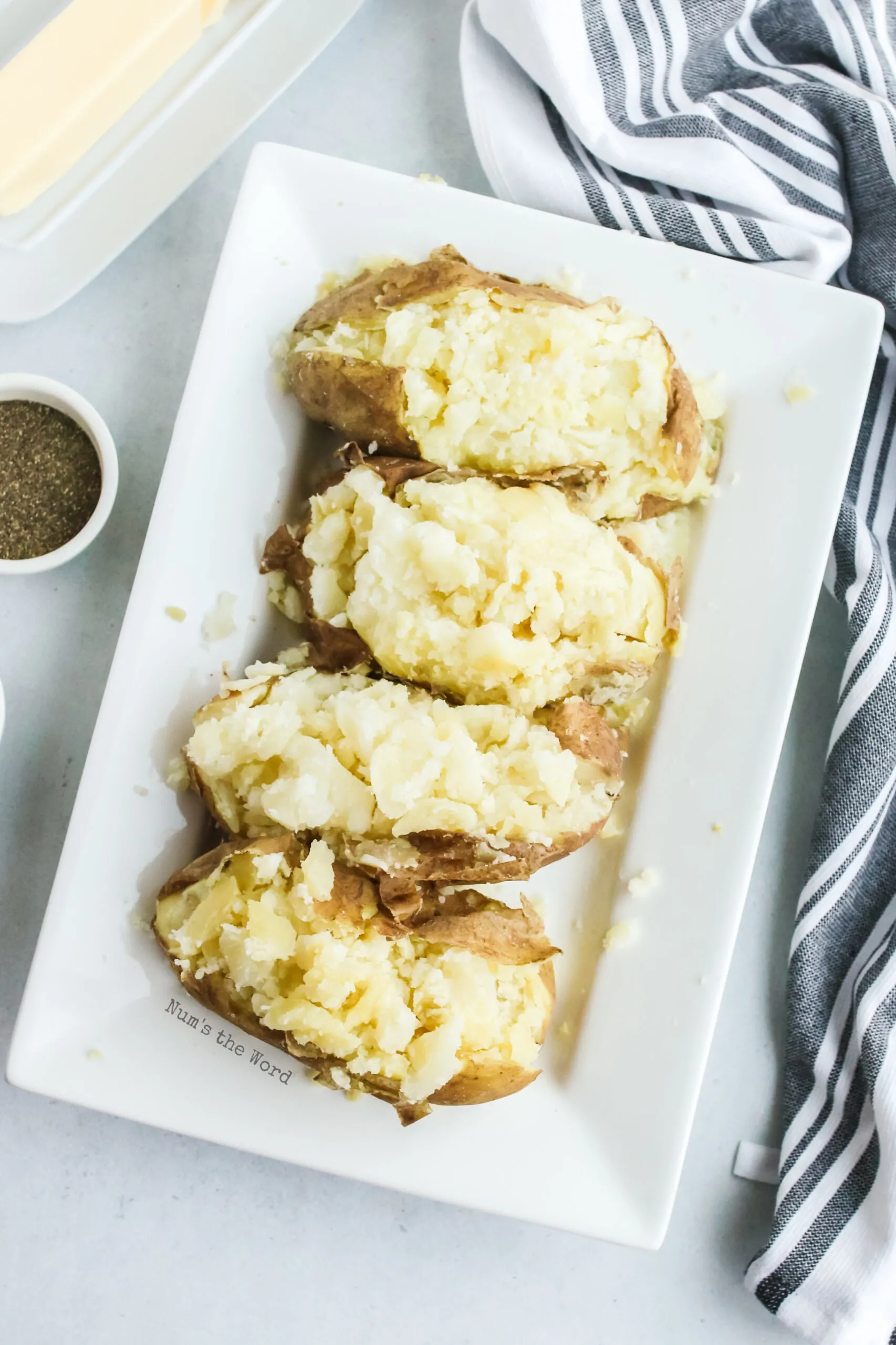 Do baked potatoes need to be refrigerated?
Yes, you should store your baked potatoes in the refrigerator. Bacteria can grow rapidly on surfaces between 40 degrees and 140 degrees; however, if you store your baked potatoes in the fridge, they should last about 4 days.
Store your baked potatoes in an airtight bag or container in the refrigerator for up to 4 days.
Pro tip #4: While this recipe doesn't require any foil to bake the potatoes, it's worth noting that you should not store oven baked potatoes in the fridge in the foil they were cooked in, as there's a risk of botulinum bacteria growing. Remove foil from oven baked potatoes after they finish cooking and store leftover potatoes in an airtight bag or storage container in the fridge.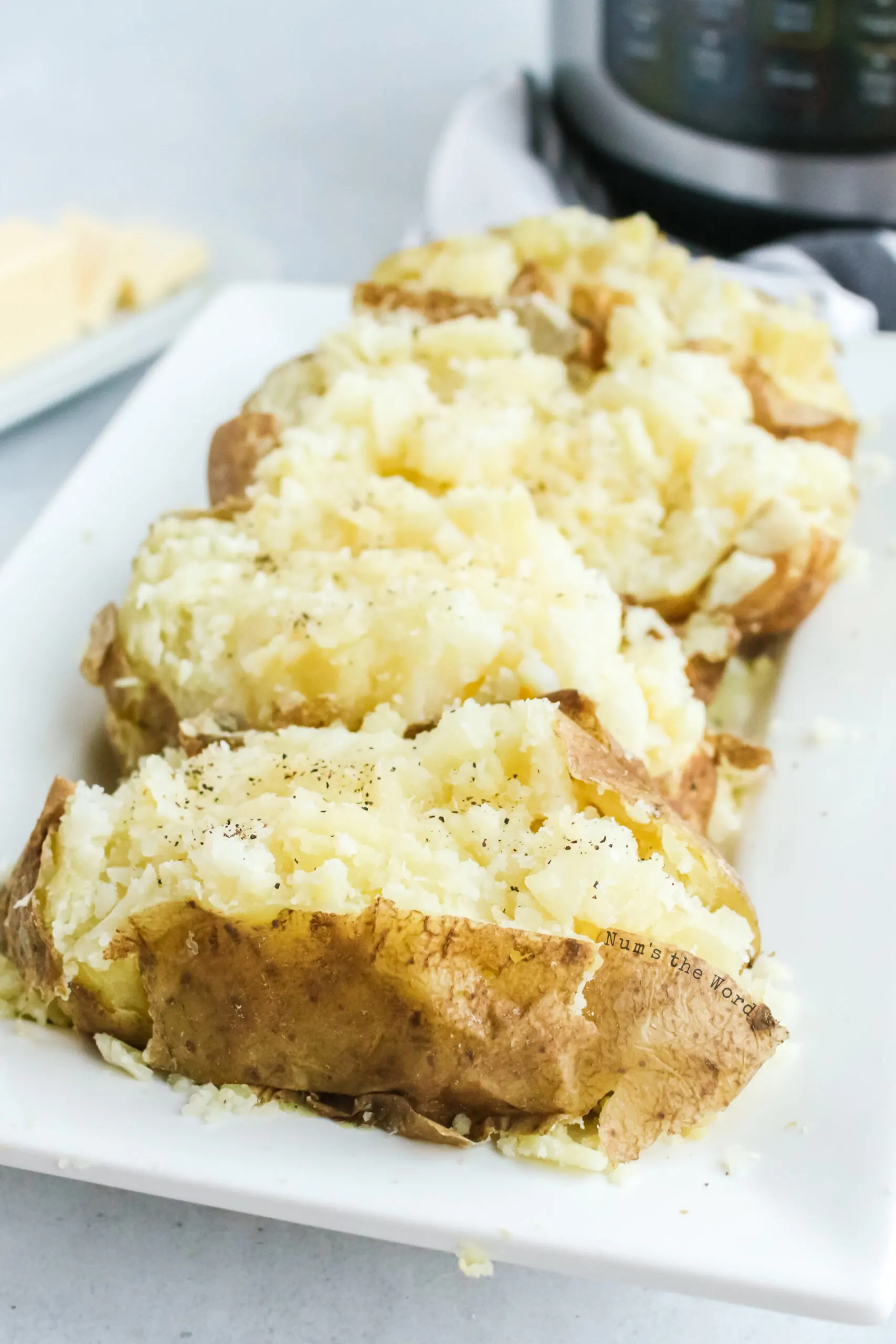 Can you freeze baked potatoes?
Yes, you can freeze baked potatoes! But you'll want to make sure you do so carefully to avoid changes in texture and taste.
Begin by completely chilling your Instant Pot baked potatoes. Then completely wrap each individual potato in foil or plastic wrap.
Pro tip #5: It might go without saying, but you cannot freeze baked potatoes with any toppings on them. Just the whole, plain, baked potato.
Place the wrapped potatoes in an airtight zipper bag, removing as much air as possible before completely sealing.
Frozen potatoes will last up to 3 months in the freezer.
You can reheat thawed potatoes in the microwave or oven. You can also speed along the thawing process in the microwave at low power.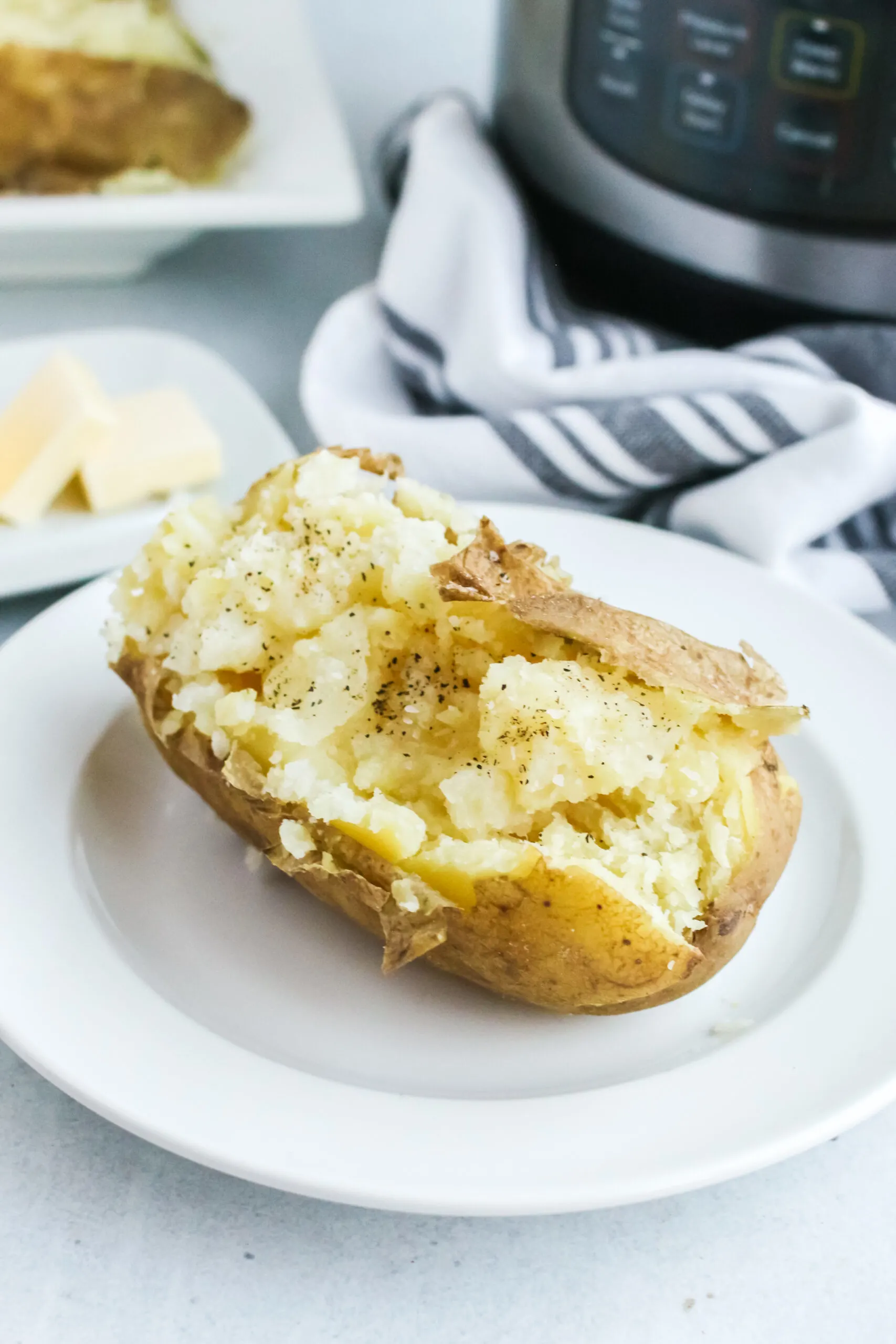 Can dogs eat baked potatoes?
A plain baked potato is an okay snack for your furry friend, but be sure to remove the skin first and mash it so it's easy to eat and swallow.
It's important to note that your pooch should never be given raw potato or potato skins, because the toxins they contain can make your dog sick.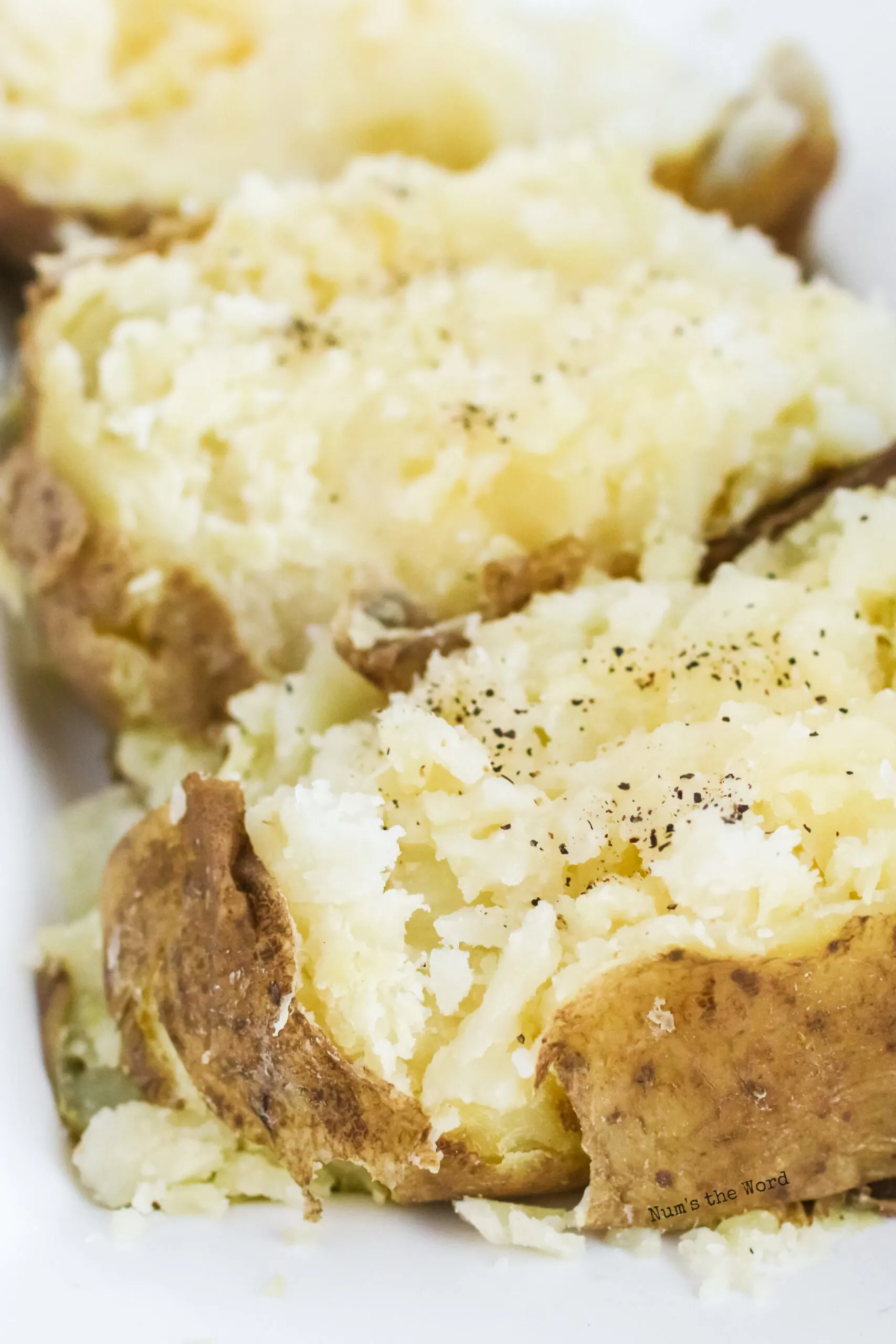 More Instant Pot Recipes You'll Love…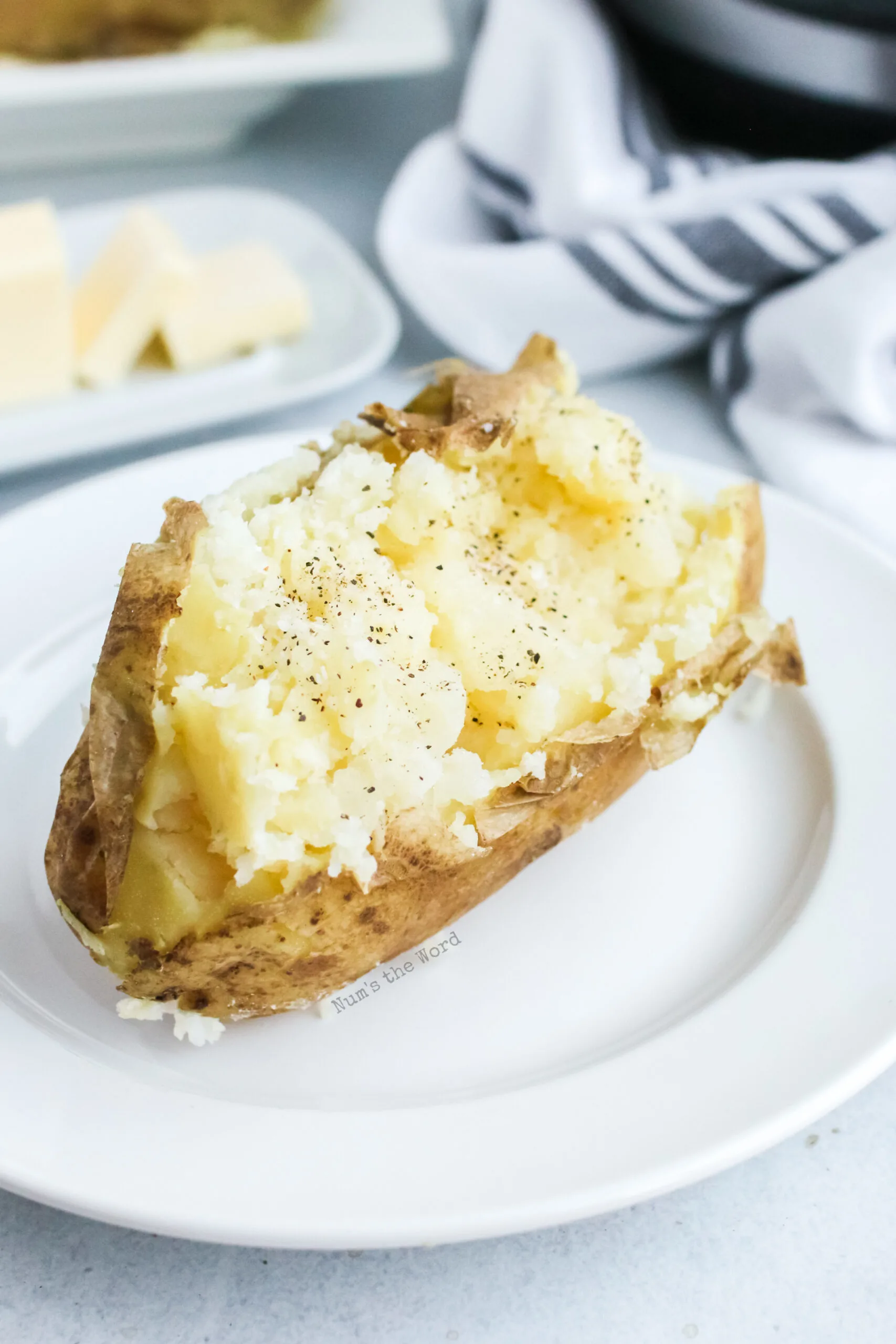 More Recipes That Use Potatoes:
Whether you're looking for a quick and easy weeknight meal, a tasty side for your favorite protein dish, or a way to reimagine some leftovers, this Instant Pot Baked Potato Recipe is for you!
It's so quick and simple to make, won't heat up your house in the process (or frees up your oven space for more priority food items!), and has fantastic taste and texture. So give these baked potatoes in the Instant Pot a try today!
Yield: 4 Potatoes
Instant Pot Baked Potatoes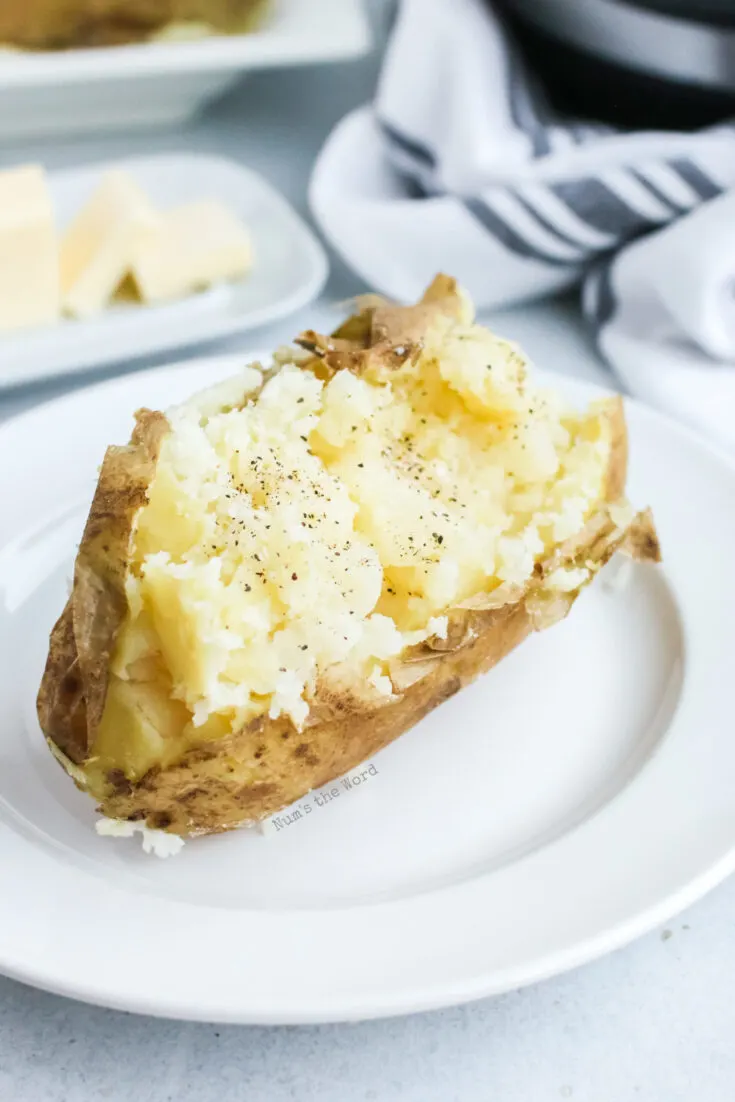 Baked potatoes have never been quicker or easier, thanks to the Instant Pot! Baked potatoes in the Instant Pot take a fraction of the time, don't need foil, and are light, fluffy and delicious!
Ingredients
Russet potatoes - as man as you wish to eat - washed.
1 cup water
1 teaspoon salt
1 teaspoon black pepper
1/4 cup butter
Instructions
Check size and time measurements below in notes section to determine cooking time.
Place 1 cup of water into your instant pot.
Wash each of your potatoes and prick each potato 5 times with a fork.
Add instant pot rack (came with your instant pot) and place washed and pricked potatoes onto rack.
Place lid on your Instant Pot and close.
Turn pressure valve to closed position.
Set the instant pot to high pressure and the length of time determined by the thickness of your potatoes and the chart below. Photographed was for 14 minutes
Once the timer goes off, wait 5 minutes, then release pressure.
Gently open the instant pot lid and remove potatoes.
Serve immediately with your favorite toppings.
Notes
2" wide potatoes cook for 10 minutes, high pressure
3" wide potatoes cook for 16 minutes, high pressure
4" wide potatoes cook for 20 minutes, high pressure
5" wide potatoes cook for 24 minutes., high pressure
Nutrition Information:
Yield:
4
Serving Size:
1
Amount Per Serving:
Calories:

145
Total Fat:

12g
Saturated Fat:

7g
Trans Fat:

0g
Unsaturated Fat:

3g
Cholesterol:

31mg
Sodium:

628mg
Carbohydrates:

10g
Fiber:

1g
Sugar:

0g
Protein:

1g