Loaded Smashed Potatoes are a great side dish to any meal! We love these with a meat and potatoes meal. Simple to make and perfect for meal prep! Crispy edges with soft centers make these melt in your mouth!
This post contains affiliate links.  If you click on an affiliate link and make a purchase, I will make a small percentage on your purchase. This helps keep this website running! Thank you!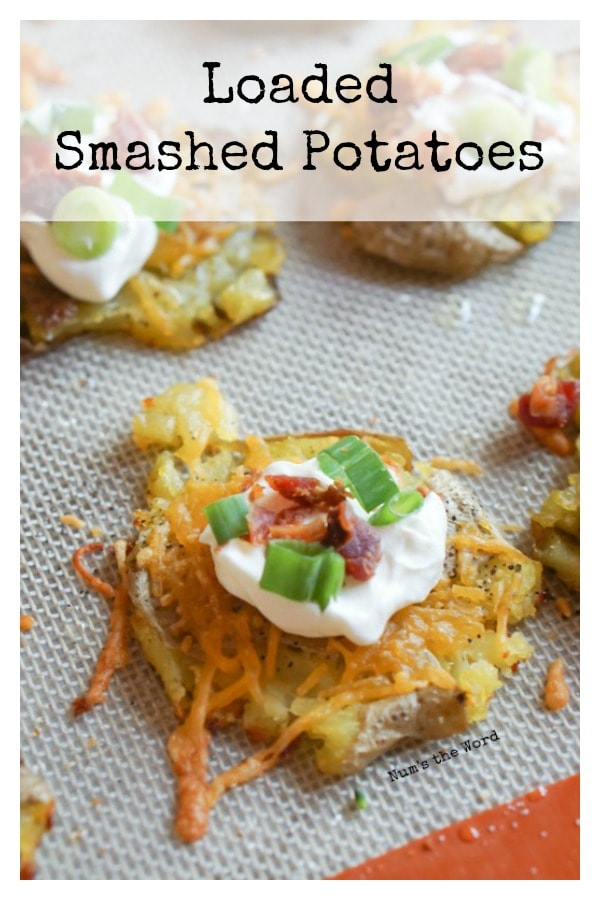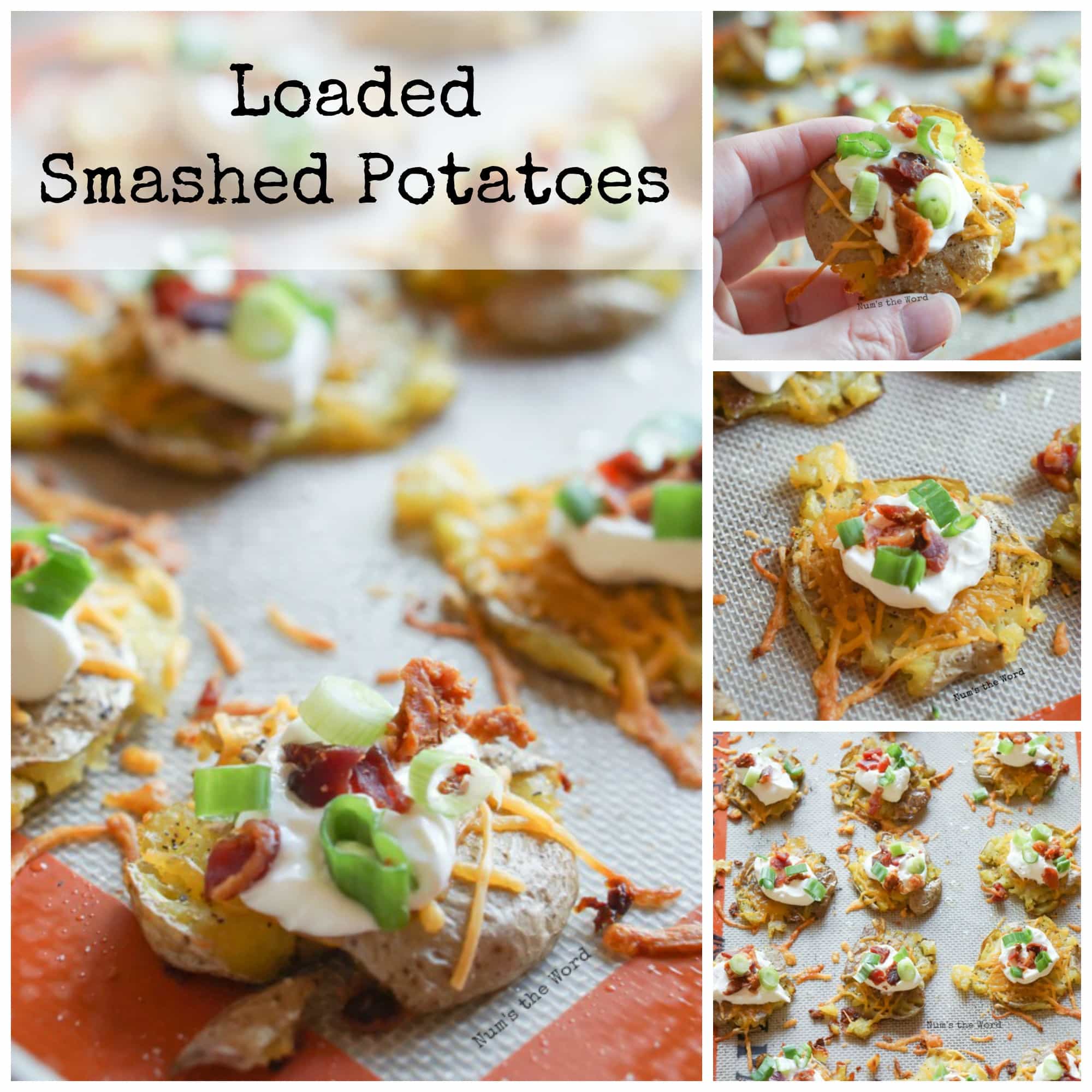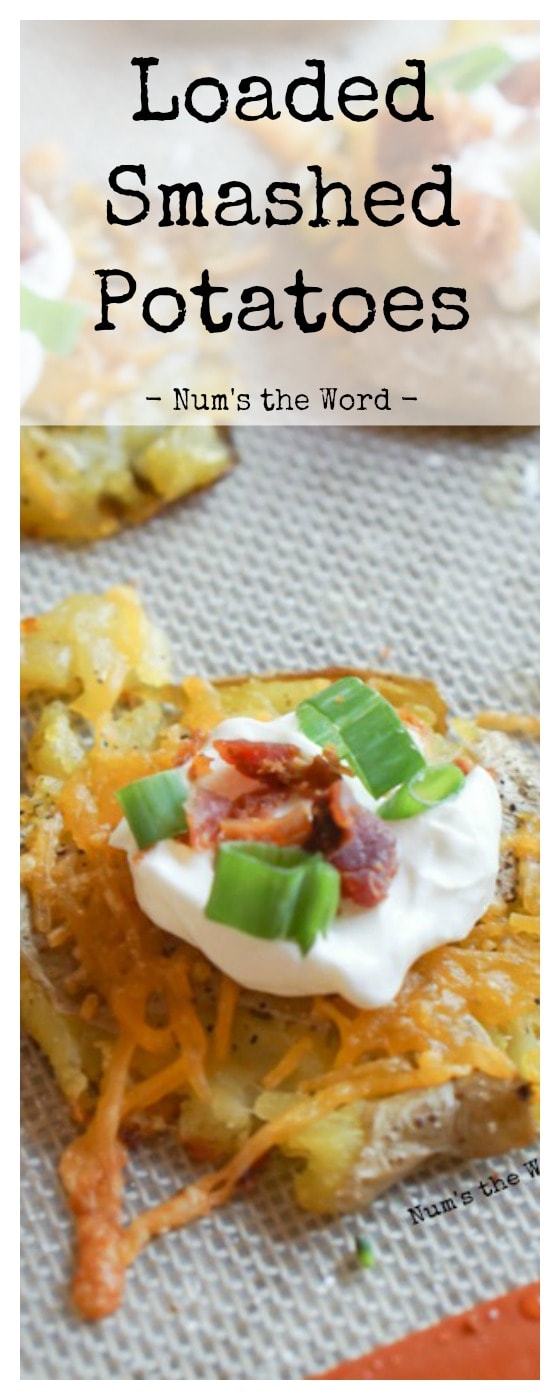 When it comes to side dishes, I find this to be the one area I struggle with the most.
My brain doesn't seem to think in terms of multiple dishes on a table.
Generally speaking I serve a main dish and a vegetable, which is usually pretty basic.
However it's one of the many things about myself that I really don't like.
I always want to be better in terms of serving multiple dishes and having them all be prepared and on the table at the same time.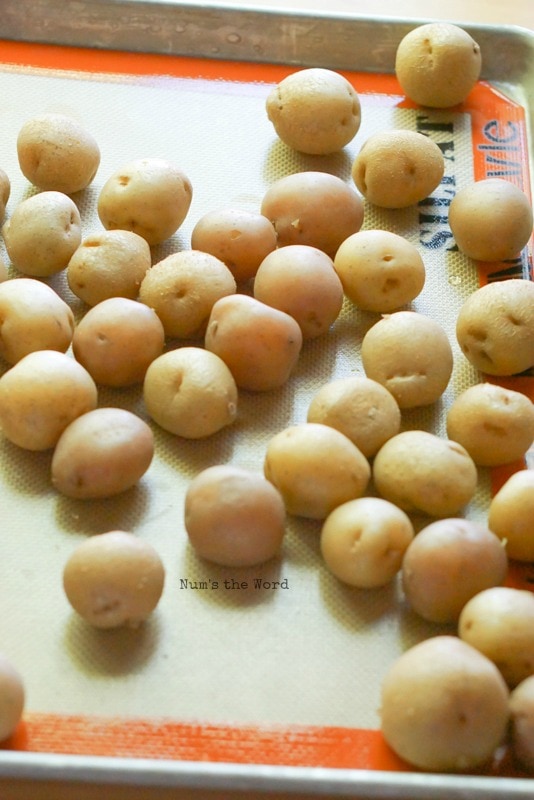 It is not uncommon for us to eat our meals in stages as each side dish or item finishes cooking.
This might sound funny and possibly odd to you as I'm a food blogger, but it really is a struggle.
Some of us are not wired to think in terms of main dish and side dish at the same time.
It's also why I try to focus on easy, tasty side dishes that I can replicate when we have company to dinner.
As I'm sure you have seen, Smashed Potatoes are a pretty popular item.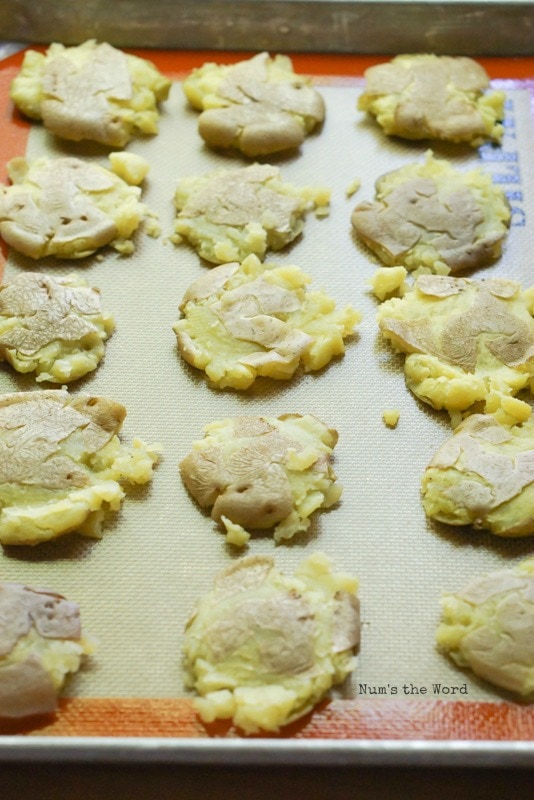 I've seen them floating around for a year or two now and finally decided one day to whip them up.
I had some baby potatoes sitting around and decided if I was ever going to try smashed potatoes, now would be the time.
I actually made a few varieties of smashed potatoes to try out a few different flavor combination ideas.
These Loaded Smashed Potatoes were one that we really enjoyed!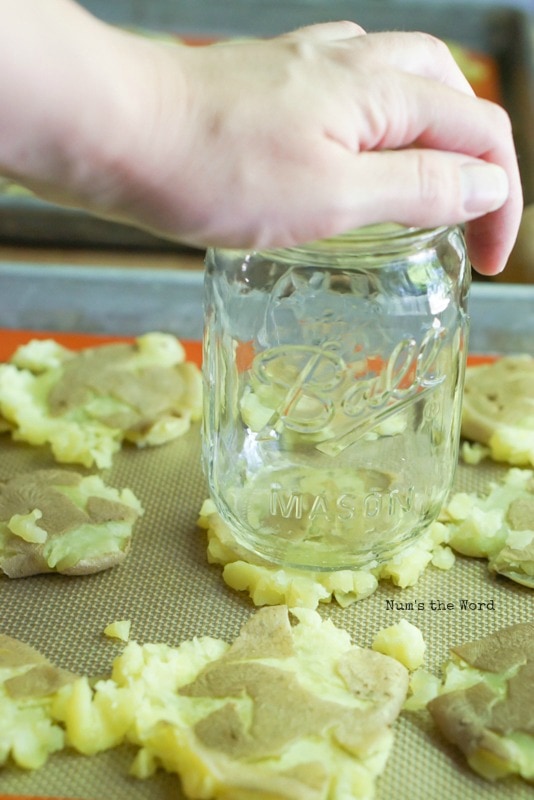 The potatoes themselves were crispy on the edges and packed with flavor.
Plus they were very easy to whip up.
In fact, these are one of those dishes you can meal plan ahead of time.
You can boil your potatoes and have them in the fridge ready to go for whenever you are ready to assemble.
Then when it's time for dinner, all you have to do is smash, prepare, bake and top with your favorite toppings!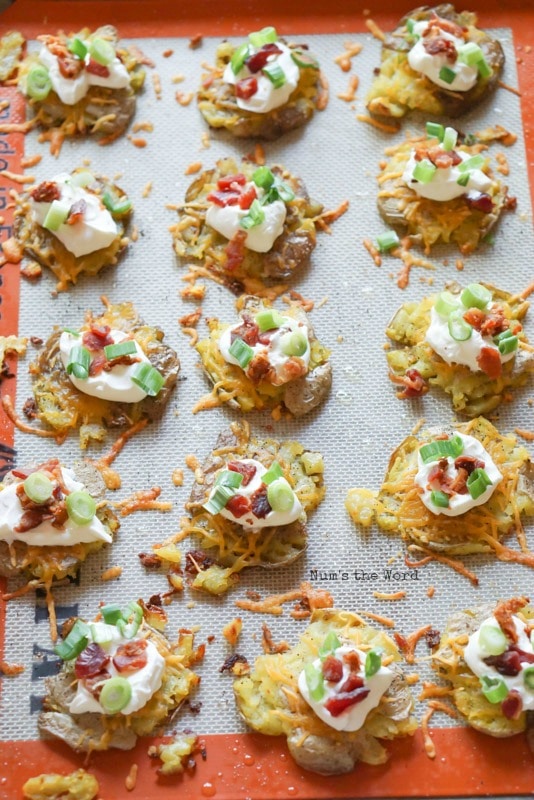 A quick 25 minute or less side dish!
I wanted to try Loaded Smashed Potatoes because we love loaded baked potatoes.
Really when you think of your favorite baked potato toppings, you can easily convert those into a smashed potato recipe.
These Loaded Smashed Potatoes make the perfect side dish to any meat recipe and can even be converted into a breakfast item if you wished.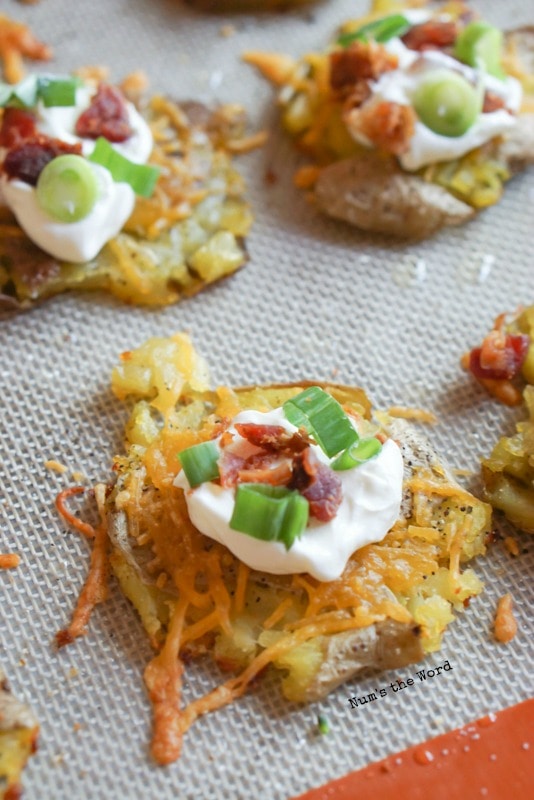 We've all hear of meat and potatoes as well as breakfast potatoes, so why not use smashed potatoes?
Personally we love these Loaded Smashed Potatoes with a tasty steak smothered in garlic butter.
No matter how you serve them, they really are best hot, fresh out of the oven.
You can certainly reheat them for the next day, however to use they just don't taste quite as crispy and yummy.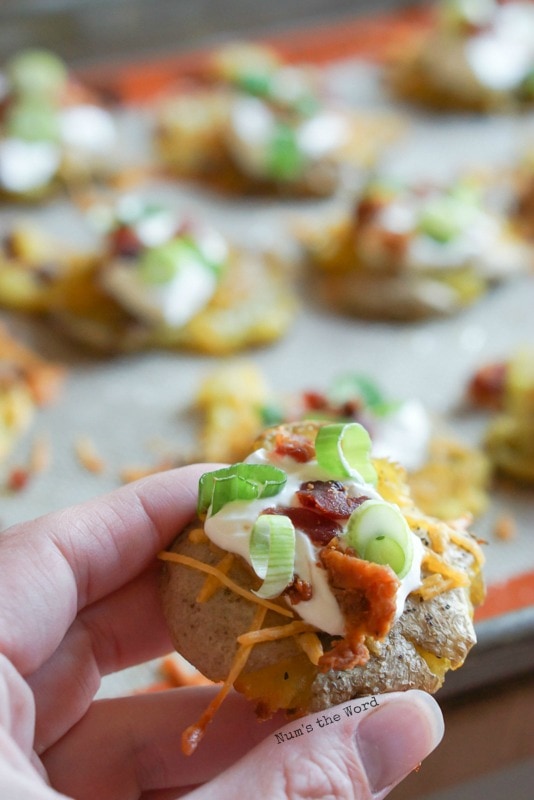 One note though, if you do plan of saving some for the future (meal prep) then don't put the toppings on until you are ready to eat them!
It will make your life so much easier and you wont have to eat hot sour cream.
If you aren't familiar with smashed potatoes, give these a try.
They were a hit in our home and I plan on bringing you more smashed potato recipes in the future too!
Yield: 15 Servings
Loaded Smashed Potatoes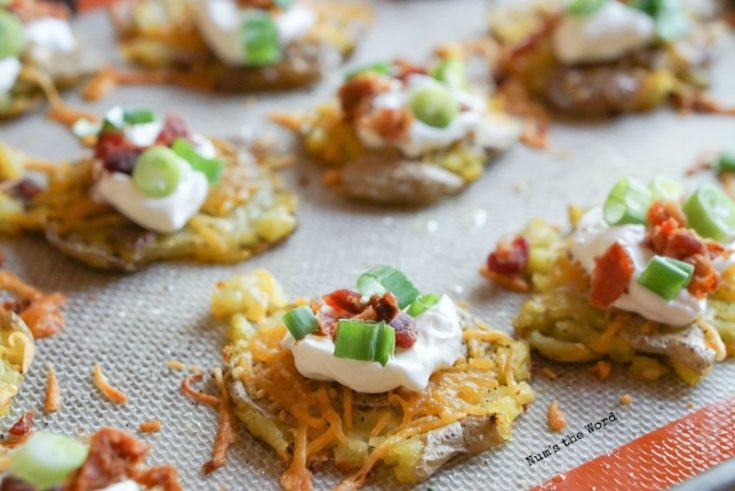 Ingredients
1 1/2 pounds baby potatoes (approx 15 fit on a baking sheet)
1/2 cup olive oil (approximate)
Salt
Pepper
Cheddar Cheese
Sour cream
Green onions
Bacon, diced
Instructions
Preheat oven to 425*F
Place potatoes in a pot of boiling water and cook for 12 - 15 minutes, until a fork can easily pierce a potato.
While potatoes are cooking, brush a little olive oil on a large baking sheet to coat it nicely.
Once potatoes are cooked, drain and place on oiled baking sheets.
Using a cup or fork or potato masher, gently smash potatoes. Some people like them fluffier and others like them more flat. You choose or do half and half!
Once potatoes are smashed and lined up on a baking sheet, brush tops of potatoes with olive oil and sprinkle salt and pepper.
Bake for 20 minutes or until crispy and golden.
Remove from oven and top with cheese, sour cream, bacon and green onions!
Serve immediately!
Other Potato Recipes You'll Love...