If you're looking for a quick, easy and healthy recipe, try this Instant Pot Spaghetti Squash recipe.
My whole family loves spaghetti, but not all of us love vegetables. Instant pot spaghetti squash is an easy way to sneak some vegetables into their diet with little effort!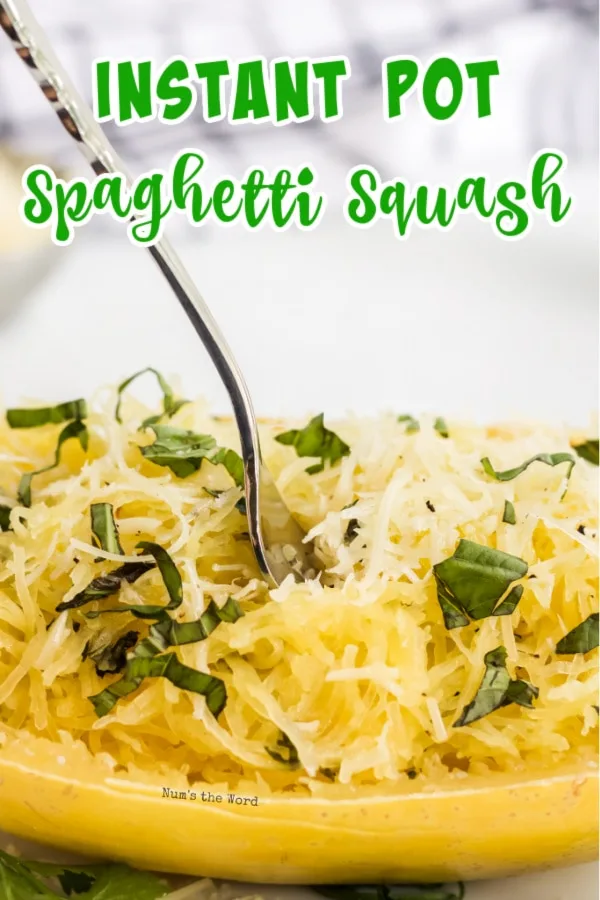 You can serve this spaghetti squash recipe as a main dish or a side dish. If serving as a main dish, I love putting it on the table with Homemade Garlic Bread and a baked sweet potato or Spinach Strawberry Pecan Salad. As a side dish, it's mild flavor pairs great with simply seasoned pork or poultry.
Spaghetti squash can be a tricky undertaking. But fear not! Spaghetti Squash in Instant Pot is a fast and simple way to get the job done.
You will be amazed by how fast it cooks in the Instant Pot. It can take up to an hour to cook spaghetti squash in the oven, but this Spaghetti Squash in the Instant Pot comes together in less than 30 minutes!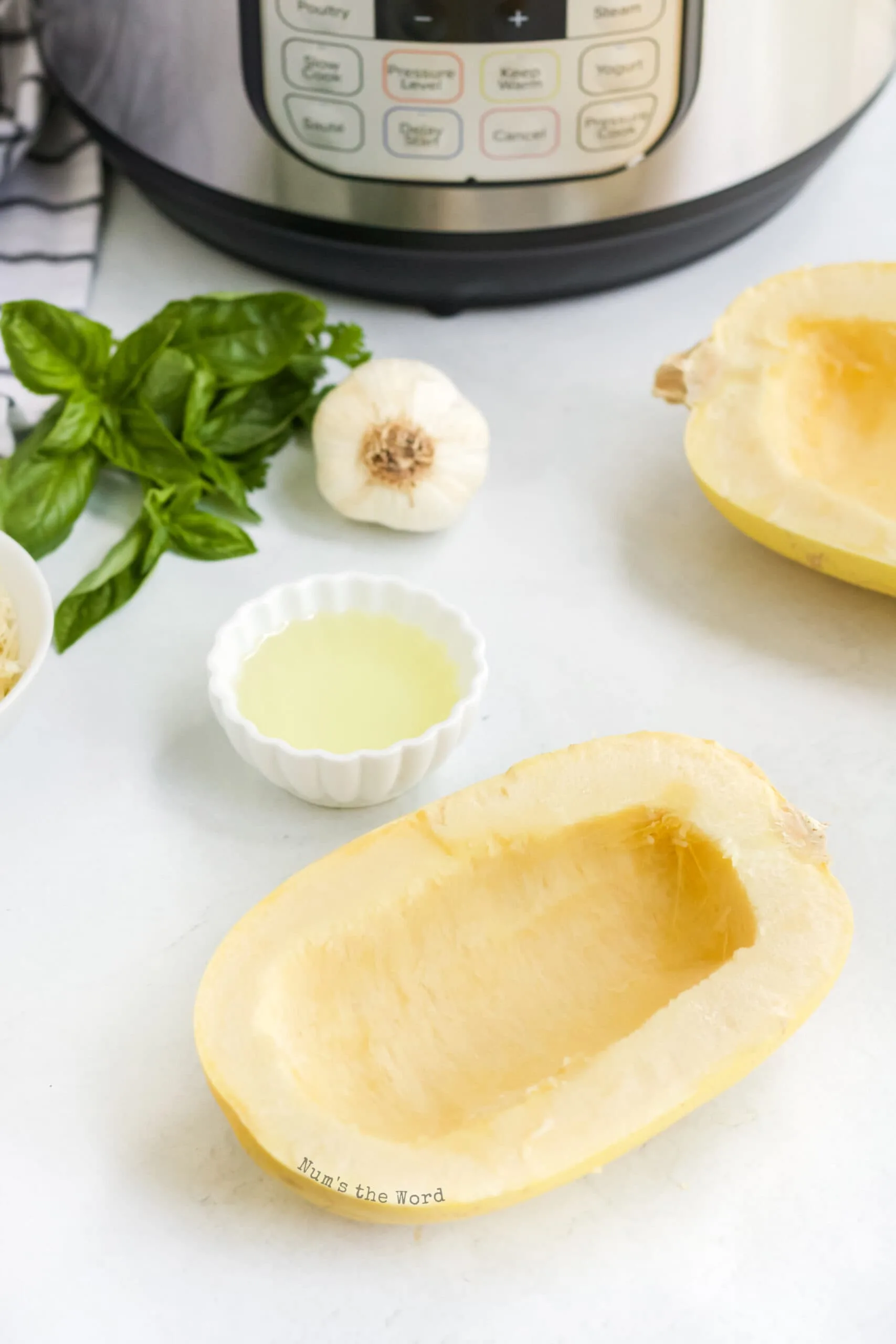 This recipe uses simple flavors that enhance the natural flavor of the squash, but if you are looking for a change, here are some other serving suggestions you can try:
Marinara: Serve topped with marinara and parmesan cheese

Alfredo

:

Serve topped with alfredo sauce

Bolognese: Serve topped with Bolognese sauce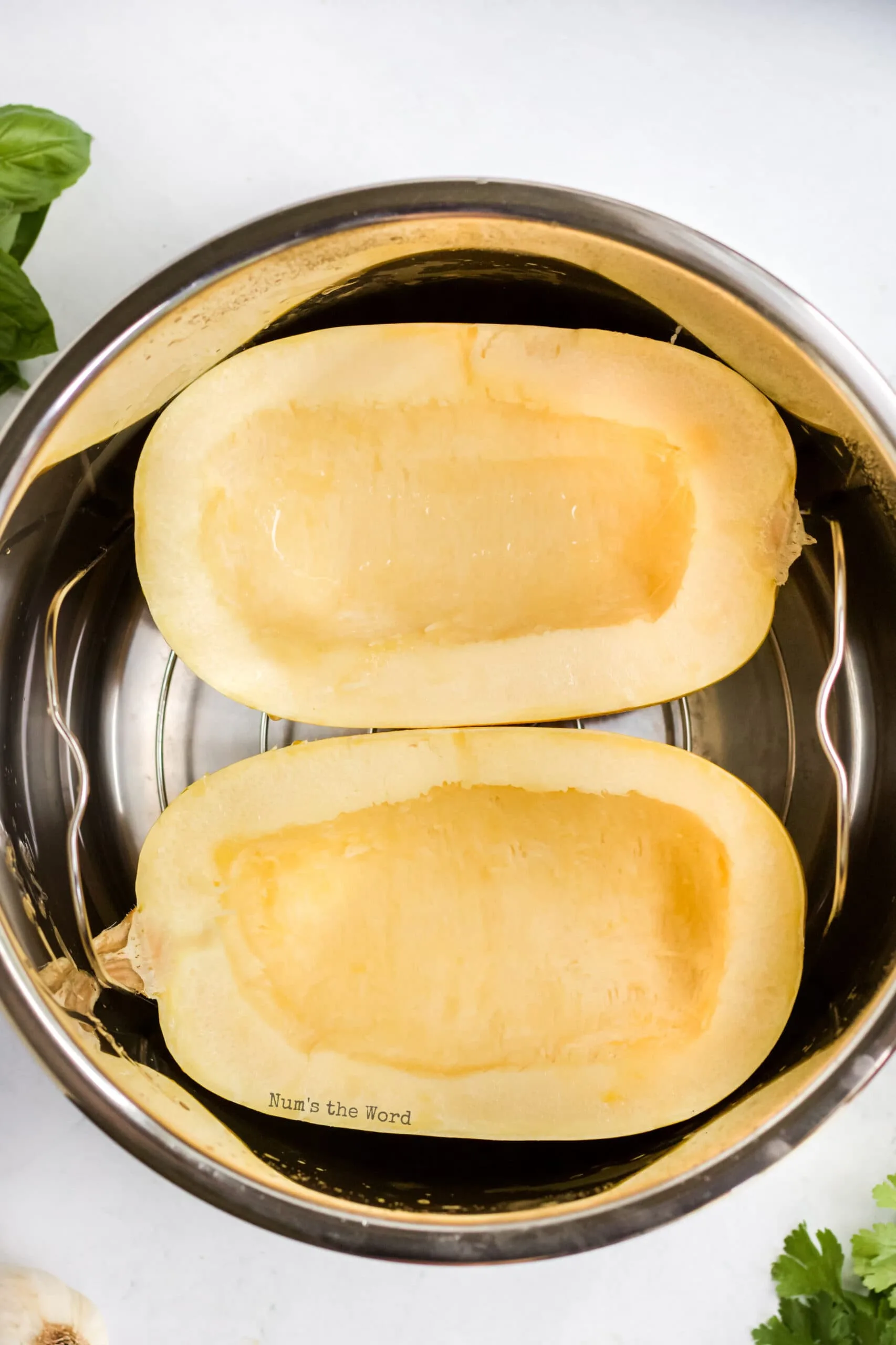 How to choose a spaghetti squash:
When choosing spaghetti squash to cook in the instant pot, the most important factor is size. Choose a small squash that you can fit two halves inside of your pot, or plan on making this recipe in two rounds.
If you can't find a squash small enough lengthwise, you can always cut it in half horizontally or cook it in wedges. A great tasting squash will be firm, with no soft spots.
The stem should be rounded, firm, and dry. The size of the squash will not affect the flavor but you want to choose one that feels heavy for its size for the best-tasting flavor.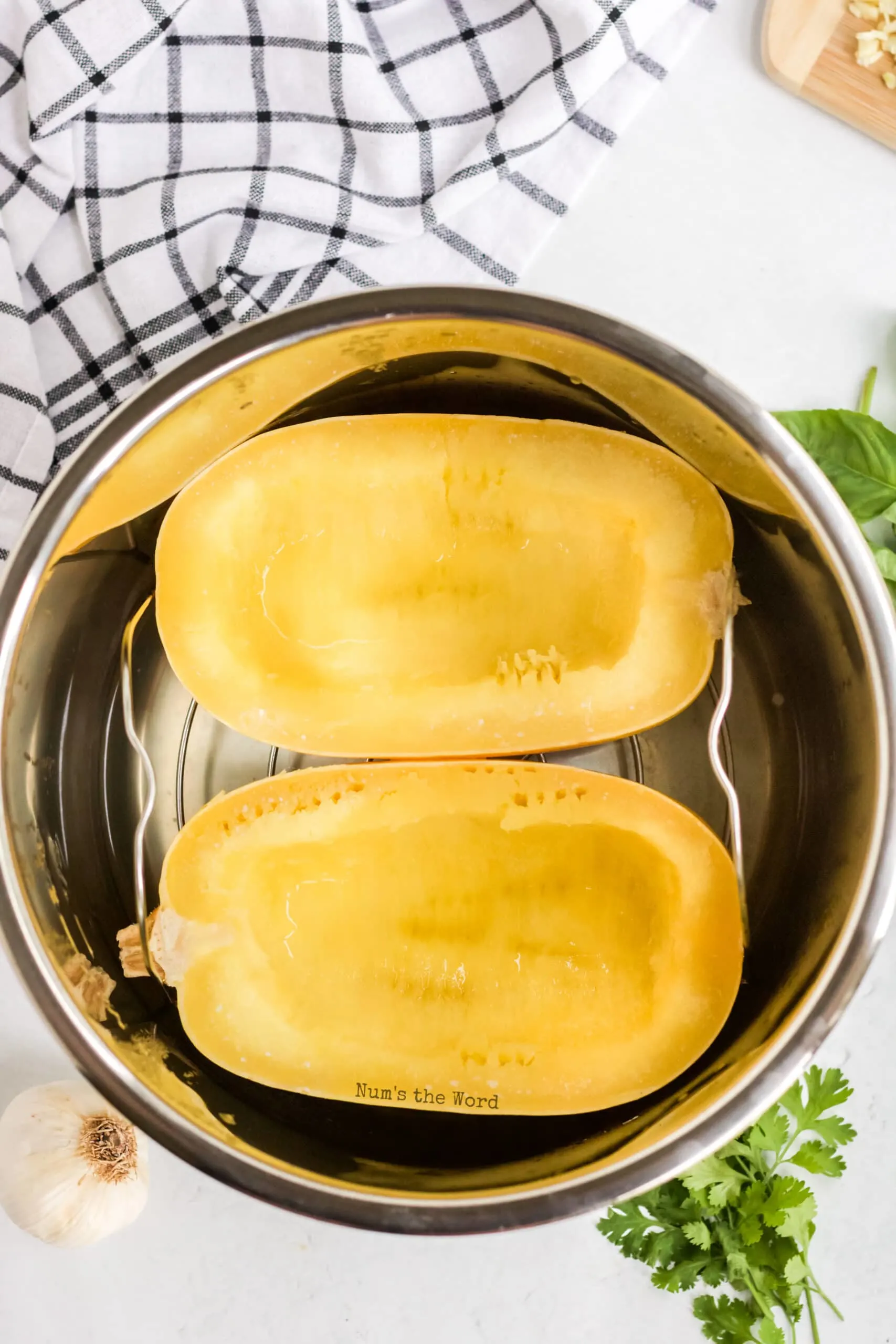 How do you cut spaghetti squash:
You can cut your spaghetti squash lengthwise or widthwise. Sometimes it can be hard to cut through the squash right away, so be prepared to use those muscles!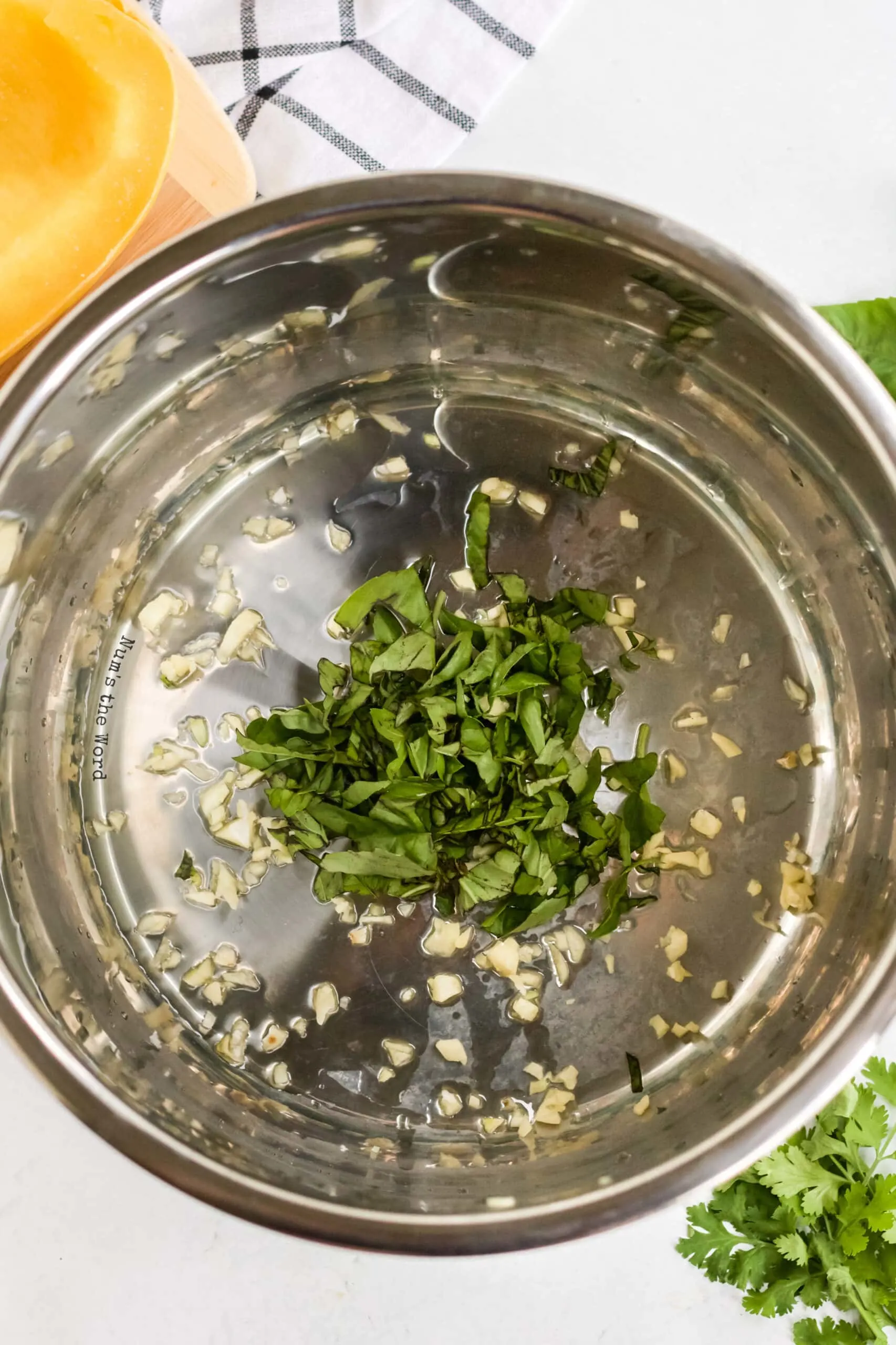 How to Cook spaghetti squash in instant pot:
Preparing spaghetti squash in the instant pot cuts cooking time in half. It is an excellent solution if you need to get dinner on the table fast. The flavor will turn out moist and simple, similar to steamed spaghetti squash. The cooking time may vary depending on the size of your squash.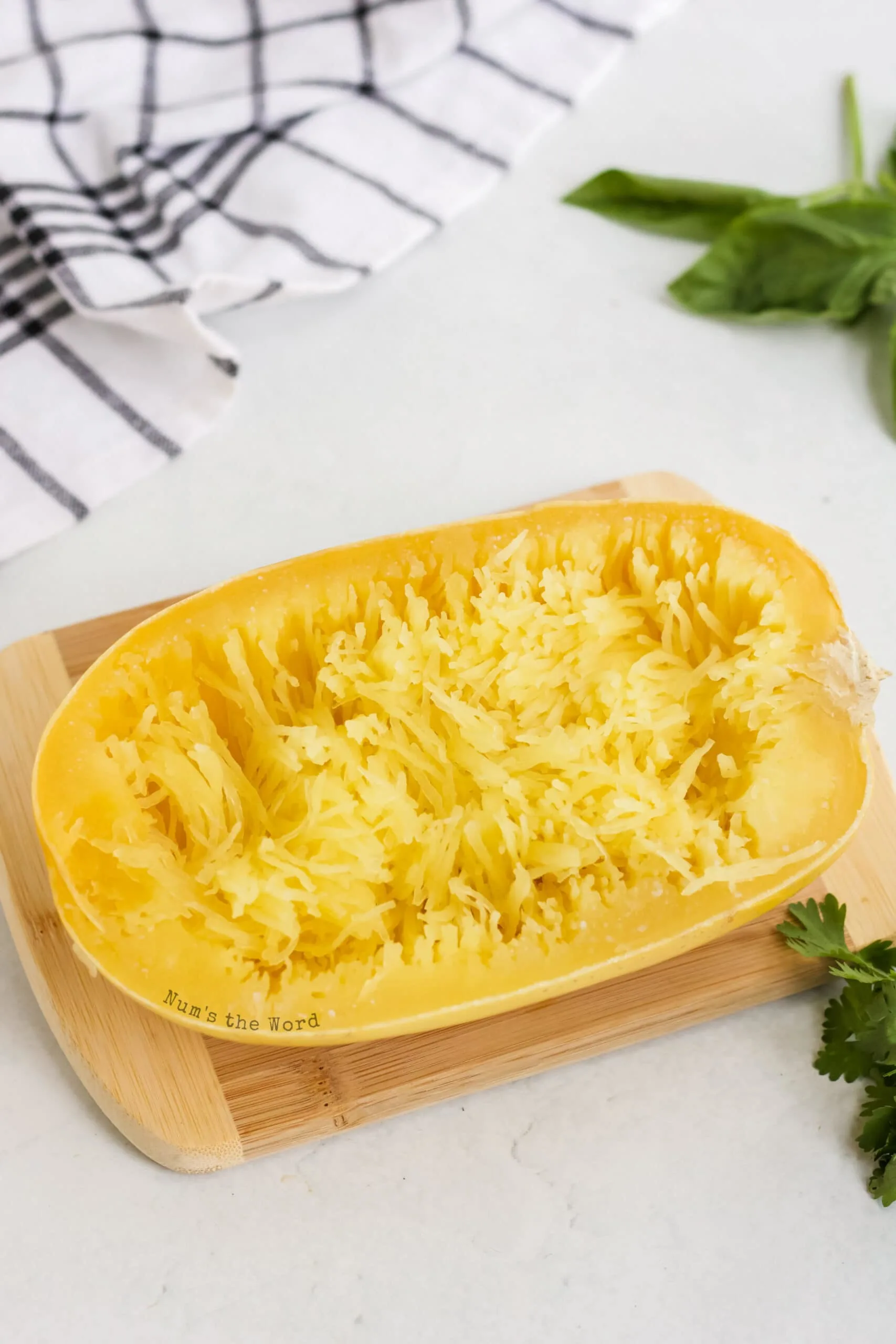 How long to cook spaghetti squash in Instant Pot?
Most spaghetti squashes tend to be similar in size. None overly large or small. I've found that the 7 minute mark is best for getting a soft, cooked through squash.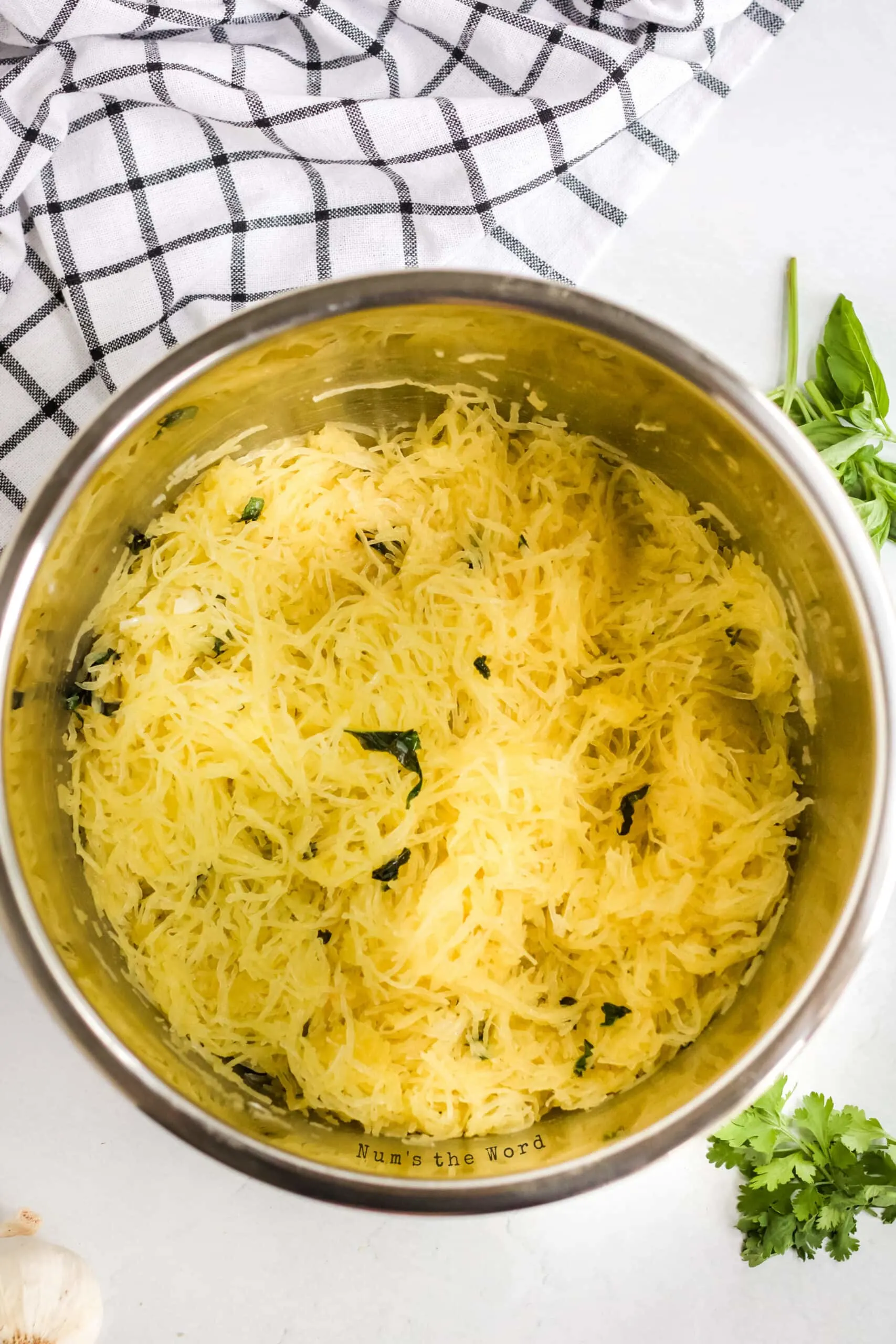 How many carbs in spaghetti squash?
There are about 5.5 total net carbs in a cup of spaghetti squash! That is so much less than actual spaghetti noodles, which makes this spaghetti squash instant pot recipe an easy way to eat a healthy pasta-style dish.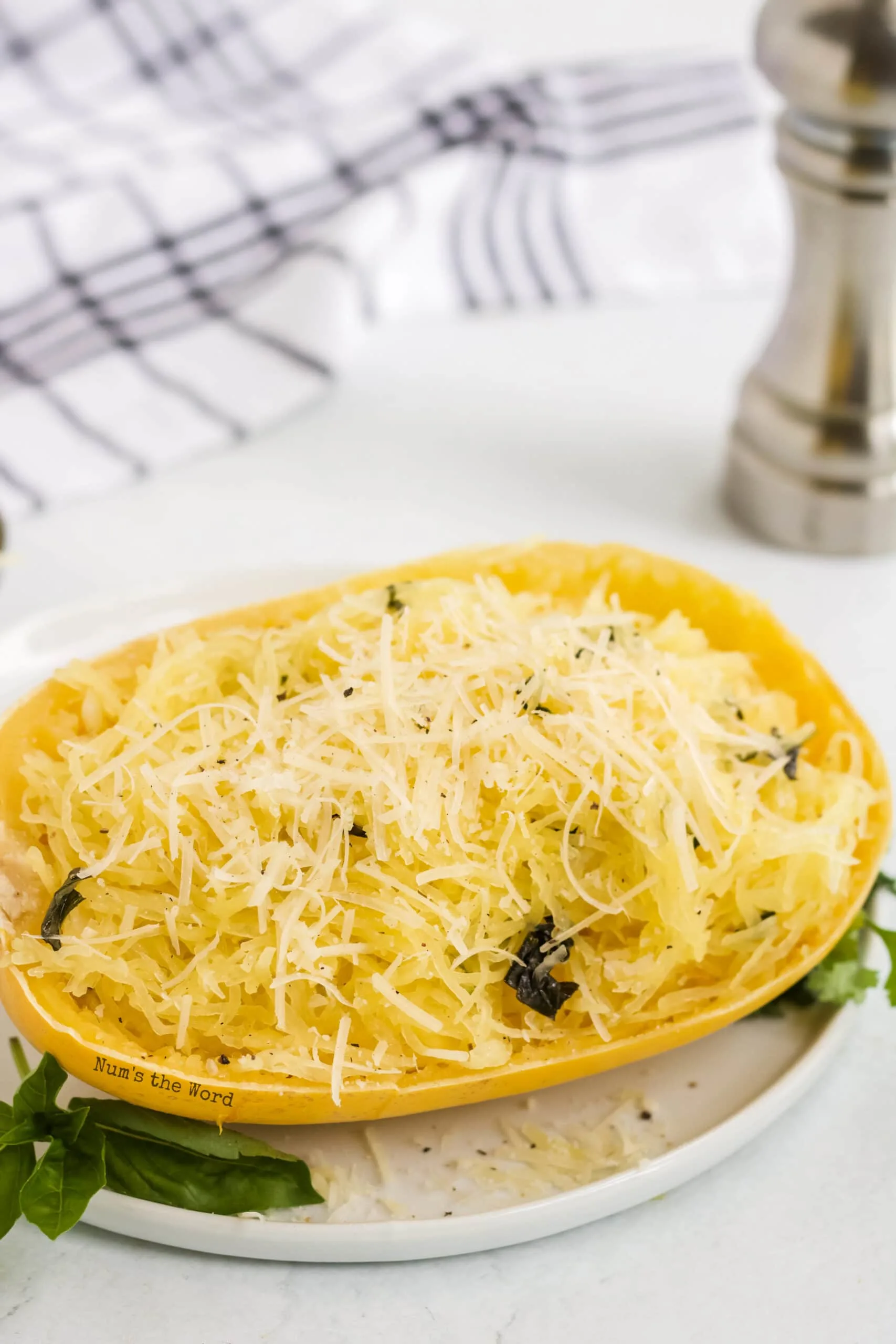 How many calories in spaghetti squash?
In one cup of spaghetti squash, there are roughly 31 calories. This is seriously such a healthy choice!
Is spaghetti squash keto?
Yes! One cup of spaghetti squash has only about 5.5 net carbs. As long as you continue to pair it with other low carb ingredients, this can be a delicious part of a keto-friendly dish!
When is spaghetti squash ripe?
You can tell that spaghetti squash is ripe and ready to eat when the squash is a golden yellow color. The squash's skin will be hard when it is ripe.
Is spaghetti squash good for you?
Yes! Spaghetti squash is an easy, delicious, healthy, low carb, gluten-free substitute for pasta!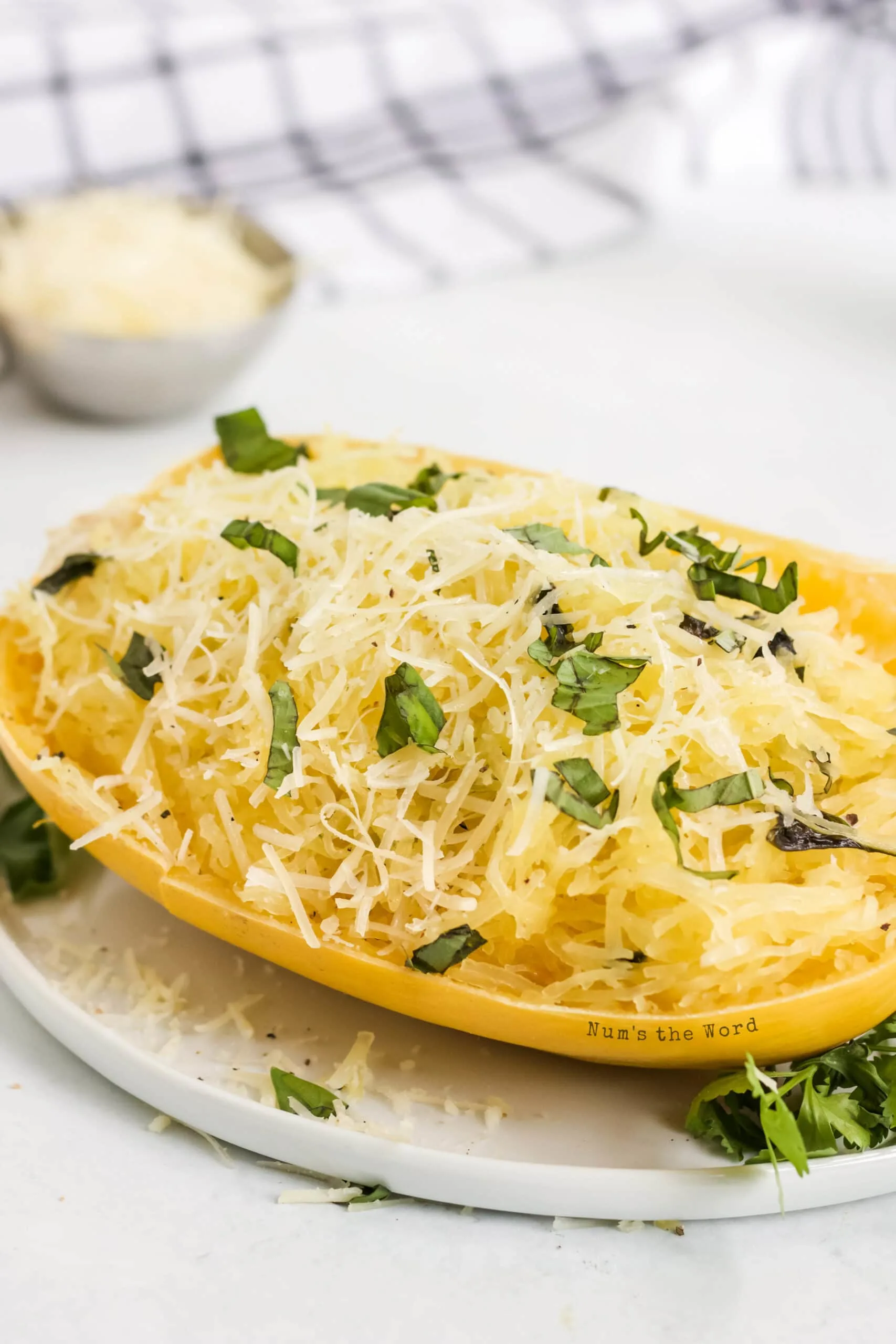 Can dogs eat spaghetti squash?
Yes! Spaghetti squash is healthy for your dog! It is filled with vitamin A, vitamin C, fiber, and potassium! These are good things for you and your dog!
How long is spaghetti squash good for?
If you are lucky enough to have leftovers of this meal, it will keep for 3-4 days when kept in an airtight container in the refrigerator. Reheat it in the microwave and top with fresh parmesan and herbs to give it that "just cooked" taste.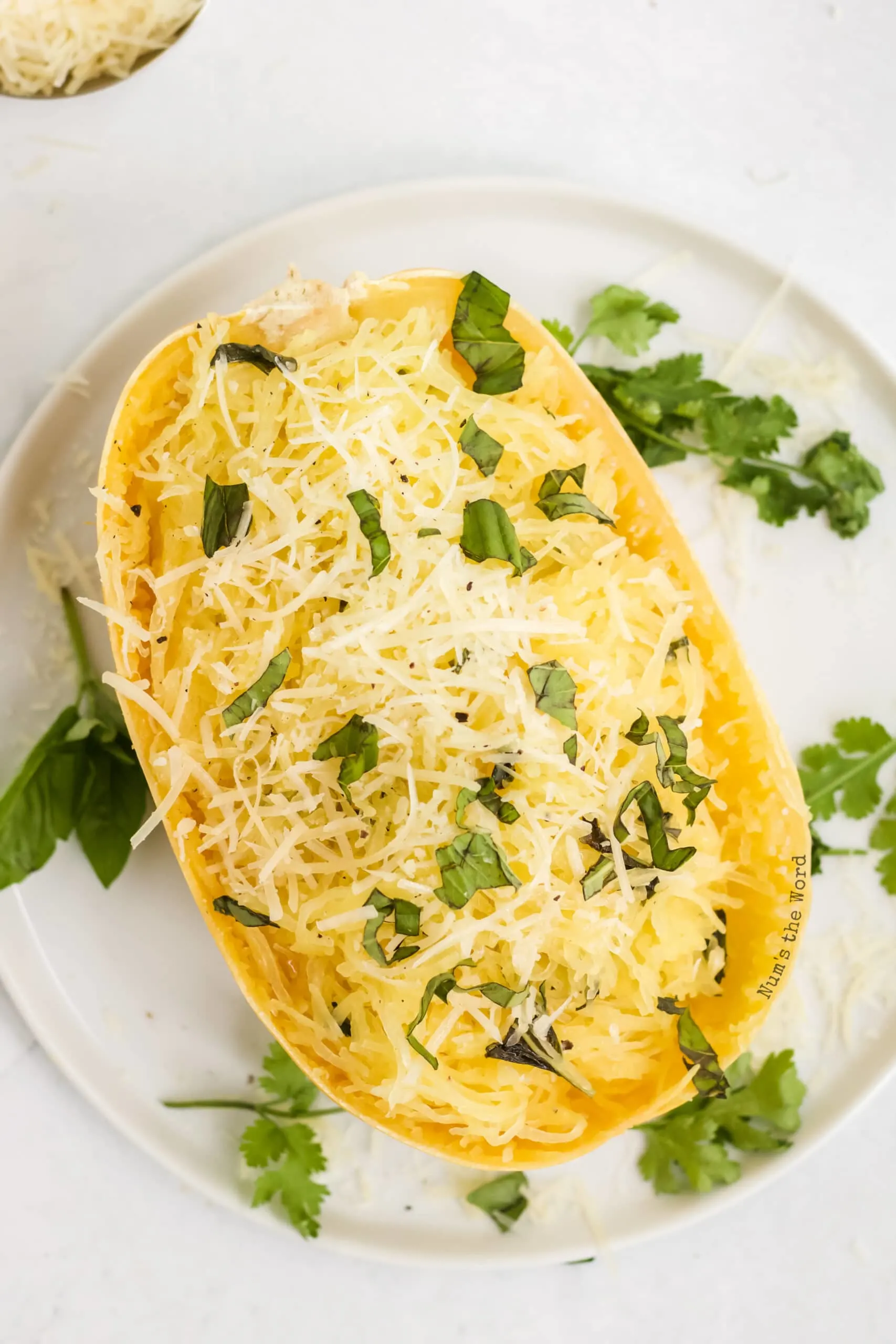 Can you freeze spaghetti squash?
While this dish reheats well from the fridge, I do not recommend freezing it.
Looking for more Instant Pot recipes? Try these!
The instant pot is a wonderful tool that helps cut your cooking time in half!
More Main Dishes You'll Love: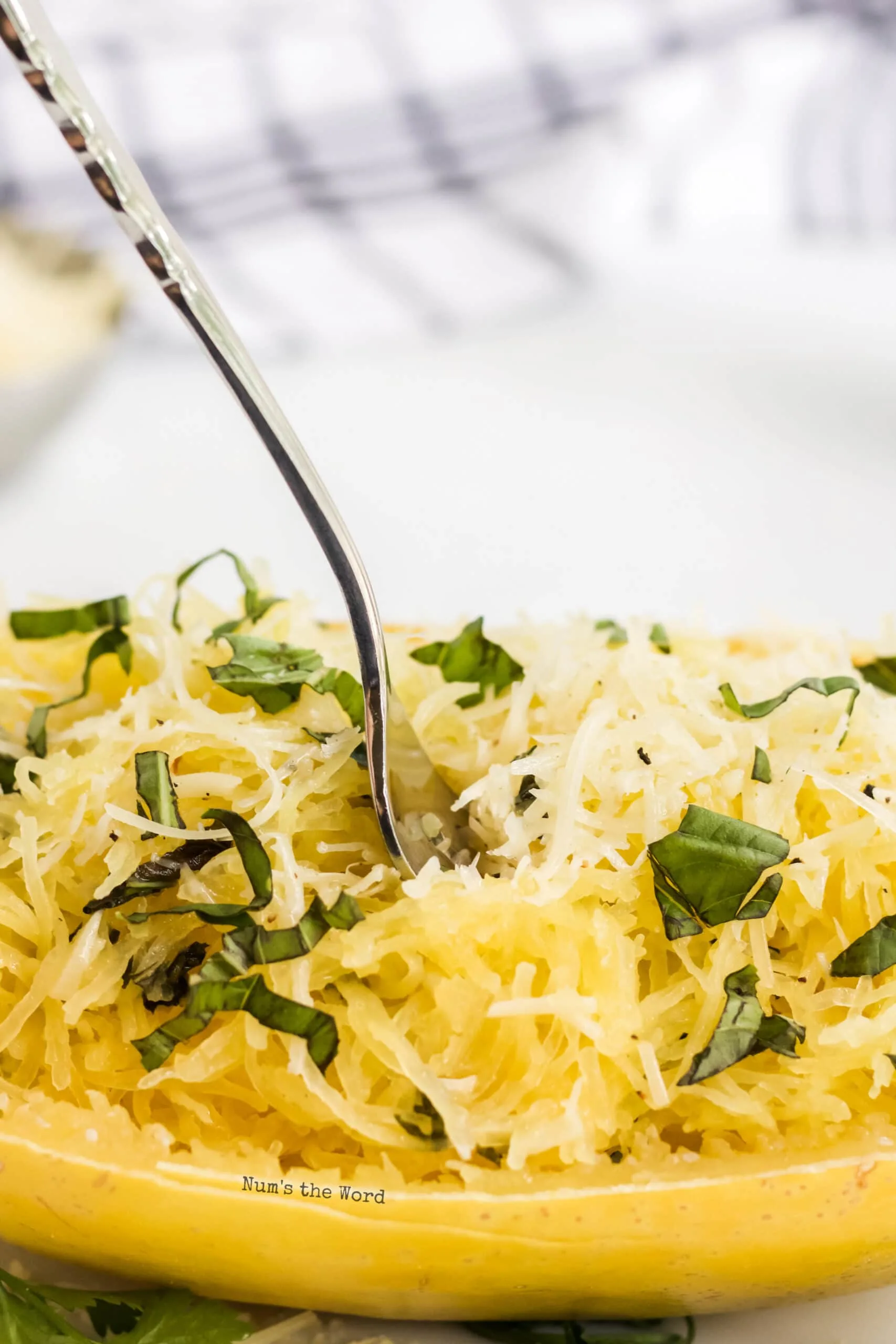 Spaghetti squash is a healthy choice for a delicious main course, or a side dish. Making this dish in the Instant Pot is easy and cuts the cooking time in half!
Spaghetti Squash doesn't naturally have a ton of flavor on it's own, so be sure to dress it up with fresh herbs! You will be amazed at how effortless this Instant Pot Spaghetti Squash is – you'll make it over and over again!
Yield: 2
Instant Pot Spaghetti Squash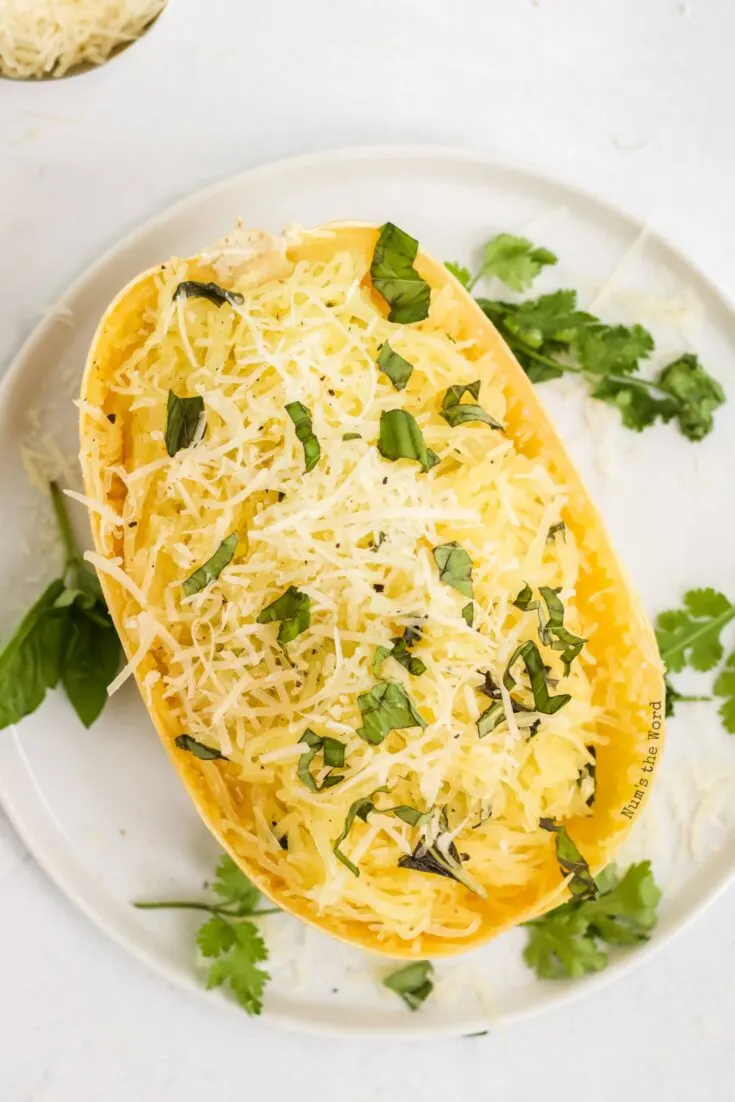 Instant Pot If you're looking for a quick, easy and healthy recipe, try this Instant Pot Spaghetti Squash recipe. With only 7 ingredients, you'll have a delicious main dish or side dish ready in 30 minutes!
Additional Time
18 minutes
Ingredients
1 cup water
2 Tablespoons olive oil or butter
3 cloves garlic, minced
1/2 cup chopped fresh basil
1/2 teaspoon salt
1/4 teaspoon black pepper
1/4 cup parmesan cheese, shredded
Instructions
Cut squash in half from stem to bum and scrape out seeds and gunk. Discard seeds.
Place circular instant rack into pot.
Place the two cleaned out squash halves in the instant pot on the cooking rack, face up. Pour one cup of water around the squash.
Place the lid on the instant pot and lock it into place. Set the valve to seal.
Cook for 7 minutes on manual high pressure. Instant Pot will take about 10 minutes to pressurize, then cook for 7 minutes.
Natural release when finished. This means do not flip the steam valve, wait for it to naturally release pressure.
Remove the squash from the instant pot and pour out the water from the pot. Use a fork to pull strands of squash away from the skin, being careful to keep the skin from the squash one piece. Set aside to use as a bowl later.
Use the "Sauté" setting and add the oil or butter, garlic, basil, salt and pepper to the pot. Cook for 1-2 minutes.
Add the spaghetti squash strands (not the skin) and cook for one additional minute. Turn your instant pot to warm until ready to serve.
Serve the squash in the skin, topped with parmesan cheese and extra basil if desired.
Nutrition Information:
Yield:
2
Serving Size:
1
Amount Per Serving:
Calories:

222
Total Fat:

22g
Saturated Fat:

7g
Trans Fat:

0g
Unsaturated Fat:

14g
Cholesterol:

22mg
Sodium:

750mg
Carbohydrates:

2g
Fiber:

0g
Sugar:

0g
Protein:

5g