It doesn't get any easier than this 5 Ingredient Crock Pot Beef Stroganoff. It's a quick and tasty meal any family will enjoy! Plus it makes a perfect (and my favorite) freezer meal! A perfect Sunday dinner recipe!
This post contains affiliate links.  If you click on an affiliate link and make a purchase, I will make a small percentage on your purchase. This helps keep this website running! Thank you!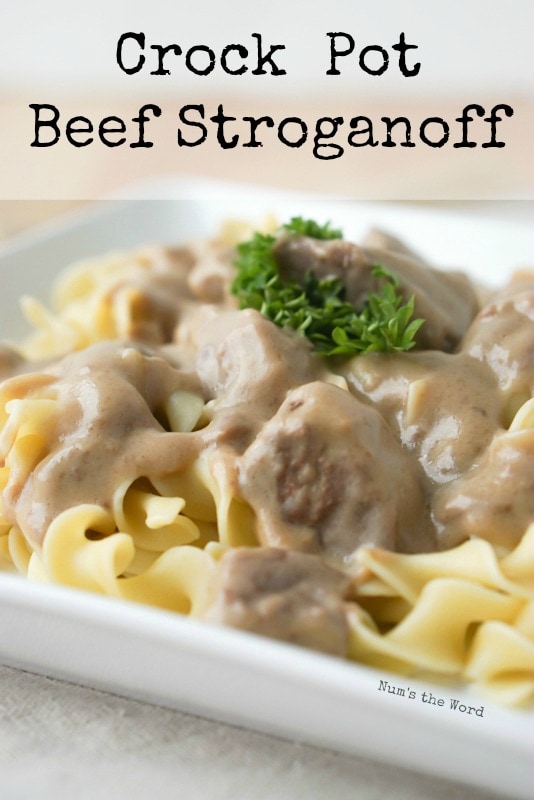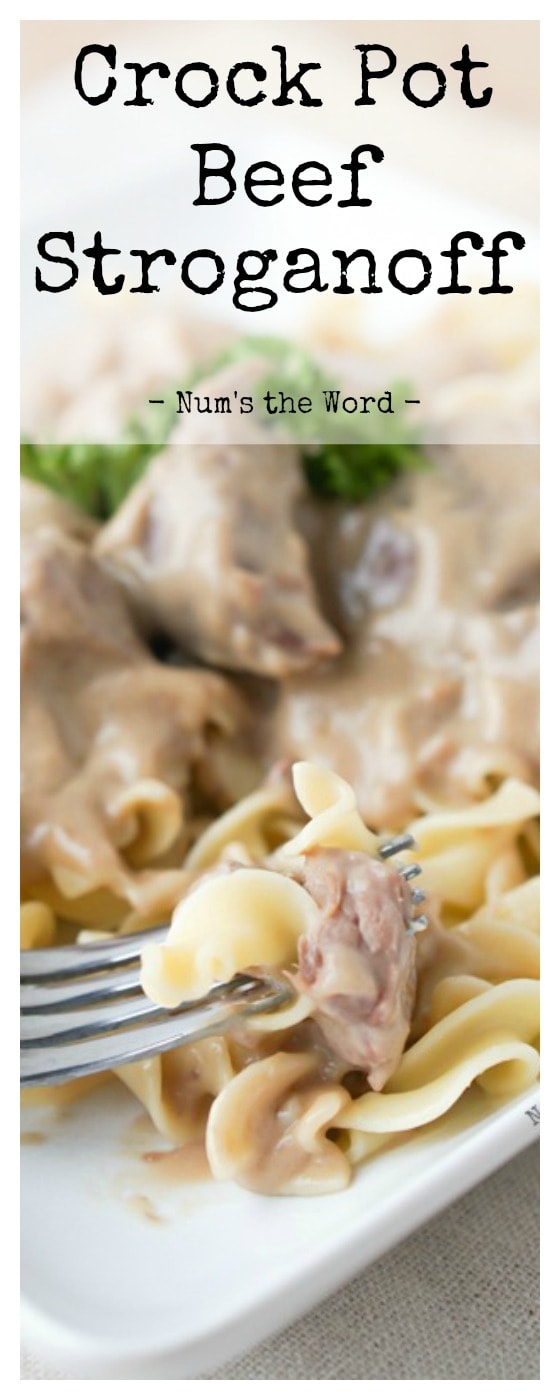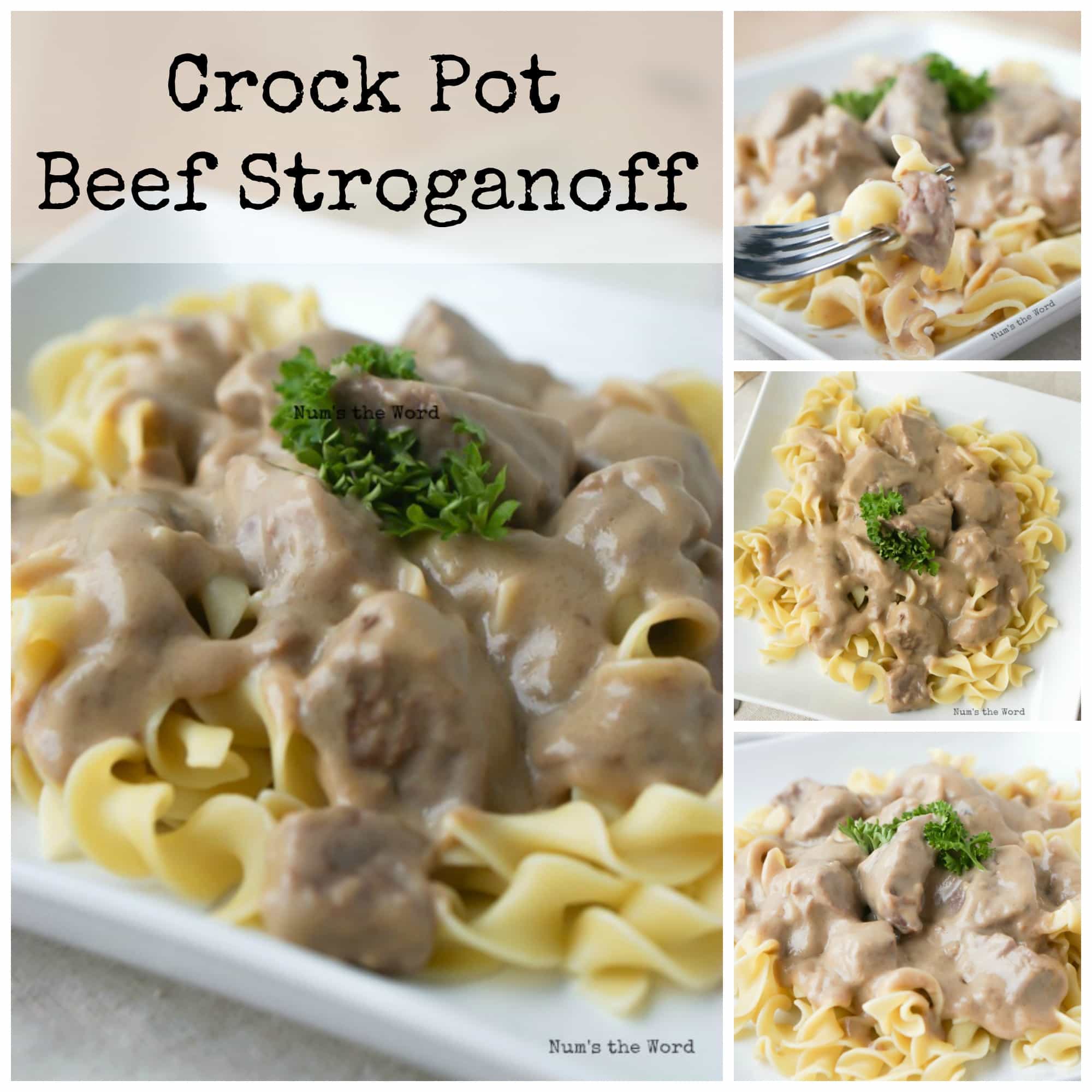 A few years ago, a co-worker gave me her recipe for Crock Pot Beef Stroganoff.
She told me it had only a few ingredients and turned out great every time!
It sounded so easy that I had to try it that next Sunday!
We are big lovers of crock pot meals on Sundays.
I love tossing everything in and then going to church.
When we get home, the house smells AMAZING and dinner is practically done!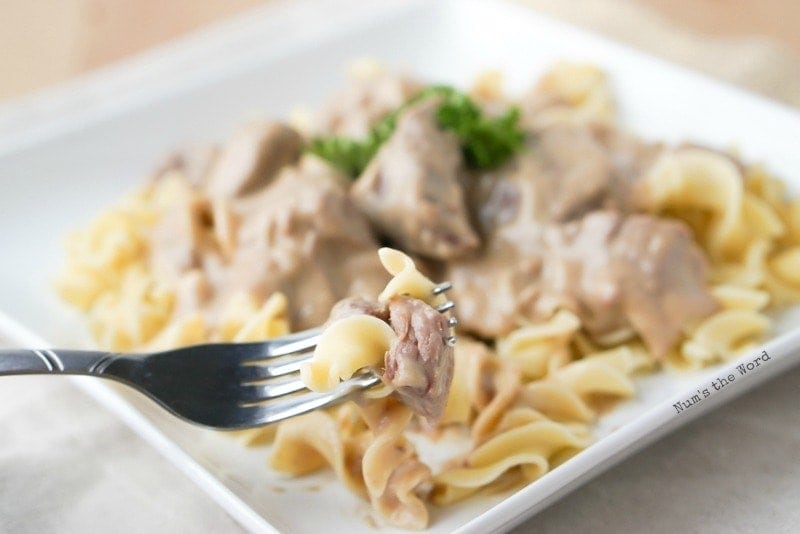 We instantly fell in love with this recipe and now use it regularly for our Sunday dinner.
It's just too easy not to try!
With only 5 ingredient, and 5 minutes, you can prepare this Beef Stroganoff and it's practically fail proof!
Plus, I promise you'll have it memorized after your first time making it.
Why will you have it memorized?
Well it's incredibly simple and you'll be making it again and again.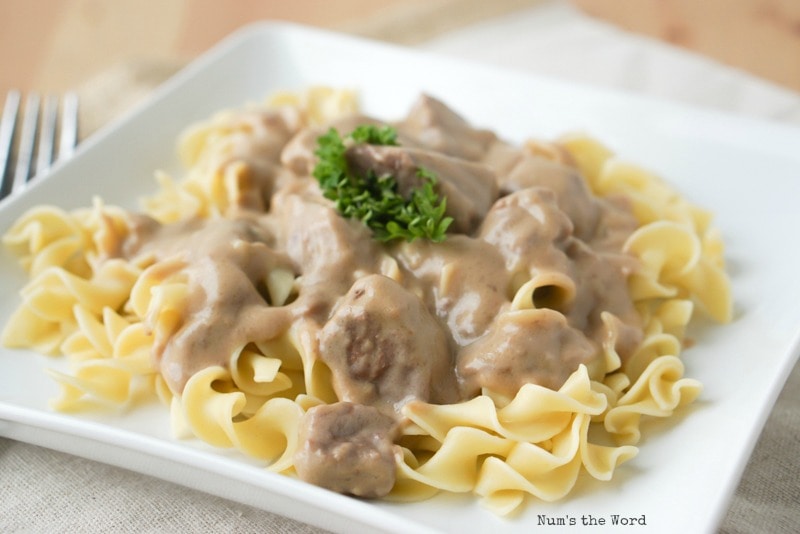 This is one of those must know recipes for any college student or anyone who can't cook.
ANYONE can make this Crock Pot Beef Stroganoff!
We've made this for Christmas dinner and for Sunday dinner as well as when we've had company over.
I also love this meal as I've made it as a freezer meal before too!
Just toss all the raw ingredients, with the exception of the sour cream, into a freezer bag and freeze.
When ready to make, toss the frozen ingredients into your crock pot and go!
I am also a avid freezer meal gal, especially for when I have a new baby.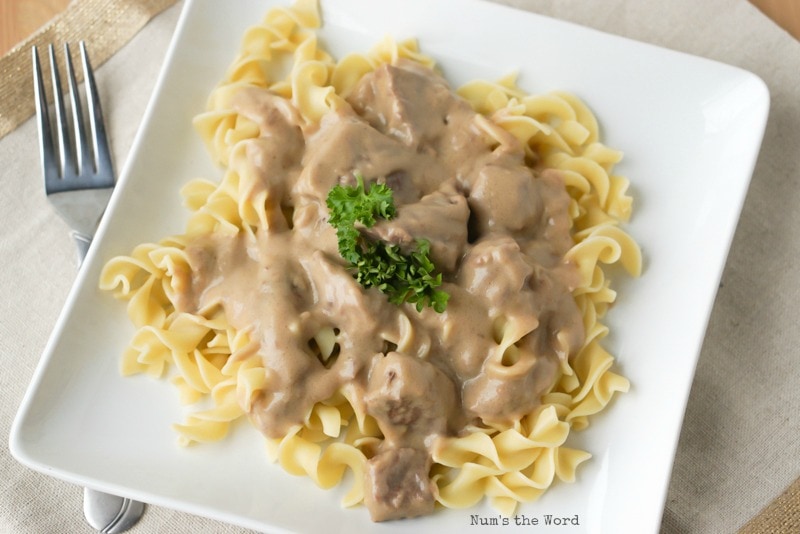 I literally go nuts on freezer meals and stocking us up so that I can still cook with a foggy, sleep deprived brain.
And this recipe for Crock Pot Beef Stroganoff is at the top of my list for freezer meals!
Easy peasy and a meal that is kid friendly and husband approved!  Sure to become a favorite of yours too!
5 Ingredient Beef Stroganoff
Ingredients
1 pound of stew meat
1 (10.75 ounce) can of cream of onion soup (if you can't find cream of onion soup, then use 1 packet of Lipton dry onion soup mix and an extra can of cream of mushroom soup)
1 (10.75 ounce) can of cream of mushroom soup (if you don't like cream of mushroom, cream of chicken works great too!)
8 ounces of egg noodles
1/2 cup of sour cream
Instructions
In a crock pot toss in stew meat, cream of onion soup and can of mushroom soup.
Place lid on crock pot and cook on low for 3- 4 hours, depending on your crock pot. (Mine cooks hot so 2 - 3 hours is plenty for me, however most readers tell me it needs 3 - 4 hours for their crock pots).
After 3 - 4 hours, when meat is cooked through, stir well and turn off crock pot.
Prepare egg noodles according to package directions.
Add sour cream to meat mixture just before serving.
Serve immediately.
Notes
If you are doing this as a freezer meal, place stew meat, cream of onions soup and cream of mushroom soup in a freezer bag. Freeze for up to 3 months. When ready to make, toss frozen ingredients into a crock pot and cook for 4 hours or until meat is cooked through. Follow normal cooking directions from here.
You can add extra sliced mushrooms if you wish.
https://numstheword.com/5-ingredient-beef-stroganoff/
Other Stew Meat Recipes You'll Love...