This Crock Pot Beef Stroganoff recipe could not be any easier to make! With only five ingredients, a working crockpot, and a few hours on your hands, this beef stroganoff recipe can be made by anyone with a slow cooker! In fact, it's so simple that, in no time, you'll know how to make beef stroganoff based on memory alone.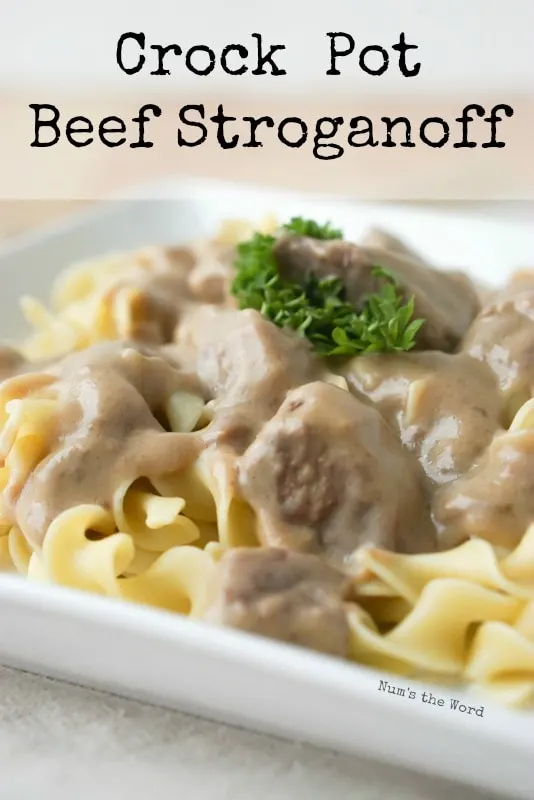 A few years ago, a co-worker of mine gave me her recipe for beef stroganoff, crockpot edition. The recipe had only 5 ingredients so I knew I had to make it that upcoming Sunday.
My family loves digging into crock pot meals on Sundays. We can simply toss the ingredients into the pot, go to church, then come home to an AMAZING dinner ready just as we walk through the door.
Of course, we instantly fell in love with my co-worker's classic beef stroganoff recipe. It has become a regular Sunday dinner at my house, though I've also made this beef stroganoff with cream of mushroom soup for Christmas dinner and for dinners with company over. Whether it's for a big meal or simply packing your freezer for future lunches, this easy recipe gets the job done.
Is It Good for Meal Prep?
Speaking of freezer meals, this is perhaps the best beef stroganoff recipe for meal prep ever. Not only is it super tasty, but it lasts for a great amount of time and contains all those vital proteins and hardy carbs to get you through the week.
That's especially great when I have a new baby around. A good stock of freezer meals to choose from is a lifesaver for a foggy, sleep-deprived new mom brain.
Simply toss all the raw ingredients (with the exception of the sour cream in this recipe) into a freezer bag and store it for later. Whenever you're ready to cook it, just throw these frozen ingredients into your crock pot and let it simmer to a tasty perfection.
Since this crockpot beef stroganoff recipe is kid and husband-approved, I never have to worry about dinner being lackluster just because I'm in a time bind. I'm sure your family will feel the same way!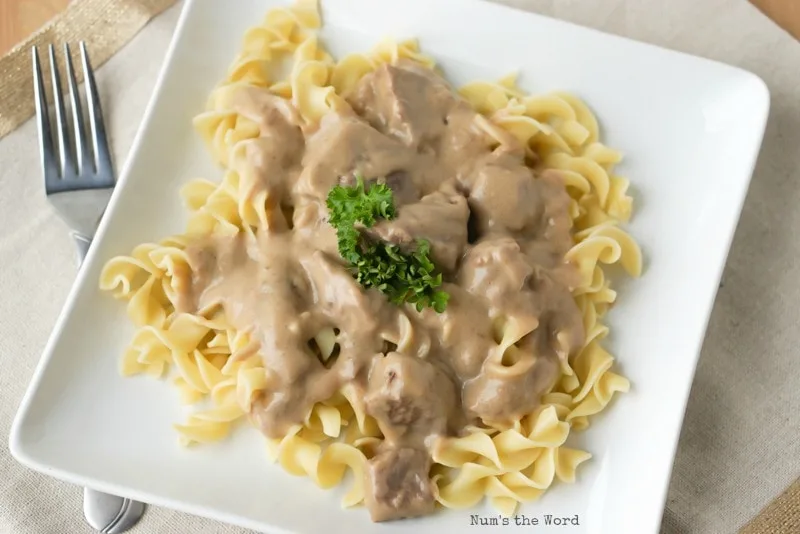 How Long Can I Freeze This Crockpot Meal?
If you plan to make this Campbell's beef stroganoff into a freezer meal, be sure you place ONLY your stew meat, cream of onions soup, and cream of mushroom soup in the sealed bag before popping it in your freezer. Sadly, the other ingredients don't handle freezing well.
But that's not a bad thing! Unlike some freezer meals, you don't have to contend with ingredients reheating poorly. It's always fresh!
You can keep this in your freezer for up to three months. When you're ready to cook it, simply toss the frozen ingredients into a crockpot and cook for four hours or until the stew meat is cooked through. You can add in the sour cream just before serving.
You can also add in some sliced mushrooms, however we prefer this beef stroganoff without mushrooms.
What is the Origin of Beef Stroganoff?
Beef stroganoff (also called beef Stroganov) originated in Russia in the mid-19th-century. Named after one of the members of the influential Stroganov family, this classic dish of sautéed pieces of beef served in a sauce with smetana (or sour cream) has now become popular all around the world.
The Stroganovs were the richest businessmen throughout the Tsardom of Russia during Ivan the Terrible's reign, and their highly successful family have many acclaimed merchants, industrialists, landowners, and statesmen under their belt.
A hearty origin for a hearty meal. It's pretty fitting, right?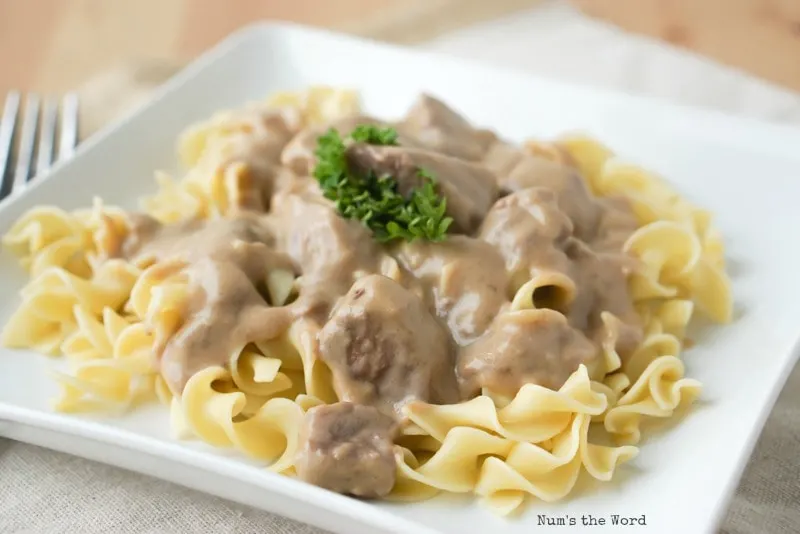 How to Make Beef Stroganoff?
This recipe is definitely a toss it and forget it meal. Simply toss into the crock pot beef stroganoff ingredients:
Stew Meat
Cream of Mushroom (or chicken) Soup
Cream of Onion Soup.
Then turn it on and forget about it. When you're ready to enjoy, cook up your vegetables, your rice or your noodles and add the sour cream to your stew meat. Mix well and serve!
How Do I Thicken Beef Stroganoff?
If your slow cooker made your beef stroganoff sauce thinner than you'd like, you can easily thicken it up again with a mixture of water and either flour or cornstarch.
Mix three teaspoons of either cornstarch or flour with 1/4 cup of warm water until it becomes a semi-solid paste. Be sure to mix your chosen dry ingredient well, so it doesn't clump up in the sauce once you add it in.
When adding this paste to your stroganoff, stir slowly for three minutes to ensure it blends in completely. Serve hot off the pan alone with your stroganoff or alongside some tasty side dishes.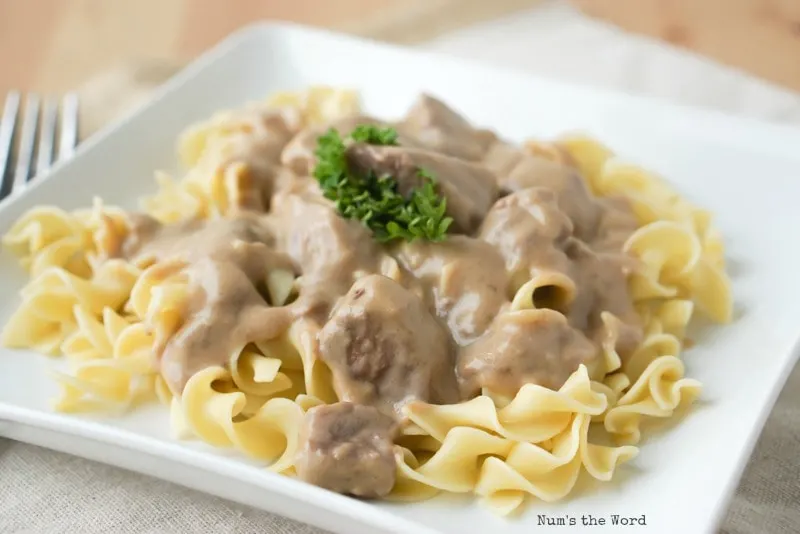 What are Good Side Dishes for Beef Stroganoff?
While this beef stroganoff with sour cream tastes great on its own, you can also spice up the meal with extras!
Rice
Serving beef stroganoff on top of plain rice is fantastic, because the neutral taste of the rice balances well with the strong flavor of the stroganoff. If you want extra flavor, you can serve it over this Buttered Rice recipe instead.
Noodles
If you want a side dish that tastes pretty carb-y without all those pesky calories, serve it with egg noodles. This is our favorite way to serve this dish. These noodles taste very similar to regular pasta, but they are made up of mostly flour and egg.
Veggies
If you're on a diet, however, then you may want to steer away from a carb-filled side dish altogether. The beef and sauce alone already contain a high number of calories. It only makes sense that the perfect side dish for you would then be a vegetable-based one.
Serving your simple beef stroganoff alongside a nice salad would help balance out the cream sauce! This Winter Fruit Salad recipe is a favorite side of ours with this meal!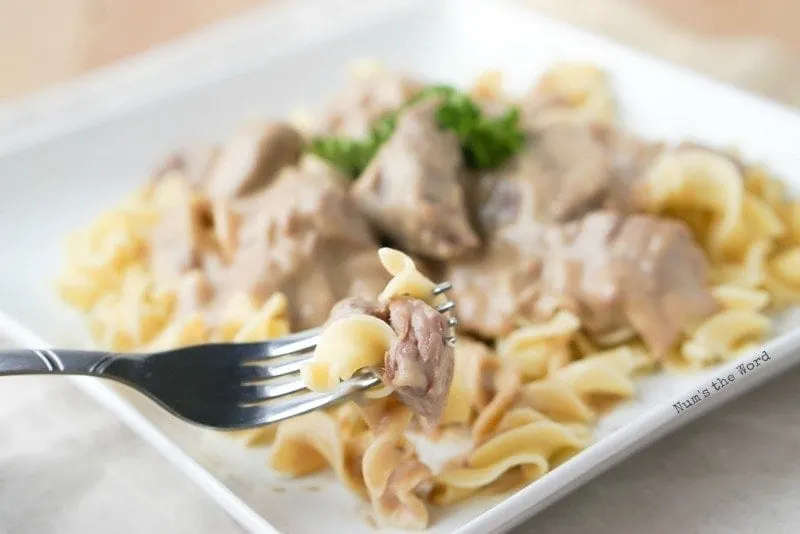 Side Dishes You'll Love with this Meal:
Desserts You'll Love with this Meal…
Yield: 4 Servings
5 Ingredient Beef Stroganoff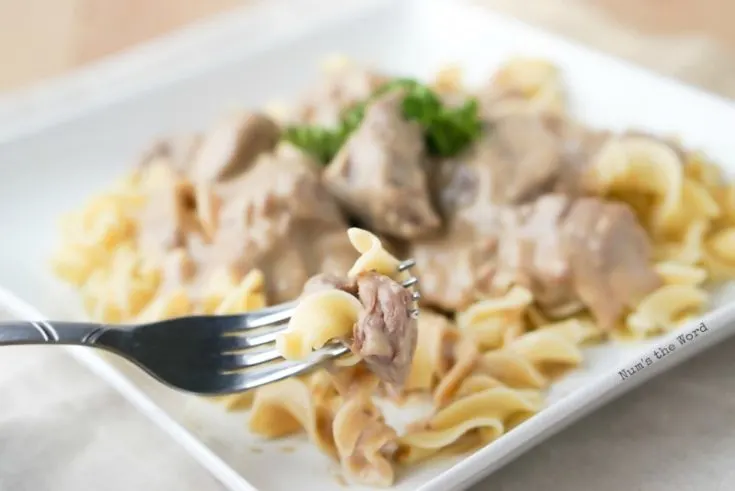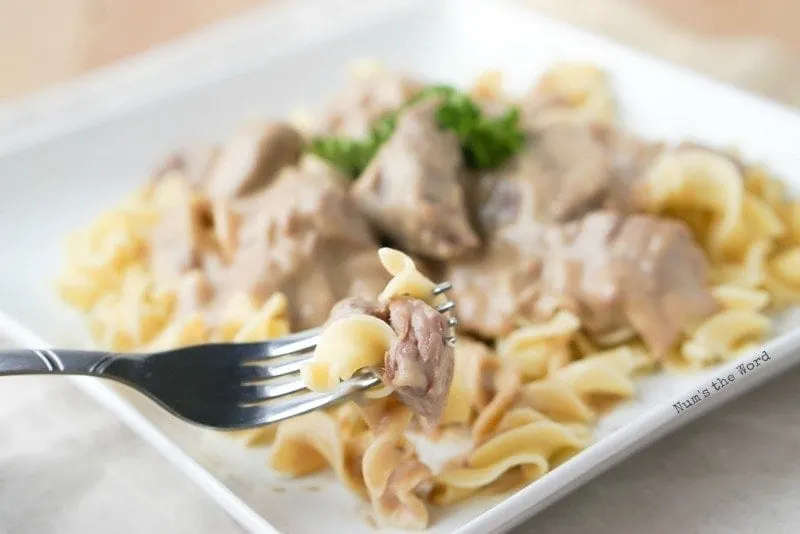 5 Ingredient Crock Pot Beef Stroganoff produces tender flavorful meat that you can serve over rice, noodles or vegetables!
Ingredients
1 pound of stew meat
1 (10.75 ounce) can of cream of onion soup (if you can't find cream of onion soup, then use 1 packet of Lipton dry onion soup mix and an extra can of cream of mushroom soup)
1 (10.75 ounce) can of cream of mushroom soup (if you don't like cream of mushroom, cream of chicken works great too!)
8 ounces of egg noodles
1/2 cup of sour cream
4 ounce can sliced mushrooms (optional)
Instructions
In a crock pot toss in stew meat, cream of onion soup and can of mushroom soup.
Place lid on crock pot and cook on low for 3- 4 hours, depending on your crock pot. (Mine cooks hot so 2 - 3 hours is plenty for me, however most readers tell me it needs 3 - 4 hours for their crock pots).
After 3 - 4 hours, when meat is cooked through, stir well and turn off crock pot.
Prepare egg noodles according to package directions.
Add sour cream to meat mixture just before serving.
Serve immediately.
Notes
1. If you are doing this as a freezer meal, place stew meat, cream of onion soup and cream of mushroom soup in a freezer bag. Freeze for up to 3 months. When ready to make, toss frozen ingredients into a crock pot and cook for 4 hours or until meat is cooked through. Follow normal cooking directions from here.
2. You can add extra sliced mushrooms if you wish.
3. You can substitute dry onion soup mixture for the cream of onion soup if you cannot find it if you do this, add an extra can of cream of mushroom (or chicken) soup.
4. If doubling recipe, add an extra 1 - 1.5 hours of cook time.
Nutrition Information:
Yield:
4
Serving Size:
1
Amount Per Serving:
Calories:

428
Total Fat:

18g
Saturated Fat:

7g
Trans Fat:

1g
Unsaturated Fat:

9g
Cholesterol:

153mg
Sodium:

723mg
Carbohydrates:

24g
Fiber:

2g
Sugar:

3g
Protein:

43g
Originally Posted: June 12, 2017
Photos & Text Updated: October 15, 2019