When you're craving the warm, creamy taste of your childhood, look no further than this classic Stovetop Rice Pudding. It's a simple, no-fuss recipe your entire family will gobble up in no time.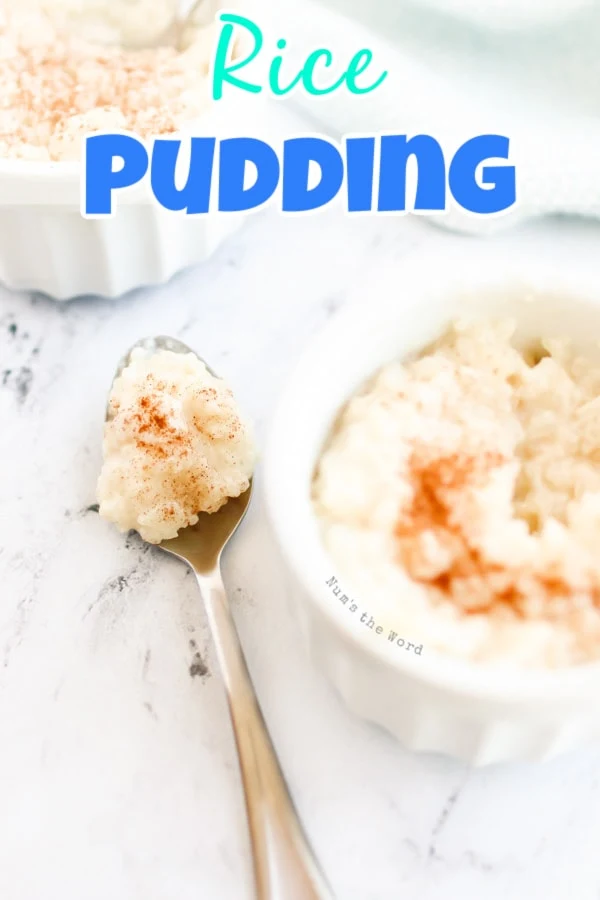 After searching all over (and lots of trial runs of so many recipes) I can assure you, this creamy rice pudding is the absolute BEST rice pudding recipe you are going to ever eat.
It's like being hugged by your grandma. Everyone needs that. And it's so EASY!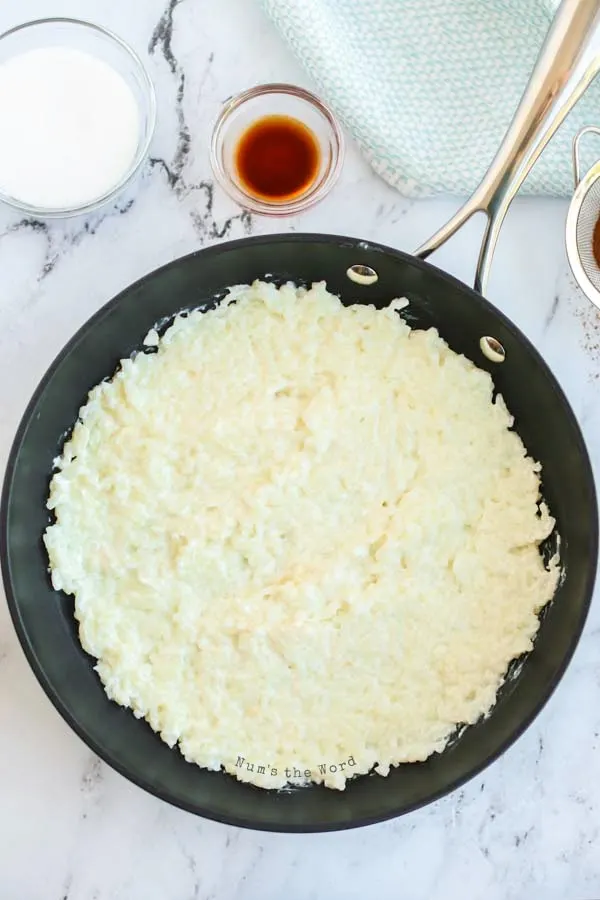 What is Stovetop Rice Pudding?
Rice pudding is a mix of rice cooked and milk, frequently made with cinnamon, vanilla, possibly eggs or other spices and add-ins.
It can be eaten as a dessert or a breakfast food, hot or cold, and it can be cooked on the stove or in the oven. And really, there are almost as many variations to this recipe as there are people cooking rice pudding!
And just to tell you how delicious homemade rice pudding is: it is made everywhere around the entire world! That's pretty popular!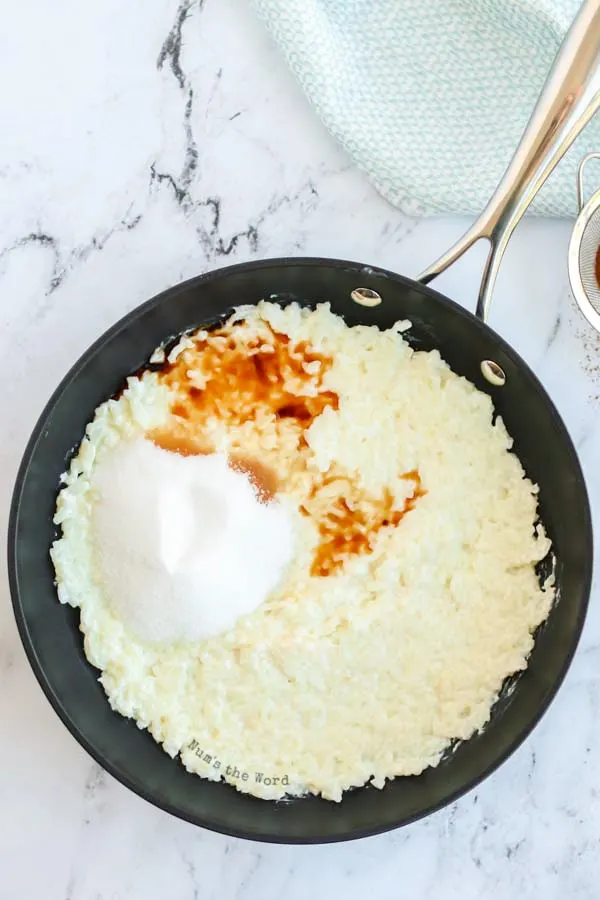 What Ingredients are in Stovetop Rice Pudding?
For this recipe, your ingredients could not be more simple! Only 5 pantry ingredients!
Milk

: You'll want to use full fat milk in this recipe to achieve maximum creaminess! Feel free to experiment with other full fat milks like coconut if you want but be prepared for that coconut flavor!

Rice

: You can use any type of rice here! Short grain, long grain, medium grain, all are good options. My personal favorite is Jasmine. I love that sweet Jasmine flavor.

Sugar

: Um, yes! A dessert with no sugar is no bueno! Here's another place you can experiment if you want. Maple sugar, coconut sugar, or brown sugar are all going to give you a different flavor. I use plain white sugar in this recipe.

Vanilla

: The vanilla is the star of this show! Delicious!

Cinnamon

: Go easy on the cinnamon. Let that vanilla shine!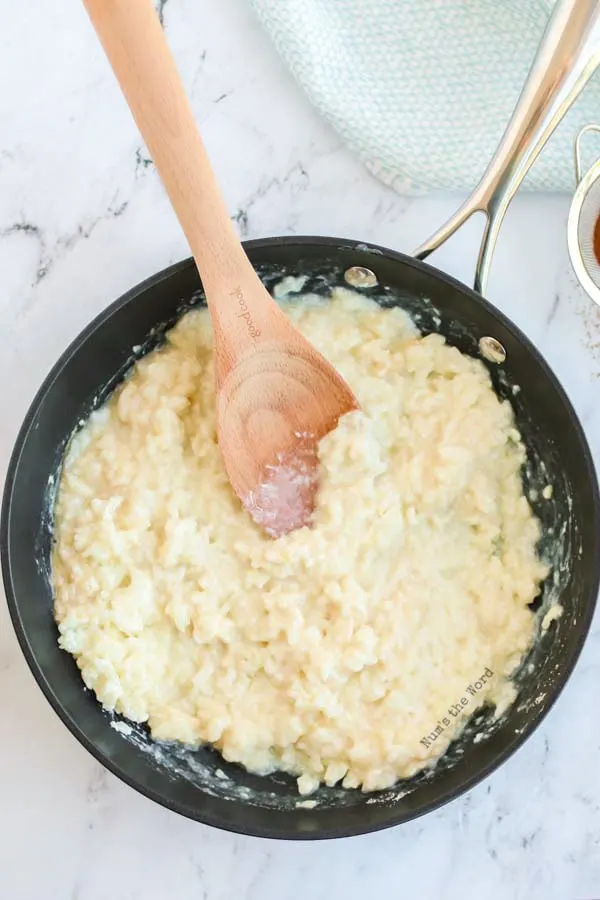 How Do You Make Rice Pudding?
Boil the milk.

Stir in the rice.

Cook covered 40 minutes – 1 hour.

Stir about every 15 minutes.

Add sugar and vanilla

Let sit for about 10 minutes.

Serve with a sprinkle of cinnamon.

Try not to eat it all yourself!
Pro Tips:
Rinse your rice

. Rice is starchy! Too much starch is going to give your rice pudding a glue-like texture and consistency. Yuck! Put your rice in a fine mesh strainer and rinse thoroughly 2-3 times.

Don't use instant rice

. Instant rice is a different beast than any other rice and I have no idea how this would turn out with instant.

Serve it warm or cold

. Is it hot outside? Let it cool down! Is it cold outside? Eat it warm! Are you a rebel? Eat it any way you want!

Mix ins

! You can serve this with raisins, cardamom, nutmeg, chocolate chips, jam, toasted nuts, lemon zest, chocolate or caramel drizzle, or syrup are all popular around the web and the world. Don't be afraid to experiment, but just know, this recipe is good as is too!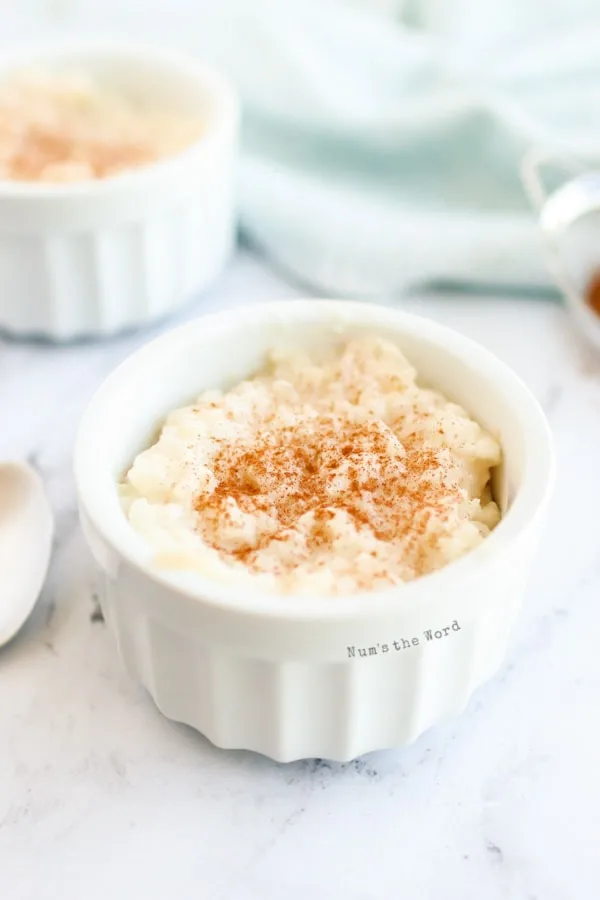 How Do You Store Stovetop Rice Pudding?
Old fashioned Rice pudding will stay good when stored in an airtight container in the fridge for 5-7 days. You can eat it either heated up again or cold. When stovetop rice pudding gets cold it will thicken. If you want, you can add just a touch of milk (about a teaspoon) to make it a little creamier.
Can You Freeze Stovetop Rice Pudding?
You can! An airtight container in your freezer should keep your rice pudding good for about 3 months. Keep in mind that the longer it's in the freezer, the less flavor it will have. Also the rice pudding tends to separate once frozen so be sure to mix well upon thawing.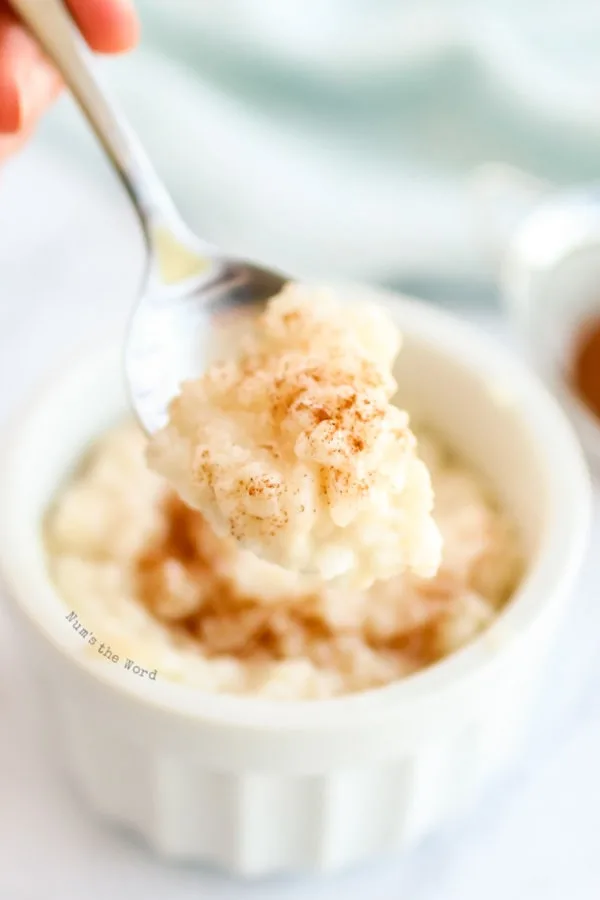 How Do You Thaw Frozen Rice Pudding?
You'll want to take your rice pudding out of the freezer and put it in the fridge and let it thaw overnight before reheating.
I like to reheat my stovetop rice pudding on the stove on medium-low heat and add a little bit of milk – again just a teaspoon will do!
Mix well due to the separation and serve. If you are planning on microwaving, I recommend adding a small bowl of water in the microwave while reheating. Stir well.
Of course you can always just eat it straight from the fridge without reheating also but it will need to be stirred.
Can You Use Leftover Rice for this Stovetop Rice Pudding
?
Sure! The recipe is going to need to be tweaked just a bit but it's actually fairly simple!
Since your rice is already cooked you are not going to need as much milk. Use 1 cup whole milk and 1 cup of half and half (or use 2 cups of whole if that's all you have!) And keep all other ingredients the same.
Cook it 20 minutes at a low simmer until you've got a creamy, beautiful and dare I say, extremely easy rice pudding.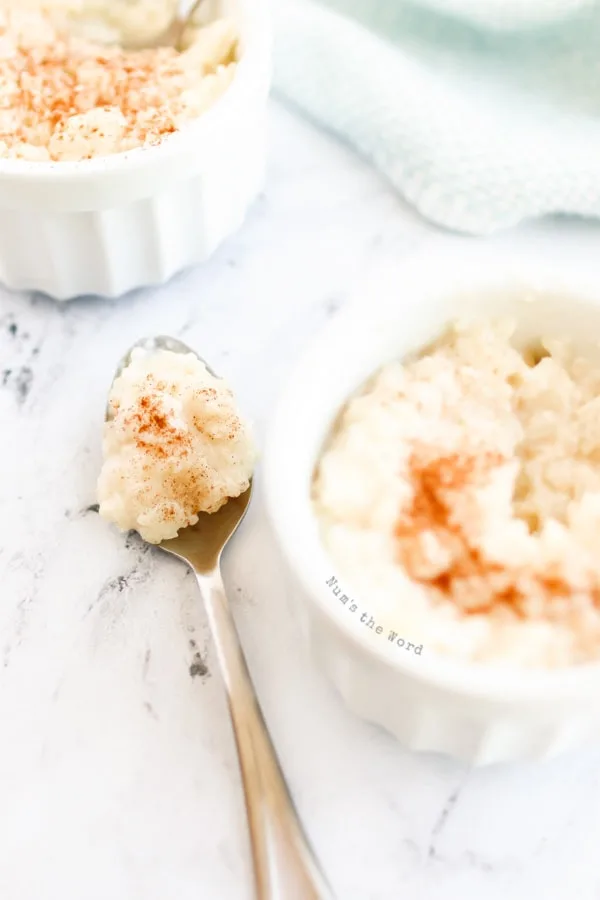 Is Rice Pudding Gluten Free?
All rice is naturally gluten free so yes! Rice Pudding is completely gluten free. Helpful if you're bringing your homemade rice pudding to a family get together with allergies!
Can Dogs Eat Rice Pudding?
Rice pudding is not toxic to dogs, but (although I'm no dog expert) I recommend not feeding this to your dog.
First of all: Hello! This rice pudding is so rich and flavorful, you aren't going to want to share. Secondly: Dogs probably shouldn't be eating rice and sugar for their own health. I'd stick to foods actually made and meant for dogs.
Is Rice Pudding Healthy?
Rice pudding is typically eaten as a dessert for a reason. It's rich, comforting, and delectable! Probably don't eat it for every meal but everyone needs a dessert and as far as desserts go, this one isn't that bad!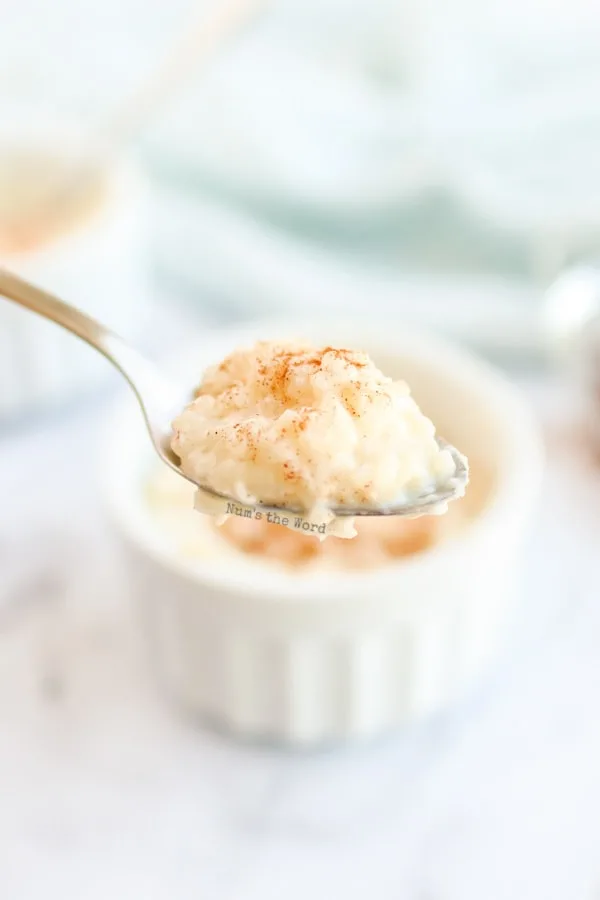 Other Stovetop Dessert Recipes You'll Love…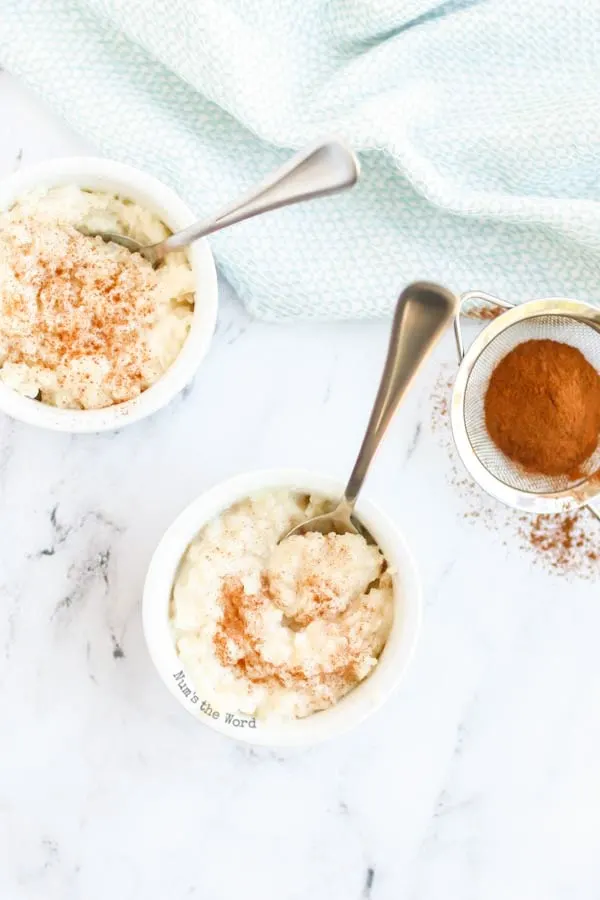 More Rice Recipes You'll Love:
Stovetop Rice Pudding is super duper simple and incredibly luscious! It comes out perfect every time! So try it for breakfast or dessert (or any other meal/snack time!) and let me know what you think!
Yield: 4 Servings
Classic Vanilla Rice Pudding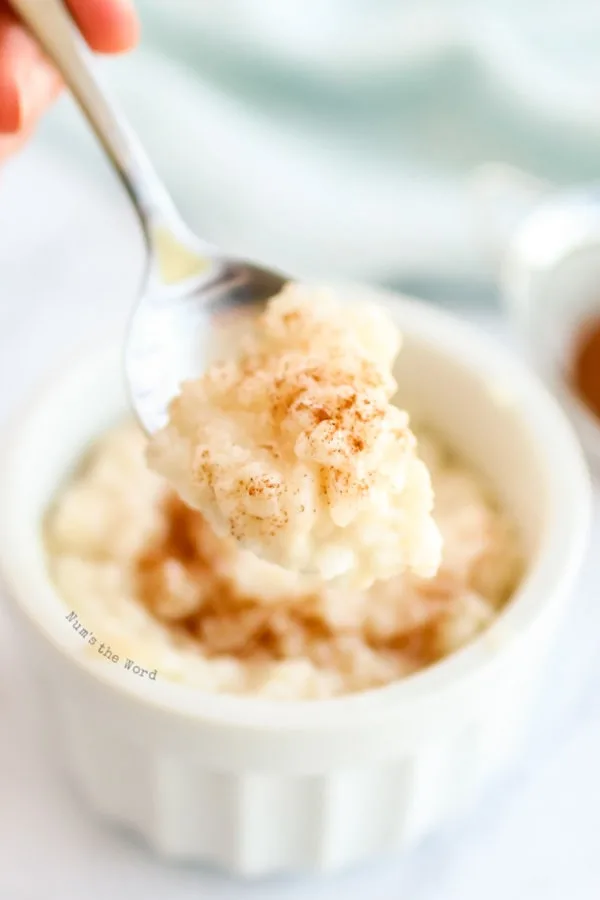 When you're craving the warm, creamy taste of your childhood, look no further than this classic Stovetop Rice Pudding. It's a simple, no-fuss recipe your entire family will gobble up in no time.
Ingredients
3 cups of whole milk
1/3 cup of uncooked Jasmine rice
1/4 cup sugar
1 teaspoon vanilla extract
cinnamon
Instructions
In a sauce pan, bring milk to a boil.
Add rice and stir well.
Cook covered with lid cracked for 40 minutes - 1 hour over low heat,
stirring every 15 minutes or so.
Mixture should be thickened.
Add sugar and vanilla and stir.
Let sit for 10 minutes to allow sugar to dissolve and flavors to blend.
Spoon into dishes and sprinkle with a touch of cinnamon.
Originally Posted: May 19, 2016
Text & Photos Updated: September 14, 2020