These Easy Beef Empanadas use flaky pie crust and ground beef to create the perfect dinner. Ready in about 30 minutes, they make a great weeknight meal! Make a double or triple batch and freeze some for a future freezer meal!
This post contains affiliate links.  If you click on an affiliate link and make a purchase, I will make a small percentage on your purchase, which helps keep this website running! Thank you!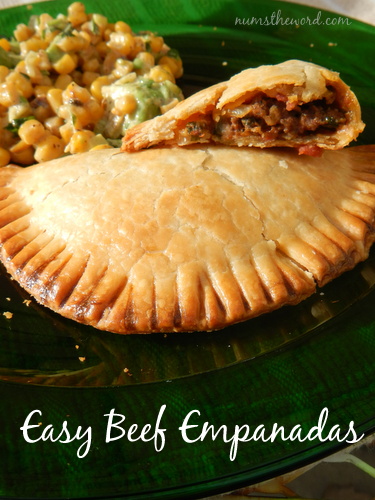 Side Note:  The corn dish in this photo is called Esquites and is delicious!  The recipe can be found HERE.
I was first introduced to the world of Empanadas by a friend.
I fell in love and wanted to make my own at home.
At first I thought this was a GREAT idea.
I went all out on "authentic" as I wanted to recreate the best Empananda I could.
I made the crust from scratch using an "authentic" recipes.
Whether it really was authentic or not, I wont know till I travel south of the boarder to try a real one.
However, that wont be happening any time soon.
The crust was good but not amazing.
It took quite a bit of extra work and the results just weren't worth it.
Since then, I've always kept my eyes open for another, better recipe.
Recently I saw Chef in Training make hers with pre-made pie crust.
I thought that was brilliant!
I LIKE pie crust.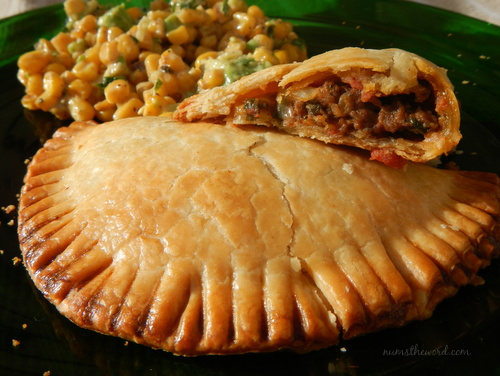 The best part of pre-made pie crust, is that it tasted better than the authentic crust recipe I used before.
I also loved how it saved me a ton of time in the kitchen.
BONUS!
What I like most about Empanadas, is that you can pack them full of anything and they always turn out delicious.
Use chicken, steak or ground beef.
Heck, you can even toss in some pulled pork.
Then add your favorite veggies and spice it up to as hot as you want it.
You really can't mess these up and they always turn out nummy!
I don't claim these as "Authentic Easy Beef Empanadas."
Because they aren't!
These are just easy goodness that looks like an empanada and so we'll go with it!
For me, I'll be using pie crust from now.
And to make my life even simpler, I use store bought pie crust.
So I literally only have to cut out my crusts and go.
However if you want to use an authentic crust, go for it.
I wont stand it your way. In fact, my favorite homemade pie crust can be found HERE.
If you are looking for a tasty Mexican meal that will be a family pleaser, then I highly recommend this one.
We love these Easy Beef Empanadas.
We especially love how these can be customized to your families personal tastes.
Whip up a batch of these today and you wont regret it!
Ingredients
1 package of pre-made pie crust (2 rolls)
1 Tablespoon of oil
1 pound of lean ground beef - I use 90% lean, however 80% or less will work - just drain off the excess fat before continuing.
1/4 cup diced onions
1/2 medium diced bell pepper, any color
1 teaspoon cumin
1 teaspoons minced garlic
1/4 teaspoon salt
1/4 teaspoon pepper
1 teaspoon chili powder
1 cup Mexican blended cheese
1 egg
Instructions
Preheat oven to 375*
Combine bell pepper, onion, garlic and oil and saute 3 minutes over medium heat.
Add hamburger, cumin and chili pepper to the pan and cook until meat is cooked through.
Set pan aside and let cool.
While meat mixture is cooling, roll out pie crust.
Using a bowl or large circle cutter, cut out 6" round discs from pie crust. You should be able to get 3 from each crust making 6 total with a 7th created out of the leftover dough rolled out.
Place 2 - 3 Tablespoons of mixture in the center of each pie disc.
Top with cheese.
Fold over and seal edges with a fork.
Place Empanadas on a cookie sheet.
Scramble egg and brush on to tops of each Empanada.
Bake in oven for 15 - 20 minutes.
Notes
Reheating Instructions if you choose to use these as a freezer meal as given by a reader....THANK YOU! I did try freezing these and the still turn out great. Specifically, I made them yesterday, froze 4, and cooked one tonight for myself. I cooked it from frozen at 375 for 23 minutes and it tasted great. It was not quite as pretty as my results from last night when I brushed the egg on, but it tasted about the same. I would assume that you could thaw them and put on the egg if you really want that golden brown color on top. I for one think it's great that I can just pop them in the oven frozen.
https://numstheword.com/easy-beef-empanadas/