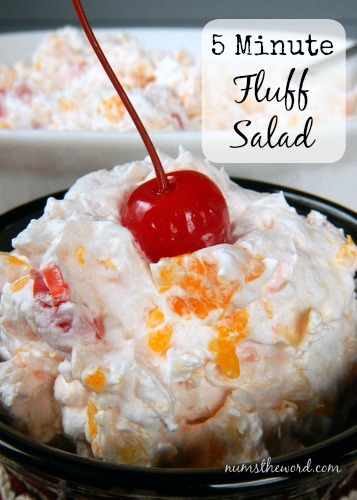 Are you ever in a pinch and need a quick side dish?
This 5 minute fluff salad is the perfect solution.
My Mother-in-law is always tossing together quick fruit salads using what fresh fruits she has on hand.  They are always tasty and easy!
This is one of those types of salads.
Rather than using a bunch of fresh fruit that you have on hand, this uses canned fruits that you most likely have in the pantry.
All you need is 5 ingredients and 5 minutes!
This is one of those quick emergency side dishes that everyone will love!
This post contains Amazon affiliate links as a free service for you!
Ingredients
1 (15 ounce) can mandarin oranges, drained
1 (20 ounce) can pineapple tidbits, drained
6 ounces (1/2 jar) of Maraschino Cherries, drained and chopped
1 cup miniature marshmallows
1 (8 ounce) tub Cool Whip (or less) (or 2 cups real whipped cream)
Instructions
In a serving bowl combine drained oranges, drained pineapple, drained and chopped maraschino cherries & marshmallows. Gently mix.
Add Cool Whip and gently fold until combined.
Serve immediately.
https://numstheword.com/5-minute-fluff-salad/
Items recommended for this recipe include…
Another Recipe We Think You'll Love…