This 5 minute fluff salad has 5 ingredients that are probably already in your pantry and fridge! Easy, delicious and perfect in a pinch!
This post contains affiliate links.  If you click on an affiliate link and make a purchase, I will make a small percentage on your purchase. This helps keep this website running! Thank you!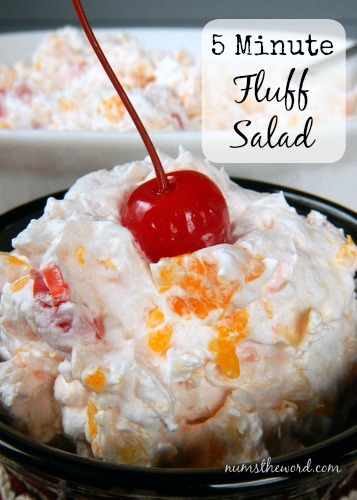 When it comes to side dishes, I'll be the first to admit that I struggle with these.
Meals in our home generally consist of a main dish.
That's it.
Especially if there are vegetables in the main dish then I don't usually do a side dish as well.
It's certainly not "normal" but for some reason I always struggle with sides.
The only time you'll find an array of side dishes on our table is when we have company over.
It's at this point that I really put some thought into what sides can I offer that will compliment the main dish.
However, when it's just the family and I, there are rarely side dishes on our table.
This stems from the fact that I am just really terrible at coming up with easy side dishes.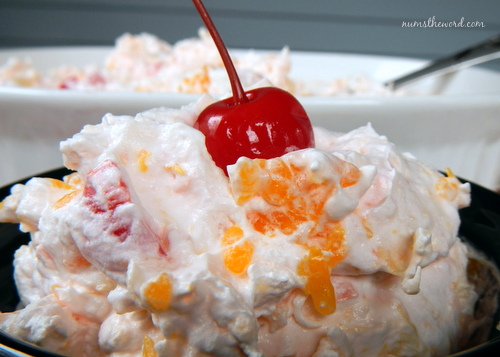 Over the years, thanks to Num's, I've gotten better.
I now have quite a few easy and quick side dishes I can toss together like this 5 Minute Fluff Salad.
Who doesn't have 5 minutes to toss together this easy side dish?
Everyone does.
Not only is this "side dish" easy but it can also double as a dessert.
It's made with yummy cool whip which is typically a dessert item.
However, here in the United States, we tend to like everything a little sweeter and have no problem eating "dessert" items for other meals too.
Take breakfast foods for example.
Pancakes with syrup or berries and whipped cream?
How about donuts and pastries and sugary cereal?
Yep, we are fans of all these things.

Having a side dish that consists of fruit folded into cool whip (or whipped cream) is completely normal here.
Or as stated earlier, you can also serve this as an easy dessert!
Either way, this 5 Minute Fluff Salad makes for a quick and easy side dish if you are ever in a pinch!
My Mother-in-law is always tossing together quick fruit salads using what fresh fruits she has on hand.
This is what gave me the idea.
I just grabbed what I had on hand in my pantry and whipped up this very tasty 5 Minute Fluff Salad.
If you are like me and struggle with side dishes, then whip this 5 Minute Fluff Salad up.
Your family will thank you and your table wont be quite so empty!
Yield: 6 Servings
5 Minute Fluff Salad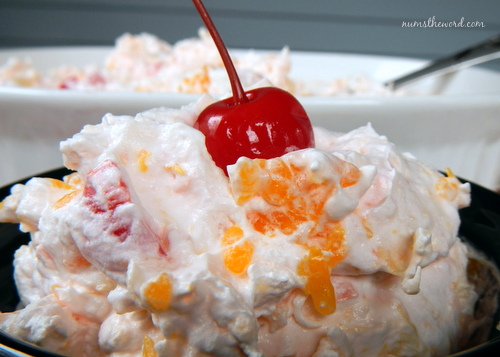 Ingredients
1 (15 ounce) can mandarin oranges, drained
1 (20 ounce) can pineapple tidbits, drained
6 ounces (1/2 jar) of Maraschino Cherries, drained and chopped
1 cup miniature marshmallows
1 (8 ounce) tub Cool Whip (or less) (or 2 cups real whipped cream)
Instructions
In a serving bowl combine drained oranges, drained pineapple, drained and chopped maraschino cherries & marshmallows. Gently mix.
Add Cool Whip and gently fold until combined.
Serve immediately.
Other Easy Side Dishes You'll Love...