This Instant Pot Spaghetti with Meat Sauce is hands down the easiest recipe ever! One pot, and 20 minutes to get dinner from the fridge to your table! This fast family dinner is from scratch and kid approved!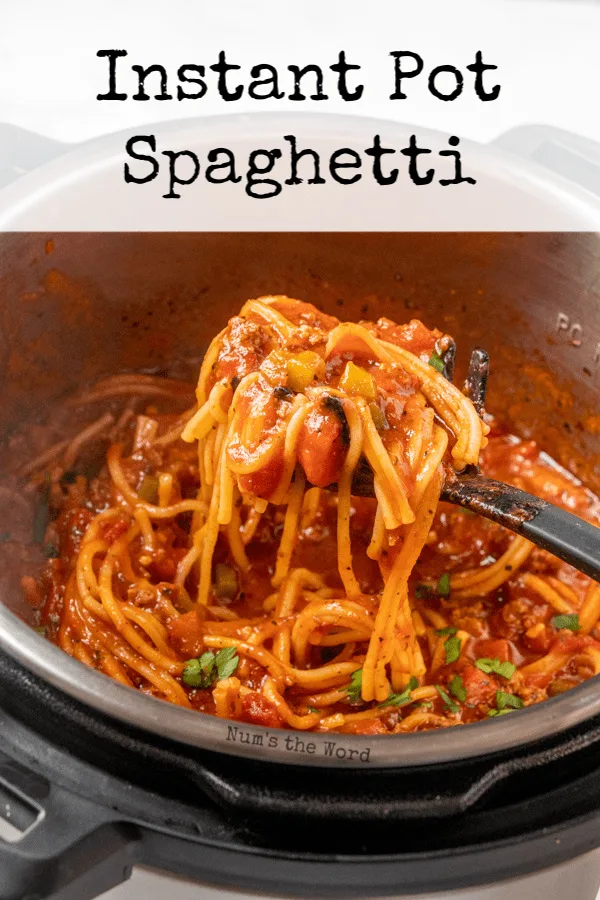 Spaghetti is one of my all time favorite meals. It is quick, easy to make and is good for any time of the year. It is my family's go to dish for busy weeknights. Honestly who doesn't love eating a classic Italian dinner with a tasty meat sauce to go over it? It is a great dish to serve for any occasion.
However making traditional spaghetti often requires multiple pots and pans. Making Instant Pot Spaghetti with meat sauce not only saves time, but it also creates fewer dishes to wash. Making it a win-win in my book.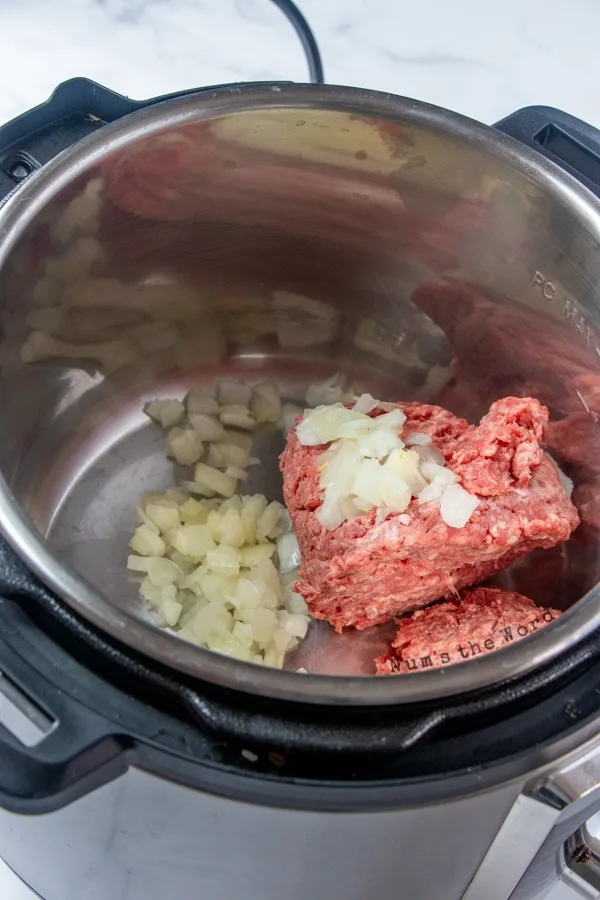 Spaghetti is a great source of fiber and the meat sauce and toppings you put on top of your noodles can be a great source of your daily needed nutrients.Some of my family's favorite sides to pair with our spaghetti with meat sauce are Garlic Bread Hamburger Buns and Prosciutto Wrapped Asparagus.
If you are a big spaghetti fan like my family is, this Instant Pot Spaghetti recipe will be your new best friend. It makes the already lovable spaghetti meal that much better. Cooking with an instant pot is quicker and less messy and it will take your preparation down to about twenty minutes for homemade from scratch spaghetti.
There are no downsides to making your spaghetti in an instant pot. If you are new to cooking with an instant pot, this recipe will be a great one to start out with.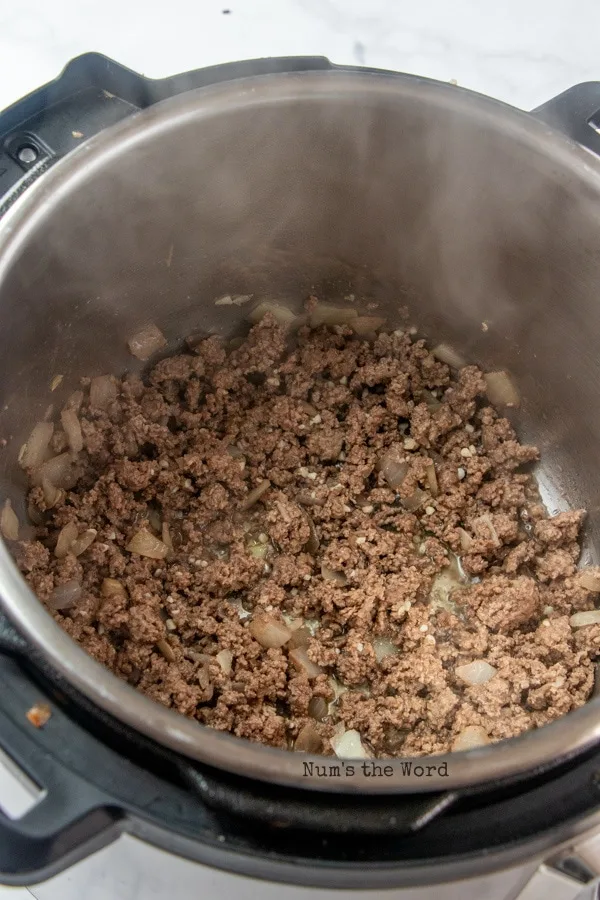 What is in Instant Pot Spaghetti with Meat Sauce:
Other than your instant pot, there are a few important ingredients you will need to have in order to make your new favorite Instant Pot Spaghetti recipe. Here is what you are going to need:
Ground Beef

: This will make your sauce even tastier and will be a great source of protein in your sauce.

Onion

: Make sure to dice up your onions to help enhance the flavor of your sauce.

Garlic

: Adding garlic will give it that loved Italian flavor and will also give your sauce a better taste.

Green Bell Pepper

: These will give your sauce and extra kick.

Tomatoes

: Adding fresh tomatoes to your sauce will make that tomato flavor really pop.

Tomato sauce

: You can't have spaghetti without a great tomato sauce.

Dried Oregano

: When oregano is dried it has a stronger flavor.

Dried Basil

: When dried it has a better flavor.

Salt

: Salt makes everything better! The more salt, the more flavor!

Black Pepper

: This season your sauce and give it the perfect taste.

Water

: You can't cook noodles without water.

Spaghetti Noodles

: It won't be spaghetti without some great noodles. This recipe also works with gluten free noodles.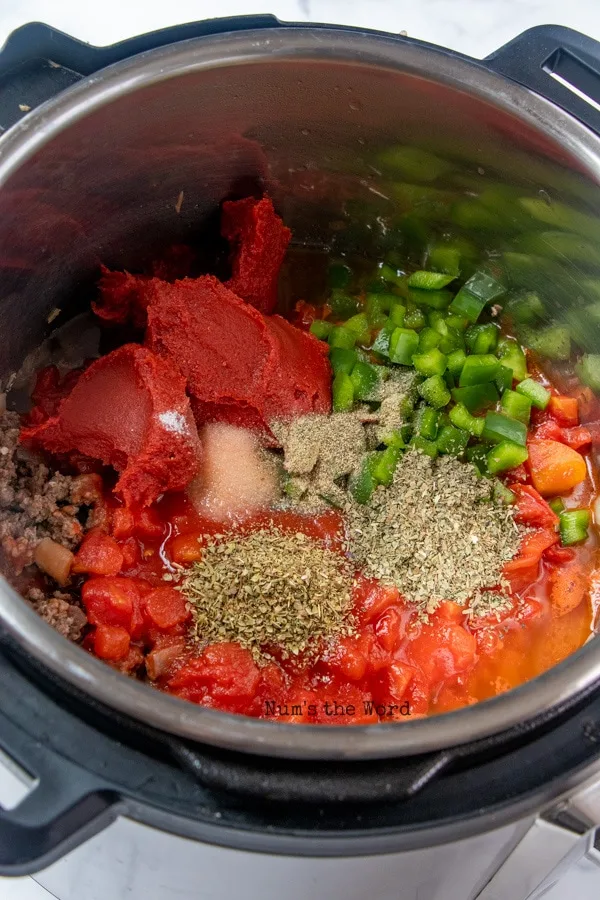 How to cook Spaghetti with Meat Sauce an Instant Pot?
Making anything in an instant pot is quicker than if you didn't have one. It is so easy you will get the hang of it in no time. This Instant Pot Spaghetti with Meat Sauce recipe has only a few steps, which will have your dinner ready in less than 20 minutes!
Cooking with an instant pot is my new favorite way to whip up new recipes. To help you with your instant pot experience, here are a couple tips to make it smooth sailing.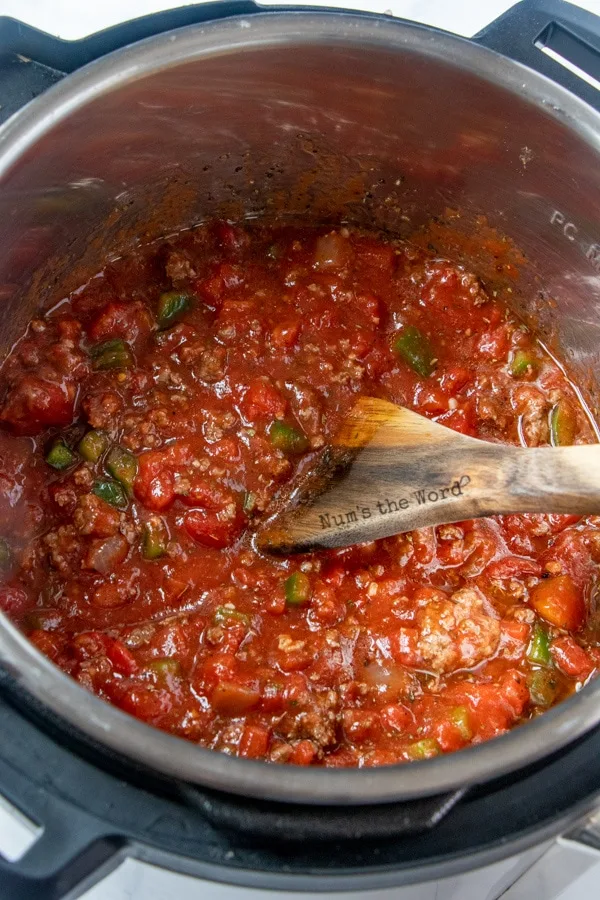 Tips for cooking your noodles:
When cooking your spaghetti noodles pour water in the instant pot, add your noodles then add the rest of the water to cook your noodles evenly.

Layer your noodles by breaking them in half and making a crisscross pattern to make sure they cook evenly and thoroughly.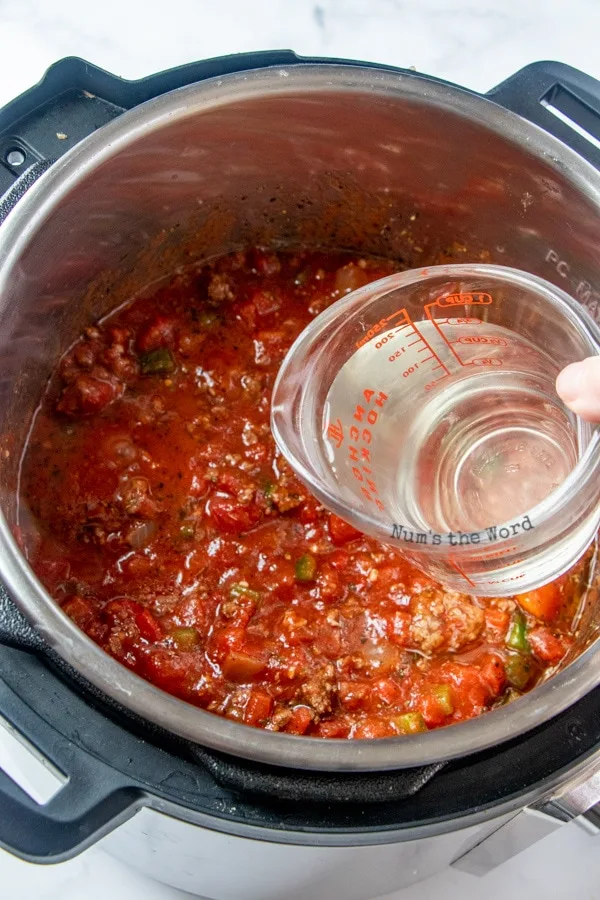 Tips for cooking your Meat Sauce:
To avoid burning your meat you can always add a small layer of water or vegetable oil on the bottom.

To ensure your meat really has a good taste, cook it with your onions. They'll cook at about the same time and add extra flavor to your meat.

To make your sauce to die for you can try adding in some cream cheese.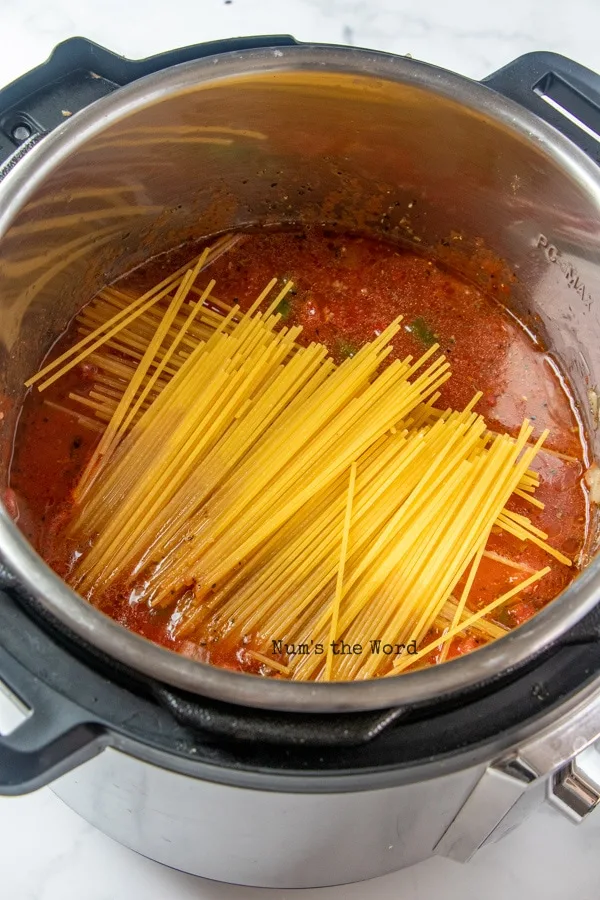 Can you freeze Instant Pot Spaghetti with Meat Sauce?
Yes, you definitely can freeze spaghetti. It freezes great and easily reheats. You can freeze your spaghetti in whichever container works best for you. Here are a few tips ot make freezing spaghetti easy.
Make sure your container or bag is airtight.

Do not overcook your noodles so they don't get mushy when you reheat them.

Allow pasta and sauce to cool down to room temperature before freezing.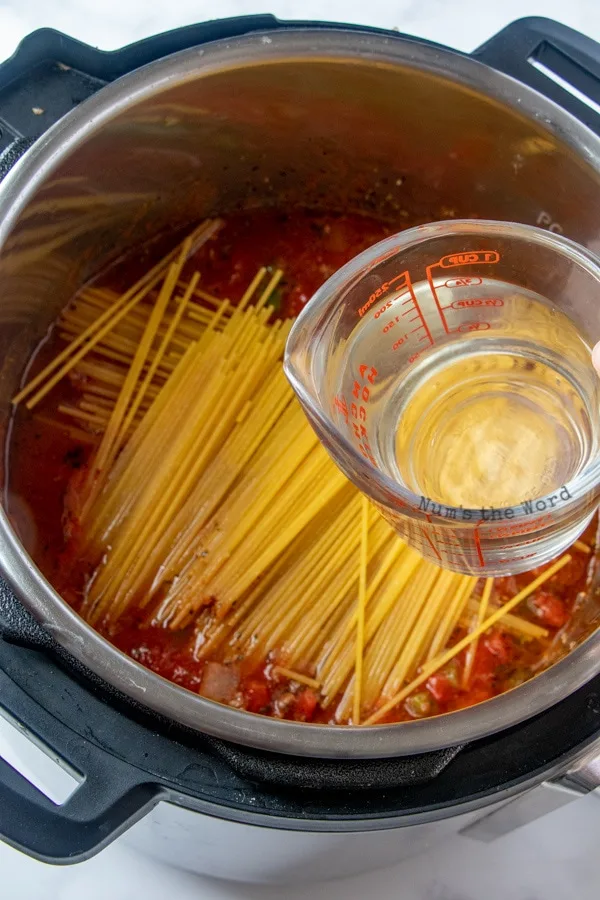 What size instant pot should I use?
Most instant pot recipes you will find are designed to be used with a 6 quart instant pot. That doesn't mean you can't use a different size pot. If you are using a difference size instant pot, you will have to modify the recipe to fit the size of your pot.
A 6 quart instant pot it will easily feed a family of four. If you have a larger family or regularly feed a bigger group of people, maybe getting a larger instant pot would be something to consider.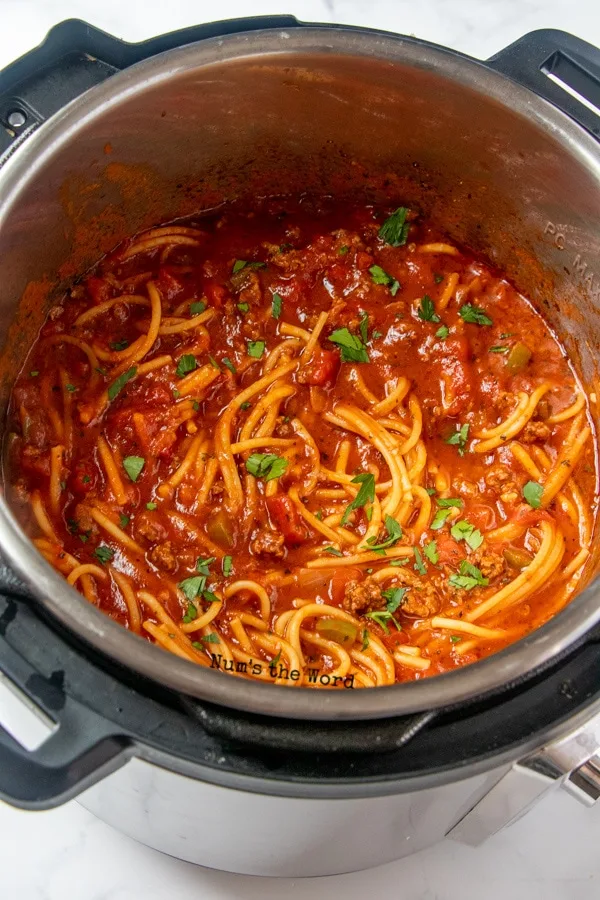 Looking for more Instant Pot Recipes? Try these!
More Pasta Recipes You'll Love…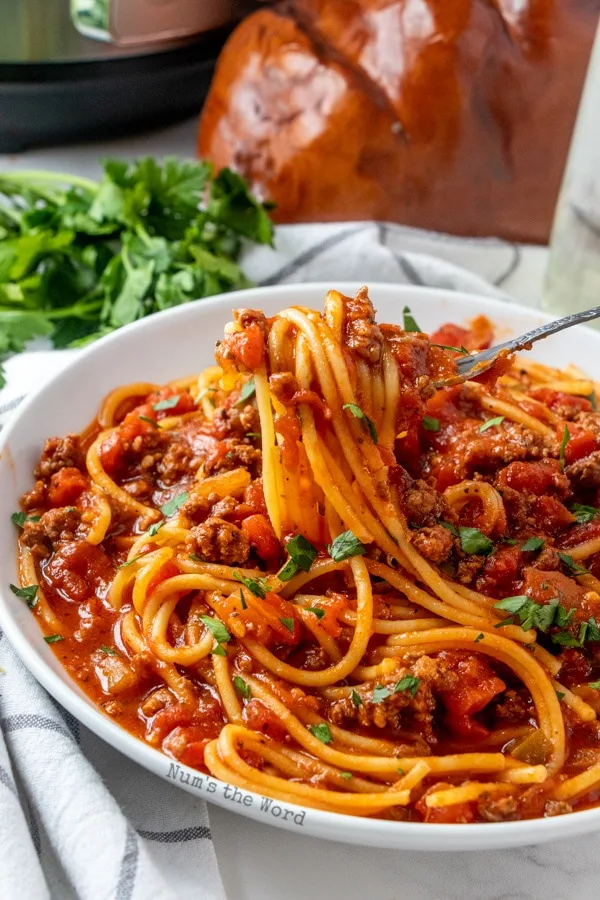 Spaghetti has always been a quick lovable meal, but with an instant pot it just got even better. Having an instant pot is the perfect thing to have if you always are running out of time to make your favorite meals.
This Spaghetti with Meat Sauce will take you 20 Minutes or less and is perfect for all cooking skills!
Yield: 6 Servings
Instant Pot Spaghetti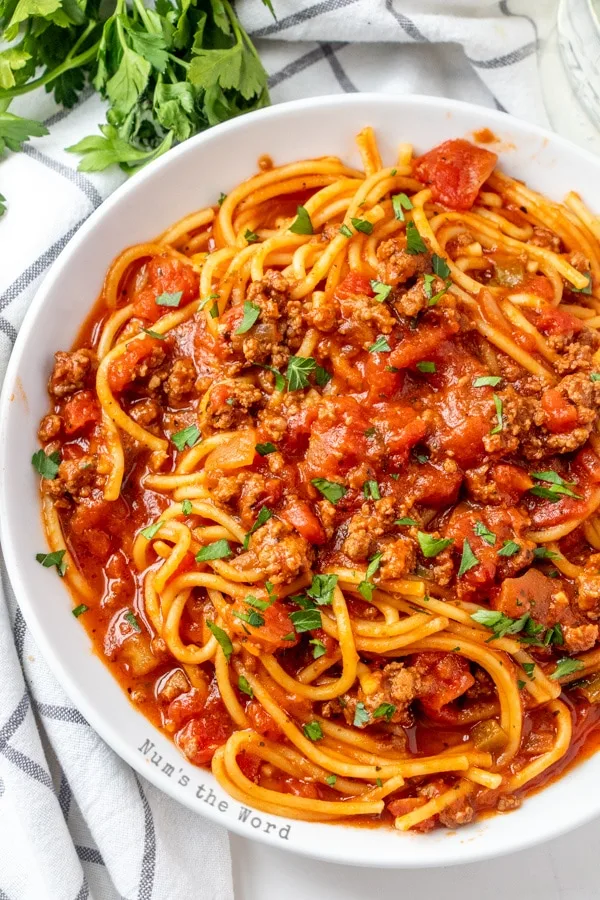 This Instant Pot Spaghetti with Meat Sauce is a quick 20 minute week night meal that your entire family will love. Fresh ingredients and one pot, this meal is kid approved and freezes well too!
Ingredients
1 lb. ground beef
1 small yellow onion, diced
4 cloves garlic
1 small green bell pepper, diced
28 ounce can diced tomatoes
16 ounce tomato sauce
6 ounce can tomato paste
2 teaspoons dried oregano
2 teaspoons dried basil
1 teaspoon salt
1/2 teaspoon black pepper
2 cups water, divided
8 ounce spaghetti noodles
Instructions
With pressure cooker on Saute, cook ground beef & onion, until beef is cooked through and onion is translucent. Drain if necessary.
Add garlic and cook 1 minute more.
Add bell pepper, crushed tomatoes, tomato sauce, tomato paste, oregano, basil, salt and black pepper. Stir well.
Add 1 cup water - DO NOT STIR.
Break spaghetti noodles in half and layer over sauce. Half noodles going one way, other half going the opposite way.
Pour remaining 1 cup water on top of noodles. Do NOT Stir.
Cook on high pressure for 8 minutes with valve sealed.
When finished cooking, release pressure valve.
Once pressure released, open lid and stir.
Spaghetti will seem watery, but it will thicken as it cools.


Nutrition Information:
Yield:
6
Serving Size:
1
Amount Per Serving:
Calories:

342
Total Fat:

14g
Saturated Fat:

5g
Trans Fat:

1g
Unsaturated Fat:

7g
Cholesterol:

67mg
Sodium:

984mg
Carbohydrates:

29g
Fiber:

6g
Sugar:

11g
Protein:

26g