This Tex Mex Pasta Salad is quick to whip together and hearty enough for a main dish, side dish or lunch. Perfect for a picnic or potluck dish that everyone will love!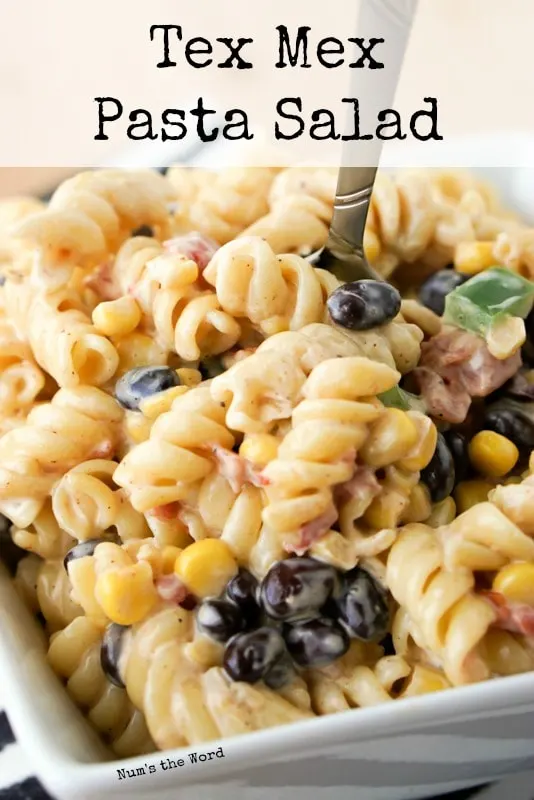 The other week I needed a break from cooking.
I'd made several large meals that week, since we enjoy inviting others over to dinner regularly and I was beat.
I didn't want to do more dishes or make my kitchen into a bigger mess and decided that I was going to take it easy and make this Tex Mex Pasta Salad for dinner.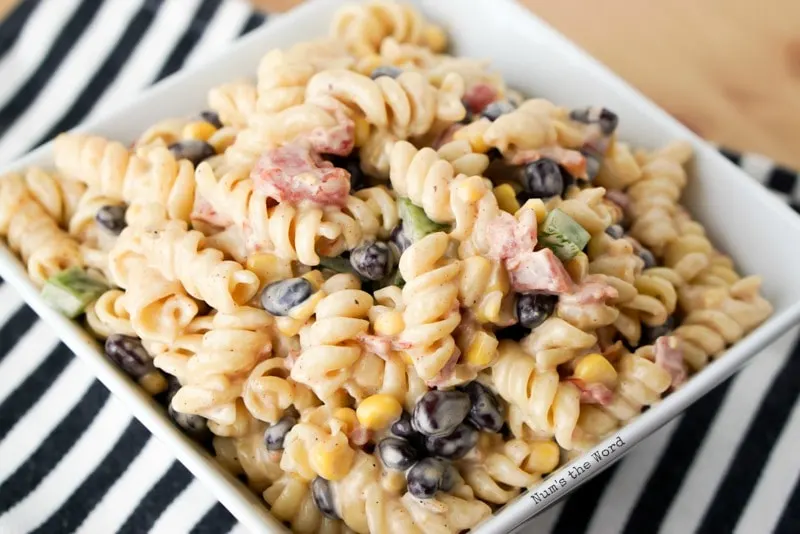 I took what I had around the house, whipped up a dressing, and gave it a shot.
The problem was that I suspected that my husband wasn't going to like it.
And I did NOT want to get stuck with a huge pile of pasta salad to eat by myself.
So in typical Janelle fashion, I called up my In-laws and invited them over for a low key casual meal as well as a friend, who isn't picky about food and tested this recipe on them.
Those are the best kind of friends!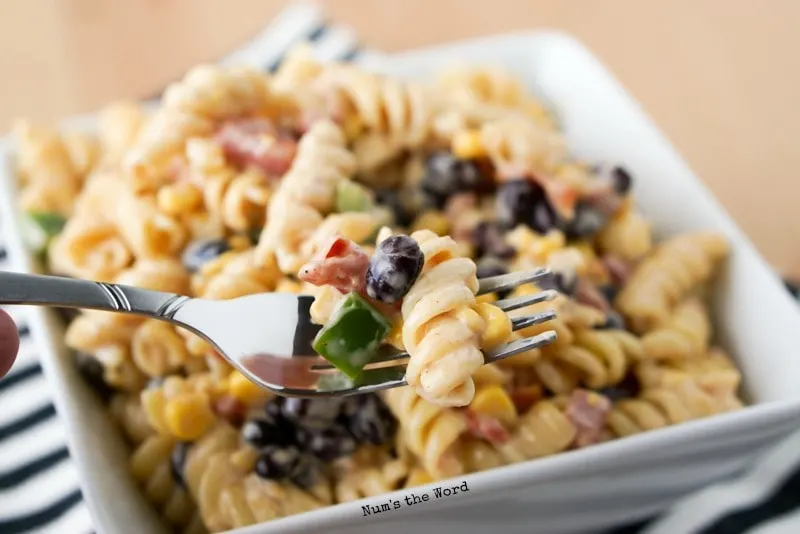 I ended up making this Tex Mex Pasta salad earlier in the day and then tossed it in the fridge.
That way when everyone showed up it was already ready to eat.
Now that is my kind of meal.
One that doesn't take a lot of prep work and is quick to serve!
As expected my husband thought it was just ok.
He's not a pasta salad fan and thinks I make Mexican style dishes waaaay to often.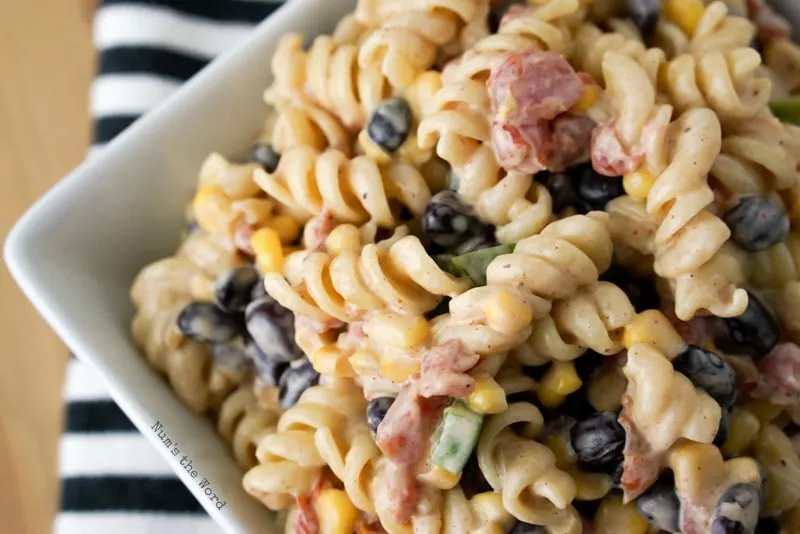 I'm personally a huge fan of Mexican style dishes as they are easy to whip together quickly!
Despite my husband not being a huge fan (he didn't dislike it, he just didn't love it) all of us women LOVED THIS.
So much so we all ate it again a few days later for lunch!
I especially love that this is not a heavy meal.
It's filling with the black beans and the chicken and offers some veggies and flavor!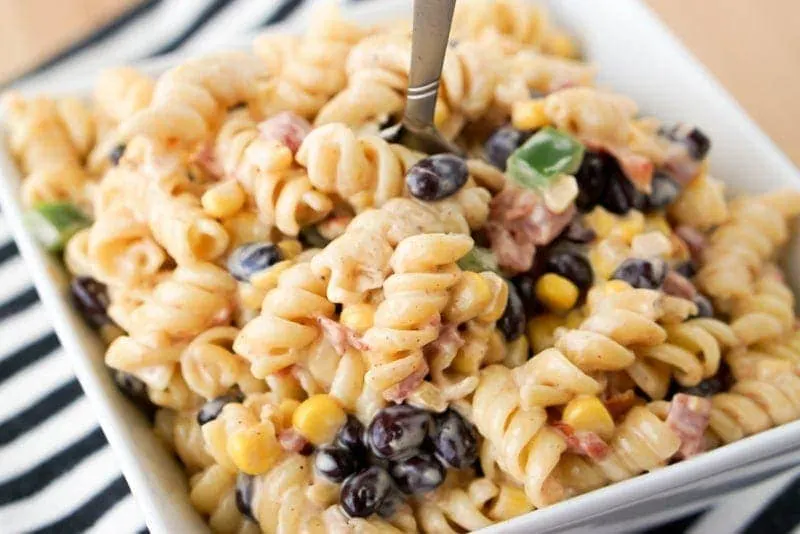 This Tex Mex Pasta Salad would make a great pot luck dish, picnic dish or even a great dish for a baby shower or bridal shower.
It doesn't require the host to slave away in the kitchen all day and allows them to join in with the party!
If you love pasta salad, give this one a try. I think you'll like it as much as we did!
More Pasta Salads You'll Love:
Yield: 8 Servings
Tex Mex Pasta Salad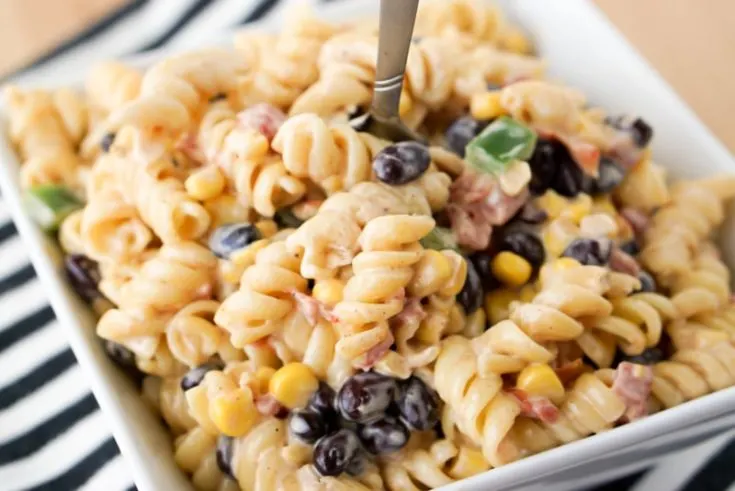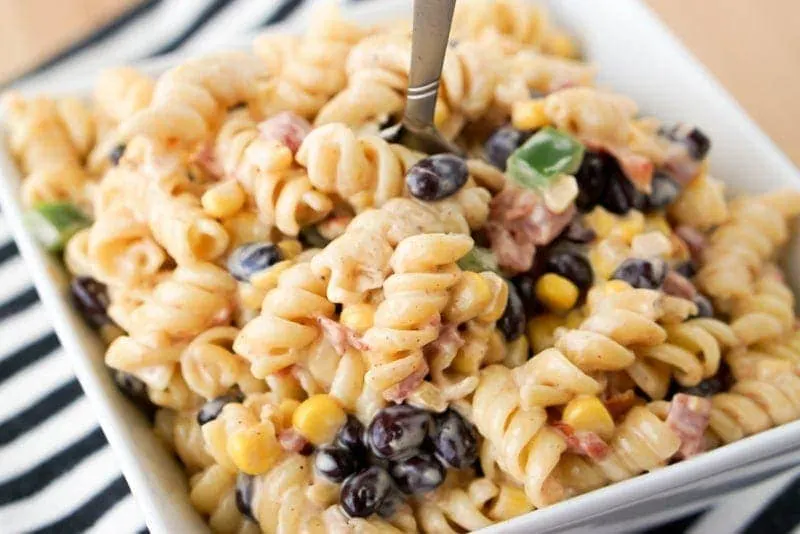 Ingredients
12 ounces Rotoni Pasta, cooked & drained
1 small green pepper, diced
1 (15 ounce) can black beans
1 (10 ounce) can Rotel tomatoes, mild
1 (15.25 ounce) can corn
1/2 cup Italian dressing - creamy or regular
1 teaspoon Chili Powder
1 cup Mayonnaise
1 teaspoon cumin
1 cup cooked, diced chicken - Rotisserie chicken works well.
Instructions
Mix cooked pasta, green pepper, black beans, tomatoes and corn.
In a separate bowl combine Italian dressing, Chili powder, Mayonnaise and cumin. Mix well.
Pour sauce over pasta and mix well.
Add chicken, mix and serve immediately or refrigerate.