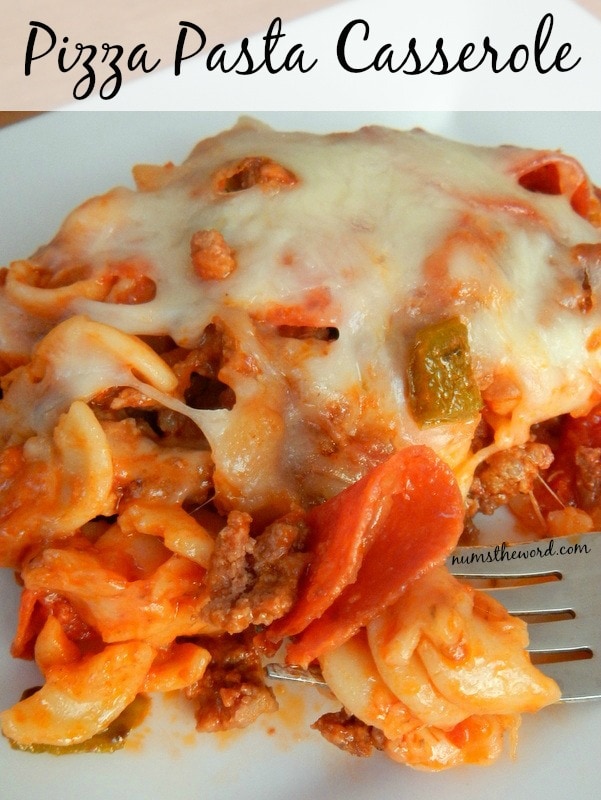 In our house, we love pizza and we love pasta. So why not combine the two items together and create a pizza pasta casserole?
This pizza pasta casserole takes 30 minutes to make and taste literally like a pizza.
And if you don't have you own homemade pizza sauce on hand (don't worry, we don't either!) and can't find pizza sauce in the store, my suggestion to you is to use your favorite spaghetti sauce.
It may sound odd, if you've never done it, but in reality they are very very similar. Pizza sauce generally has a little more Italian spices in it than spaghetti sauce but most people can't tell.
This pizza pasta casserole makes for a great freezer meal or a great weeknight meal.
I suspect you probably have most items already on hand and your kids will eat it right up.
Simple, kid friendly and oh so good!
This post contains Amazon affiliate links as a free service to you!

Ingredients
2 cups spiral noodles, uncooked (or any shape of noodle)
1/2 pound ground beef
1 yellow onion, diced
1 Tablespoon garlic paste, or 3 cloves garlic minced
1 green bell pepper, diced
1 cup pre-sliced pepperoni (make sure to separate them as they'll be stuck in a clump)
16 ounce pizza sauce (or your favorite spaghetti sauce)
4 Tablespoons milk
1 1/2 cup shredded mozzarella cheese
Instructions
Preheat oven to 350*F
Boil noodles according to package directions, drain & set aside.
In a large skillet or dutch oven, cook ground beef, onions, garlic paste & bell peppers until beef is cooked through and onions and peppers are tender.
Add pepperoni, pizza sauce, milk and noodles to ground beef mixture. Mix well.
Spray a 9x9 casserole dish with non-stick cooking spray.
Place 1/2 ground beef mixture in casserole dish then layer with 3/4 cup mozzarella.
Top with remaining ground beef mixture. DO NOT TOP WITH CHEESE.
Bake for 20 minutes.
Remove from oven and top casserole with remaining 3/4 up of cheese.
Bake for 10 more minutes.
Remove and serve immediately.
Notes
You can substitute the ground beef for your favorite ground sausage to change up the flavor or do half ground beef / half ground sausage.
You can add mushrooms to this dish as well.
This dish freezes well. Prepare entire meal as directed but do not bake. Put all cheese on it. Then put lid on casserole dish and freeze. Allow casserole to thaw in fridge for 24 hours before baking OR plan to bake for 1 hour or longer until thawed and cooked through.
https://numstheword.com/pizza-pasta-casserole/
Items Recommended for this Recipe Include…
Another Recipe We Think You'll Love…