Barbecue Sweet Pork Pizza is a kid friendly easy meal everyone will love. This Barbecue Pulled Pork Pizza is our favorite way to use up leftover pulled pork!  The crust takes only 15 minutes to make and is oh so tasty!
This post contains affiliate links.  If you click on an affiliate link and make a purchase, I will make a small percentage on your purchase. This helps keep this website running! Thank you!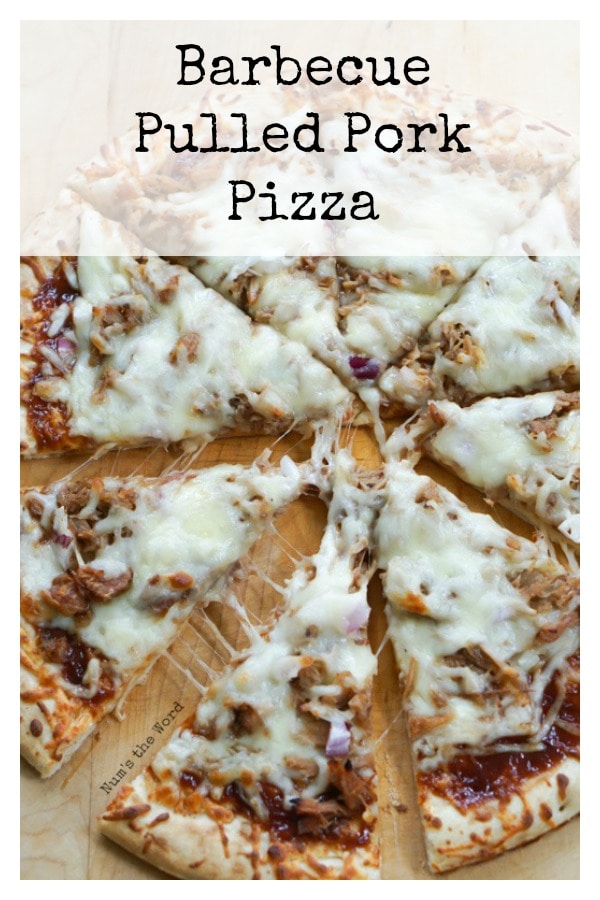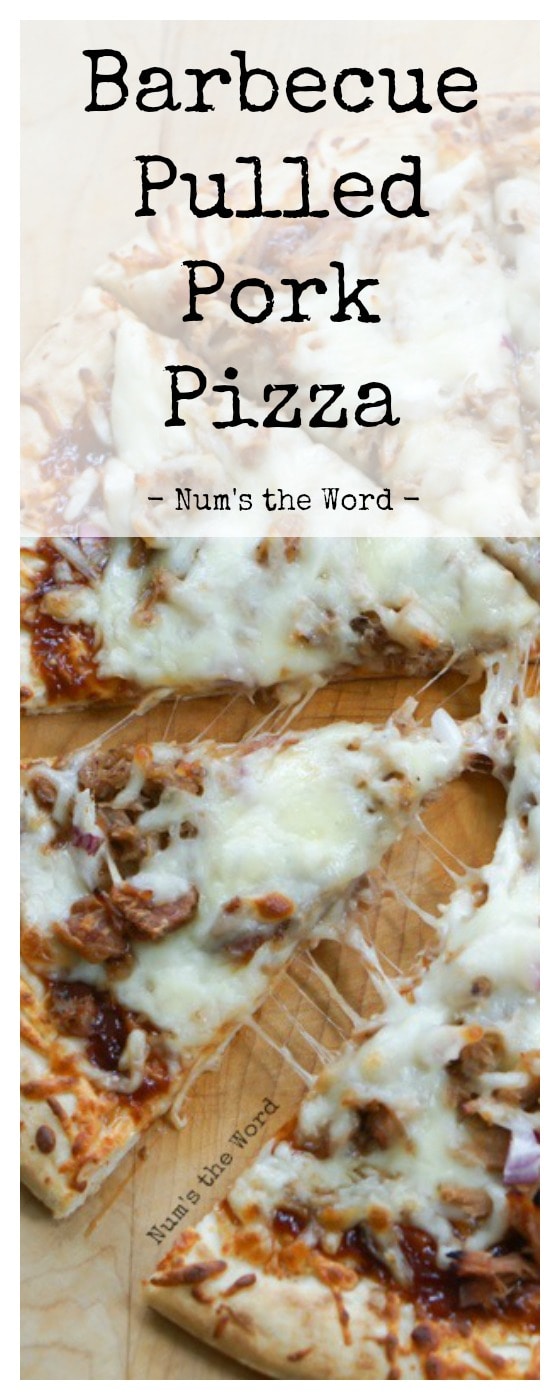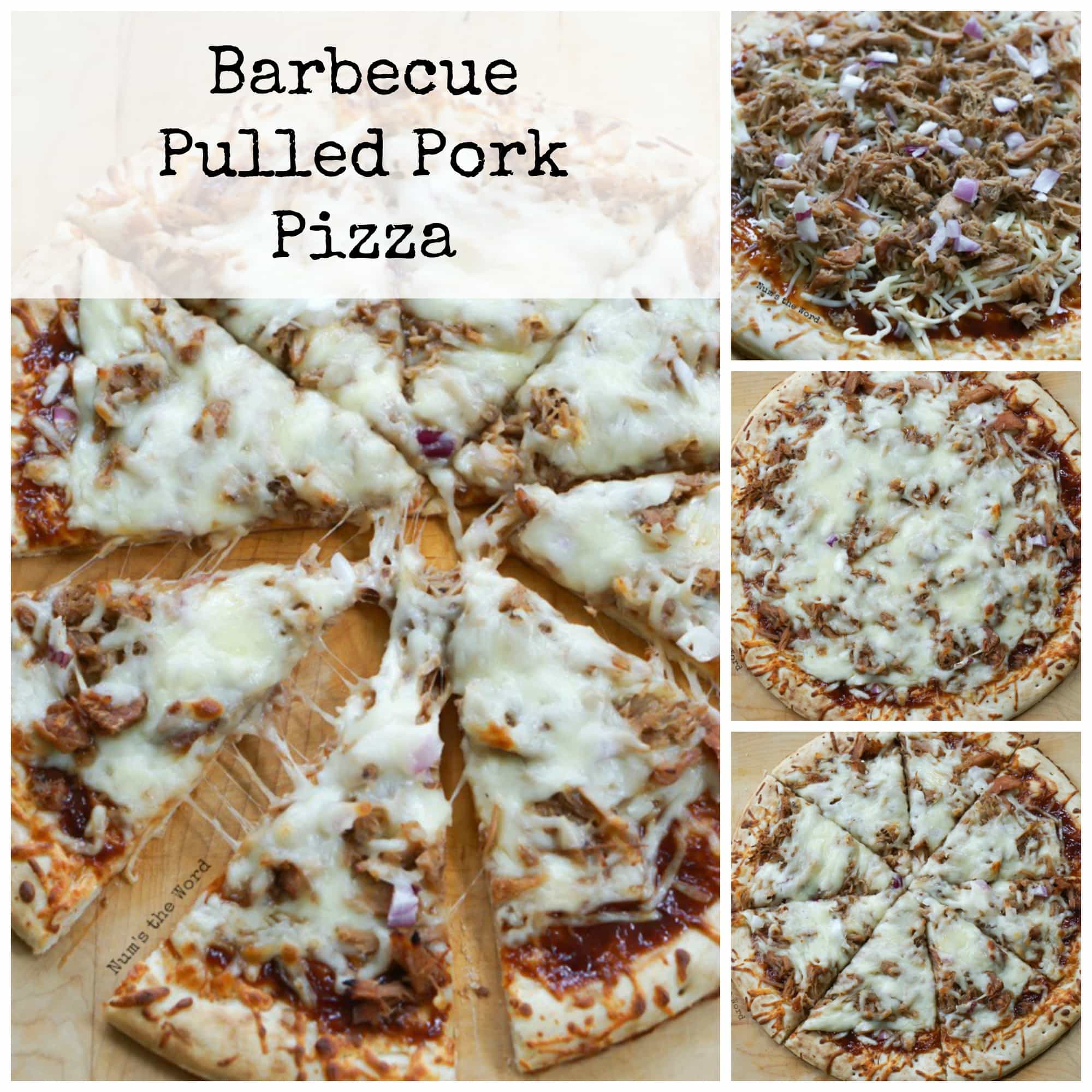 Barbecue Sweet Pork Pizza is one of those must make recipes for anyone who loves pizza.
Now I didn't say pulled pork pizza.
I didn't say barbecue pizza.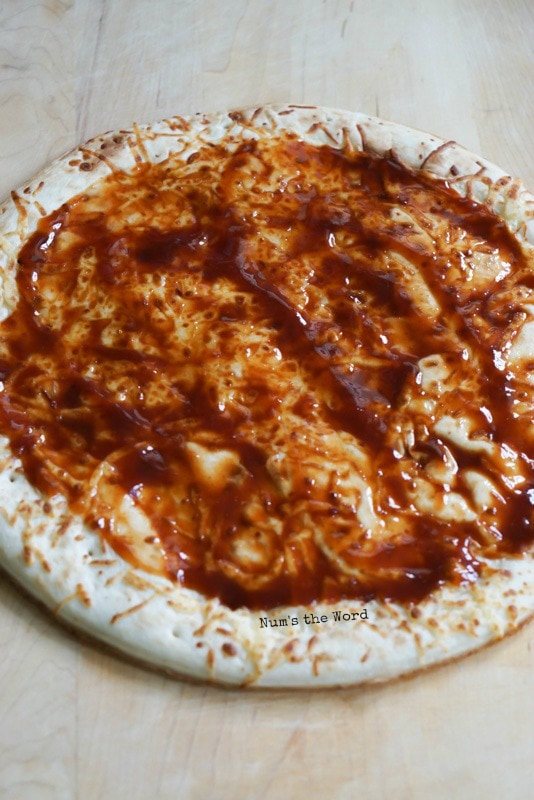 I said Barbecue Sweet Pork Pizza.
This recipe has been made MULTIPLE times in our home and we've used a variety of different pulled pork.
Our favorite is by far the sweet pork.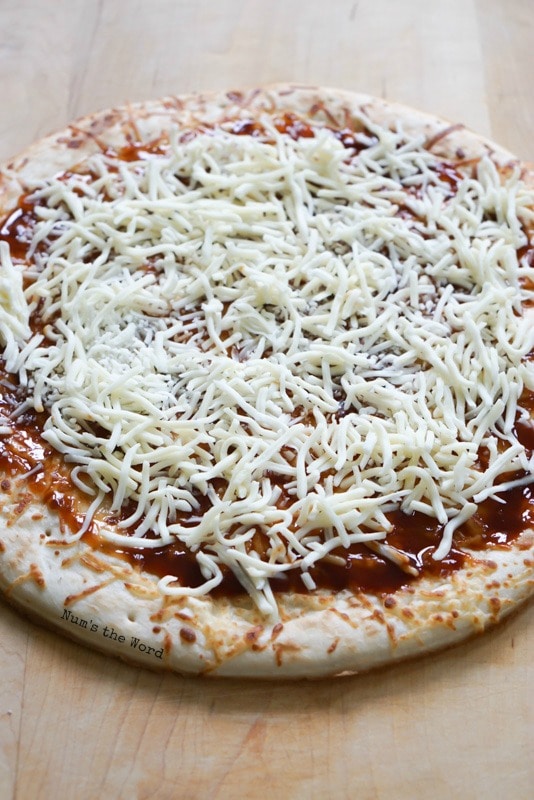 However any pulled pork will do.
Homemade pulled pork, leftover restaurant pulled pork or even store bought pulled pork.  We've tried them all and they each bring a tasty flavor.
Really when it's all said and done, you taste the barbecue sauce more than anything else, so pick a good one.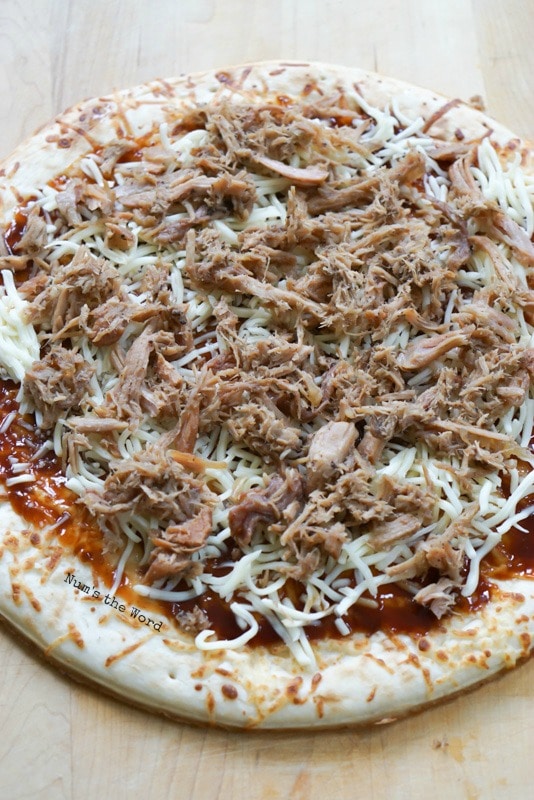 Every time I make this recipe, I try a new flavor.
We don't have a favorite brand or flavor yet and so we keep trying new ones!
If you want to make your Barbecue Pulled Pork Pizza a Barbecue Sweet Pork Pizza then it will starts with the pork.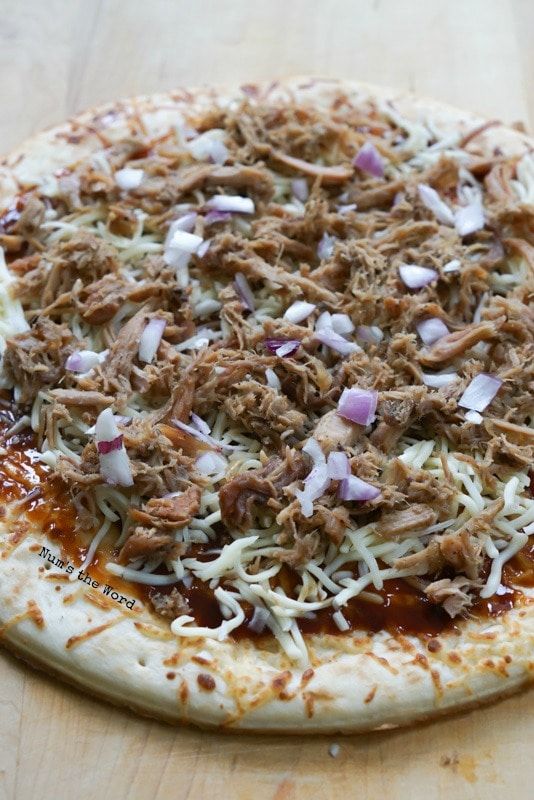 The sweet pork I use on this pizza is from my Cafe Rio Style Sweet Pork.
It is hands down amazing and got me to come out of my 20 year no pork phase.
You read the correct.  20 years. For 20 years I gave up on pork.
I really don't care for the taste of it. And in general avoid it.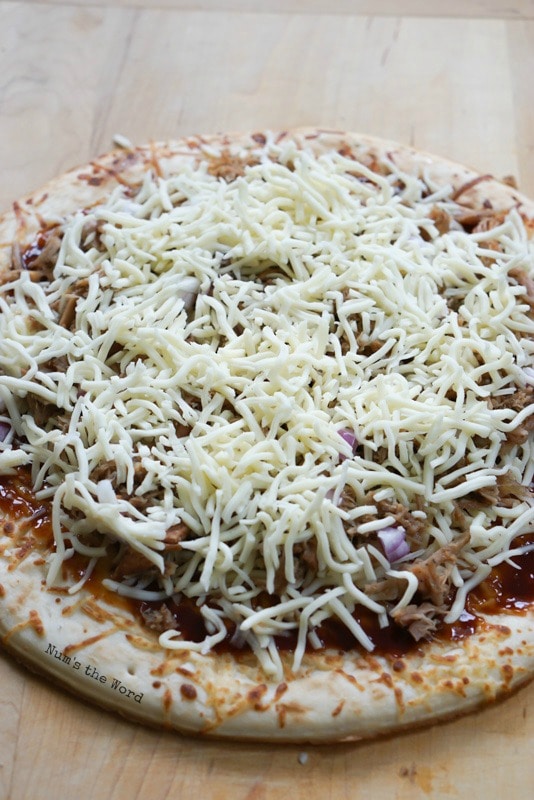 Don't get me wrong, I made it all the time for my family, I just chose not to partake.
UNTIL I started making a ton of sweet pork.
It's often requested and I'm always trying to find new tasty ways to use it and after hearing all the hype about it, I had to try it for myself.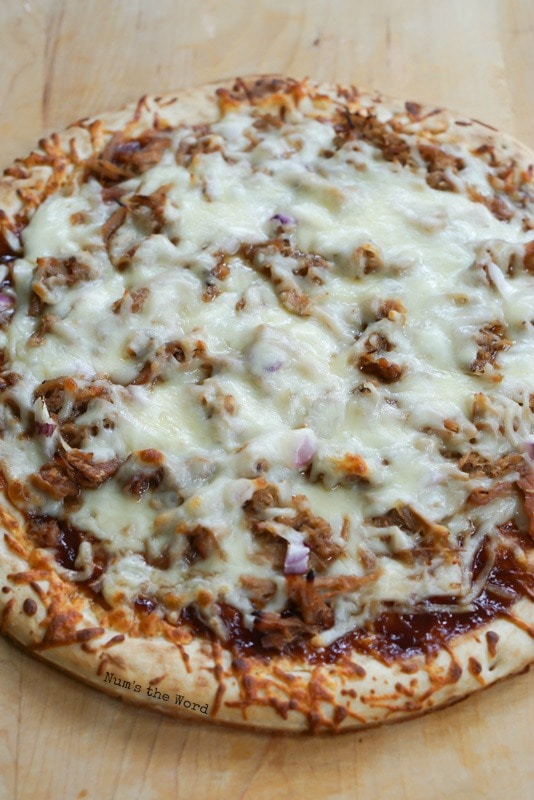 And holy cow was it good.
It was especially good on this Barbecue Pulled Pork Pizza.
The pizza crust takes only 15 minutes and the pizza itself comes together in minutes.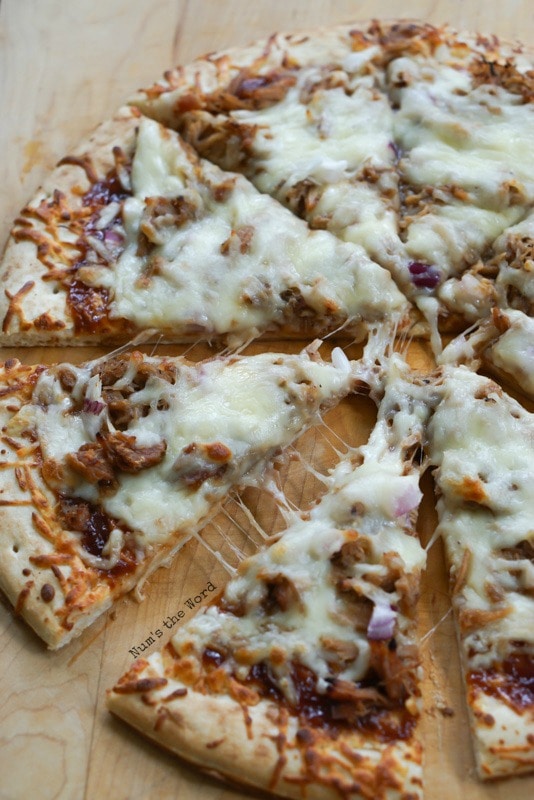 However you can always buy a pre-made pizza crust too!
So don't stress yourself out if you would rather use a pre-made pizza crust than homemade!
The flavors all mixed together are amazing and this is now on my must make list anytime I make sweet pork.
I especially love how easy it is to pull together and how it's kid friendly.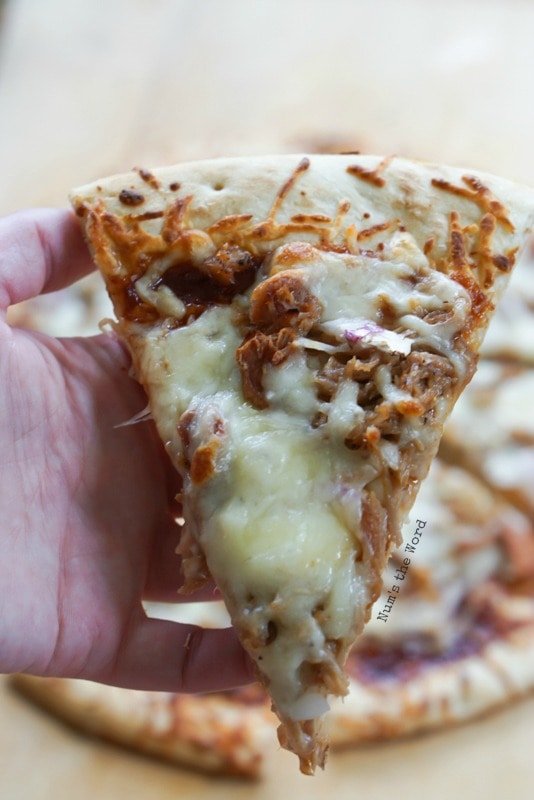 We are fans of making this for when we have company over and love eating it as leftovers because it reheats nicely!
If you love pizza and Pulled Pork, then you really must give this a try.
It will certainly end up on your favorites list too!
Yield: 8 Slices
Barbecue Sweet Pork Pizza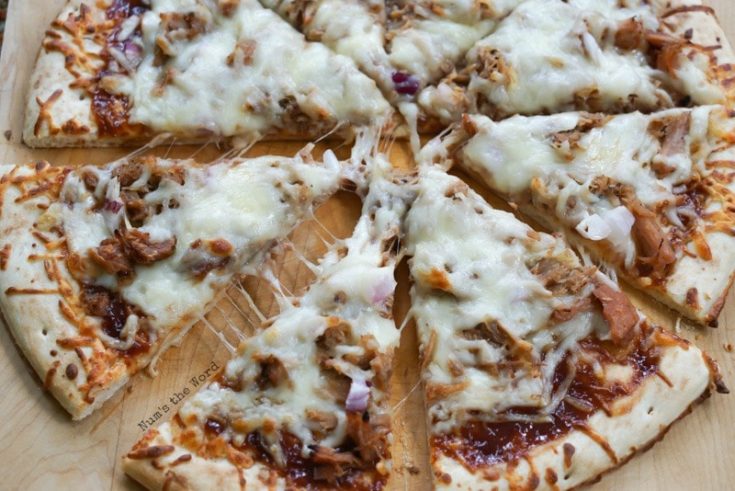 Ingredients
1 package active dry yeast
1 cup warm water
1 teaspoon sugar
1/4 teaspoon salt
2 Tablespoons vegetable oil
2 1/2 cups flour
1 cup barbecue sauce
2 cups sweet pulled pork
1/4 cup diced red onion
2 cups mozzarella cheese, shredded
Optional but recommended - Cilantro Lime Dressing
Instructions
In a mixing bowl combine yeast and warm water and sugar. Cover with a dish towel and let poof for 5 minutes.
After 5 minutes, add salt, vegetable oil and flour 1/2 cup at a time, mixing between each addition.
Once all of flour has been added, cover again and allow to rest for 5 minutes.
Remove from pan and roll out onto your favorite pizza pan, pizza stone or cookie sheet.
Spread barbecue sauce all over dough, leaving 1/2 inch along sides with no sauce.
Sprinkle with onion and pulled pork.
Top with mozzarella cheese.
Bake at 425*F for 20 minutes or until cheese is melted and slightly golden.
Let rest for 5 minutes, then slice and serve.
If using Cilantro Lime Dressing, drizzle over pizza before eating - HIGHLY recommend - loved it!
Originally Posted: June 28, 2016
Photos & Text Updated: August 28, 2018
Other 30 Minute Meal Recipes You'll Love...