Flavorful Pulled Pork Stuffed Shells is a great way to use up leftover pulled pork! Simply use any flavor of pulled pork to create this easy make ahead meal!
This post contains affiliate links. If you click on an affiliate link and make a purchase, I will make a small percentage on your purchase. This helps keep this website running! Thank you!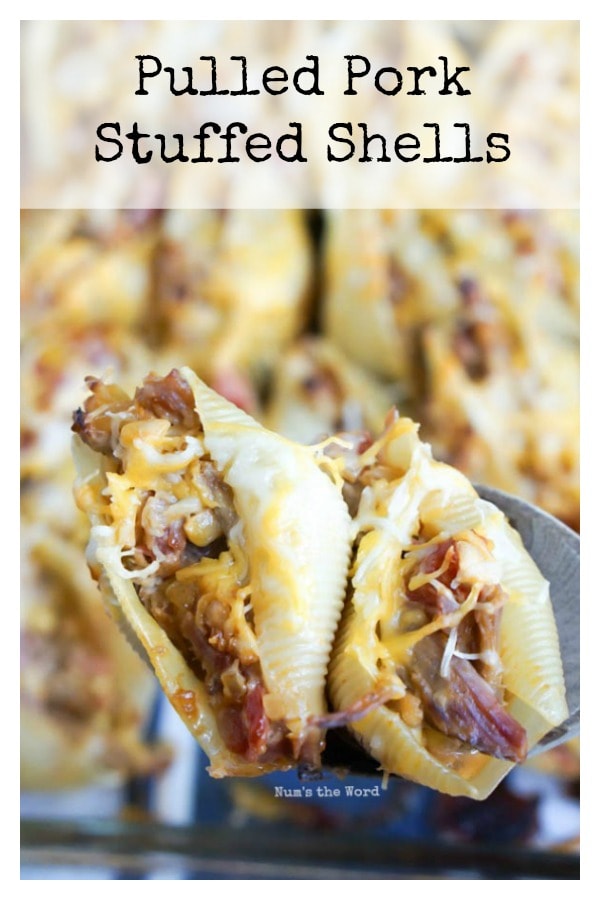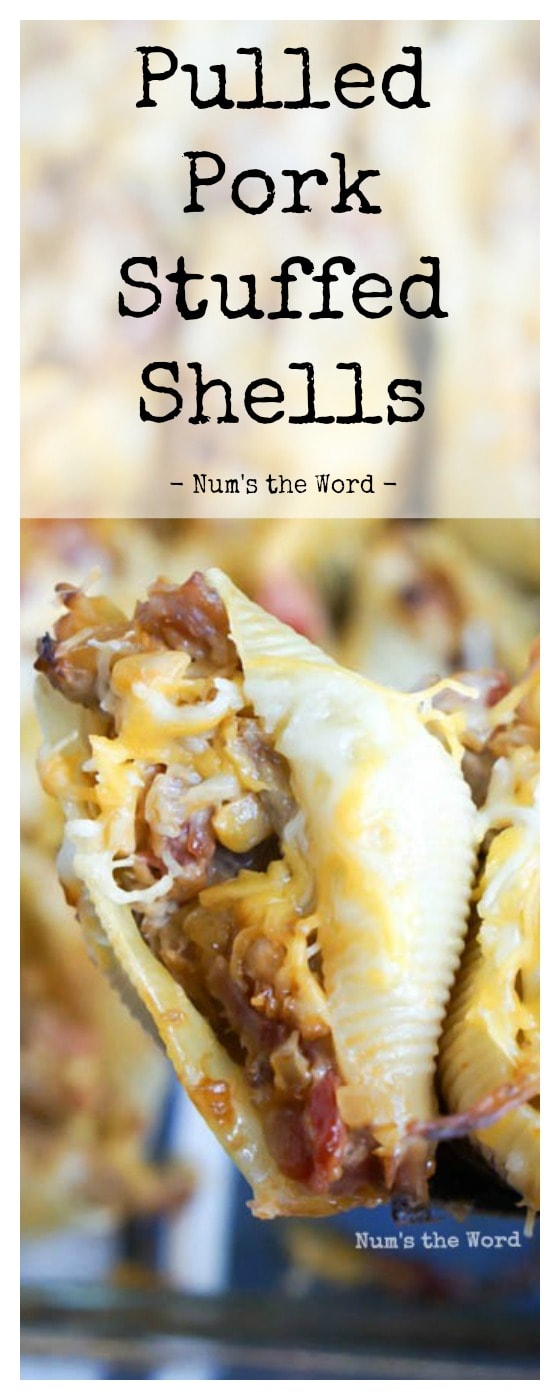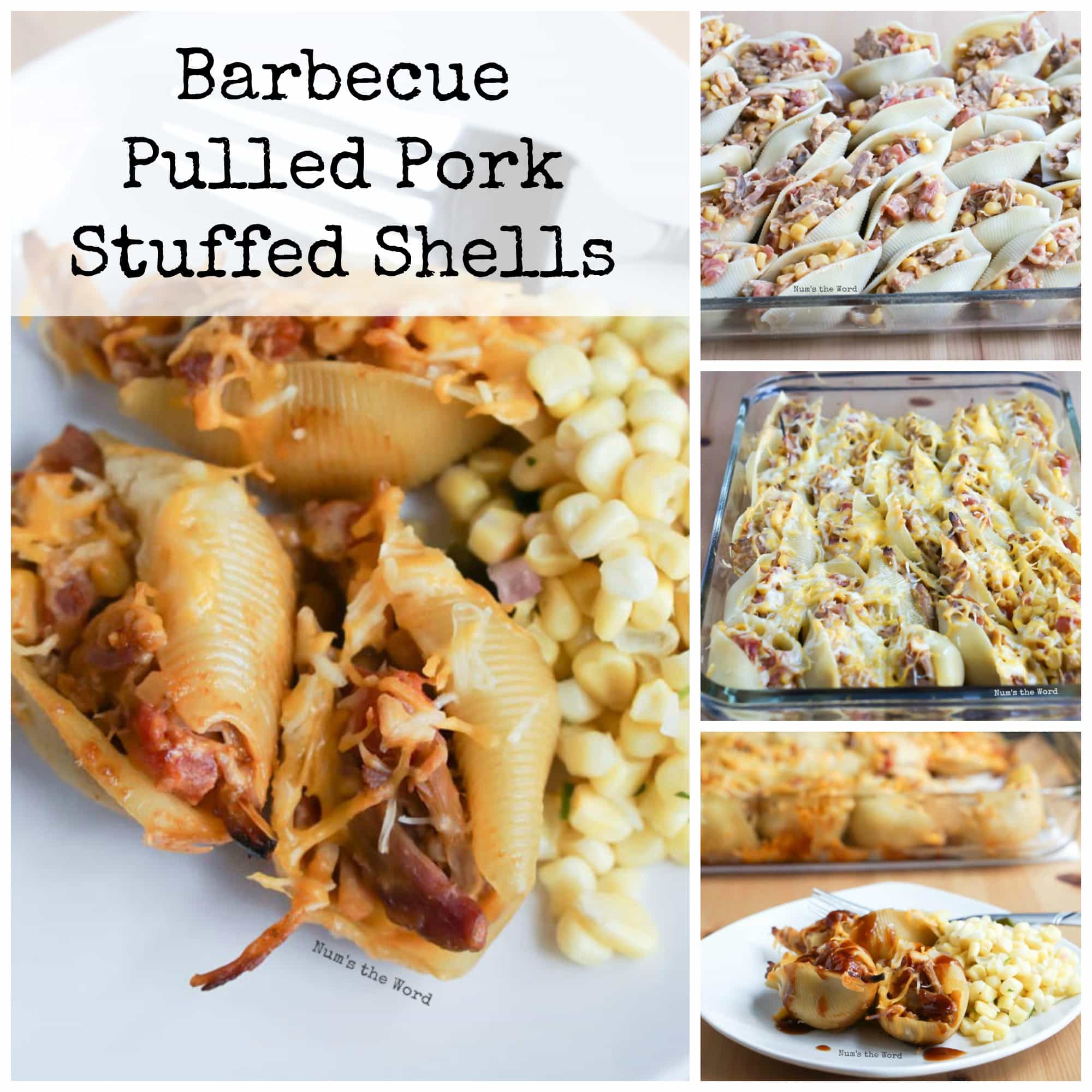 Every once in a while I really surprise myself.
In this house, there is a lot of recipe experimenting that goes on and not all result in delicious recipes.
This one however was a home run!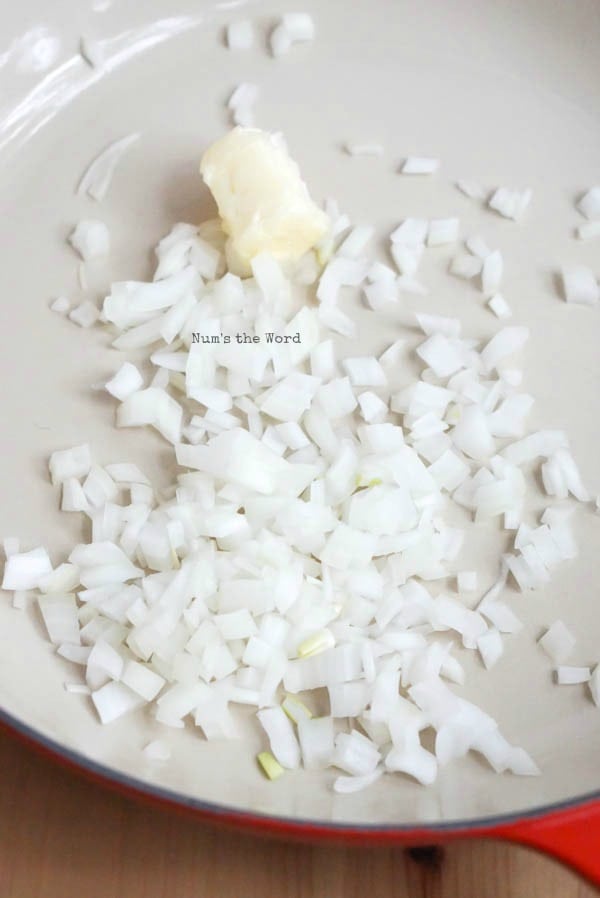 I tend to be a very VERY forgetful person.
And because of this I live my life around a plethora of spreadsheets, and note pads and documents that help me remember all the things that pop into my mind.
One of those many documents is a recipe ideas list.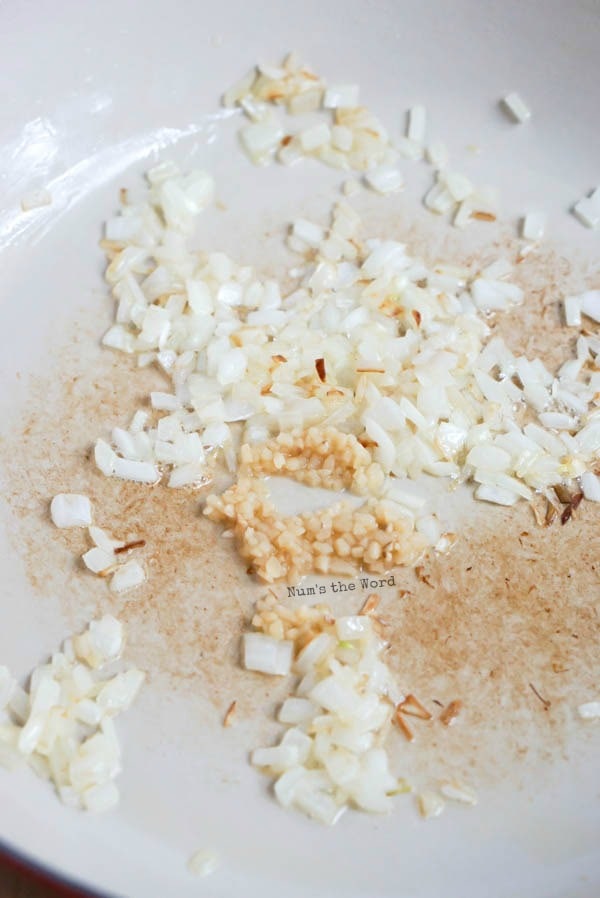 When an idea pops into my head I write down a basic idea of what I'm thinking with enough detail that I'll have some clue what I was thinking of when I first had the idea.
On my list for a good part of a year, has been Pulled Pork Stuffed Shells.
Sadly that was it.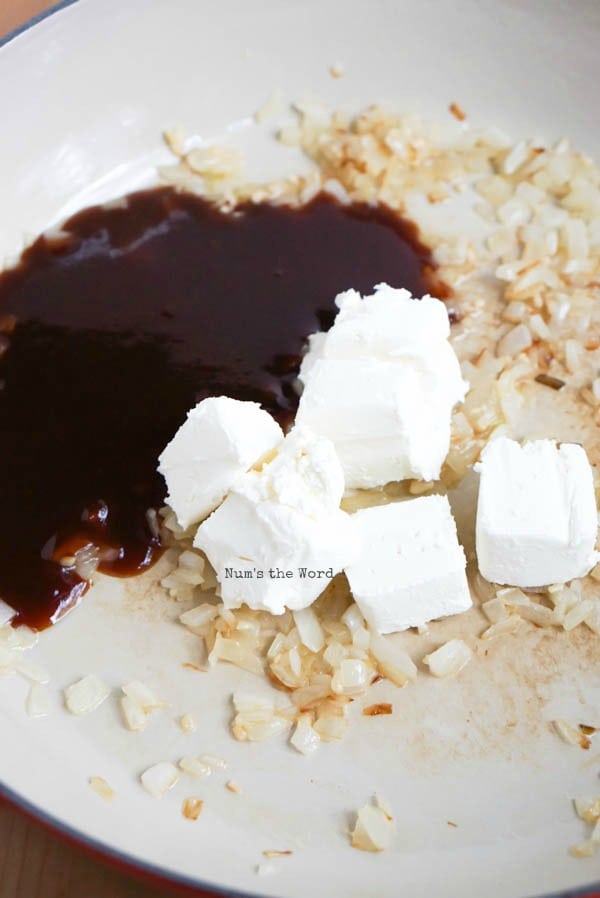 I didn't have any idea what that would entail other than I wanted pulled pork inside my stuffed shells.
We make large batches of pulled pork a few times each year and in doing so I'm always on the hunt for new recipes that I can make using leftover pulled pork.
These Pulled Pork Stuffed Shells ended up being one of my favorite creations of all time.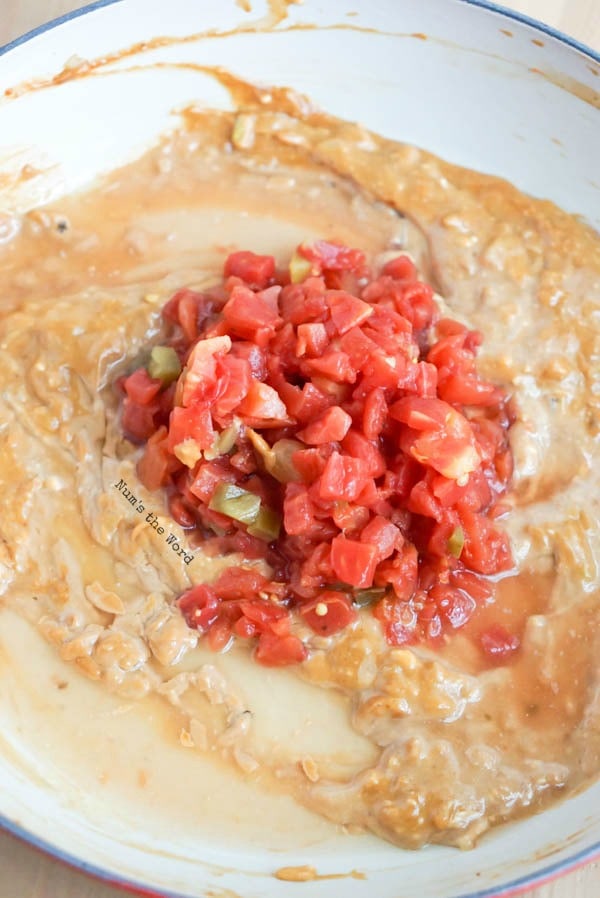 Because I don't keep a computer in the kitchen, nor do I want to, I tend to jot down notes on 3×5 index cards.
If you come to my home you'll find them all over the kitchen and my office.
I write down so many things on 3×5 cards and it drive my husband just a little nuts.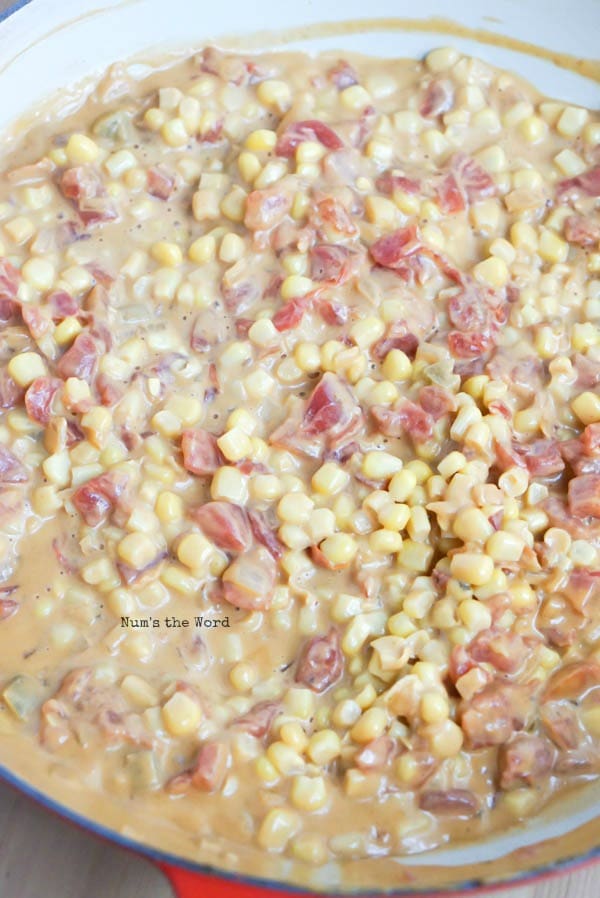 Mainly because it's wasteful and because I tend to lose my note cards!
His brilliant idea is that I should just carry an iPad around and jot it all down on that right away.
Then I'll never lose my note cards.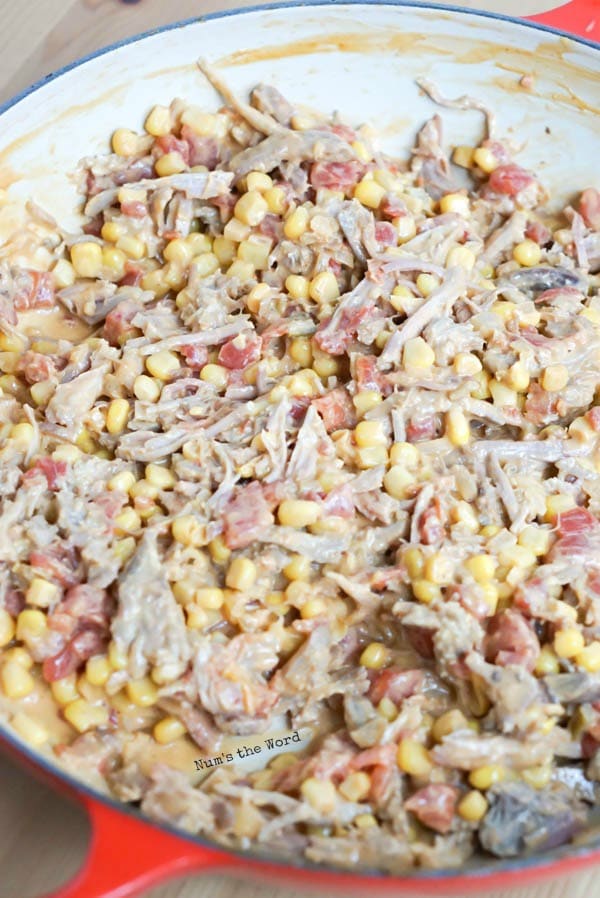 This is a great idea, but I am a messy cook.
My hands always are touching things and I'd hate to get an iPad or laptop dirty.
Electronics in the kitchen cannot be trusted at this time in my life.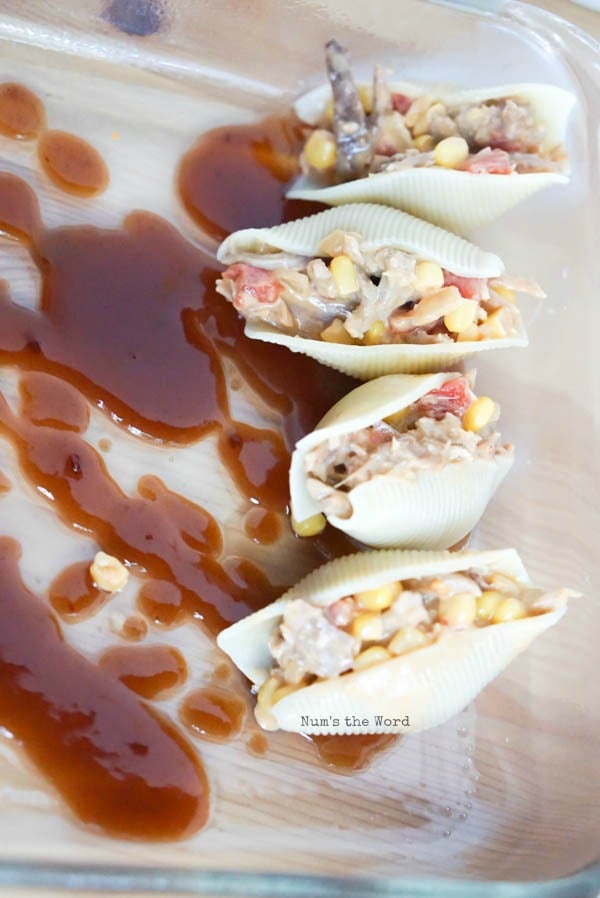 It was on this handy little note card that this entire recipe came to be.
A little of this, a lot of that, a taste of this and a bite of that.
Never did I expect that the end product would be so dang tasty.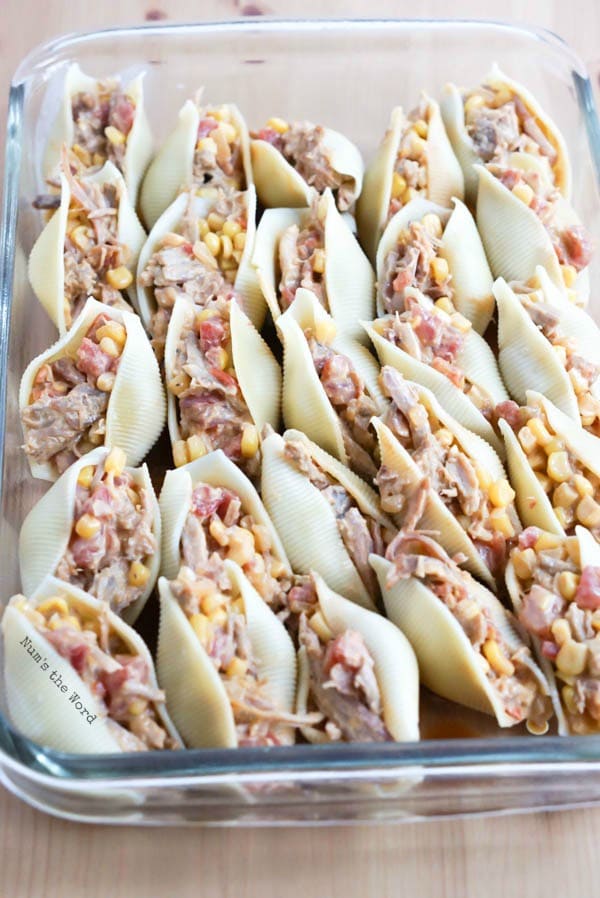 Really I'm not trying to toot my own horn, but this is seriously one of my new favorite meals.
As in I ate it for lunch and dinner two days in a row and would have gone for 3 days in a row if I hadn't passed a little on to my in-laws.
These Pulled Pork Stuffed Shells have so many flavors going on that they really do taste amazing.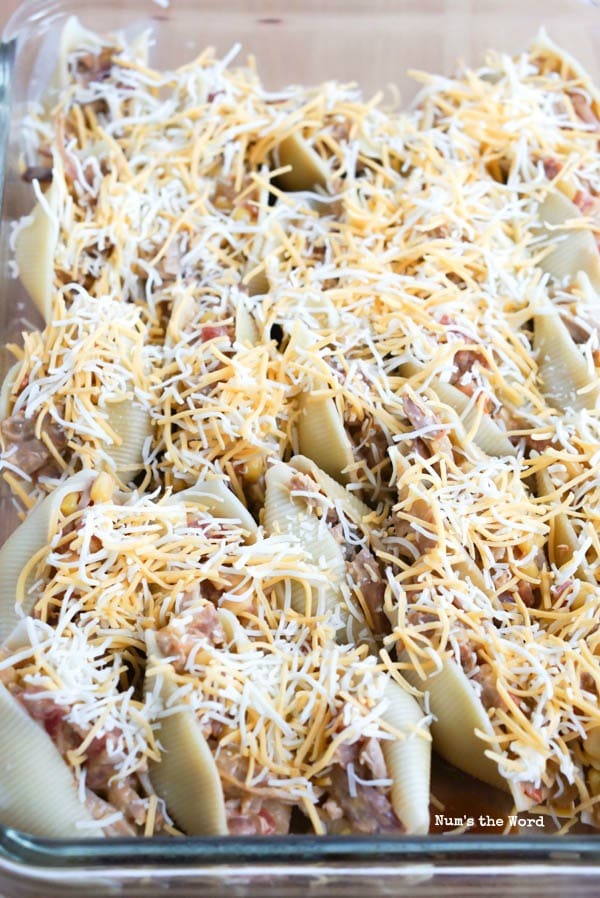 Cream Cheese, Barbecue Sauce, diced tomatoes, onions, pasta and cheese!
Heck, next time I may even add in some black beans as that sounds like a pretty tasty addition to me!
However my favorite part wasn't just that they tasted great, but that they only took 1 hour to make.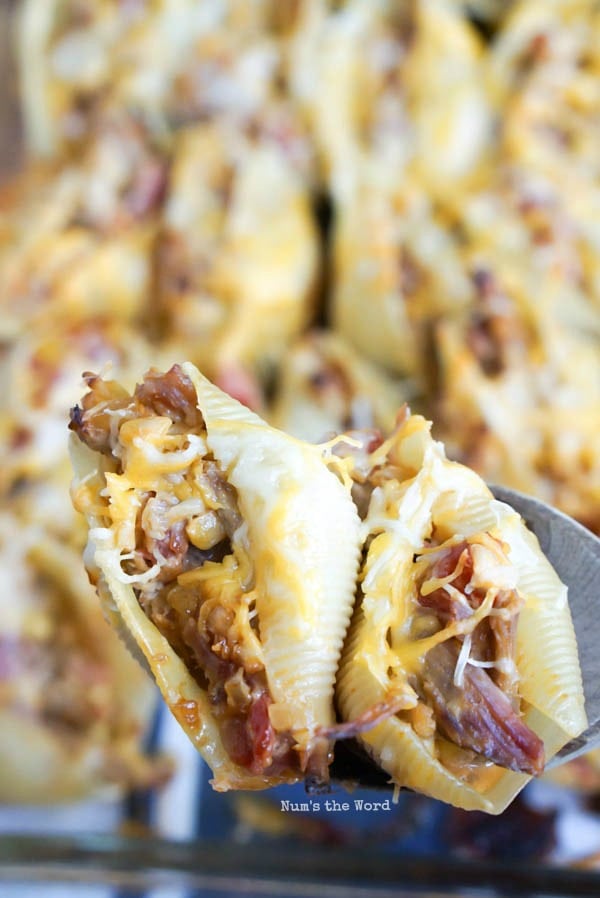 Your shells can boil while your creating your filling and from start to finish you'll have a hot, homemade meal on the table in just an hour!
Plus your kids will love it.
We found that 4 shells was a good portion or an adult.
However if you have hungry men or teenagers in your home, this may feed 3 instead of six people!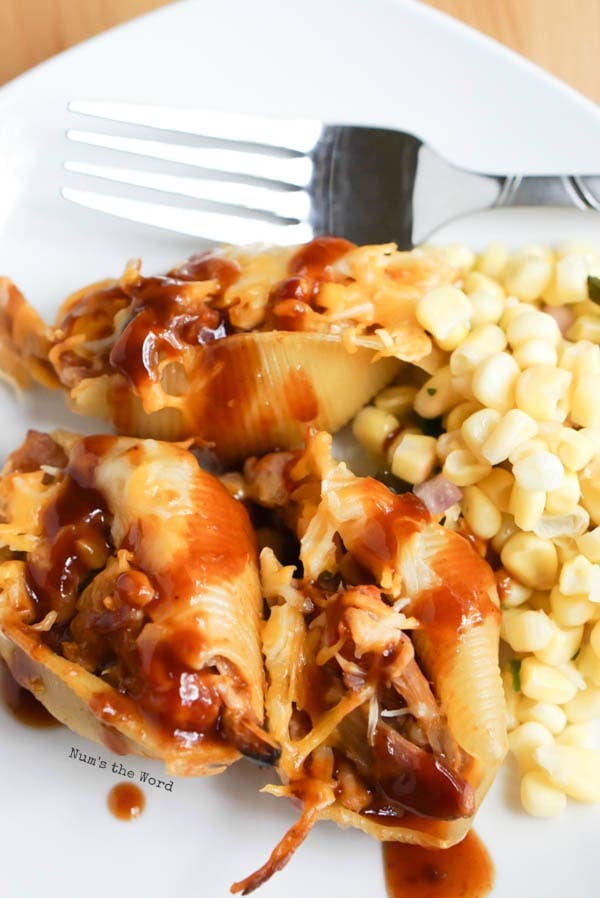 I also love that this can be made ahead of time and then kept in the fridge until you are ready to make.
Making it an even easier family meal!
If you love the flavors of barbecued pulled pork, then you'll love these Pulled Pork Stuffed Shells.
Yield: 6 Servings
Pulled Pork Stuffed Shells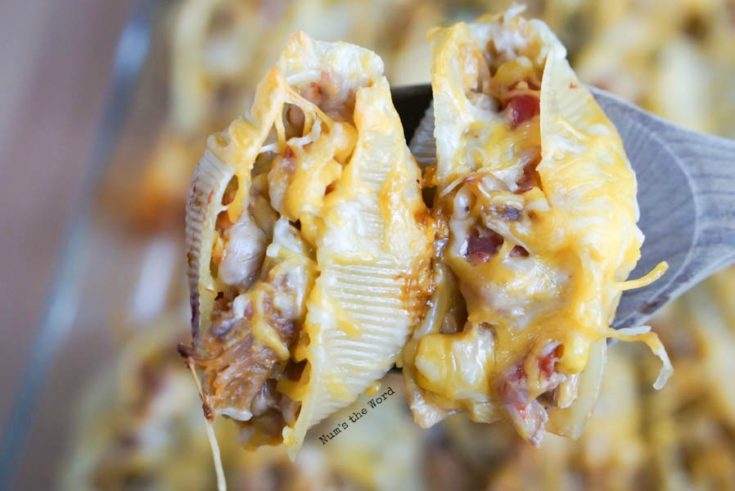 Flavorful Pulled Pork Stuffed Shells is a great way to use up leftover pulled pork! Simply use any flavor of pulled pork to create this easy make ahead meal!
Instructions
Preheat oven to 350*F
Prepare shells now if not already done.
In a large skillet, cook onion in butter until onion is soft and translucent.
Add garlic to the onion mixture and cook for 1 minute, stirring frequently so garlic doesn't burn.
Add 1/2 cup of barbecue sauce and cream cheese to sauce pan. Mix well until cream cheese is melted and mixture is creamy.
Add diced tomatoes with juices to skillet and stir well. Mixture will be watery.
Add drained corn to mixture and blend well. Bring mixture to a boil and cook for 5 minutes.
Add pulled pork and cook for 5 more minutes.
Spread 1/2 cup of barbecue sauce in the bottom of a 9 x 13 casserole dish.
Scoop 1 - 2 Tablespoons of pork mixture into each shell then place in prepared casserole dish.
Fill all shells then top with Mexican blend cheese.
Cover with foil and bake for 25 minutes.
Remove foil and bake for 5 more minutes.
Serve immediately with a drizzle of barbecue sauce on top.
Notes
If making this ahead of time and refrigerating it, cook for additional 10 minutes covered.
Nutritional Information is estimated, not exact.
Recommended Products
As an Amazon Associate and member of other affiliate programs, I earn from qualifying purchases.
Nutrition Information:
Yield:
6
Amount Per Serving:
Calories:

396
Total Fat:

24.3g
Saturated Fat:

15g
Cholesterol:

75mg
Sodium:

1165mg
Carbohydrates:

35.5g
Fiber:

1.6g
Sugar:

16.3g
Protein:

10.1g
Other Leftover Pulled Pork Recipes Include...