These Monster Eyeball Cookies are so easy to recreate! Chocolate Cake Mix Cookies with a Lime Curd filling topped with candy eyeballs. Gooey, creepy and oh so spooky!
This post contains affiliate links.  If you click on an affiliate link and make a purchase, I will make a small percentage on your purchase. This helps keep this website running! Thank you!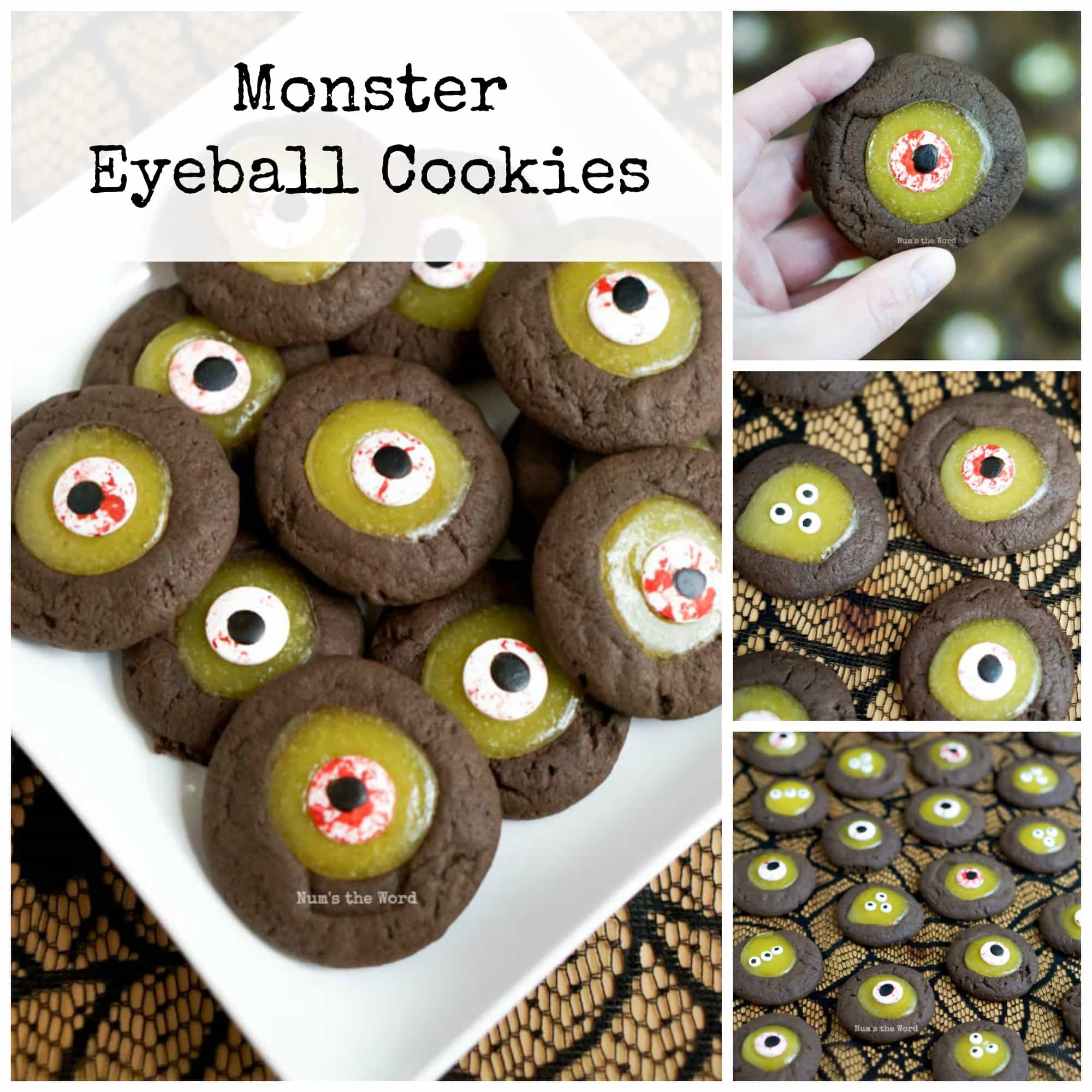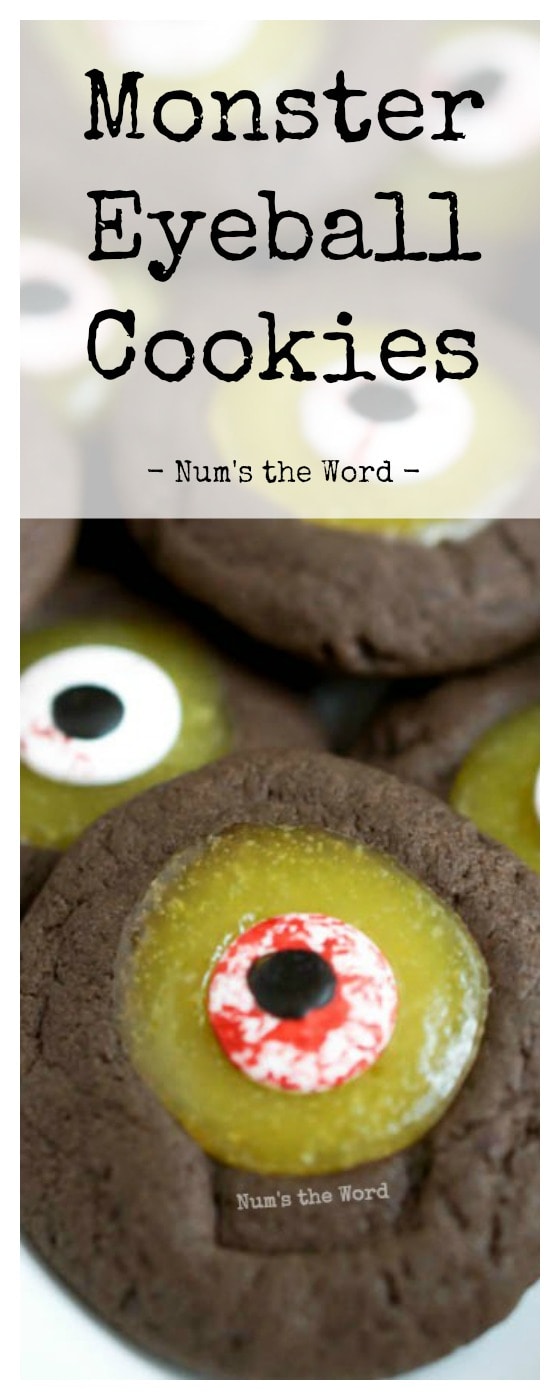 Do you love spooky Halloween goodies?
My kids do!
Every year they look forward to whatever random creation we can come up with that might look a little scary.
This year, we came up with these Monster Eyeball Cookies.
The entire cookie was a random accident that turned out well.
You see, I had a tub of lime curd in my fridge that I wasn't sure what to make with it.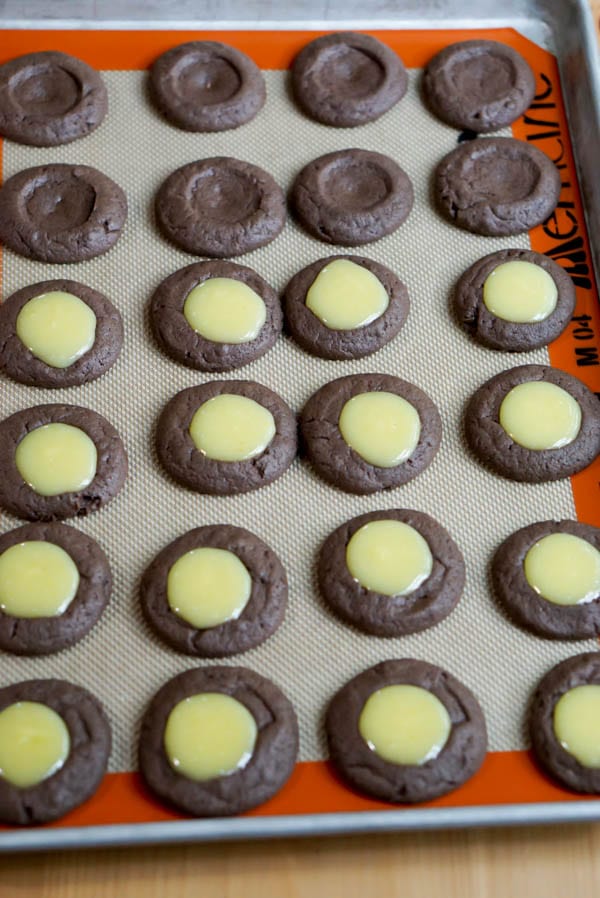 I had several ideas and one of them was thumbprint cookies.
Thumbprint cookies are perfect for jams, jellies and curds.
So I whipped up some quick and easy cake mix cookies and added curd in the middle.
That hint of green against the chocolate brown instantly made me think of eyeballs.
So I quickly added an eyeball candy and suddenly we had Monster Eyeball Cookies.
Now that we had our cookie, we now needed a name.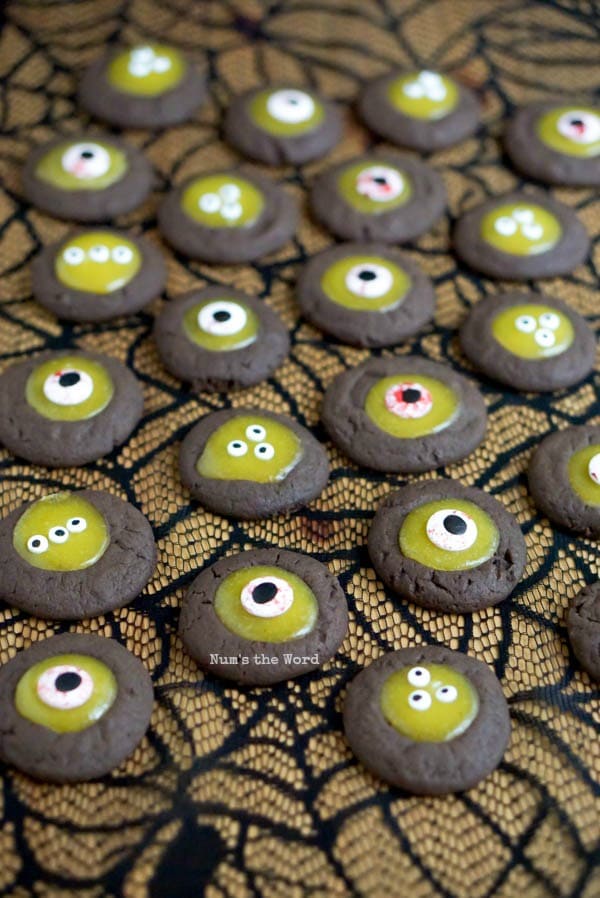 The name my husband came up with was Puss filled pink eye cookies.
This though was a little too gross sounding.
So we took to Facebook, asked our followers what we should name the cookies and overall most people suggested something with the word Monster and eyeball in it.
So we combined the ideas together to create Monster Eyeball Cookies.
Simple, descriptive but not gross.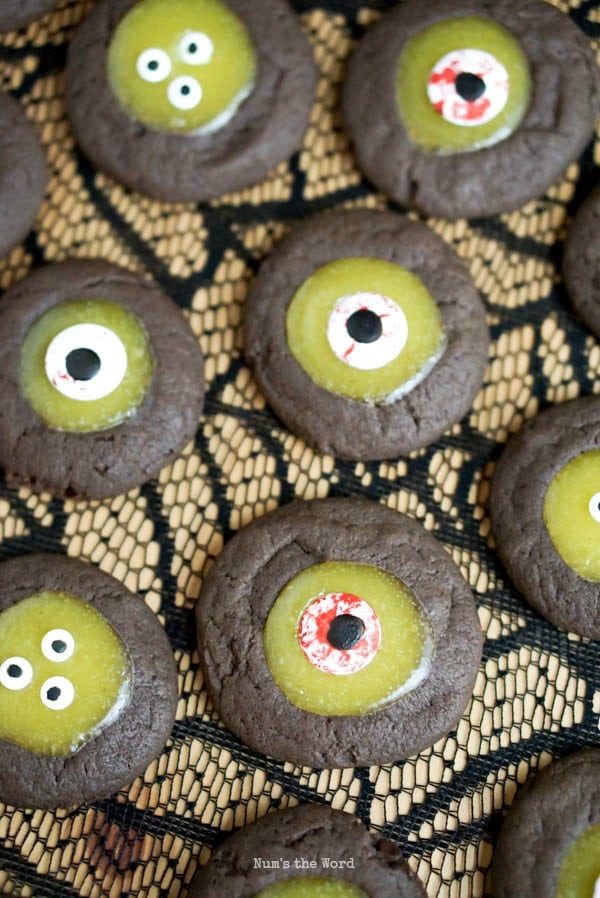 These would be fun at a Halloween Party, Monster themed birthday party or skip the candy eyeballs and just enjoy chocolate lime thumbprint cookies.
These spooky Monster Eyeball Cookies can be filled with lime curd or lemon curd.
Both taste great and both work well as a way to use up extra curd sitting around.
After posting on Num's the Word Facebook page about these cookies and what to name them, I wished I hadn't.
Just after I had posted that question, we received a mysterious delivery of Halloween treats on our door step.
It was sent from the Halloween Phantom – some of you may know it as being Boo'd.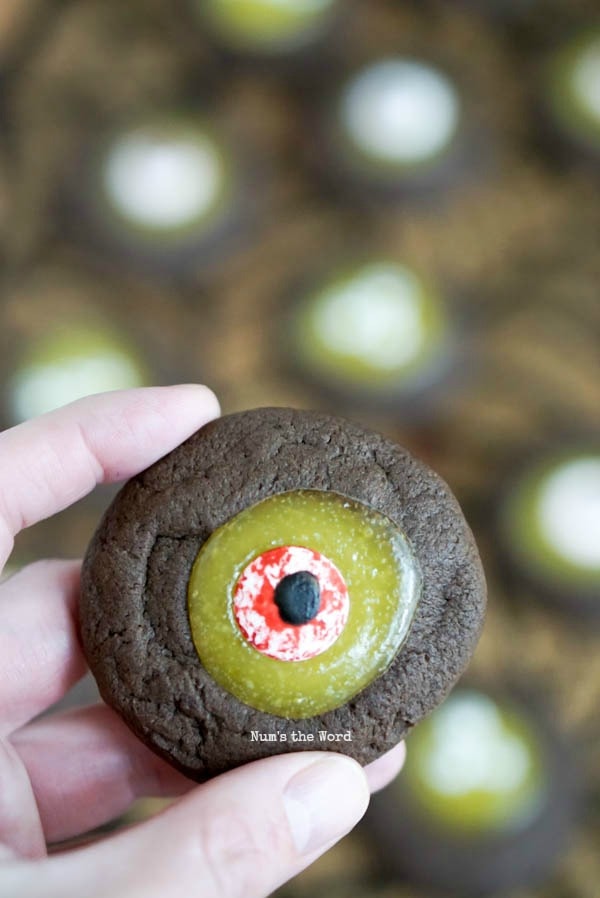 Anonymous friends of ours left a plate of goodies on our door step with a note to enjoy the treats but then to pass along a new goodies to friends.
It's a fun way for kids to pass it forward and to share in the Trick aspect of the holiday.
Because I had just posted a photo of these creepy cookies, I could no longer add these to our basket of goodies to pass on to the next family.
If we did, then everyone would know it was from us.
The entire goal of the Halloween Phantom is to be mysterious.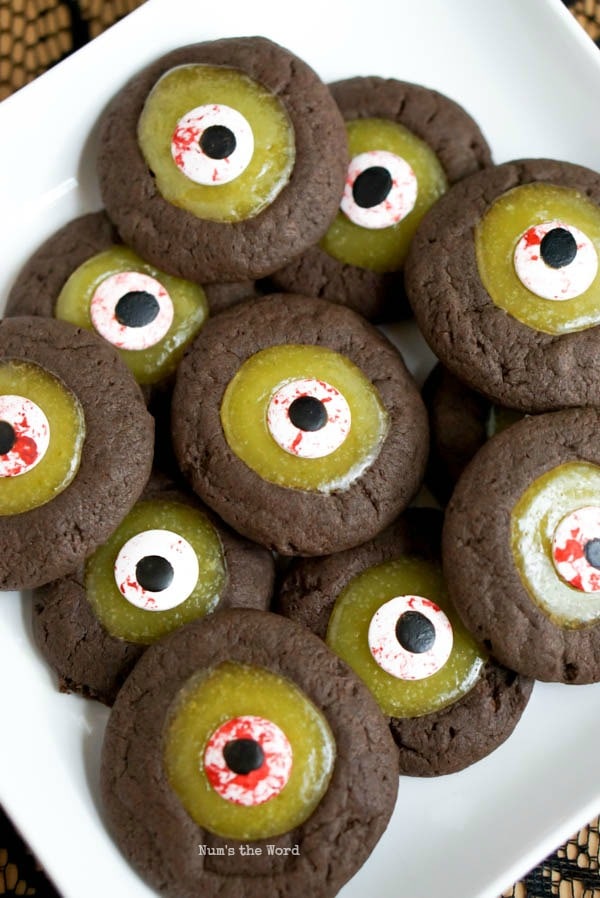 Alas, we whipped up some other tasty treats and passed them along.
Though those families may have been disappointed or not receiving these spooky treats, our hair stylist was not.
She received a container full of them for her to take home and enjoy with her kids.
A win-win in my book!
We love Halloween and do our best to make the most of it every year.
And with that come surprising people with yummy treats, visiting various trunk or treat events and of course going out on Halloween night.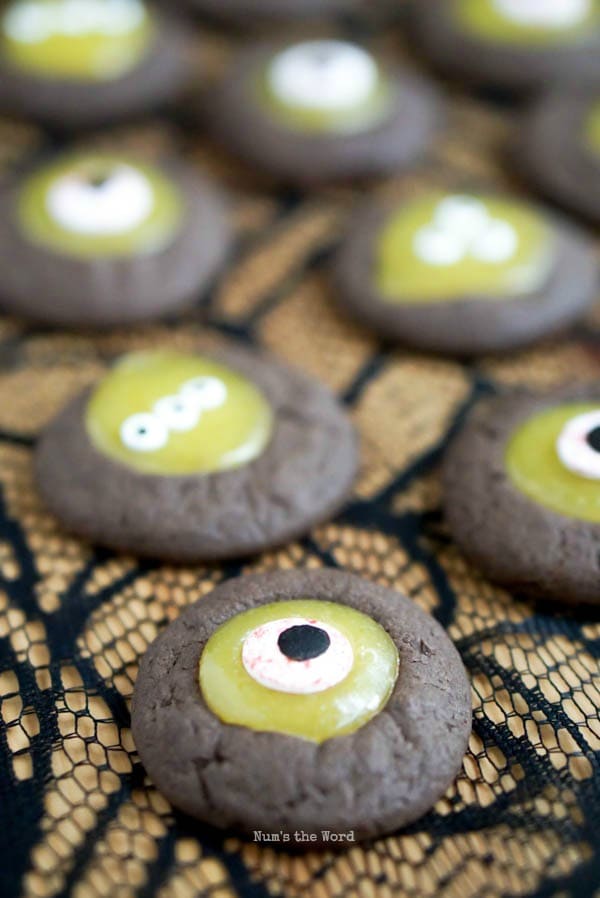 Here in Minnesota, we've learned that your costumes must be a few sizes bigger than normal to fit over your winter coat.
Well that or you need to find somewhere indoors to do your trick or treating.
Lucky for us we have a place that offers indoor trick or treating and after making a quick loop around my in-laws block, we head over to enjoy some warm festivities.
For us, we love the candy, but we especially love the fun of dressing up and eating spooky treats all month long like these Monster Eyeball Cookies.
These work great for kids lunches, work parties or neighbor gifts!
A fun and tasty treat that may look gross, but tastes fantastic!
Yield: 36 Cookies
Monster Eyeball Cookies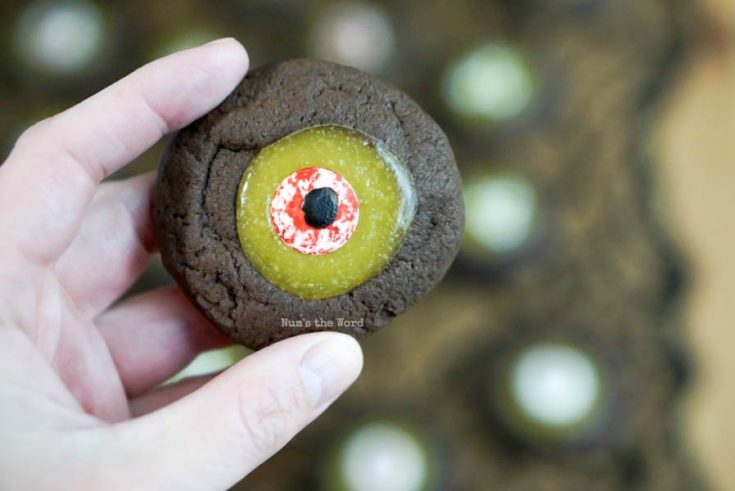 These Monster Eyeball Cookies are so easy to recreate! Chocolate Cake Mix Cookies with a Lime Curd filling topped with candy eyeballs. Gooey, creepy and oh so spooky!
Ingredients
Instructions
Preheat oven to 350*F
If you have not prepared lime curd, do so now - this should take about 30 minutes (time to make is included in total time for recipe). Set warm curd in freezer to chill quickly.
In a medium bowl combine cake mix, egg and butter. Batter will be very thick.
Scoop out 1 Tablespoon sized balls onto a cookie sheet.
With the back of a round measuring teaspoon, press bottom of teaspoon into each ball to create a dent. Do not go all the way to the bottom of the cookie.
Bake for 13 minutes then remove from oven.
Place cookies on a cooling rack and let cookies cool for 2 minutes then fill each dent with lime curd.
Top with a candy eyeball and let cool to room temperature.
Once at room temperature and lime curd has set, devour!
Notes
Lime curd can be stored in an air tight container for 1 week in the fridge.
Recommended Products
As an Amazon Associate and member of other affiliate programs, I earn from qualifying purchases.
Other Lime Recipes You'll Love...