This Instant Pot Red Beans and Rice is full of flavor and leaves you satisfied for hours. With smoky sausage, hearty beans, and flavorful Cajun seasoning, you'll LOVE this easy recipe and so will your kids!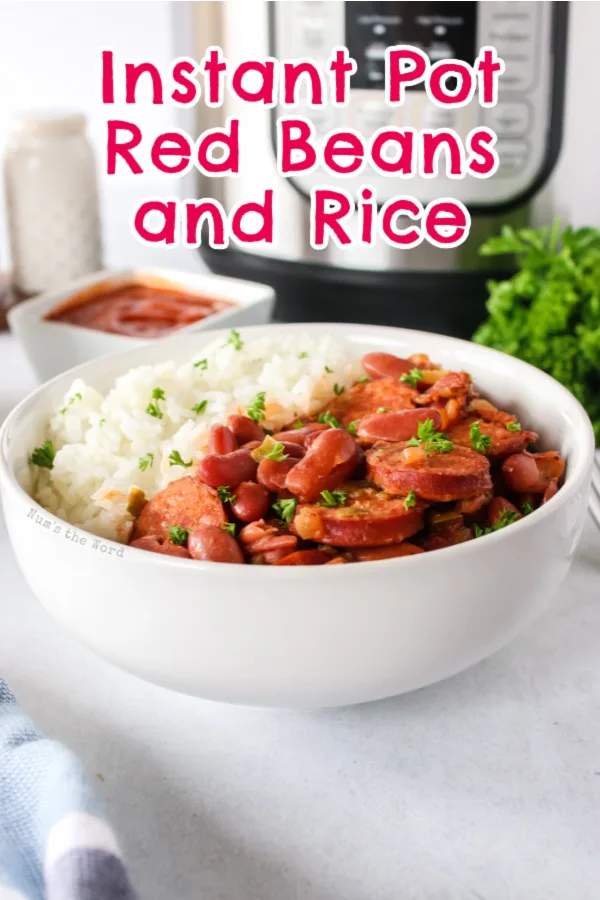 To make things even better, this is a one-pot — INSTANT POT — version of the meal! What could be better than an easy red beans and rice Instant Pot recipe? Packed with all the Cajun seasoning you could want, this meal is sure to be a crowd pleaser.
Whether you like your beans and rice spicy or on the milder side, this recipe is the one for you. With options for hot or mild sausage and hot sauce add-ins, this recipe can please your spice-lovers and more taste bud sensitive crowd just as equally!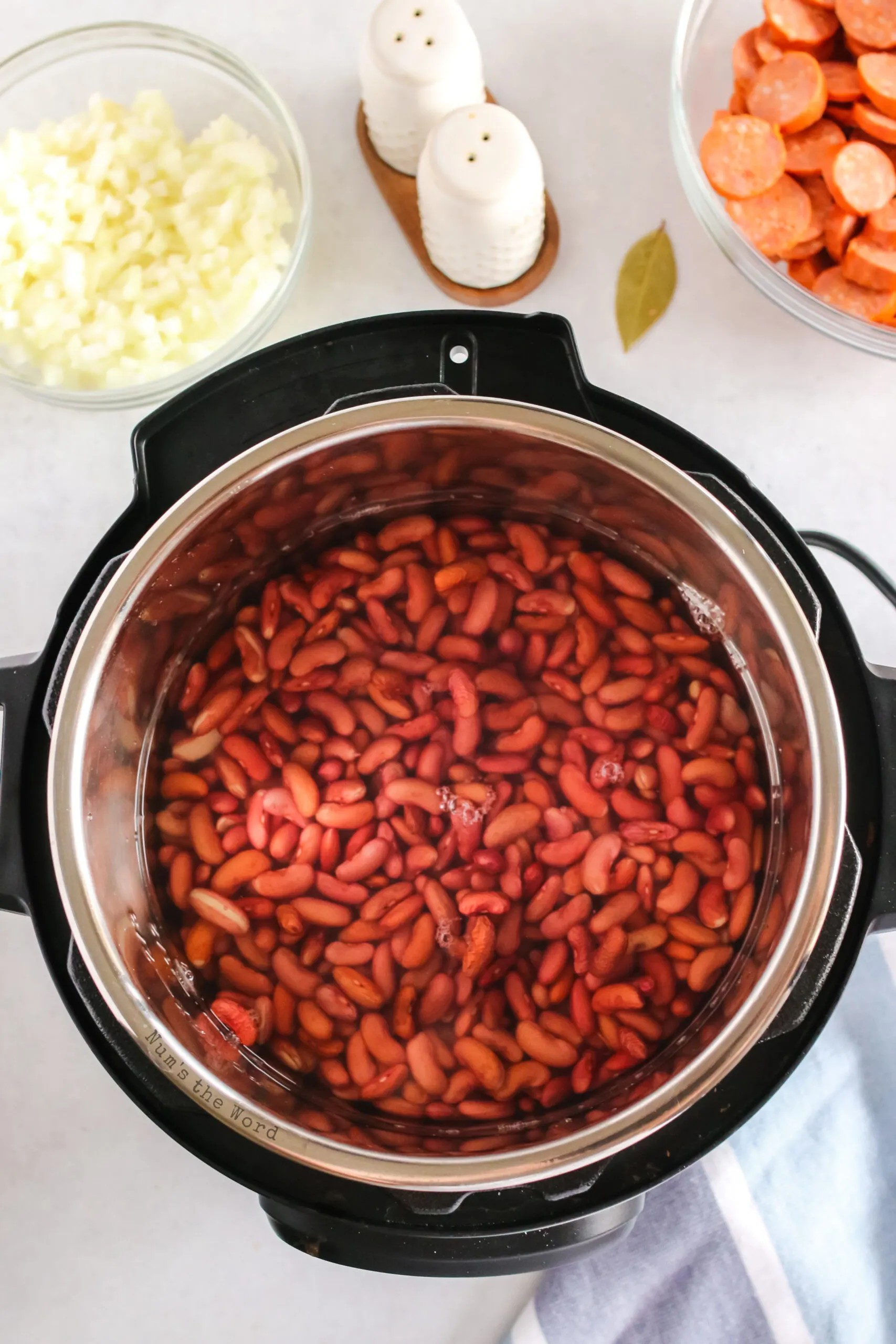 What kind of beans are in red beans and rice?
Red beans! But here's where things get a little confusing. While you can definitely use kidney beans when making red beans and rice, they're not technically the same thing as red beans.
Red beans are smaller, rounder (think pinto-shaped), and actually more pink in color than kidney beans. Kidney beans are shaped like a kidney and are a deep, dark red color.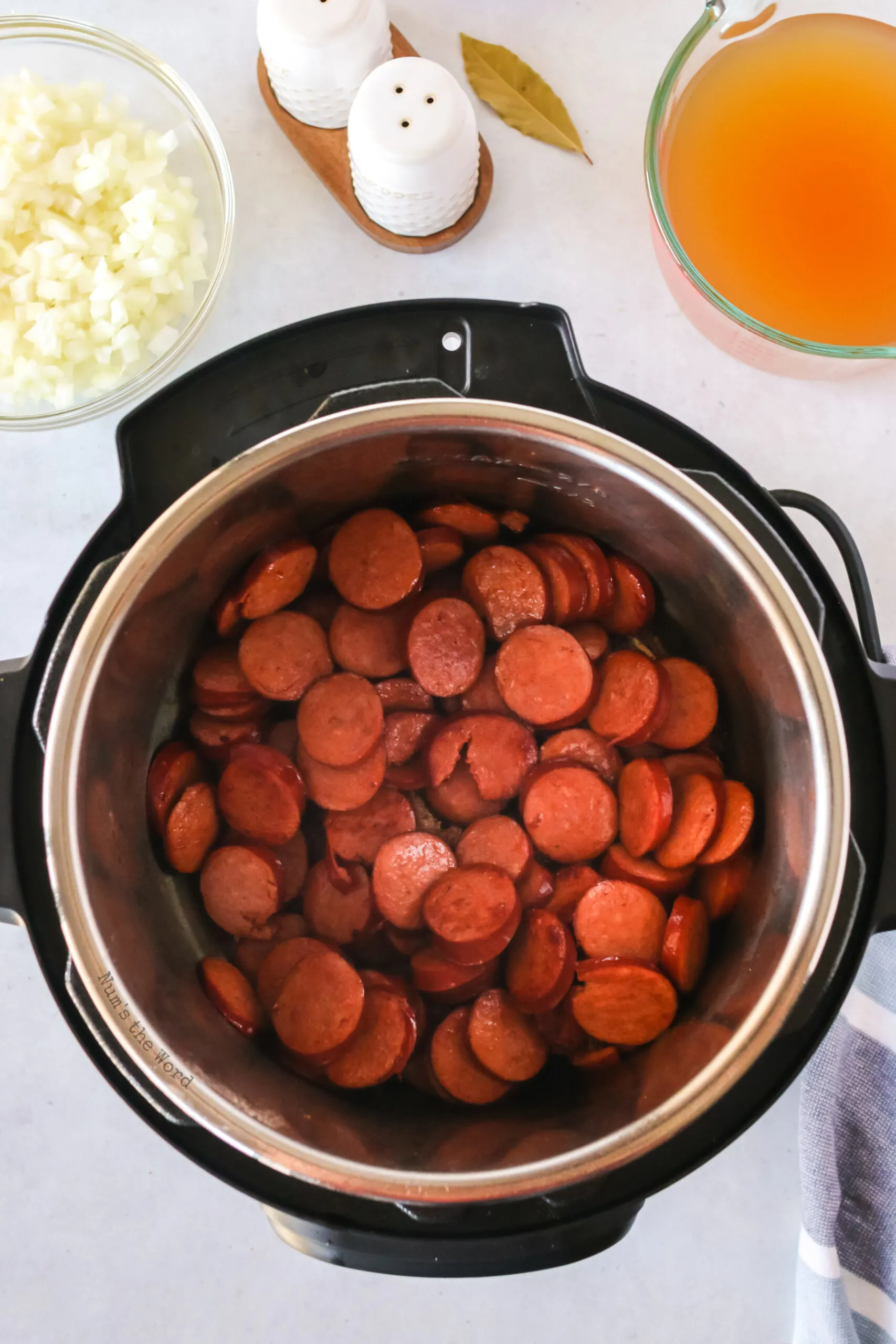 How to make red beans and rice?
Let's cover the ingredients you'll need to make your own tasty batch of red beans and rice in the Instant Pot. You can choose spicier/less spicy options to make this recipe fit the tastes of your family!
Dried kidney or red beans

– we've already discussed the difference between the two beans above; but either will work for this recipe.

Sausage

– this is typically the U-shaped sausage that you can buy at the grocery store. I prefer Andouille for the spice and Cajun flavor, but you can use a combination of spicy and smoked sausage or all one or the other.

Onion

– onion is one of my favorite seasoning vegetables for savory dishes. It adds so much flavor!

Garlic

– small but powerful, this is another seasoning vegetable that packs the flavor into a small punch.

Green bell peppers

– I love the contrast of the red beans and sauce with the green bell peppers. It makes for a tasty and visually appealing meal!

Celery

– love it or hate it, celery is another seasoning vegetable that adds great depth of flavor to savory dishes, as well as a satisfying crunchy texture.

Tomato paste

– tomato paste provides the base for your red beans and rice sauce.

Cajun seasoning

– the Cajun seasoning really makes this meal. Feel free to add more to your tastes! I love to sprinkle more Cajun seasoning on my serving, that way I don't overwhelm the kids, but I can get a little more spice.

Chicken broth

– this, along with the tomato paste, makes up the rest of your sauce base for the recipe.

Sriracha

– sriracha is my preferred hot sauce, but you can also use tabasco or your personal favorite!

Bay leaf

– so much added depth of flavor in a tiny leaf! Be sure to remember to pull it out before serving.

Salt and pepper

– these are to your taste. Different sausage varieties will have more or less salt and spice, so you can add salt and pepper as you need.

Fresh parsley

– this bright and fresh splash of flavor and color really compliments the rest of the meal and provides an added layer of crisp, clean flavor.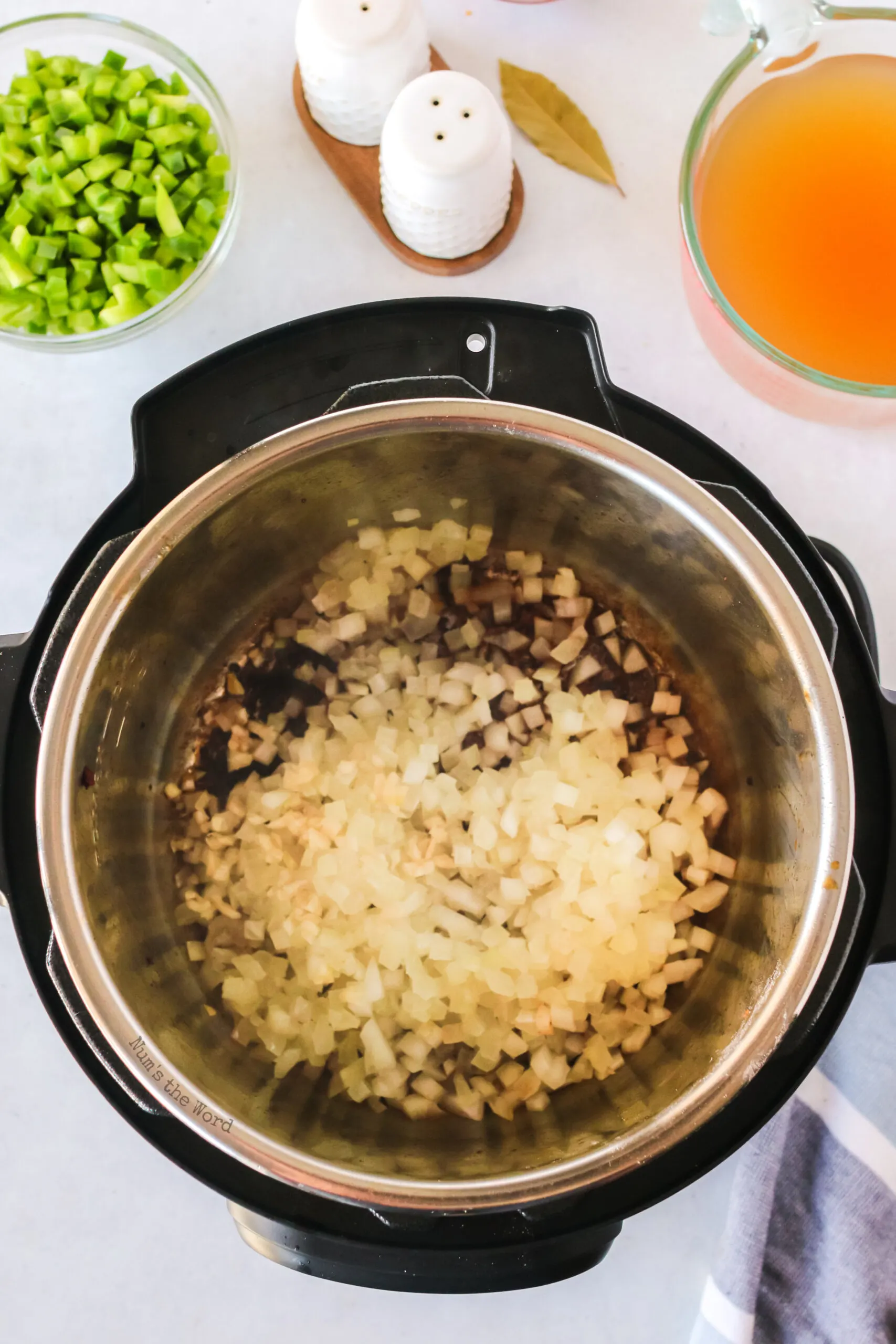 How to cook red beans and rice in Instant Pot?
One of my favorite things about this recipe is that it not only utilizes dry beans, which is an amazing, shelf stable, inexpensive item to have on hand. However, it also cooks the beans in the Instant Pot, which takes a fraction of the time cooking the beans stovetop would take!
Cook

soaked beans in the Instant Pot.

Drain

, rinse, and set aside cooked beans for later.

Rinse

out Instant Pot.

Brown

sausage slices and set aside for later.

Sauté vegetables with Cajun seasoning.
Combine

all the other ingredients in Instant Pot.

Simmer

until the sauce is thickened.
It's incredible how easy the Instant Pot makes cooking a meal with dried beans from scratch! Just a few easy steps and you'll have a savory, home-cooked, and filling meal that the whole family is sure to love.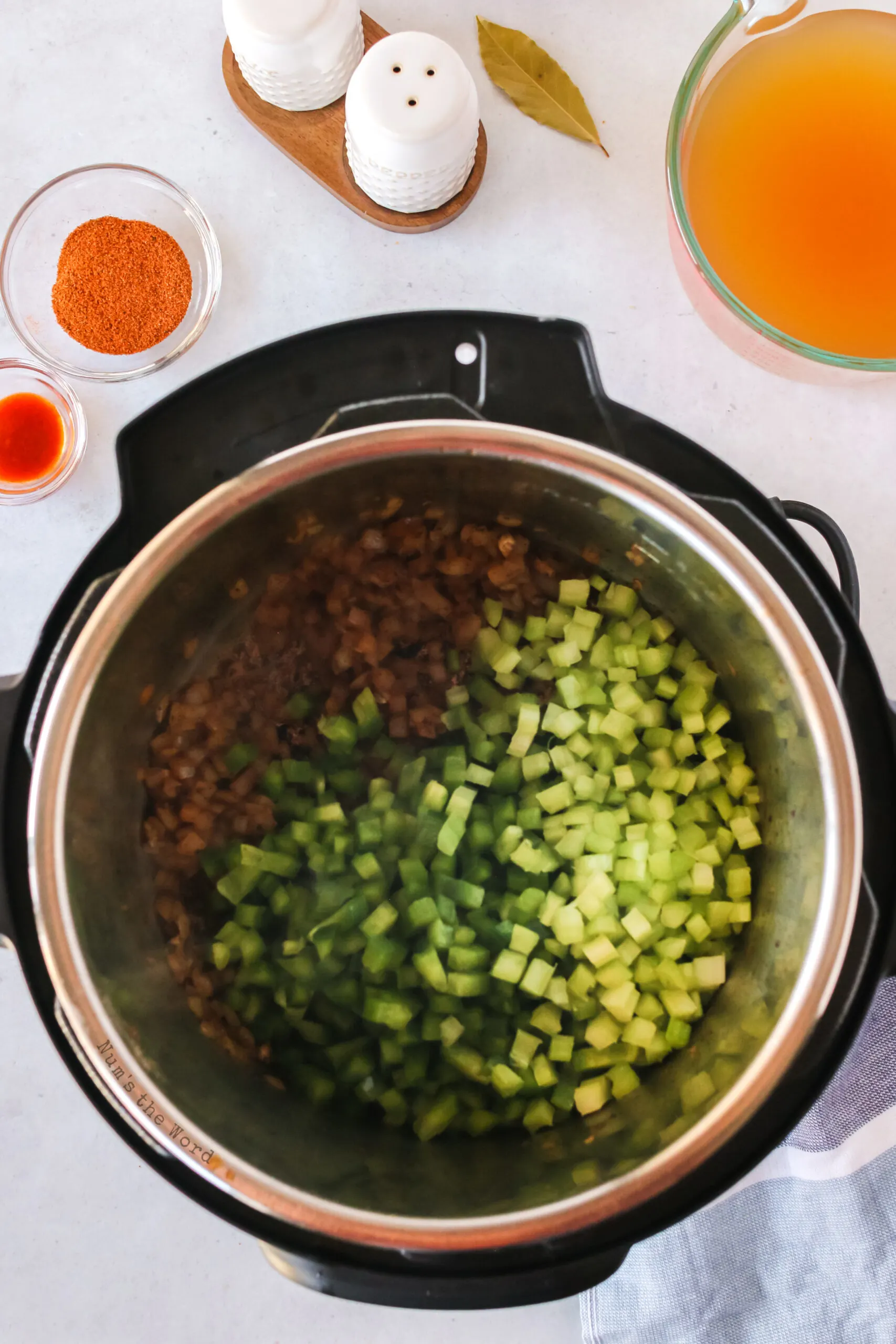 How to cook red beans and rice?
All this can also be done stovetop, though you might want to use canned beans to speed along the process if that's the case. Three cups of dried beans is around 5-6 cans of beans.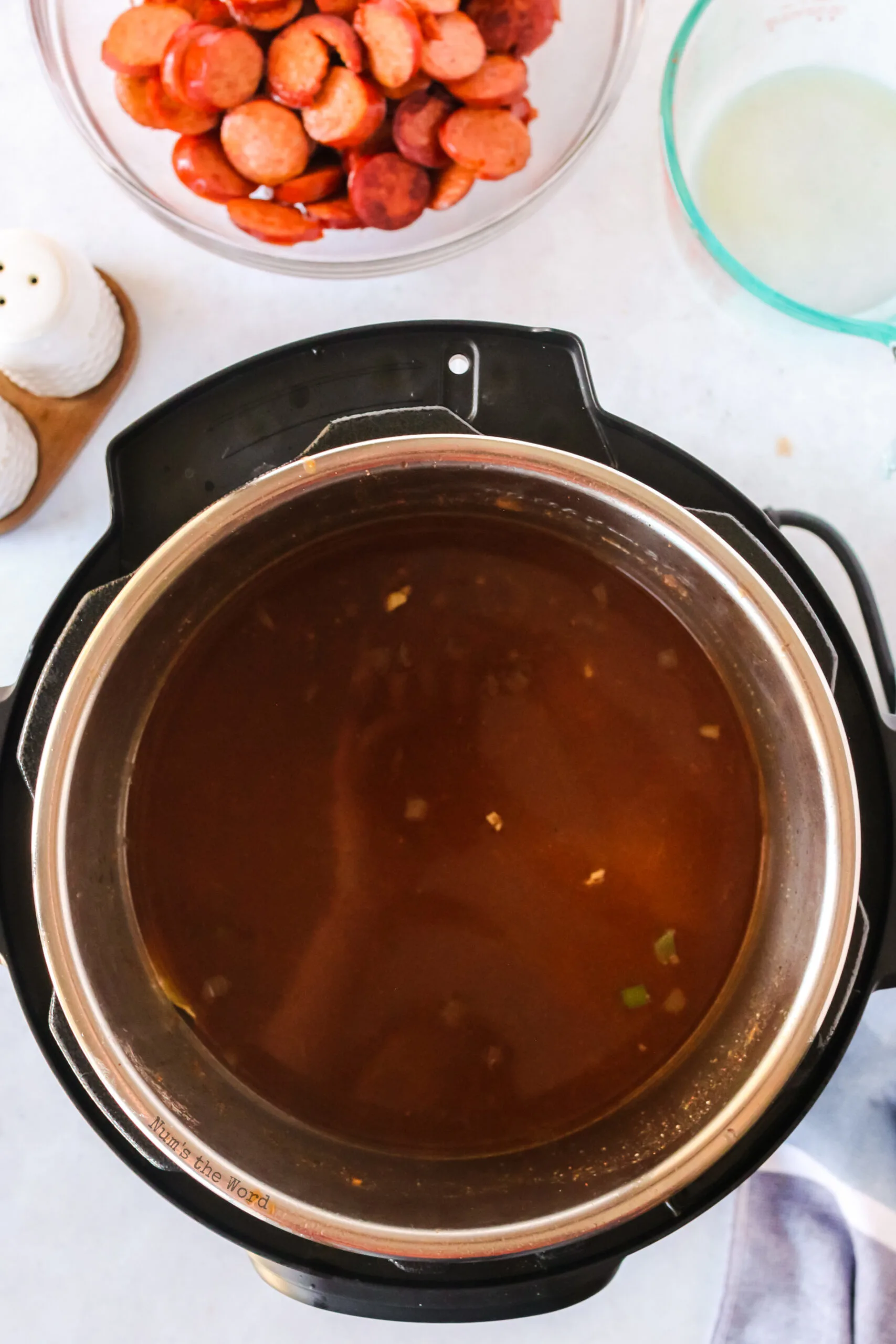 What goes with red beans and rice?
As the name of the meal indicates, you definitely want to serve your sausage and beans over rice. Another great option is shredded cabbage. You can top with additional parsley, hot sauce, and/or Cajun seasoning. I like to squeeze a bit of fresh lemon juice on top of mine as well.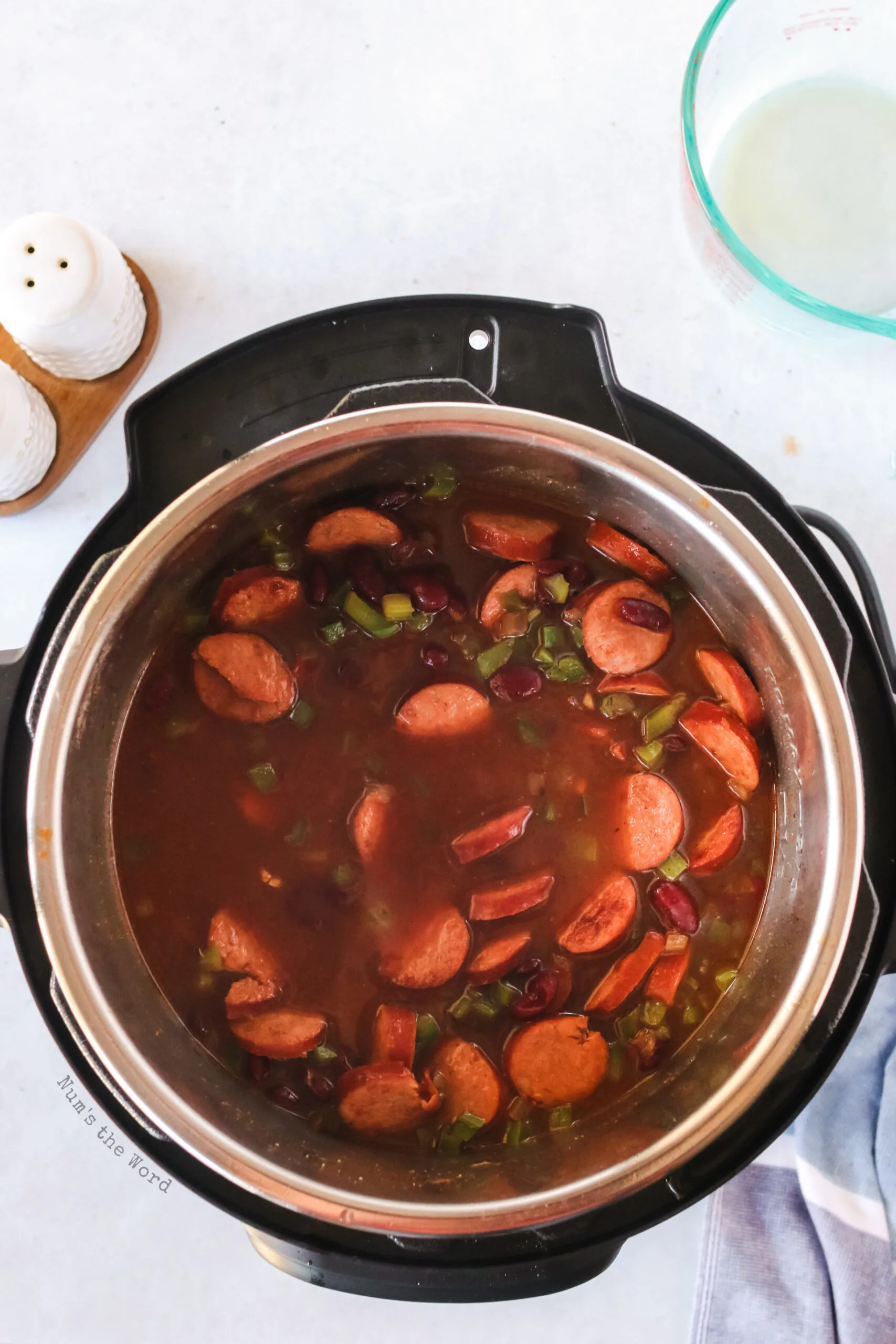 Is red beans and rice healthy?
While this recipe is packed with plant-based protein and veggies, it's also got a bit of sausage; so I don't know that I'd classify this as a health food.
It is relatively easy to turn this into vegan red beans and rice in the Instant Pot, though! Which would eliminate the main non-healthy ingredient.
You can either remove the sausage completely or sub with your favorite plant-based sausage. Then simply sub the chicken stock with vegetable and the rest should work fine!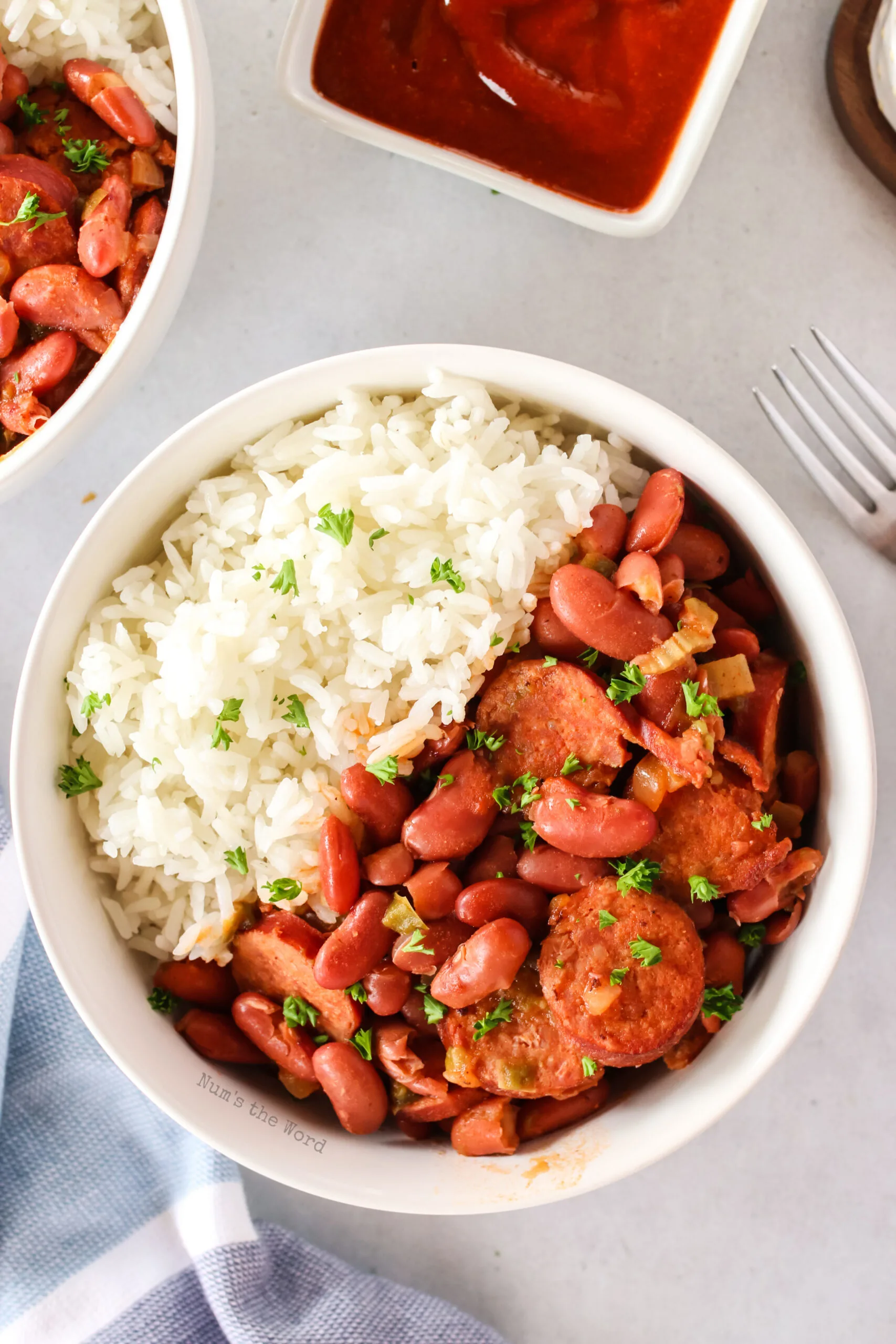 Can you freeze red beans and rice?
Yes, you can freeze red beans and rice. Allow the bean and sausage sauce to cool, covered, in the fridge before freezing. It should be good for up to 3 months in the freezer if stored in an airtight container.
To thaw, simply use the pot-in-pot method in the Instant Pot and steam, covered, for 8 minutes. Do a quick pressure release, stir, and continue steaming another 10 minutes.
If you have stackable pot-in-pot pans, you can also reheat the rice at the same time! You can also thaw in the fridge for 24 hours and reheat on the stovetop over medium heat.
If you don't have a pot in pot pan, you can just reheat in the microwave or on the stove.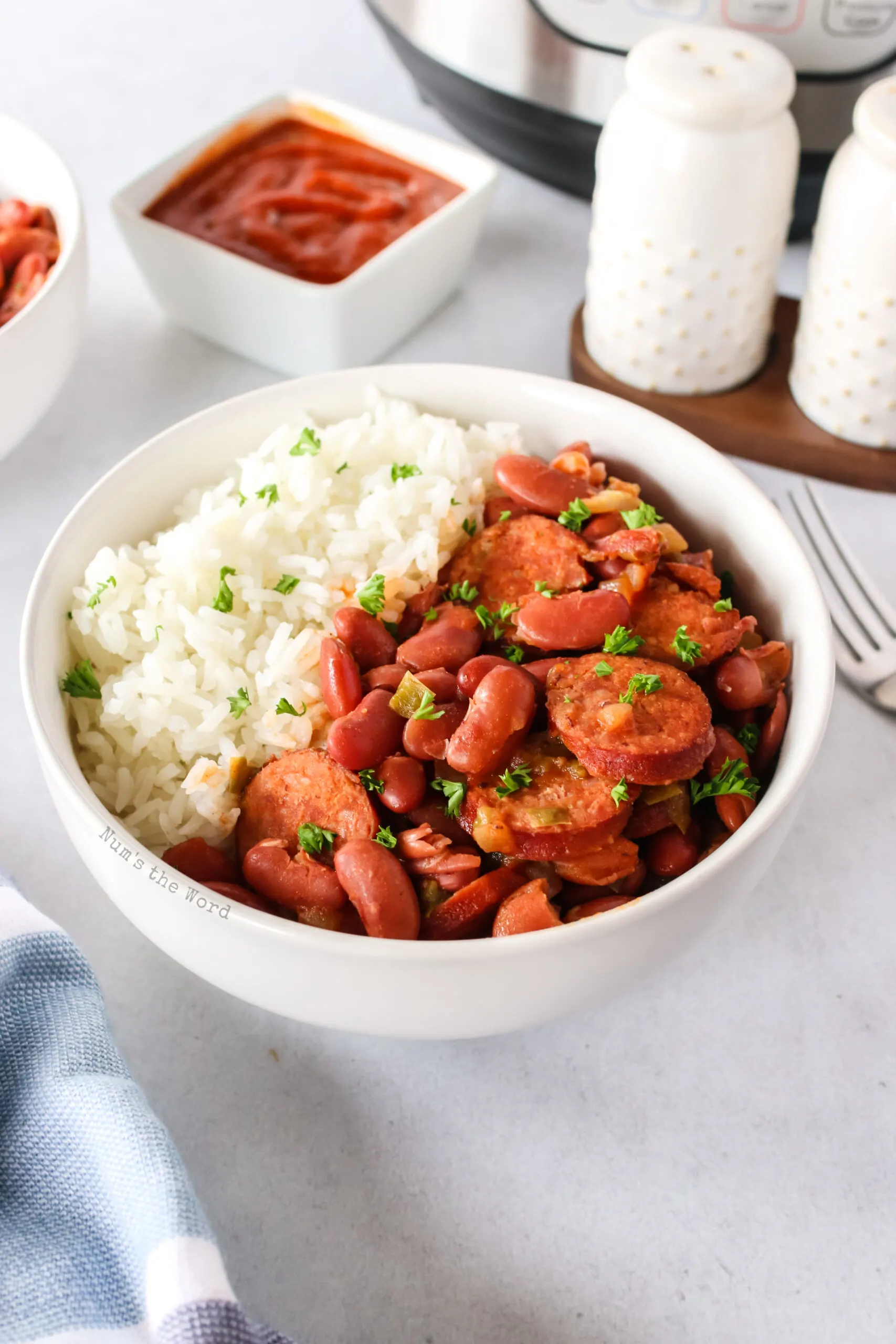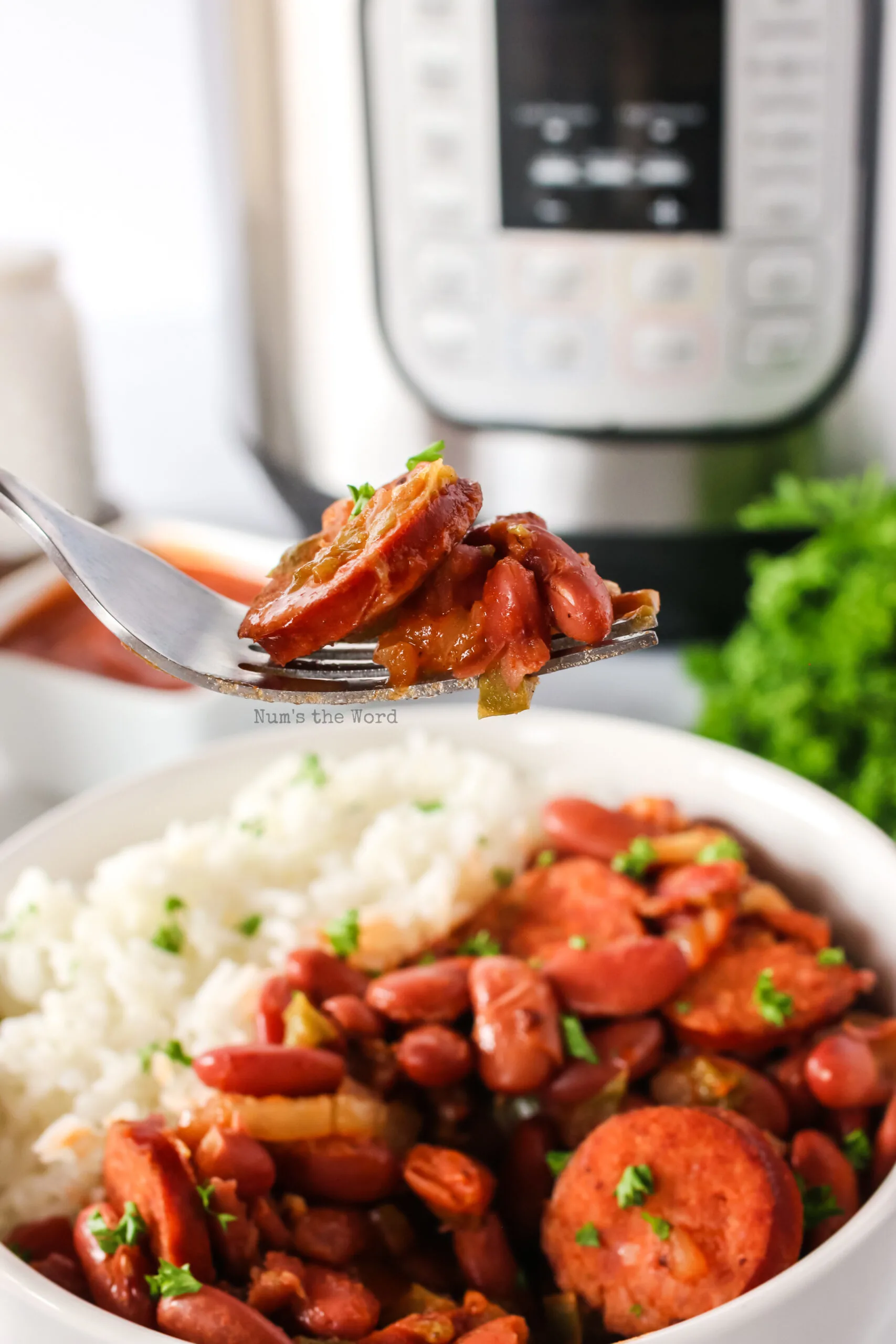 This Instant Pot Red Beans and Rice recipe is easy, takes one pot, and is so full of comfort-food-flavor, you're guaranteed to love it! Customize your level of spice and enjoy!
Yield: 6 Servings
Instant Pot Red Beans and Rice
This Instant Pot Red Beans and Rice is full of flavor and leaves you satisfied for hours. With smoky sausage, hearty beans, and flavorful Cajun seasoning, you'll LOVE this easy recipe and so will your kids!
Ingredients
3 cups dried kidney/red beans, soaked overnight
2 (14 ounce) package andouille sausage (for spice). If you want a mild sausage then you can definitely use that too.
1 large yellow onion, diced
1 1/2 teaspoons garlic, minced
2 green bell peppers, diced
2 stalks celery, chopped
3 ounces tomato paste (1/2 can)
1 Tablespoon Cajun seasoning
4 cups chicken broth
1 teaspoon sriracha (optional for extra spice)
1 bay leaf
1/2 teaspoon salt
1/4 teaspoon black pepper
1/4 cup fresh parsley
Instructions
Red beans need to be soaked for 4-8 hours before making this recipe.
Place soaked beans in an Instant Pot with enough water to cover. Seal and set to high pressure for 5 minutes with valve in the closed position.
Once beans have finished do a quick release of pressure. Then drain, rinse and set beans aside.
Rinse residue from beans out of the Instant Pot.
Return the inner pot to Instant Pot and set to Sauté on high heat.
Once the pot has heated, spray with nonstick spray and sear sausages until browned. Give them a little stir to try and brown both sides. You might want to do this in half batches.
Once browned, remove sausages and set aside.
The bottom of the Instant Pot might have some charred bits of sausage. That's okay, we'll deglaze in a minute.
Add onions and garlic to the heated pot and stir, scraping, with a wooden spoon.
As the onions and garlic cook, they will deglaze the inner pan. Continue cooking and stirring until translucent, about 5 minutes.
Add bell peppers and celery and continue to sauté for another 5 minutes.
Add Cajun seasoning and stir until onions, peppers, and celery are coated. and fragrant.
Pour in chicken broth, sriracha, tomato paste, and bay leaf and stir to combine.
Return cooked beans and browned sausages to the mixture and combine well.
Bring to a simmer for at least 25 minutes.
Mixture will thicken. You can also mash some of the beans with the wooden spoon or a potato masher to add to the thickening if desired.
Serve over cooked rice or shredded cabbage.
Top individual servings with parsley, additional sriracha, or Cajun seasoning. Also great with a little fresh squeezed lemon.
Nutrition Information:
Yield:
6
Serving Size:
1
Amount Per Serving:
Calories:

196
Total Fat:

4g
Saturated Fat:

1g
Trans Fat:

0g
Unsaturated Fat:

2g
Cholesterol:

10mg
Sodium:

1474mg
Carbohydrates:

30g
Fiber:

7g
Sugar:

6g
Protein:

12g