This Chicken Cordon Blue Casserole is a simple twist on a classic dish. Rotisserie Chicken or leftover turkey, leftover ham and yummy stuffing make this a meal the whole family will love. A great way to use up holiday leftovers and it even freezes well too!
This post contains affiliate links.  If you click on an affiliate link and make a purchase, I will make a small percentage on your purchase. This helps keep this website running! Thank you!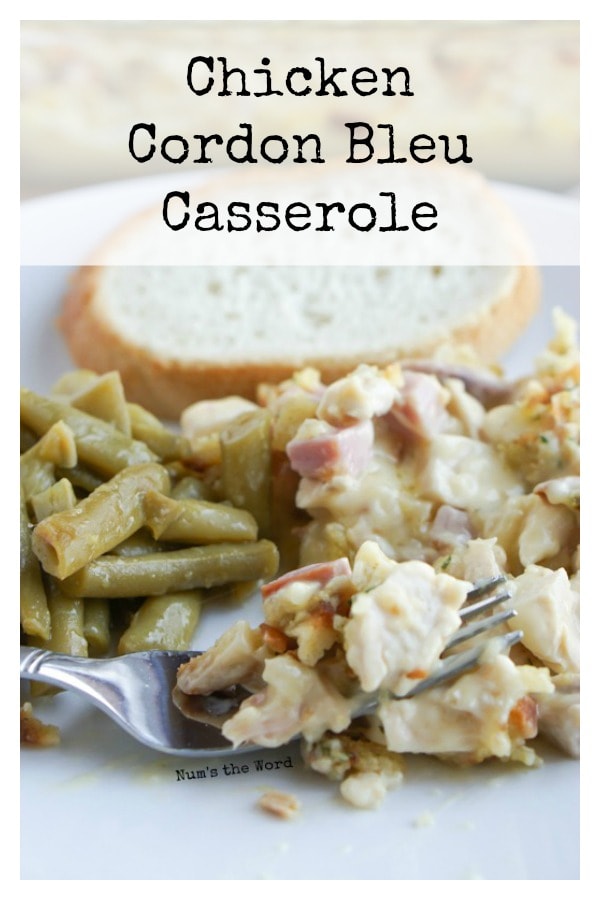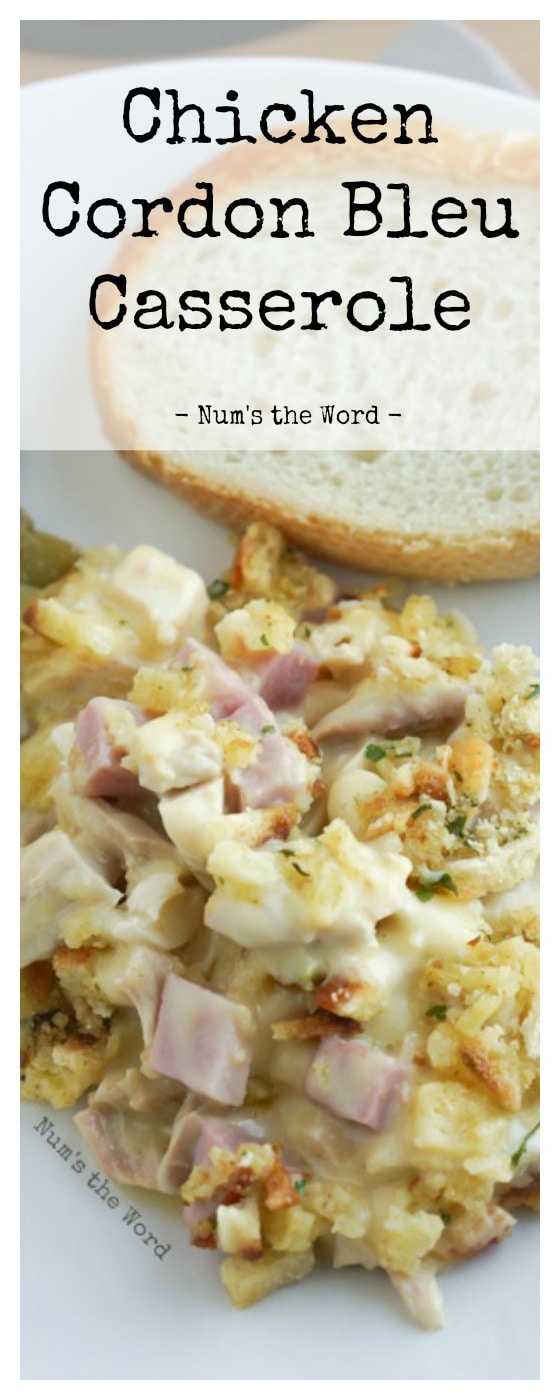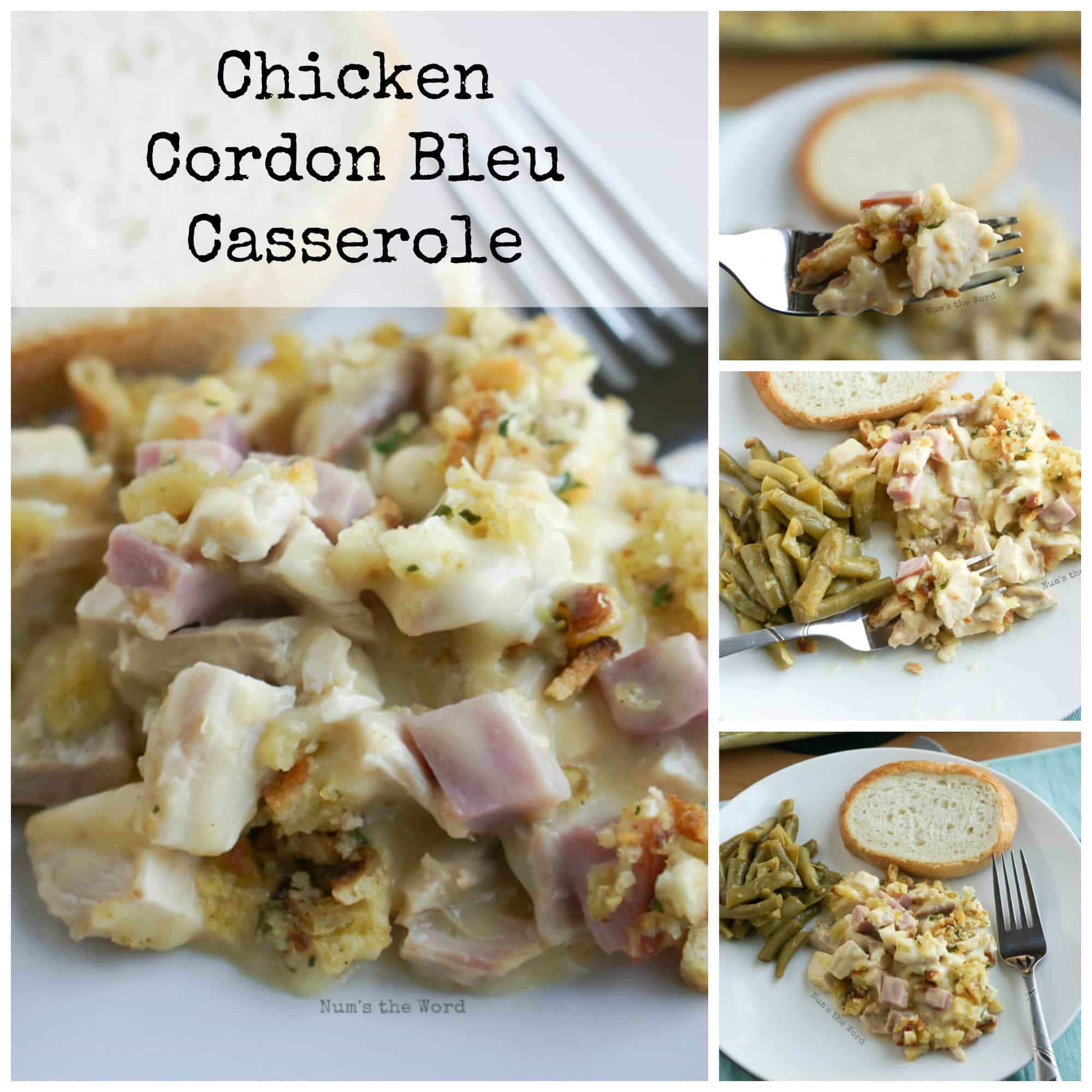 A few months ago, I decided to try making Chicken Cordon Bleu.
I bought the chicken breasts, stuffed them with ham and Swiss cheese, adding some stuffing mix over top, some liquid and baked them.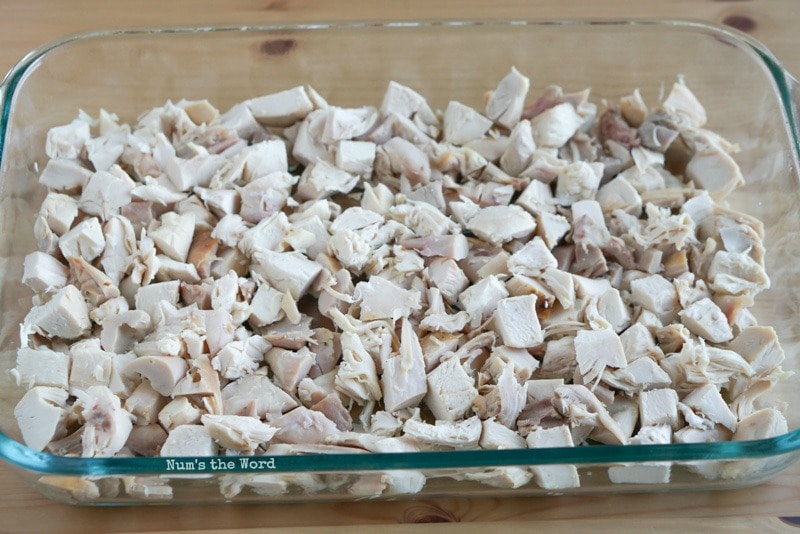 I was so excited and confident in my recipe that I invited some friends over for a play date and lunch so we could all taste test this new idea.
Sadly, the chicken took FOREVER to cook.
In the end, we didn't eat lunch till 1:30 pm and were all STARVING.
Overall the flavor was great.
However, the time to actually make the dish was impossibly long for an every day weeknight meal and one that we all agreed we'd never make again due to timing.
My husband then suggested instead of using whole chicken breasts and thick slices of ham, we chop everything up.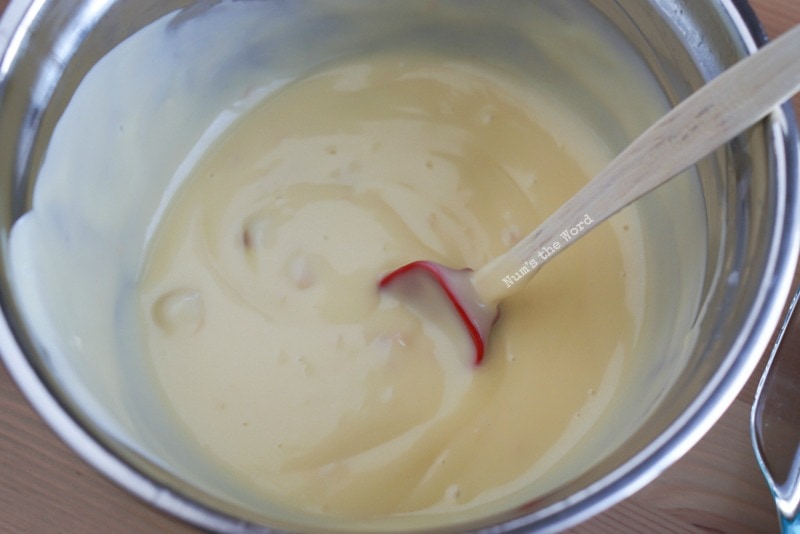 Use the same ingredients, but make it into a Chicken Cordon Bleu Casserole.
Overall the chicken would cook faster in smaller bites making it ideal for a weeknight or Sunday meal.
Once again we invited people over to dinner and recipe tested this on them.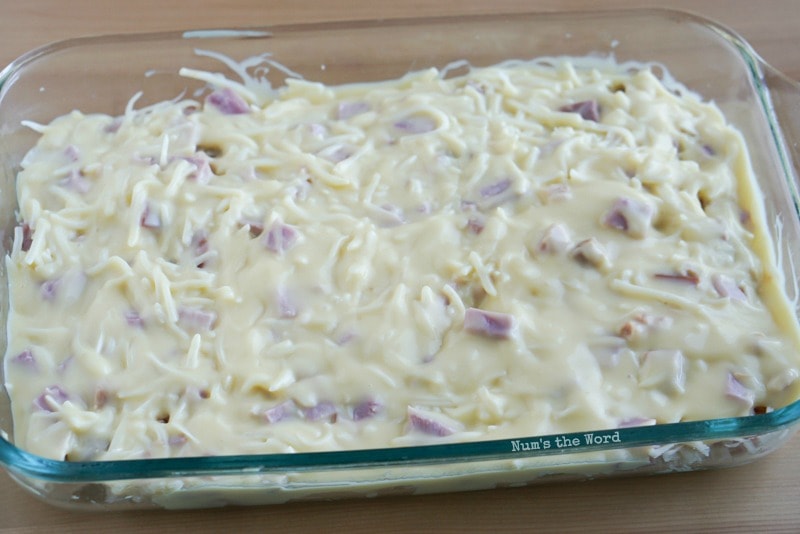 The idea of turning Stuffed Chicken Cordon Bleu into a casserole was an instant success.
The stuffing on top was a great addition to the meal and gave a pleasant texture to the casserole.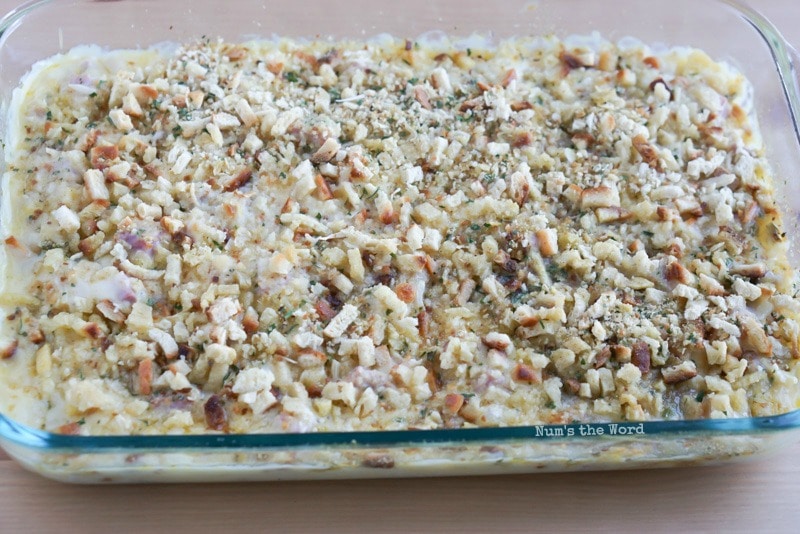 Some of the stuffing softened into traditional stuffing.
Others parts stayed crunchy.
We all agreed that we liked it this way.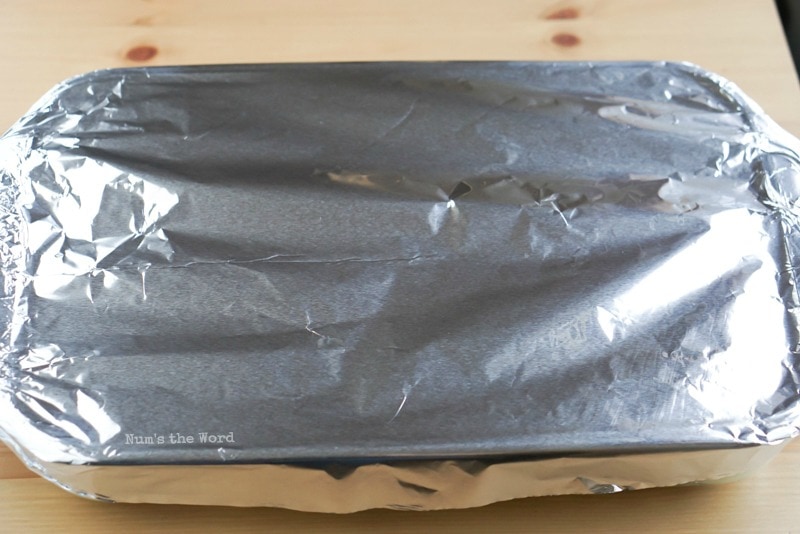 The light crunch added flavorful texture and took the casserole to a new level.
This recipe is perfect for any chicken, ham, Swiss cheese and stuffing lover.
The surprising part, if you know my kids, is that even they liked this Chicken Cordon Bleu Casserole.
The flavors all meld together nicely and make a cheesy yummy casserole that is perfect for a dinner, pot luck or freezer meal!
Recipe testing doesn't always go this well.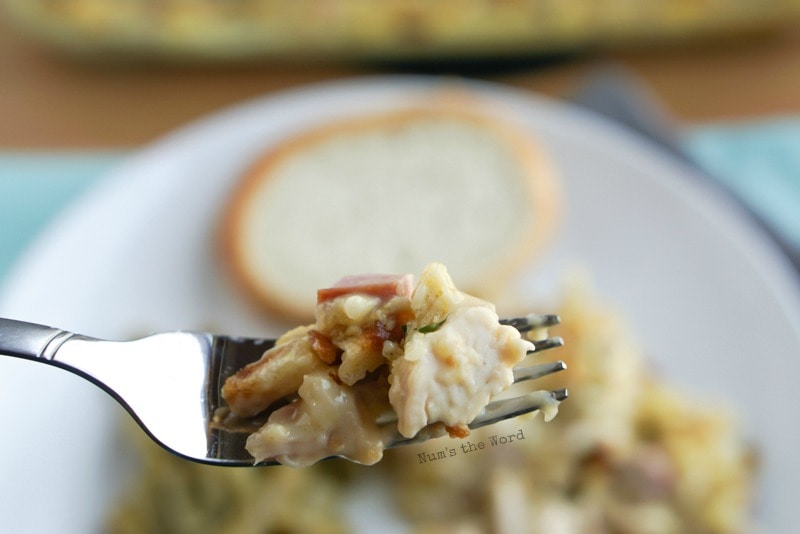 There are many recipes we experiment on that we end up hating.
However taking a classic like Chicken Cordon Bleu and making a few adaptations, we've come up with a tasty Chicken Cordon Bleu Casserole we're sure you'll love!
Yield: 8 Servings
Chicken Cordon Bleu Casserole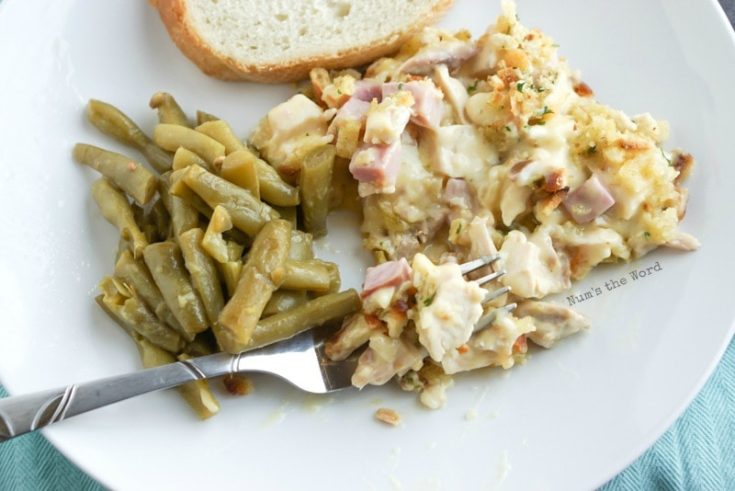 Cook Time
1 hour
5 minutes
Total Time
1 hour
25 minutes
Ingredients
3 cups diced rotisserie chicken
3 cups diced ham
2 cups shredded of Swiss cheese
1 can cream of chicken soup
1/4 cup water
2 cups seasoned stuffing mix
1/3 cup melted butter
Instructions
Preheat oven to 350*F
Spray a 9x13 casserole dish with non-stick cooking spray.
Place diced rotisserie chicken into casserole dish.
Add diced ham.
Top with shredded Swiss Cheese
In a small bowl combine cream of chicken soup and water. Pour over cheese.
Sprinkle stuffing mix over cheese.
Pour melted butter over stuffing mix.
Cover with foil and bake for 50 minutes.
Remove foil and bake for additional 15 minutes.
Remove from oven and serve immediately.
Originally Posted: October 18, 2017
Photos & Text Updated:  July 13, 2018
Other Casserole Recipes You'll Love...