These delicious pumpkin cookies with brown butter frosting are one of those cookie recipes I pull out all year long, but I especially like to make them during the fall season when everything pumpkin is calling to be made and eaten.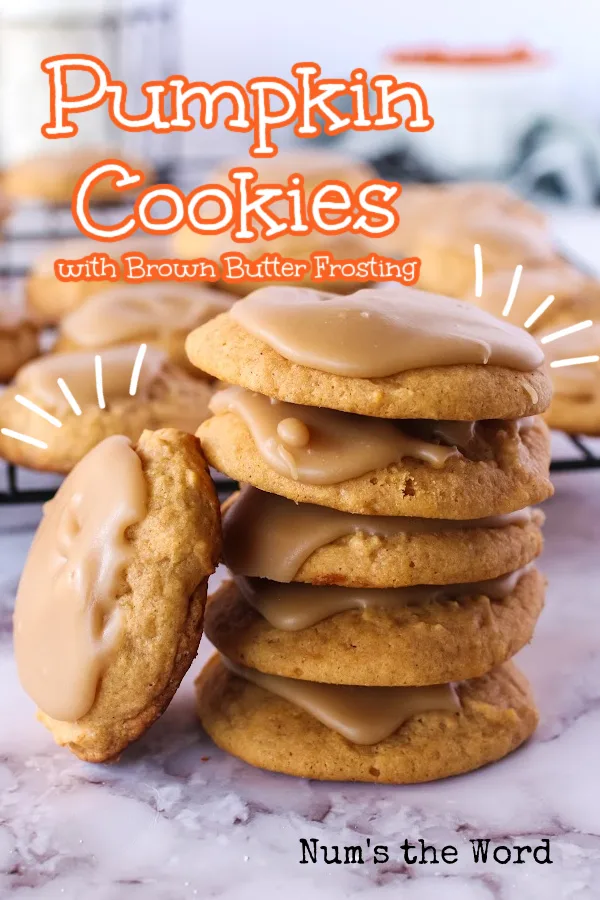 The best of all pumpkin recipes are pumpkin cookies with brown butter frosting. They have great pumpkin flavor, perfect cookie texture, and are covered in a melt in your mouth brown sugar icing.
There is something so perfect about cookies that have been branded for one season, but you find yourself pulling out that recipe card even on the "off season" and loving it.
And when I feed it to other people, they are pleasantly surprised and love it too. Because pumpkin is a year round ingredient.
Yes, these are a great way to get lovely fall flavors in a perfect snack or tasty dessert.
But since they really are the best pumpkin cookies you will ever eat, they are awesome pumpkin treats any time of year.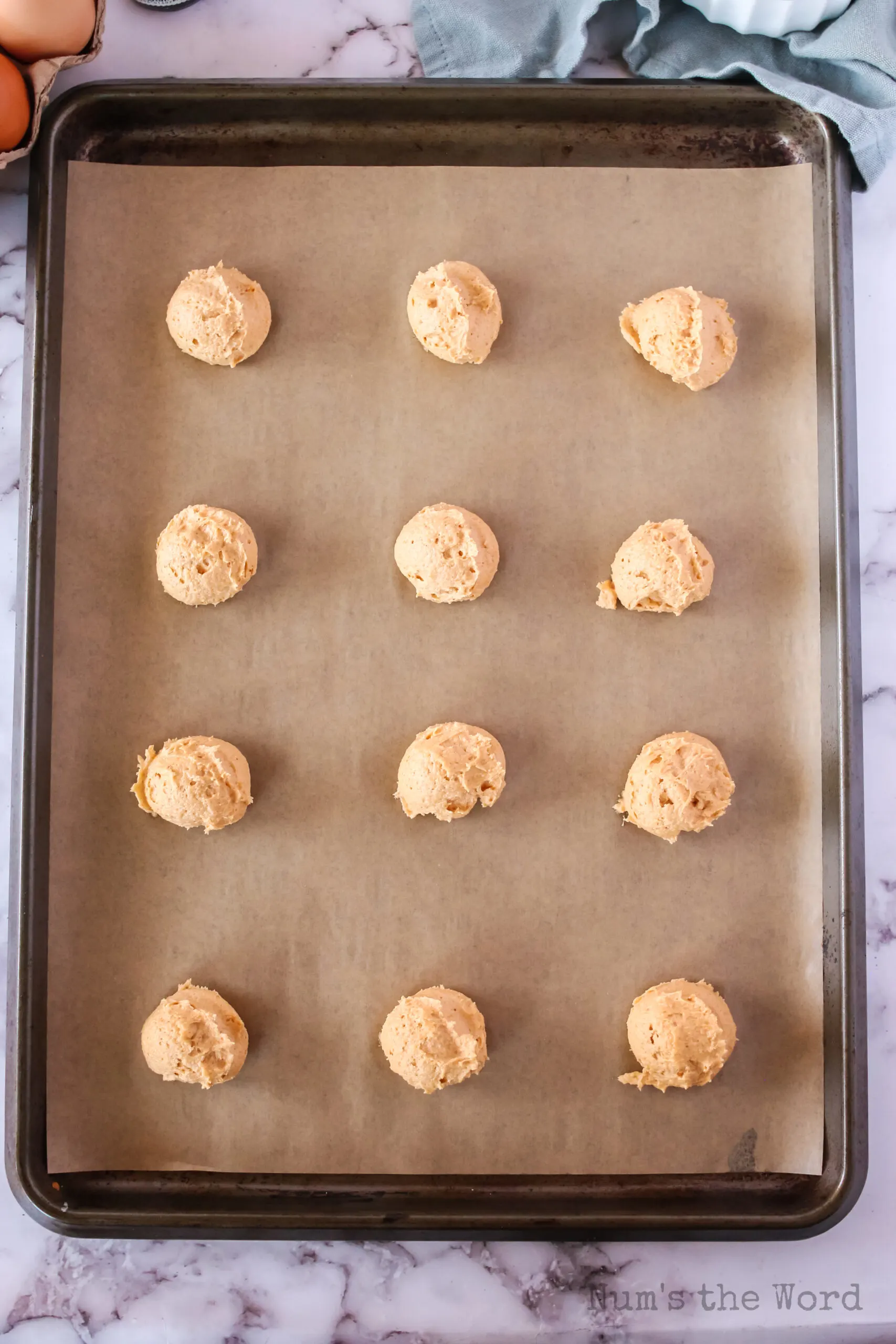 What ingredients are in pumpkin cookies?
White Shortening: this is what gives you soft pumpkin cookies; they are lighter than cookies made with butter
White Sugar: this absorbs moisture quickly which will balance the shortening to make your cookie a little crisp
Egg: this binds the dough together and gives the cookie its shape so it doesn't flatten into single layers of cookie mess
Vanilla Extract: even if you can't taste it, vanilla gives your cookies that one thing the takes it from plan to amazing
All-Purpose Flour: this gives your cookie its shape also, but you have to be careful because not enough will give you a flat mess and too much will be dry and overpower the taste
Baking Powder: this helps the cookies puff up while baking
Baking Soda: this lets the dough set before the eggs which makes it so your cookies are more evenly baked throughout
Cinnamon: adding this spice gives you a sweeter flavor than adding a pumpkin pie spice which has a more savory blend
Salt: this balances the flavors of every other ingredient in the recipe, giving your cookie more overall flavor
Pumpkin Puree: be sure to use puree and not pumpkin pie filling since that is mixed with other ingredients and will affect how the cookies cook
Pecans: optional, if you are going to add nuts, use pecans because the sweetness compliments the pumpkin very well
Raisins: optional
Butter: this keeps the frosting from getting too runny so it will set
Milk: this gives the frosting flavor and thins it so it isn't too thick
Brown Sugar: the molasses in this sugar adds the most flavor to the frosting
Powder Sugar: this is the main part of the frosting that gives it the classic frosting texture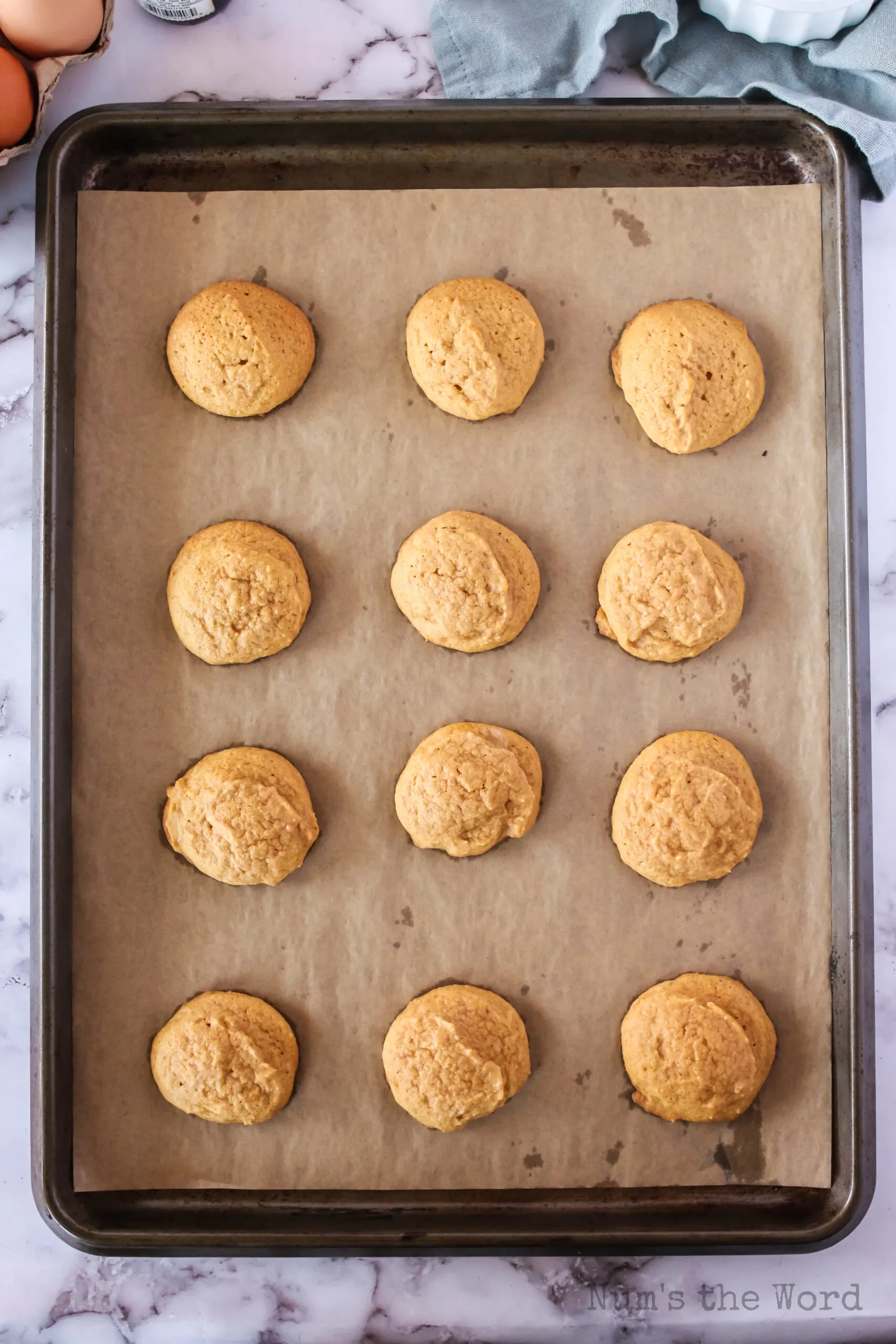 How to make pumpkin cookies:
Preheat the oven and line the cookie sheet with parchment paper.
Beat sugar and shortening in a large bowl with an electric mixer until fluffy.
Add egg and vanilla, then mix again.
Add dry ingredients and mix well.
Add pumpkin puree to the flour mixture and mix well.
Add pecans and/or raisins if you are using them and mix well.
Using a cookie scoop, scoop cookie dough balls out of the large mixing bowl onto the prepared baking sheets, and repeat until the dough is gone.
Bake until cooked through, then remove to a wire rack to cool, and make the frosting.
Melt butter in a saucepan, then add milk and brown sugar to the melted butter.
Bring to a boil and cook, stirring constantly for 2 minutes, then remove from heat and add powdered sugar.
Whisk continually until a smooth frosting comes together.
Spoon frosting over each cookie, then let cool and serve!
Pro Tips:
Don't make the frosting until all the cookies are done baking because it dries out.
Did you know that brown butter frosting is also referred to as Penuche Frosting? It's a cooked brown sugar frosting and also works great on cupcakes!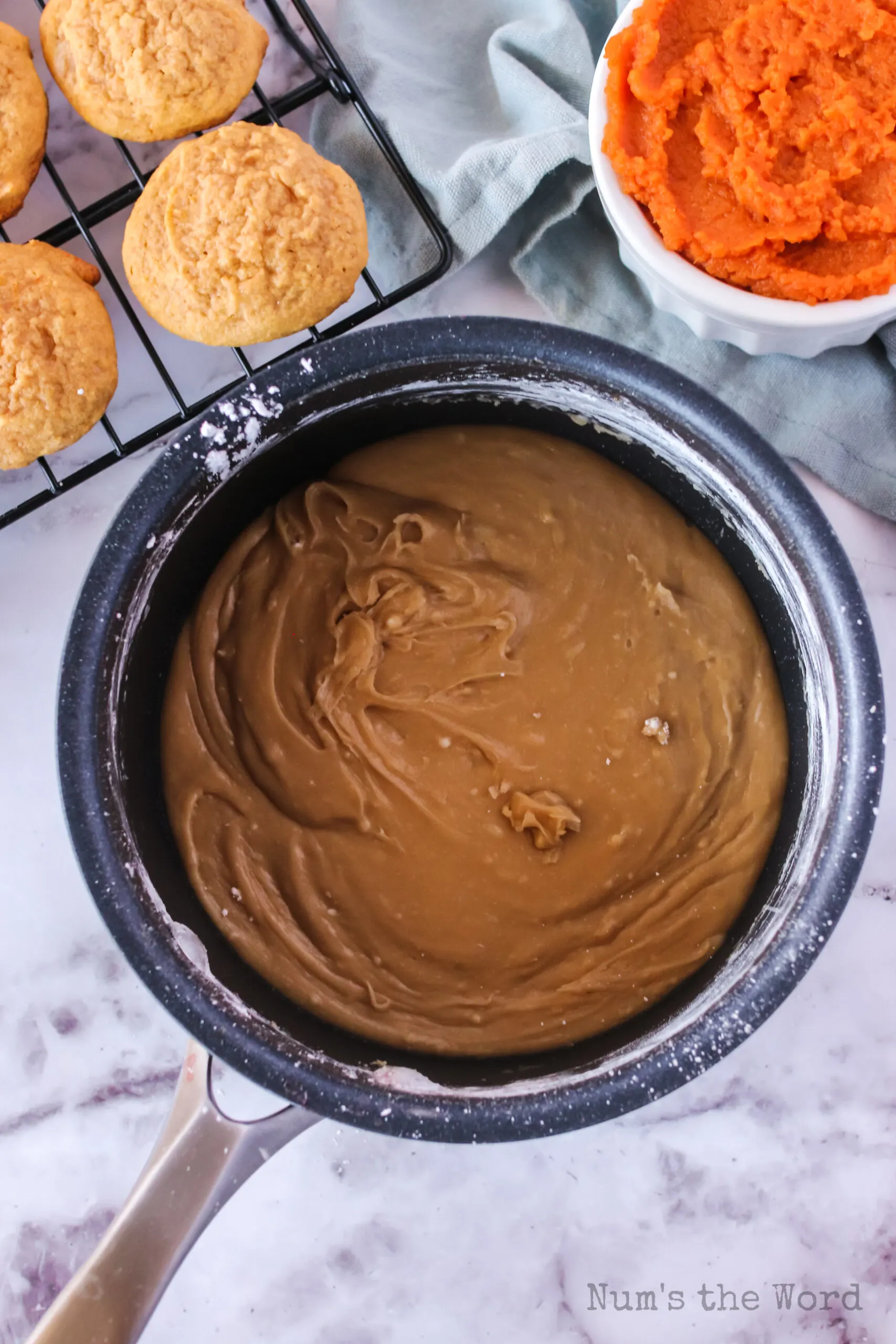 Do pumpkin cookies need to be refrigerated?
No, these frosted pumpkin cookies do not need to be refrigerated unless you live in an area where you are fighting extra humidity or bugs. Storing baked goods in the refrigerator can dry them out faster, so most of the time we suggest you do not put them in the fridge.
Pro Tip: Unbaked cookie dough should always be refrigerated, but once you have baked them the cookies are fine at room temperature.
How to store leftover pumpkin cookies:
Store pumpkin cookies in an airtight container on the counter. Then enjoy eating them as a snack or even as breakfast over the next week.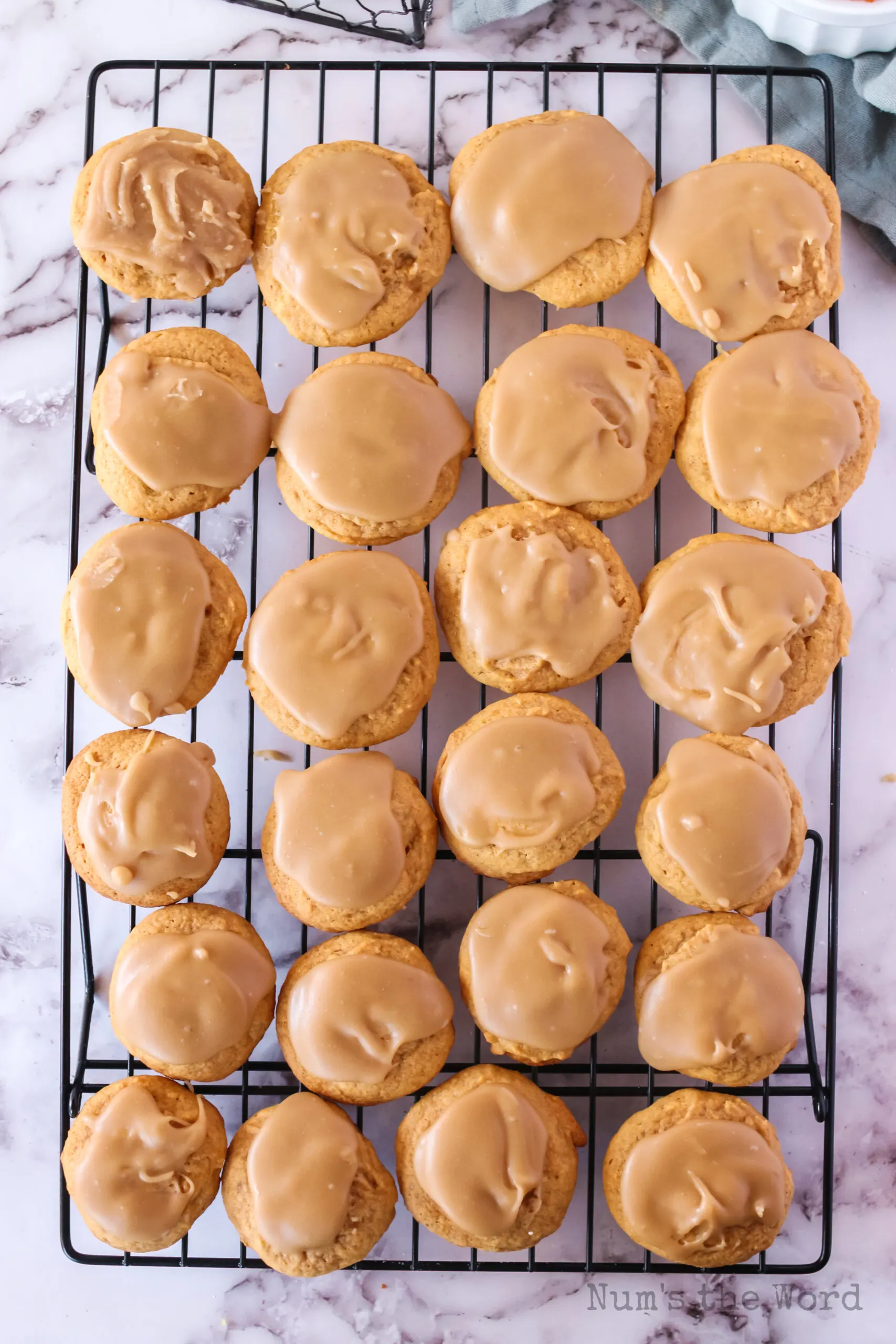 Can you freeze pumpkin cookies?
Yes you can freeze pumpkin cookies. For best results, wrap each cookie in plastic wrap then place them in a bag or freezer safe container so you can enjoy the flavors of pumpkin season without any of the extra work.
Are pumpkin cookies healthy?
No, these iced pumpkin cookies are not really healthy even though they do have a vegetable inside. But they do have a place in a healthy diet if you portion them and don't eat the whole batch in one sitting.
Can I use a fresh pumpkin in pumpkin cookies?
Yes you can use a fresh pumpkin to make this pumpkin cookies recipe. To do that you need to cook your pumpkin down, mash, and drain it until you get fresh pumpkin puree.
Sometimes homemade pumpkin puree is runnier than the canned puree, and that will affect this pumpkin cookie recipe. Be sure to let your puree drain in a cheesecloth or paper towels so you can get it as thick as possible.
Can dogs eat pumpkin cookies?
If you added raisins, your dog cannot eat pumpkin cookies since raisins can cause kidney failure in dogs. However, if you made it without raisins and your dog grabs one of these pumpkin frosted cookies, it won't be the most nutritious snack for them, but it won't hurt them to have just a bit.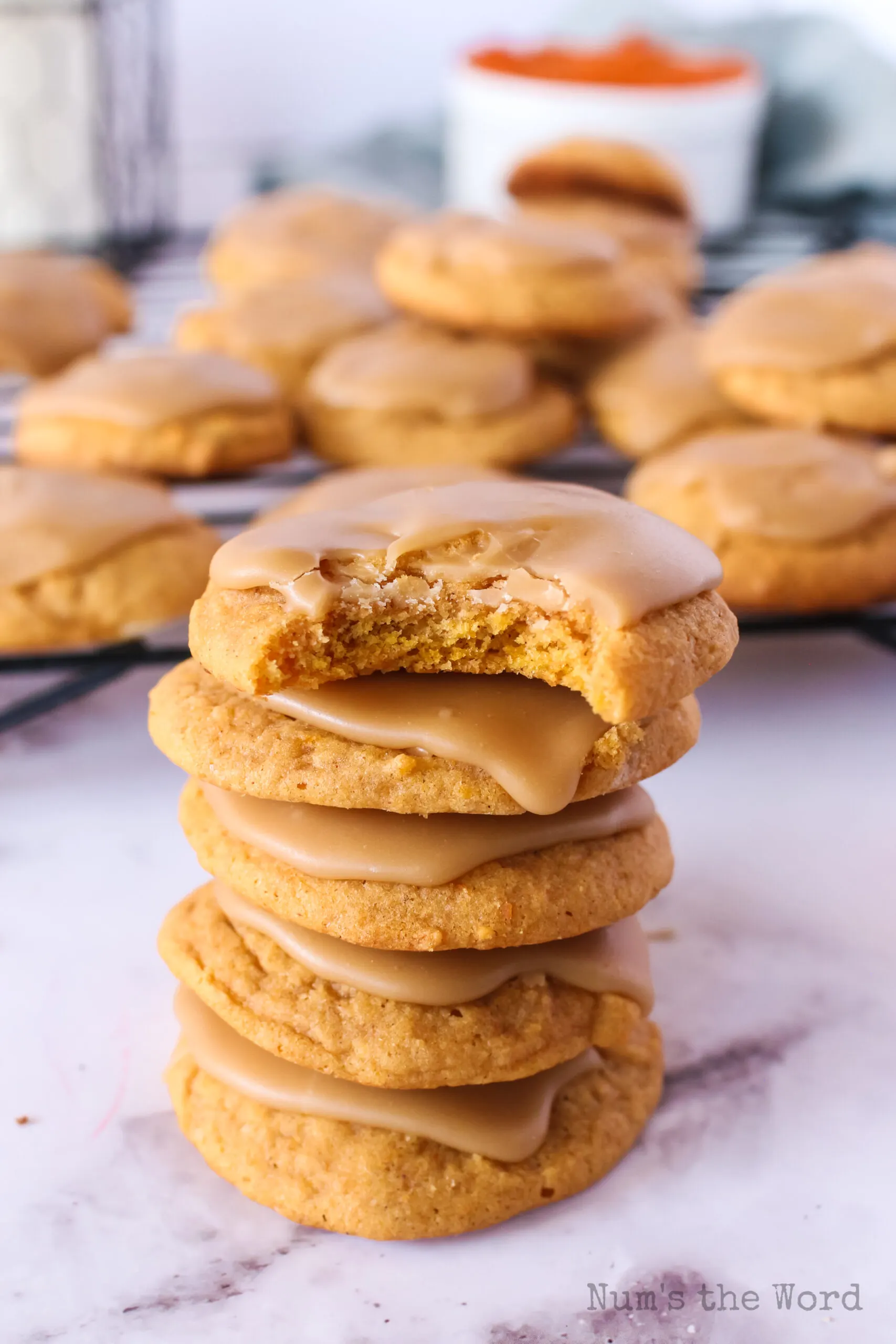 Pumpkin Recipes You'll Love..
With their great flavors, perfect dark brown sugar frosting, and excellent texture, you are sure to love these easy pumpkin cookies.
Yield: 36 Cookies
Pumpkin Cookies with Brown Sugar Frosting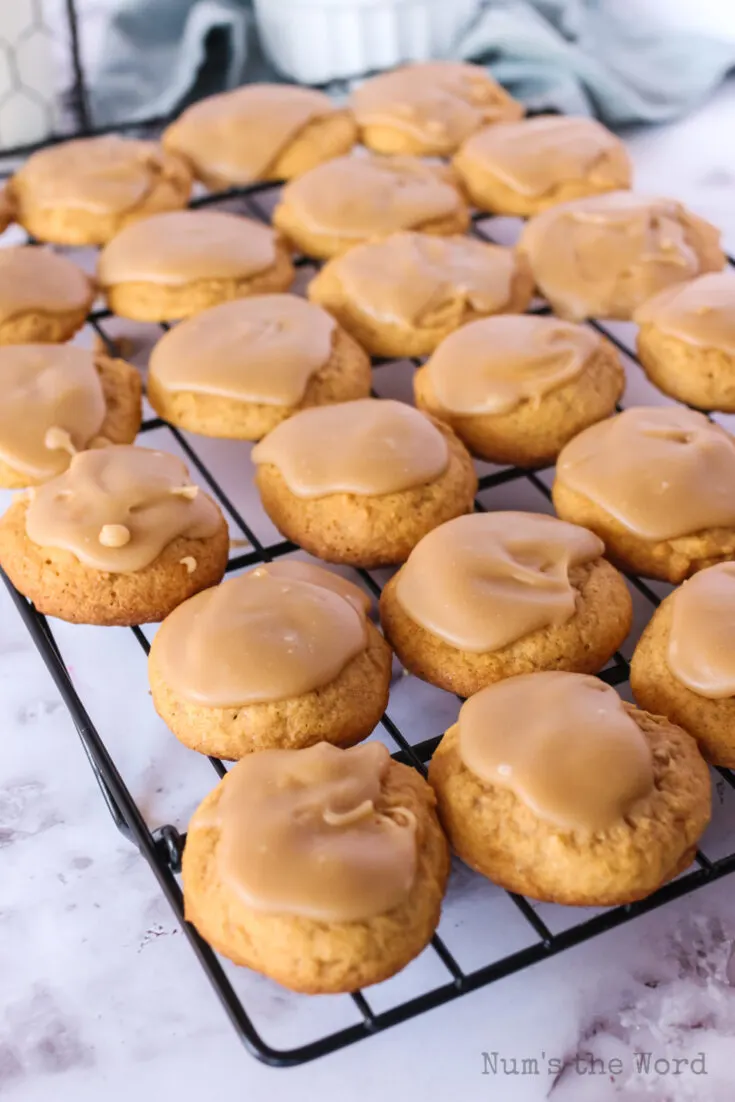 These delicious pumpkin cookies with brown butter frosting are one of those cookie recipes I pull out all year long, but I especially like to make them during the fall season.
Ingredients
Brown Butter Penuche Frosting
Instructions
Preheat oven to 350*F
Prepare two cookies sheets with parchment paper, a baking mat or non-stick foil
In a mixer, beat shortening and sugar until mixture is fluffy.
Add egg and vanilla and mix again.
Add flour, baking powder, baking soda, cinnamon and salt. Mix well.
Add pumpkin and mix well.
Add pecans and raisins if desired. Mix well.
Using a small cookie scoop, scoop 1-2 Tablespoons of dough onto cookie sheets.
Bake for 10 -12 minutes or until cookies look done.
After all cookies have baked, and while they cool, make frosting.
In a saucepan, melt butter.
Once butter is melted, add milk, and sugar. Bring to a boil and cook for 2 minutes.
After cooking for 2 minutes, while stirring, remove from heat and add powdered sugar.
Whisking continually until a lovely smooth frosting comes together.
Spoon frosting over each cookie quickly.
Let cool and serve.
Nutrition Information:
Yield:
36
Serving Size:
1
Amount Per Serving:
Calories:

139
Total Fat:

8g
Saturated Fat:

3g
Trans Fat:

0g
Unsaturated Fat:

4g
Cholesterol:

11mg
Sodium:

89mg
Carbohydrates:

17g
Fiber:

0g
Sugar:

16g
Protein:

0g