Pumpkin French Toast is a delicious and easy fall breakfast! It tastes ah-mazing covered in a slice of butter and a drizzle of maple syrup.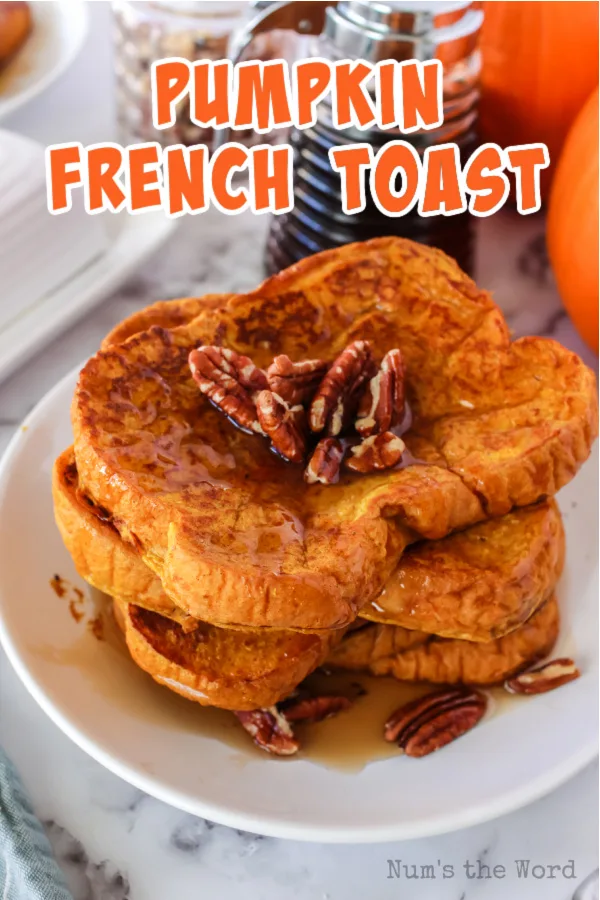 What is better than a thick slice of bread coated in eggs, milk, butter, and pumpkin spice?
It's a meal that will have everyone waking up from their beds and rushing to the breakfast table.
So be sure to cook these when you want to get everyone up!
I love that pumpkin spice French toast is easy to make.
It's as easy as whipping up regular French toast but with a hearty dose of autumn.
I also love that this pumpkin French toast recipe can be easily customized.
If you want more pumpkin or less pumpkin flavor, just increase or decrease the pumpkin spice.
And finally, I love that pumpkin pie French toast is fast.
Breakfast is the time when I'm hungry. Not when I want to wait 2 hours for the thing to cook.
Especially on a cool fall morning. Mix some of this pumpkin brioche French toast with a steaming mug? Perfect breakfast food!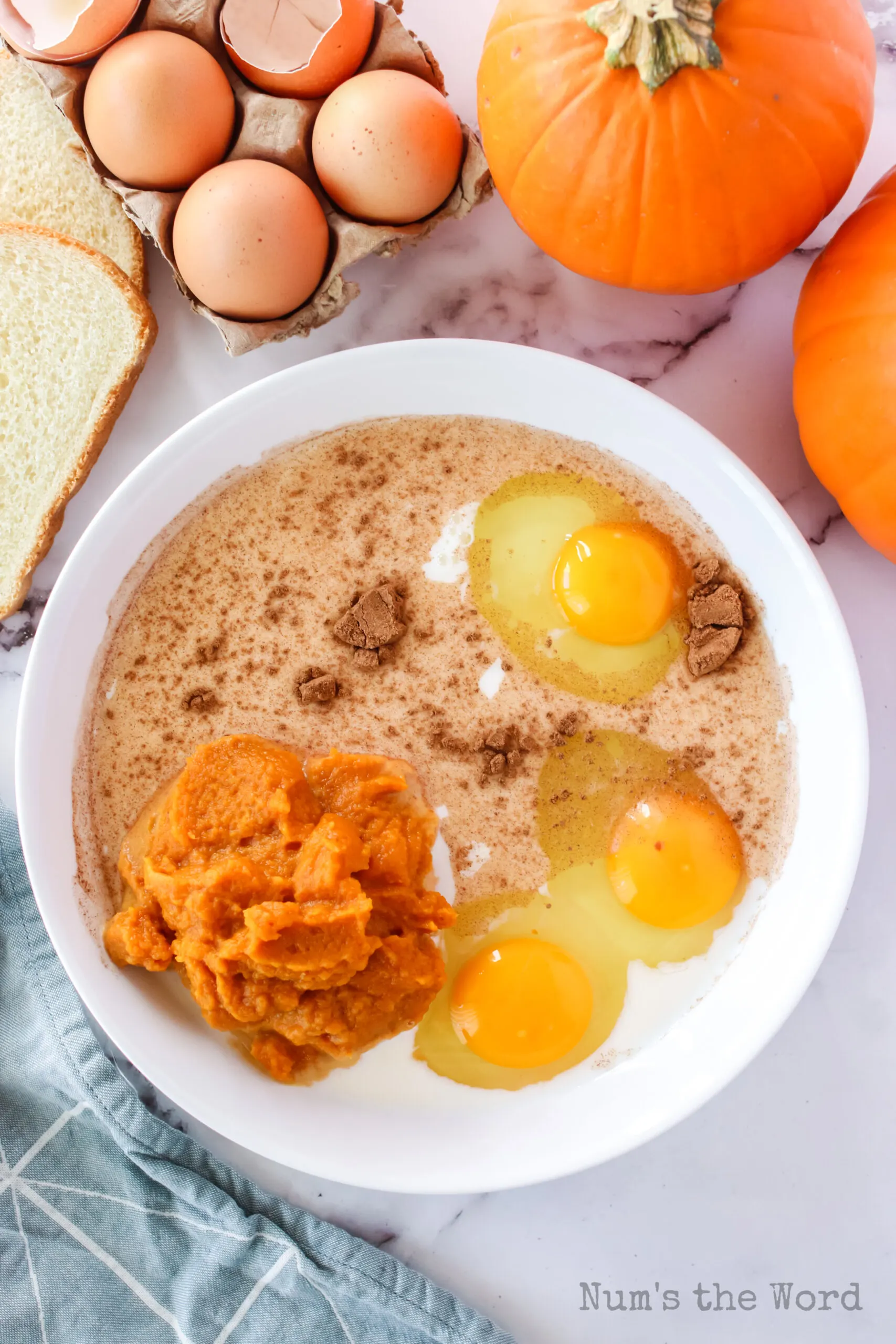 What is French Toast?
French toast is typically a thick slice of bread that is soaked in an egg and milk mixture. It is then pan fried until golden brown on both sides.
It's a classic recipe that can be served with syrup, butter, powdered sugar, sliced fruit, nuts, or even whipped cream.
When looking up French toast online I found it can also be called "Bombay toast", "eggy bread", or "gypsy toast". The pumpkin version of French toast makes the perfect fall breakfast.
Is French Toast French?
While French toast has no clear origins, it is eaten in France. In France, French toast is called "pain perdu" which means "lost bread."
Often French toast was made with stale bread that had become too hard to eat. But the bread could be saved by soaking it in eggs and milk and then frying it.
In this way, you didn't need to toss the bread but still got a delicious meal. The actual name "French toast" appears to have come from England.
I'm not sure why they call it French toast as it's eaten all around the world, but it's definitely caught on in the United States and England.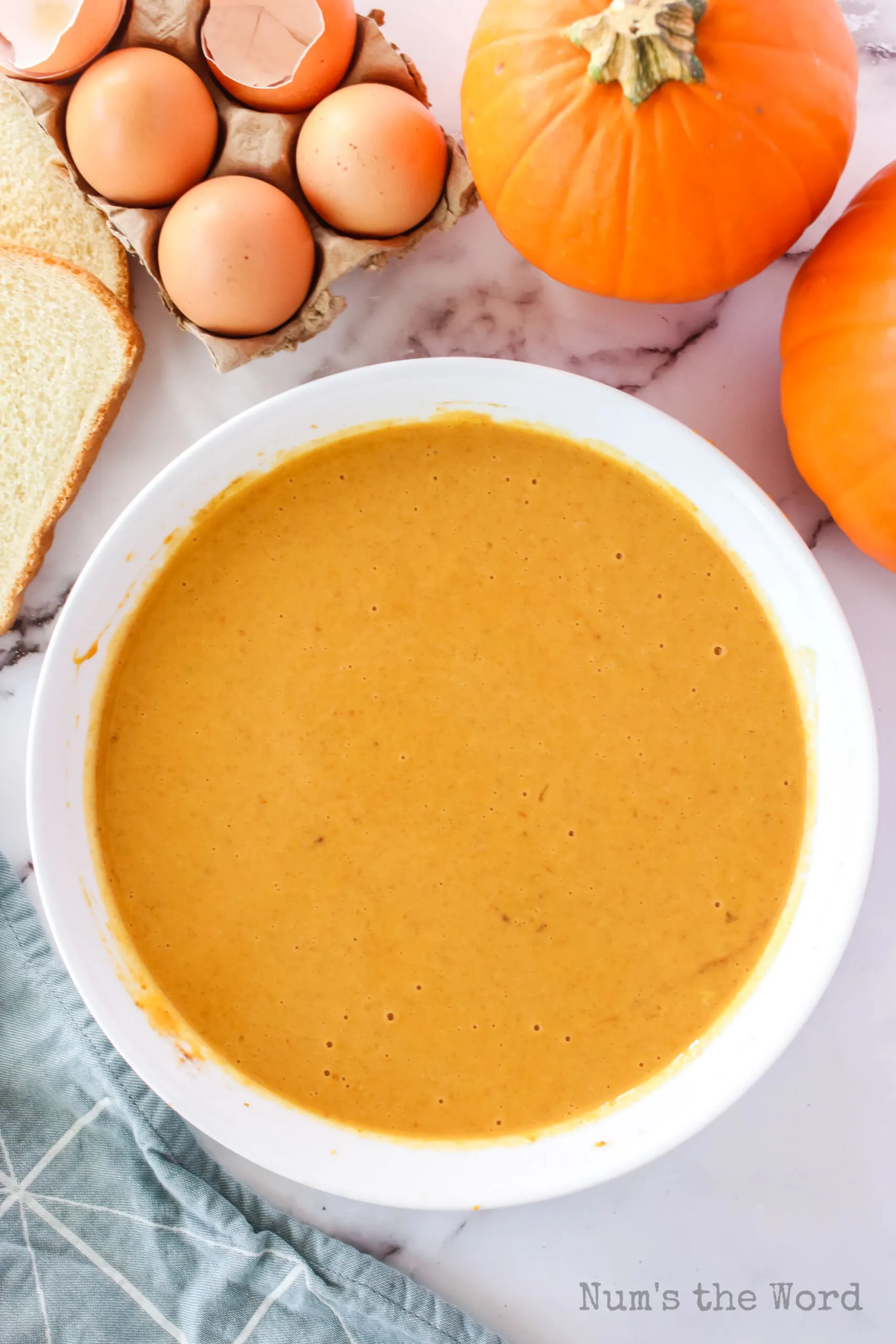 What Ingredients are in Pumpkin French Toast?
Here's the simple ingredients you'll need to get pumpkin French toast on your table.
Bread: Use a thick cut of bread that'll hold together when dipped. We love Texas toast style bread.
Large Eggs: The eggs will create an egg wash on the outside of the bread.
Milk: Any percentage of milk or even nut milks will work.
Pumpkin Puree: Canned pumpkin is not the same as canned pumpkin pie filling. Be sure to get canned pumpkin.
Pumpkin Spice: This can also be called pumpkin pie spice at the grocery store.
Toppings: Butter, maple syrup, powdered sugar, and pecans all make it to the table at our house.
Pro Tips:
Really any kind of bread will work except that flimsy white bread that just falls flat.
Other types of bread are Brioche bread, or a loaf of French bread.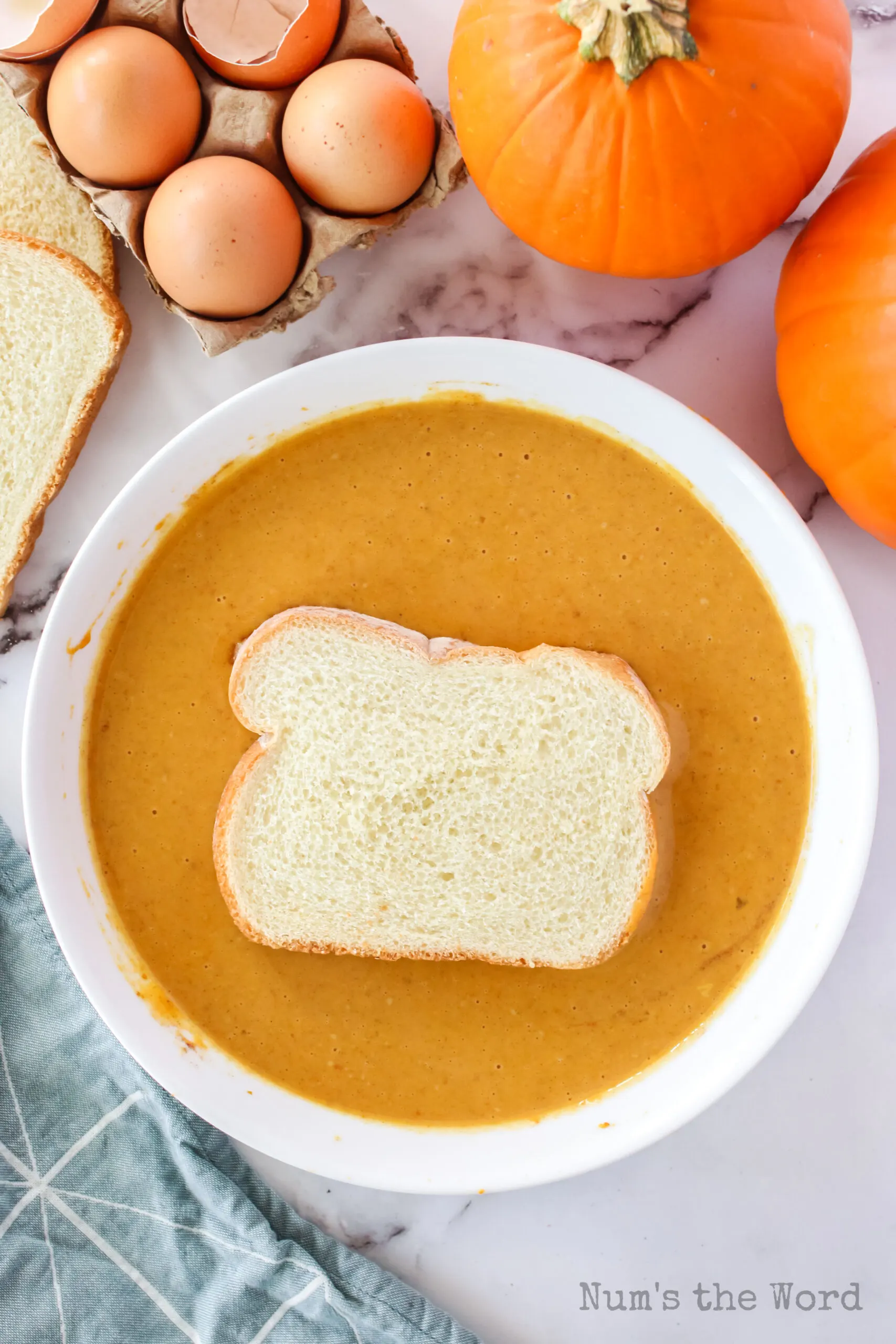 How to Make Pumpkin French Toast
Mix: Whisk all the dipping ingredients together until smooth.
Dip: Place bread slices in egg mixture but don't soak for too long.
Fry: Using a hot skillet, griddle of frying pan, cook until golden brown on each side.
Pro Tips:
This recipe has a mild pumpkin flavor. For a stronger pumpkin flavor, increase the pumpkin spice.
Be sure to use a large bowl that you can dip the bread into.
Cook over medium heat to prevent the French toast bake from burning.
Be sure to use a cooking spray or butter to keep the bread from sticking.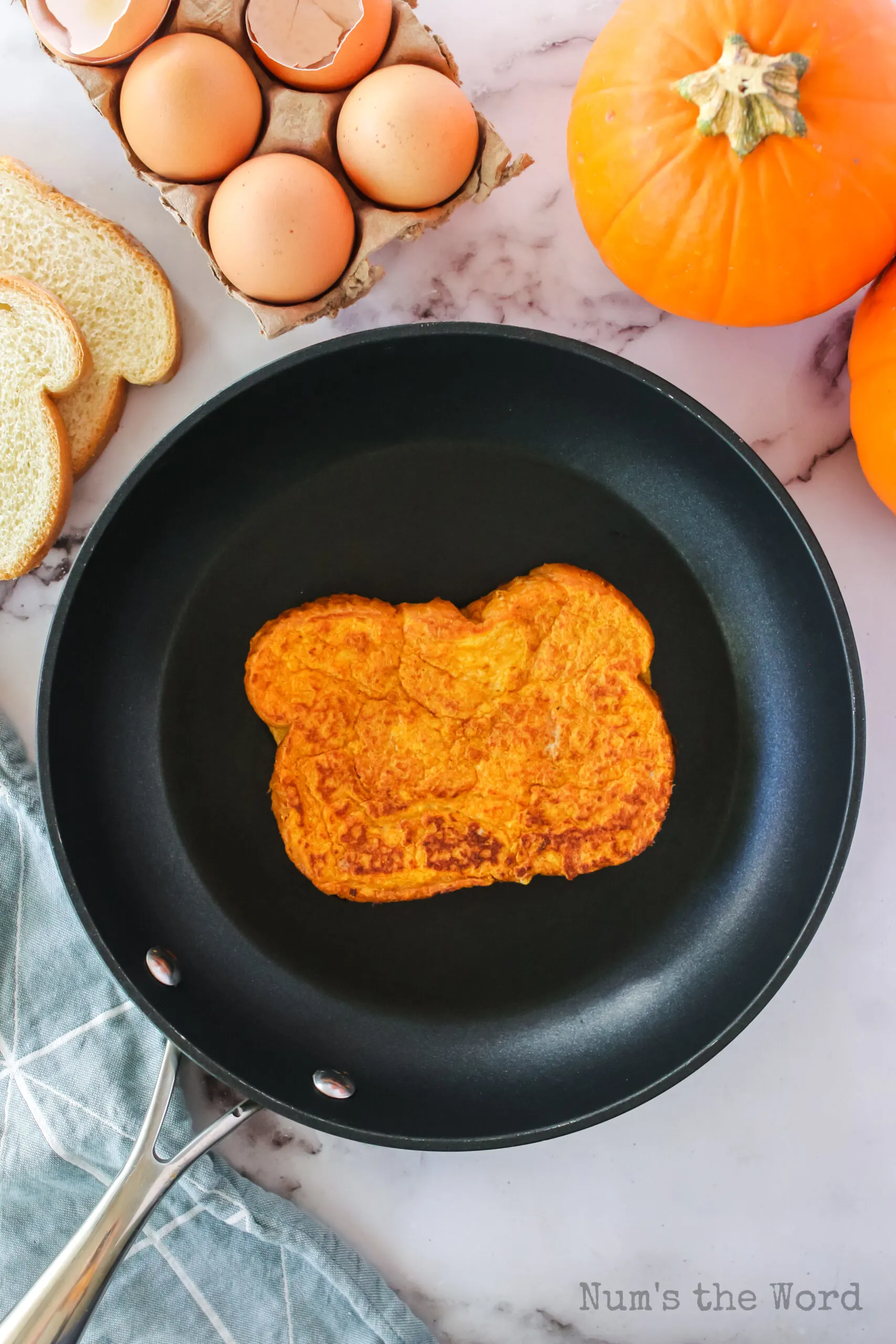 Is there Pumpkin in Pumpkin French Toast?
Actually there is pumpkin in pumpkin French toast!
Some recipes don't call for actual pumpkin but I find the pumpkin adds a really nice flavor and texture.
If you don't have actual pumpkin on hand, I suggest increasing the pumpkin spice to replace it.
When to Serve Pumpkin French Toast
Pumpkin French toast should be served all year long!
Okay, I guess it's not really socially acceptable to eat pumpkin all year long.
As it's the fall season, and that's when we adore all things pumpkin, I suggest eating it then.
You can serve it for a delicious fall breakfast, or brunch, or even as a fun breakfast for dinner treat.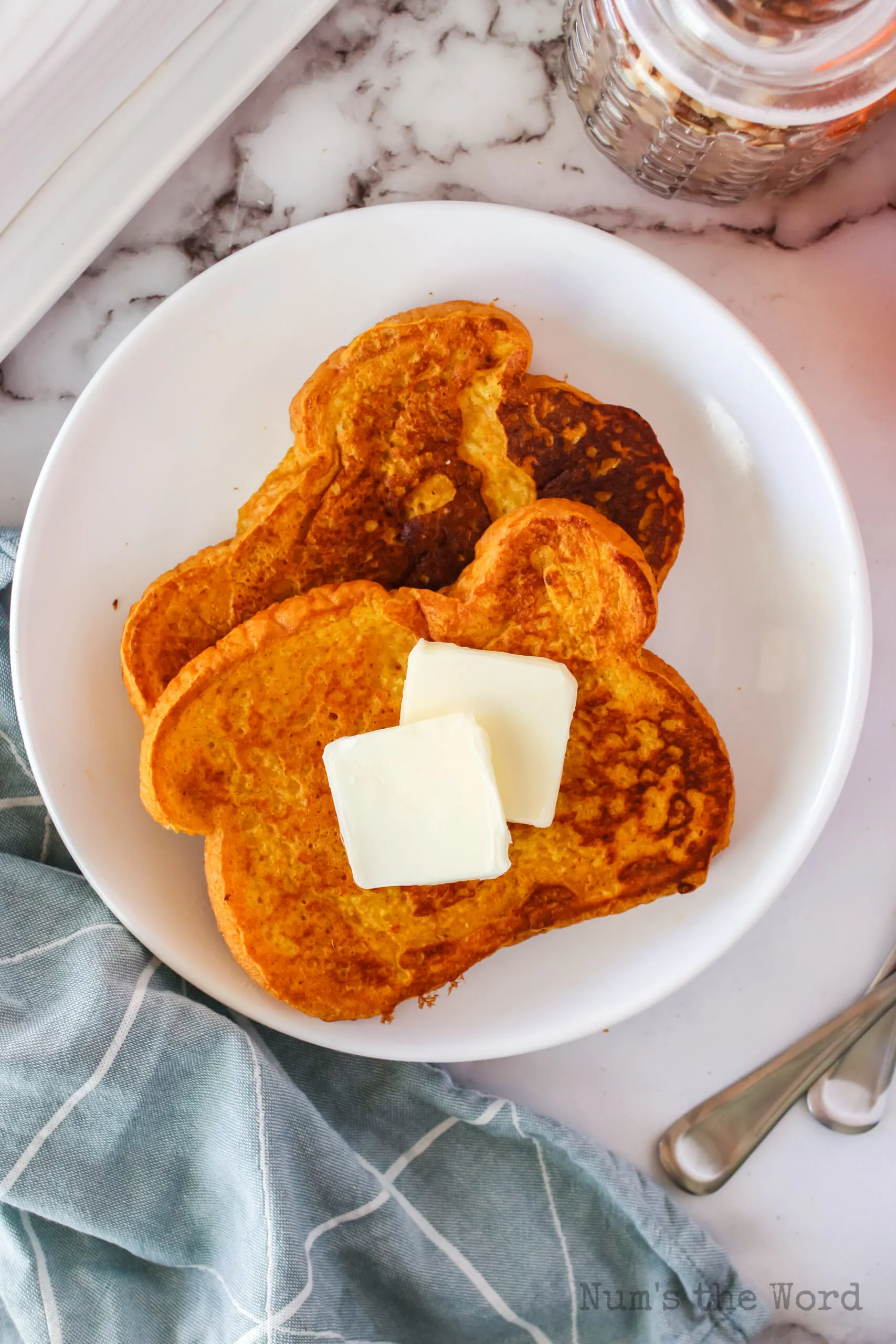 Is Pumpkin French Toast Healthy?
Pumpkin is loaded with vitamin A, vitamin C, and potassium.
While French toast is more of a comfort food, adding pumpkin to it definitely helps increase the nutrition!
You can make other changes to also make a healthier French toast.
Choose whole wheat bread or healthy seed breads.
Use almond milk or other types of healthy milk.
Go easy on the syrup and instead serve with fruits and nuts.
Who Invented French Toast?
It's not entirely clear who actually invented French toast.
It's been eaten all around the world for centuries and it has even been traced back to the Roman Empire.
So while I'm not sure who actually invented it, I'm sure glad they did!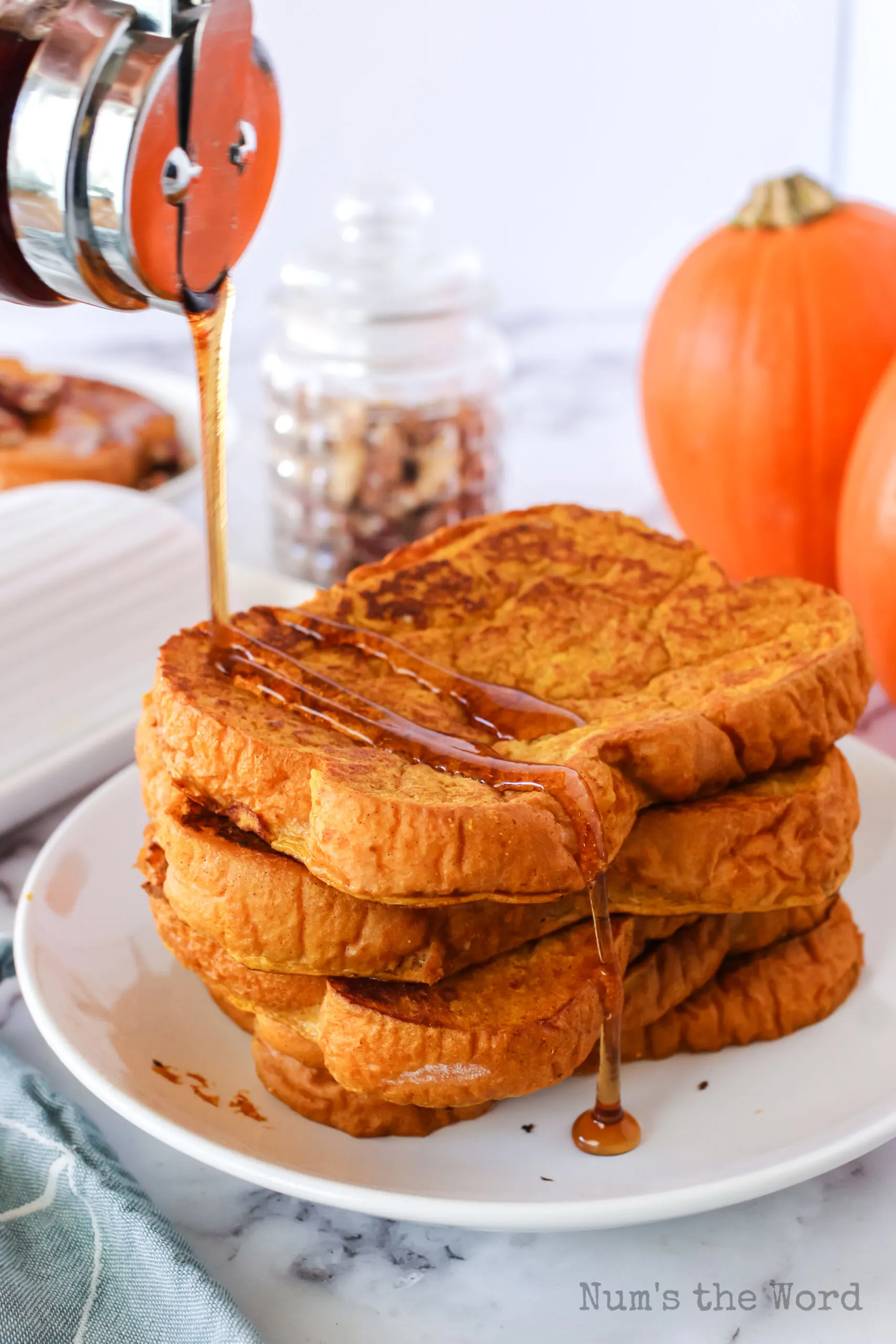 How to Store Pumpkin French Toast
Store leftover pumpkin French toast in the fridge.
Be sure to keep it in an airtight container.
When you're ready to reheat, firm it up again on the stove or in a toaster, or toaster oven.
How Long Does Pumpkin French Toast Last?
As long as it is stored properly, pumpkin French toast will last for 3-5 days in the fridge.
You can make it ahead of time and have it as an easy breakfast meal all week!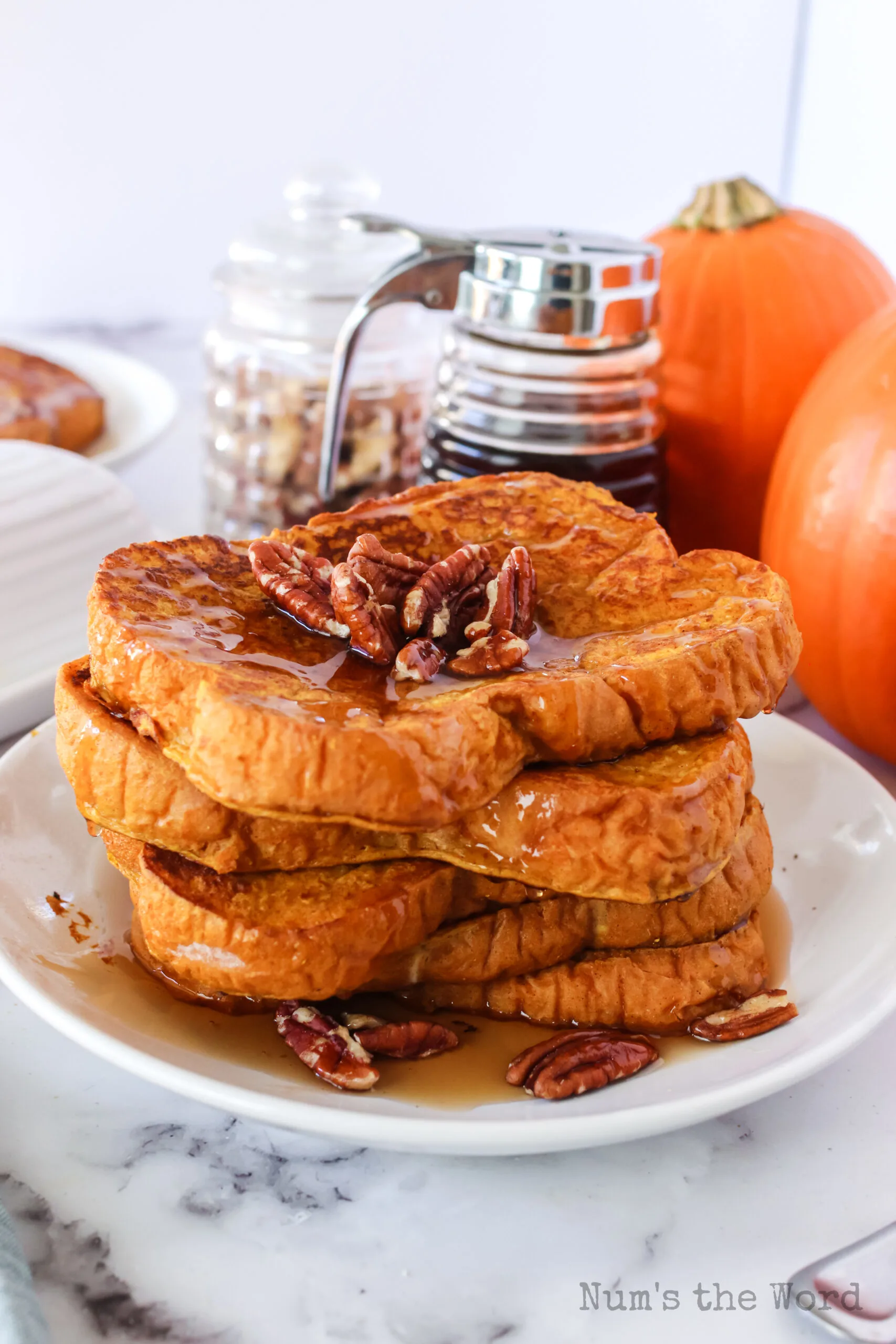 Can You Freeze Pumpkin French Toast?
You can also freeze this classic French toast recipe!
First, allow the pumpkin French toast pieces to cool completely.
Then layer them in a single layer on a baking sheet.
Place the baking sheet in the freezer and flash freeze for 30 minutes.
This way the French toast won't squash and stick together when you move it to the freezer bag.
Label the freezer safe bag with the name of the recipe and the date.
You can take the frozen French toast straight from the freezer to the toaster and have a quick and easy breakfast.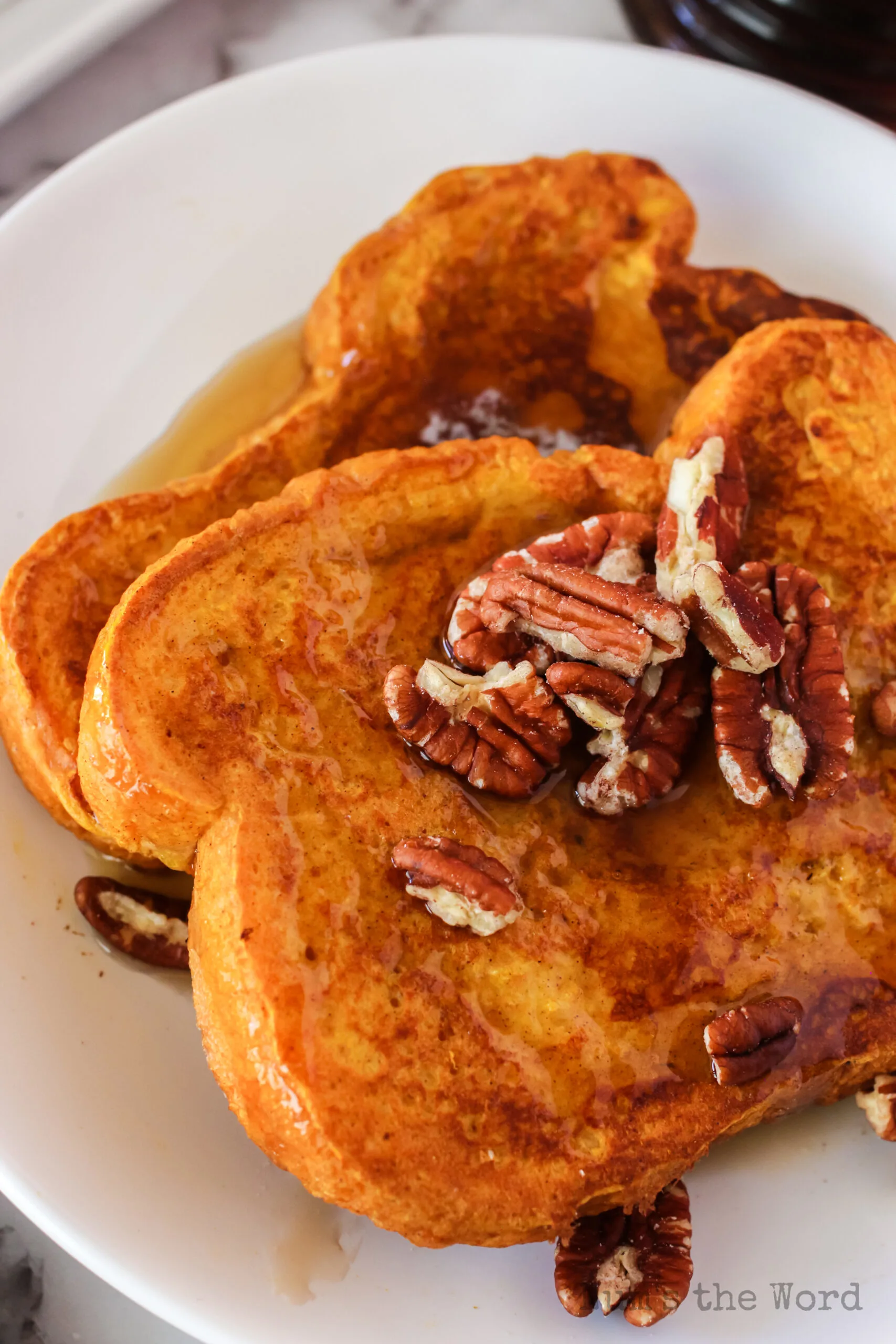 Can Dogs Eat Pumpkin French Toast?
Pumpkin can actually be healthy for dogs in small doses.
But French toast is full of wheat and dairy products that can cause all sorts of problems for your dog's digestive system.
So if you'd like to share, give your dog one scoop of pumpkin while prepping your easy recipe.
Then your dog gets the nutrients it needs without all the other things it doesn't.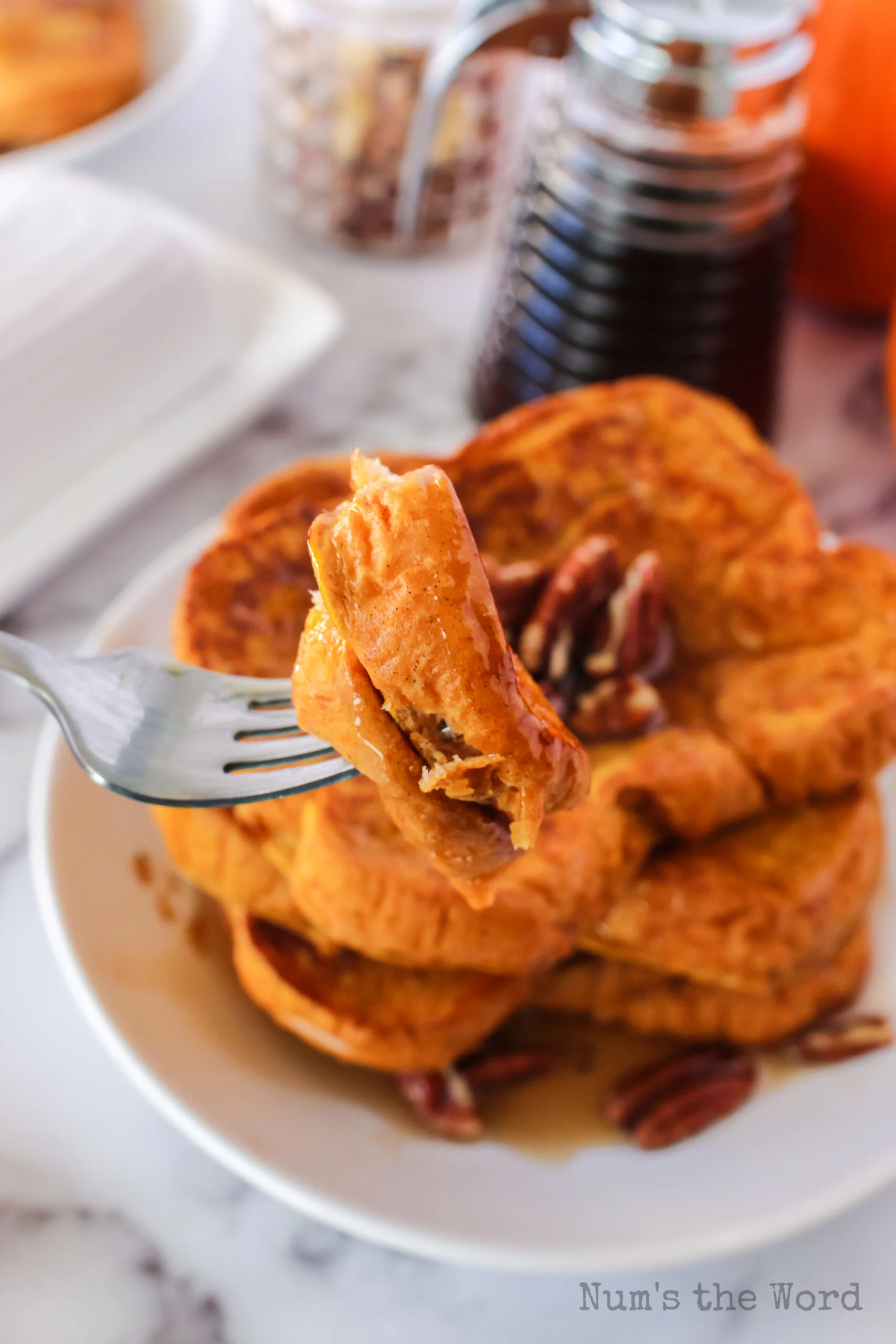 More Pumpkin Recipes You'll Love…
I know you'll love this delicious pumpkin French toast! It's warm, delicious, and such an inviting breakfast on a cold morning!
Enjoy this family favorite!
Yield: 9 Slices
Pumpkin French Toast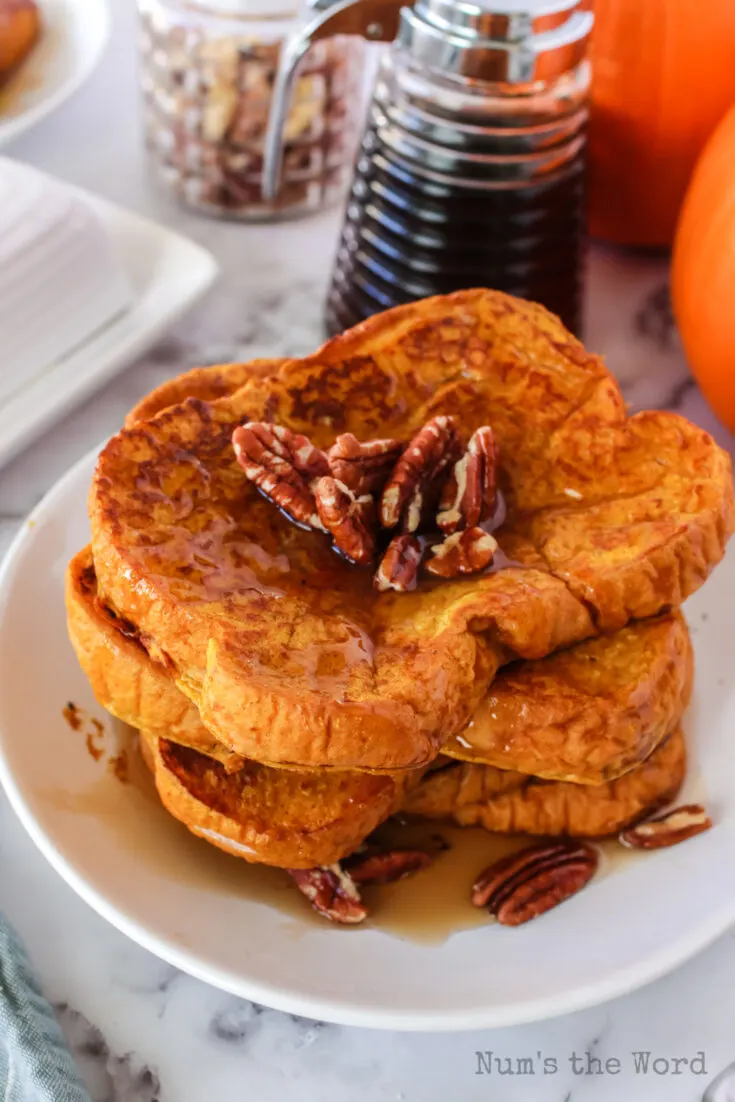 Pumpkin French Toast is a delicious and easy fall breakfast! It tastes ah-mazing covered in a slice of butter and a drizzle of maple syrup.
Ingredients
9 slices of thick cut bread. We love thick sliced Texas toast style bread
3 eggs
1/2 cup milk
3/4 cup canned pumpkin
1 tsp pumpkin pie spice
Butter, syrup, powdered sugar and pecans for serving
Instructions
In a medium mixing bowl, whisk together the eggs, milk, pumpkin and pie spice until smooth.
Spray griddle or frying pan with cooking spray or grease up with a little butter.
Preheat griddle or frying pan to medium heat.
Dip each side of the bread into pumpkin mixture.
Lay each slice down onto the hot griddle or pan.
Once cooked, flip bread over and cook on other side. This should take 1 - 2 minutes per side.
Once all are cooked, serve with butter, maple syrup, powdered sugar and pecans if desired.
Notes
This recipe can be frozen. Once cooked, allow french toast to cool completely. Place in a freezer bag and freeze for up to 3 months. When ready to eat, remove from bag and heat in toaster or toaster oven to crisp up.
Nutrition Information:
Yield:
9
Serving Size:
1
Amount Per Serving:
Calories:

146
Total Fat:

3g
Saturated Fat:

1g
Trans Fat:

0g
Unsaturated Fat:

2g
Cholesterol:

63mg
Sodium:

109mg
Carbohydrates:

27g
Fiber:

1g
Sugar:

21g
Protein:

4g
Originally Posted: October 10, 2014
Photos & Text Updated: September 21, 2022