Cranberry Punch is the perfect holiday season drink! Sweet and delicious, it's a crowd pleaser every year!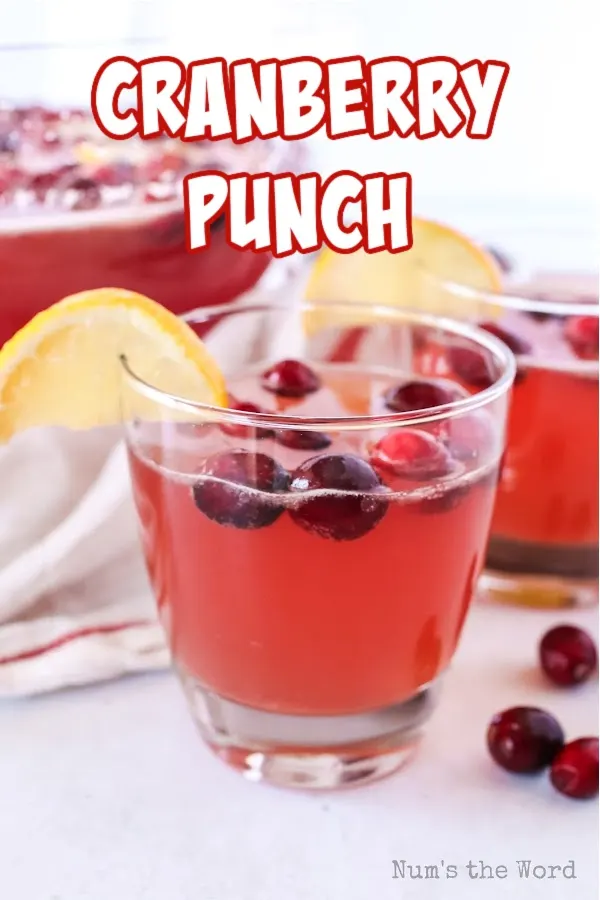 This drink is both tart and tangy and sweet and bubbly. It's the perfect drink because everyone will love it!
We love using it as a Thanksgiving drink or a Christmas drink because of it's festive look The perfect holiday punch recipe !
But because it uses cranberry juice instead of fresh cranberries, you can actually make this Cranberry punch recipe all year long!
You'll love that this is a quick drink. No complicated steps, mostly just open them up, mix, and enjoy that cranberry ginger ale punch!
There's also no special ingredients. All of these are simple ingredients you can find in almost any grocery store.
And since this is a non alcoholic cranberry punch you can serve it's totally family friendly!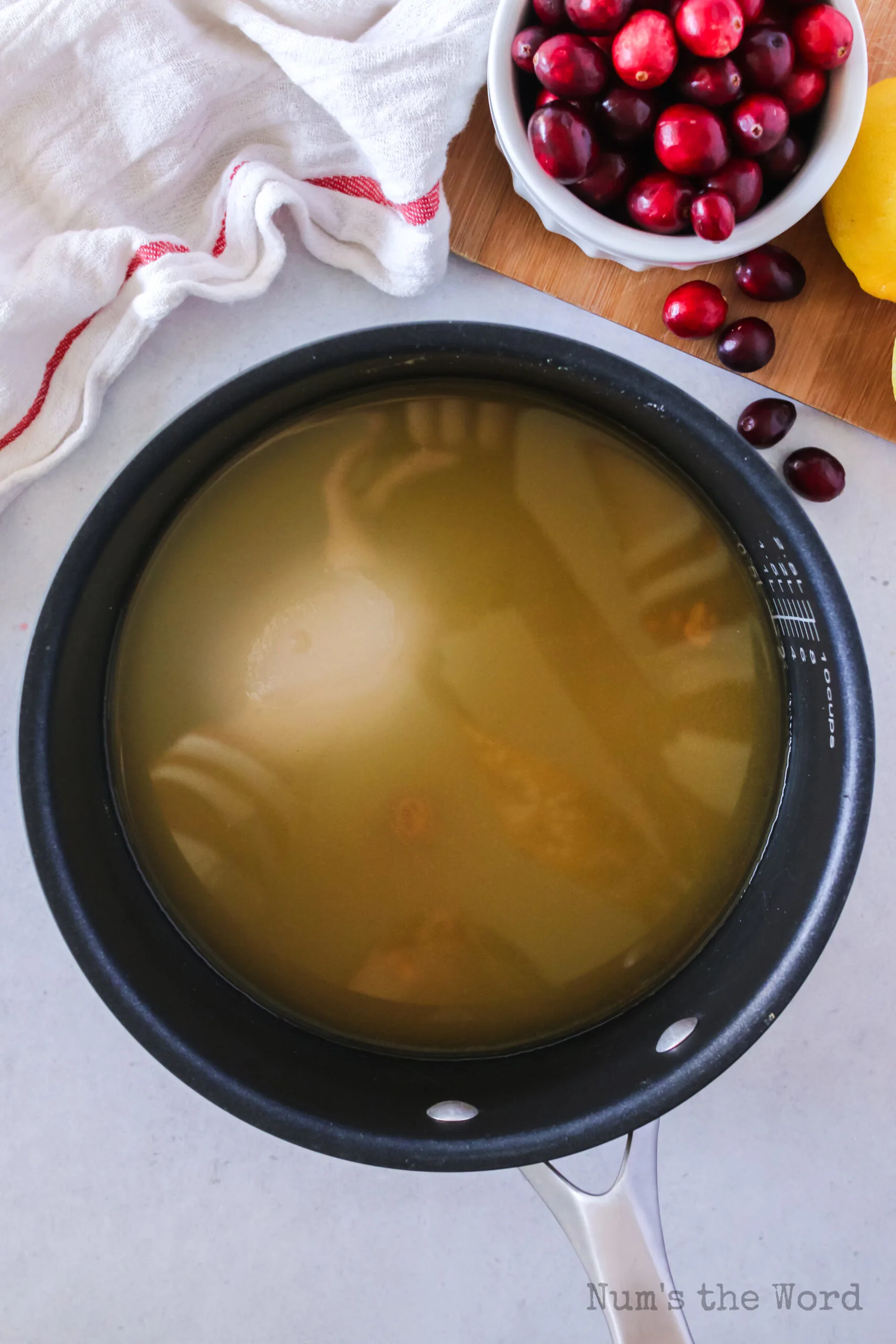 What Ingredients are in Cranberry Punch?
Here's the simple ingredient list you'll need to take with you to the grocery store.
Sugar: Use white cane sugar. I haven't tested brown sugar or other sugar substitutes.
Ginger: Ground ginger spices things up and really adds flavor.
Water: The water will add substance to the cranberry juice punch.
Lemon Juice: You can use bottled or fresh lemon juice in this recipe.
Apple Juice: The apple juice really pairs nicely with the cranberry juice.
Cranberry Juice: Cranberry juice tends to be tart on its own but not when mixed with all the other ingredients.
Ginger-Ale: Ginger ale is what makes this easy punch so fizzy! Love that carbonation!
Pro Tips:
Get the 100% cranberry juice. The other juices tend to be sweetened already and your punch may turn out too sweet.
Don't buy cranberry juice cocktail. It has many other fruits mixed in that'll change the flavor.
Ginger beer tends to have a much stronger flavor than ginger ale but you could use that too if desired.
Lemon Lime Soda or Club Soda could be substituted for the Ginger Ale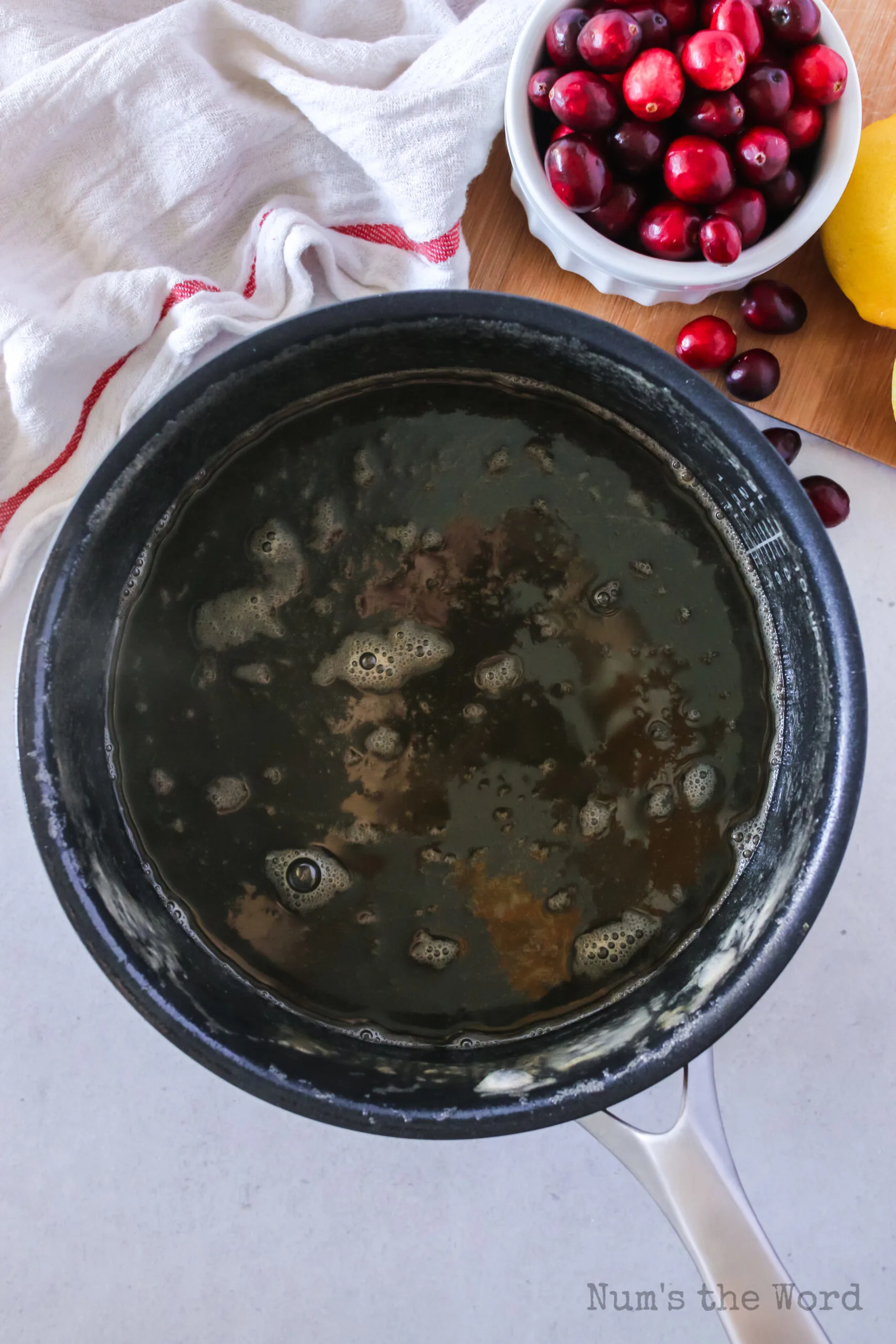 How to Make Cranberry Punch?
Heat: Cooking the sugar, ginger, and water together ensures that the sugar will fully dissolve in the drink.
Mix: Then you'll add in everything but the ginger ale and chill until ready to use.
Add: Right before serving, toss in the ginger-ale and frozen ice cubes. Perfect!
Pro Tips:
Plain ice cubes can water down your punch. Freeze one ice cube tray using the punch and you've got the perfect ice cubes!
Keep ginger ale cold so it doesn't warm up the party punch when you add it at the last minute.
Keep the cranberry punch in the fridge so it's not room temperature when you serve it.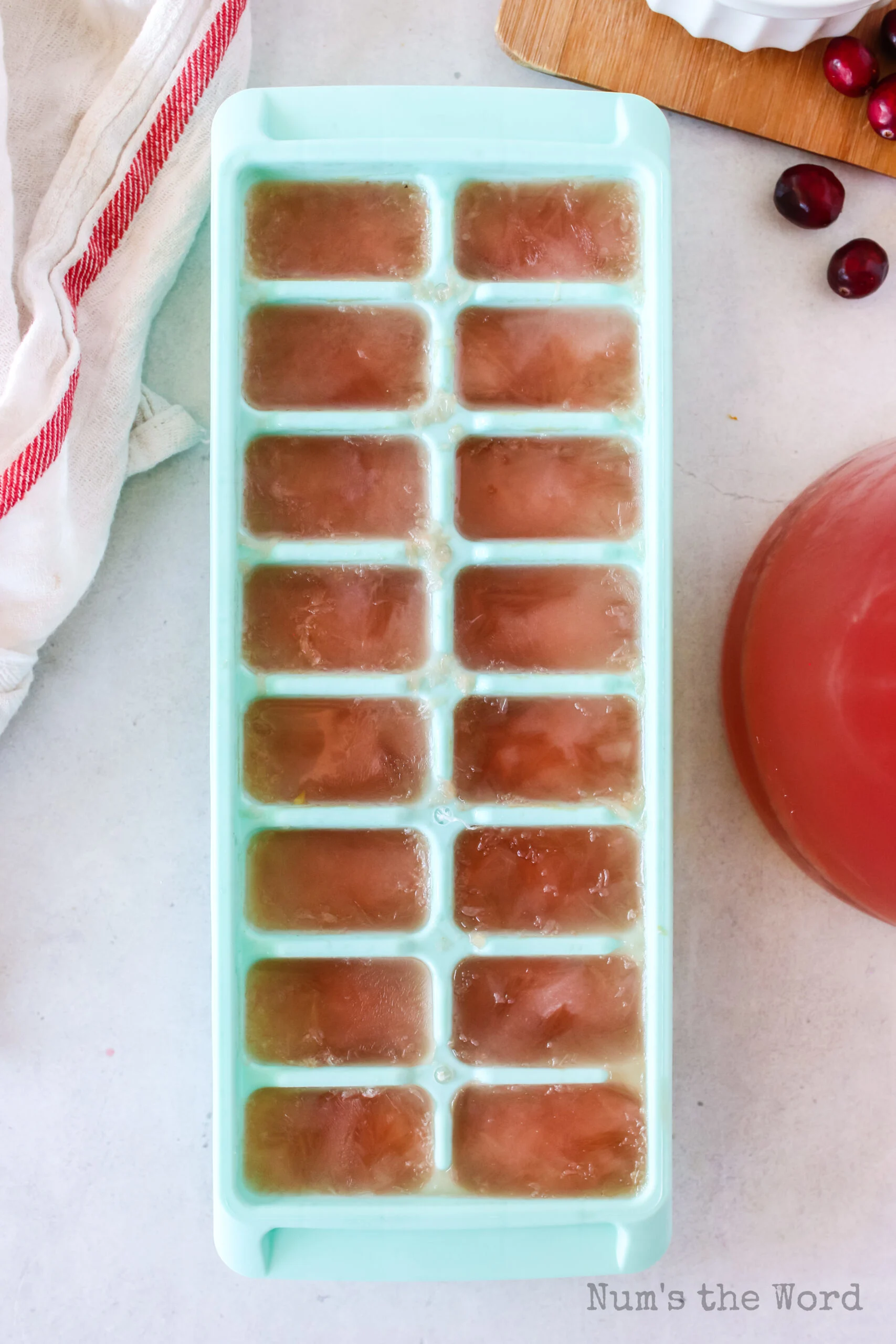 Can I Make Cranberry Punch Ahead of Time?
You can absolutely make cranberry punch ahead of time! Christmas cranberry punch is the perfect holiday drink.
You can make it ahead of time and it'll be a huge hit at party time!
You'll follow the directions, put everything in the fridge, and store until you're ready to use.
The only things you'll want to add at the last minute are the ginger ale and the cranberry juice.
Make the cranberry punch up to 2 days before you'll need it.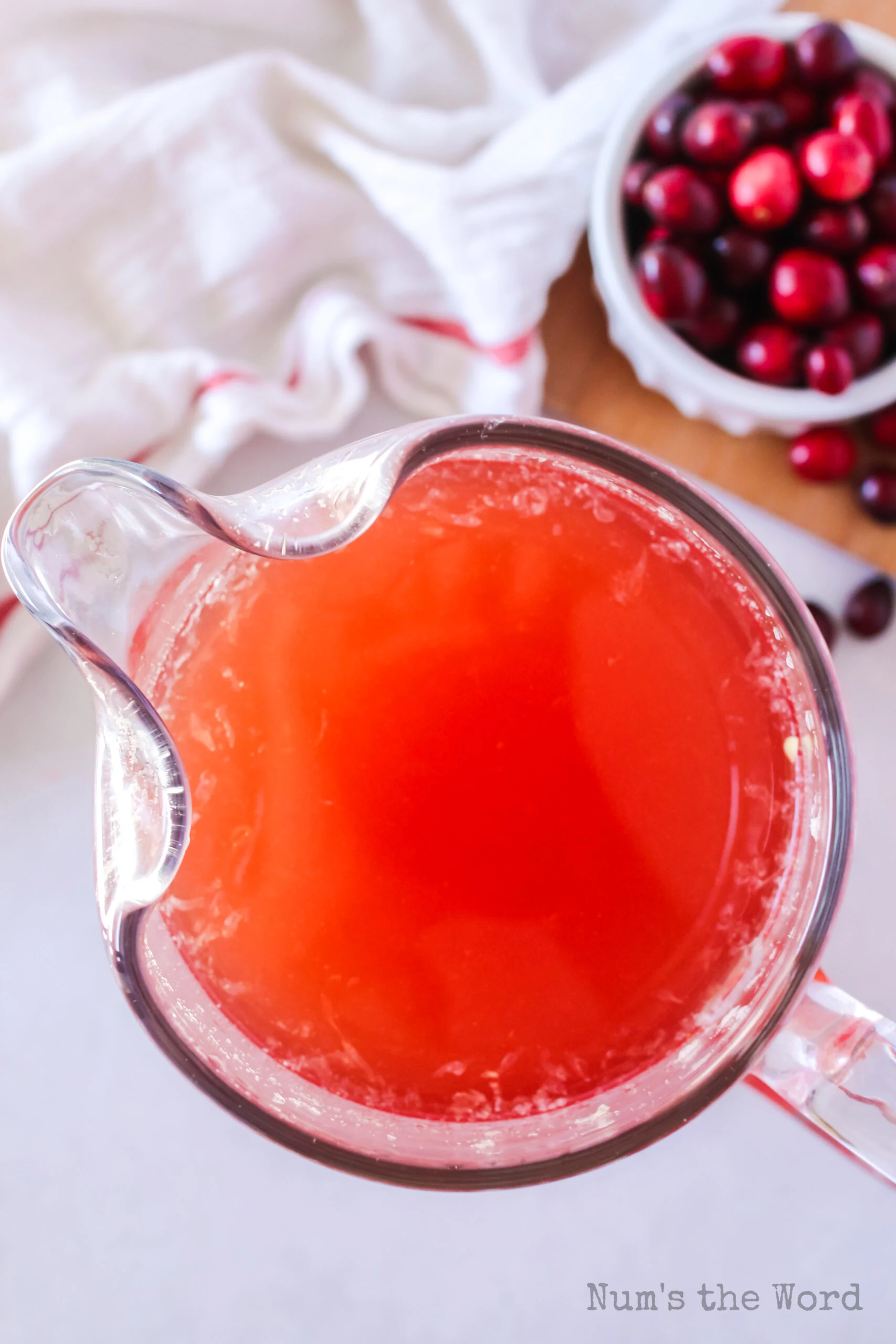 How to Store Leftover Cranberry Punch?
Store any leftover cranberry punch in the fridge. It'll lose its carbonation as it sits, making it less a sparkling cranberry punch and more just a good punch.
Of course, it'll still taste yummy. You can always add some extra carbonation by serving any leftover cranberry punch with a little fresh ginger ale mixed in.
Use this festive drink within a week of making.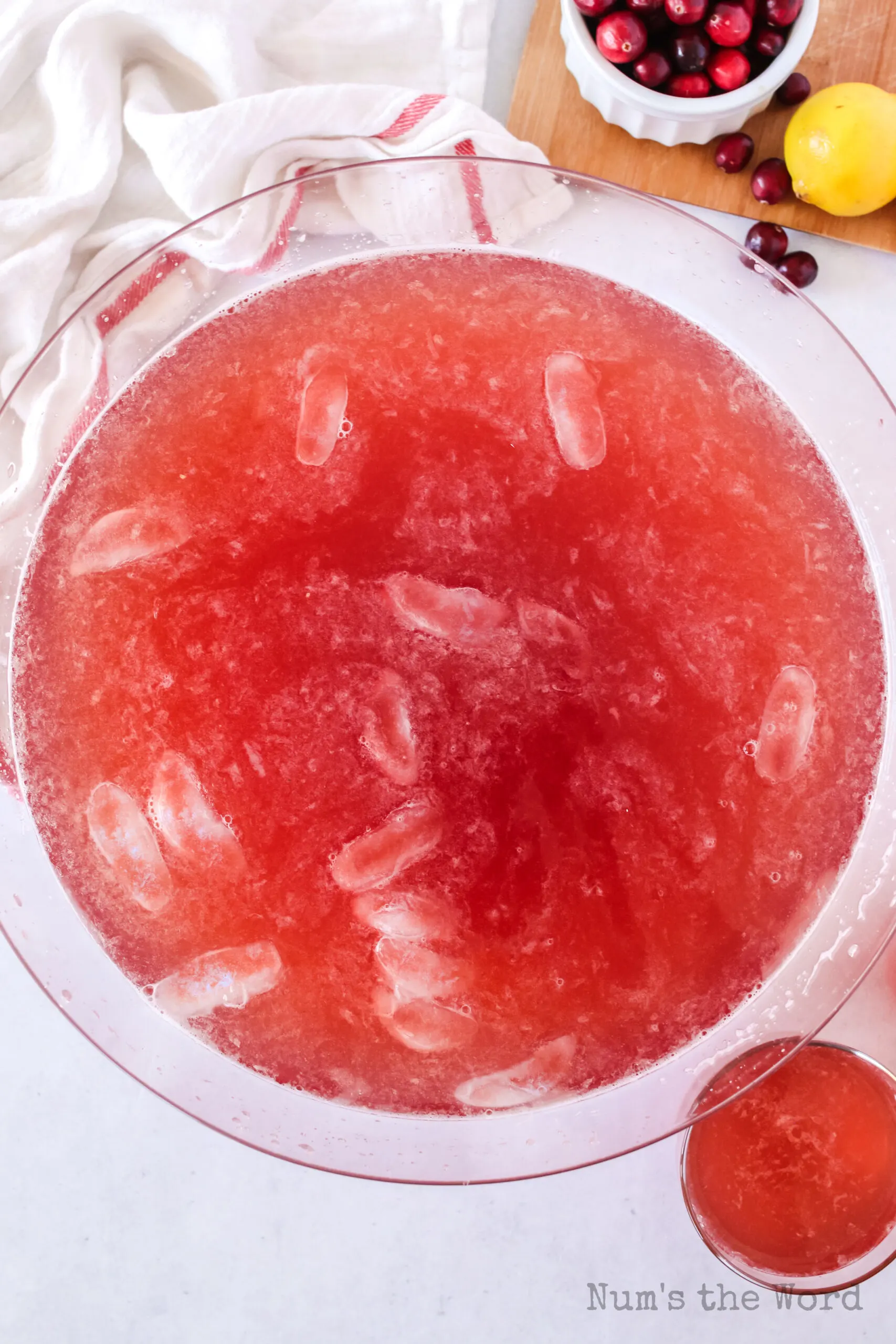 How to Serve Cranberry Punch?
Fun ideas for serving cranberry punch coming your way!
Easy Christmas Punch Recipe: Serve with a fresh lime or spring of thyme to stay on theme with Christmas colors. Cinnamon sticks would work too and be the perfect addition to Christmas dinner.
Thanksgiving Punch: Toss some fresh or frozen cranberries right into the pitcher with fresh orange slices. It adds a really nice fun touch and perfect fall colors.
Neutral Colors: Make this with white cranberry juice instead. Then add whatever fresh fruit to the drink that suit your occasion.
Baby Shower: Using the neutral colors, toss in some raspberries or blueberries or both!
Summer Punch: Nothing screams summer like a fresh lemon wedge on the side of your glass!
New Year's Eve: Pomegranate seeds and fresh rosemary! Unexpected, delicious, and so festive!
Don't forget about your serving bowl options too!
Large Punch Bowl with Serving Spoon
Large Pitcher or Two Small Pitchers
Glass cups or clear plastic (so you can see the bright colors!)
Large Drink Dispenser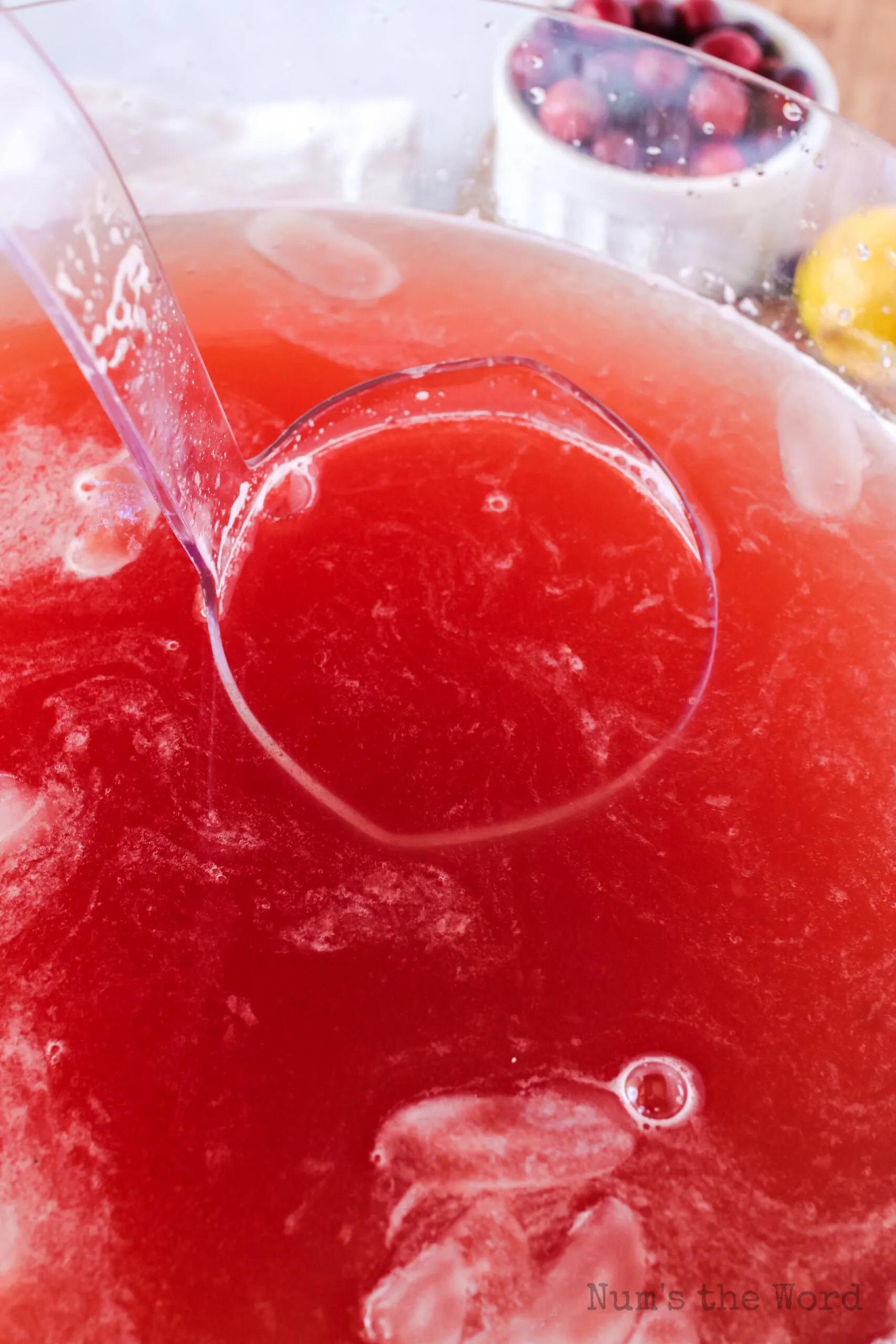 What to Serve with Cranberry Punch?
This is the best Christmas cranberry punch because it goes well with all your traditional holiday foods.
But since I love a theme, I always try to serve this with other cranberry items. And luckily, there's no shortage of cranberry recipes around here!
But really any holiday recipes you're serving, taste great with this drink!
Turkey, ham, potatoes, stuffing… I could go on, but I'm sure you get the idea!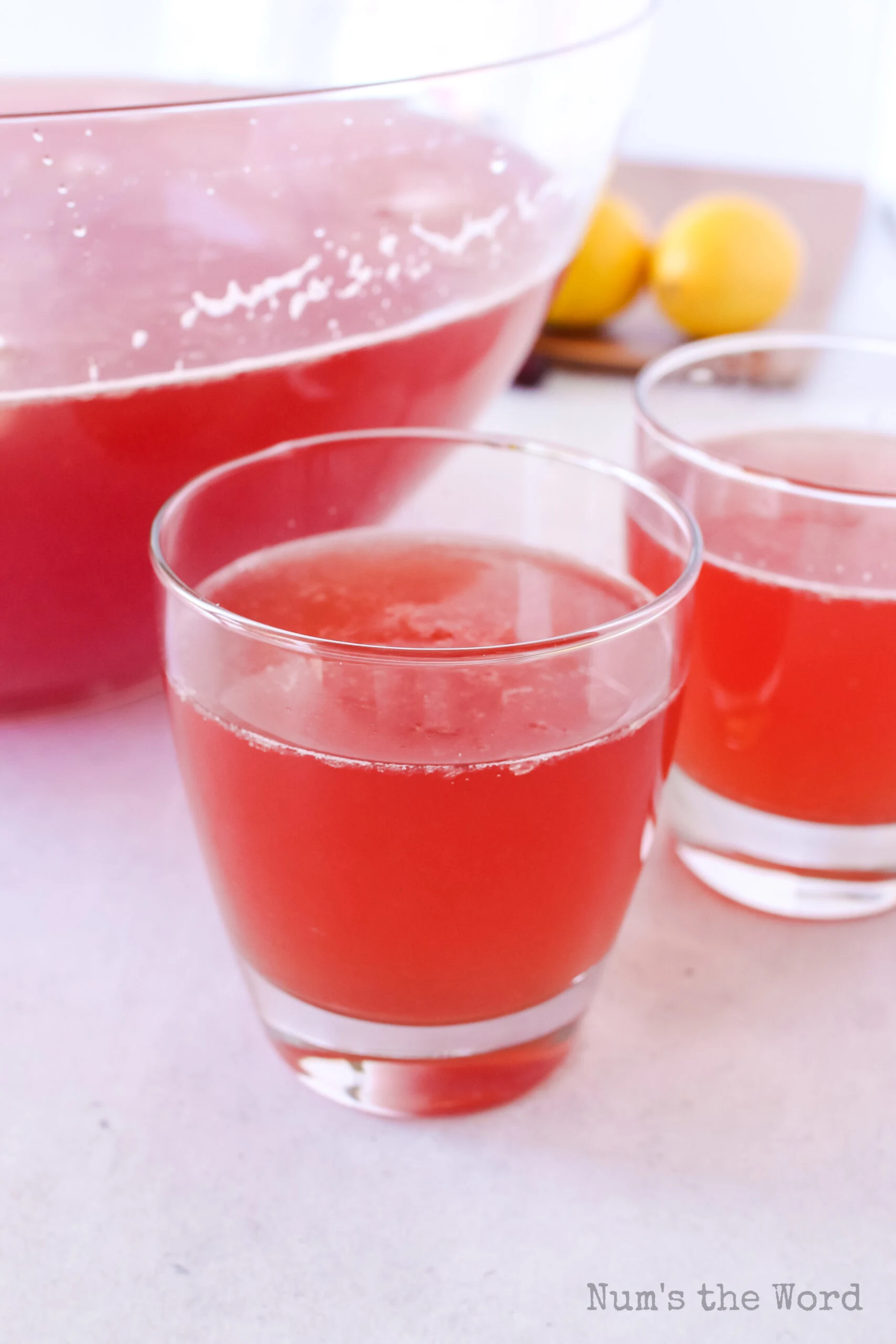 Is Fresh Cranberry Punch Healthy?
Hello Vitamin C! You know you've the perfect addition to your holiday party going when your drink is actually good for you!
It's full of antioxidants and other important nutrients your body needs.
But that vitamin C just cannot be beat! Your body needs vitamin C to function every day, not just when you're sick.
Especially around the holidays when sickness spreads like wildfire. Take any boost you can get!
And since this is the non-alcoholic version you don't even need to worry about the alcohol!
This is an easy way to do healthy eating at holiday parties! And the whole family can enjoy it too!
Of course any exact daily values you should calculate for what you'll need.
And if you want to make it a little better, you can always reduce the sugar too.
Or try substituting with a little maple syrup.
Though those things will change the tartness of the cranberry punch, so just keep that in mind.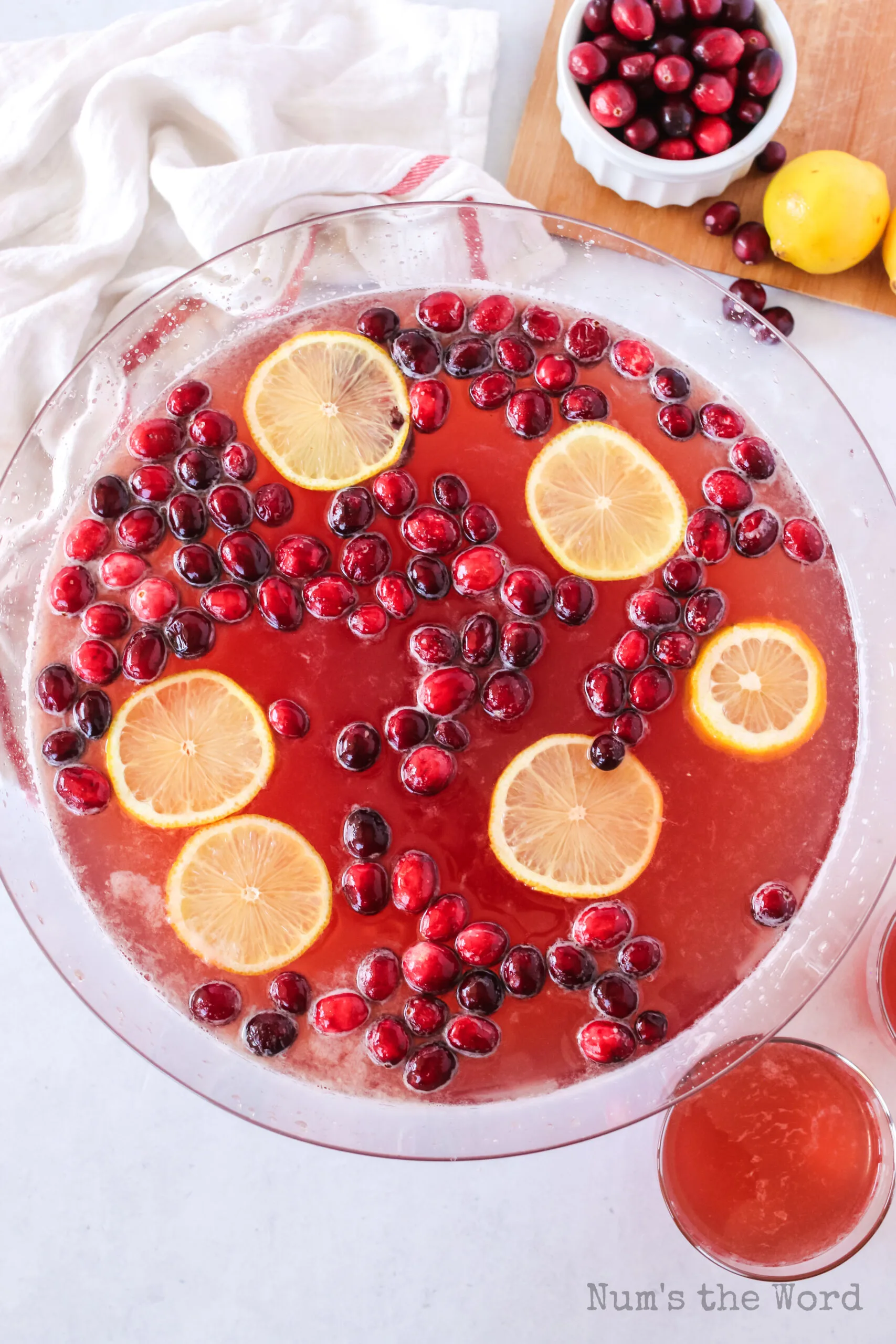 I know you're going to love this easy Cranberry Punch! Enjoy it all year round, but especially for the holidays!
Don't forget to make double batch at your next party! It'll go fast at all your family gatherings!
Yield: 16 Servings
Cranberry Punch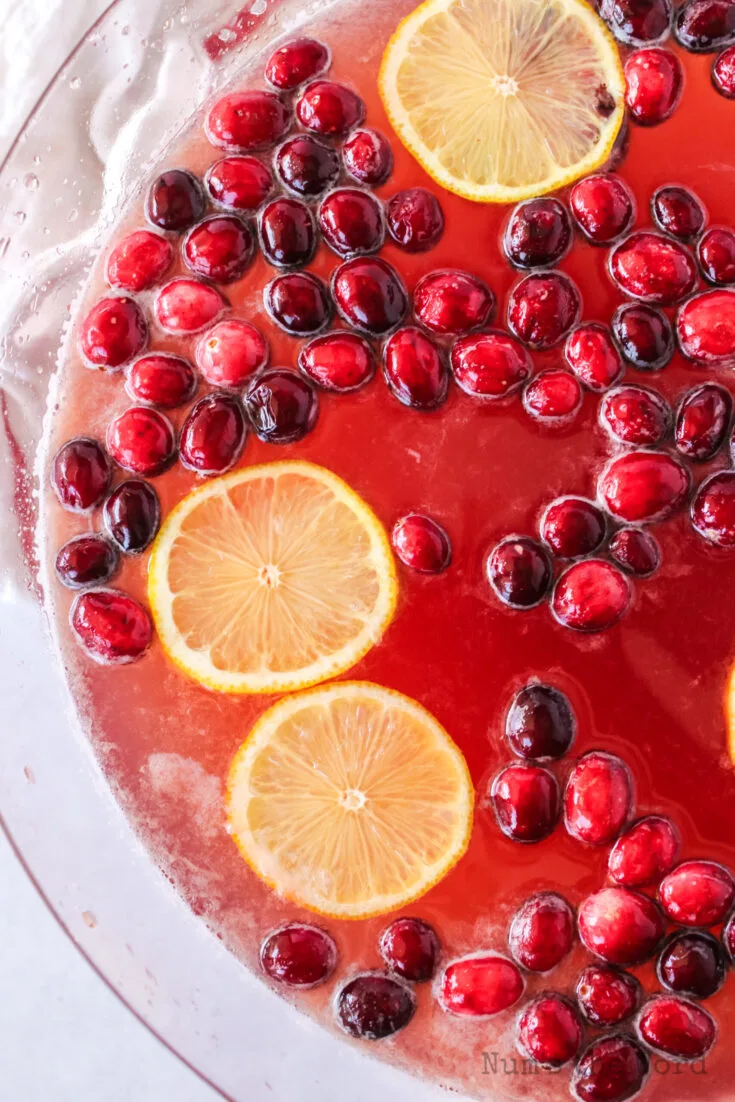 Cranberry Punch is the perfect holiday season drink! Sweet and delicious, it's a crowd pleaser every year!
Ingredients
1 1/2 cups white sugar
1 teaspoon ground ginger
1 1/2 cups water
1 1/2 cups lemon juice
4 cups apple juice
8 Cups 100% cranberry juice
1 (2 liter) ginger-ale
Instructions
In a saucepan add white sugar, ginger and water.
Heat to boiling and stir until sugar is dissolved. About 5 minutes. Turn off heat
Add lemon juice, apple juice & cranberry juice.
Fill up one ice cube tray and freeze. Chill the remainder.
When ready to serve, place in a punch bowl or dispenser.
Add frozen juice cubes and ginger-ale.
Serve with fresh cranberries and slices of lemons or oranges.
Nutrition Information:
Yield:
16
Serving Size:
1
Amount Per Serving:
Calories:

169
Total Fat:

0g
Saturated Fat:

0g
Trans Fat:

0g
Unsaturated Fat:

0g
Cholesterol:

0mg
Sodium:

17mg
Carbohydrates:

41g
Fiber:

0g
Sugar:

37g
Protein:

1g