This velvety Thick & Creamy Coconut Hot Chocolate is nothing like the powder you grew up on. It's rich, thick and perfect for any cold day.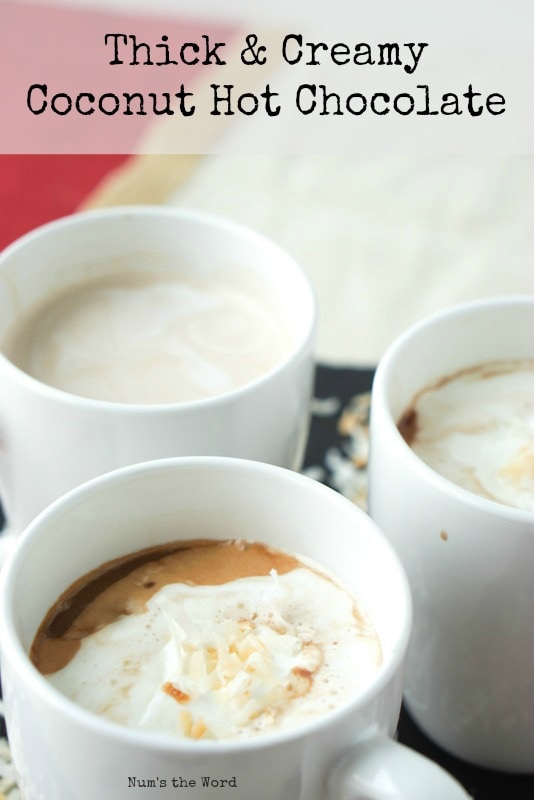 A few years ago, before I started Num's the Word, I was checking out my favorite idea hub called Pinterest and stumbled upon a recipe for Coconut Hot Chocolate.
It sounded AMAZING. I love coconut, and I love hot chocolate and knew I'd most likely love Coconut Hot Chocolate.
And sure enough I do. Not only did I like it, I fell head over heals in love with it!
I loved hot thick it was. Unlike the watery drinks I'd enjoyed in the past, this one slides down your throat like a velvety warm hug.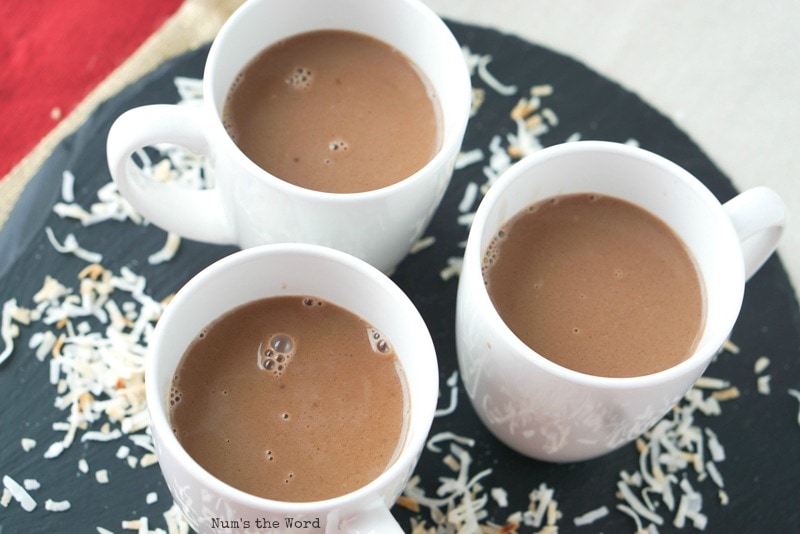 The coconut flavor in this Thick and Creamy Coconut Hot Chocolate isn't too strong nor is it too weak and tastes more like a treat than a beverage.
I don't know about you, but anything that tastes like a treat in a beverage form is A-OK with me!
Recently I needed to take new photos of my favorite Thick and Creamy Coconut Hot Chocolate and decided to invite some friends over for Hot Chocolate and cookies.
Since this is a crock pot item it tends to make a good bit I knew I needed a few friends to help me enjoy it. And a hot chocolate and cookie party sounded like a fun idea!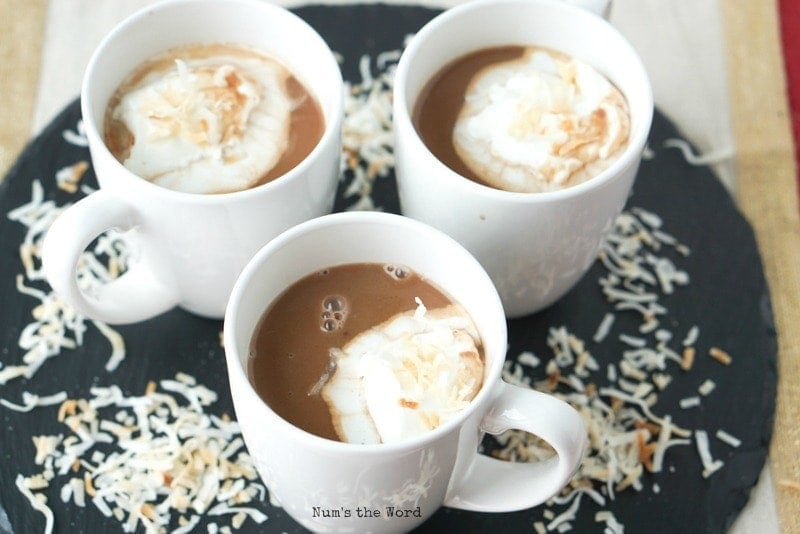 None of the friends we invited had ever had this Thick & Creamy Coconut Hot Chocolate and so I was pretty darn nervous. Would they like it, would they hate it?
Is it TOO thick and foreign or is it a tasty new concept? All questions I couldn't answer and was scared to find out.
With a belly full of nerves, all our friends arrived with their kids and we pulled out every mug we had on hand. Glasses were then filled with our creamy beverage, which were then topped with some homemade whipped cream.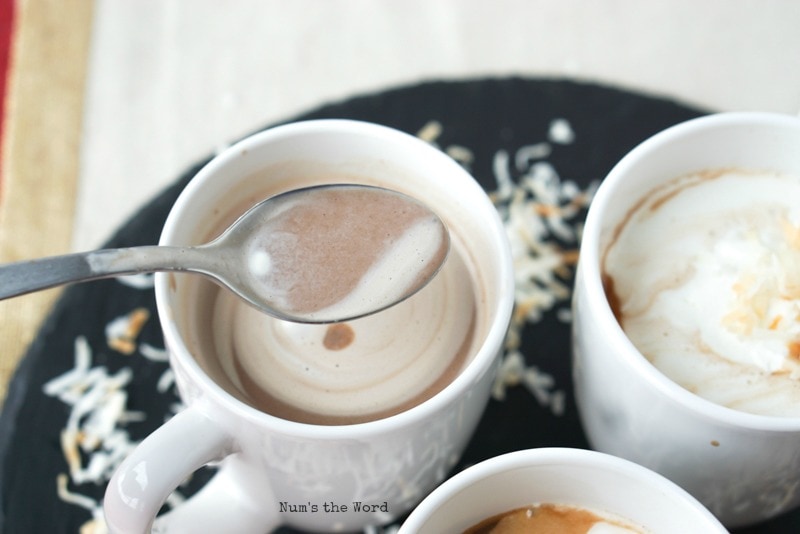 Luckily, the enjoyment of this hot chocolate was unanimous. Everyone agreed that this Thick and Creamy Hot Chocolate was AMAZING!
Whew…I relaxed after that.
My husband keeps having to remind me that just because I love something and think it's amazing, doesn't mean everyone else will too. A concept I keep forgetting.
This Thick & Creamy Coconut Hot Chocolate is perfect just as it is. However, we prefer the addition of fresh made whipping cream instead of marshmallows for a tasty topping in this version.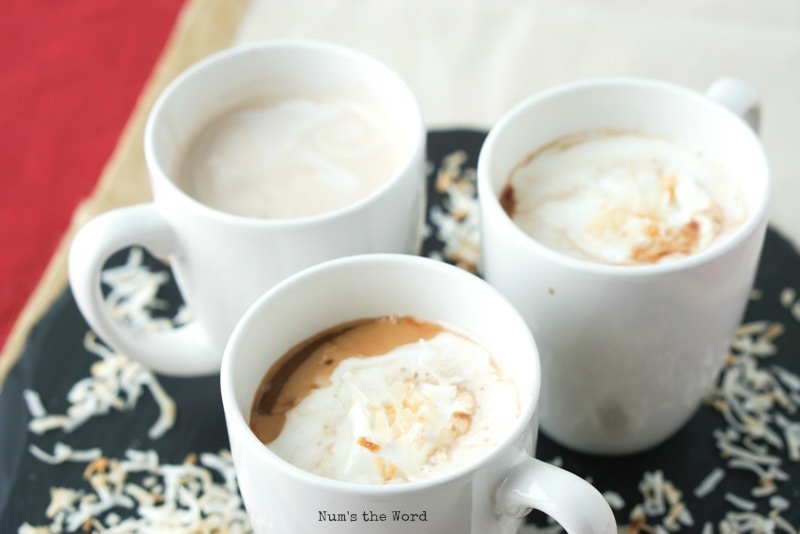 I should also mention, it's also more of an adult hot chocolate as kids have ZERO appreciation for the creaminess or ingredients and are just as happy with a packet of powder.
However, if you love coconut and you love hot chocolate then I suggest giving this a try!
Now if you don't have a crowd to feed it to, then freeze the rest and make our favorite leftover drink, Frozen Coconut Hot Chocolate.
I of course didn't have any leftover and will now have to make it again just so I can retake photos for the Frozen Coconut Hot Chocolate – Nuts! (Wink, Wink.)
Yield: 15 Servings
Thick & Creamy Coconut Hot Chocolate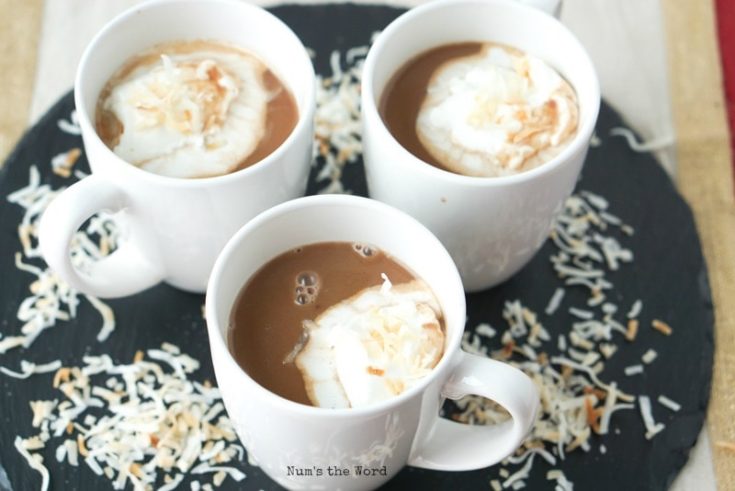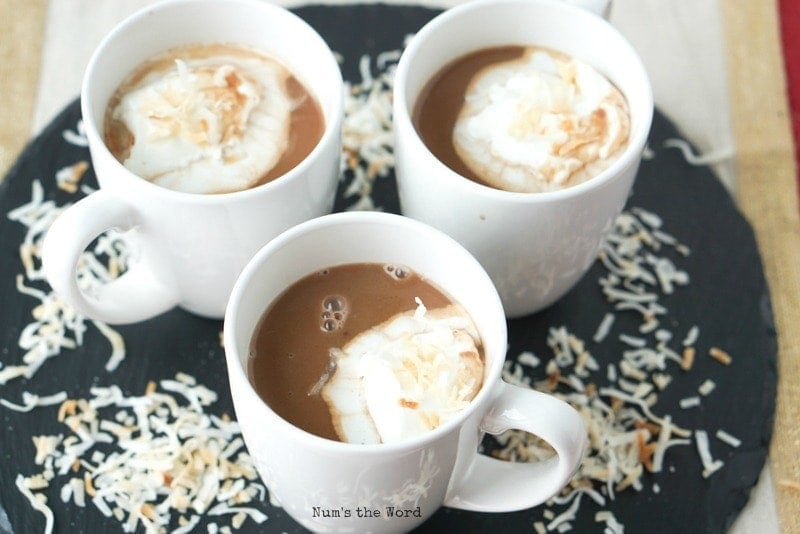 Total Time
2 hours
10 minutes
Ingredients
3 (13 ounce) cans coconut milk - full fat
2 (14 ounce) cans of sweetened condensed milk
8 ounces of high quality dark chocolate, chopped
1/4 cup cocoa powder
2 teaspoons vanilla extract
2 teaspoons coconut extract
1/4 teaspoon salt
1 gallon whole milk
Whipped Cream for garnish
Toasted Coconut for Garnish
Instructions
In a crock pot, whisk together coconut milk, sweetened condensed milk, dark chocolate and cocoa powder.
Add vanilla extract, coconut extract, salt and milk and whisk again.
Place lid on crock pot and cook on low for 2 hours, stirring every 30 minutes, making sure the chocolate melts.
When ready to serve, scoop hot chocolate into each cup, top with whipped cream and toasted coconut and devour!
Recipe adapted from the talented How Sweet It Is