Coconut Cream Pie Poke cake is a traditional cake topped with my favorite old fashioned coconut cream pie filling, whipped cream and toasted coconut. The best of both worlds!
This post contains affiliate links.  If you click on an affiliate link and make a purchase, I will make a small percentage on your purchase. This helps keep this website running! Thank you!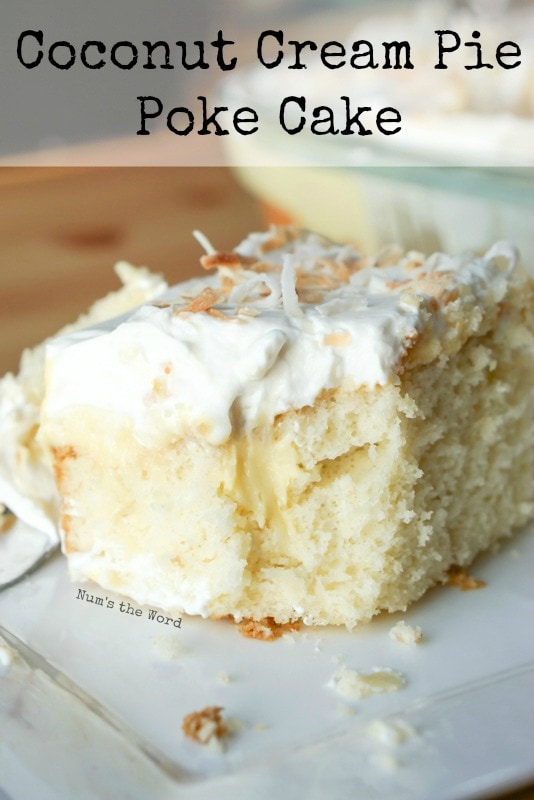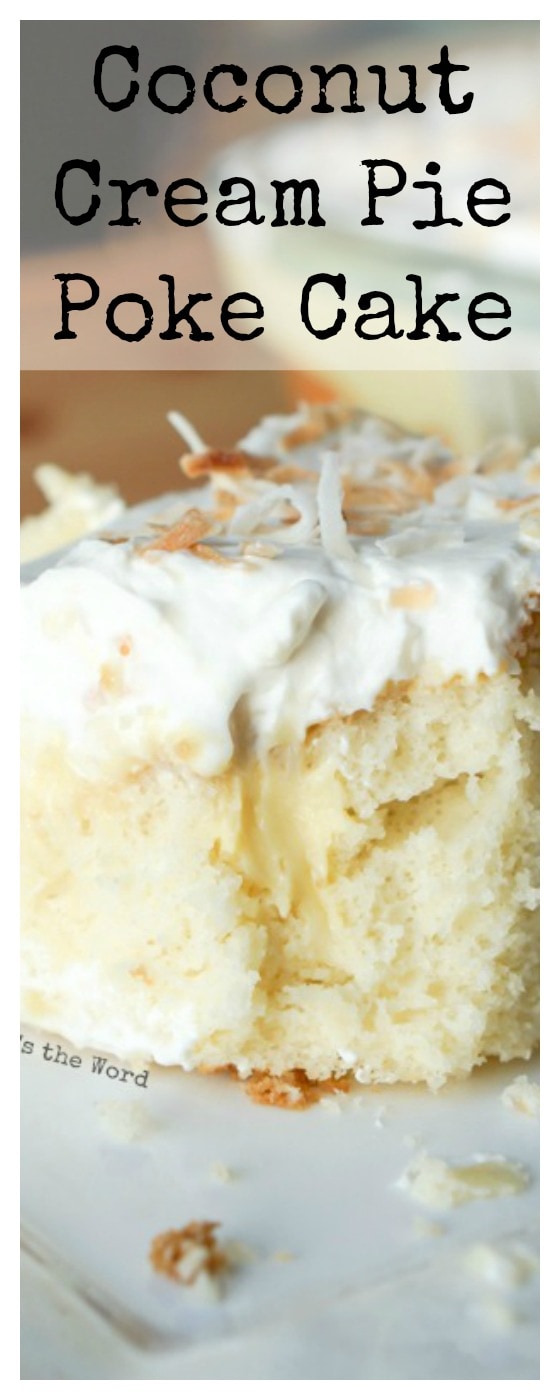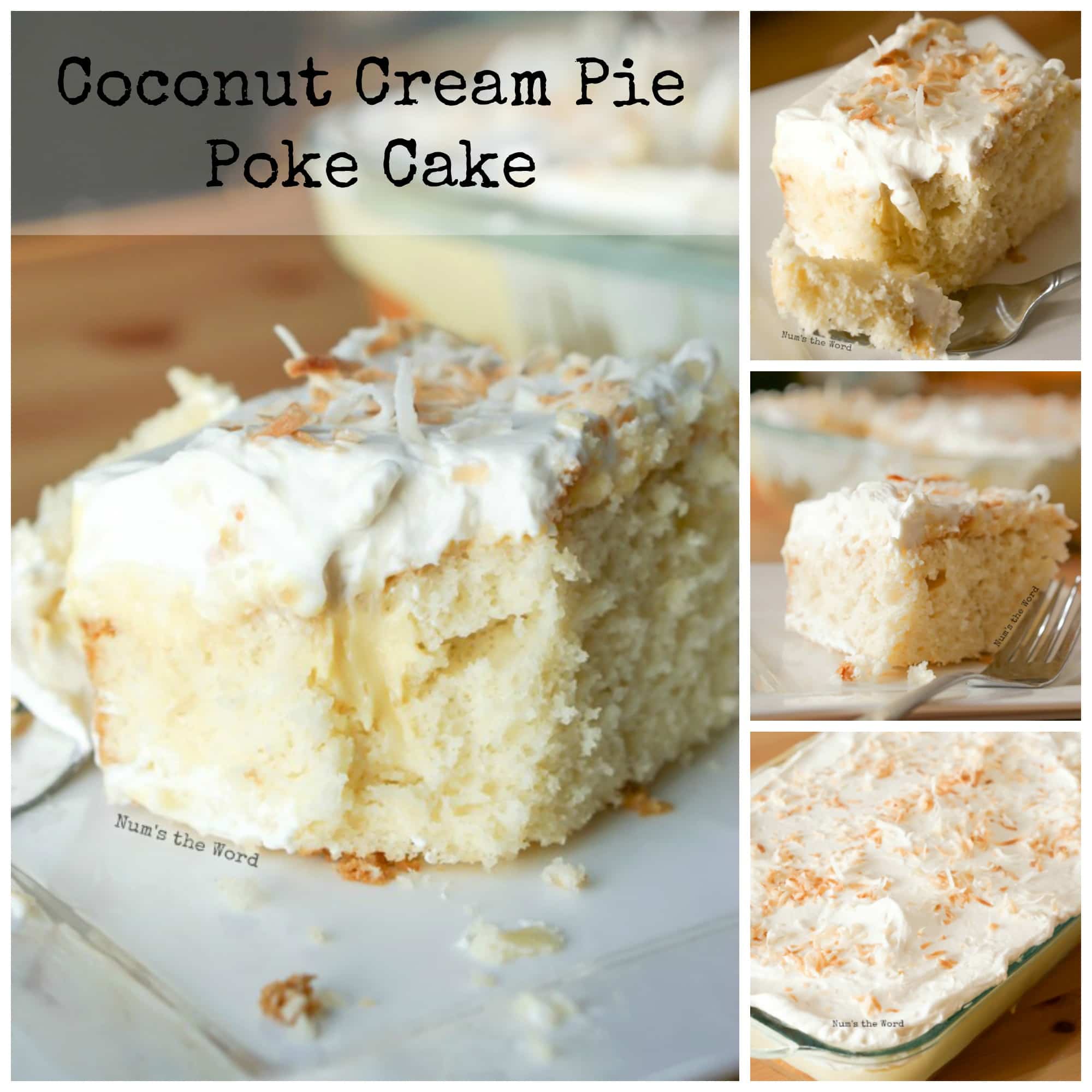 Coconut Cream Pie fans, will LOVE this Coconut Cream Pie Poke Cake!
I took my favorite old fashioned, from scratch coconut cream pie recipe and made it even better.
First I smothered it all over a cake mix.
Then I topped it with whipped cream and finally with some toasted coconut!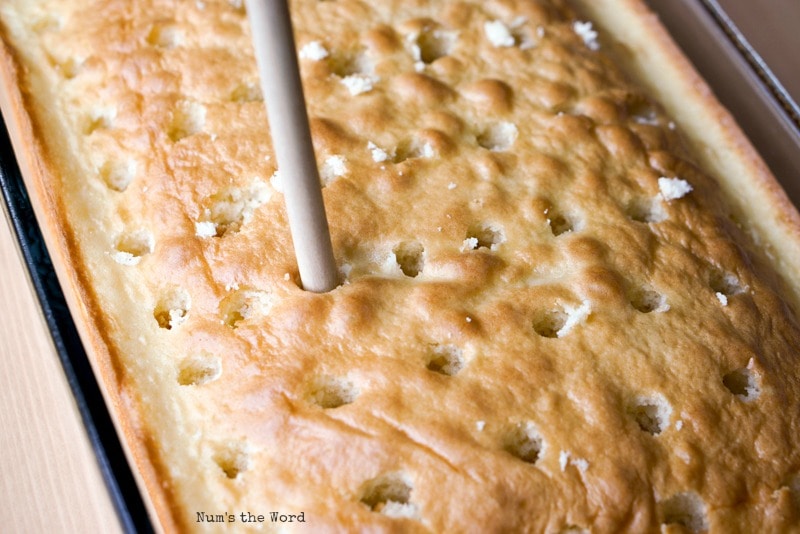 Doesn't that just make you want to drool?!
It does me!
I made this cake because my Mother in Law Liz gave me a bunch of egg yolks she had no use for.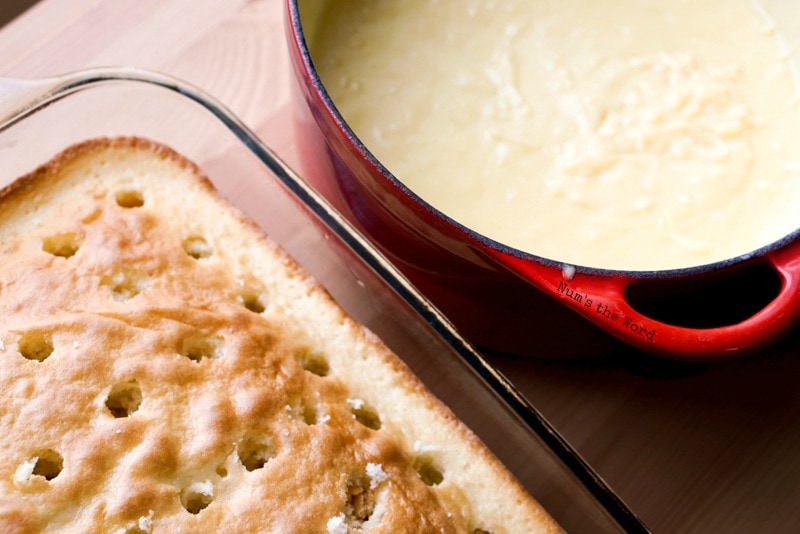 Since I now had egg yolks, I now needed a recipe to go with them.
One of my favorite uses for egg yolks is coconut cream pie.
This recipe is delicious and was a HUGE hit at the Women's conference I recently attended.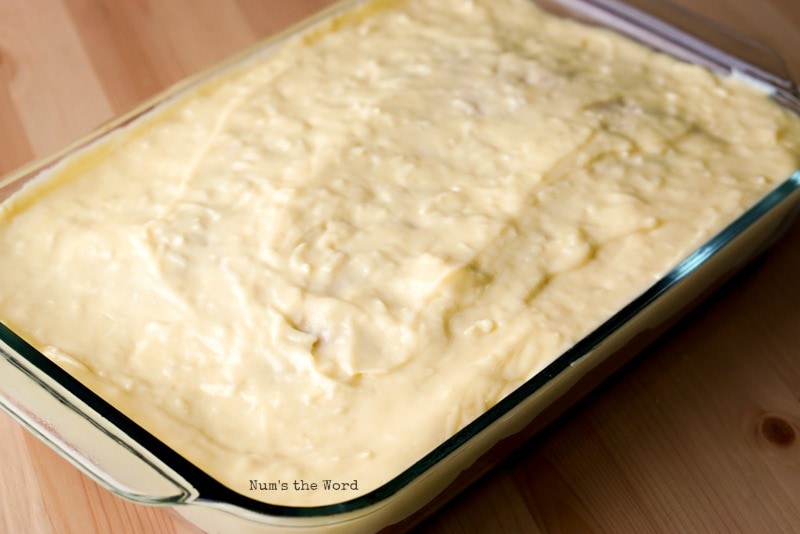 Generally speaking they requested cookies and brownies, and instead I brought two crisps and this Coconut Cream Pie Poke Cake.
Let's just say, that all my desserts were the first to go.
Everyone it seemed would rather have a homemade dessert to a store bought cookie.
I mean really, who wouldn't?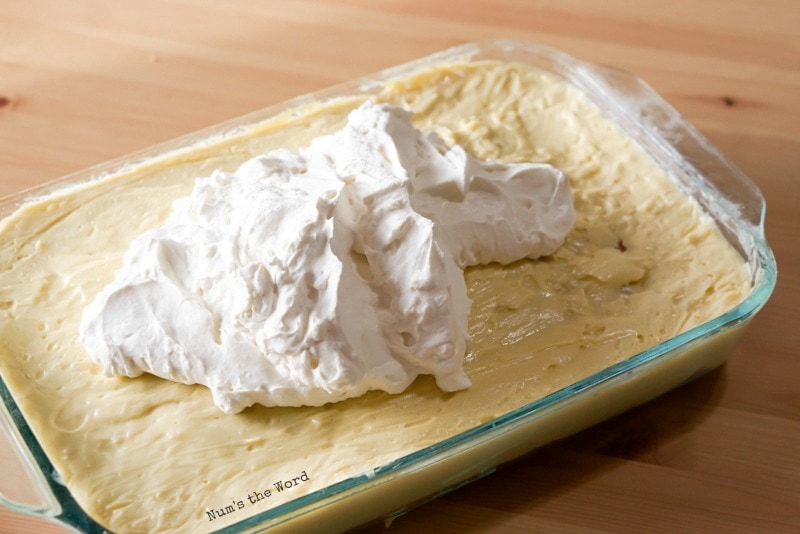 The thick coconut cream pie filling sinks into the holes providing a burst a flavor in every piece of cake.
This Coconut Cream Pie Poke Cake is also a great way for a non pie lover to enjoy a Coconut Cream Pie without the crust.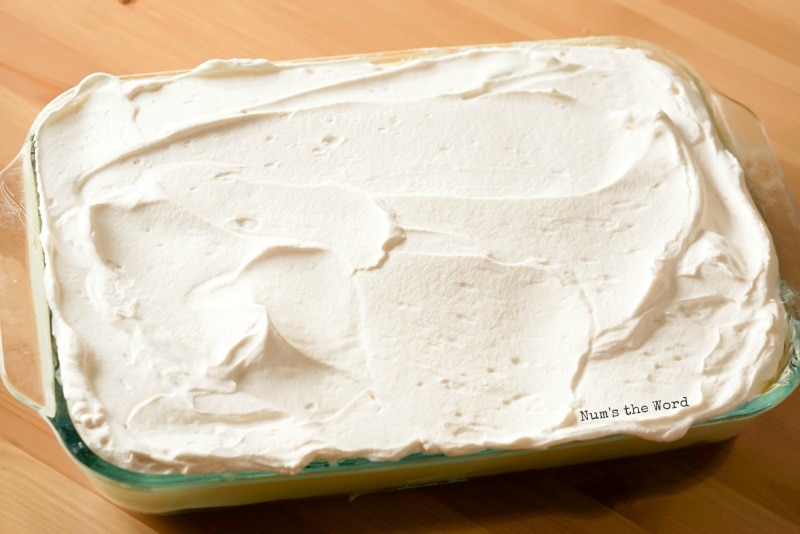 This is the old fashioned, from scratch (and really easy) recipe for Coconut Cream Pie.
There are no jello mixes or pre-made "flavors" in it.
Just the real deal, like how grandma used to make it.
I personally am a huge fan of Coconut Cream Pie.
It's one pie I look forward to every year.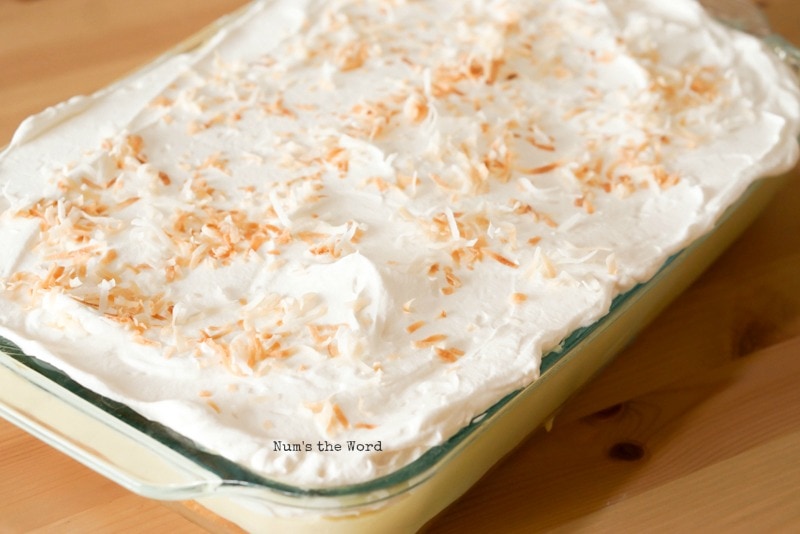 But then again, I love coconut!
If you love coconut, then there are loads of coconut recipes on this snazzy little website of mine.
And if we are being honest I will say that there are more that I'm dying to experiment with.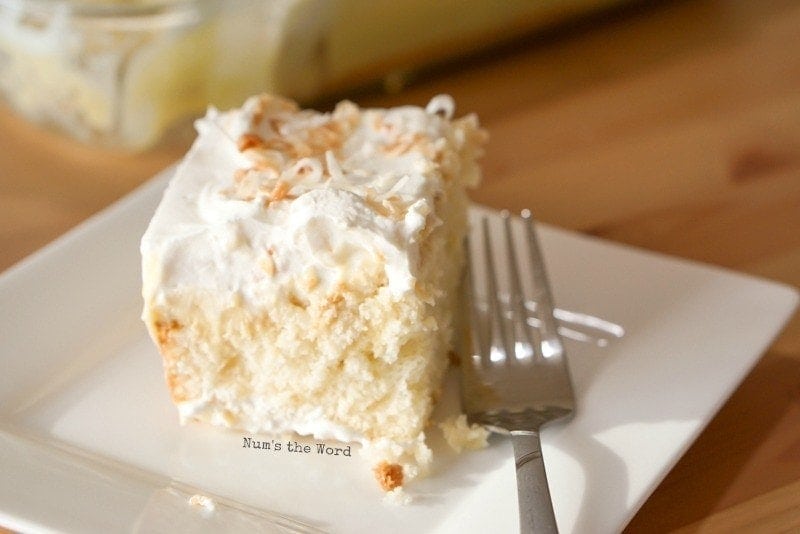 So many possibilities in terms of coconut.
I wish I could share with you some cute story to go along with the recipe, but the reality is that, it really should speak for itself.
If you love coconut, and cake, then give this Coconut Cream Pie Poke Cake a try!
Yield: 24 Pieces of cake
Coconut Cream Pie Poke Cake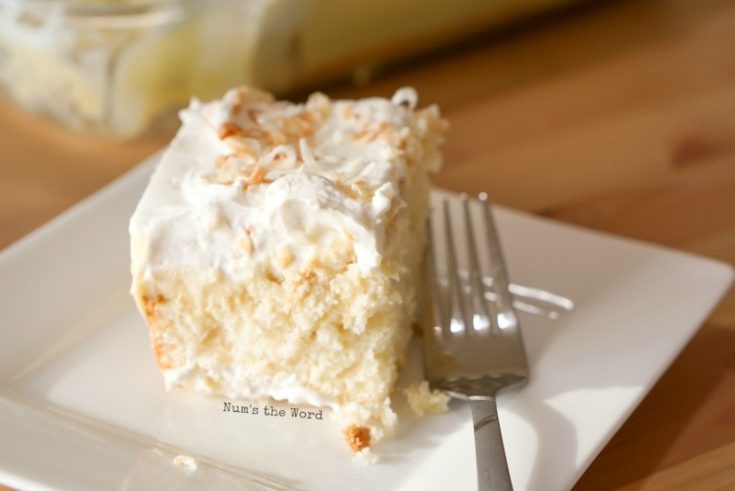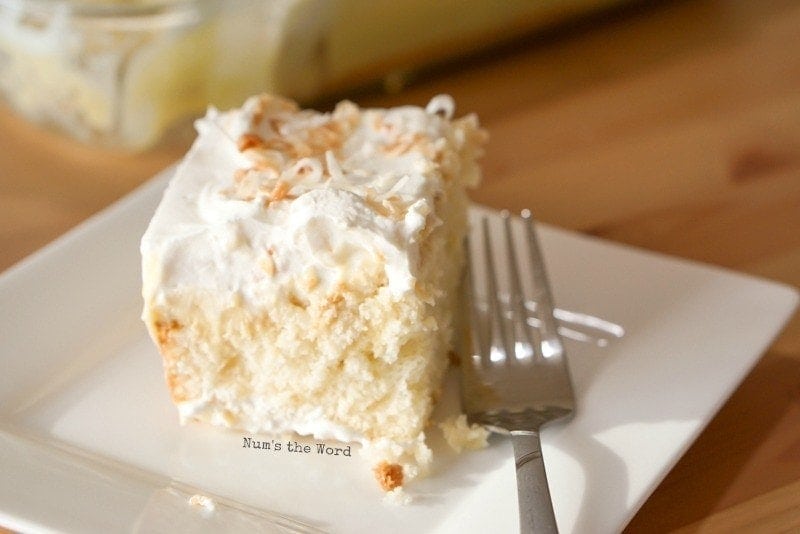 Ingredients
1 (15.25 ounce) white cake mix
1 (14 ounce) can of coconut milk
1 cup half and half or whole milk
3/4 cup sweetened shredded coconut
1/3 cup + 1/3 cup + 2 Tablespoons white sugar
1/4 teaspoon salt
5 large egg yolks
1/4 cup cornstarch
1 Tablespoons butter,
1 1/2 + 1/2 teaspoon vanilla extract
1 1/2 cup heavy cream
Toasted coconut
Instructions
Make cake mix according to package directions in a 9 x 13 pan. Allow to cool.
Poke holes in cake with end of a wooden spoon, set aside.
In a medium saucepan, combine coconut milk, milk, coconut, 1/3 cup sugar & salt. Bring to a simmer and stir occasionally.
While mixture is cooking, in a separate bowl, whisk egg yolks, 1/3 cup sugar and corn starch.
Once coconut milk mixture comes to a simmer, pour 1/2 cup into egg yolk mixture. Whisk quickly. Add additional 1/2 cup of coconut milk to egg mixture and keep whisking. You are bringing egg mixture up to temperature so the eggs don't curdle.
Pour egg mixture into coconut milk and continue whisking until mixture has thickened and a few bubbles have surfaced.
Remove saucepan from heat and whisk in butter and vanilla.
Set aside until mixture cools to a warm temperature, mixing every 5 minutes to help it cool quickly.
Pour coconut cream mixture over cake, spread with spoon to make sure it covers entire cake. Allow to cool completely.
Once cake is cooled, blend together 2 Tablespoons white sugar, 1/2 teaspoon vanilla, and heavy cream until stiff peaks form.
Spread whipped cream over cake.
Top with COOLED toasted coconut (can toast on stove or in oven).
Serve immediately or cover with plastic wrap and refrigerate until ready to serve. Remove from fridge 1 hour before serving.
Originally  Posted: March 22, 2017
Reposted: March 8, 2017
Other Coconut Recipes You'll Love...